Are you looking for Skims Underwear Dupes to pair with your favorite bra? Consider these 11 comparable Skims-like underwear at affordable deals.
Wearing good quality underwear is as important as having a good bra. And again, I turn to Skims to find the most comfortable and flattering briefs to add to my lingerie collection. However, Skims have a comparatively higher price point, and it can be financially excruciating to splurge on Skims recurrently.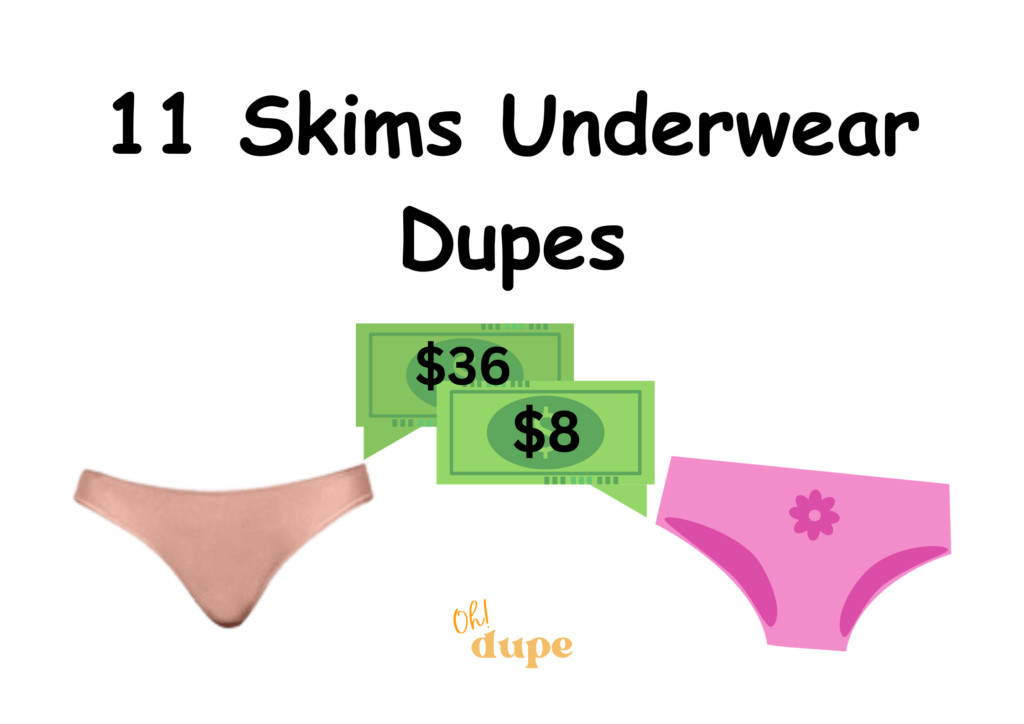 So, to save you some dollars, I have picked out the 11 bestselling Skims Underwear and elaborated on the dupe of each. Read on to find the best Skims Underwear Dupes of your favorite type.
Skims Underwear Dupes | Save-oury Skims Substitutes!
Skims do not need a brand introduction. The Kim Kardashian-owned brand has wowed women globally who struggle to find comfortable yet sumptuous intimates. With a solution-oriented approach, she has not only found a way out for herself but has also collectively made shapewear that has shaped lingerie trends with the proper support, coverage, and exclusive color palette. Not to forget, size inclusivity and products that signify body positivity have contributed to its crazy success.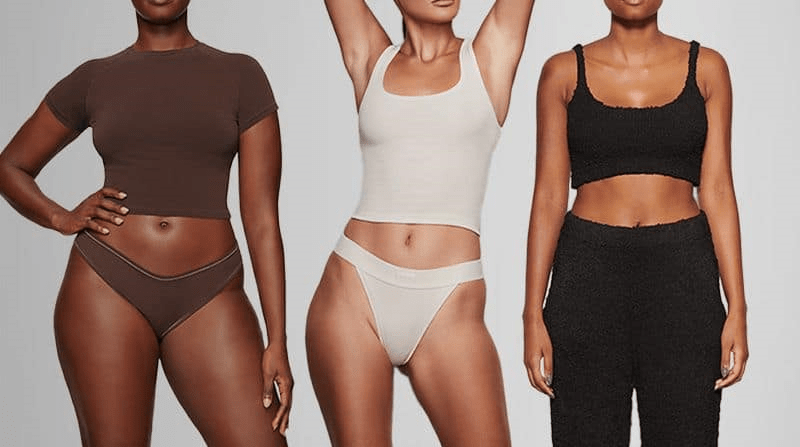 However, Skims is overpriced, and we have many sustainable options that are equally comfortable and breathable. So, without further ado, let's hop on to Skims Underwear Dupes. 
What if I say I have an affordable alternative to the dipped thong from the Skims Naked Collection that recently blew up online? You read it right: the Aerie Superchill Seamless Thonge Underwear is a dupe to the Skims Naked Dipped Thong. They have similar super smooth, stretchable, and seamless fabric. The piece is individually priced at $9, and a sumptuous pack of 6 undies at $30.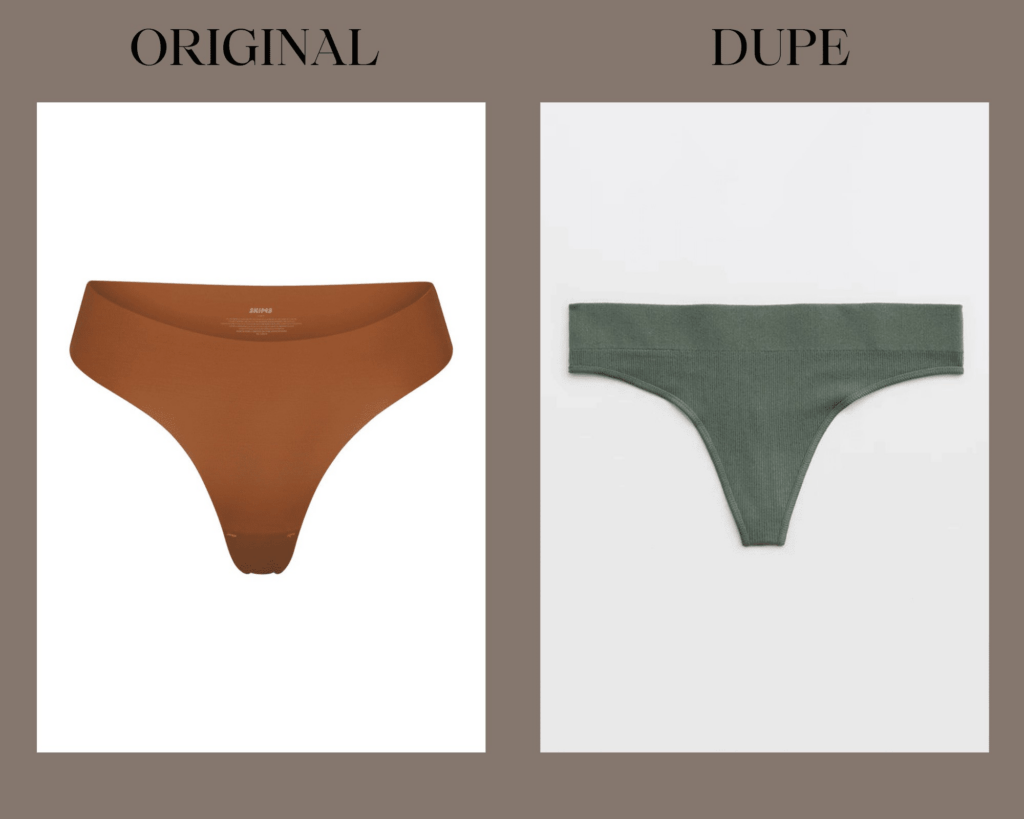 Specs
Price:$9
Material: Nylon, Spandex and Cotton
Seamless
Smooth fit
Low rise
Cotton gusset knit
Board waistband
Colors available: 6
Sizes available: 7
Pros
Soft and stretchable
Seamless
Provides good support
Cons
Finetoo's Seamless underwear is the ultimate dupe to the Fits Everybody Cheeky Brief. Made of breathable and comfortable material, they provide good coverage. They are seamless and stretchable, which makes them a perfect everyday essential. Available at $16 for a pack of 6 pieces, it is a deal worth considering.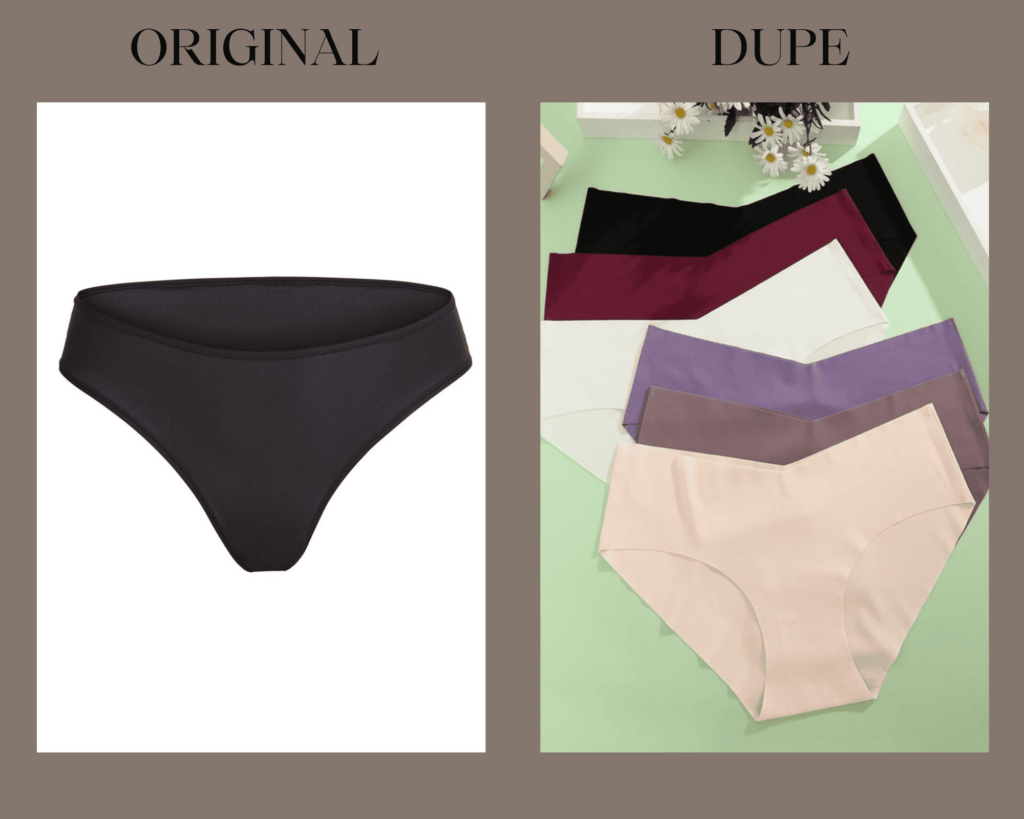 Specs
Price: $16
Material: Polyamide and Elastane
V-Cut hipster
Low rise
Seamless and full back coverage
Sizes available: 4
Pros
Comfortable and breathable
No sagging and no digging
Super soft material
Great value pack
Cons
There are zero reviews available.
One can turn to Calvin Klein to find durable and equally comfortable dupes for high-end brands. The Calvin Klein lingerie collection is a must-try as they are not only affordable but also durable and stylish. The Calvin Klein Natural Flexs Fit Thong is an excellent alternative to the Fits Everybody Regular Thong. Marked at $11, it is comparatively reasonable.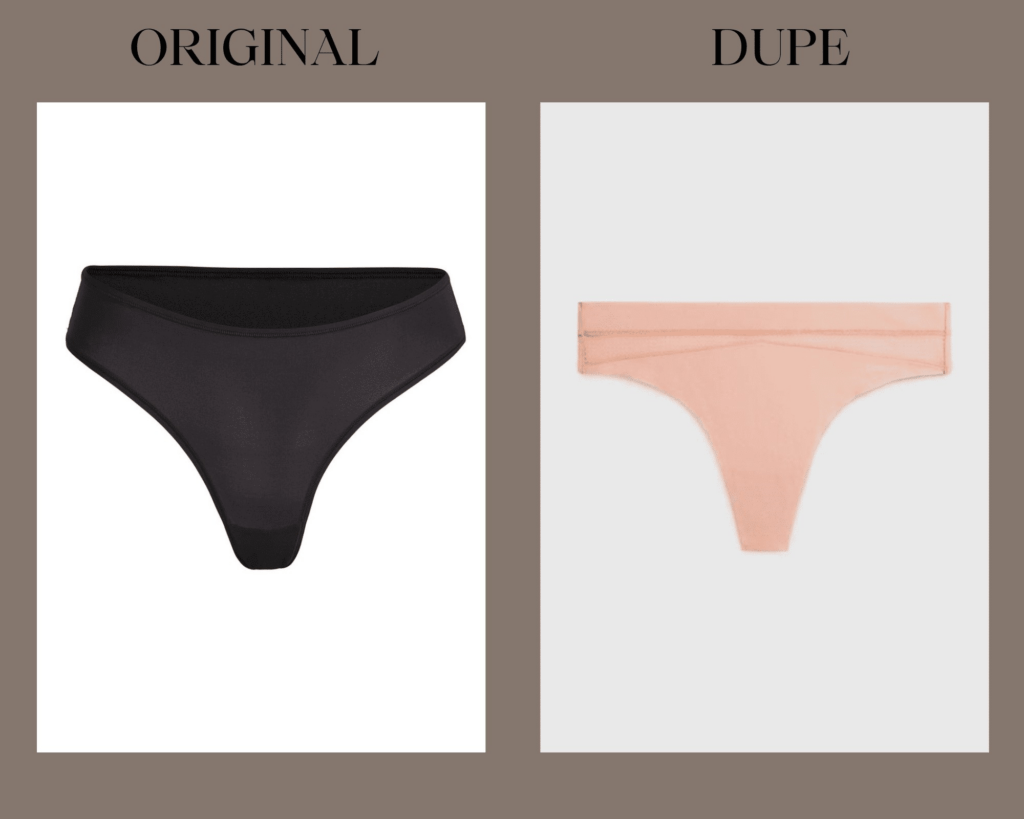 Specs
Price: $11
Material: Cotton, Tencel, and Elastane
Minimal rear coverage
CK monogram logo
Cotton gusset
Colors available: 3
Sizes available: 3
Pros
Sustainably made
Soft and comfortable
Lightweight
Available in neutral shades
Cons
There are no reviews available online.
I talked about this brand while discussing Skims Bra Dupes. Joyspun Women's Seamless Thong Panties is an alternative to the Fits EveryBody Dipped Front Thong. The dipped front, high-cut fit, and buttery smooth fabric match the original product. Furthermore, it features tubular knitting technology that provides optimum comfort and stretch.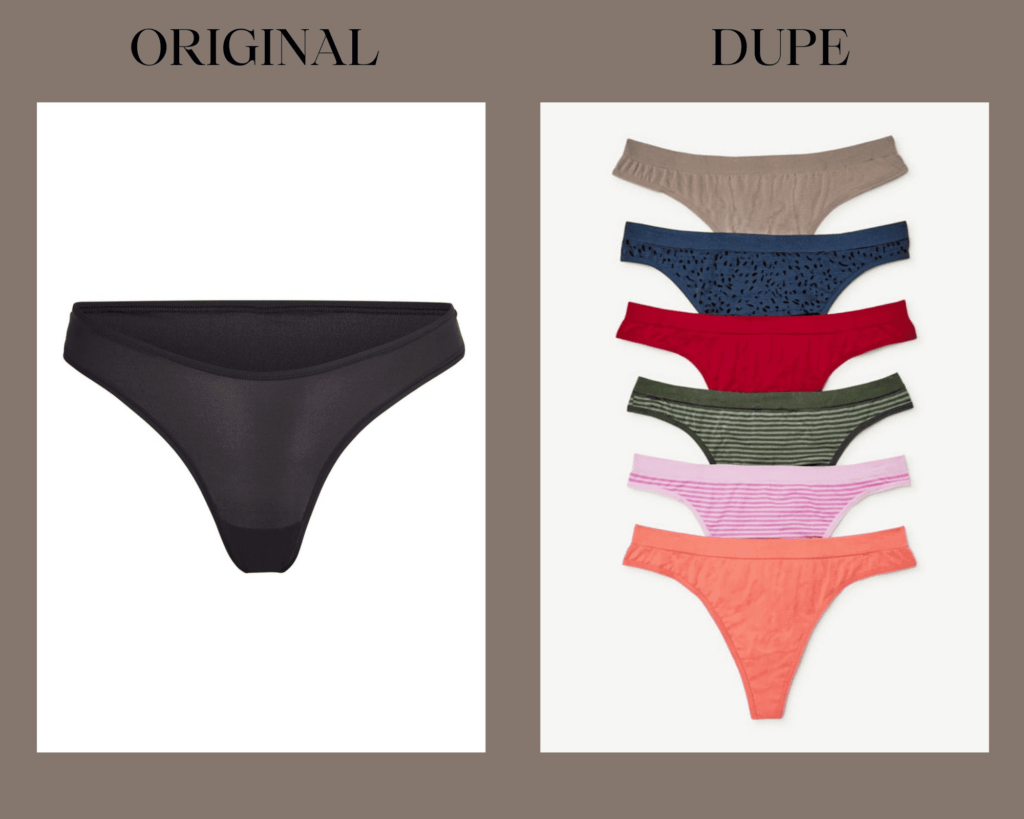 Specs
Price: $11
Material: Polyester and Spandex
Pull on panty
Stretch knit waistband
Tubular knitting technology
Seamless design
Six pairs of panties
No back coverage
Sizes available: 4
Pros
Smooth, seamless material
Stylish and functional
Stretchable
Durable and flexible
Machine washable
Cons
A lot of mixed reviews online.
The small business by Sofia Vergara claims to use flocking technology to prevent their undies from sliding and riding. At first, I was skeptical about the brand, but the quality is worth the price. These trio pack of seamless thong panties are high-waisted and pose as a perfect dupe to the Fits Everybody High Waisted Thongs. Priced at $9, they are reasonable.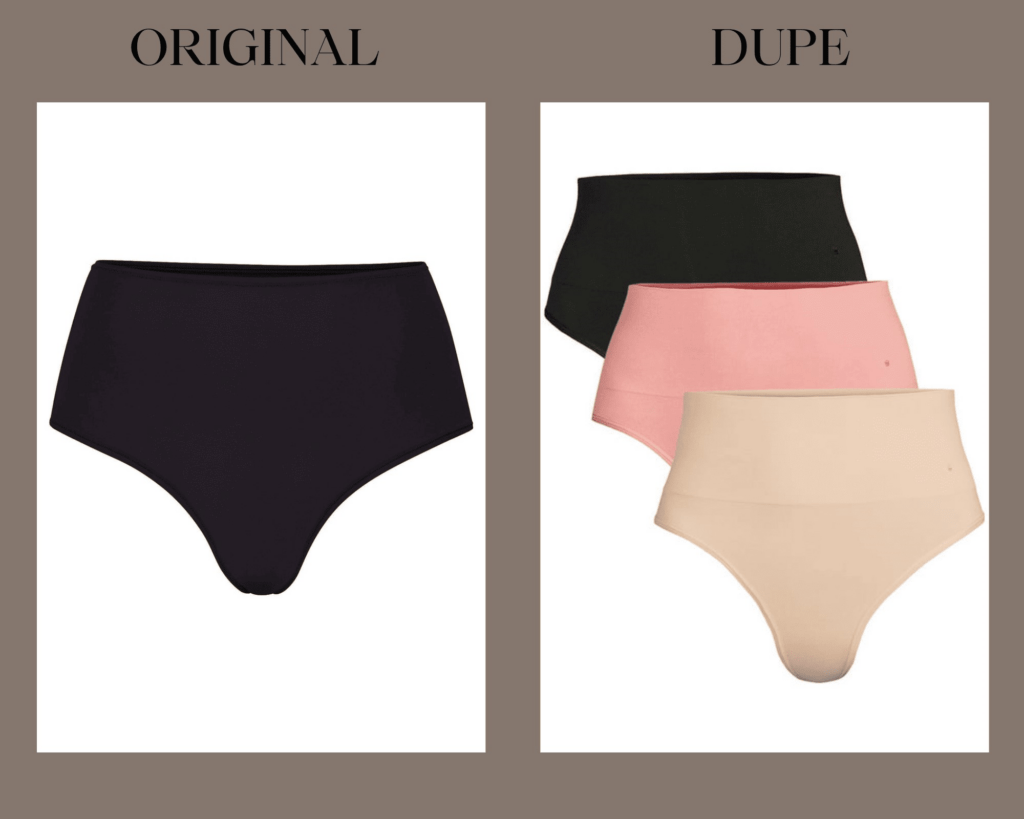 Specs
Price: $9
Material: Nylon and Spandex
Minimal coverage
High waist
No show fabric
Pull-on style
Seamless and stretchable material
Embossed evil eye logo
Set of 3 panties
Pros
Flattering high waist
Seamless design
Smooth fit
Non-slip banded waistband
Cons
The panty sides roll down.
This Seamless Mid-Rised Panty by Werena resembles the Skims Fits Everybody Boy Short. Perfect for pairing with camisoles or short skirts, this full coverage and wide hemlined panty is the one for you. Made with velvety soft fabric and a wide waistband, it is a must-have in your lingerie collection.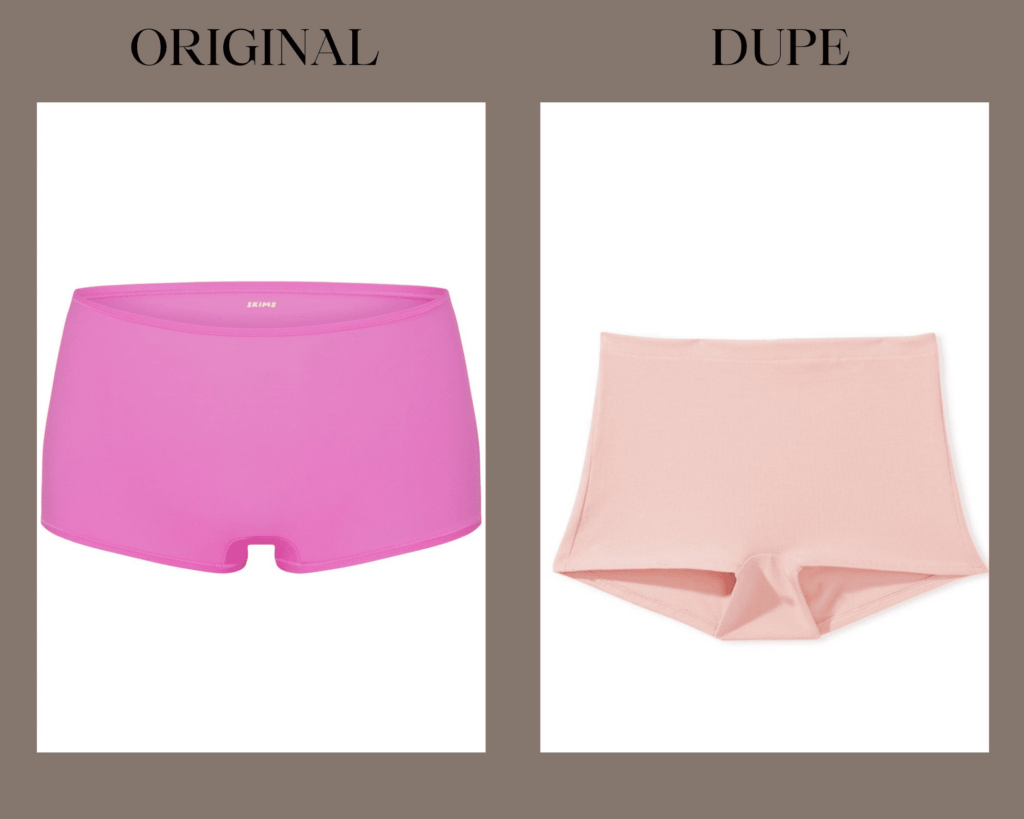 Specs
Price: $16
Material: Nylon and Spandex
Mid-rise
Elastic closure
Broad waistband
Light tummy control
Wide hem design
Colors available: 3
Size available: 5
Pros
Soft and comfortable
Tagless
Smooth fit
Tummy control shapewear
Non-slip and no rolling up
Cons
There are no reviews available.
The Everyday Smoothing Panty by Shapermint resembles the Skims Fits Everybody Full Brief. Besides being super soft and comfortable, the seamless daily wear undie is versatile. It can be worn by everyone, including new mothers. Available in all sizes and three neutral colors, it is an excellent addition to your wardrobe.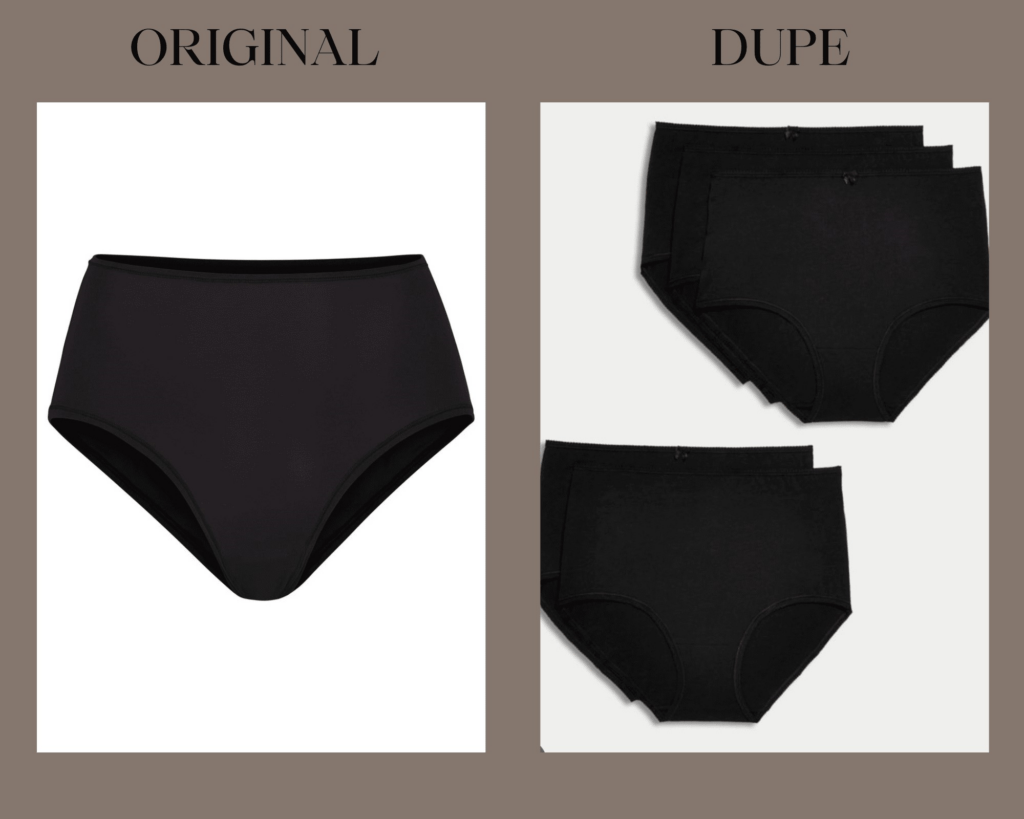 Specs
Price: $13
Material: Nyon and Spandex
360-degree compression
Lightweight
Sizes available: 6
Colors available: 3
Pros
Smoothing panty
Non-restrictive design
Light compression
Natural butt lift
Breathable fabric
Cons
Skims Dipped Thong from the Cotton Jersey collection has a substitute from Jo and Bette. Not only does this cotton thong underwear match the OG Skims, but it is also made with breathable and comfortable cotton. The elastic band is broad and soft, making it an excellent option for everyday wear. Available in vivid pastel colors and a little bow adornment, the set awaits your purchase.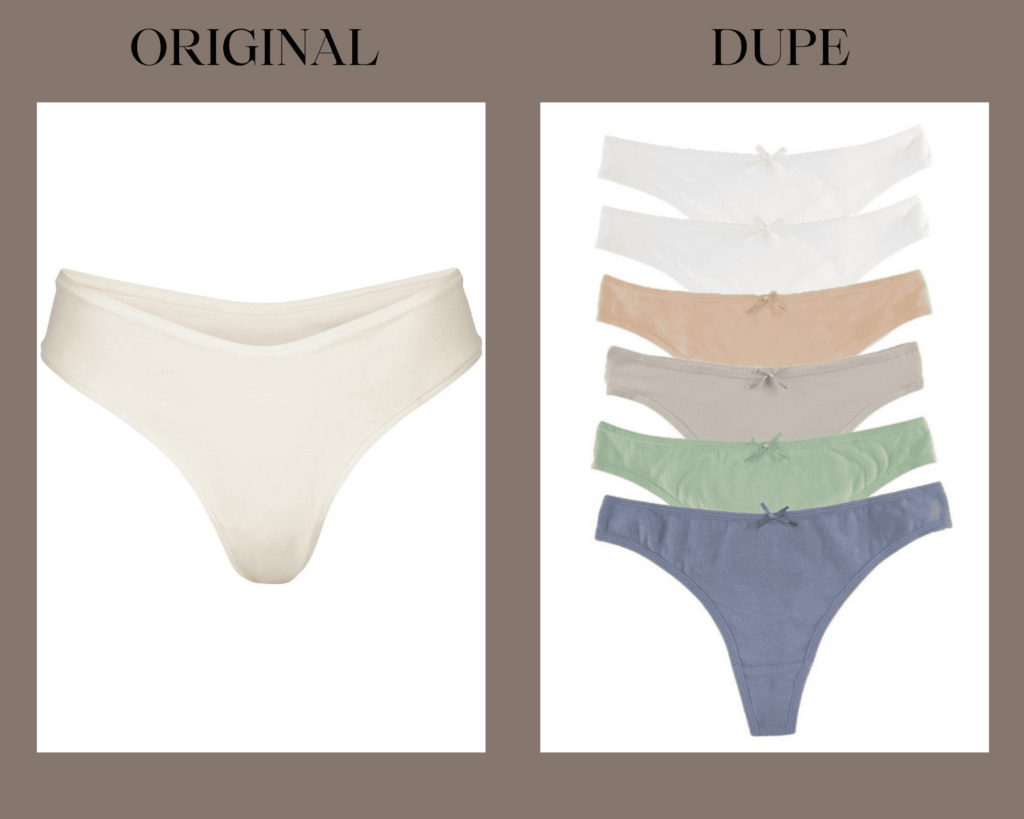 Specs
Price: $12
Material: Cotton and Spandex
Soft elastic bands
Low rise
Stretch fit
Set of 6 panties
Cute bow detail
Pros
Breathable and comfortable
Stretchable
No visible panty lines
Prevents binding
Vivid pastel colors
Cute bow adornment
Cons
A lot of mixed customer experiences.
Here's another product I bought from Finetoo. The rib cheeky V-shaped panties are a perfect buy if you are looking for dupes for Skims Cotton Tanga from the Cotton Jersey Collection. These undies are comfortable and allow you to move freely without worrying about sagging or chafing. The cotton spandex blend makes the fabric soft and breathable and ensures complete coverage.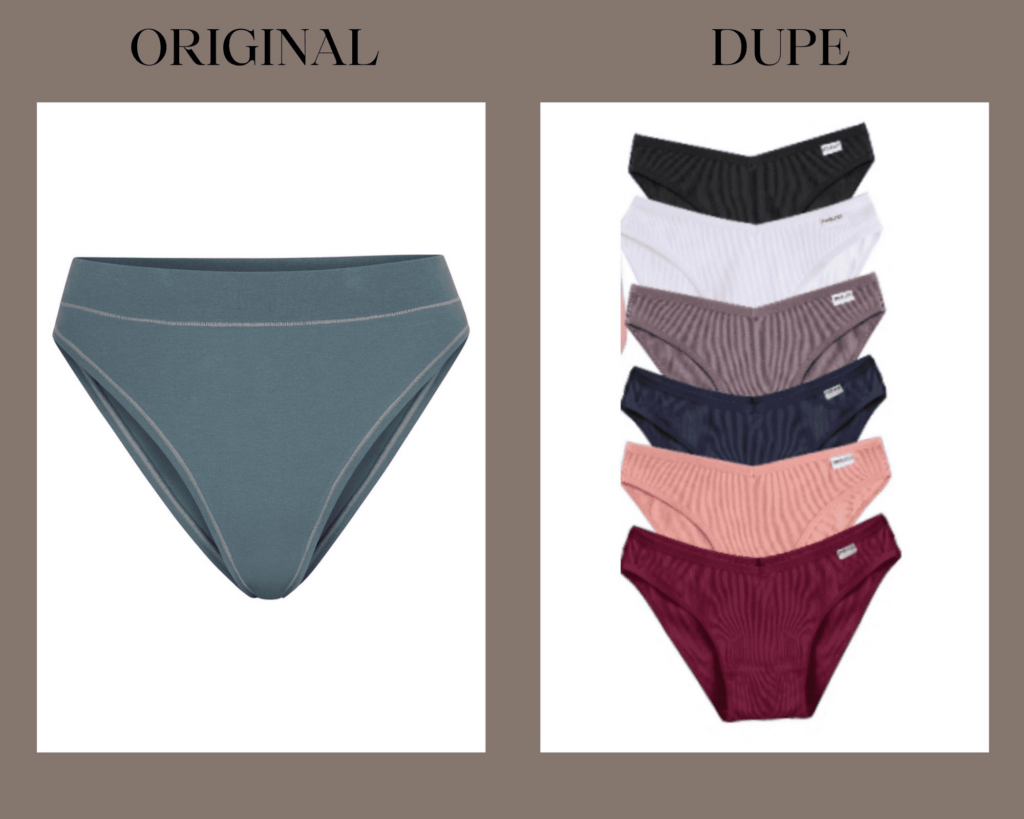 Specs
Price: $15
Material: Cotton and Spandex
V-Cut design
Low rise
Cheeky bikini cut
Pros
Comfortable and breathable
Stylish and stretchable
Soft and smooth fabric
Sweat-wicking
Machine washable
Set of 6 panties
Cons
The sizing needs to be more accurate.
Boyshort undies have become quite popular as they are moisture-wicking and comfortable. The Skims Boyshort Panty from the Cotton Jersey collection is one of the bestsellers that continues to woo women. However, if you want a reasonable and comparable alternative, the Fruit of the Loom Women's Boyshort Panty is potent. They are soft, fine, and durable at a value pack of 6 assorted undies at just $10.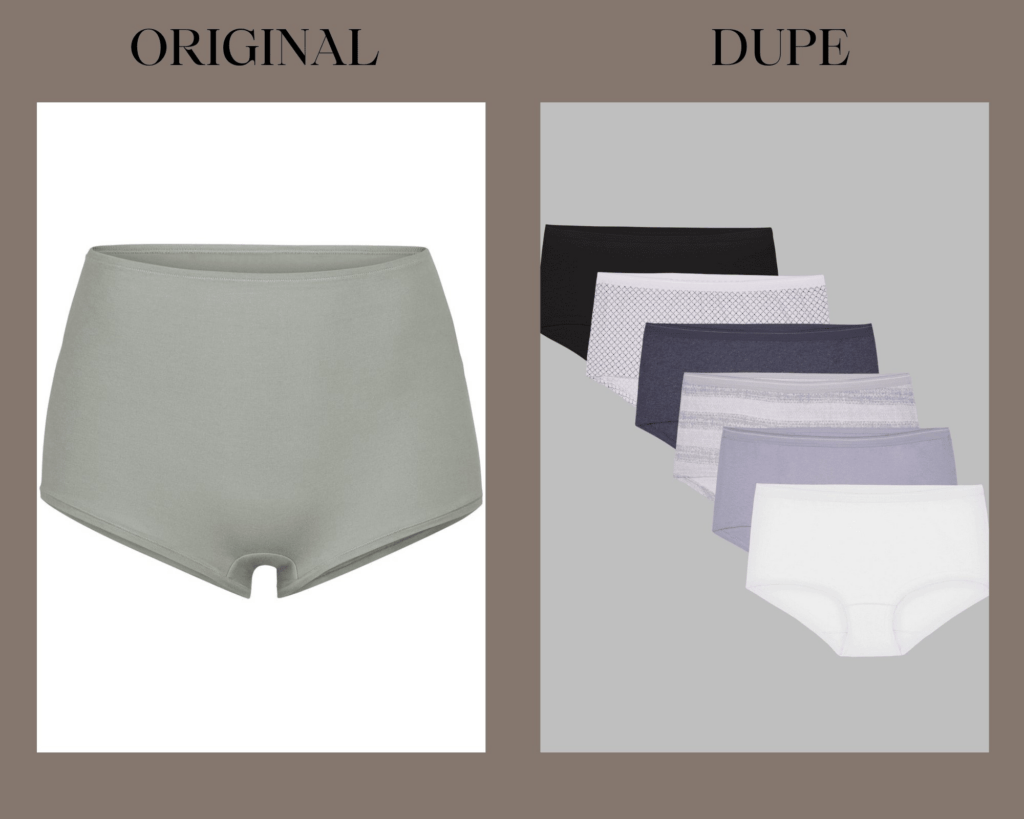 Specs
Price: $10
Material: Cotton
Six pack
Moisture wicking
100% cotton liner
Sizes available: 5
Pros
Soft and comfortable
Plush backed waistband
No pinching and no binding
Tag-free and odor-control
Cons
Finally, we have a sustainable substitute for the Skims sumptuous lacey Dipped Thong. The stretchable laced underwear with a T-back is definitely a must-have to spice up your lingerie collection. The Biziza Women's Panties T-Back Thongs at $17 are a viable option as they look similar and have the most comfortable elastic band and a flattering fit.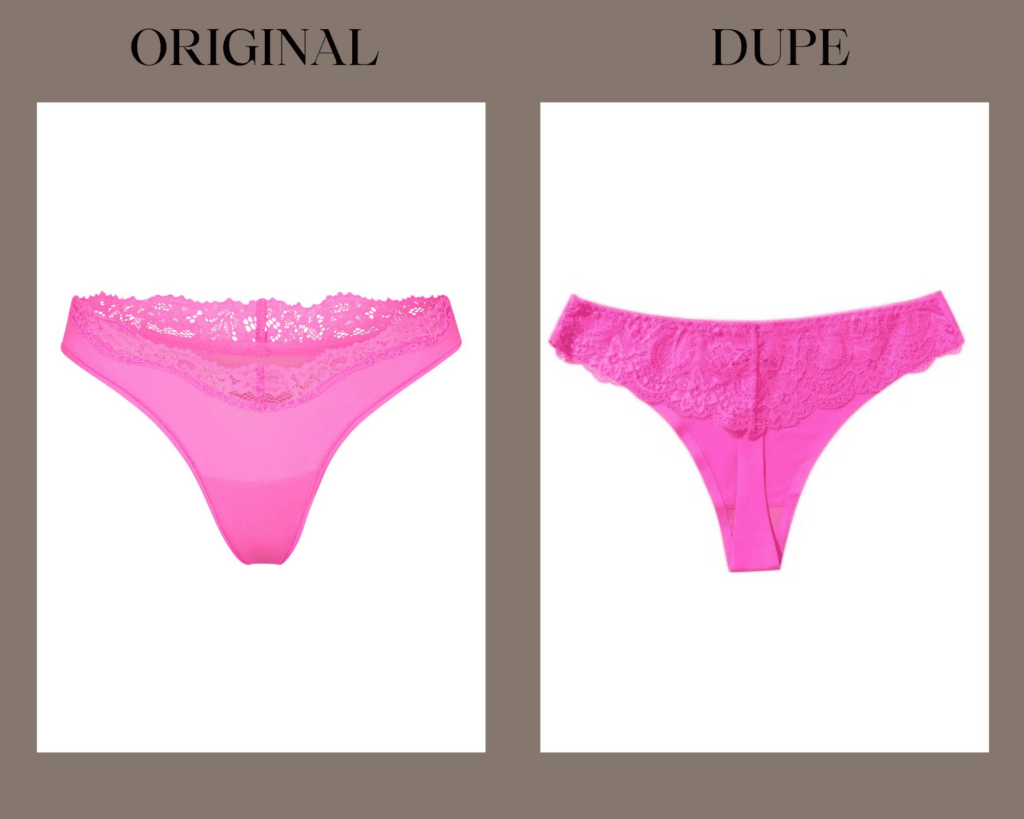 Specs
Price: $17
Material: Cotton
Low waist
T string thongs
Lace details
Colors available: 7
Sizes available: 4
Pros
Breathable and traceless
Ultra soft waistband
Tag-free
High-quality material
Durable and flattering
Machine washable
Cons
There are no reviews available.
3 Things to Consider Before Buying an Underwear | Skims Underwear Dupes
Choosing the right innerwear can be tiresome and overwhelming due to the vast availability and broad range of options. To help you choose the best, here are three essential factors you must consider to have a comfortable and secure brief.
Size and Fit
Sizes and fits of underwear differ according to your body shape and frame. Wearing the wrong size may lead to discomfort and irritation. So, make sure to measure your hips and waist to find an accurate fit.
Moreover, refer to the size guides the brands provide to buy better. Sizes vary according to different brands; hence, choosing the perfect size is essential.
Material
Fabric is one of the critical factors to consider as it directly touches the skin. Look out for comfortable and breathable materials that are not prone to chafing and rashes. Cotton, Modal, Silk, and Satin are comfortable materials that maintain vaginal health.
Furthermore, synthetic materials, including Polyamide, Elastane, Spandex, and Nylon, are breathable and sweat-wicking. They are super light and durable.
Style and Occasion
Your attire determines the type of lingerie you should wear, so having a variety of styles gives you the desired look and fit. A lot of times, people compromise comfort over look and fit. Doing this may affect the area around the inner thighs and vagina to sweat and cause itchiness and infection.
Indeed, it would help if you were practical about wearing the proper brief according to the occasion; however, make sure you prioritize comfort and the quality of the fabric.
Frequently Asked Questions | Skims Underwear Dupes
Is Skims really worth it?
Yes. Skims are worth every dollar. Aspects such as a universal color palette, unparalleled comfort, fabric quality, and durability make it one of the most sought-after lingerie brands.
What is Skims underwear made of?
Skims underwear is crafted with buttery, soft, and smooth fabric. The viral Fits Everybody collection, known for its ultra-soft and comfortable material, is made with Nylon and Spandex.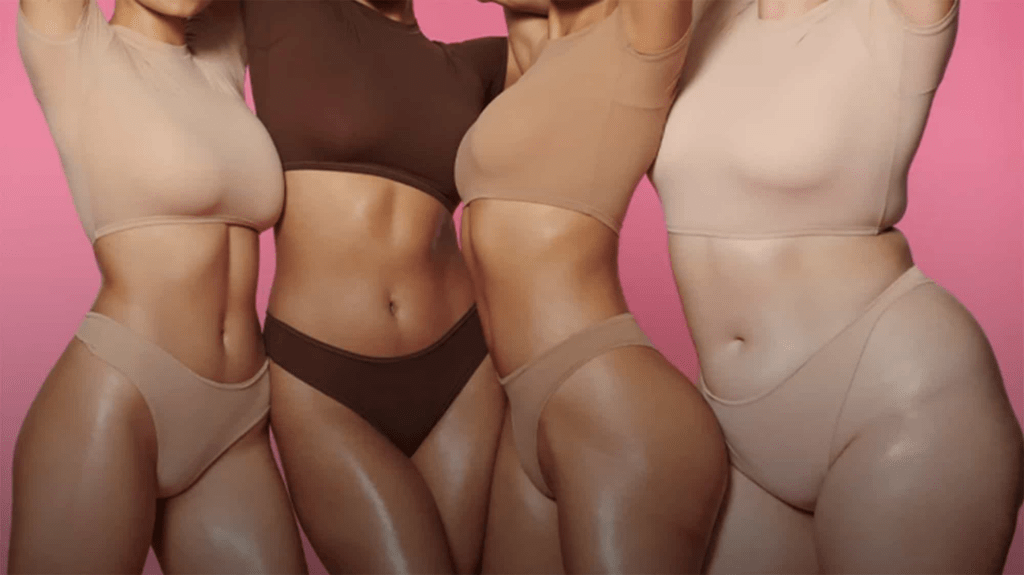 Which are the popular Skims Underwear?
Categories include Skims Underwear Tummy Control, Skims Underwear from the Naked Collection, Skims Underwear Cotton Jersey, and the signature Fits Everybody.
Which Skims underwear is the best?
Skims Dipped Thong from the Naked Collection tops the best-selling product list. The mid-rise panty without panty liners or edges is super soft and comfortable.
Which are the best Skims Underwear Dupes?
Aerie Superchill Seamless Thong Underwear, Calvin Klein Natural Flexs Fit Thong, Jo and Bette Cotton Thong Underwear and Biziza Women's Panties T-Back Thongs are perfect dupes of Naked Dipped Thong, Fits Everybody Regular Thong, Cotton Jersey Dipped Thong and Lacey Dipped Thong respectively.
The Closure | Skims Underwear Dupes
Skims is a global shapewear and lingerie brand owned by Kim Kardashian. The brand has revolutionized the shapewear industry with its high-quality, size-inclusive lingerie and intimates in neutral and vivid shades. Not only have they excelled in the shapewear market, but they also rank high in women's clothing.
However, Skims come with a hefty price tag, and thus people seek affordable alternatives. In this blog post, I have focused on the Skims Underwear. I have picked out the 11 best-selling underwear and elaborated upon a dupe for each. Also, find a mini buying guide to help you purchase the right underwear without hassle.
Some Latest Posts: