A good bra is something we need for strong support for our chests. And when I discuss comfortable quality bras, I am reminded of the cult-classic Kim Kardashian undergarment apparel brand Skims. Its size-inclusive range of bras, bodysuits, and classy loungewear has blown up the internet with raving reviews and popularity.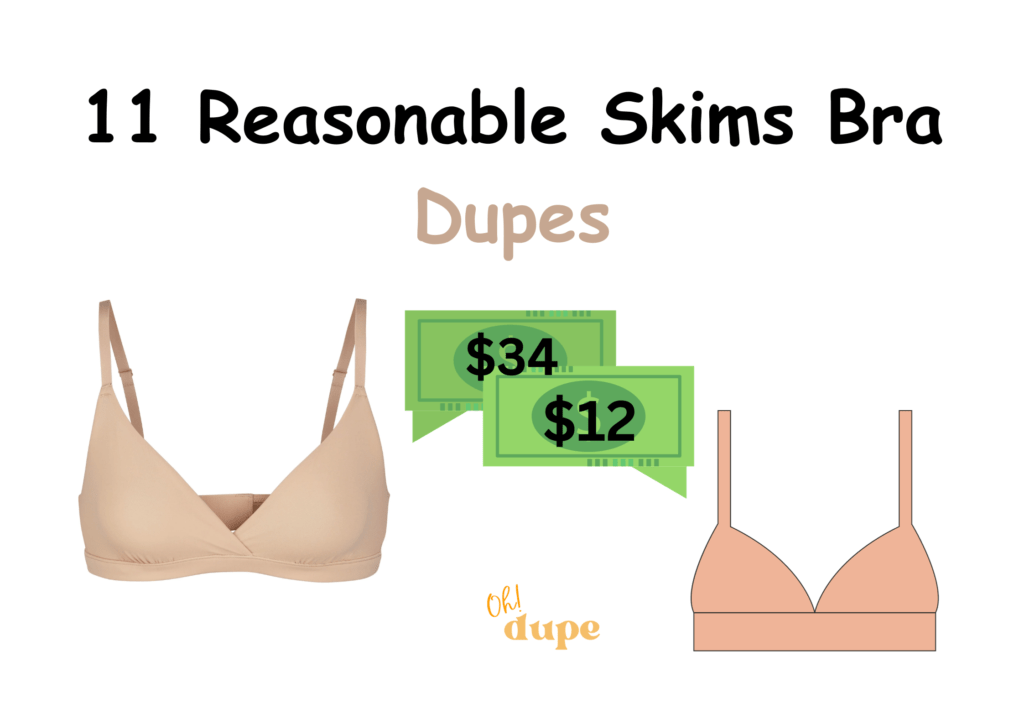 Wearing Skims is another way to pamper your body and adorn it with supportive and comfortable intimates and briefs. From subtle to spicy, Skims has it all! However, Skims is beyond budget; thus, women seek equally appealing and plush undergarments.
In this article, I have picked up the bestselling Skims Bras and elaborated on their affordable dupes. Before we get to Skims Bra Dupes, let's learn more about Skims as a top lingerie and loungewear brand.
Skims Bra Dupes | Sustainable Skims Substitutes!
Model and actress Kim Kardashian founded Skims in September 2019 to bridge a gap in the shapewear market. "I couldn't find shapewear and underwear of my skin tones, and so I launched this line to help women feel themselves and have lingerie in various skin tones, sizes, and designs," she said in an interview.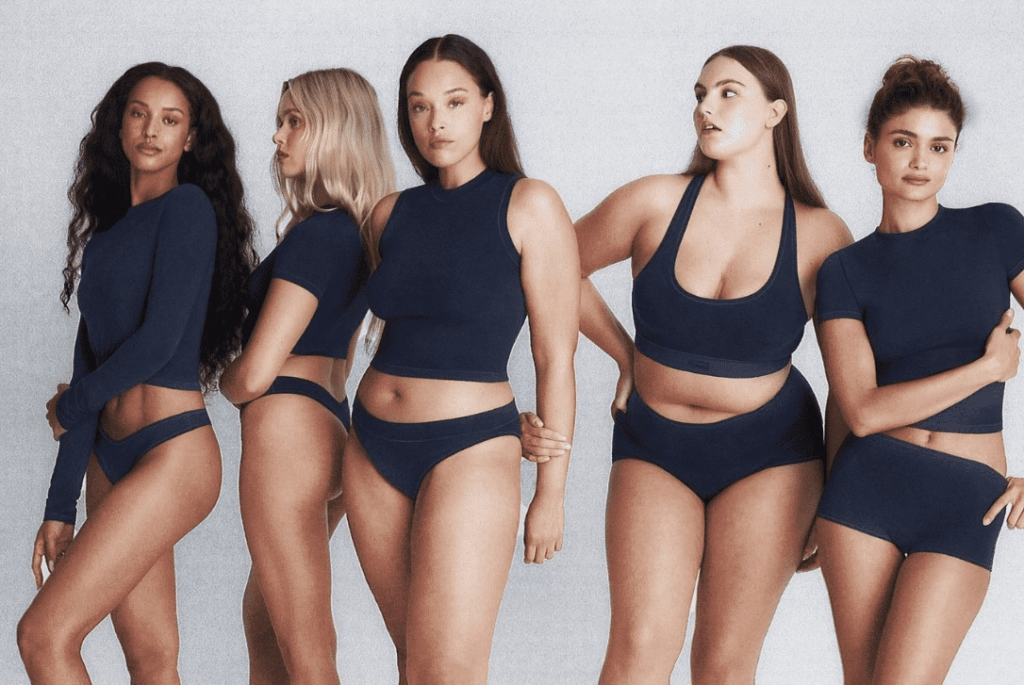 The high-quality products crafted with meticulous details provide the utmost comfort and satisfaction. Moreover, marketing strategies, including a super active social media dominance and email marketing with a solution-oriented approach, have contributed to sky-reaching sales.
Unfortunately, bestselling products from the hottest Fits Everybody collection do not fit everybody's pocket. So, for those looking for equally performing Skims Bra Dupes without breaking the bank, here are 11 Skims Bras with their sustainable substitutes.
(Note: The following bras are arranged according to their prices, from low to high.)
The first Skims bra is for the Fits Everybody bust-lifting and seamless Scoop Bralette. The Joyspun brushed Knit Bralette is lightweight and offers the required coverage and support. Furthermore, it gives a sleek no-show look with broad straps for a firm back fit and lasting comfort. The fabric quality of the Joyspun Bra resembles the buttery soft Skims Bra.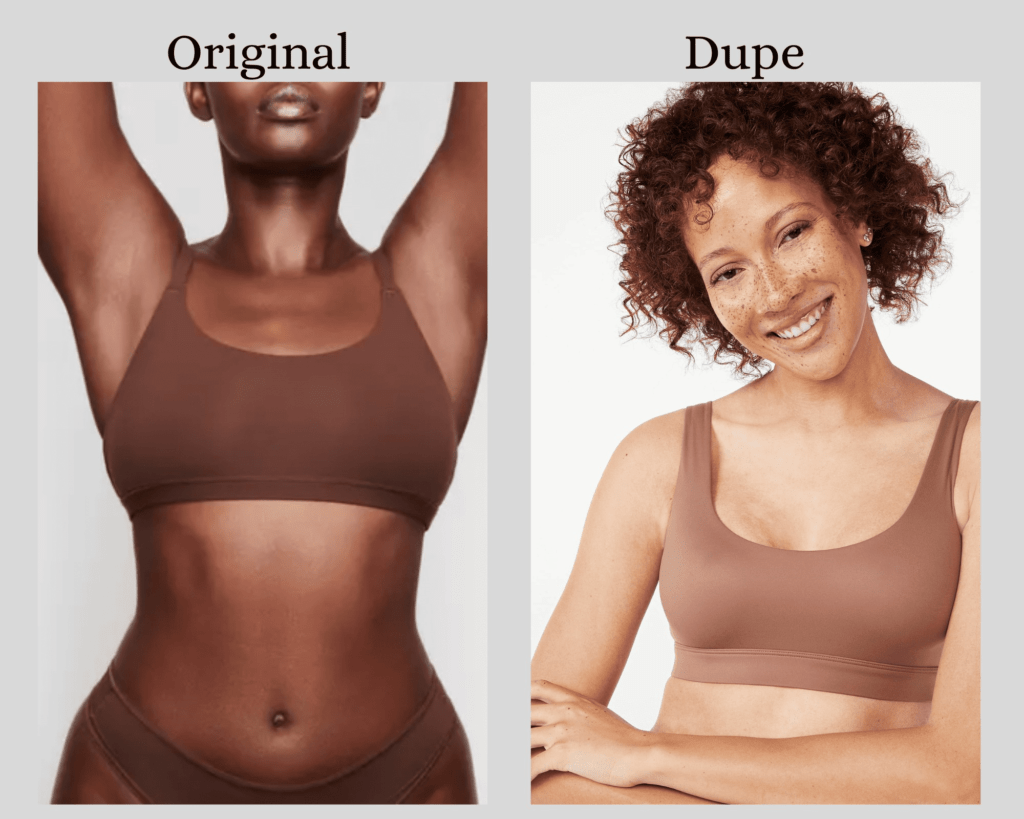 Specs
Price: $12
Material: Polyamide and Spandex
Wire-free
Moderate coverage
Lightly lined
Pullover style
Scoop neck and wide band
Pros
Super soft, stretchable fabric
Seamless and tag-free
Machine washable
Convenient and comfortable
Lightweight
Cons
The straps are not adjustable.
Marks and Spencer have an affordable dupe for the Fits Everybody smooth Bandeau. The pull-on design bandeau bra provides a clean look and has a wireless removable pad. Intricately adorned with playful details, the Bandeau is weightless and comfortable.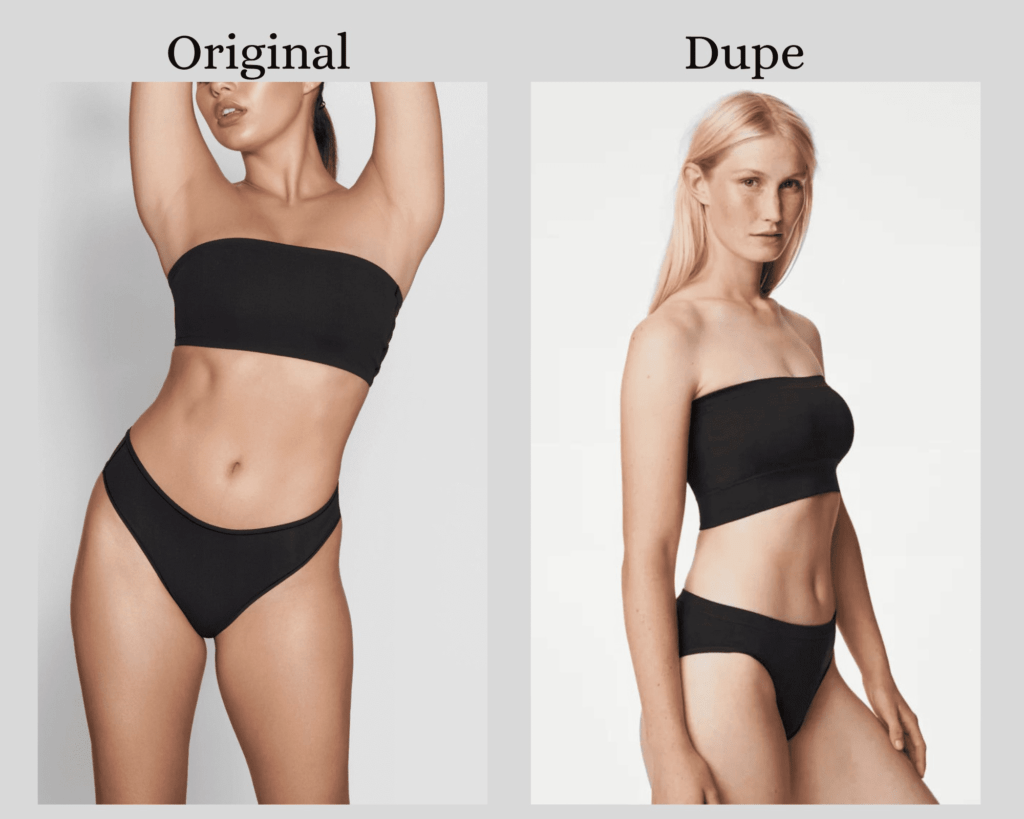 Specs
Price: $15
Material: Polyamide and Elastane
Removable padding
Non-wired bra
Pull-on style
Elastic underband
Pros
Seamless and smooth look
Lightweight and comfortable
Versatile wear
Unique and playful details
Cons
The material is too thick.
For a sheer no-bra look, we have the dupe for the Molded Unlined Demi Bra by Smart and Sexy. It gives a luxe feeling and instantly emboldens the look with its modern mesh construction. The unlined bra has two molded cups to define the bust and provide a playful and flirtatious look. The comfortable second-skin-like feeling replicates the Skims Demi Bra.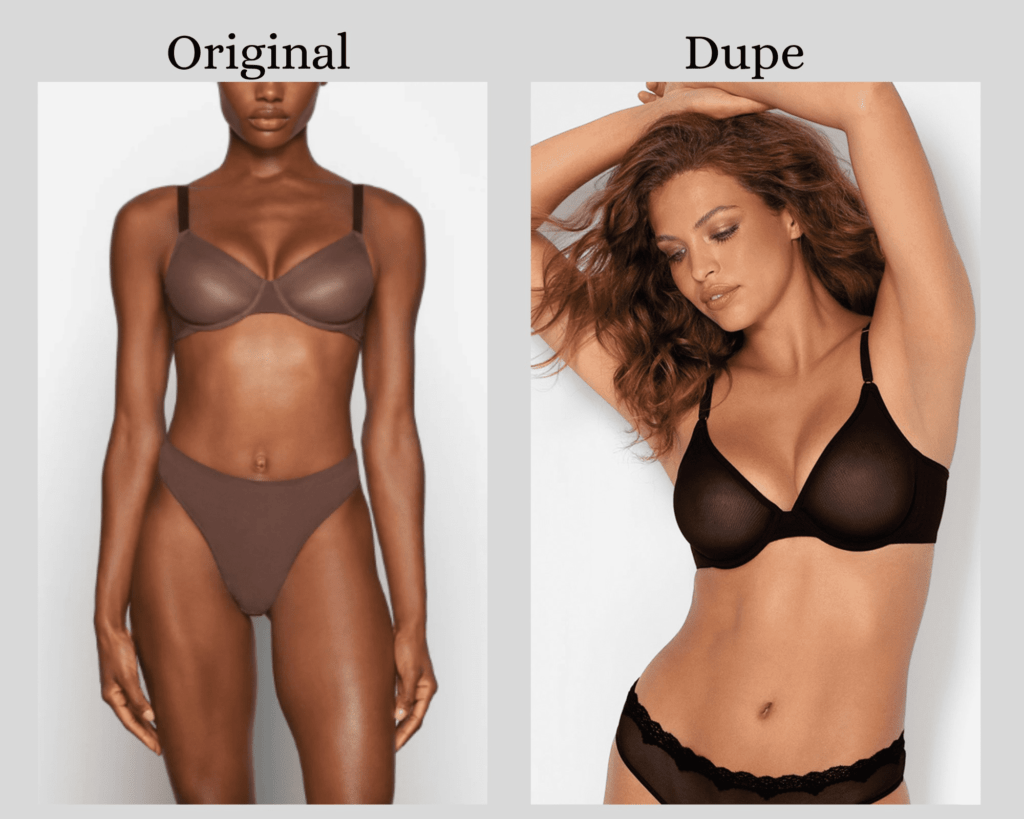 Specs
Price: $15
Material: Mesh
Underwire unlined bra
Modern mesh build
Two layered sheer molded cups
Matte elastic trim
Demi cups
Ballet back
Hook and eye closure
Adjustable straps
Pros
Sheer and sultry
Soft and airy
Natural shape flattering
Seamless look
Velvet smooth straps
Cons
The bra needs to be more accurately sized.
The triangle bralette from the Skims Fits Everyone Collection set the market on fire with its ultra-supportive stretchable fit and streamlined style until I discovered Calvin Klein's version at half the price. The V-necked bra with adjustable thin straps gives optimal hold and feels like second skin.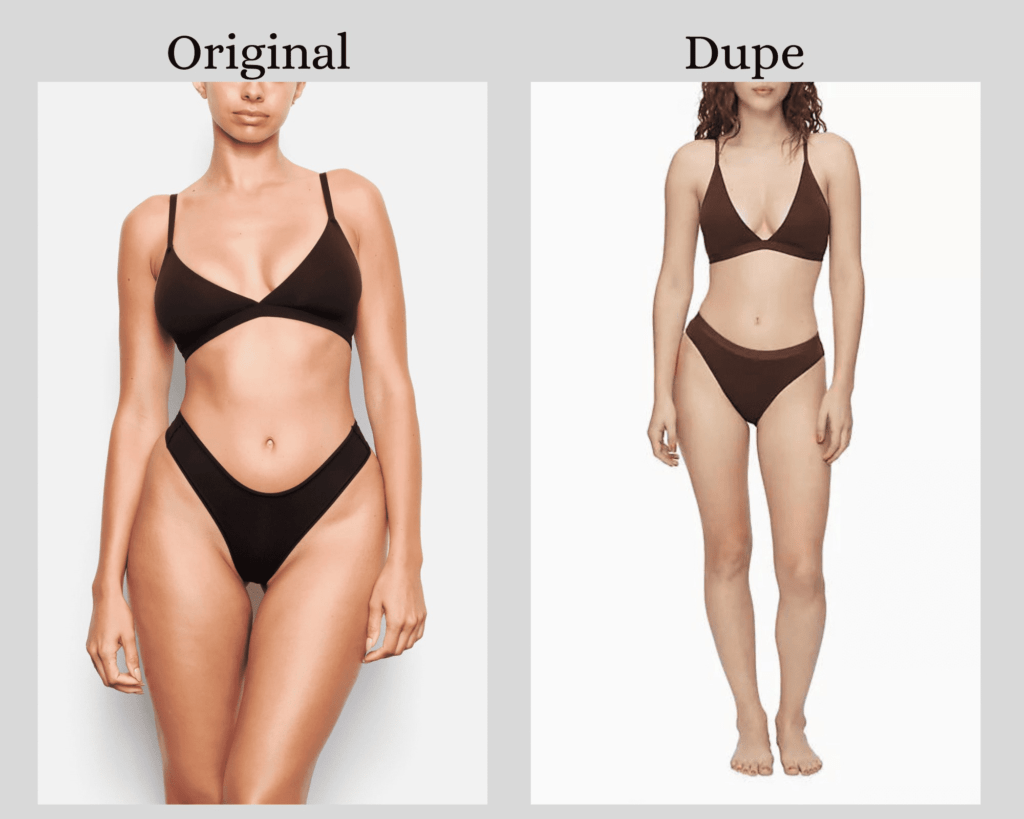 Specs
Price: $15
Material: Nylon and Elastane
CK logo waistband
Stretch technology
V neck
Slim adjustable straps
Cushioned back
Hook and eye closure
Pros
Second skin feel
Good support and comfortable
Flexible fit
Stretchable and breathable
Cons
The padding keeps moving.
One of the signature products from the Fits Everybody collection that you wouldn't like to miss out on is the classic racerback style bra. However, the Original Women's Racerback Bralette from Hanes gives tough competition to the Skims' one due to its cotton-rich sweat-wicking fabric and flexible custom fit at just $16.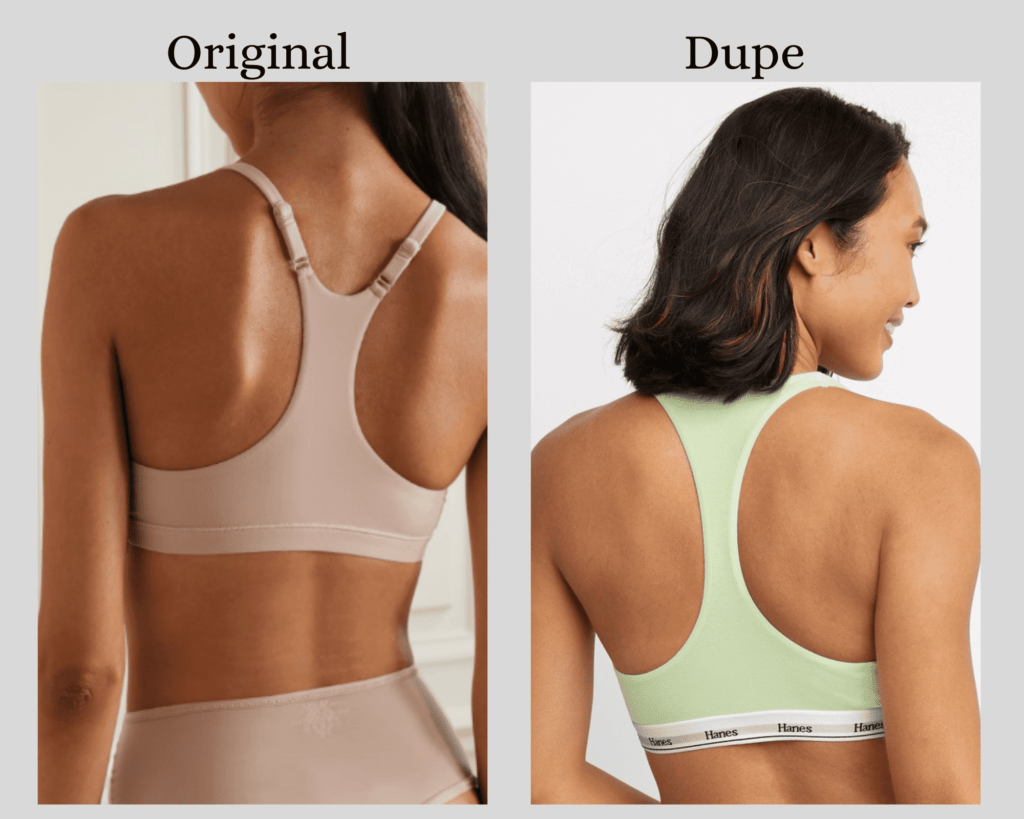 Specs
Price: $16
Material: Cotton and Spandex
Full coverage
Pull-on style
ComfortFlex Fit Technology
Pros
Cool and comfortable fabric
Sweat-wicking
Custom-fit
Convenient wear
Second skin feel
Cons
The bra can't be machine-washed.
What if I have the best dupe for the curve-flattering Skims Seamless Sculpting Scoop Bra that provides the same targeted compression to contour your chest? Yes. The tagless, non-irky comfort bra is a must-have in your closet to keep your breasts in place and enhance their shape.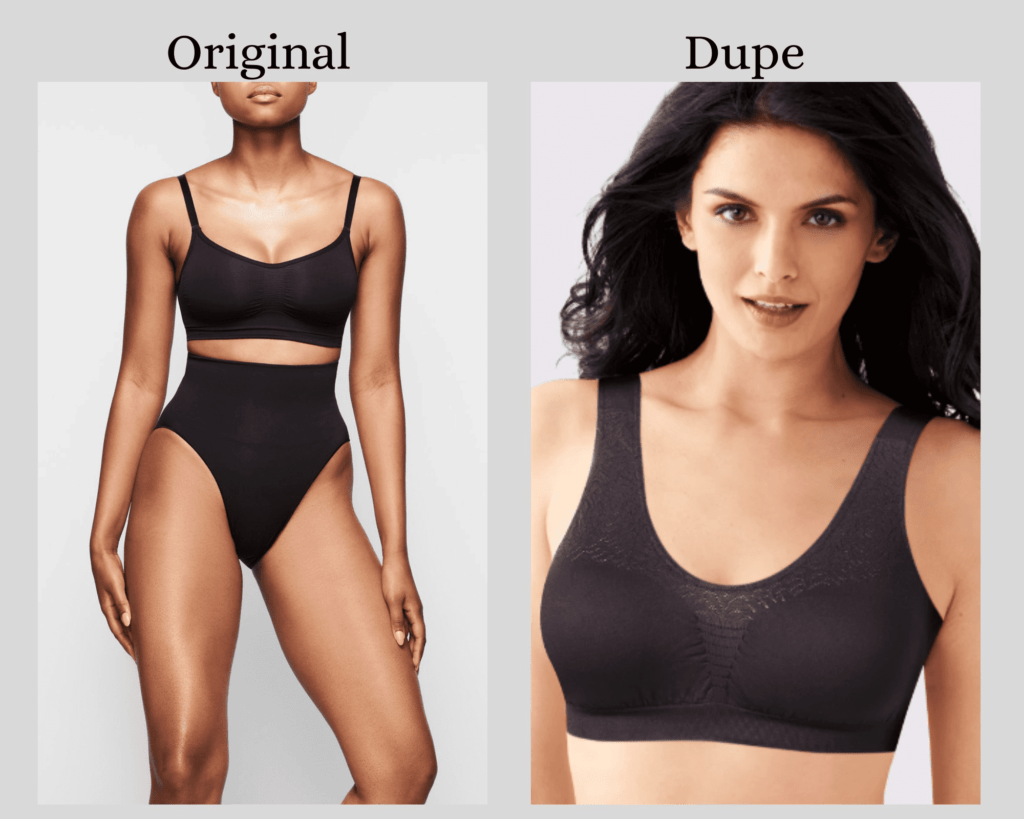 Specs
Price: $18
Material: Nylon
Four-way stretch
Soft microfiber Cool Comfort ™ fabric
Pullover style
Wireless and light support
Knit fabric
Sweat-wicking and seamless
Pros
Breathable and comfortable
Silky smooth fabric
No chafing and digging
Easy to wash and dry
Cons
This supportive backless T-shirt bra from Dobreva is an excellent dupe for the ultra stretchable Fits Everybody T-shirt bra by Skims. Featuring soft padded cups and a deep U-shaped low-back design, it makes the preferred choice for that backless dress you've longed to wear forever.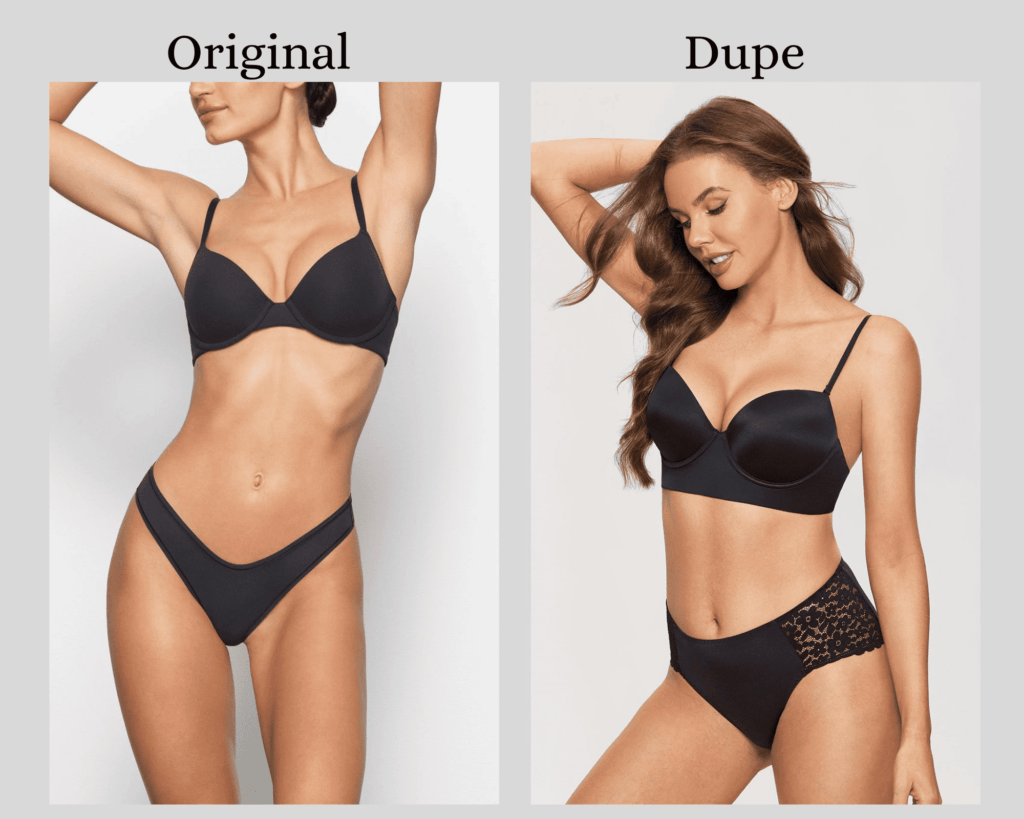 Specs
Price: $25
Material: Polyamide and Elastane
U-shaped low back design
Soft padded demi cups
Edge free fabric
Pros
Comfortable
Made for backless dresses
Soft and secure
Smooth look
Convenient and adjustable
Versatile and flexible
Cons
There are scanty reviews available.
My hunt for the Skims Super Push Up Bra dupe ended when I found the double-cupped Push Up wireless bralette by Fall Sweet. Apart from replicating the flirty plunge neckline and a bust-boosting fit, it has a front opening with a tie detail.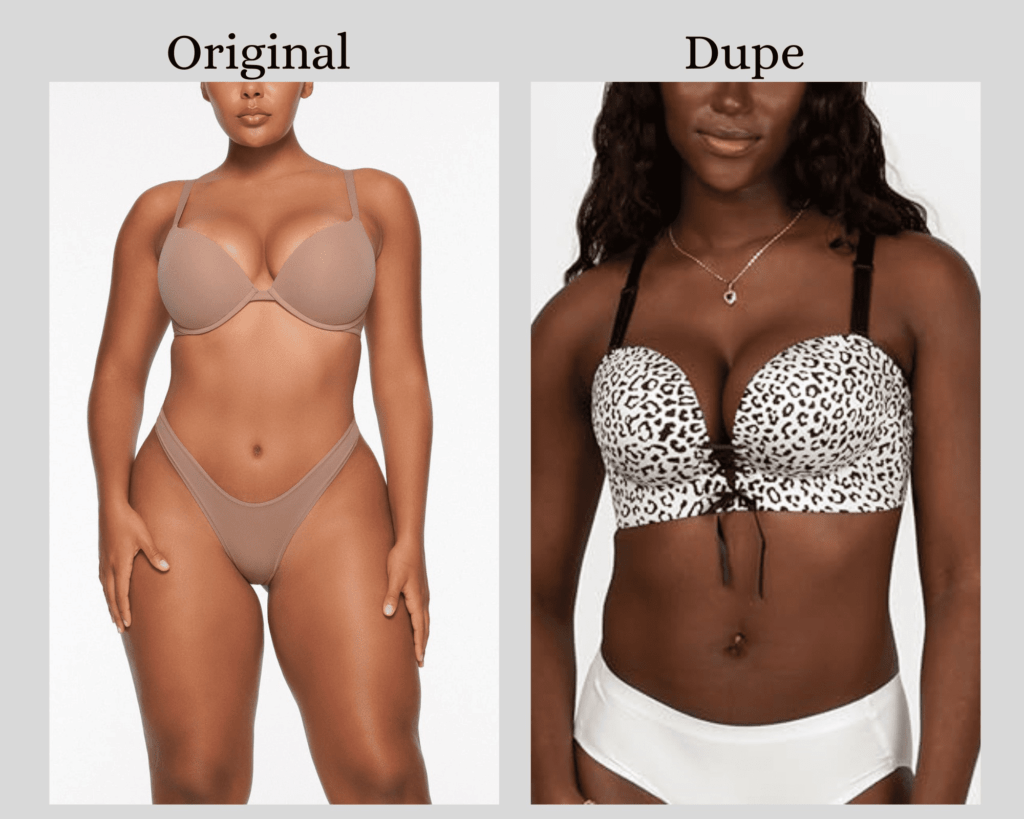 Specs
Price: $26
Material: Nylon and Spandex
Added push-up pads
Wireless
Hook and eye closure
Pros
Soft and comfortable
Stretchable
Shape enhancing
Convenient and adjustable
True to size
Cons
There are few customer experiences online.
The spicy and sultry unlined plunge bra from the Skims Lace collection has a doppelganger that is waiting to be worn by you. The Enchante Black Lace Underwire Bra by HSIA with patchy lace work and sheer upper has a playful vibe. The intricate detailing combined with lifting and lightweight wearing experience makes it a comparable alternative to the original Skims Lace bra.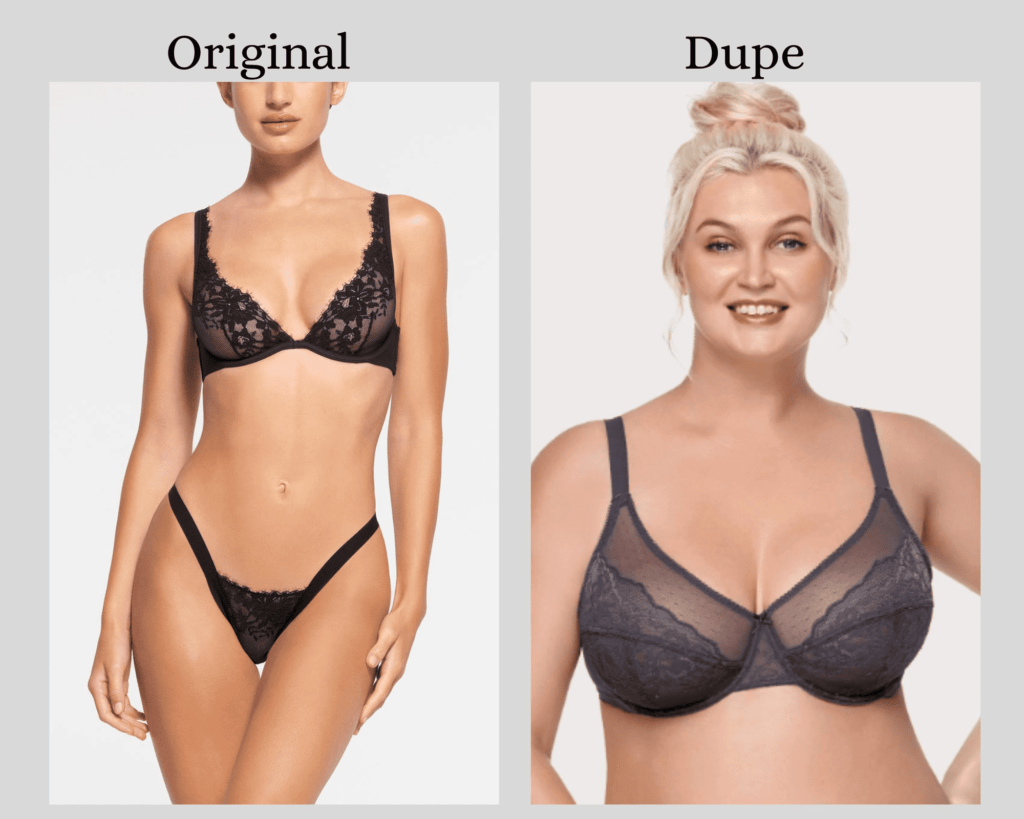 Specs
Price: $30
Material: Nylon and Spandex
Black lace underwire bra
Adjustable straps
Hook and eye closure
Patchy lace embroidery
Wide straps
Sheer upper
Pros
Soft and playful
Detailed design
Delicate lace work
Flattering and flexible
Lightweight, soft lace
Cons
Plunge bras are one of the essential lingeries. Skims Fits Everybody Plunge is superlight, butter-soft, and fit for everyday wear. Everything about the bra is incredible except for its price. Ah! Don't panic; I've got you covered, as I have found an affordable option from Wingslove that works the same at a decent deal. The naturally lifting bra, lightly padded with soft cotton, maximizes comfort and features a beautiful plunge neckline.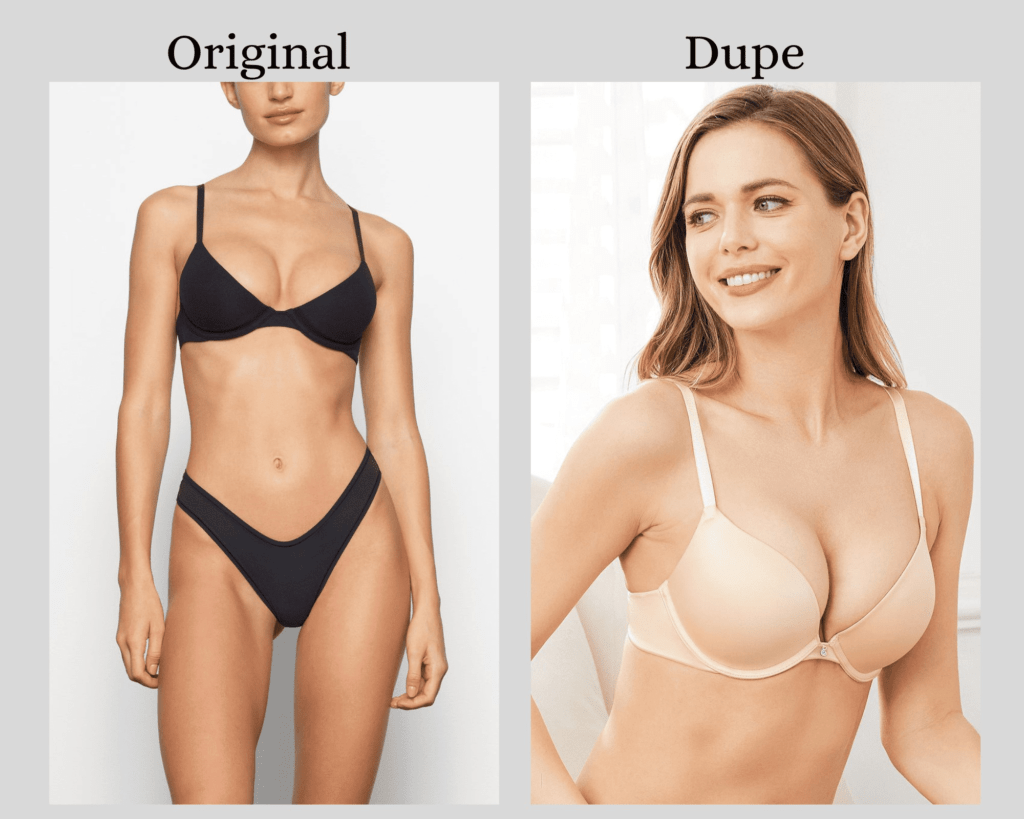 Specs
Price: $34
Material: Nylon and Elastane
Puh up bra
Lightly padded
Plunge neckline
Adjustable straps
Hook and eye closure
Underwired
Pros
Natural shape lift
Smooth and moisture-wicking
Breathable and comfortable
Supports for 64 hours
Seamless
Cons
The bra is not true to size.
Why splurge $52 when you can save some with the Warners Cushioned Lightly Lined Strapless bra? Priced at just $37, this bra is perfect for pairing your tank or tube tops. The bra gives you the best shape without constantly adjusting your fit occasionally. The convertible straps are super convenient, while the cushioned underwire prevents digging.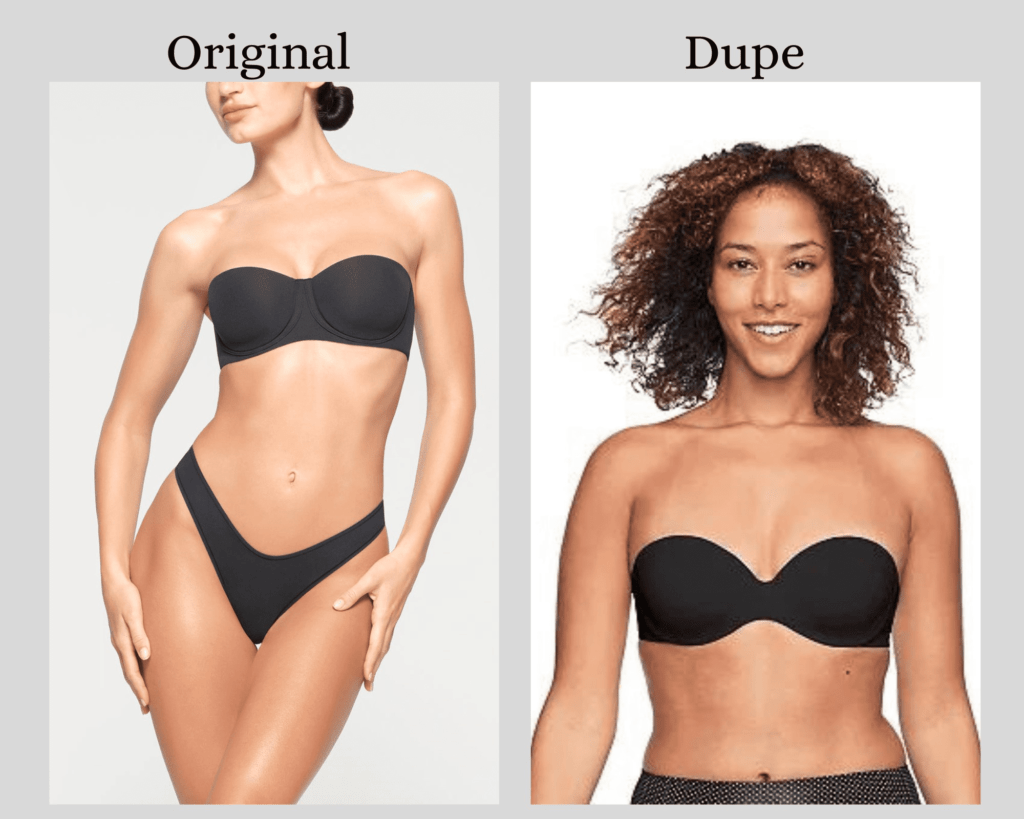 Specs
Price: $37
Material: Nylon and Spandex
Underwire cushioned fit
Full coverage cups
Hook and eye back closures
Convertible strapless bra
Elastic waistband
Pros
Convertible and removable straps
Versatile styling
No digging
Anti-slip band
Shape enhancing
Cons
Things To Do To Keep Your Bras Looking As Good As New | Skims Bra Dupes
Careful Washing
Washing your bras the right way helps increase its durability and usability. To prevent your bras from getting discolored and ill-fitted, hand wash them in cold water with a gentle and alcohol-free detergent. Machine washing the bra is not a great idea, but it can be done.
Ensure you use a mesh lingerie bag to delicately wash your intimates without entangling and avoiding damage by other garments. Don't forget to set your machine in gentle cycle mode.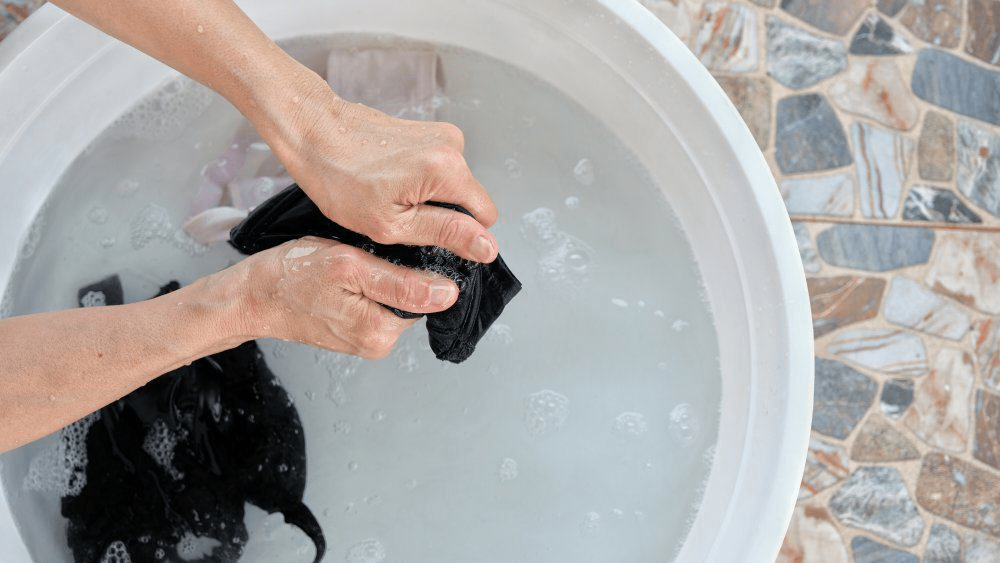 Post-Wash Care
Handle your bra carefully, and do not twist or squeeze them to remove excess water. This can ruin the shape of your cups and damage underwires. Hang them to air dry in a cool, dry place away from direct sunlight.
Storage and Maintenance
Now it's time to keep the bras in the closet drawers. Do not fold your bra; instead, keep them flat and stack them up on one another for easy navigation and long-lasting wear.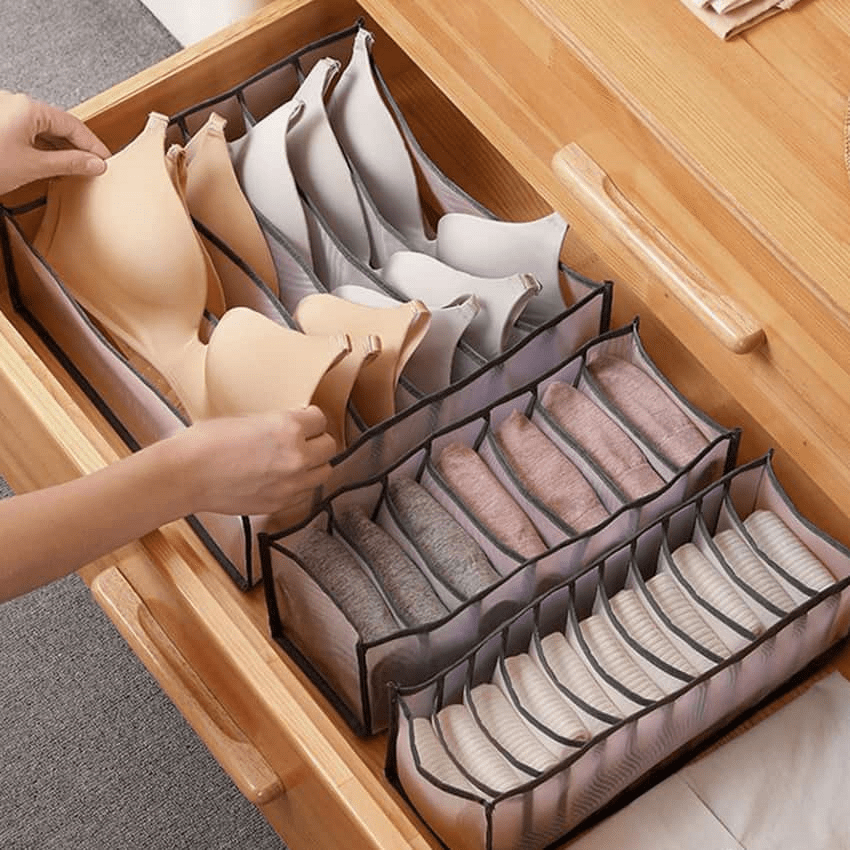 Usage
Using the same bra too often may wear it out and loosen the straps and elastic waistbands. Try wearing different bras for different outfits to keep the shape of the cups and padding intact.
Packing Them Right
Use a different compartment to store all your lingerie. Fasten the clasps and hooks and tuck the straps inside for a compact packing. Stuff the cups with panties or socks to keep the bra safe and undamaged.
Frequently Asked Questions | Skims Bra Dupes
Is Skims owned by Kim Kardashian?
Yes. Skims is owned by famous actress and model Kim Kardashian, Emma Grede, and Jens Grede. The US-based shapewear brand has revolutionized the clothing industry with its comfortable and unique silhouettes.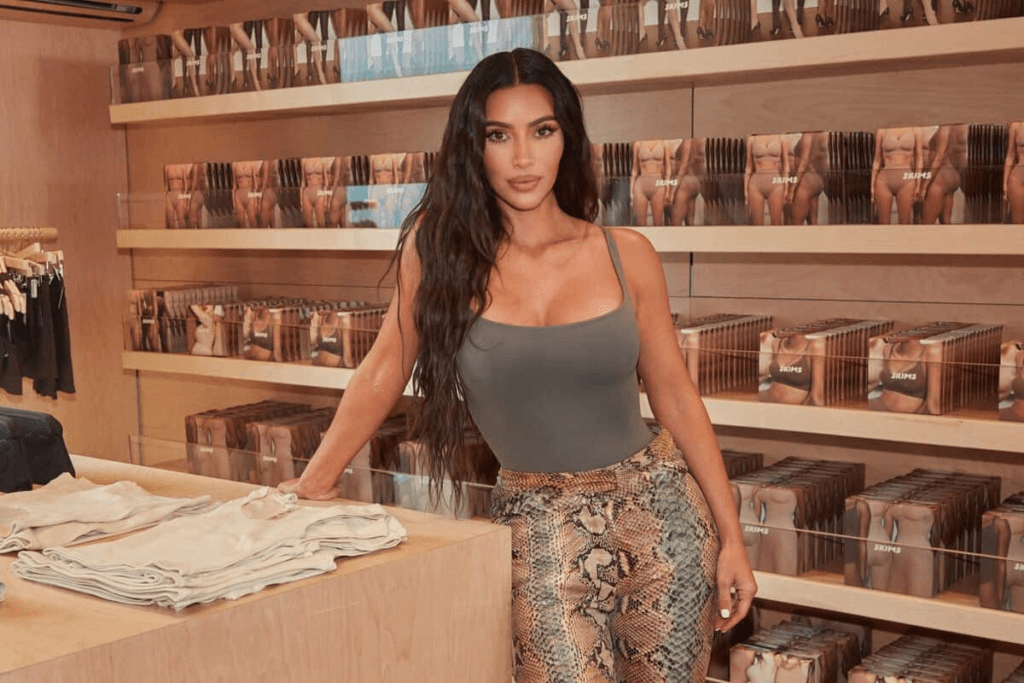 Are Skims really worth it?
Yes. Skims is absolutely worth the price. Many positive reviews online laud its fabric quality, color variations, size inclusivity, and wearability. Frequent sales on their bestselling products make people choose Skims over any other shapewear brand.
Are Skims Bras true to size?
No. Although Skims claims accurate sizing, users argue it's a misfit. Moreover, Skims is believed to intentionally manufacture smaller fits for a "compressive look and feel." So, to have a comfortable fit, consider sizing up.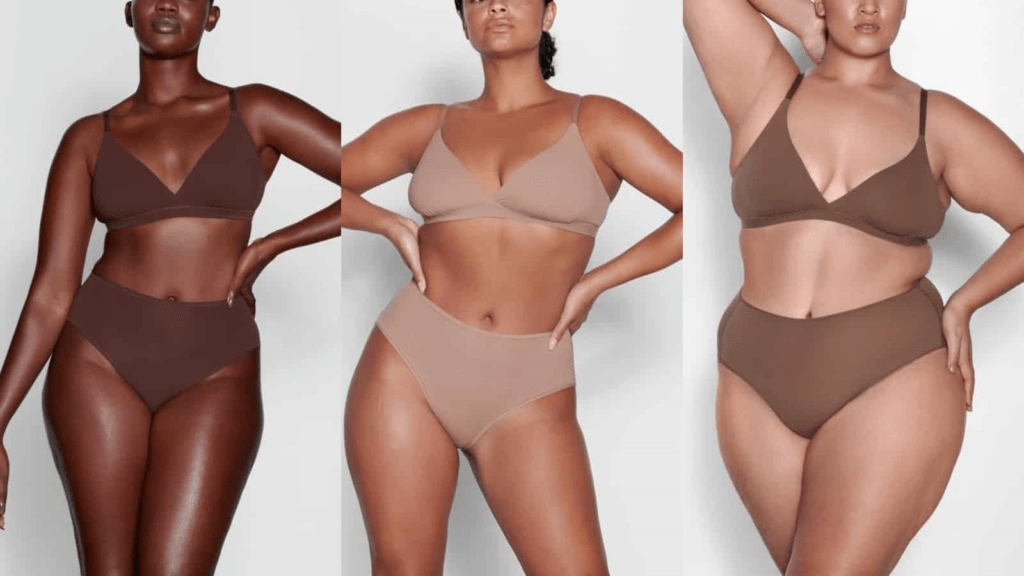 Which Skims Bra is the best?
Fits Everybody T-Shirt Bra, Demi Bras, and Fits Everybody Triangle Bralette are some of the best Skims Bras. The buttery smooth fabric with utmost comfort and shape-flattering fit make these rank on the top list.
Which are the best Skims bra dupes?
Bras from Marks and Spencer, Calvin Klein, Dobreva, HSIA, and Wingslove are some of the best dupes for Skims Bandeau Bra, Fits Everyone Triangle Bra, T-Shirt Bra, Lace Bra, and Strapless Bra, respectively.
The Closure | Skims Bra Dupes
Skims has given a new direction to the shapewear industry by introducing intimates in natural skin color tones, including plus sizes, and creating a positive brand reputation. Buttery smooth fabric offers unparalleled comfort and significant compression. However, Skims is overpriced, and other well-known brands have almost the same features at a moderate price point.
Thus, to facilitate your required Skims Bra Dupes, I have chosen 11 bestselling Skims Bras and given a comparable dupe for each of them. I have also attached a brief bra maintenance section to help you keep your bras durable. I hope this blog post helps you find the best Skims Bra Dupe. Read on more to find reasonable dupes for trending products below.
More Dupes: