If you are a fitness freak eyeing the best athleisure to burn out in the gym, you most likely have seen Gymshark on your socials and saved it on your cart. Proceed to buy or exchange it with a similar product, as I will discuss 11 Gymshark Dupes. Scroll below for a brief review and comparable alternatives to your top three favorite Gymshark Products.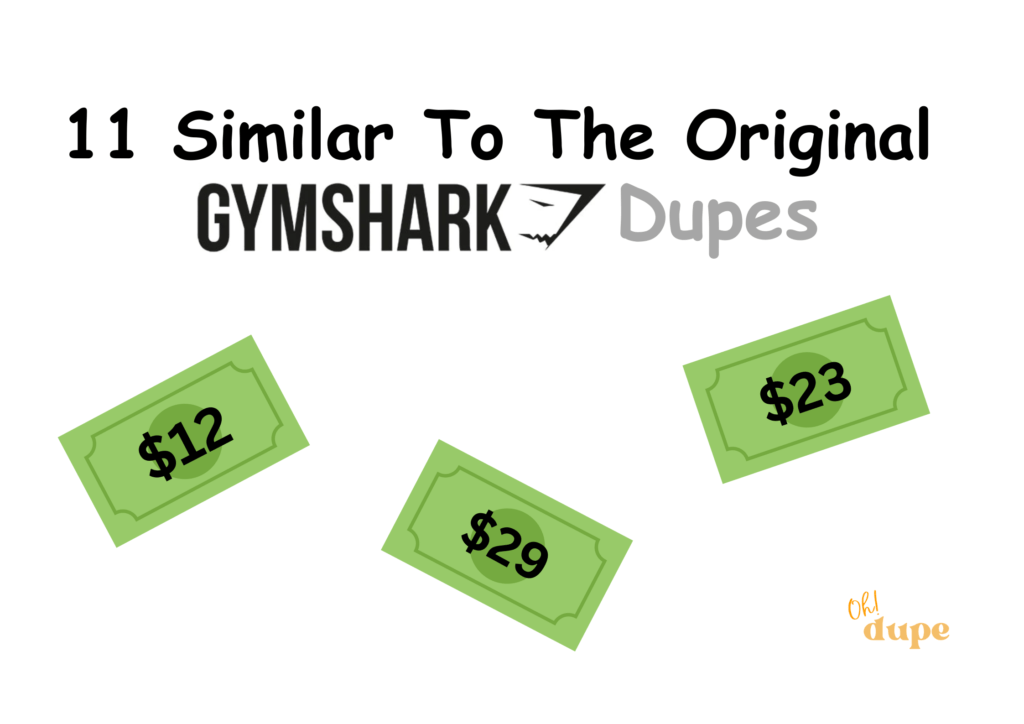 Gymshark is a booming athleisure brand that has ruled the global fitness community and set trends in the activewear apparel industry. Its breathable and moisture-wicking material blended with versatile and comfortable designs has grabbed the fitness market with 0.6% in the US.
However, many find it overhyped, expensive, and mostly out of sale. It has led to people looking for comfortable and reasonable substitutes. In this article, we will zoom in on three bestselling Gymshark products: Flex High Waisted Leggings, Sweat Seamless Long-line Sports Bra, and Sweat Seamless Long Sleeve Crop Top and their equivalent dupes. So, let's set out for amazingly affordable Gymshark Dupes.
Gymshark Dupes | What Makes Gymshark a Cult- Favourite Gymwear Brand?
Established on a small scale in 2012 in Birmingham, the UK-based activewear apparel brand has come a long way. With its dedication to using high-quality sweat-wicking fabrics and detailed design elements, Gymshark has conquered the global arena of the sportswear industry. But things do not stop here; its mastermind marketing strategy has heavily contributed to its worldwide success.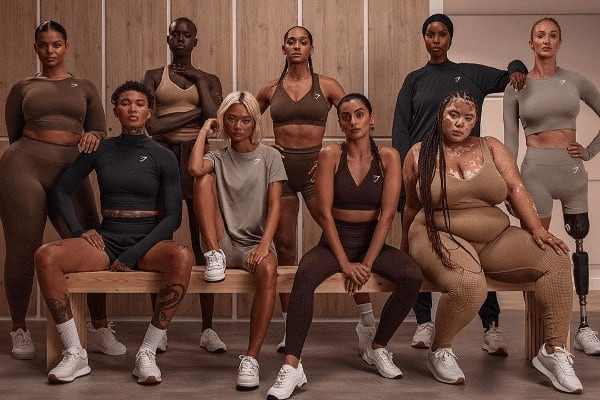 Gymshark is beyond a premium athleisure global brand. Its detailed digital business strategies, including influencer marketing, social media image creation, a well-trained customer support team, and community building, have added to its decent reputation and skyrocketed sales. Its innovation in product development and commitment to providing fashionable and functional sportswear catering to a wide range of customers has resulted in its one-of-a-kind brand identity.
These dots combine to make it a cult favorite and the most preferred gym wear of commoners, fitness influencers, and well-known icons such as Jennifer Garnier and Hailey Bieber.
Gymshark Flex High-Waisted Leggings
One of the hottest Gymshark products is Flex high-rise body-fit leggings. The body-hugging compression pants are crafted with highly stretchable sweat-wicking fabric, making working out comfortable. The seamless ribbed waistband gives a flattering and flexible fit. While most gym enthusiasts flex their Flex Leggings, many users find them overpriced, tight, and thick. So, if you want comfortable and comparable Flex-like leggings, here are four products that'll probably make you buy one.
Aoxjox is one of the leading online fast fashion brands specializing in manufacturing good quality, fashionable gym wear at reasonable rates. At Aoxjox, one can find alternatives to many high-end products at pocket-friendly deals. The first Gymshark leggings dupe I found was on Aoxjox. The Smile Contour Ombre Seamless Leggings are similar to the Gymshark Flex. Its high waist fit, ribbed waistband, and shaded contouring make it the best Gymshark flex leggings dupe.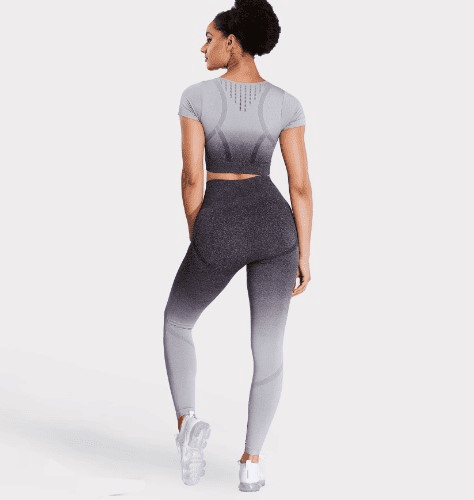 Specs
Material: Nylon, Polyester and Spandex
High waist fit
Robbed Waistband
Seamless Shaded Contouring Patterns
DRY technology
Pros
Squat proof
Stretchable and breathable
Seamless and flattering
Cons
Pro tip
The customer-driven fitness fashion brand focuses on producing the latest sportswear with a wide variety and on a budget. The Smile contour leggings are a popular product as they are lightweight and soft and feature a contoured curve design to add definition. Its detailed design and comfortable blend of materials make it a comparable Gymshark dupe.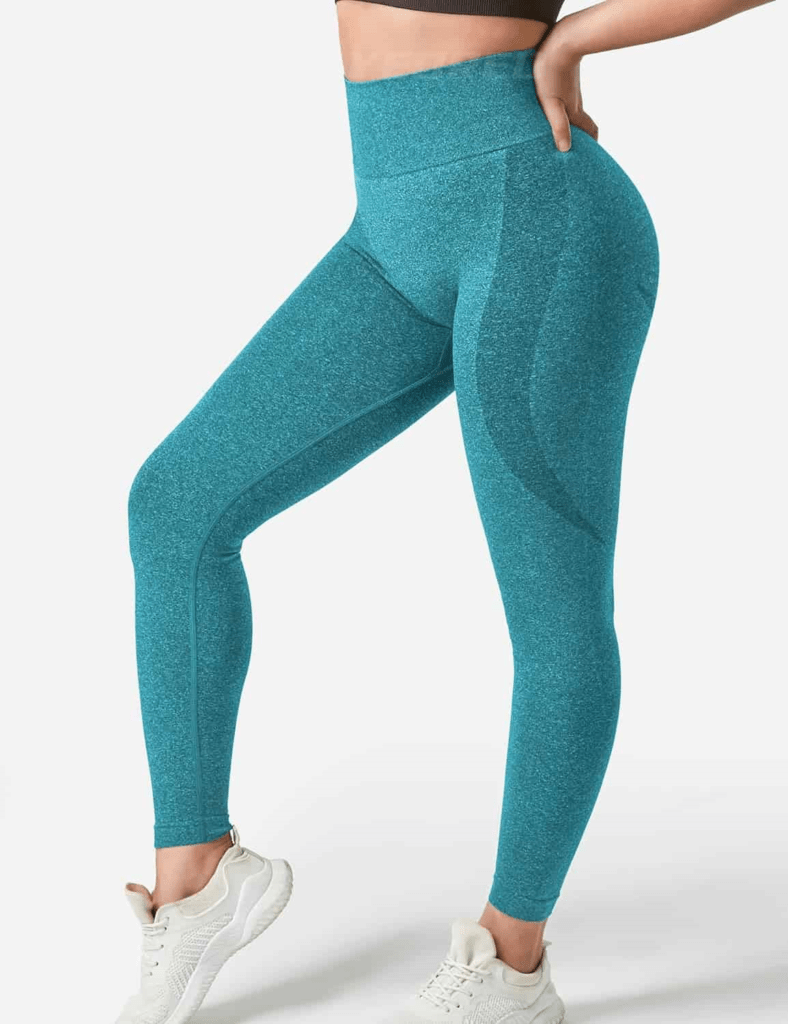 Specs
Material: Polyester and Spandex
High Waist Design
Crescent Contours on Curves
Skinny Fit
Wide elastic waistband
Pros
Soft and comfortable fabric
Lightweight
Adds definition to hips
Plus size friendly
Cons
The number of reviews is less.
With DRY technology to combat unnecessary sweat and ensure a comfortable and distraction-free workout, Higorun brings in their Naked Feeling Collection, which is breathable and stretchable. The dark-shaded contours give your waist a snatched and stylish look.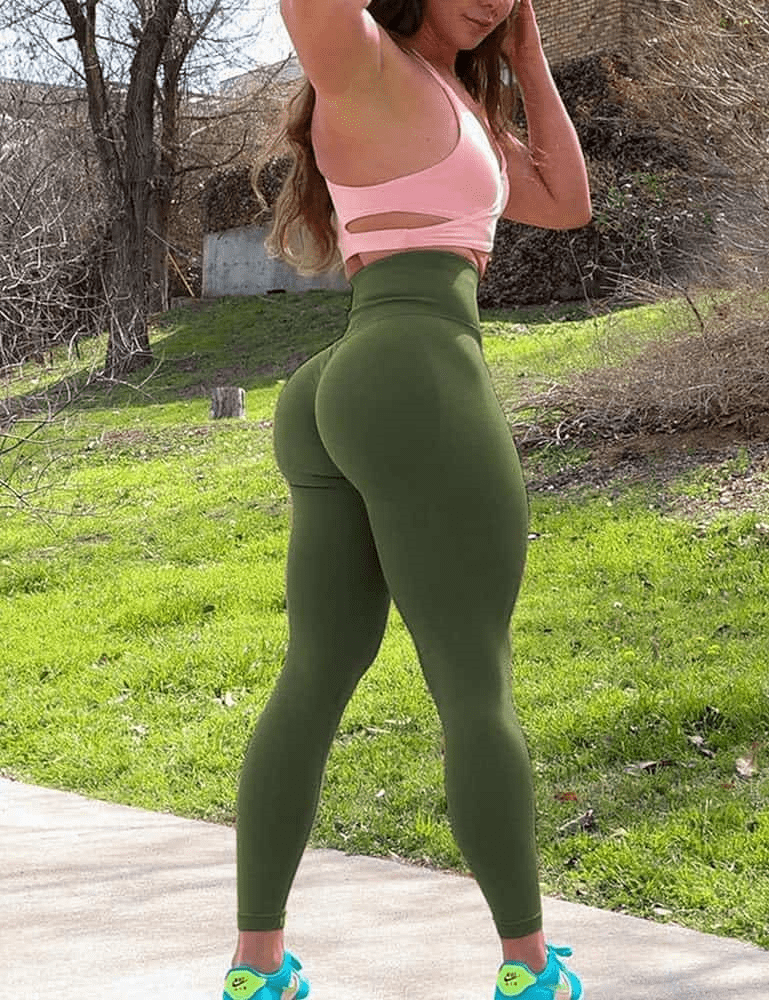 Specs
Material: Polyester and Polyamide
DRY Technology
Shape defining contours
Crotch Gusset
Broad waistband
Pros
Squat proof
No camel toe situation
Anti-cellulite elastic band
Breathable and Flexible
Cons
The leggings are slightly see-through
Pro Tip
If you are between sizes, size up.
Gymtalent was launched with a mission to create multifunctional designer athleisure. Leggings crafted with cutting-edge DRY and Seamless Technologies ensure the material's breathability, elasticity, and utmost comfort. The ribbed waistband with a well-compressed fit is all you need for a flexible and hassle-free leg routine.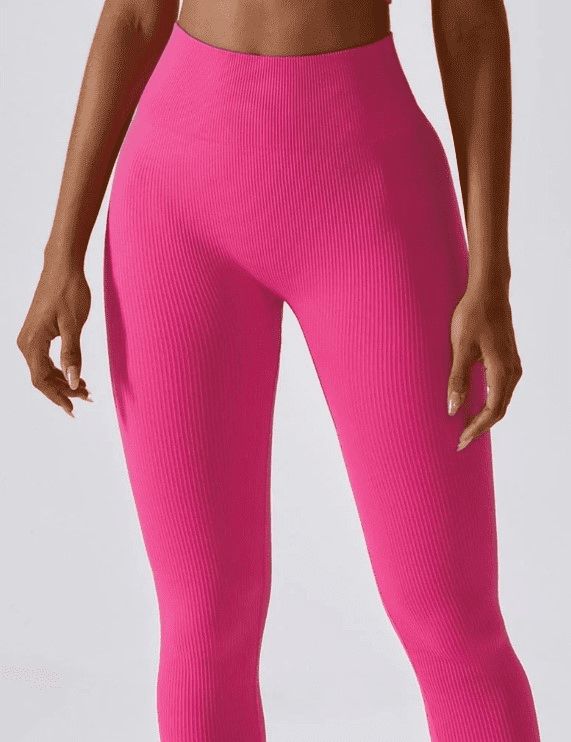 Specs
Material: Recycled Nylon and Spandex
High Waist Design
Four-Way Stretch
Latest Seamless Technology
Full length
Ribbed Waistband
Pros
Soft, stretchy, and comfortable
Enhanced mobility
Breathable and sweatproof
Flexible and Versatile
Cons
No customer reviews online
Gymshark Sweat Seamless Long-line Sports Bra
The next bestselling Gymshark product in the sweat collection is the Gymshark Sweat Seamless Long-line Sports Bra. Built with premium DYNMC ™ fabric, the light support bra is soft, breathable, and durable. The internal cup opening with detachable cups showcases flexibility and versatility, while the well-shaped ribbed waistband provides the required support and comfort to endure the sweatiest sessions.
However, the $48 sports bra is pretty expensive. Thus, we found some considerable dupes that provide the same comfort and support. Find four other products to choose from if you are hesitant to try on the Gymshark Sports Bra.
I have recently discovered this brand, and I am obsessed. The quality that you get for the price is incredible. This light support bra is made with moisture-absorbing fabric and is stretchable and supportive. The cross-back strappy design ensures back fit and coverage, while the front features removable pads for convenience. The versatile, stretchy, mesh-lined, breathable bra is the best gymshark long-line sports bra dupe.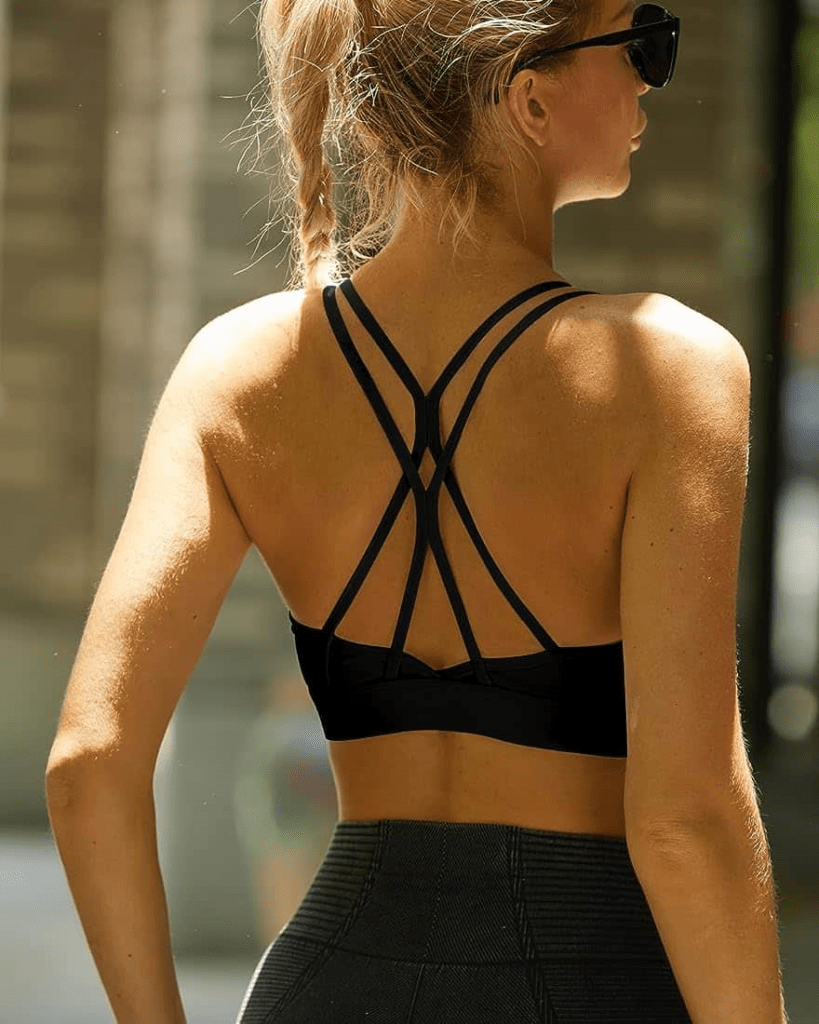 Material: Nylon
Strappy Criss Cross Back
4 Way Stretch
Pushed-up and Padded Removable Cups
Inner Mesh Lining
Pros
Moisture wicking fabric
Full coverage
Convenient adjustment
Breathable and cool
Cons
A lot of users found the bra narrow and tight.
If you are looking for that one long-line bra that'll match all your leggings for low-impact exercises, look no further than this effortless crisscross strap sports bra by Stella Woman. The scoop neckline and spaghetti crisscross supportive back straps are the key features of the bra. The sweat-wicking, weightless bonded long-line bra is flexible and versatile, catering to all medium and low-impact workouts.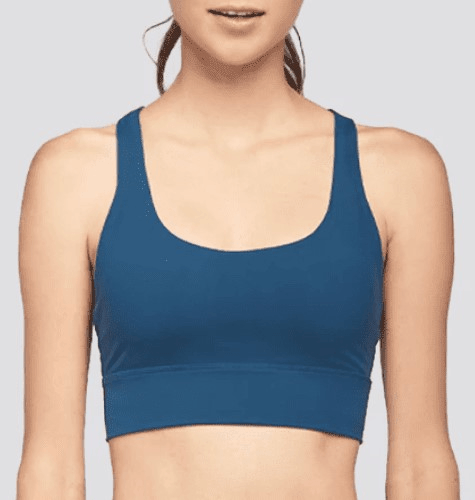 Specs
Material: Nylon and Spandex
Scoop Neckline
Criss Cross Spaghetti Straps
Bonded long-line design
Detachable Pads
Pros
Soft and stretchable fabric
Breathable and sweatproof
Comfortable and lightweight
Cons
The number of reviews online needs to be higher.
Nike is one of the tough competitors of Gymshark but with a comparatively lower price range. The Nike Dri-FIT Indy Light Support Sports is designed with soft fabric and mesh side detailing for a sweatproof and breathable activity. The V-neck design and front mesh allow airflow and help you dry and feel comfortable. The racerback fit provides robust coverage and adds an element of style.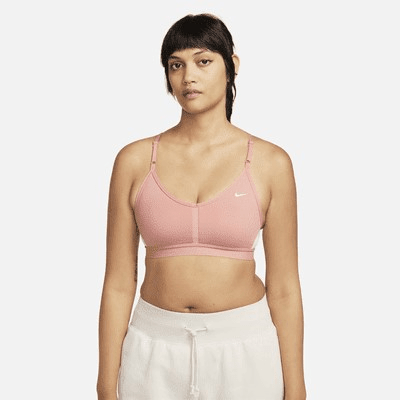 Specs
Material: Recycled Polyester
Mesh side panels
Nike Dri-FIT Technology
Removable Pads
Flat seams
Racerback Design
V-shaped neckline
Pros
Soft and comfortable
Breathable material
Sweat-wicking
Convenient and Versatile
Cons
The padding does not stay in place.
With a soft knit material and well-engineered ventilation, the UA Seamless Low Long Sports Bra is worth considering to carry on less impact workouts on the go. The four-way stretch fabric allows flexible movements while the soft detachable cups retain shape. Moreover, the skinny cross-back design is adjustable and supportive.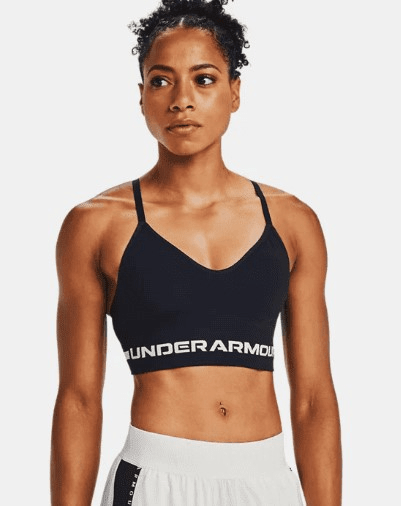 Specs
Material: Nylon and Elastane
Removable Cups
Skinny Strap and Cross-back design
Wide jacquard band
Four-way stretch material
Pros
Good support
Breathable and sweatproof
Adjustable and convenient
Quick drying and cool
Stretchable and flexible
Cons
A bit on the pricier side.
Gymshark Sweat Seamless Long Sleeve Crop Top
It's high time we start talking about the midi-length long-sleeve crop top by Gymshark. The smooth and comfortable material sleeve crop top is underrated in the Gymshark new sweat collection.
With elastic detailing, a round neckline, raglan sleeves for convenient movement, eyelet detailing for ventilation, and an adjustable drawstring at the front, it is definitely something worth working out with. However, if you find $46 unreasonable, I have three equally comfortable and flexible products.
Seasum is a well-known yoga activewear brand that manufactures stylish, comfortable gym clothes inspired by popular high-end brands. Viral for its buttock lifting and shape-retaining leggings, the long-sleeve crop top is no exception. The ultra-soft and stretchable material prevents uncomfortable, sweaty sessions. Its elastic bottom band provides good coverage, and thumb holes keep your sleeves in place.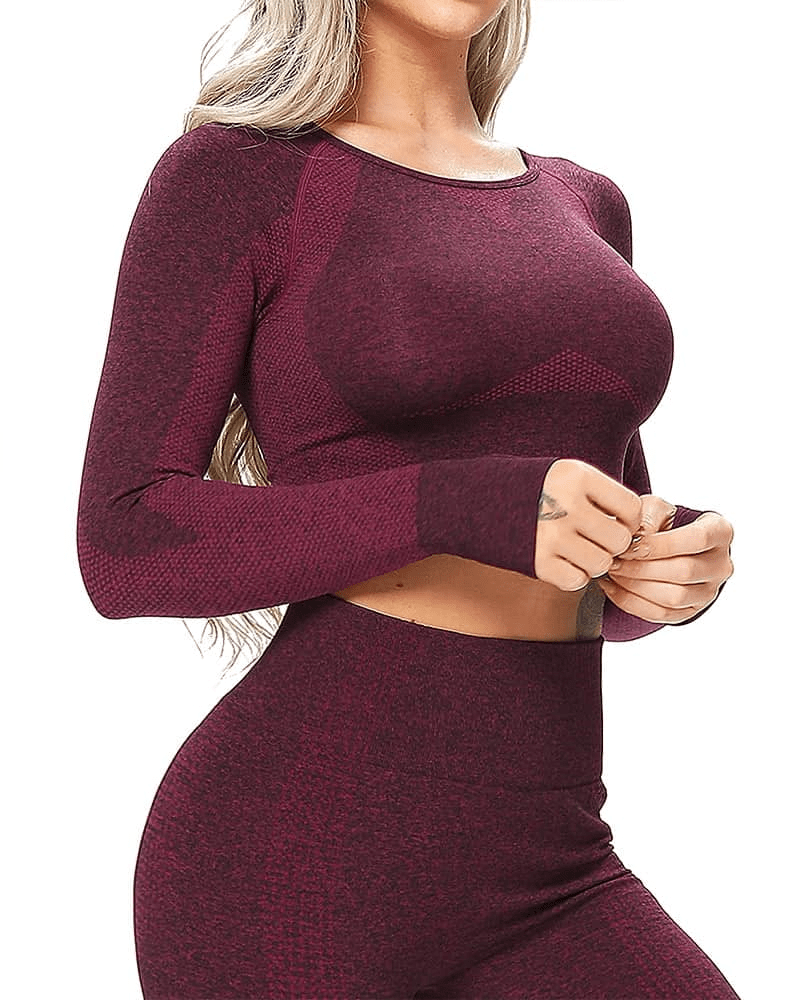 Specs
Material: Nylon, Polyester and Spandex
Four-way stretch material
Elastic waistband
Thumbholes at the cuff
Pros
Affordable price
Soft and comfortable
Sweat-absorbing and skin-friendly
Stretchable
Flexible
Cons
CRZ Yoga is my go-to sportswear brand, and you all know that. Its quality and price have always impressed me. Recently, I bought this slim-fit long-sleeve top from its seamless collection, and to my surprise, it resembled the Gymshark long-sleeve crop top. Besides its smooth, supple fabric and optimum breathability, the cut fit, crewneck, and raglan sleeves allow flexible and convenient motion.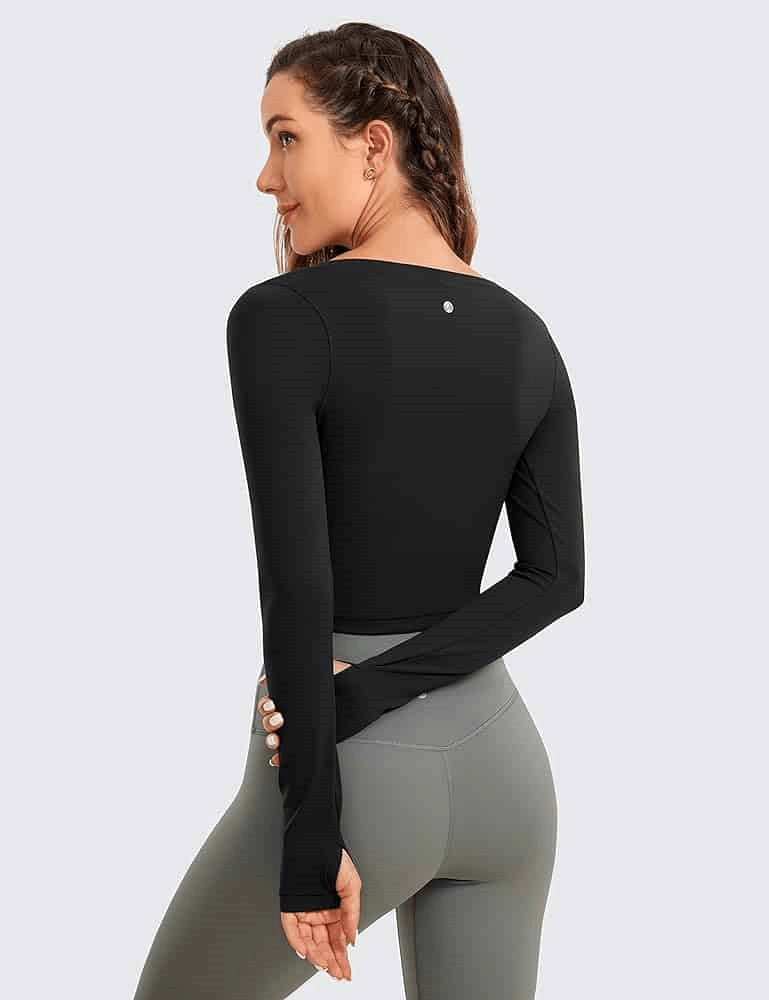 Specs
Material: Polyester, Polyamide and Elastane
4 Way Stretch
Soft Knit Fabric
Cut fit
Crew Neck and Raglan Sleeves
Pros
Sweatproof and quick-drying
Minimum seams
No chafing
Shape defining
Flexible and easy movement
Cons
There are no thumb holes at the cuff.
I swear by a few fitness brands, and Aerie is one of them. The Gymshark Long Sleeve Crop Top is unique, so finding an equivalent product is tricky. However, this sidewalk seamless long-sleeve cropped t-shirt is stretchable and provides firm support.
The wide ribbed elastic at the bottom holds your chest in place and prevents the top from sliding up while working out. The skin-friendly, sweat-wicking long sleeve is definitely a keeper if you are looking for a flexible top.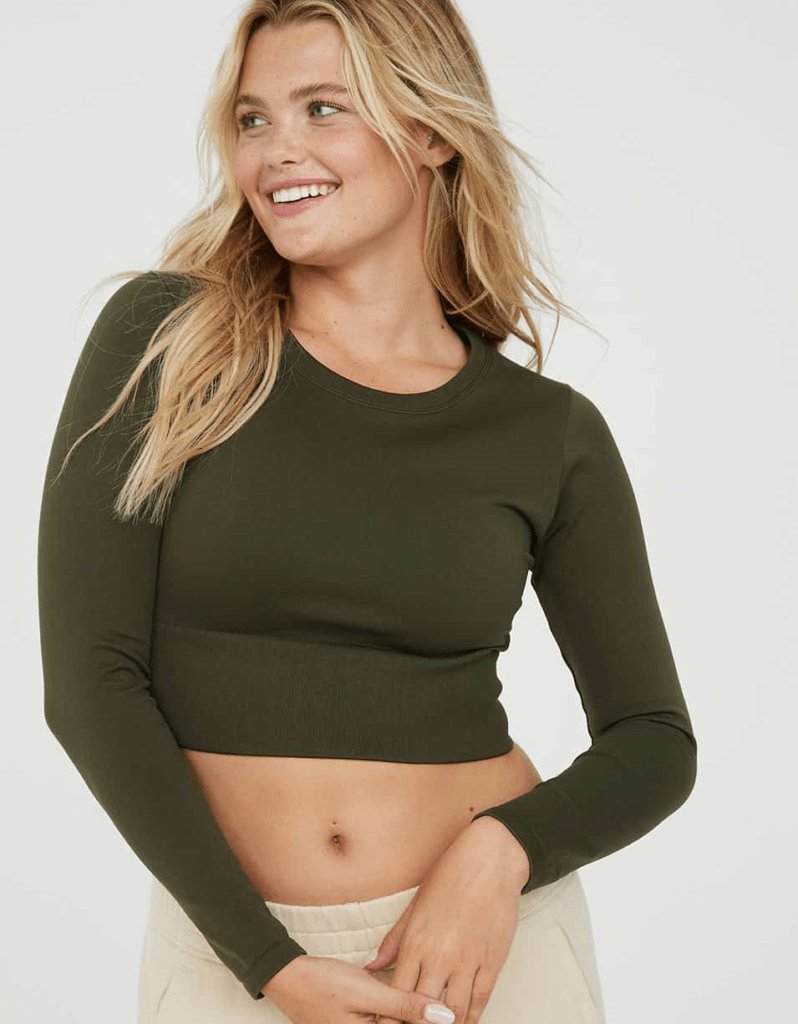 Specs
Material: Nylon and Elastane
Broad ribbed band
Slim fit crop top
Closed neck design
Seamless material
Pros
Stretchable and supportive
Smooth and comfortable
Easy Motion
Shape-retaining
Cons
There are no thumb holes at the cuff.
Three Things To Consider While Buying Gymwear | Gymshark Dupes
Material
Material is a key factor to consider, whether it is a pair of leggings, a long-line sports bra, or a long-sleeved crop top. Look for breathable and sweat-wicking fabrics for a dry and comfortable workout session. When buying leggings, cotton is the preferred choice. However, polyester, Nylon, and Spandex leggings have grabbed the eyeballs due to their flexibility and stretchability. Long-line bras and long-sleeve tops should be breathable to ensure cool and smooth exercise.
Fit
Fit plays an important role as it makes or breaks your performance. A well-fitted gym wear is essential to help you concentrate and work out efficiently without worrying about your clothes. Properly fitted leggings should allow you to move and function flexibly without exposing your skin and causing embarrassment.
Long-line bras are categorized according to the preferred workout. High-support, medium-support, and light-support long-line bras are worn for high, medium, and low-impact exercises, respectively. At the same time, long-sleeved tops are slim fit and relaxed for flexibility and convenience.
Other features
Other accessories that should be considered while buying gym leggings are a flexible and comfortable waistband, breathable inner briefs, and sewn-in gussets. Ensure your long-line bra has removable padded cups, a supportive back strap, and stretchable bottom elastic. In contrast, long-sleeved tops should have thumbholes at the end to keep your sleeves in place.
The Best Picks | Gymshark Dupes
Frequently Asked Questions | Gymshark Dupes
What's the hype with Gymshark?
Gymshark is committed to producing a broad range of flexible and functional activewear and is known for its sweat-combatting material and durability. Many celebrities and fitness influencers swear by Gymshark for its comfort, flexibility, and breathability.
What is so special about Gymshark Leggings?
The Gymshark Flex leggings are made with sweat-wicking material that allows airflow during intense sessions. Its body contouring fit and seamless ribbed waistband enhance the shape of your curves and provide the required coverage.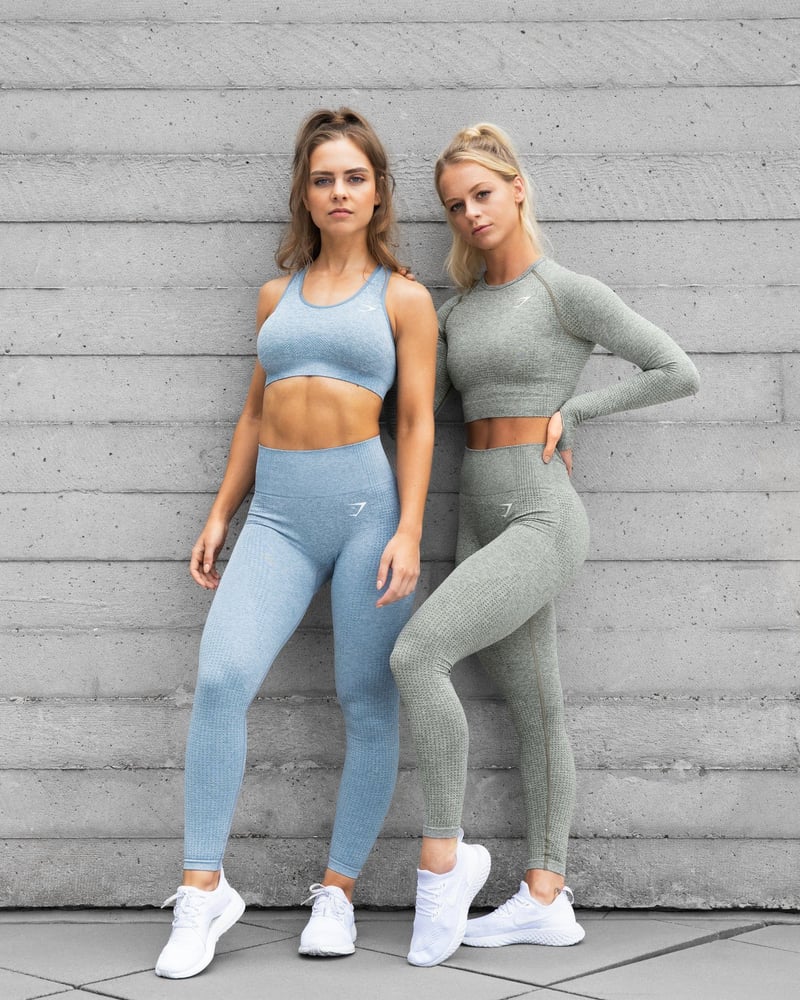 Is a Gymshark Sports Bra worth it?
Yes. The Gymshark Sweat Seamless Long-line Sports Bra is worth every penny. The light support bra is built with exclusive sweat-absorbing DYNMC™ fabric, shaped ribbed bottom band, and detachable cups that allow flexibility and comfortable movement.
Which is the best Gymshark long-sleeve cropped workout top?
The Sweat Seamless Long Sleeve Crop Top is the best Gymshark long-sleeve cropped workout top. A round neckline with elastic details, eyelet detailing, full raglan sleeves, and an adjustable drawstring at the front done with soft and sweatproof material makes it the best Gymshark cropped workout top.
Which are the best Gymshark Dupes?
The three best Gymshark dupes are Aoxjox Smile Contour Ombre Seamless Leggings, Running Girl Light Support Strappy Sports Bra, and Seasum Long Sleeve Yoga Crop Top for Gymshark Flex Leggings, Seamless Long-line Sports Bra and Seamless Long Sleeve Crop Top respectively.
The Conclusion | Gymshark Dupes
With the rise in the fitness culture, people have prioritized going to gyms and working out more frequently. This has soared the production of specialized sportswear and gym apparel, with numerous brands coming in and advertising themselves as the best.
Gymshark is a famous gym apparel brand that has influenced the fitness wear industry with its premium fabrics, designs, aesthetics, and well-planned business strategy. Many people are a part of the cult brand; however, some find it expensive and overhyped.
So, for those who wish to add Gymshark-like gymwear to their wardrobe, I have picked three bestselling Gymshark products and have revealed their sustainable substitutes. Find the best gymshark dupes of the product of your choice and enhance your workout experience.
Latest Posts: