All's well that ends well, only if it ends with a setting spray. No makeup look is complete without the final spritz of a long-wearing setting spray. THE ONLY PRODUCT THAT STRIKES ME when I talk about long-lasting, hydrating makeup setting mist is the Charlotte Tilbury Airbrush Flawless Setting Spray.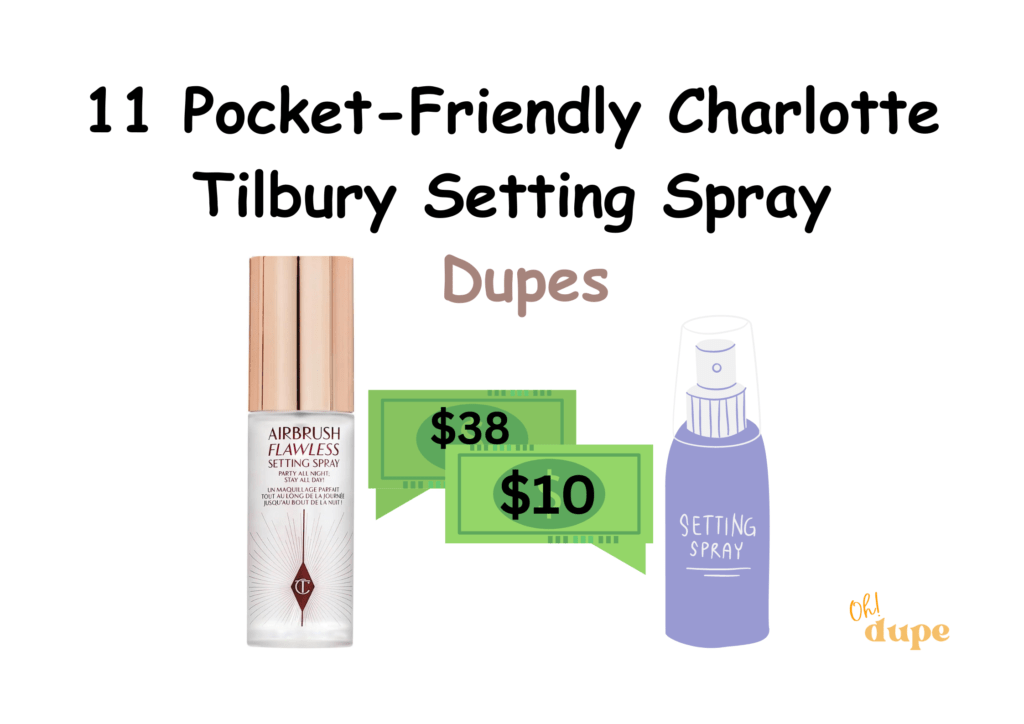 A holy grail of almost every makeup enthusiast and a professional secret of celebrated makeup artists, the setting spray has set the internet on fire. However, it may also burn your pockets. This means many people find it overpriced and thus look for comparable alternatives. So, here I am! In this article below, I will reveal 11 setting sprays equivalent to the Charlotte Tilbury Airbrush Flawless Setting Spray. Scroll on to find the best Charlotte Tilbury Setting Spray Dupe.
Charlotte Tilbury Setting Spray Dupe | Is the Hype Real?
Hailing from the globally applauded AIRbrush range, the Charlotte Tilbury Airbrush Flawless Setting Spray is a hydrating makeup amplifier that keeps your makeup in place for up to 16 hours. Its skin-nourishing ingredients like Aloe Vera, Japanese Green Tea, and Aromatic Resin are a transparent shield to your backbreaking effort and creativity. Its fresh floral scent also refreshes your skin and gives you a spa-like aura.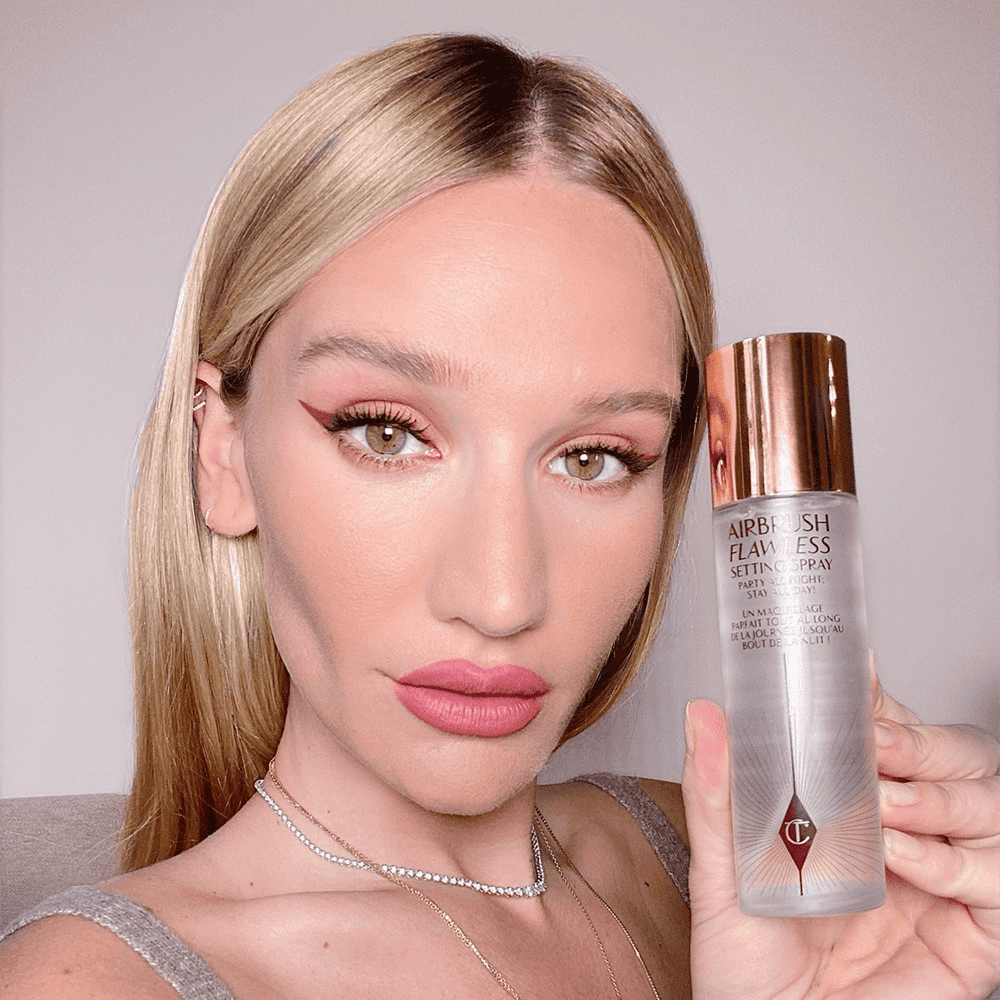 Designed to increase the life of makeup and maintain your skin, the setting spray is ahead of its time. "I have designed Airbrush Flawless Setting Spray to have a magic matrix of complexion-enhancing ingredients," said founder and veteran makeup artist Charlotte Tilbury. However, the setting spray is lightweight but has a heavy price tag. To help you save time and effort, I have compiled 11 setting sprays that work almost the same. Read more to find the best Charlotte Tilbury Setting Spray Dupe below.
I love experimenting and exploring new makeup products, especially those with tall claims. This setting spray from Milani, or as it is said, America's #1 Setting Spray, was my recent prey. It claims to shield your makeup and prevent it from fading or settling onto your face lines for a whole day! At first, I found it exaggerating, but it left me stunned. Its super light formula with skin goodies freezes your look and gives a brilliant, natural-looking finish.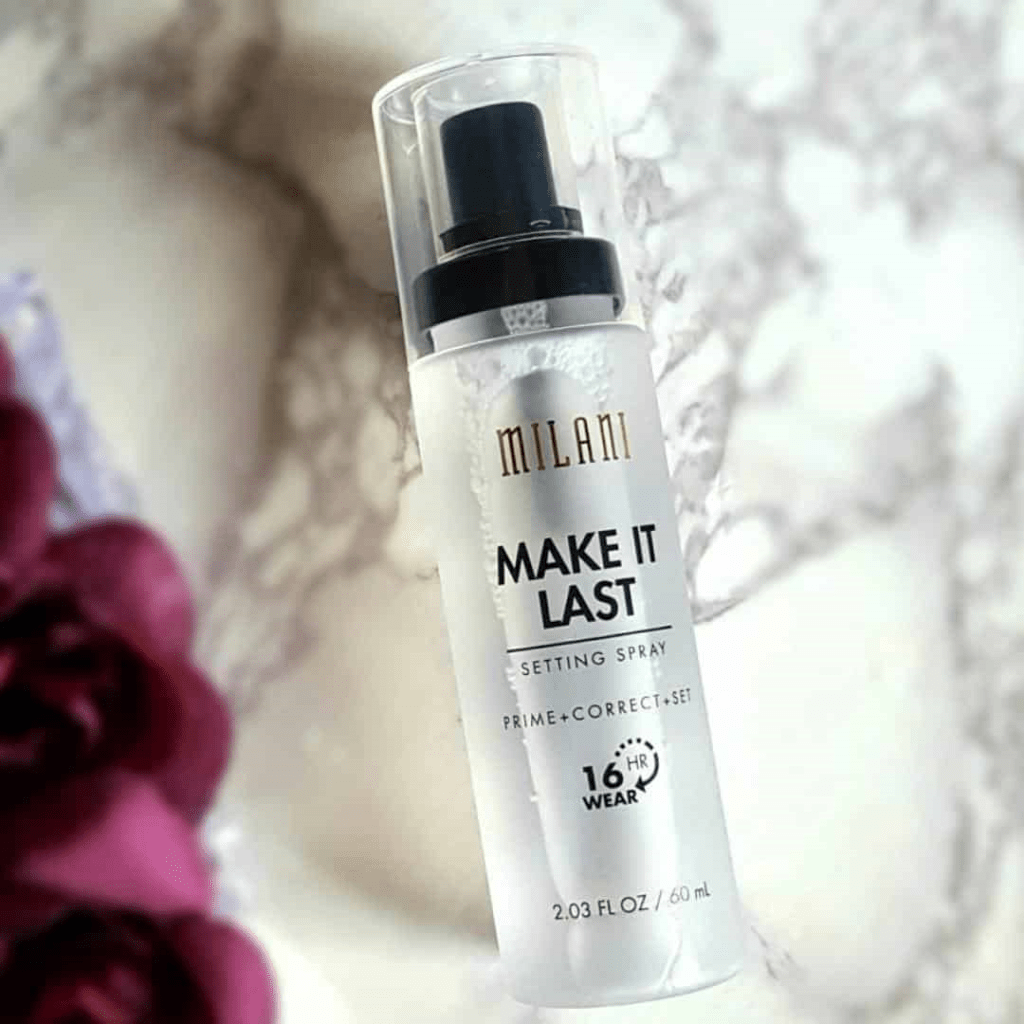 Nourished With
Glycerin
Niacinamide
Watermelon Fruit Extract
Pros
Light and keeps makeup intact all day
Waterproof and sweatproof
Made with moisture-rich ingredients
It gives a perfect natural finish
Prevents fading and cracking
Vegan and cruelty-free
Cons
It is not entirely transfer-proof
I was nervous about this brand as I had never heard of it before. The setting spray looked promising, so I decided to give it a try. I liked how it did not leave droplets on my face and spread effortlessly. The skin-like spray is best for setting up your dewy makeup look. Not only does it prevent your makeup from fading or sliding, but it also gives a refreshed and hydrated finish.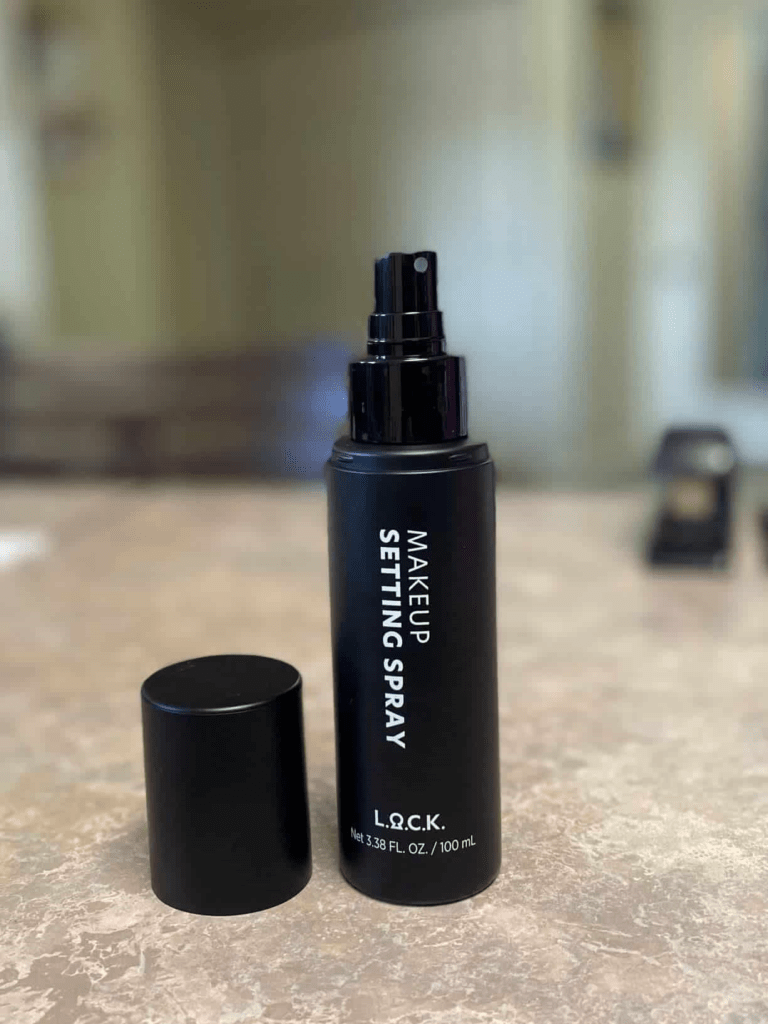 Nourished With
Centella Asiatica (Cica) Extract
Tea Tree leaf Extract
Pros
Weightless
Non-alcoholic and plant-based hydrating ingredients
Long-lasting
Prevents fading, smudging, and melting
Comfortable and transfer-proof
It gives smooth, sheer radiance
Clean, Vegan and cruelty-free
Cons
No one wants to come home after a long day only to realize that they have been roaming around with smudged liner or faded brows. However, no embarrassing and messy makeup anymore! Have a flawless finish with this setting spray that claims to protect your makeup look for up to 16 hours. Yes! The Face Studio Lasting Fix instantly mattifies your glam look by controlling extra shine and keeps it intact for a long time. Priced at $10, it is a fair deal.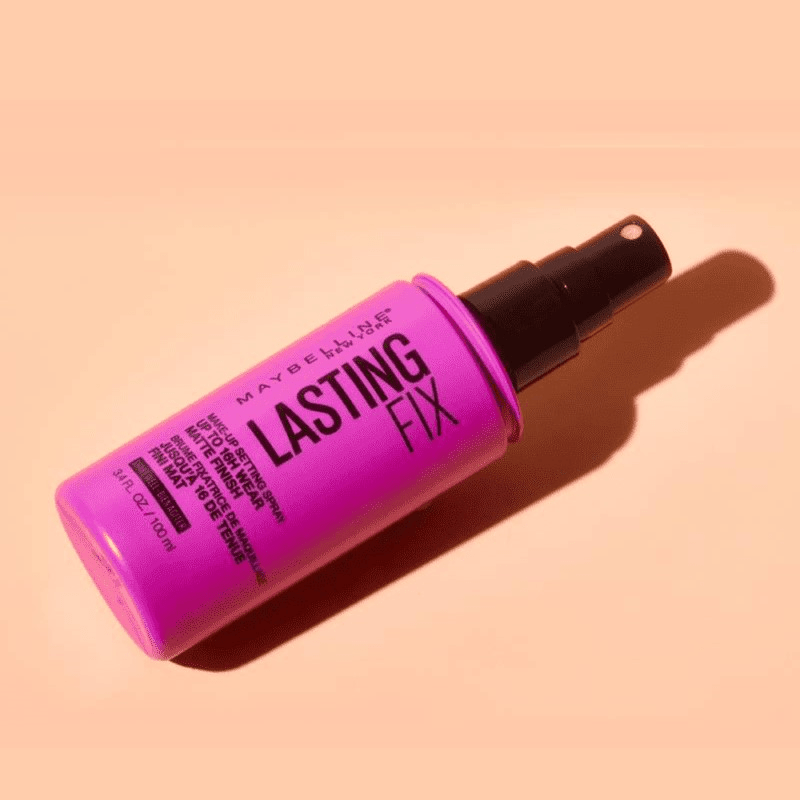 Pros
Gives a matte finish
Holds your makeup intact for up to 16 hours
It avoids melting and smudging
Lightweight and shine-controlling
Sweatproof and transfer-proof
Natural finish
Cons
I have always adored almost every elf product, and this setting mist is no exception. Available in three variants, this micro-fine mist is a great Charlotte Tilbury Setting Spray Dupe. Not only do they have similar skin-loving formulas, but also they have the same lightweight consistency and longevity. Made to slay your go-to makeup look from AM to PM, this setting spray is compatible with all skin types.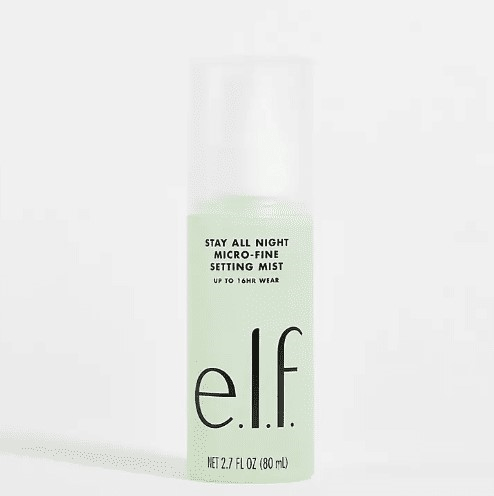 Nourished With
Cucumber Fruit Extract
Aloe Vera Extract
Green Tea Leaf Extract
Pros
Weightless and long-lasting
Infused with nourishing ingredients
Hydrating and soothing
For a fresh, flawless all-day look
Micro fine mister for high coverage
Easy to apply
Ideal for all skin types
Vegan, Clean and Cruelty-Free
Cons
Revolution beauty has genuinely revolutionized the way we use makeup products today. This infinite travel-size fixing spray is perfect for outdoor photoshoots and other creative activities. It keeps your look intact for up to 16 hours and has a fresh, refreshing fragrance and a lasting matte finish.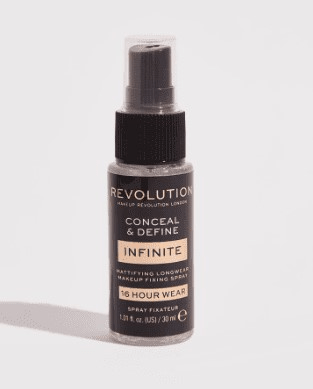 Nourished With
Glycerin
Panthenol
Sunflower seed oil
Castor oil
Aloe leaf juice
Pros
Mini travel size
Convenient and portable
Holds makeup for 16 hours
Sweatproof and transfer-proof
Nourished with antioxidant-rich ingredients
Cruelty-free
Cons
The brand is not 100% Vegan.
Here's to all the people with sensitive skin who seek non-irritating setting sprays. This setting spray from Ucanbe Cosmetics should be your next holy grail, as it protects your makeup look and keeps it away from fading and melting from the scorching sun. The superlight oil-free formula controls shine and gives a subtle and elegant finish. Infused with ultra-fine pearl powder and other skin-enhancing components, it is comfortable and stays on for hours.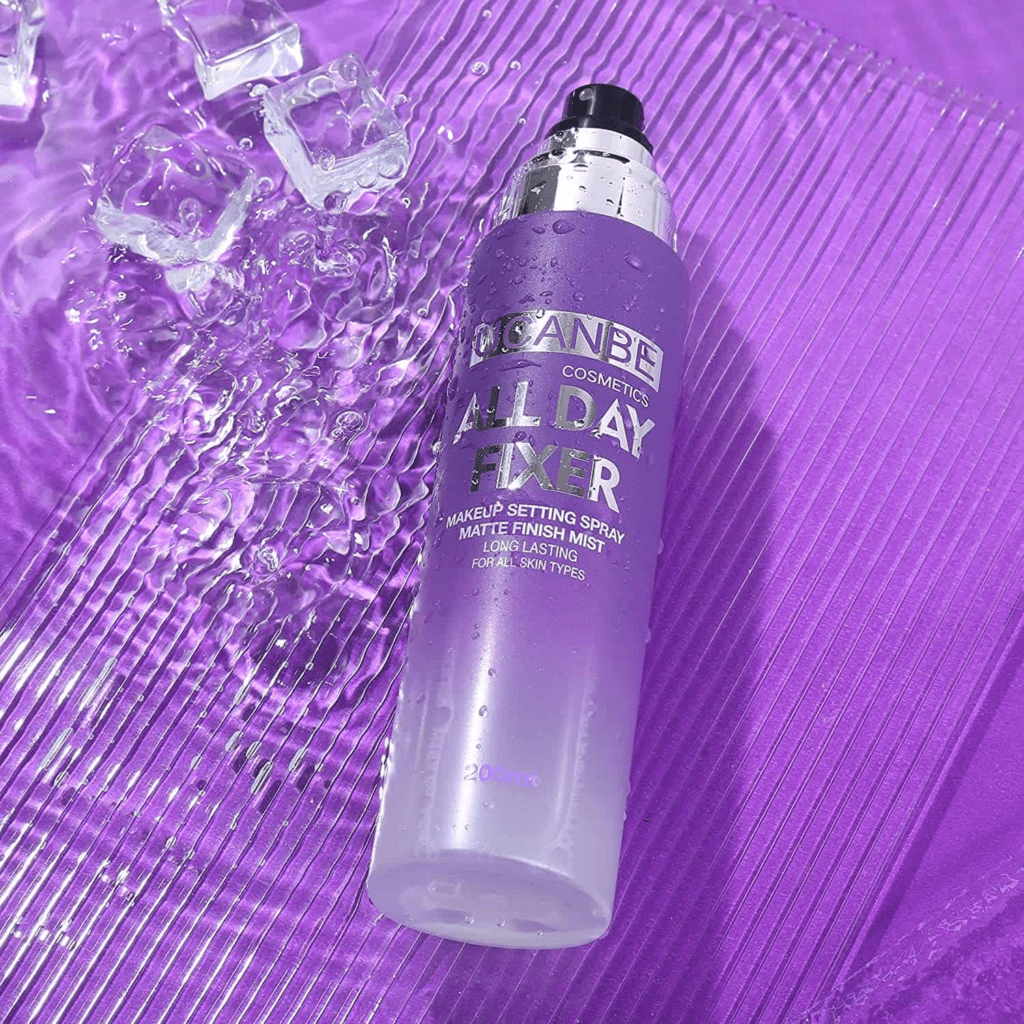 Nourished With
Irish Moss Extract
Wakame Algae Extract
Aloe Vera Extract
Pearl Powder
Pros
Waterproof, sweatproof and transfer-proof
Locks your makeup for long hours
Lightweight and oil-free
Comfortable and breathable
No melting and fading
Suits sensitive skin
Mattifies makeup
Ideal for all skin types
Cons
A lot of mixed reviews online.
This setting spray was my first product from this brand. Made to simplify daily makeup looks and on-the-go beauty solutions, this brand's Lock In Your Look setting spray is the most versatile. It is an all-in-one water-based makeup protectant that primes, sets, and locks your glam glow for 16 hours. The hydrating and vegan-friendly ingredients help makeup stay in place without making your skin uncomfortable and messy.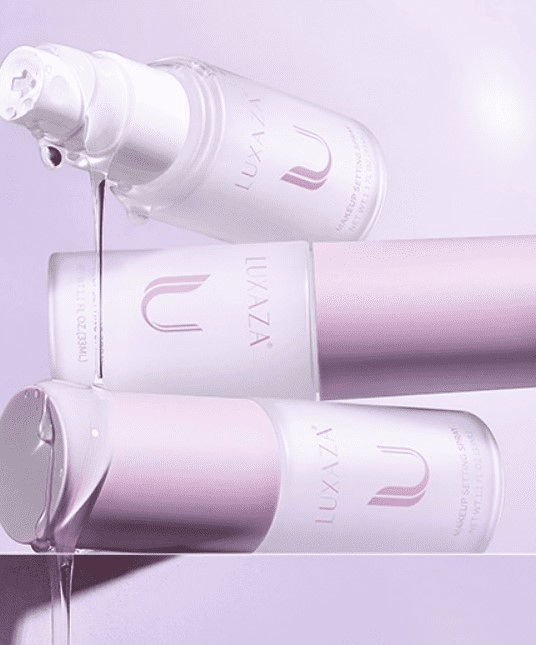 Nourished With
Water Mist Particles
Innovative Oil Control By Powder Technology
Pros
Versatile setting spray
16 hours look lock
Blurs and fades away imperfections
Absorbs excess oil
It gives a natural finish
Comfortable and breathable
Vegan
Cons
Very few user experiences.
The bestseller and a tough competitor to the Charlotte Tilbury Setting Spray, this water-based hydrating spray sets your look for up to 16 hours. The featherlight formula instantly absorbs excess oil and shine and mattifies your makeup, giving it a sophisticated, elegant finish. Formulated with skin-loving ingredients, it is a must-have for oily skin. So, bid farewell to dabbing and hello to this $10 Makeup Setting Spray.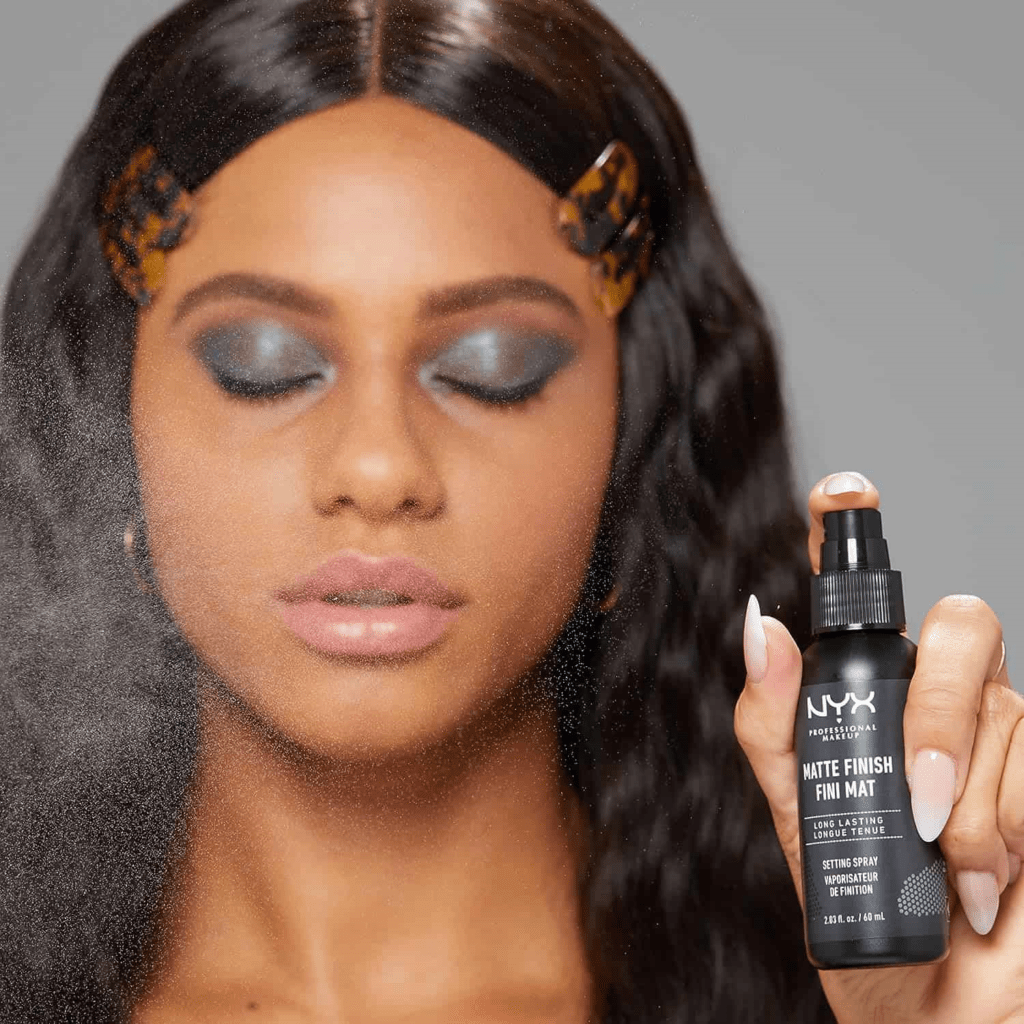 Nourished With
Buckhorn Extract
Oregon Grape Stem Extract
Niacinamide
Pros
Matte finish setting spray
Breathable and skin-loving formula
Reduces shine and unwanted glam
It lasts for 16 hours
Lightweight and hydrating
Transfer proof
Vegan
Cons
Founded in 2002, the UK-based brand is my recent discovery. I wanted to explore and test this makeup brand, so I ordered a setting spray. As a first purchase, I didn't expect much, but I was amazed to have my makeup on for the whole night! Moreover, its refreshing scent and super light formula form a protective barrier against my face and set my makeup like a pro! This setting spray gives a flawless matte finish; however, for the dewy look lovers, they have another option too.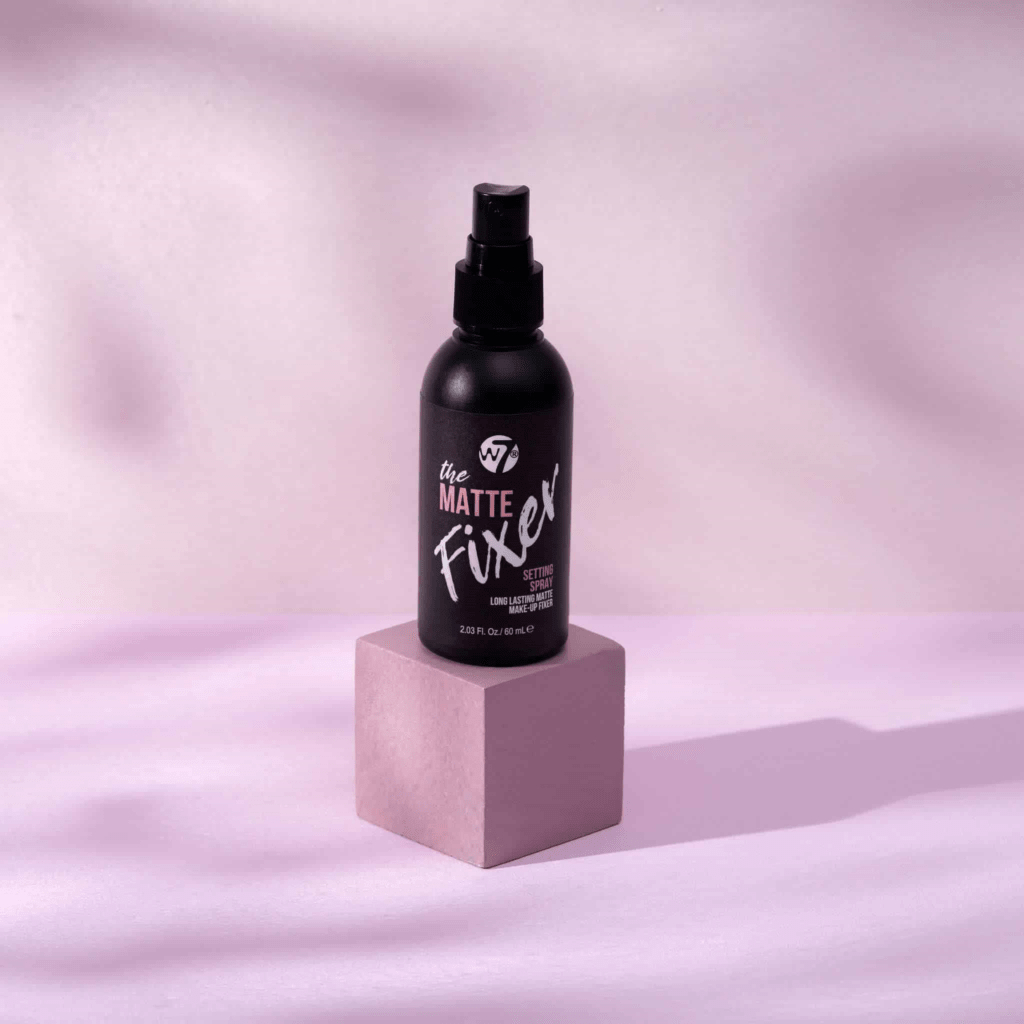 Nourished With
Buckhorn Extract
Cornflower Extract
Oregon Grape Extract
Pros
It prevents smudging and melting
Super fine spray with a light formula
Non-sticky and quick-drying
Delicate matte finish
Vegan
Cons
The product sprays out harshly.
I have used numerous products from this brand. Recently, I ran out of my setting spray; this was the only product I could get my hands on. I wasn't too excited. I spritz it as my usual routine the following day and head to work. I was shocked to come home with the same look, flawless and unbudged. Its longevity and clean formula make it an ideal Charlotte Tilbury Setting Spray Dupe, four times less expensive.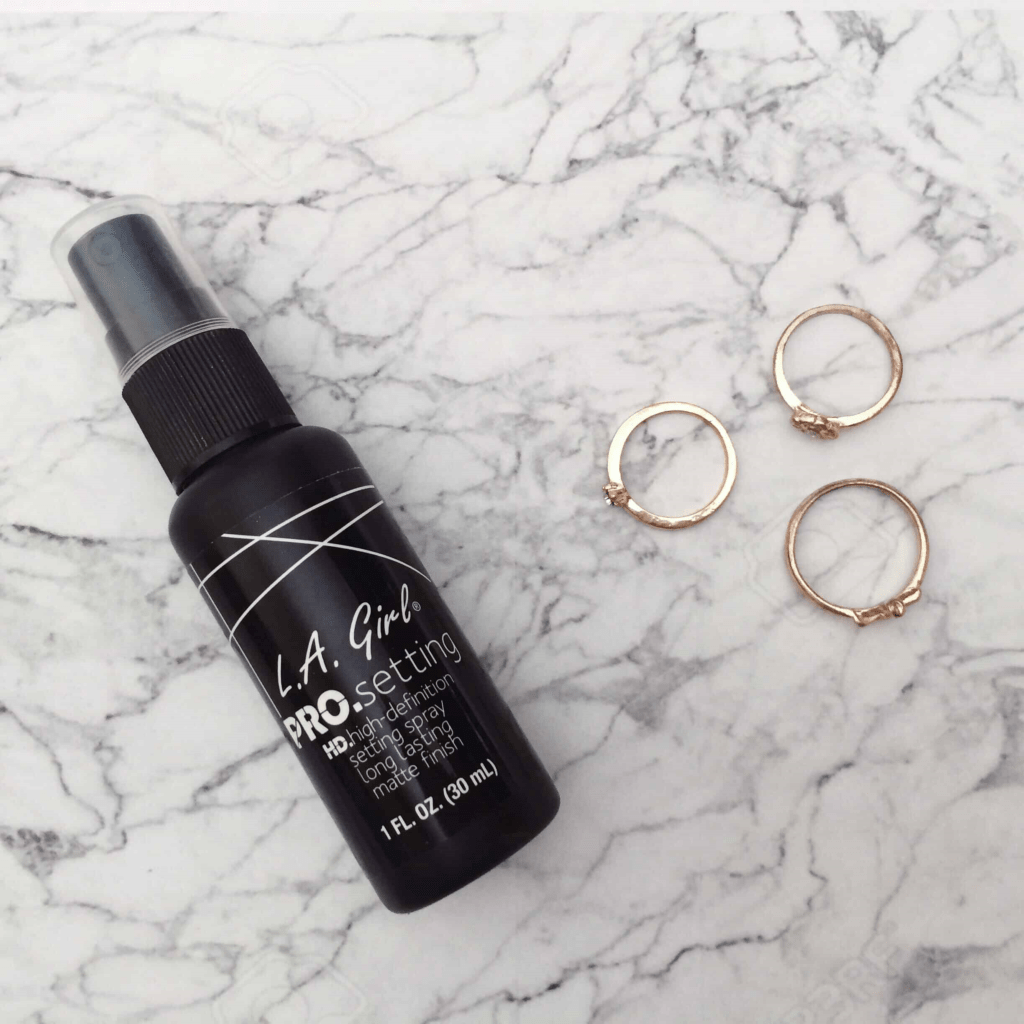 Nourished With
Niacinamide
Buckhorn Extract
Oregon Grape Extract
Pros
Lightweight and non-greasy
Holds makeup all-day
Refreshing and quick-absorbing
Free of Parabens and Fragrance
Cons
The absolute Charlotte Tilbury Setting Spray Dupe is this pore-blurring makeup setting spray with a longevity of 16 hours. The mini bottle is priced at $24, which is pricey. With a soft focus finish and shine-controlling formula, it deserves a spot in your vanity bag. A clean and clinically tested setting spray mattifies your makeup and keeps it intact.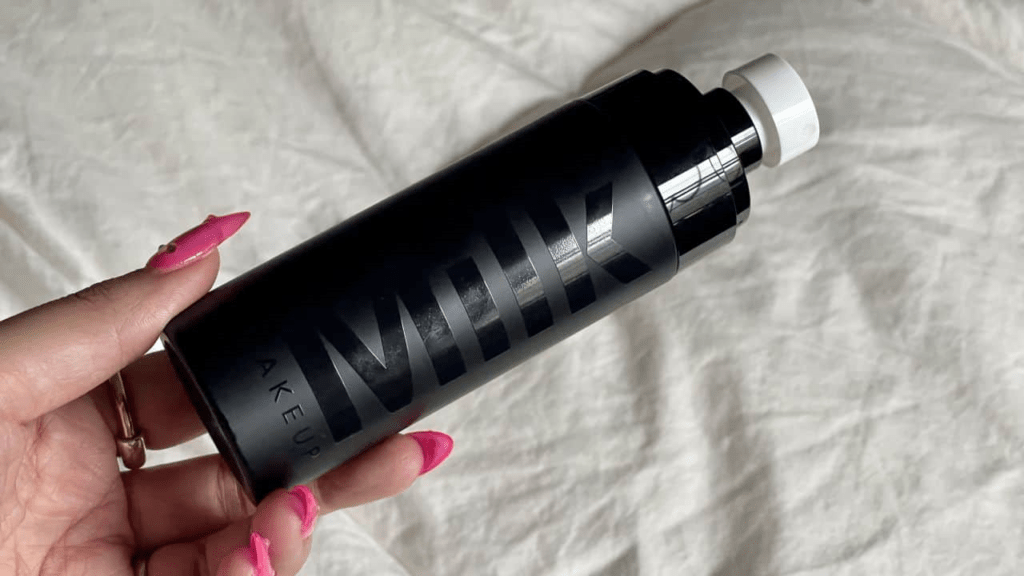 Nourished With
Lentil Extract
Bakuchiol
Niacinamide
Pore fading microspheres
Pros
Superlight and matte setting spray
Seals makeup for 16 hours
Blurs pores and reduces shine
Soft focus finish
Non-drying and non-sticky
Clean, vegan and cruelty-free
Cons
The nozzle is inconvenient.
The Best Setting for Your Skin | Charlotte Tilbury Setting Spray Dupe
Dry Skin
Individuals with dry skin should look for setting sprays that hydrate and moisturize them. The setting spray should not dry out their makeup and make it look cakey. Setting sprays that cater to dry skin usually include Hyaluronic Acid and skin soothers like Cucumber, Aloe Vera, and Glycerin. Apart from longevity, look for additional skincare benefits, too.
Oily Skin
Mattifying formulas work best for people with oily skin. Numerous layers of makeup accentuate excess oil production and lead to unwanted shine. Spritzing a matte finish setting spray reduces shine and absorbs all the oil in one go.
The common ingredients in a matte setting spray are Plantago Lanceolata Leaf Extract, commonly known as Buckhorn, Mahonia Aquifolium Extract, or Oregon Grape and Niacinamide.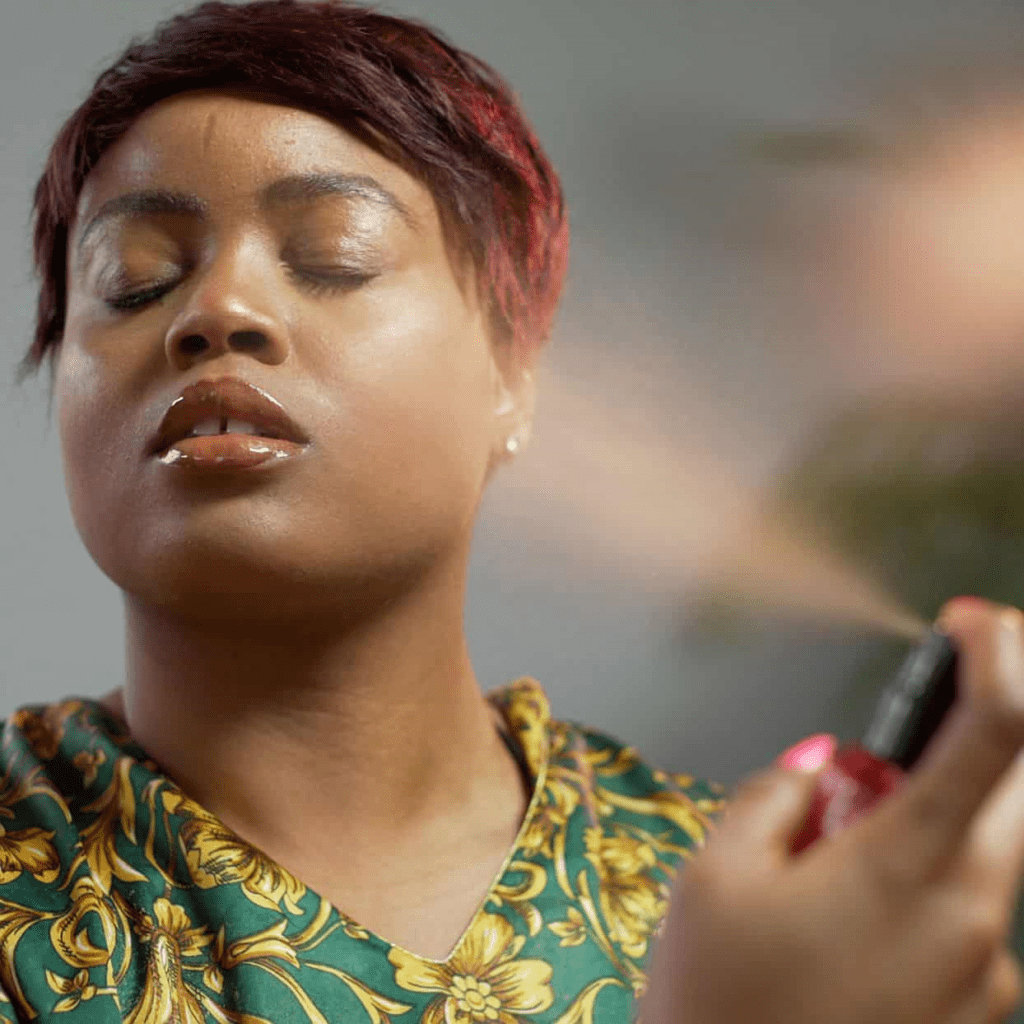 Sensitive Skin
Water-based or misty setting sprays are the holy grail of people with irritated skin. Heavy formula may irk sensitive skin. Cancel out scented setting sprays from your cart to avoid a tingling sensation all day. Also, specifically look for ingredients and patch test beforehand if you have an allergy.
Normal Skin
People with normal skin must go for setting sprays that are hydrating and give a matte finish. Look for a combination of skin conditioning and oil-absorbing ingredients like Aloe Vera, Hyaluronic Acid, and Niacinamide.
The Best Picks | Charlotte Tilbury Setting Spray Dupe
Frequently Asked Questions | Charlotte Tilbury Setting Spray Dupe
What are the benefits of the Charlotte Tilbury Setting Spray?
The Charlotte Tilbury Airbrush Flawless Setting Spray is super lightweight, keeping your makeup intact for 16 hours. Besides this, it is infused with a high-performance hydrating formula that creates a light veil, thus giving a flawless makeup look. Moreover, its refreshing floral scent reminisces the comfort of a spa.
Is Charlotte Tilbury Setting Spray good for oily skin?
The Charlotte Tilbury Airbrush Flawless Setting Spray claims to manage makeup on oily skin; however, it has a dewy, glowy finish that may look messy on people with oily skin.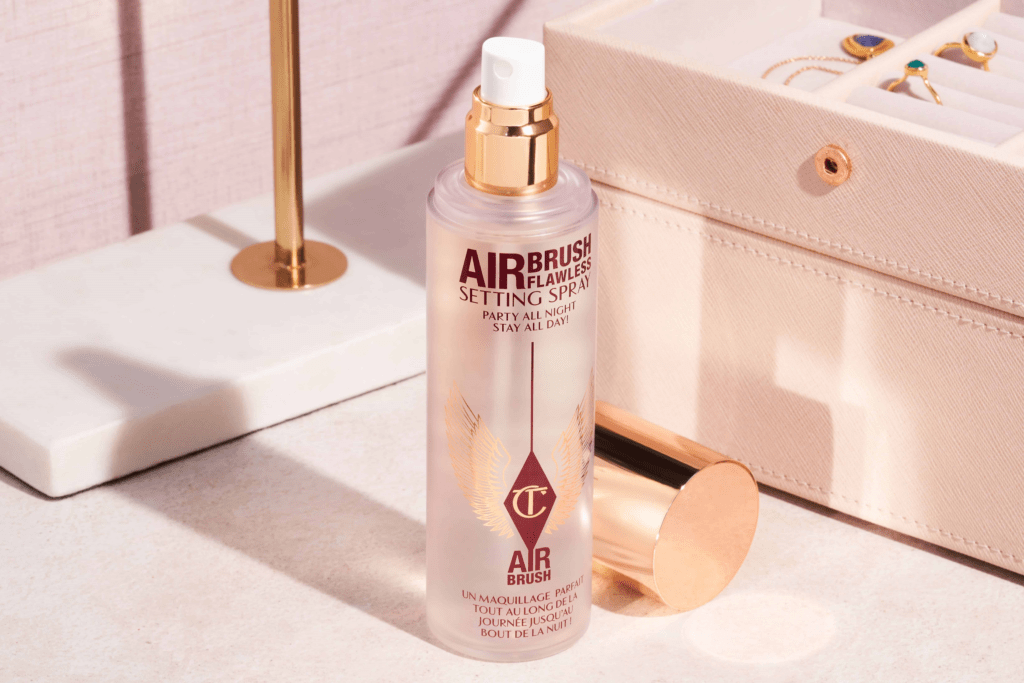 What is the best drugstore dupe for Charlotte Tilbury Setting Spray?
There are numerous drugstore Charlotte Tilbury Setting Spray dupe products. However, Revolution Beauty Mini Infinite Fixing Spray is the best-rated among them. It replicates the OG product with the same longevity and a brilliant matte finish.
Which is the best Charlotte Tilbury Setting Spray Dupe?
The Milani Make It Last Original Natural Setting Spray is the best Charlotte Tilbury Setting Spray Dupe. With a 24-hour effortless hold, it sets your makeup with a natural finish. Furthermore, it is based on natural skin-enriching ingredients for the win.
The Conclusion | Charlotte Tilbury Setting Spray Dupe
Setting sprays are an underrated makeup product. I knew its importance when incorporating one into my daily makeup routine. Not only do they shield your makeup and extend its lifespan, but they also feature nourishing properties that help calm skin and restore its health and hydration.
Since setting sprays are the new staple, one of the hottest sprays folks swear is the Charlotte Tilbury Airbrush Flawless Setting Spray. Right from celebrities to makeup professionals to ordinary beauty enthusiasts, it has impressed everyone with its extraordinary longevity and comfort.
However, with exceptional everything comes an exorbitant price tag, which is out of budget for most. Thus, I have compiled a list of 11 products that cost you under $25. Find the ultimate Charlotte Tilbury Setting Spray Dupe and a brief buying guide.
Some of our latest posts: