I am back with another product from the Lululemon series, and this time, it is a long-sleeved shirt. You guessed it right: It's the New Swiftly Tech Long Sleeve Shirt.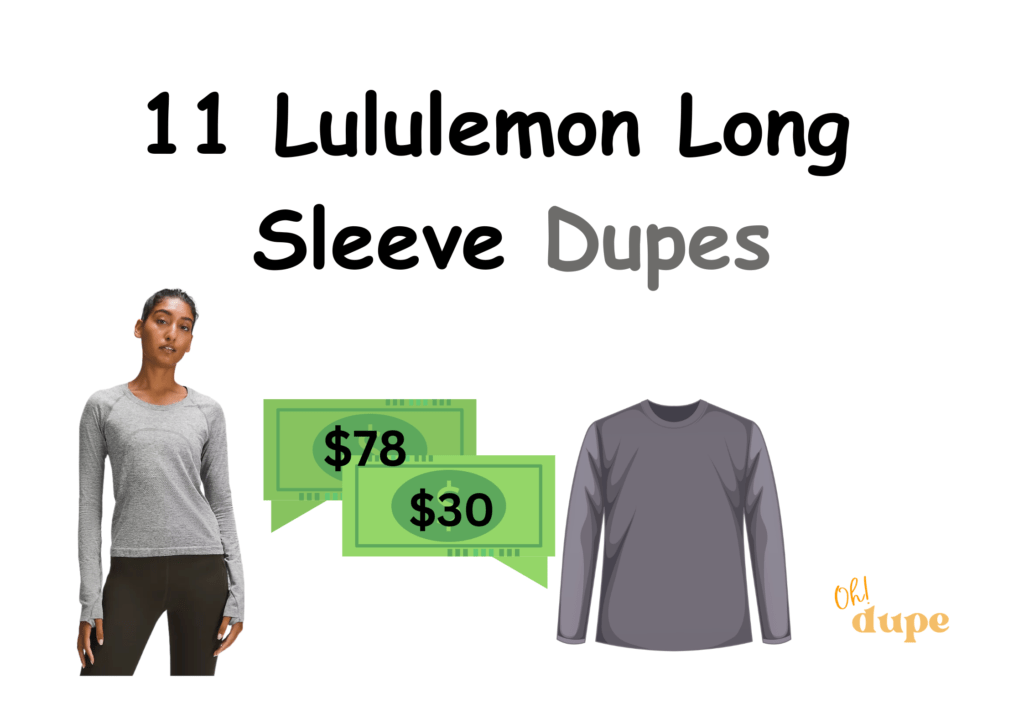 With high-quality material and attention to detail, Lululemon has set a benchmark for its unmatched comfort and durability. The Swiftly Long Sleeve Shirt is one of the hottest Lululemon products storming the internet. However, it carries a hefty price tag, making it unaffordable for most people. Thus, I have curated a list and picked the best dupes that match its comfort and versatility. So, stay put as we will explore 11 Lululemon Long Sleeve Dupe tops that are equally good and affordable.
Lululemon Long Sleeve Dupe | Best Picks!
I am a gym enthusiast and a loyal Lululemon-ite. Recently, I got my hands off on the new Swiftly Tech Long Sleeve Shirt. Priced at $78, the T-shirt is worth its price. Its comfort and convenience excited me to share my review and some dupes.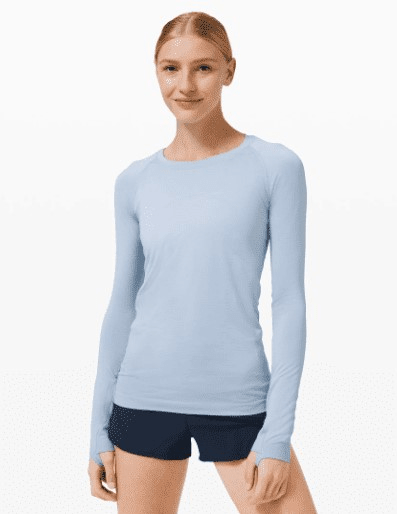 The hip-length slim fit blends lightweight nylon and polyester and features X-STATIC Silverescent Technology that controls the growth of odor-causing bacteria. It is designed with minimal seams to avoid nasty chafing. The mesh fabric does an excellent job of keeping your body well-ventilated while working out. Last, the thumbholes at the sleeve end are perfect for keeping your sleeves in place while lifting weights.
However, not everyone can afford the luxurious Lululemon, as $78 is too pricey for a long-sleeved t-shirt. So, for those who want to have a Lululemon quality at a budget-conscious deal, read more to find the best Lululemon Long Sleeve Dupe.
At a Glance
The Lululemon New Swiftly Tech Long Sleeve Shirt 2.0 costs $78.
Lightweight and Breathable
Mesh fabric and Silverescent anti-odor technology
Thumbholes at the end
The first Lululemon Long Sleeve Dupe is from the CRZ YOGA sportswear. Many bloggers and sports enthusiasts have voted this as the best substitute. To verify, I went on to order from Amazon. I got it for $30 in a classic black color. Its quality and fabric impressed me. I couldn't point out any difference between the two. After a month of use, I declared this the best Lululemon Long Sleeve Dupe.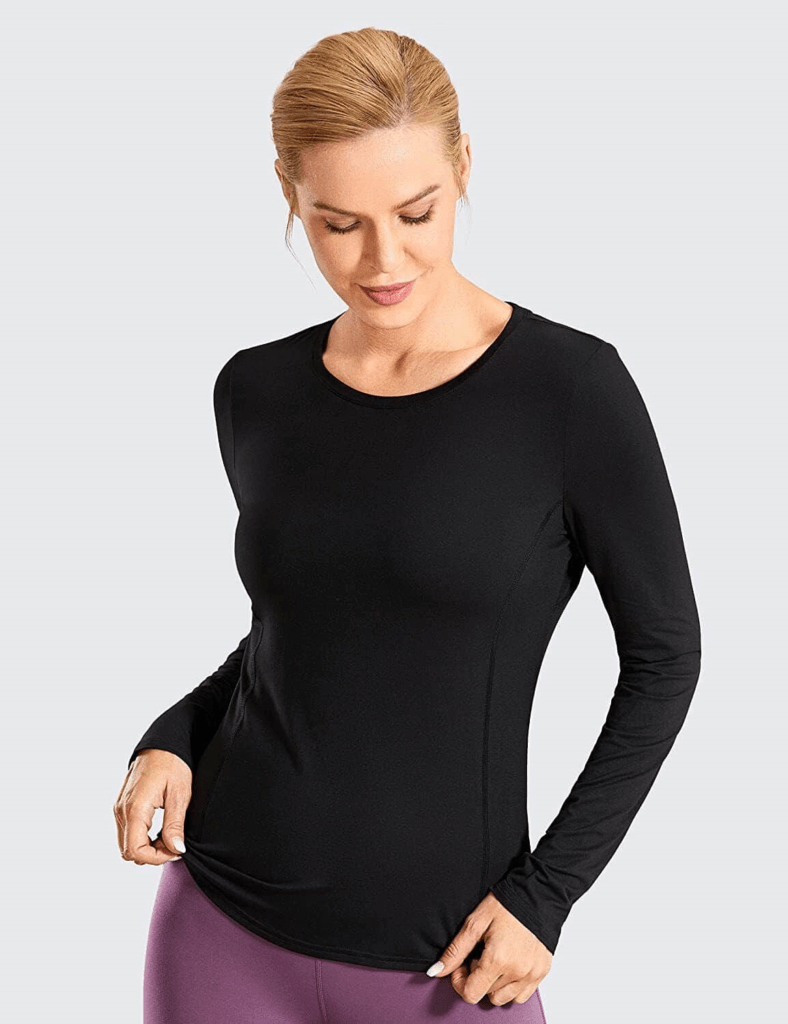 Details
Material: Polyester and Polyamide blend
Waist length and slim fit
Seamless soft knit fabric
Breathable mesh
Thumbholes at the cuff
Four-way stretch
Colors available: 12
Sizes available: 5
Pros
Smooth and comfortable
Reduced chafing
Wicks away moisture
Good elasticity
Cons
It has no reviews online.
I've recently found out about this brand, and trust me, they are worth adding to your collection. My recent experience turned out great, and so I decided to explore. I found this long-sleeved sun protection top, which was a great deal! Imagine not applying gallops of sunscreen on a day-long trek. Yes! With this shirt, you can skip your body sunscreen and get away with sunburns. At first, I found it bogus and just claims, but I am pretty impressed by its performance.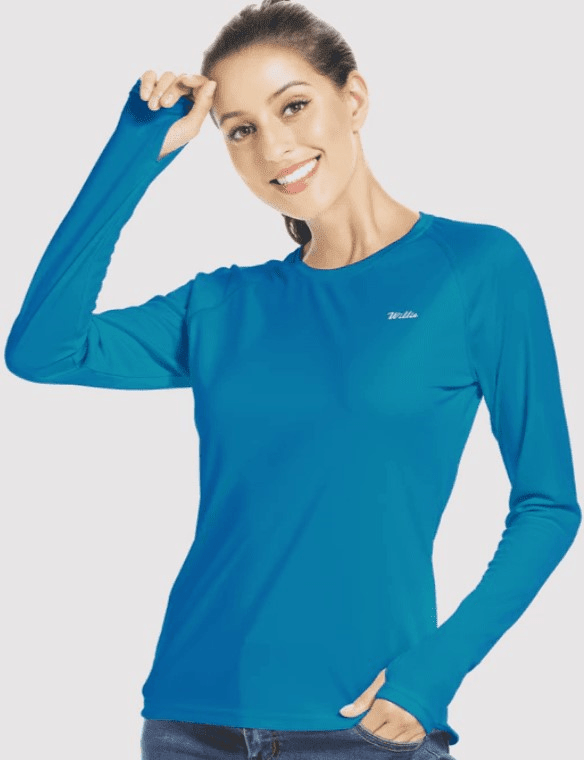 Details
Material: 100 % Polyester
Flatlock seams
No-tag collar
UPF 50 Sun Protective Fabric
Colors available: 20
Sizes available: 5
Pros
Weightless and moisture-absorbing
Sweatproof
Quick drying
Cool feel
Sun Protective Fabric
Cons
A lot of people needed help finding the correct size.
Baleaf is a sustainable activewear brand that provides high-quality sportswear at a reasonable price. The thumbhole mesh base layer resembles the Lululemon Long Sleeve Top. Its mesh panels at the upper side ensure better ventilation and less moisture. This is a product worth considering for your next gym wear restock.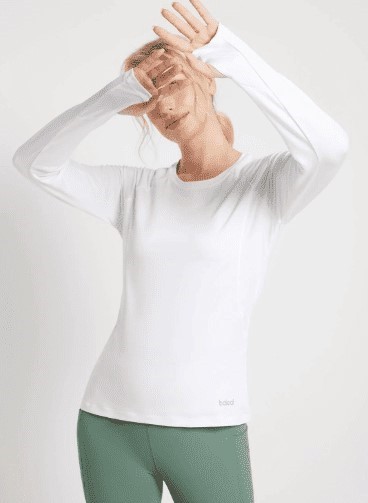 Details
Material: 90% Recycled Polyester and 10%Spandex
Breathable and moisture-wicking
Crew neck and Raglan sleeves
Strategically placed mesh at high sweat points
Flatlock seams
Thumbholes for extra support
Colors available: 2
Sizes available: 7
Pros
Sustainable manufacturing
Breathable and moisture-wicking
Anti-sweat and odour-wicking
Reduce skin chafing
Reflective details
Cons
The product is available in light shades only.
Founded in 2015, Tacvasen is a Chinese outdoor wear brand. It focuses on manufacturing activewear with premium quality materials and intricate craftsmanship to provide functional and fashionable sports apparel. The V-necked long top from Tacvasen is a Lululemon Long Sleeve Dupe. The pull-on features UPF 50+ fabric that protects you from harsh sun rays when working out outdoors. This t-shirt from Tacvasen is a perfect combination of comfortable and chic sportswear.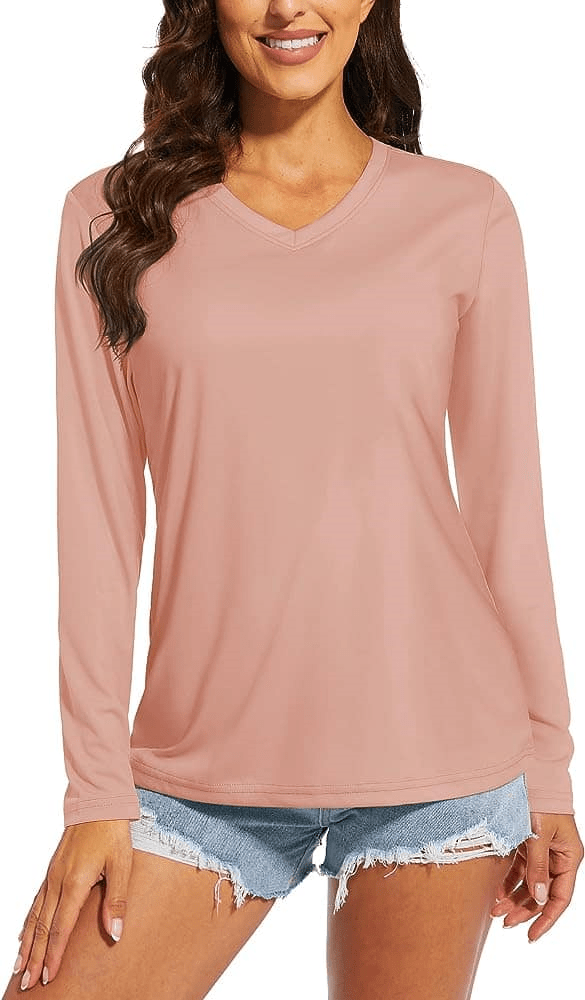 Details
Material: 100% Polyester
Pull-on closure
V neck design
Sun protective fabric
Quick dry material
Breathable
Colors available: 20
Sizes available: 5
Pros
Lightweight and soft
Skin-friendly and comfortable
Stretchable and flexible
UPF 50+ fabric
Quick drying and moisture-absorbing
Cons
No thumbholes at the cuff.
I don't fall for brands on Amazon, but this one looked promising. Aoxjox boasts of being the one-stop online fashion brand that caters to numerous fashion preferences and claims to be environmentally friendly. The five-way stretchable fabric with skin-like weight and airiness is fit for workouts and training.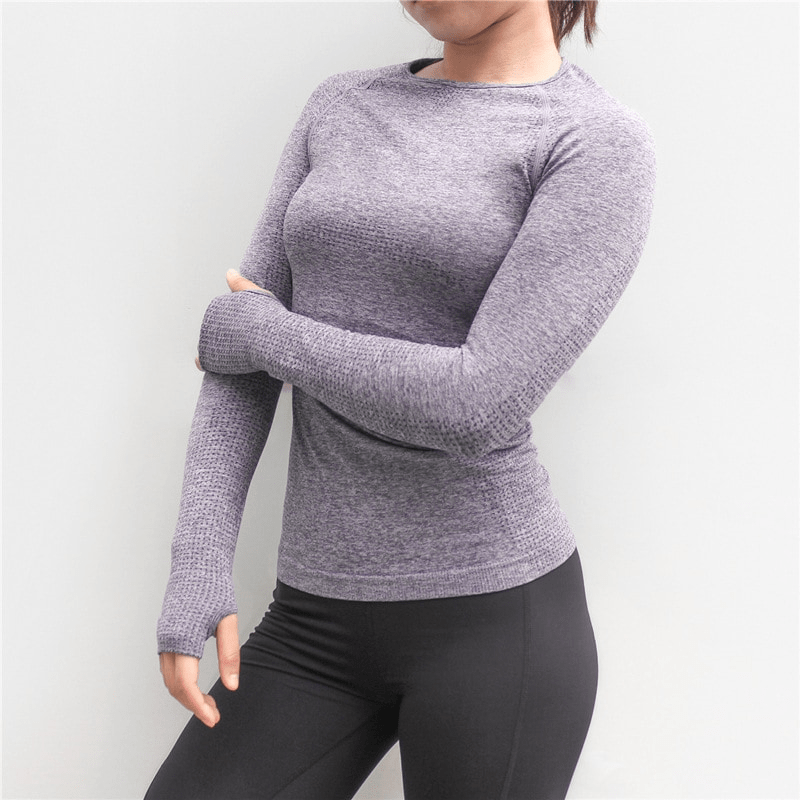 Details
Material: Nylon and Polyester blend
Long raglan sleeves
Moisture absorbing fabric
Breathable and comfortable
Five-way stretchable elastic
Colors available: 18
Sizes available: 4
Pros
Fit true to size
Moisture wicking fabric
Super light and airy
Sweatproof and anti-odor
Supportive and covering fit
Cons
The T-shirt needs to be hand washed.
While exploring Lululemon Shorts Dupe, I mentioned this woman-owned brand. The Stelle Ignite Shorts were a great buy, and so is this long-sleeved top. The four-way stretchy material with an airy, sweatproof design is ideal for all outdoor activities. It may look semi-transparent and thin but is not see-through. Have a look at the specs below.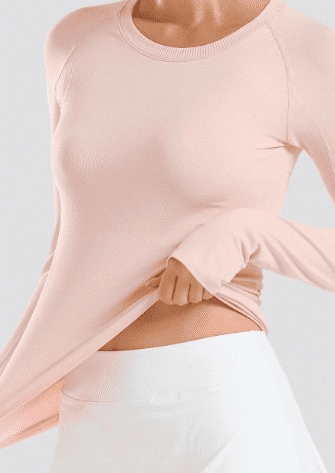 Details
Material: Polyamide
Slim fit body hugging
Deep armholes
Loose fit design
Semi-transparent but not see-through
Four-way stretch
Moisture wicking fabric
Thumbholes at the cuff
Colors available: 8
Sizes available: 4
Pros
Lightweight, soft, and comfortable
Fit true to size
More room and flowy at the front
Slim fit and loose fit design
Stretchable and breathable
Cons
No reviews are available.
This brand resulted from random self-discovery. I was scrolling on Amazon when I came across this exciting product. I liked the additional hoodie design that'll spice up the game for the gym GRWM. Made with sun-protective fabric, it is weightless and sweat-evaporating.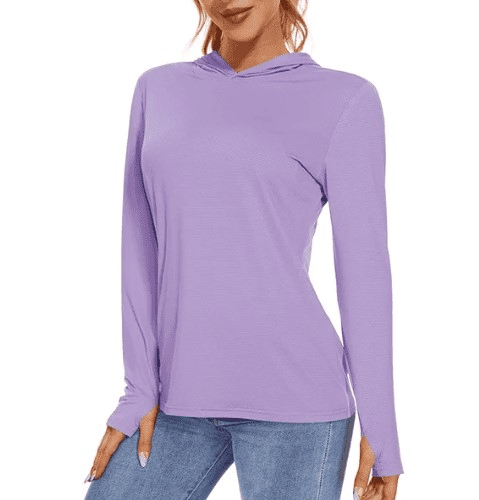 Details
Material: 100% Polyester
UPF 50+ Sun Protection Fabric
Quick drying and Breathable Hi-Tech
Flatlock seams
Tag-free collar reduce
Thumbholes designed at the end
Colors available: 13
Sizes available:5
Pros
Lightweight and soft
Quick drying and airy
Sweatproof
Reduced chafing
Cons
The fit needs to be more proper for its size.
If you also find bodycon long-sleeve shirts annoying, then this one from Under Armour is something your sportswear collection is deprived of. The loose, light, and relaxed fit is soft and comfortable. Crafted with quick-drying UA Tech fabric and four-way stretch material, it enhances your workout experience.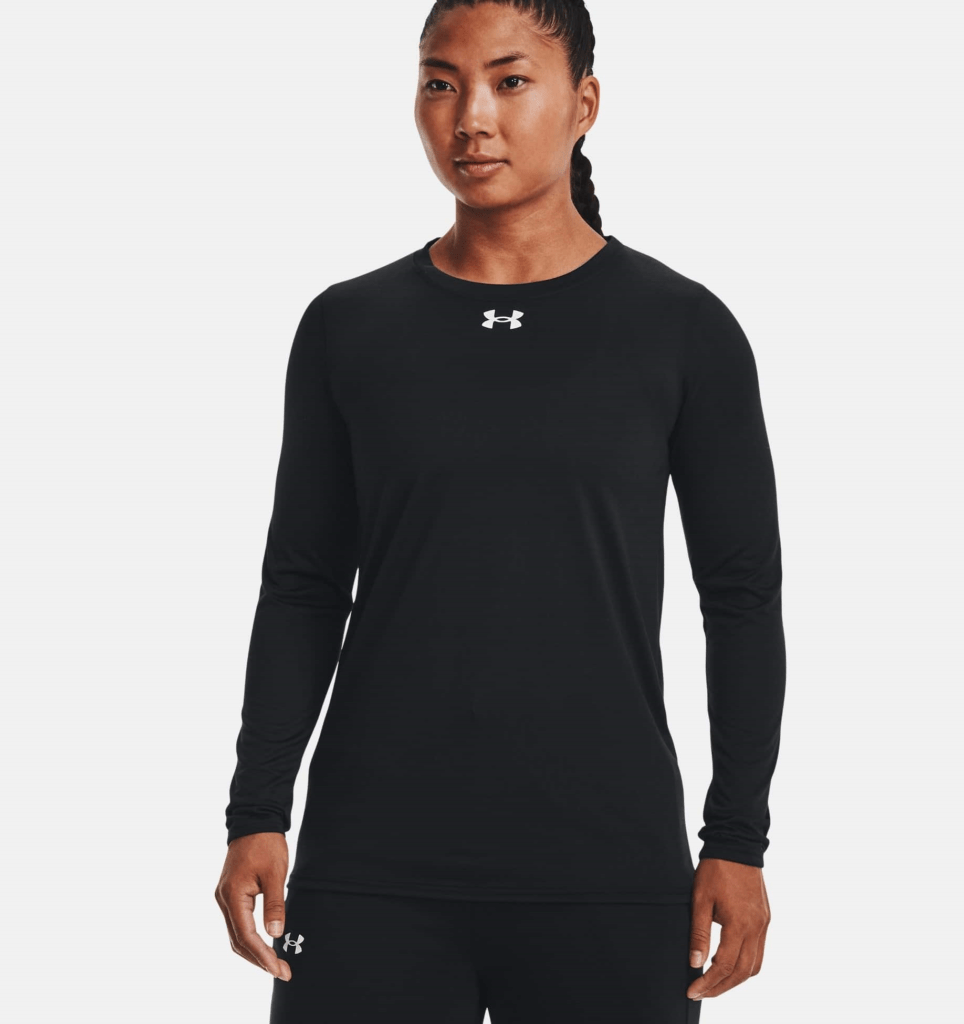 Details
Material: 100% Polyester
Loose fit design
UA Tech Fabric
Sweat-wicking material
Quick drying
Four-way stretch material
Colors available: 2
Sizes available: 7
Pros
Soft and natural feel
Sweatproof and breathable
Made with 90% recycled polyester
Stretchable and flexible
Fit for all kinds of outdoor activities
Cons
No thumbholes at the cuff.
As I have mentioned in my previous blogs, Aerie is a branch of the famous fashion brand American Eagle. Aerie boasts a massive collection of sportswear that are skin and wallet-friendly. The ultra-soft and stretchable Thumbs Up Ribbed Long Sleeve T-Shirt is a jersey type that is super comfortable and stylish. It is cut to fit clothing with a burst at the back and thumb holes on the sleeves.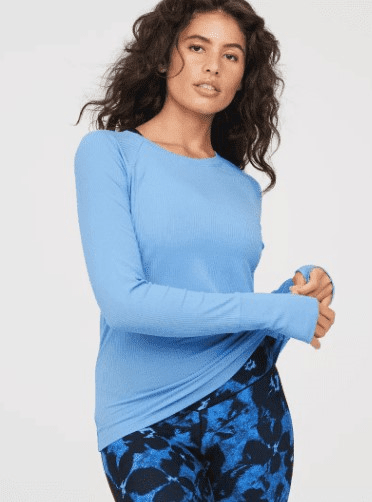 Details
Material: Modal Blend
Classic relaxed fit
Ribbed soft feel
Thumbholes at the cuff
Sustainably made
Colors available: 4
Sizes available: 7
Pros
Extra soft and weightless
Max stretch material
Breathable and sweatproof
Ribbed feel fabric
Cons
There are scanty reviews online.
I have found an affordable Lululemon Long Sleeve Dupe from one of the popular gym wear brands: Adidas. The crewneck from 100% recycled Polyester Fabric features moisture-wicking AEROREADY technology. Its reflective three-lined logo at the arms and in the front shines in low light.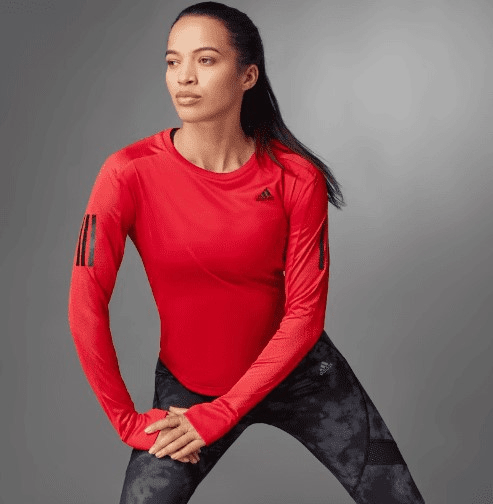 Details
Material: 100% Polyester
Regular fit
Moisture wicking AEROREADY
Thumbholes at the cuff
Crewneck
Colors available: 2
Sizes available: 6
Pros
Soft and comfortable layer
Breathable and sweatproof
Made with recycled Polyester
Reflective details
Cons
This one from Nike deserves your attention if you seek a closed-neck pull-on long-sleeved top. Besides featuring Nike Dri-FIT technology for repelling your skin against sweat, it provides UV protection and extra coverage. The zip pocket adornment makes the product comfortable and convenient.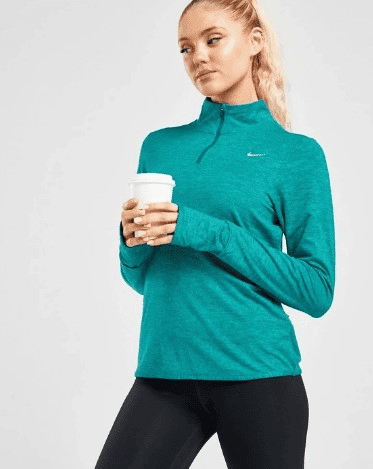 Details
Material: 88% Polyester and 12% Elastane
Standard fit
¼ Zip top
Nike Dri-FIT Sweat wicking tech
UV protection fabric
One zipper pocket for storage
Thumbholes to keep your sleeves in place
Colors available: 2
Sizes available: 5
Pros
In all seasons, gym wear
Breathable and sweatproof
UV protection on the go
It keeps skin dry and comfortable
Zipper pocket
Cons
The fit runs smaller than the shown size.
At a Glance
All the above-listed Lululemon Long Sleeve Dupe Products are priced under $50
The list is aligned according to the price. (Lowest to Highest, except for the first item)
All the long-sleeved t-shirts are made of lightweight, synthetic fabric.
Find "The One" | Lululemon Long Sleeve Dupe
Choosing the proper gym wear looks tricky as we are surrounded by a plethora of brands that label themselves the best. However, with these few pointers, you can easily add a good quality long-sleeved shirt for your workouts and sports. Add the best long-sleeved t-shirt to your collection with the simple buying brief below.
Material
Fabric is the most essential factor. Even if you sweat profusely, you wouldn't want your clothes sticking to your body and causing an embarrassing odor at the gym. To avoid these, I suggest choosing a nylon or a polyester fabric as they are lightweight and quick drying, whereas cotton is not moisture-wicking.
Size and Fit
Many people encounter fitting issues due to online shopping. This can be avoided by looking for measurement guidelines and skimming customer reviews. About the fit, it is a subjective factor. It entirely depends on the body type and personal preferences.
Sleeve
A comfortable sleeve fit is essential to ensure a hassle-free workout session. Avoid the product if it is tight on the armpit, which may cause friction and rashes. Pay attention to the shoulder fit and around the waist and torso.
Specs
For a long-sleeved t-shirt, I would like you to consider these specific features to enhance your workout experience. Look for the features listed below:
Comfortable
Breathable
Quick Drying
Lightweight
Well fitted
Attached Thumbholes
Consider brands that clearly state the features above.
The Best Picks | Lululemon Long Sleeve Dupe
Frequently Asked Questions | Lululemon Long Sleeve Dupe
Which is the best Lululemon Long Sleeve?
Lululemon is one of the leading sportswear and fashion apparel brands. There are several high-quality options, and declaring the best is knotty. Among the long sleeve category, the Swiftly Tech Long Sleeve Shirt 2.0 is the latest, featuring high-performing specifications.
Is the Lululemon Long Sleeve worth it?
Yes. The Lululemon Long Sleeve T-Shirt is worth the buy. Besides enhancing the basic fitting features such as fewer seams and thumbholes, it boasts X-Static Silverescent Technology that fights odor and mesh construction for breathable, comfortable workouts.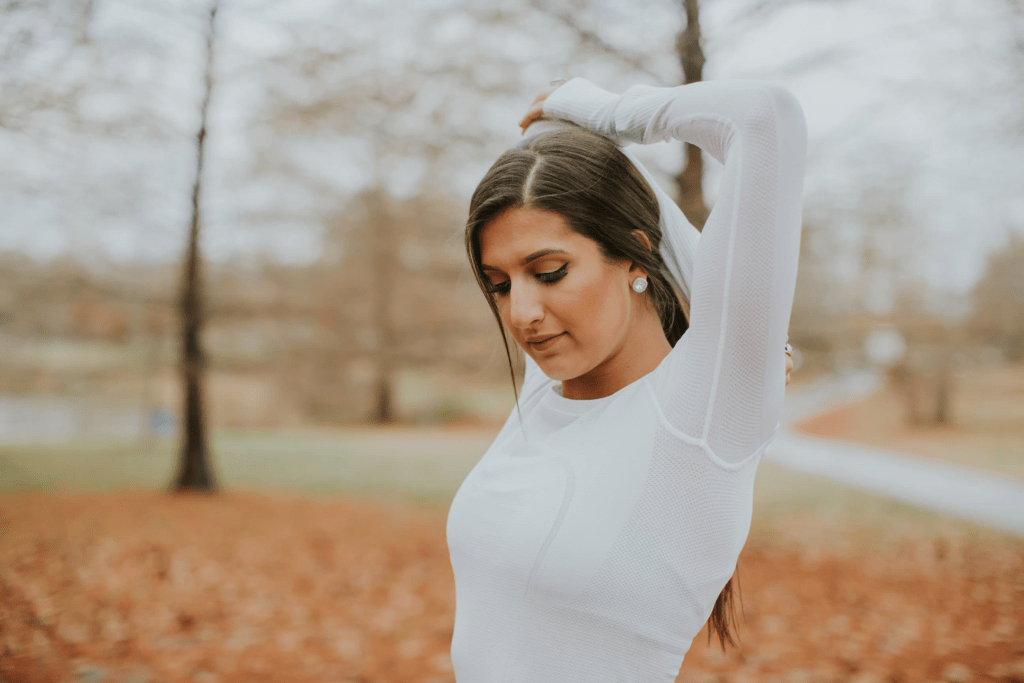 How to wash a Lululemon Long Sleeve Swiftly?
Machine wash your T-shirt in cold water with light colors. Avoid bleaching, ironing, and dry cleaning, as it'll ruin the material.
Which is the Lululemon Long Sleeve Dupe?
The Seamless Long Sleeves With Thumbholes Shirt by CRZ YOGA is the ultimate affordable Lululemon Long Sleeve Dupe. It stands tough and matches the quality and features of the Lululemon.
The Bottom Line | Lululemon Long Sleeve Dupe
Long-sleeved t-shirts are a staple gym wear as they are flexible and versatile. Thus, having a durable and comfortable long-sleeved tee is essential. When discussing good quality and long-wearing sportswear, the first brand that strikes me is Lululemon.
It recently launched the Swiftly Tech Long Sleeve Shirt 2.0, the dream top for every gym enthusiast. Although crafted with the best features, its hefty price makes it unaffordable for many. So, I have come up with 11 Lululemon Long Sleeve Dupe Products that are equally comparable and budget-friendly.
I have also attached a brief guide and picked the best for you. I hope you find this write-up insightful and helps you buy better. Read on more to explore reasonable dupes of your favorite trending products below.
Here are some recent posts: