I am back with another Lululemon product dupe; this time, we have focused on Lululemon activewear. Yes. You guessed it right! I am going to talk about the hotty-hot high-rise shorts and their dupe. So ladies, gear up for a comparable list of 11 running shorts from quality brands that are Lululemon Shorts dupe.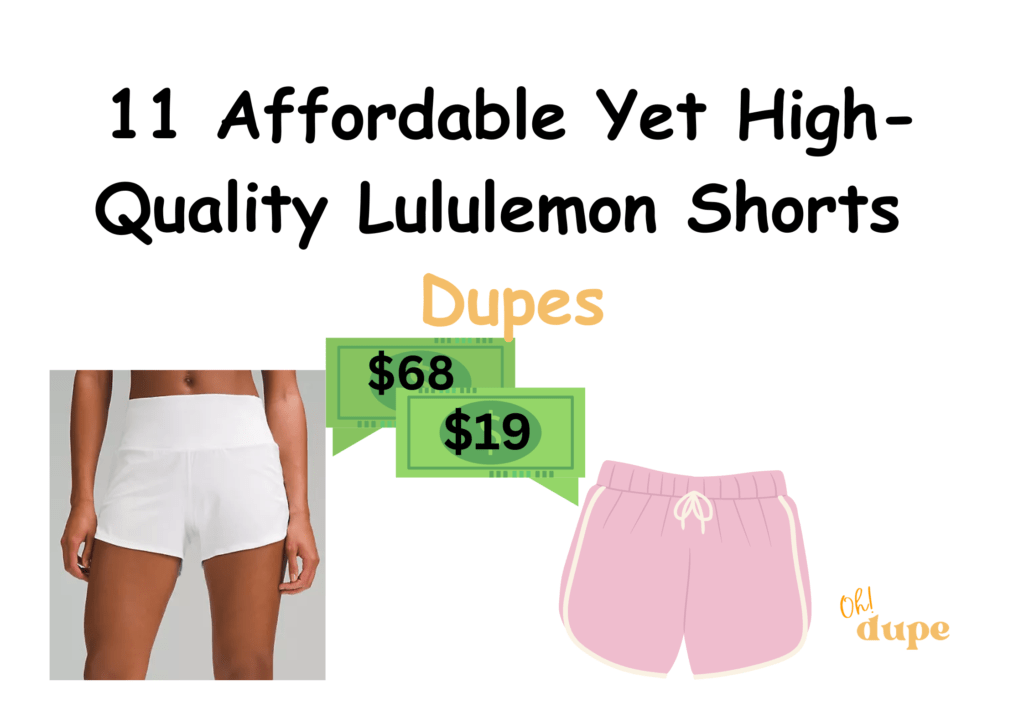 Once you start using Lululemon, there's no going back. Its indescribable comfort and versatility have flattered athletes who love to sport it in style! Lululemon is synonymous with the fashionable fitness fever that provides casual comfort and a wow workout. However, its over-popularity and unavailability cause us to find effective substitutes, or some find $68 a lot for a pair of running shorts. Cutting it off, whatever the inconvenience, major or minor, I have a detailed list ready for you.
Lululemon Shorts Dupe | A Short Journey of Shorts!
Before we immerse ourselves in finding the best Lululemon Shorts Dupe, let us recall the story behind the iconic and the most basic clothing piece in your closet today.
Till the 19th and early 20th centuries, shorts were only limited to teenage boys, considered immature and childish; shorts were not embraced by most cultures, even for men. Women had their classic feminine attire, non-revealing and modest shirts, and blouses, until the world after the 1930s progressed and modernized.
Mary Quant is accredited to revolutionize fashion trends and the stylebook in the 60s. She expressed women's empowerment and independence by contributing her creative fashion sense and designing hot pants. With this, she encouraged women to get their legs out with easy and comfortable bottoms and walk proudly. Today, hot pants are a casual style piece and excellent gym wear. With numerous variations in designs and features, hot pants fit perfectly in the wardrobes of all women.
Before you get bored and ready to leave, I'll take you to your ultimate Lululemon Shorts Dupe.
I found a lot of shorts that bore a resemblance to the OG Lululemon Hotty Hot, and this was almost the same. The innovative athleisure brand focuses on comfortable, durable, robust, easy-to-wear fabric. The feathery fit and soft high rise are super light and breathable. Designed for running and gym sessions, its elastic waistband is comfortable with convenient mobility.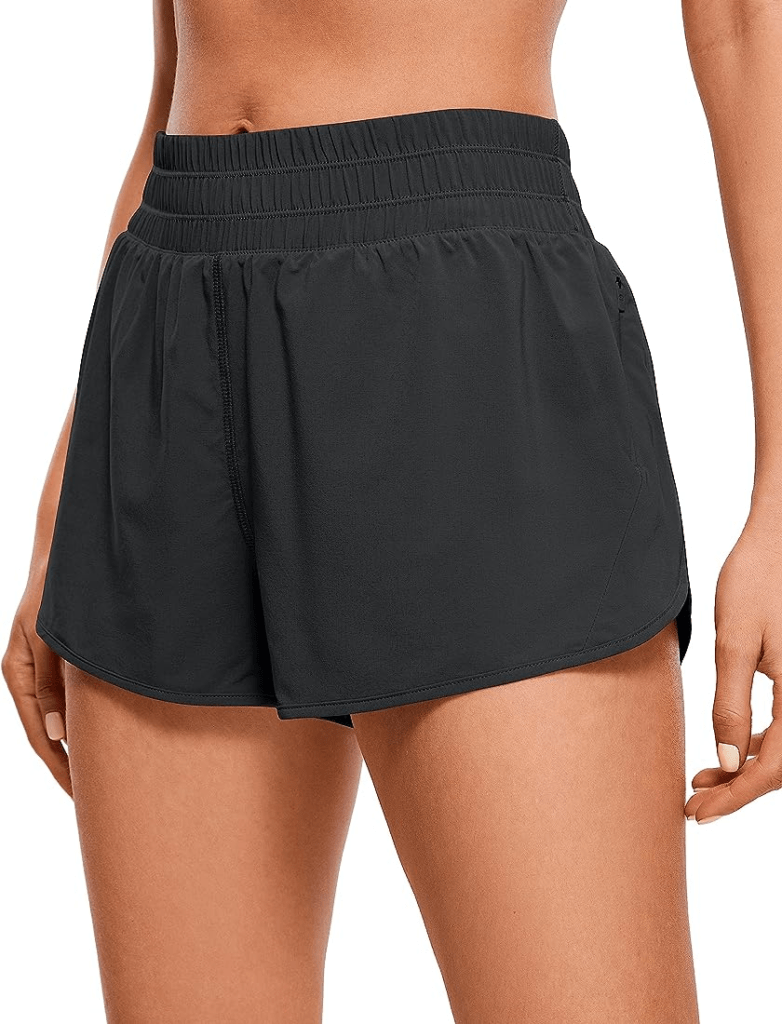 Key Features
Fabric: 86% Polyester and 14% Elastane
Inseam: 2.5″
Feathery fit soft fabric
Made for running and workout
Side dolphin hem
High waist
Built-in mesh liner
Elastic waistband
Zipper pocket
Pros
Soft and airy
Quick dry and slight stretch
Breathable liner
Weightless
Storage zip
Extra coverage
Available in 5 sizes and 17 colors
Cons
The elastic is too tight.
You may miss out on enjoying the trek if you constantly adjust and need help with your short bottoms. But with running shorts by Willit, you can climb heights and explore without having to deal with discomfort and sweaty shorts. The airflow material helps keep all the moisture at bay without clinging to your waist and thighs—the solution for women desperate for breathable running shorts.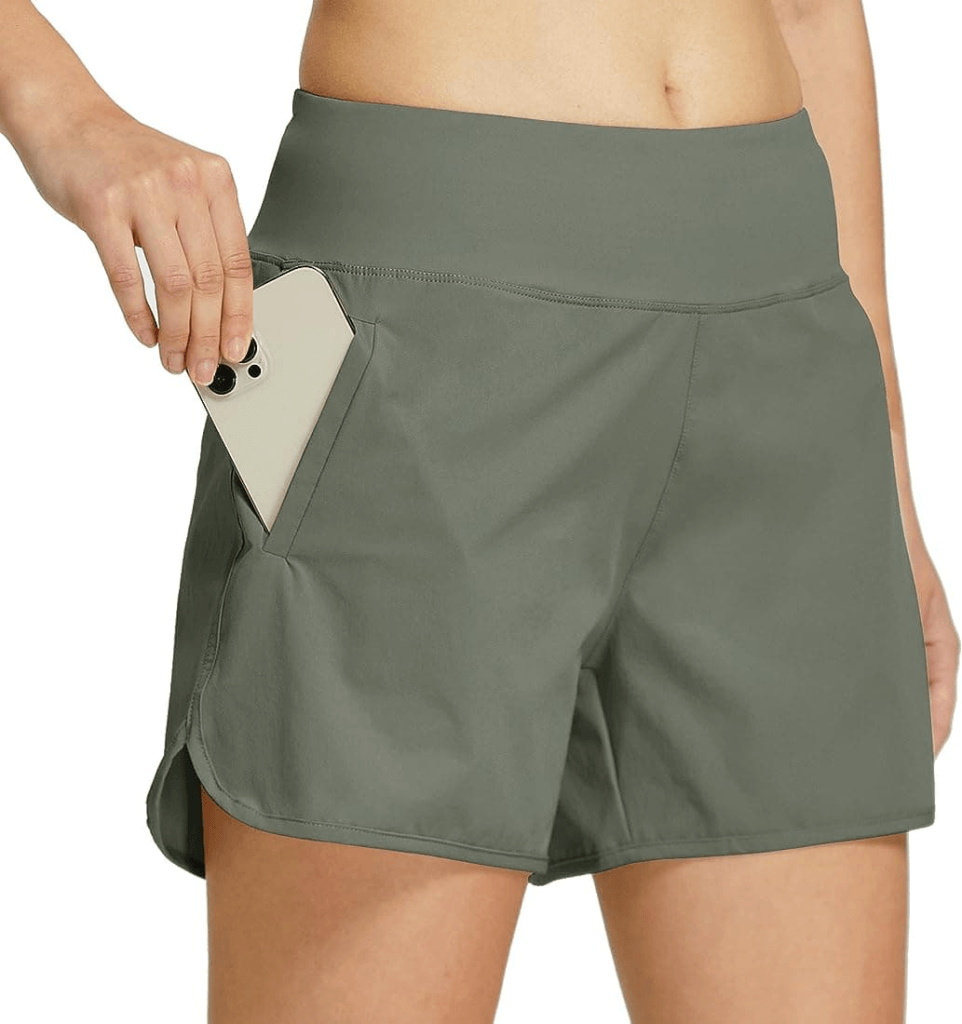 Key Features
Material: Nylon and Spandex
Inseam: 2.5″
Super soft
4-way stretch
High waist
Moisture wicking
Smooth and silky
Broad waistband and drawstring
Hand pocket
Flatlock seams
Pros
Lightweight and comfortable
Airy and anti-moisture
Smooth, cool feel
Quick drying
Stretchable and flexible
No chafing
Value for money
Cons
It does not have inbuilt briefs.
Founded a decade ago, Queenieke started producing activewear for women to provide a simple and elegant sports staple at a budget-conscious price. Unlike its competitors, it focused on premium sports clothes without attaching an unreachable price point. This pair of high-waisted shorts cost $20 with incredible detailing.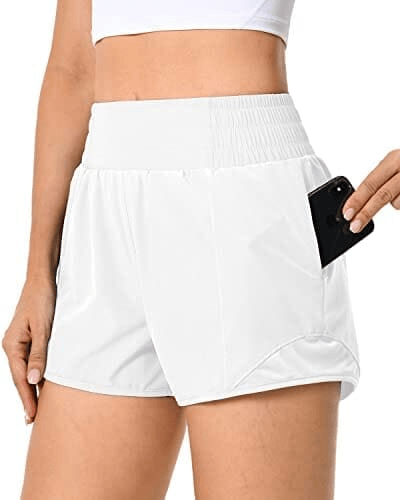 Key Features
Material: Polyester and Spandex
Inseam: 2″ (Large)
Built-in triangular mesh underwear
2 Zippered Pockets
High rise
Broad waistband
Quick drying fabric
Pros
Extra coverage
Deep inbuilt pocket
Skin-friendly material
Ideal for all waist types
Perfect non-slip fit
Smooth and breathable
Sweatproof
Cons
Many users encountered size issues.
I bookmarked this incredible clothing brand when I found the best Lululemon Everywhere belt bag dupe. While hunting for good quality workout shorts at a practical cost, I was instantly reminded of this and found the perfect match. The excellent sporty design and soft and breathable fabric are fit for daily wear and training sessions. The super high-waisted provides decent coverage and is comfortable on the belly.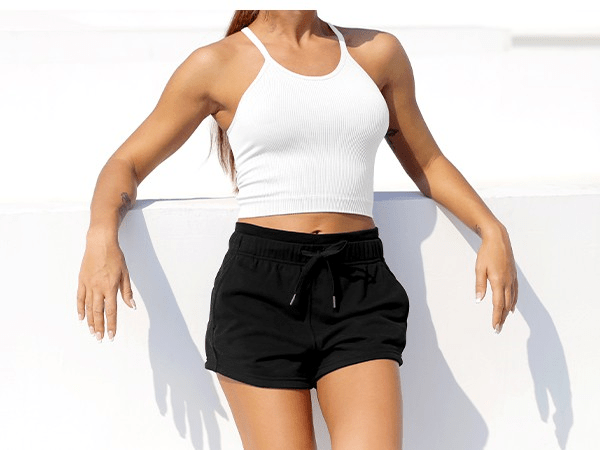 Key Features
Material: Polyester and Cotton Blend
Inseam: 2″
Elastic foldover waistband
Straight open bottom
Drawstring flexible closure
Low friction
Pros
Soft and stretchy fabric
Wide range of sizes and colors
Strong support during activities
4-way stretch material
Moisture-repellent
Maximum comfort
Short length but modest coverage
It does not shrink and fade
Breathable
Cons
It has a tight and thick elastic waistband.
No one else other than our mothers knows what we truly need. Founded with a motherly approach to provide ease and comfort to all women, Stelle has come a long way. Workout-friendly fabric, a smooth and comfy design, and a four-way stretch with an additional tummy control design for all tummy-conscious ladies, stelle is simply stellar. With its high in quality and low-price strategy, it makes itself an affordable, accessible sportswear brand.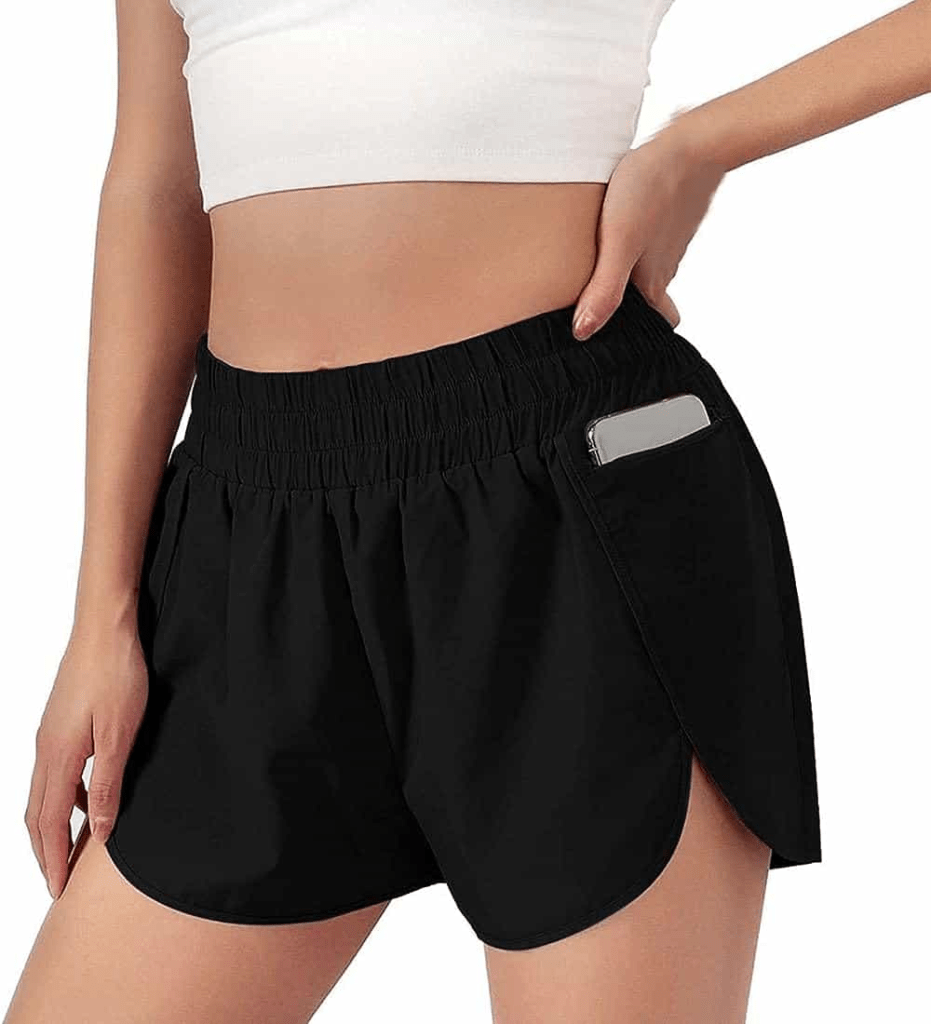 Key Features
Material: 90% Polyester and 10% Spandex
Inseam: 3″
Weightless fabric
Four-way stretch athletic fabric
Tummy control design
Built-in mesh liners
Two zipper pockets
Elastic waistband
Relaxed fit
Split hem
Pros
Comfortable and smooth fabric
Lightweight and quick drying
Breathable and flexible
Built-in pockets for storage
Personalised fit
Cons
The fabric shrinks in the dryer.
Adidas is one of the largest manufacturers of athletic wear and sports items. I had to look into many styles, and finally, I strained out the replica of Lululemon shorts. Built-in mesh briefs, featherlight and moisture-wicking fabric, and firm hold make it an ultimate choice for people who swear by good quality and durable sportswear.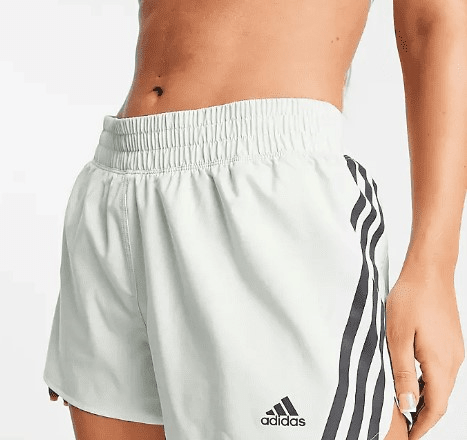 Key Features
Material: 100% Recycled Polyester
Inseam: 3″
Regular fit
Elastic waistband
Adjustable drawstrings
Built-in mesh briefs
Moisture absorbing AEROREADY
Zippered Pockets
Reflective Logo
Pros
Super light running shorts
Reflective detail
Adjustable waistband
Comfortable fitting
Breathable built-in mesh liners
Functional and flexible
Cons
A lot of users encountered size issues.
If you also struggle with sweaty skin and clingy embarrassing post-workout looks, then this needs your attention. Majorly focusing on water resistance and strong support underneath, the Under Armour Shorts are a great buy. Not only its curved hem design enhances your shape, but it also helps you move comfortably all along.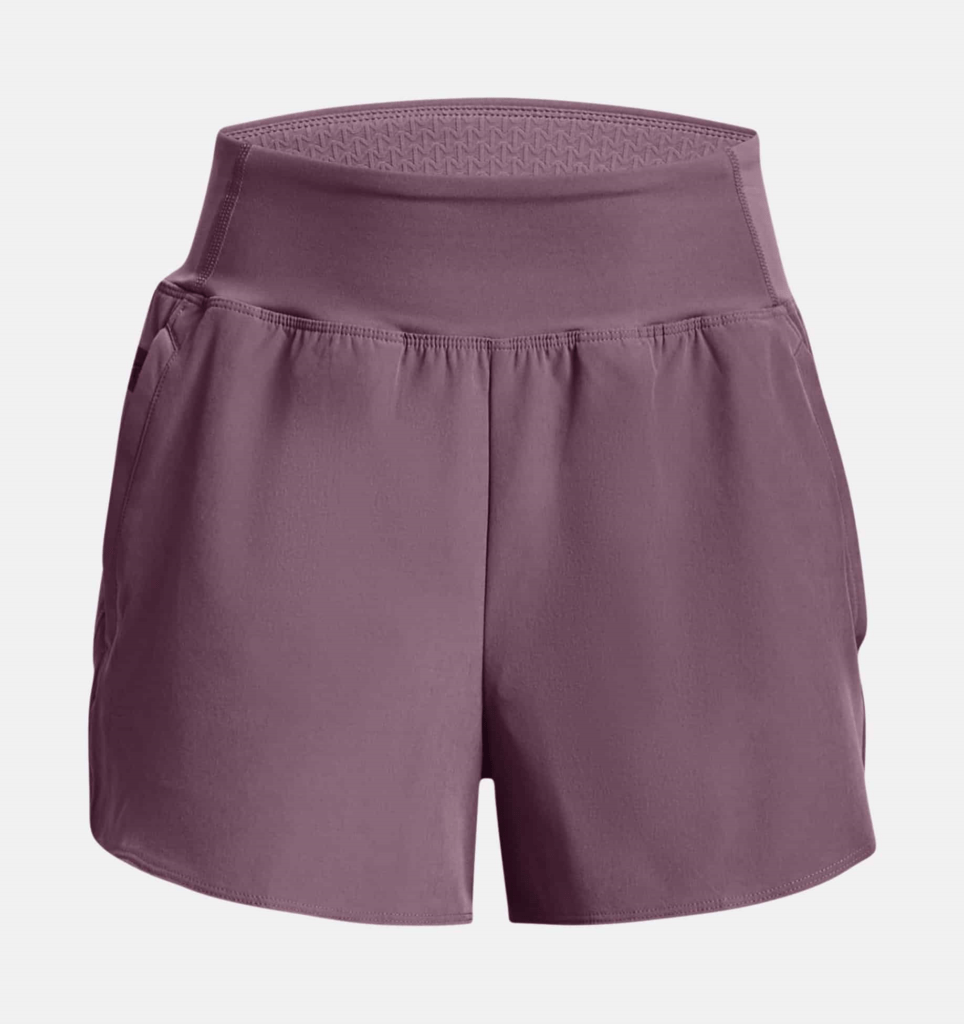 Key Features
Material: Polyester and Spandex
Inseam: 3″
UA Storm Technology's anti-moisture fabric
Breathable
Stretch woven fabric
4-way stretch material
UPF 40 sun protection
High rise waistband
Interior jacquard auxetic technology
Hand pockets with secured zips
Curved hem
Pros
Lightweight and breathable
Comfortable and stylish
Stretchable and streamlined fit
Easy to move
Sweatproof
Durable
Cons
It does not have a built-in liner.
Treat your thighs with these unique split-leg designs by the iconic Baleaf that deserve space in your gym wear collection. Ecologically conscious about the production of clothes and its impact on the planet results in its versatile and multi-functional sportswear design. Crafted for all outdoor activities and casual looks, this pair of running shorts by Baleaf looks chic and comfortable.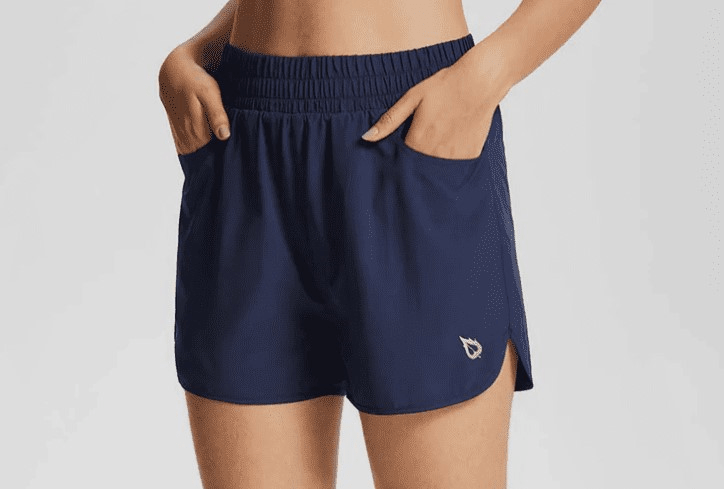 Key Features
Material: 90% Polyester 10% Spandex
Inseam: 3.1″
Split leg design
Broad waistband
In-built mesh briefs
Two zipper pockets
Flatlock seams
Pros
Comfortable and soft
Feather soft and breathable
Quick drying
Enhanced motion
Tummy control design
Two hidden storage zips
No chafing
True to its size
Cons
The fabric's color may bleed.
Put on your tough mode with this textured grey riptide with a broad waistband, featherlight, and breathable fabric. One of the underrated athletic apparel stores, it offers the best deals on numerous sportswear and swimwear for both men and women. It is exclusively stitched for long-distance running and easy mobility. It also has a back pocket to stash your cash and other essentials.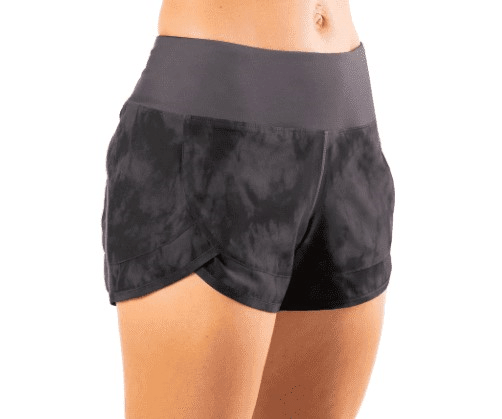 Key Features
Material: Polyester and Spandex
Inseam: 3.2″
Broad waistband
Back zipper pocket
Light and airy fabric
Maximum comfort
Pros
No cutting in issue
Moisture-repellent fabric
Sweatproof and non-clingy
Long-wearing
Durable
Cons
There are scanty reviews online.
Aerie by American Eagle is another brand I am confident about. After an hour-long search for a high-rise Lululemon hotty hot kind of shorts, I found this pair from Aerie Real. Period collection. If you are skeptical about working out on your period, these are exclusively stitched to provide extra comfort and a leakproof workout.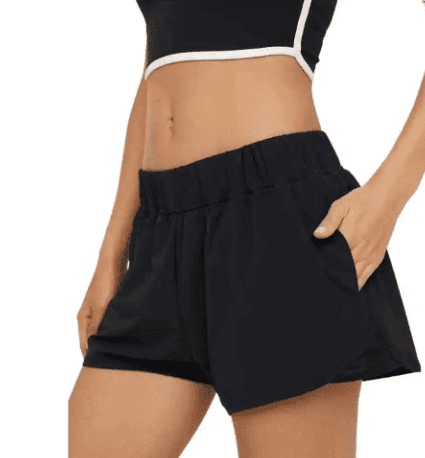 Key Features
Material: Polyester and Elastane
Highly absorbent gusset
Layered design
Holds up to 2 tampons of fluid
Pros
Stretchable and breathable fabric
Leak proof finish
Antimicrobial and anti-odor
Comfortable and convenient mobility
True to size
Cons
Say hey to the Heynuts if you seek an affordable alternative for the Lululemon shorts. With a passion for creating comfortable and casual sportswear for all types of women, Heynuts has satisfied its users with a versatile design and unmatched flexibility. Women can find variations in shapes and sizes and several styles and patterns.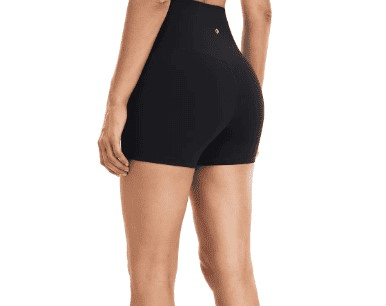 Key Features
Material: Nylon and Spandex
Inseam: 4″
Soft matte finish fabric
Non see through
High rise
Seamless waistband
Inner hidden pockets
Pull-on closure
Pros
Buttery soft
The right amount of compression
Firm support
Squat proof
Comfortable and stylish
True to size
Cons
Some users didn't find it durable.
Buy the Perfect Pair | Lululemon Shorts Dupe
Now that we have seen 11 Lululemon Shorts Dupe products, I would like to present some key points to help you find the perfect pair of running shorts.
Material
Almost every brand markets its fabric in the best words possible; some may even introduce "new" materials you'd never heard of. Look for a breathable, sweatproof, moisture-wicking material that'll not cling to your thighs and cause irritation. Skin-friendly fabrics, especially for running and sports, are Polyester and Nylon. They are comfortable, light, and quick drying. Cancel your order if you get your hands on the cotton shorts; they trap your skin in sweat, causing discomfort and dampness.
Size
Measurements aren't an issue if you have a constant shape. However, size charts vary from brand to brand, and thus it is essential to zoom in on the size guide according to your units and region. I suggest measuring your body manually to have a hassle-free size selection. Also, remain eagle-eyed as some brands recommend going a size up or down according to their metrics. Skim some reviews online, as these experiences prove helpful.
Briefs
You would probably skip your panty, as they are an integral part of an ideal pair of running shorts. Make sure these in-built liners are made of mesh material. Mesh liners ensure breathability and a smooth workout.
Storage and other details
A hands-in pocket is a must to store all your essentials on the go. Look for deep zippered pockets as they are secure and safe. A pair of running shorts without pockets would be a huge turn-off. Apart from these, minor elements instantly uplifting the comfort level and style are good quality stretchable elastic waistbands and drawstrings for flexibility.
The Best Picks | Lululemon Shorts Dupe
Frequently Asked Questions | Lululemon Shorts Dupe
What is special about Lululemon Shorts?
Lululemon is one of the most expensive brands in the world at present. It has even crossed famous luxe brands like Puma and Versace. Lululemon has wooed all gym enthusiasts with its high-quality fabric and wide variety. Its over-popularity has left all the racks empty.
What makes Lululemon so expensive?
Its premium quality material, four-way stretch design for maximum comfort, and detailed manufacturing make it one of the most expensive athleisure brands.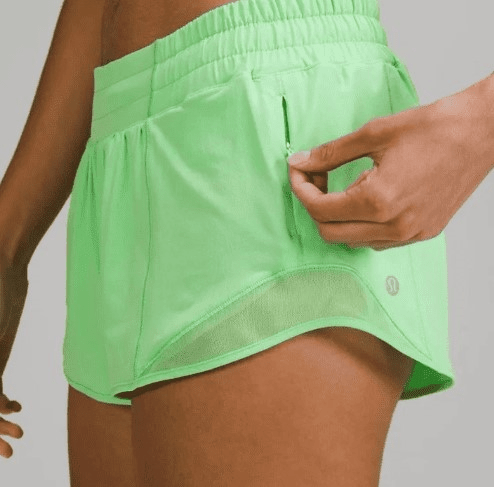 Why do we need a Lululemon Shorts Dupe?
Lululemon shorts come with an exorbitant price tag and are unfit for most people's budgets. Also, its over-the-top demand results in nil stock.
Which is the best Lululemon Shorts Dupe?
CRZ Yoga Feathery Fit Soft High Rise Lined Shorts is the best Lululemon Shorts Dupe. Its design and comfort match the OG Lululemon Hotty Hot High Waist Shorts.
The Final Say | Lululemon Shorts Dupe
The importance of fitness and body maintenance has ignited the demand for sportswear and athleisure. Earlier, there were only limited to sportspersons; however, a huge spectrum of people now look for comfortable and sports-friendly clothes. It has led brands to produce workout wear in numerous variations.
One of the leading brands that rank first on every fitness fanatic's shopping cart is Lululemon. Its durability, intricate detail-oriented manufacturing, and premium quality fabric have led to its popularity today. However, the price point may be less digestible by many sports enthusiasts. Thus they are compelled to look for affordable alternatives.
I have compiled a list of cost-effective options for Lululemon Hotty Hots High Waist Shorts in this write-up. I have also attached a head for a short guide for quick reference. I hope the article helps you find your Lululemon Shorts dupe. Find more economically sustainable substitutes below for viral products.
Latest Posts: