One of the core elements that can bring my Pinterest board homestyle to life is a cozy, comfy couch from Restoration Hardware. Even though the latest cloud collection has my heart, it is shattered after discovering its price. The soft feathered couch is a dream sofa for many, but its over-the-top price makes people compromise and look for similar sofas.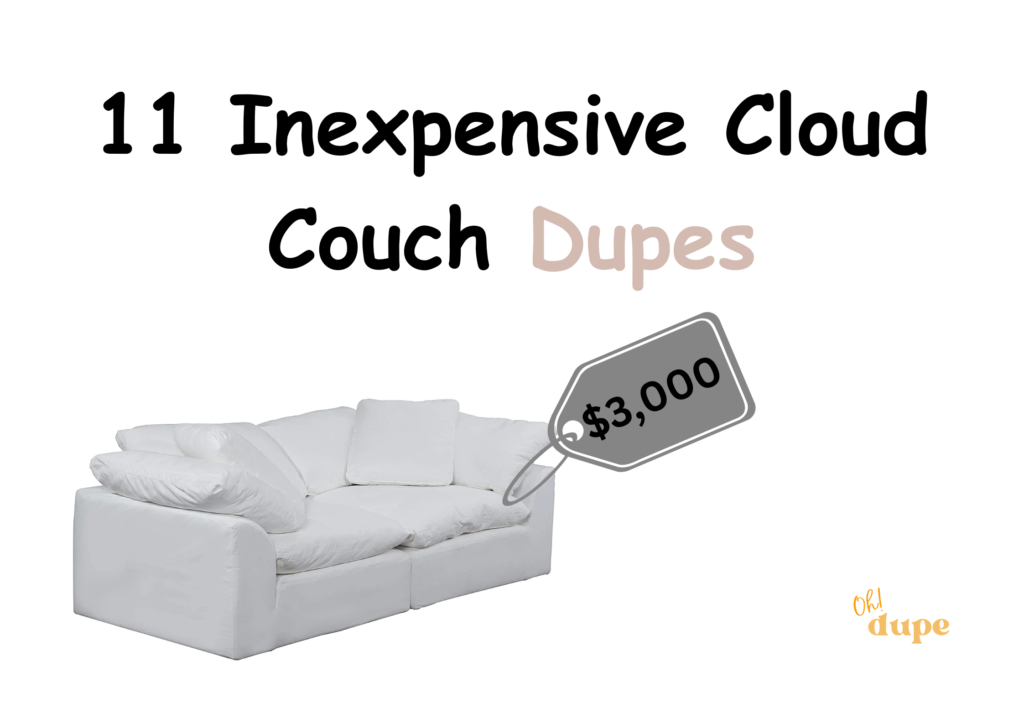 So if you wish to sink into the sofa and not be in debt, this blog post is for you. In the article below, find a list of 11 Cloud Couch Dupe, or more precisely, close substitutes to Cloud Sofa Chaise Sectionals (both left and right), with a quick buyer's guide and my secret tips to lasting your favorite couch till eternity.
Cloud Couch Dupe | Best Of The Best!
The RH collection is an ideal home decor for a reason. Apart from its premium quality materials and intricate craftsmanship, the brand's unique designs and customer base makes it the most preferred choice. In an interview I read a couple of years ago, Timothy Oulton, the exclusive designer of the RH Cloud Collection, said, "I have been in the antique industry for a long time and always wanted to build a business. Concerning the design process, I don't just sit around with a sketchbook; instead, I find inspiration from unexpected things. Then, translate that idea and evolve it till it is perfect."
Sectionals are a great option to customize the seating of your living room. However, selecting and committing to a single piece can be confusing among a plethora of options. Thus, below are some powerpoints you can remember before investing dollars.
Fabric
It can be hectic if you are offered a variety of materials. While at it, consider your comfort, look, and convenience. A tear-resistant, easy-to-clean, soft, skin-friendly material should be your ideal choice. Also, cancel out specific options if you are allergic to certain fabrics, such as leather or feather-filled materials.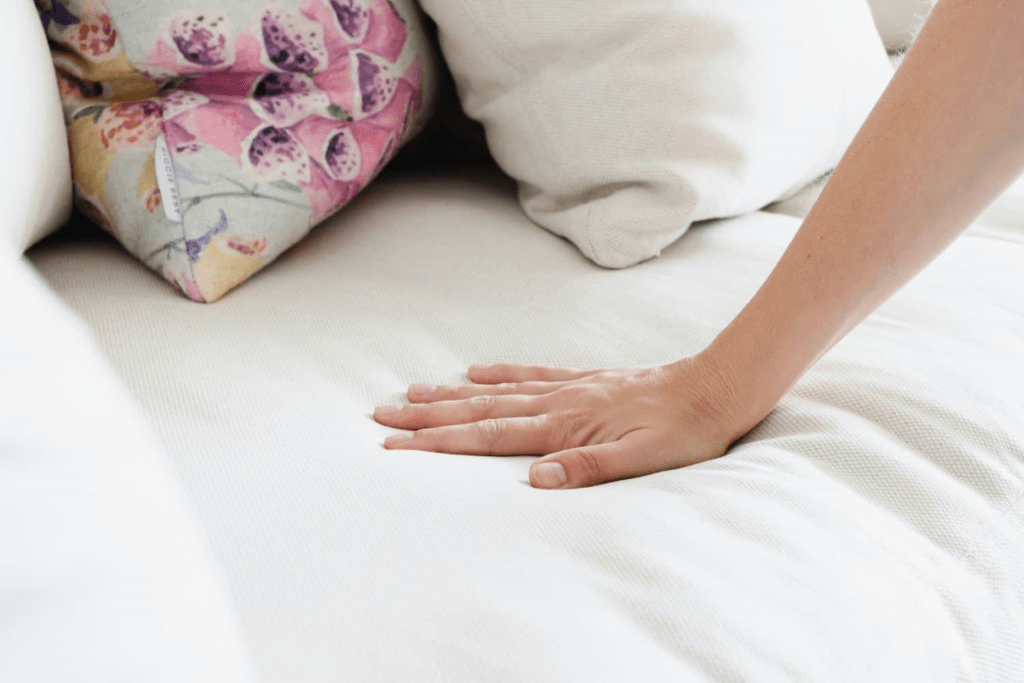 Size
The most basic yet important. While we shop offline, you can skip this point. However, for online shopping, measuring the dimensions of your space is a must. Make sure the layout is the right size.
Frame
Choose a firm frame that efficiently carries the weight of your sofa. Avoid choosing softwood or stiff cardboard, as they may wear off in a few years. Select a hardwood frame made of oak, beech, or kiln, as they are durable and last for years.
Orientation
Remember the orientation. Select the proper arm-facing sectionals according to your setting. Most websites provide an augmented view for an enhanced shopping experience.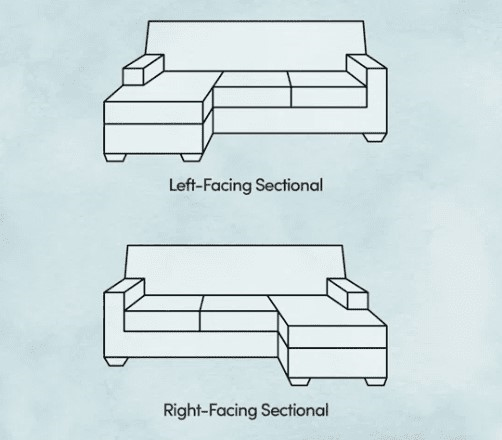 Other factors
Consider other factors such as the color scheme of your room, compatibility with other furniture, and the room's vibe. House aesthetics are an essential factor before you choose a particular sofa.
Now that all the elements are cleared, let's sink into 11 Comfy Cloud Couch Dupes.
Are you finding a cloud couch- like chaise sofa in a smaller size and price? Don't worry, as the first cloud couch dupe is a miniature version of the OG couch and in a reasonable amount. Leanne Ford expressed her cozy aesthetic in the form of this statement sofa. "I am all about livability in a modern way," she says in an exclusive interview and shares her idea of homely furniture.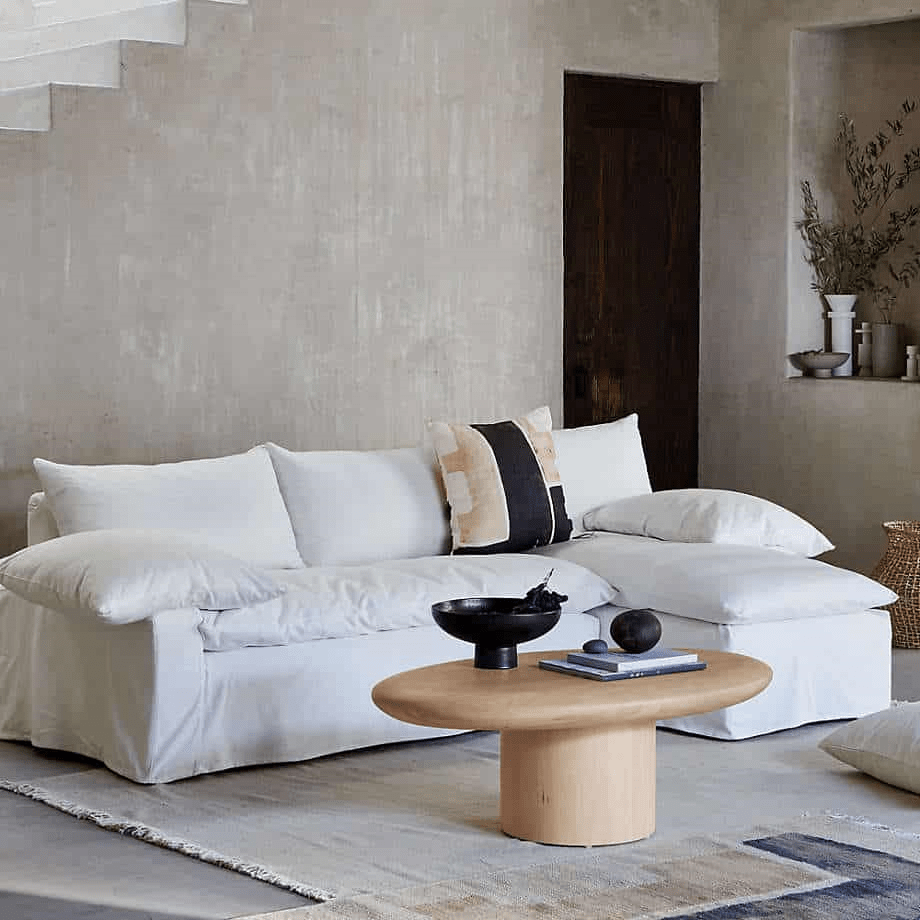 Specs
Dimensions:108″W x 32″H x 42″D
2 Piece Sectional
Benchmade Kiln Dried Engineered hardwood frame
Feather blend seat and cushions
Sinuous Spring
Hardwood legs with adjustable floor protector
2 throw pillow
Intricate top stitching detail
Pros
Casual and Chic setting
Easy, cozy living
Wrinkle free fluff
Comfortable and well crafted
Cons
The feathers come off the sofa.
This is the ultimate all-in-one sofa set if you are looking for a dark academia aesthetic. The grey chaise sectional looks sophisticated and stylish. With five soft and comfortably upholstered fabrics, the Aidan Gray Modular Large Chaise Sectional is ready to grace your living room.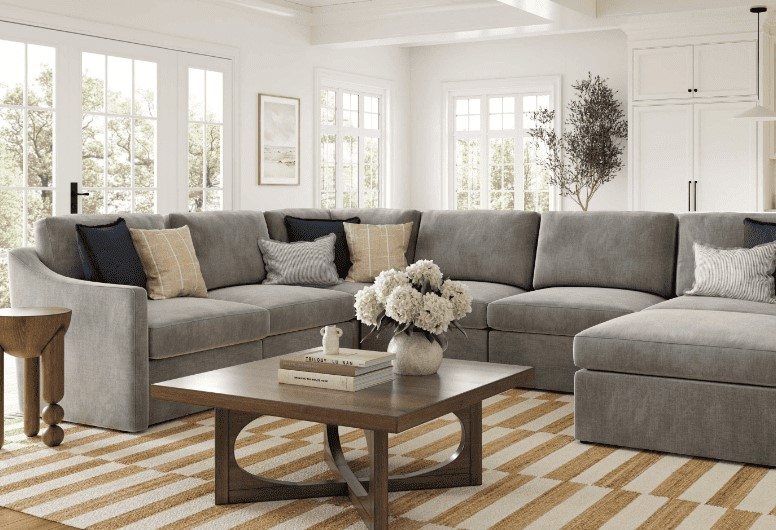 Specs
Dimensions: 136.5W x 102.2″D x 34″H
Chenille Upholstery
Connecting brackets for easy configuration
Removable back cushions
Plywood Frame
High gauge Sinuous Spring
Pros
Cozy and Chic
Dark aesthetic home decor
Versatile modular design
Sturdy construction
Durable
Cons
Chenille fabric couches are difficult to clean.
This L-shaped Sectional by City Furniture is a great dupe to the LAF Chaise by the RH Cloud Series. "Everyone Can Live Like This," as they proudly boast their home aesthetics at an affordable price, the super comfortable couch with modular design is worth considering if you seek a chill and casual vibe.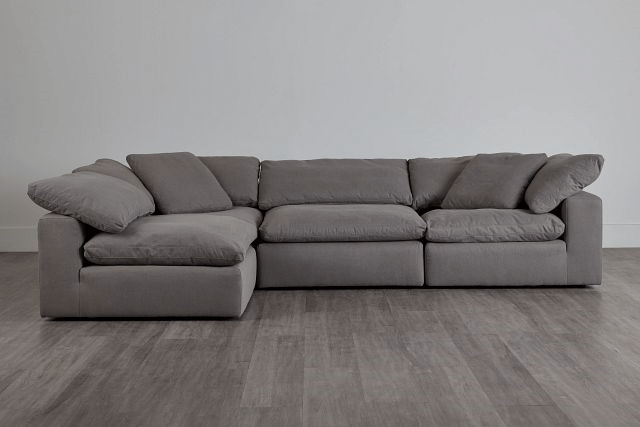 Specs
Dimensions: 133.5W x 32H x 88.5 L
Down blend rearrangeable cushions
Upholstered in LiveSmart performance fabric
Modular design
Sinuous Spring
It comes with oversized reversible cushions and two additional pillows
Engineered wood frame
Pros
A tropical-style casual couch
Comfortable and stylish
Spill-resistant and moisture-repellent barrier
An easy clean design
Rearrangeable oversized cushions
Convenient and easy maintenance
Available in two greys
Cons
The stuffed feathers may pop out after a few months.
Upgrading your house without harming the environment gives another level of satisfaction. It helps you relax and enjoy your furniture guilt-free. The Anthropologie Upcycled Wells Reversible Sectional should be your priority to elevate your home with sustainable decor.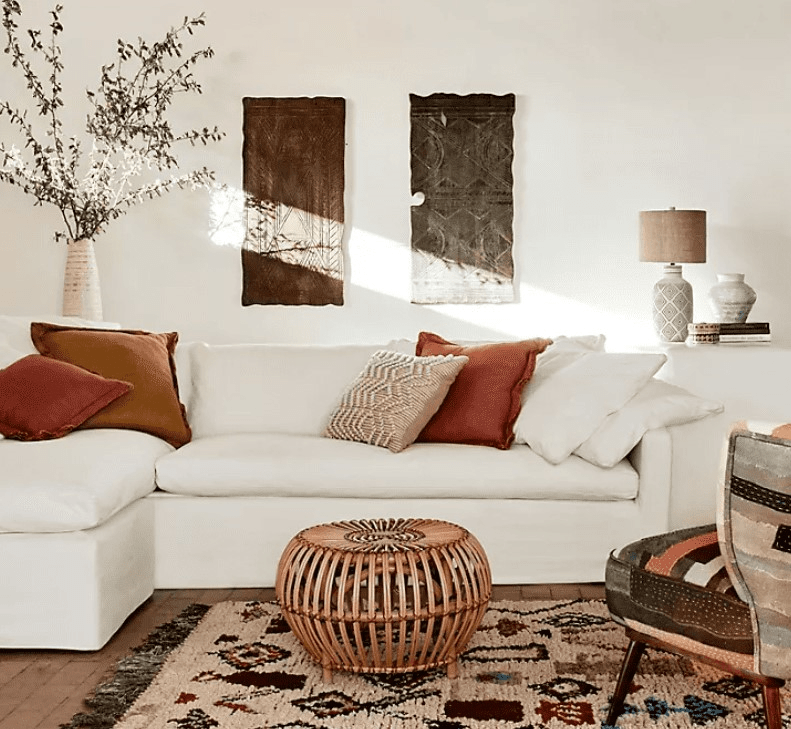 Specs
Dimensions: 34″H x 110″W x 68″D
Restored cotton polyester and cotton upholstery
Feather cushions
Reversible Sectional Orientation
Detachable slipcovers
Stick hardwood frame
Poplar wood legs
Sinuous Spring
Two seat cushions
Three back cushions
Four throw pillows
Pros
No assembly required
Versatile and Cozy
Sustainable and Sturdy
Available in 3 luxurious colours
Cons
This Sectional is for indoor use only.
The ultra-comfortable Joelle Sectional should be the first preference if you are looking for off-white tones. The super soft couch pulls you like a magnet and hugs your body with feathered foam seats. An ultimate option for your dream house, the versatile Joelle Sectional deserves a spot to laze around with your family and friends.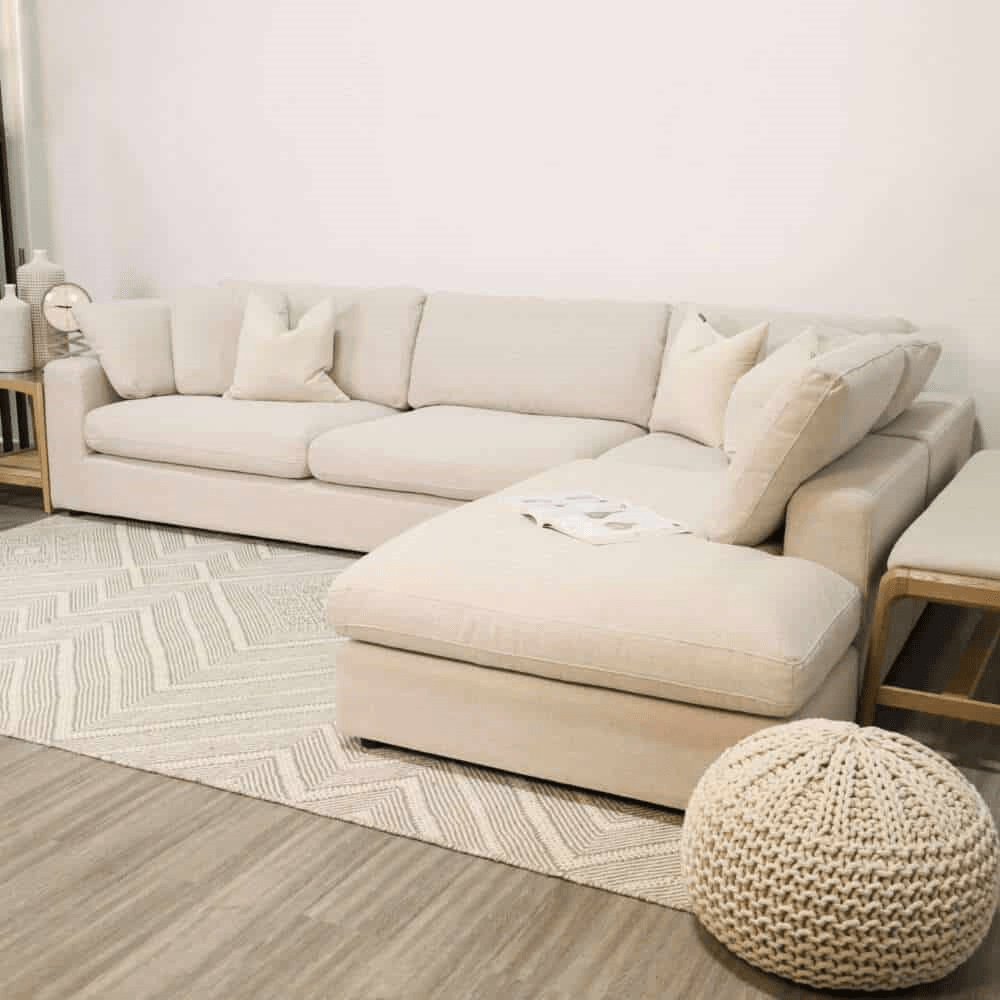 Specs
Dimensions: 127.5″ x 96.5″ x 24″
Pine plywood Frame
Soft Feather foam seats
Two matching accent pillows
Pros
Feather soft and comfortable
Luxurious and elegant
Available in 2 off whites
Available in both orientations
Cons
People sensitive to feathers may avoid this sofa.
The reasonable linen replica of the cloud couch is from America's top furniture and mattress brand: Ashley. The Carnaby sectional is worth considering if your home furnishing keywords are urban and elegant; this cozy couch awaits your order! With numerous accessories for enhanced lounge decor, the 4 Piece Sectional is a wise investment.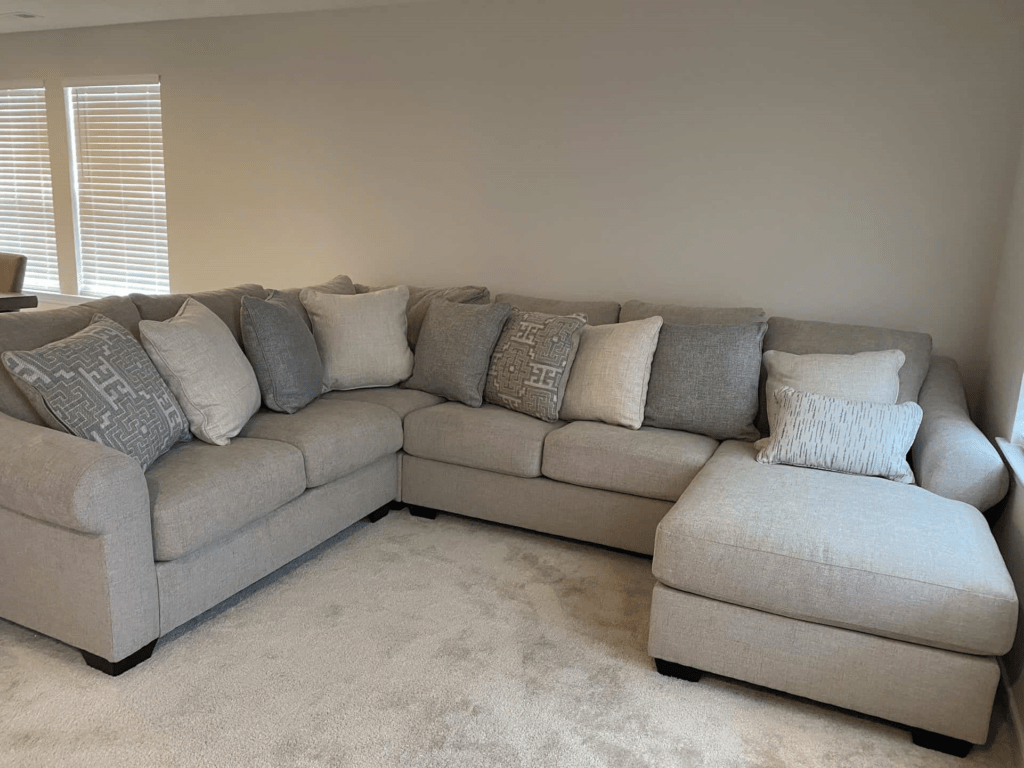 Specs
Dimensions: 132″W x 39″H x 104″D
Includes RAF Corner Chaise, armless loveseat, LAF Loveseat, and a wedge
Polyester and Linen upholstery
Soft polyfill cushions
Extra throw cushions
Sinuous Spring foundation
Corner-blocked frame
Faux wood legs
Pros
Lightly textured linen upholstery
reversible foam cushions
Sag resistant
Smooth platform
Tight and wrinkle-resistant fabric
Cons
The cushion fabric wears out faster.
Your hunt for a firm velvet finish sofa with cloud couch-like comfort ends here. The Charcoal colored elegant sofa offers stylish lounging without compromising comfort. The velvet upholstery gives a sleek finish, thus enhancing the overall look of your lounge.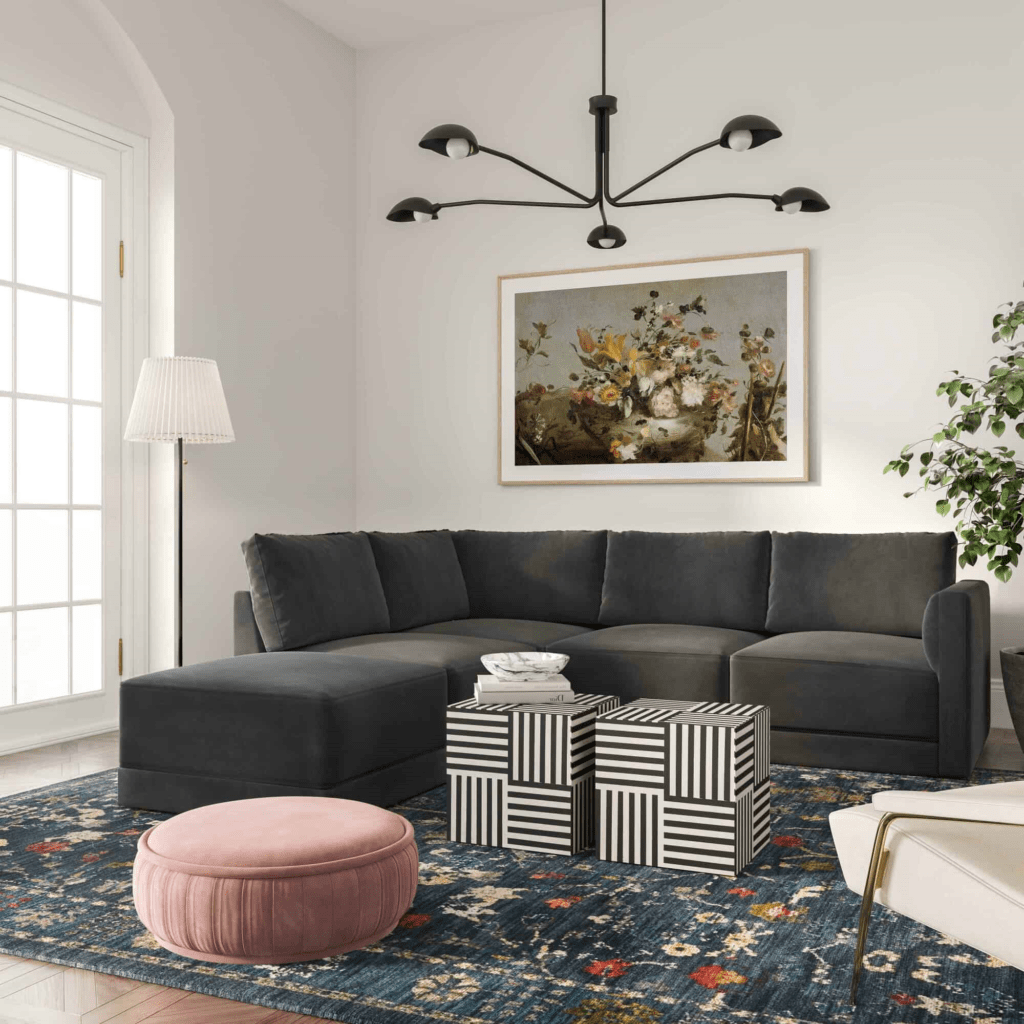 Specs
Dimensions of 104.5″W x 104.5″D x 32″H
Charcoal Colour Velvet Upholstery
Connecting brackets
Pine and Plywood Frame
High gauge Sinuous Spring for extra comfortable cushion support
Seat and back cushions derived from high-resilience foam
Pros
A polished and elegant look
Robust and comfortable
Versatile and Flexible configuration
Available in 3 luxurious velvet shades
Cons
It leaves stains if cleaned after some time.
A white sectional centerpiece awaits your lounge or study if you have an excellent eye for statement furniture. The plush foam padding is comfortable, and the stylish iron legs and eco-leather upholstery accentuate its sophistication.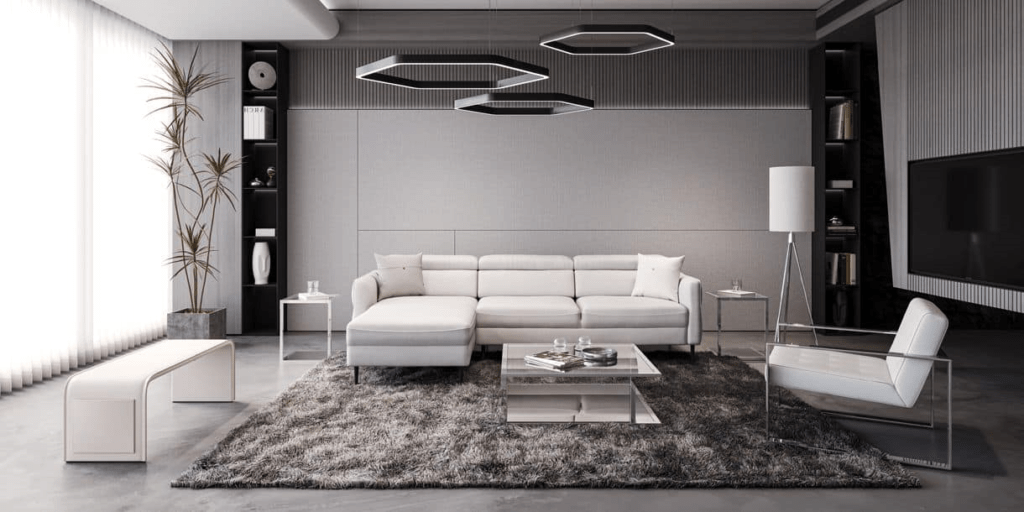 Specs
Dimensions: 106 ¾" W x 34″D x 35″ H
Eco Leather Fabric
Foam Padding
Iron Leg material
Adjustable Headrests
Pros
Chic and Cosy couch
Comfortable and sturdy
Sophisticated style
Versatile
Available in Left Facing and Right Facing Chaise
Cons
A lot of people are unhappy with the customer service.
This oversized Chaise Sectional Sofa is the perfect fit if you want a chic cozy upgrade in your living room and make it oh-so-inviting. With a modern twist, it is sturdy and comfortable. The piece is versatile and matches everyone's taste.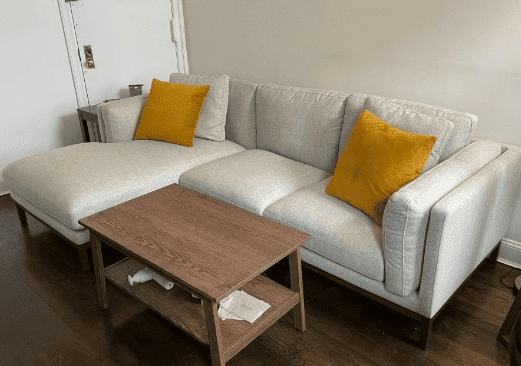 Specs
Dimensions: 100.8″W x 39″/64.5″D x 31.9″ H
Plywood Frame
Solid Rubber Wood leg
Foam and fiber pocket spring-filled seat
2 square accent pillows
Removable Seat
Removable back and cushion cover
Sinuous Spring
Pros
Classy design
Comfortable and timeless look
Well made and easy to assemble
Good quality and great service
Cons
It may pick up stains easily
The two-in-one sofa sleeper is necessary if you regularly host movie nights and sleepovers. Not only can you make memories throughout the night, but you also can lie down on the weekend for the whole day. Its super soft seat, adjustable headrests, and a bonus hidden storage make it a perfect sectional for medium spaces.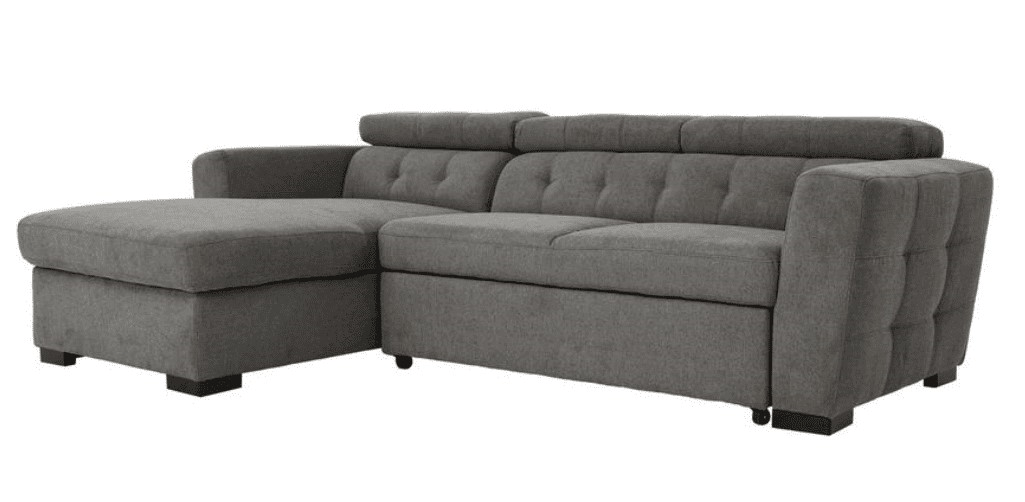 Specs
Dimensions: 98″W x 65″D x 31″H
Microsuede Fabric
Left Chaise Sectional
Integrated sleeper sofa with storage
Adjustable Headrest
Track Arms
Block legs
Pros
Easy to lift
Multi-functional
Soft and cozy
The versatile and transitional style
Available in both Left and Right Chaise
Cons
Available in a single color.
After many ups and downs, the company survived after being acquired by Overstock. Known for incredible deals and offers, the home care brand is back. This L-shaped Sectional Chaise Couch will be an excellent buy if you want a moderate-sized modern and minimal couch.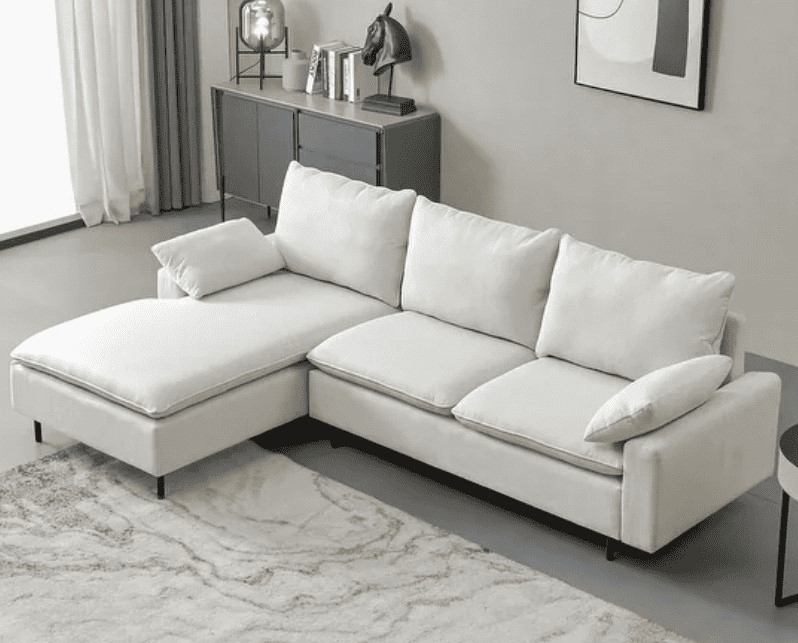 Specs
Dimensions: 99.6 L x 59.45 W x 36.6 H
Linen Fabric
Left chaise on the side
The backseat is filled with Polyester, and Foam Filled Seat
Adjustable Metal legs
Fabric
Washable Armrest and Pillow
Thick Cushion Seats
High-density sponge
Pros
An L-shaped Sectional Sofa
High-quality and unique design
Comfortable and thick cushion seat
Easy to clean and maintain
Modern and contemporary
Cons
Linen Fabric may fade in direct sunlight.
Now that you will receive your favorite sofa, I wish to spill out some basic tricks to help you sustain your couch for a long time.
Maintaining a sectional sofa can be a huge but essential task. Poor maintenance may eat up its beauty and charm, and it also shall wear up faster. When you have spent huge dollars, let's recover it by following just a few steps here and there.
Dusting
This might sound too conventional, but it is often overlooked. Grab a soft dry cloth to dust off the dirt particles on the upper surface. If you have a pet, use a lint roller to remove fur and hair from the sofa.
Fabric Care
For this, the first thing to remember is to determine your material. Research the fabric care and analyze the do's and don'ts for the particular material. In case of spills or stains, wipe off with a wet towel or cloth immediately. This won't deepen the stain. Later on, you may clean with a mild detergent to sanitize.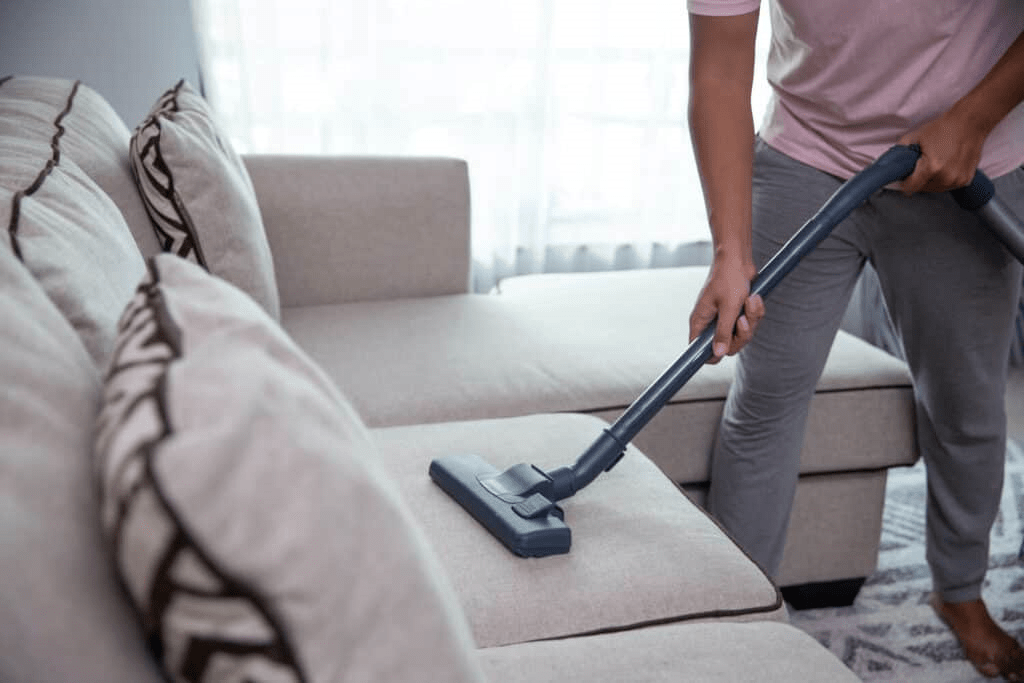 Material
As I mentioned, knowing the type of material is vital as the cleaning methods vary depending upon the fabric. Here are quick solutions you may need.
Leather – Equal parts of Water and Vinegar
Linen- Mild Soap and Water or Dry Clean
Velvet- Mild Soap and Water and Brushing Softly
Foam and Padded – Equal Parts of dish soap and Warm Water
Microfibre- Gentle Liquid Soap
Cleaning
To re-set up your seating arrangement and make it look new all again, dismantle the sections and vacuum clean individually. You may also find hidden stains or spots in the corners and between the connectors. Clean the surface below and arrange your Sectional. You may experiment and play with styles to change the layout. Lastly, wipe off the sofa with a fabric spray cleaner and enjoy the fresh comfort!
Best Picks | Cloud Couch Dupe
Frequently Asked Questions | Cloud Couch Dupe
What is a Cloud Couch?
The Cloud Couch Sofa Collection is the bestselling and the most popular from Restoration Hardware. The brainchild of legendary home stylist Timothy Oulton, the luxe couch is known for its cloud-like comfort with goose feather-filled seats and oversized cushions.
Is Cloud Couch worth it?
Yes. The Cloud Couch is a dream decor for many. The world's most comfortable sofa is versatile, well-crafted, and durable. Its feathered seats with firm foam core and extra-size cushions make it a most desirable chaise lounge.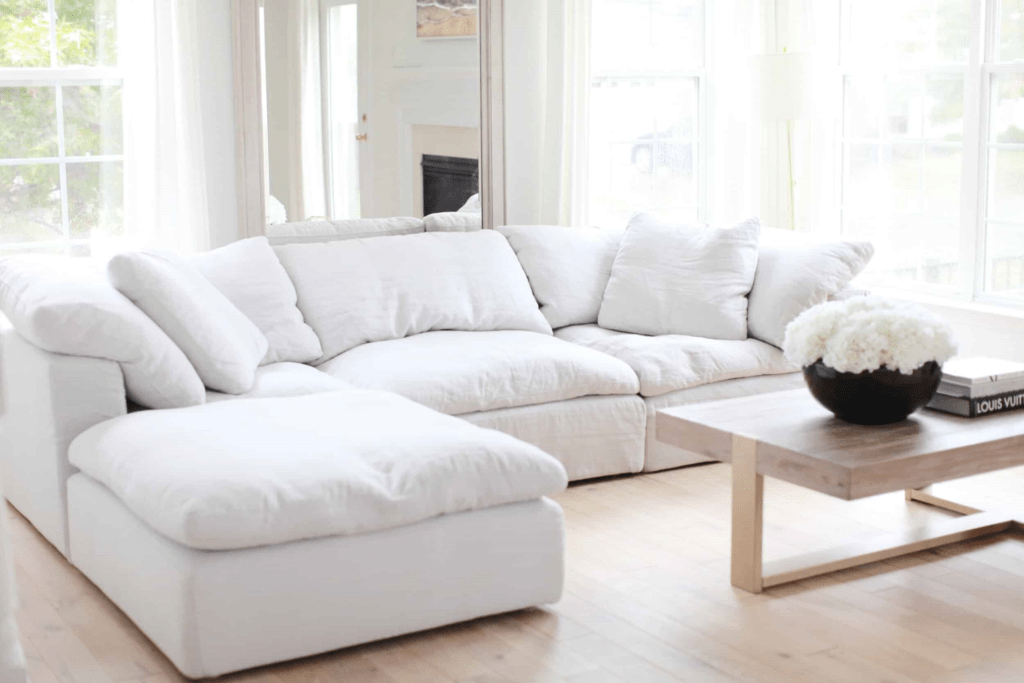 Why do we need a Cloud Couch Dupe?
The Cloud Couch is of the highest quality and results from years of craftsmanship. However, due to its premium materials and luxurious branding, buying from the cloud couch collection costs you an arm and a leg. Hence, people seek reasonable cloud couch dupes.
Which is the best Cloud Couch Dupe?
Crate and Barrel Ever Slipcovered 2 Piece Sectional Sofa With Left Arm Chaise by Leanne For is the best Cloud Couch Dupe due to its similar looks and feather blended seats.
The Conclusion | Cloud Couch Dupe
We always look out to upgrading our lifestyle while covering the newest trends. Apart from fashion and makeup, home styling and design enthusiasts have increased and are ready to invest to make their homes comfortable and beautiful. One trending piece of furniture that has wooed home stylists and matched the aesthetics of many is the sensational Cloud Couch.
However, Its luxe comfort and versatility are not budget-friendly; many people look for similar cloud-like sofas. I curated a list of 11 Cloud Couch Dupe and a small buyer's guide in this article. I hope it helps you find your ideal couch for your home. 
Recents: