Today, we will talk about the hottest, sensational footwear of all time. Yes, you got me. I am here to discuss Naked Wolfe Boots, the $350 extraordinarily exceptional retro platform high-heeled boots, and its affordable alternatives.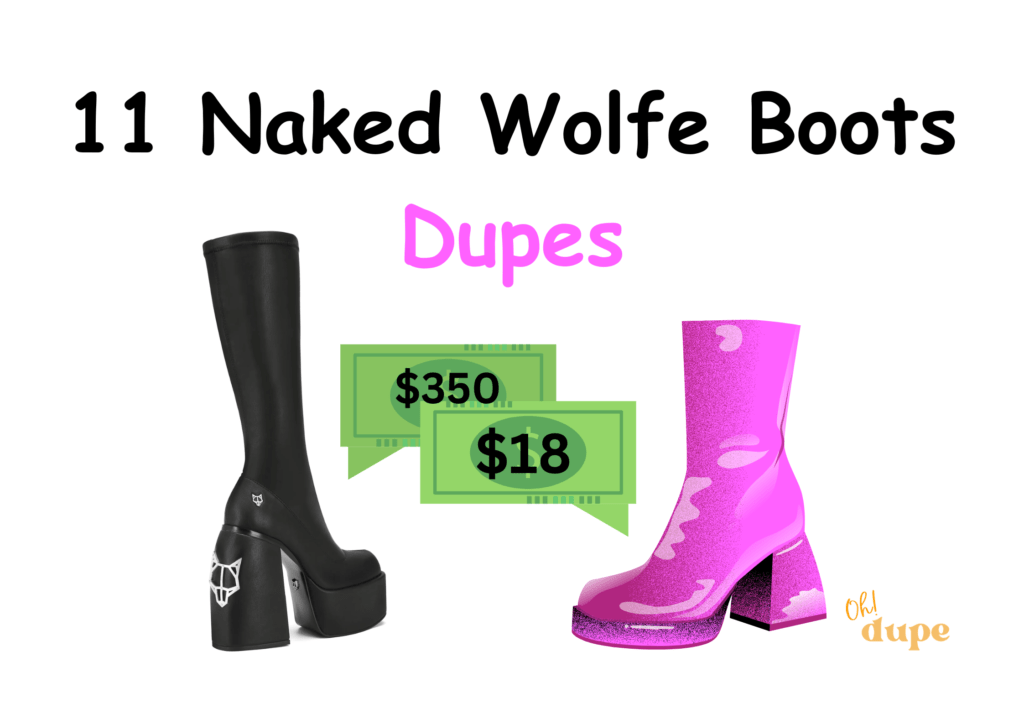 For the uninitiated, Naked Wolfe is an Australia-based luxury family-owned brand that specializes in premium quality footwear and swimwear. Launched in 2017, the brand peaked with the top-selling retro Spice Black Stretch Boots. It instantly blew online and wooed all fashion enthusiasts, including notable celebrities like Hailey Bieber and Kourtney Kardashian.
However, we caress the high heel and not the high price. So for all the boot-iful ladies out there, I have put together 11 Naked Wolfe Boots Dupes that'll blow your mind and not your wallets! So let's get into it, shall we?
Naked Wolfe Boots Dupes | Affordable Alternatives!
(The list is meticulously aligned from low to high prices for easy and monetarily sound buying decisions. Except for the first alternative.)
Most influencers and fashion enthusiasts have named it the ultimate dupe, and I couldn't agree more. I looked into a more detailed and close dupe, but no, Steve Madden's version of the Naked Wolfe looks similar and dimensionally compatible. The materials, the measurements, everything is crafted considering the premium Black Stretch. It can officially be called the exact Naked Wolfe Dupe.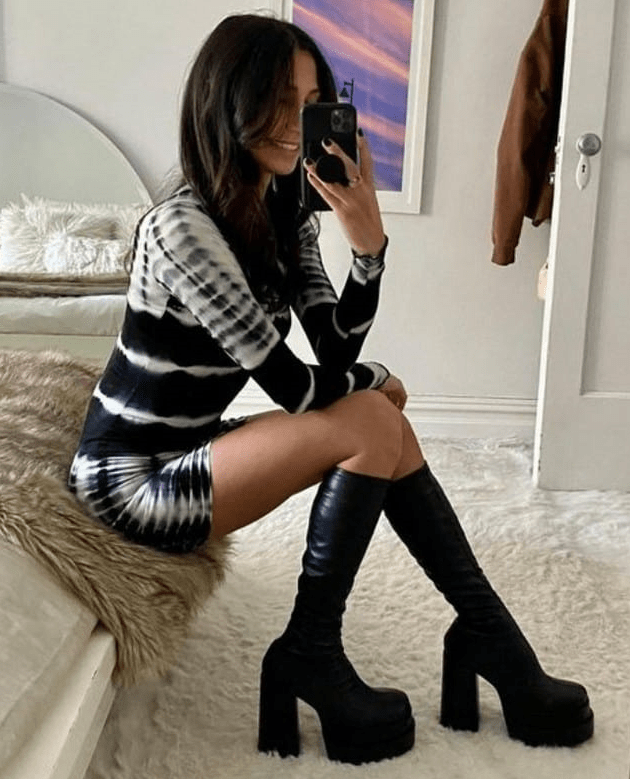 Tech Lens
Material: Vegan Leather Upper
Heel Type: Platform Block-Heeled Boots
Heel Height: 5 Inches
Vegan leather sock and textile lining
Pull-on style
Synthetic sole
Pros
Sleek and Sophisticated
Stylish and comfortable
High quality
Great stretch and fitting
Cons
It may be hard to put on.
Boost your ego with these high-heeled boots from Ego Shoes. I have recently come across this brand, and to my surprise, it's incredibly cheap (not the quality). The most affordable on the list looks similar to the original boots. The black faux leather boots are a perfect add-on to make a bold statement on a budget.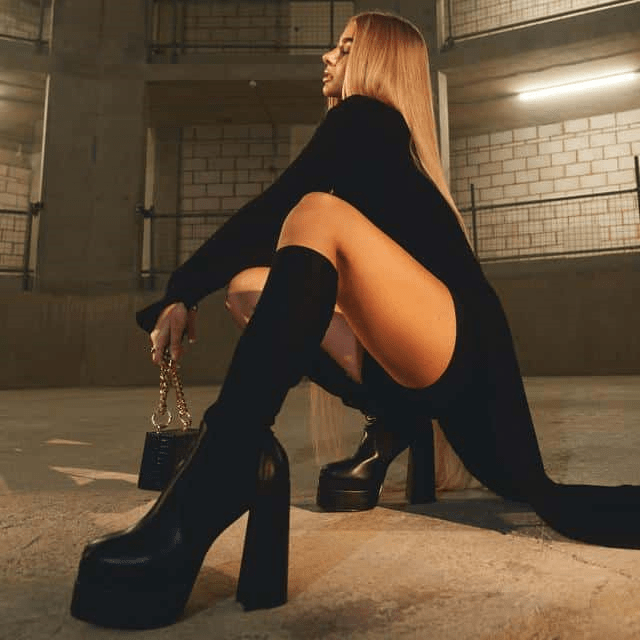 Tech Lens
Material: Black Faux Leather
Heel Type: Extreme Block Platform
Heel Height: 5.5 Inches
Platform sole (2 inches)
Knee High
Calf circumference: 9 inches
Pros
Incredibly affordable
Bold and stylish
Killer fitting
Comfortable
Amazing reviews
Cons
Available in a single color (black)
The following product I found is from a youth fashion-oriented brand that exclusively focuses on casual plus street fashion. A collage of several trends and influences in style, it is one of the many reasonable fashion brands. When I specifically looked into high-heeled boots, I came across three options that varied according to the calf length and width. The Sock Knee High Boots are the dupe; however, you may consider others in case of preferred dimensions.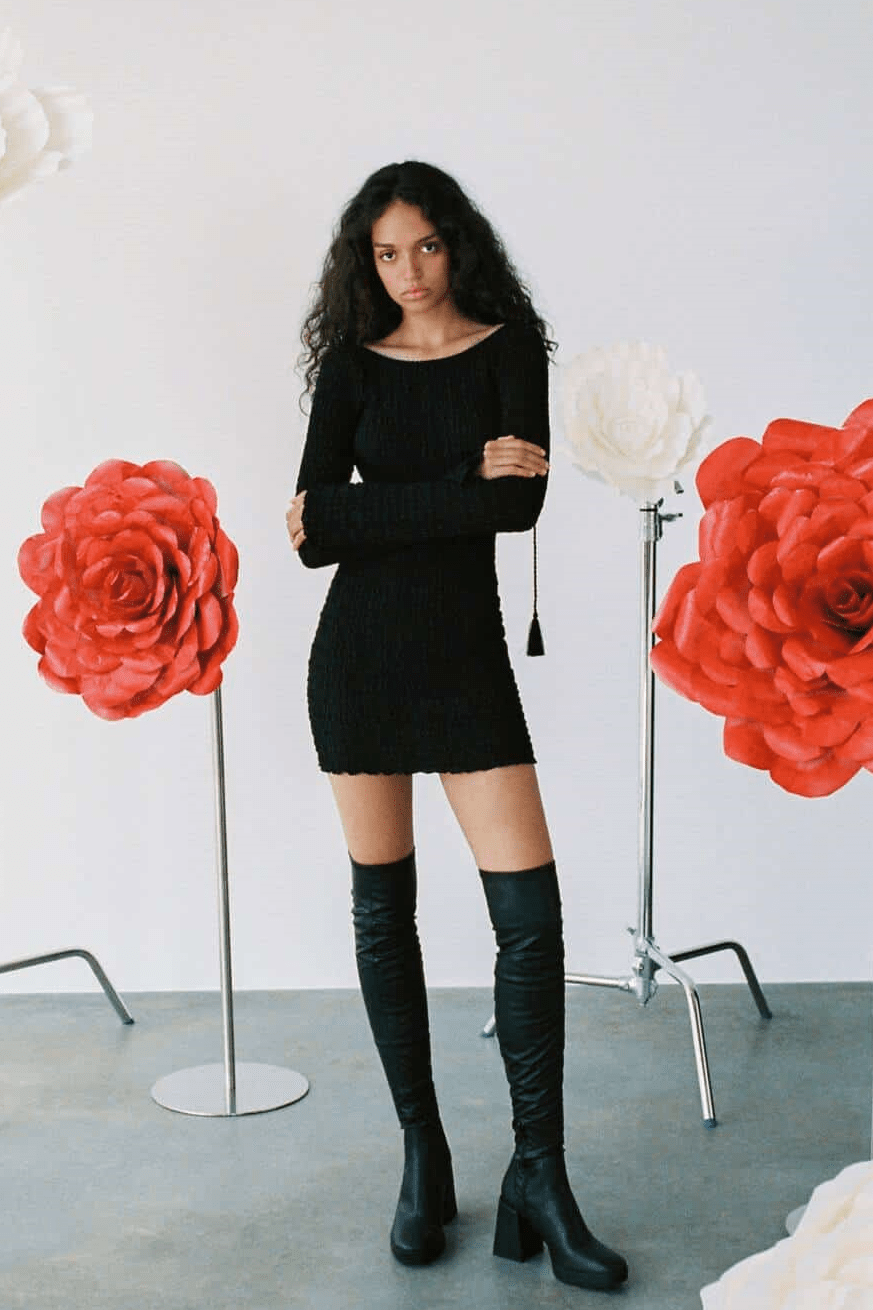 Tech Lens
Material: 100% Polyurethane
Lining material: 100% Polyester
Heel Type: Block Platforms
Heel Height: 3.7 Inches
Sole Material: 100% Polyurethane Thermoplastic
Zip fastening on the inside
Elastic leg
Pros
Sturdy and bold
Comfortable and breathable sole
Antibacterial and cushioned base
Durable
Available in numerous colors and sizes
Cons
The brand is not cruelty-free.
Even though Tiktok accounts for most of my screen time, it has undoubtedly helped me save some dollars. Yes! I found these pretty dream pairs from Tiktok. A product of random scrolling, I found this brand and ended up shopping for my favorite fashion essentials. The thick high boots are best suited for chilly winter outings.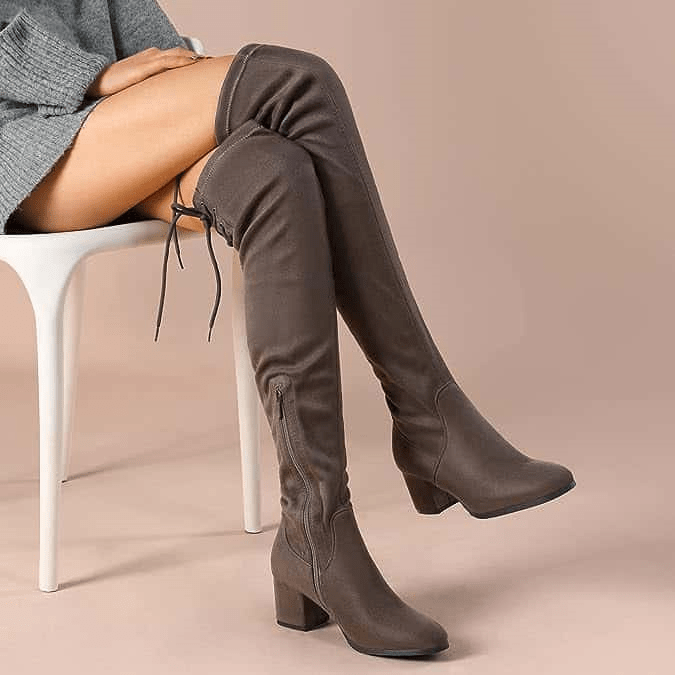 Tech Lens
Material: Stretch Faux Suede
Padded Faux Fur Lining
Heel Type: narrow platform blocks
Heel Height: 3.5 inches
Rubber Outsole
Side zipper for easy wearability
Pros
Thick and cozy
Versatile wear
Padded faux fur lining
Available in three classic colors
Skin-friendly
Fits wide calves
Cons
Founded in 1999, the brand has risen with its research and experimentation with various styles and designs. In an attempt to make the women's movement comfortable and chic, Wetkiss has come a long way. I found an affordable substitute for the iconic Naked Wolfe Spicy Black Stretch among hundreds of shoes and stilettos. So if you find the $130 Steve Maddens expensive as a dupe, you can have this without hesitation.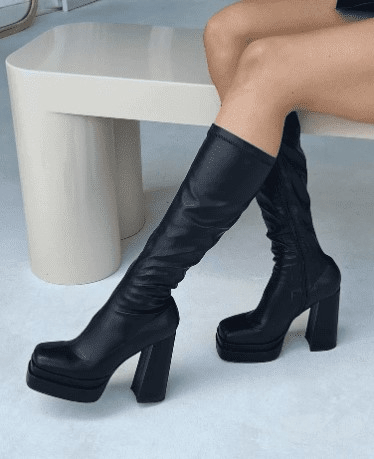 Tech Lens
Material: PU Leather
Lining: Synthetic
Sole: Rubber
Heel Type: Stacked Platform
Heel Height: 5.51 Inches
Full side zipper
Square toe
Knee High
Pros
Easy to wear
Slip-resistant sole
Stylish and sturdy
Comfortable
Long-wearing
Great fitting
Cons
Unavailable in half sizes.
If you are searching for a wedge version of the Naked Wolfe, look no further than the Black Mid-Calf Platform Wedge Boots. Launched amidst the pandemic, the DTC e-commerce brand has successfully set a consumer base. Its elegant and trendy designs at modest rates have wooed people.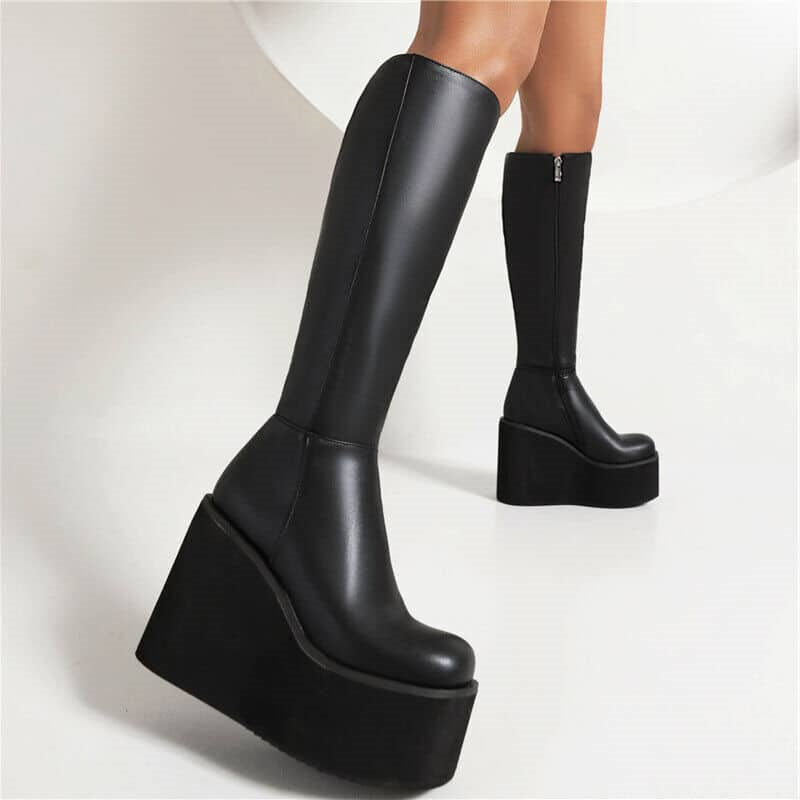 Tech Lens
Material: Vegan Leather
Heel Type: Platform
Heel Height: 4.5 inches
Mid-calf length
Zipper closure
Pros
Trendy and classy
Balanced heels
Crafted with precision and detail
Made with vegan leather
Convenient wear
Cruelty-free
Cons
A lot of mixed reviews online.
The next I have in line is from Bershka. I coincidentally found them on Amazon. I was doubtful about it initially, but as soon as I slid my feet inside, I felt a sense of height and towered. I adore its minimal and classic look and its vertebral double-stitched symmetrical design.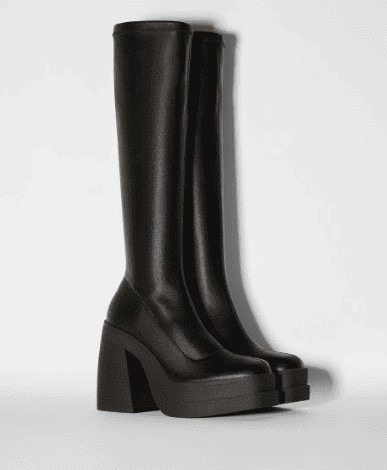 Tech Lens
Material: 100% Polyurethane
Lining: 100% Polyester
Sole: 100% Thermoplastic Rubber
Heel Type: Platform Blocks
Heel Height: 4.7 inches
Pros
Sleek and minimal
Symmetrical intricate detail
Skin hugging and comfortable
Long-wearing
Cons
For someone like me who doesn't like slouchy boots, these slim-fit, skin-hugging, over-the-knee boots come at a cost-effective deal. Perfect for regular fit trousers, this comfortable pair of heeled boots are my go weekend wear. Unbelievably, I've bought all the colors as I love its shade range and overall look. A perfect blend of cozy and sleek footwear for the win!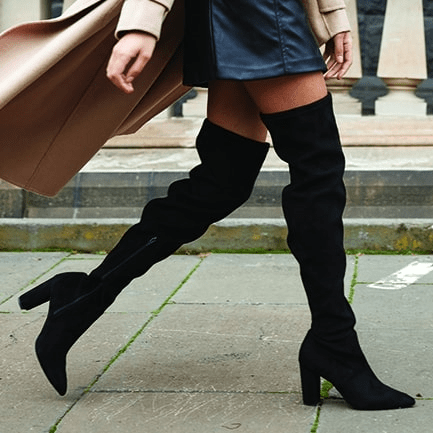 Tech Lens
Material: 100% Synthetic
Lining: Textile
Sole: 100% Rubber
Heel Type: Block Heel
Heel Height: 4 Inches
Fits regular calves
Toe Type: Square and Closed
Zip closure
Pros
Over the Knee Boots
Slim fit
Convenient wear
Balanced and comfortable
Cons
You may have to adjust the pant leg (due to slim fit)
The glossy brown or the quirky print knee-high boots add spice to boring outfits. With a comfortable upliftment, it defines your body and boosts confidence. The Prisma Brown by Cape Robbin is the statement footwear fashion accessory to sport a night out at a club without worrying about dancing with heels!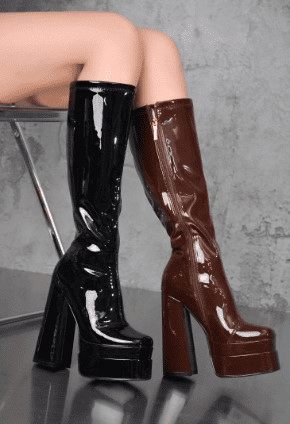 Tech Lens
Material: Patent material
Heel Type: Block Platform High
Heel Height: 6 inches
Knee High
Zip closure
Square toed
Pros
Glossy and glamorous
Comfortable
Long-wearing
Made with patent material
Easy to wear
Cons
No user reviews for reference.
This is one of the most expensive dupes on the list. Made with 100% genuine leather, they are chunky platform boots. You can also sport it with a semi-formal shirt and trousers or pair it with your favorite graphic tee for a freaky and casual look. The best for your workweek and weekend!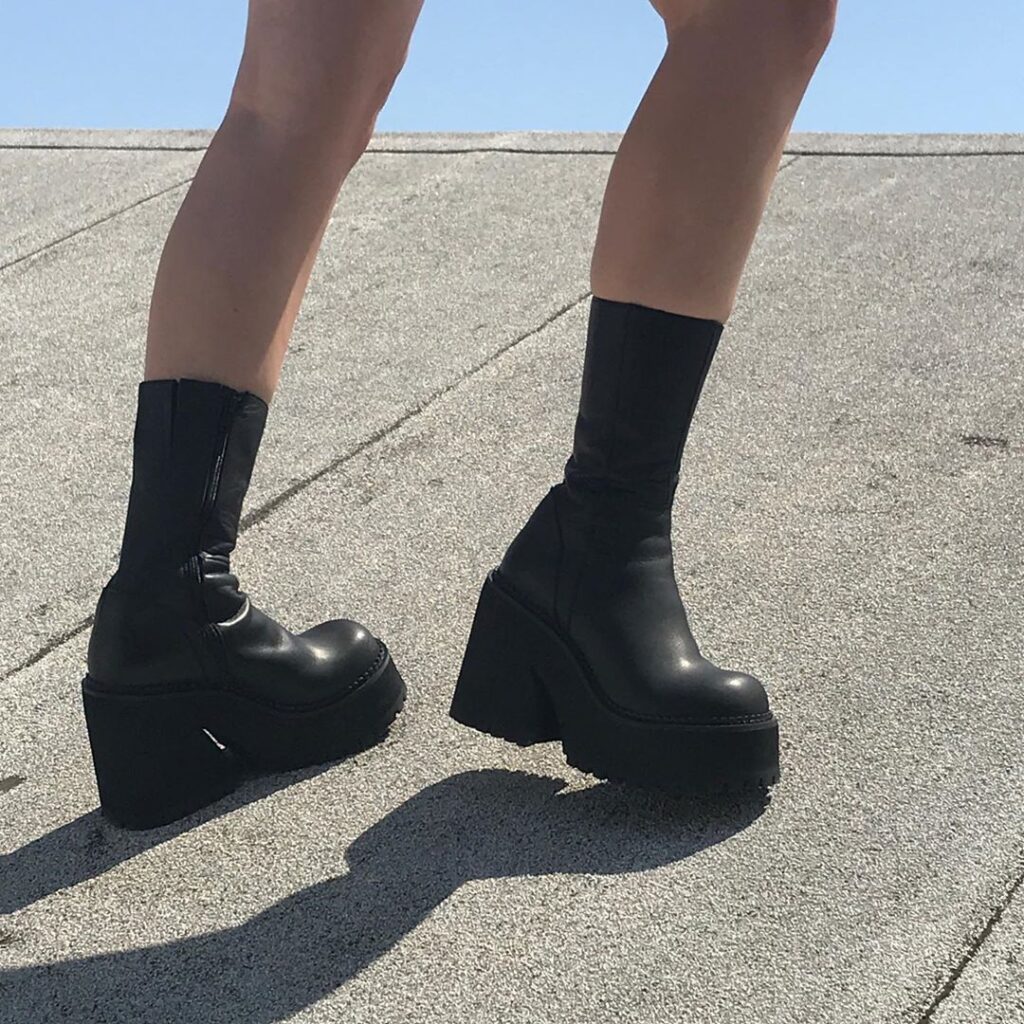 Tech Lens
Material: 100% Genuine Leather
Heel Type: Chunky Platform Blocks
Heel Height: 4.2 inches
Side zip for easy wear
Pros
Super soft sole
Made with pure leather
Chunky and chic
Available in 2 classic shades
Imported
Cons
You may have to go for a bigger size if you need a half.
I have a pricey dupe at the end, but it is still $150 away. If you avoid leather, I have a non-leather option for you. It is high priced but not as high as the Naked Wolfe. The bullhead logo on the heel and the sole looks charismatic and royal. The adornment is similar to the OG Spice Black Stretch.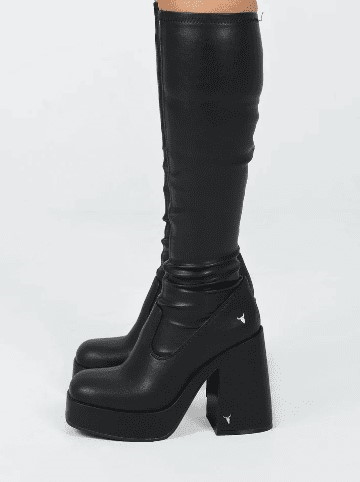 Tech Lens
Material: Polyurethane
Heel Type: High Platform Blocks
Heel Height: 6 inches
Chunky charm on the heel and sole
Knee-high
Pros
Eco-friendly and sustainable
Super soft and cozy
Calf curved
Sleek and sophisticated look
Cons
Available in a single color (black)
Now that we've seen the Naked Wolfe Boots Dupes, let's quickly revisit choosing the perfect high-heeled boots like a pro!
Even though you are a regular wearer of high-heeled boots, sometimes you may encounter issues that may become a barrier to your dream statement look. So to shop hassle-free and slay high-heel boots without discomfort, keep the below points in mind.
Heel Height and Type
High-heel boots are available in all heel heights and types. It is dependent on your preferences. Your height, outfit, and experience in high heels impact while deciding on boots of a particular heel height. For these types, I always advise going for platform and block heels as they are painless, comfortable, balancing, and easy to walk.
Length
The boot length depends on your outfit. If you wish to pair it with mini skirts and short dresses, consider knee-high boots; if you want to pair it with trousers and long dresses, mid-calf boots work best.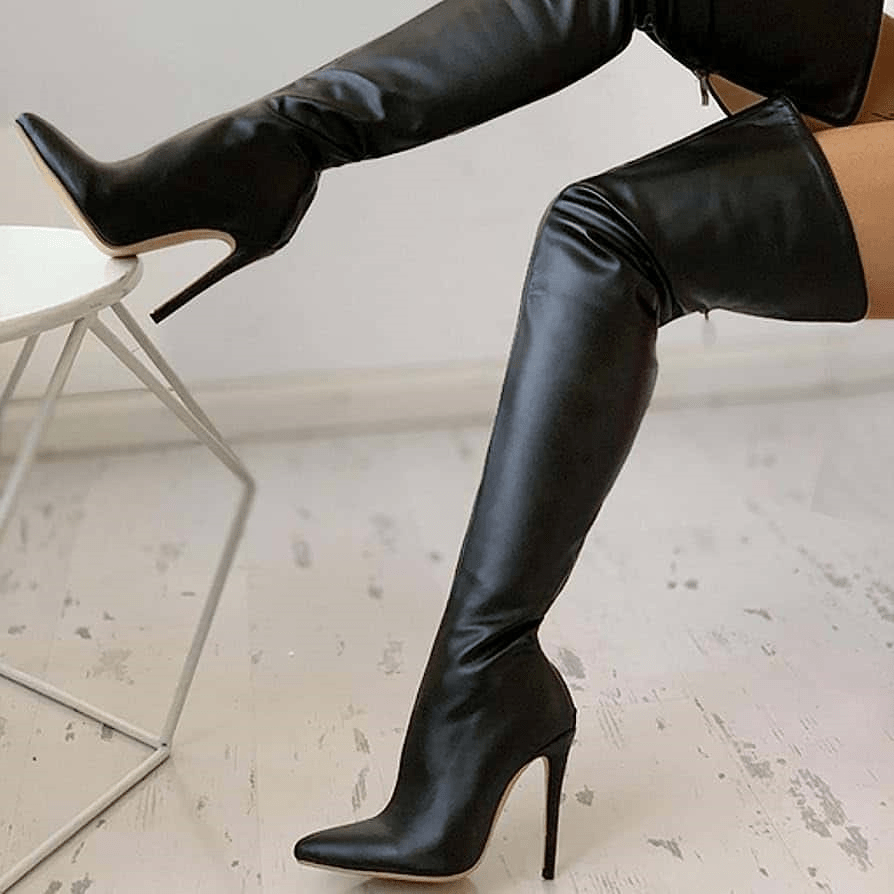 Calf dimensions
No one likes slouchy boots unless it is intentional. So to fit your calf curve, I advise measuring your calf circumference. This can be quickly done with a measuring tape. Secondly, some websites do not manufacture half sizes, but do not panic! Look for a guideline. They suggest selecting a size bigger or smaller.
Toe shape
Pointed-toed heels look tempting and sleek as they alleviate the look. However, pointed-toe heels can scrunch your toes leading to unbearable pain or contracture. Here, I suggest looking for boxed-shaped or square-toed heels. Almond and round-toe shapes can be a great option too.
Material
Last but most important. We wouldn't want to use up our dream boots after spending a fortune and waiting for an eternity for them to deliver. However, selection and maintenance are essential to keep wearing your precious boots for a long time. Leather boots are the perfect material as they are soft and cushiony. After regular use, they mold according to your feet' shape. Besides this, we have Rubber and Polyurethane for the outer sole as they are the best anti-abrasives. Secondly, basic maintenance, such as washing and cleaning precautions, are to be followed according to the brand's guidelines.
The Best of Boots | Naked Wolfe Boots Dupes
Frequently Asked Questions |Naked Wolfe Boots Dupes
Is the Naked Wolfe boots worth it?
Yes. The 90s-inspired classic high-heel boots have become the limelight. Its comfort, durability, and sleek, sultry look have won hearts. The high-quality vegan leather with wolf face charms steals the spotlight wherever you go.
Why are the Naked Wolfe boots so popular?
Its premium vegan-friendly material, skin-hugging non-stretched circumference, and sky-high heels are significant reasons why celebs recognise the Naked Wolfe. Besides, it's chic without compromising comfort.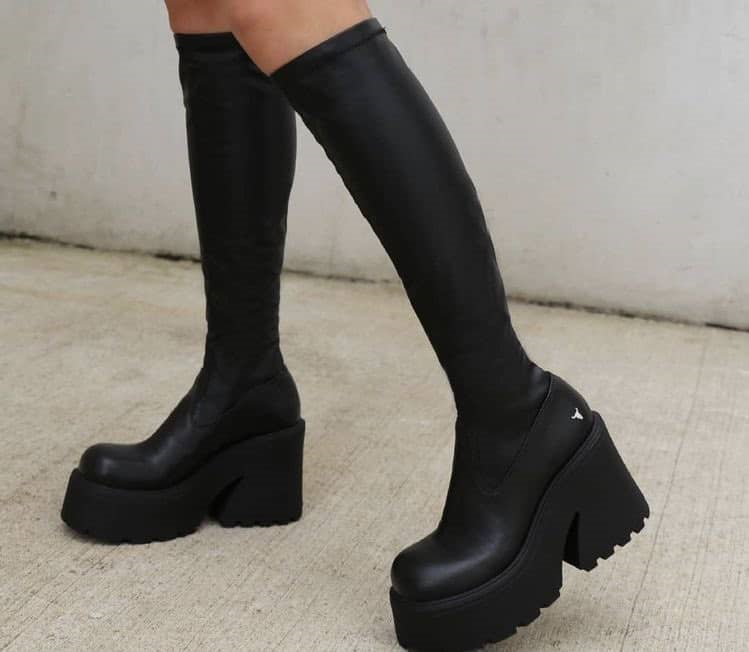 Why do we need a dupe?
Even though the Naked Wolfe Boots have wooed many people, its hefty price has driven away from the luxury product.
Which is the best Naked Wolfe Boots Dupe?
I believe the Steve Madden Cypress Black is the best Naked Wolfe Dupe. Apart from the looks, they have similar materials and dimensions.
The Conclusion | Naked Wolfe Boots Dupes
The new media has gone beyond basic communication and information needs. Now, it possesses all the wild cards, including the power to influence one's life and choices. One of the greatest transformers is the fashion industry which constantly keeps people on their toes and makes them want to spend a large portion of their earnings.
One of the products that has recently skyrocketed is the Spice Black Stretch. With its overwhelming performance and quality comes an exorbitant price tag. This makes fashion enthusiasts look for financially feasible substitutes. But not anymore. In this article, I have discussed 11 high-heeled boots that are uncanny Naked Wolfe Boots Dupes. I have also picked the best for you and revised a basic buying guide to help you make wise decisions.
Some of our recent posts: