When discussing classic clogs, I am instantly reminded of the Birkenstock Boston. It has been storming over all my socials, and I can't escape the hype. The celebrated clogs are iconic for their legendary design and keen attention to detail. The Birkenstock clog community is high-end and always out of stock.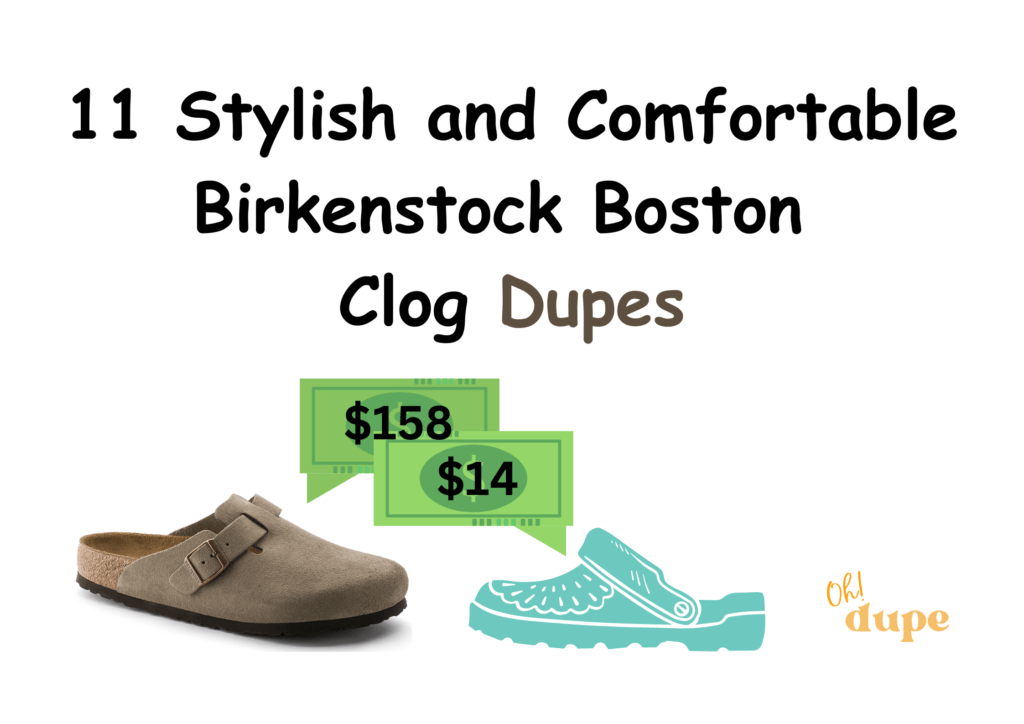 I looked up on the internet and asked my friends and family only to find out that they are moving in with style without paying much. I noted those suggestions, verified them, discovered some, and finally compiled an edit of 11 comfortable and classy Birkenstock Boston Clog Dupe clogs.
Birkenstock Boston Clog Dupe | Finding the Best Option!
While we discuss clogs, I'll also spill some tea on how I found the best quality among hundreds and thousands. Clogs aren't a new phenomenon. They've existed for centuries and have debuted as fashion footwear lately.
Originally, clogs were made for farmers and laborers who needed strong support for their feet. Derived from the Latin word "Calceus," clogs are wooden or corky-soled chappals finished with a leather strap. The Dutch called it "Klompen" in the Netherlands. Made to cater to the comfort of the common person, the industrial revolution popularised clogs as practical footwear globally and helped redesign them as one of the comfiest yet stylish fashion accessories. Now what we see is the modern version of a traditional cultural accessory.
Today, we all eagerly yearn to flare up our fall fits and look out for chic clogs. We are flooded by thousands of shoe brands who brilliantly market their clogs and describe them as the one for us. The concern is choosing "the one," which can be a hectic task, but not when I am here. I have finally cracked up the real hacks that you can formally term a "buying guide" for your clogs. So without testing your patience anymore, these are key features you must look at while purchasing good quality clogs.
Material
When I talk about the material, there are two things to consider: the outer fabric and the inner material. While most of us care about the external look, it is essential to ensure the quality of the inner material. The outer fabric, along with a sturdy look, must be breathable and tear-resistant. For the inner one, go for a soft woody or cork footbed. Contemporary designs typically use cloth, foam, and leather for all-day comfort and a rich look.
Insole and Heel
There are a variety of insoles catering to your preferred foot activity. Gel, Foam, Wool, Leather, and Cork are popular insoles. While choosing a clog, look for leather or cork insoles, as leather promotes breathability and odor-free feet, whereas cork insoles are water-resistant and cushiony.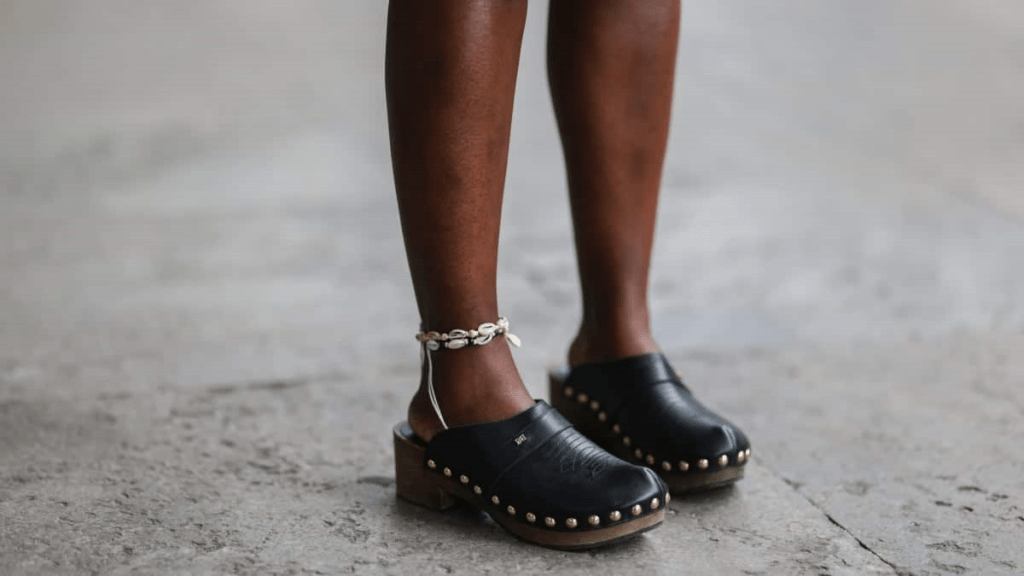 Size
The most basic yet very important. You may not counter issues while purchasing clogs in stores. However, online shopping and getting a perfect fitting is a sign that you are god's favorite. Understanding the size chart is essential. Know your measurements and start converting according to the metrics. The ultimate pro tip I learned from my mom is to choose one size bigger than my actual measurement. And it never goes wrong!
Toes and Contours
Nothing can be more frustrating than a misfit clog. Our toes and edges of the feet are not uniform. The easiest way to avoid this is to buy clogs with a broad-toe box that will be flexible and comfortable.
The cult-favorite Birkenstock Bostons qualify all the conditions and requirements of a perfect clog. However, it is too expensive, and its enduring popularity always results in empty racks. These two issues lead me to find affordable, readily available clogs for your fall OOTDs. So, without further delay, let me walk you to the ultimate Birkenstock Boston Clog Dupe.
The first Birkenstock Boston Clog Dupe hails from a modest lifestyle footwear brand: Cushionaire. Established in 1998, the brand adheres to creating stylish yet comfortable shoes with the latest trends and designs. The chic, without compromising comfort mindset makes the brand the go-to choice for most women. The Lane Cork Sandal, in my opinion, is an incredibly cost-effective substitute for the Birkenstock Boston Clogs.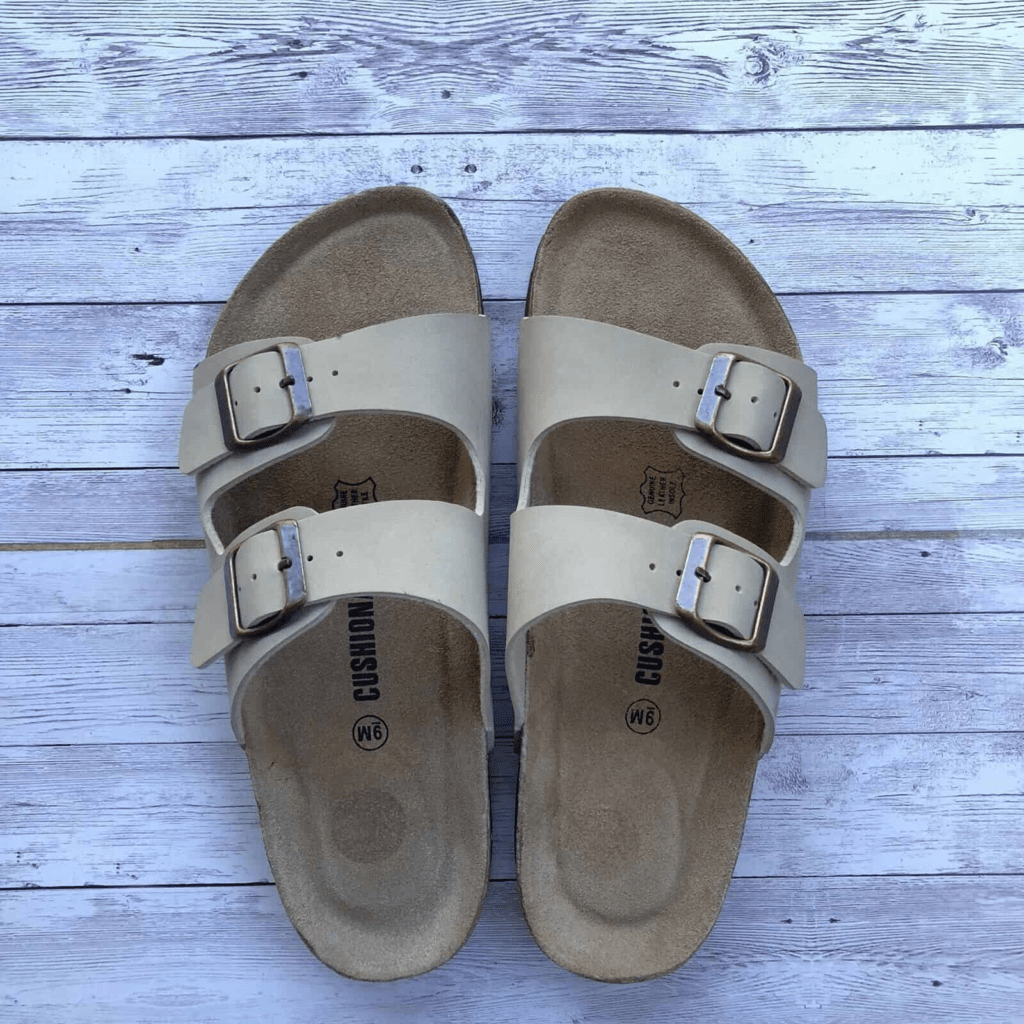 Particulars
Fully cushioned original leather insole
Soft heel cup for extra comfort
Adjustable straps for perfect fitting
Ultra-soft upper fabric
Long-lasting EVA outsole
Pros
Made with genuine leather
Comfortable and cushiony
Perfect fit
Flexible with Vegan fabric
Long-lasting and durable
Available in 2 widths and four standard colors
Cons
Some folks found the material stiff.
One of my friends introduced me to this product. I have used Steve Madden handbags for a while but have yet to check their shoe line. "This completes my everyday office ensemble and gives a perfect formal and chic finish," she brags. Established in 1990 in New York City as a footwear factory, Steve Maddens has made its mark in the fashion industry.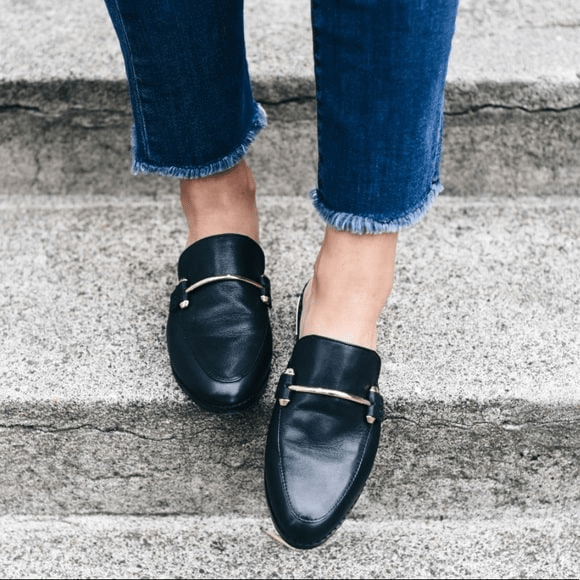 Particulars
A fancy loafer slide on
Matte gold horse bit adornment
Suede outer fabric
Synthetic sole
Pros
Stylish and formal
Comfortable and versatile
Pairs with most outfits
Available in universal sizes and two chic shades
Cons
A lot of people have fitting issues.
The next one I found was from a renowned 200-year-old company: Clarks. They are known for their innovation and trendy footwear crafted for the contemporary world. The tan leather mules are perfect semi-formal clogs that are comfortable and rich. They are best for your hectic hustles and brilliantly match with blazers and trousers, thus upgrading your outfit for the next pitch presentation.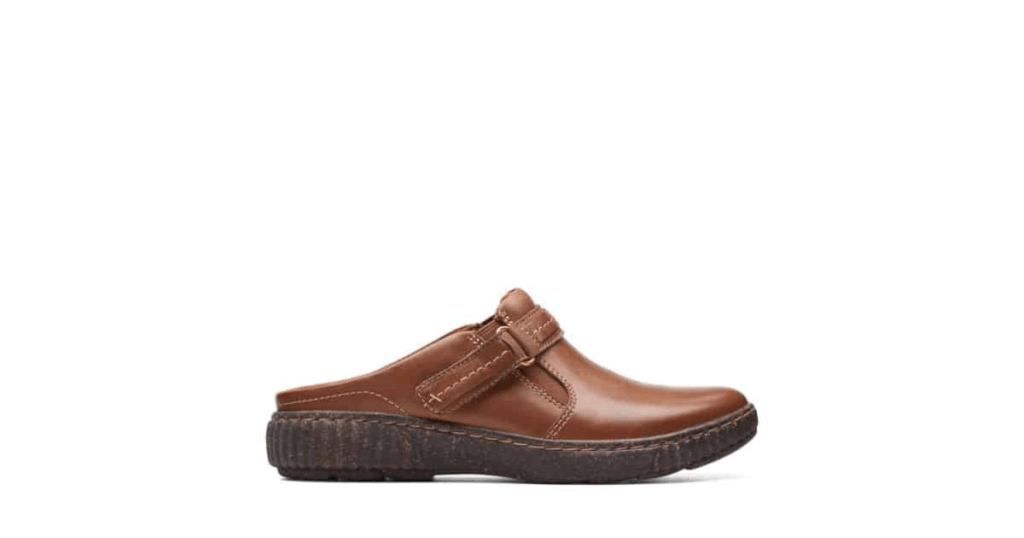 Particulars
Dark solid tan leather upper
Underfoot cushioning for comfort
Light and firm sole
Decorated with classy strap closure
Husk and Thermoplastic rubber made outsole
Heel height – 3 cm
Pros
Premium leather comfy mules
Enhanced soft footbed
Heel cushioning
Breathable and slip resistant
Durable and rich looking
Available in all sizes, two breadths, and two classic colors
Cons
There are scanty reviews online.
There's always that one friend who is well-versed with all the latest fashion trends and hacks. They are the human browsers who advise and suggest great deals. Luckily, I am surrounded by one of those. "Guys, I have found the ultimate Birkenstock kinda slip-ons," his message on the group chat read. The next day, I saw all the boys in my circle sporting the Zara Suede Sandals. They are the ultimate choice of every popular guy in the university that girls simp on.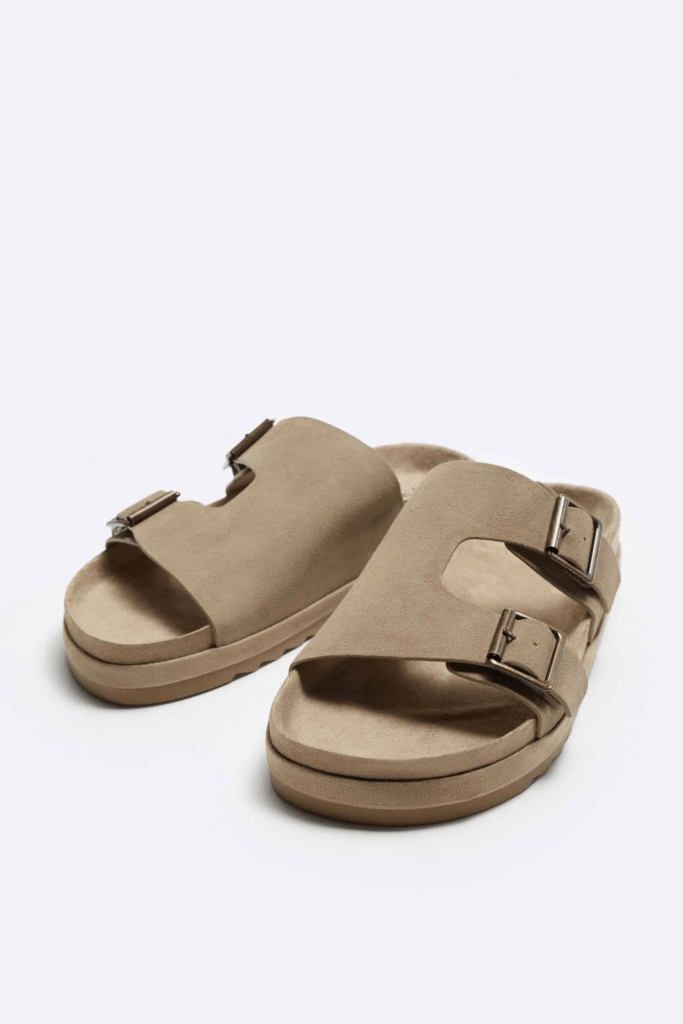 Particulars
Outer fabric outsourced by 100% Cow Leather
100% Polyester Lining
100% EVA sole and Polyester insole
Two wide straps with buckles and thick-soled
Pros
Suede glossy leather sandals
Comfortable and casual
Durable and flexible
Available in two classy colors
Cons
The sandals are not unisex.
Fashion influencers have indeed influenced us by popping up repeatedly on our FYP. I remember watching an Instagram reel where she listed "formal wardrobe staples for women: office edition." I was intrigued to see her gorgeous suede clogs and decided to get them. After a day-long scrolling and clicking, I finally found the one from Marks and Spencer. Yes, they give out Birkenstock Boston feels and instantly upgrade my look.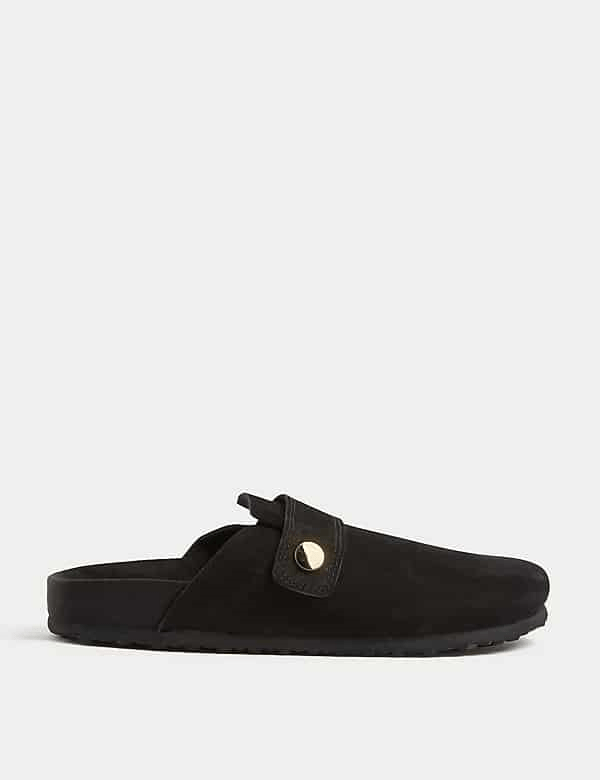 Particulars
Comfortable underfoot
Exclusive Insolia Flex technology
Gold studded double-stitched band
Anti-microbial padding
Stain resistant finish
Water repellent
Pros
Comfortable and classy
Upgrades the outfit
Great fitting
Versatile
Lightweight
Cons
Only available in one color.
Want to steal the spotlight by the poolside? With Boohoo Closed toe clogs, channel your inner fashionista and grab all the eyeballs. While researching for this edit, I came across an underrated lifestyle brand that sells quirky fashion accessories at reasonable rates. I would feel guilty if I gatekeep this deal. Replicating the appearance of Birkenstock Boston, I bought these clogs at a fraction of the cost.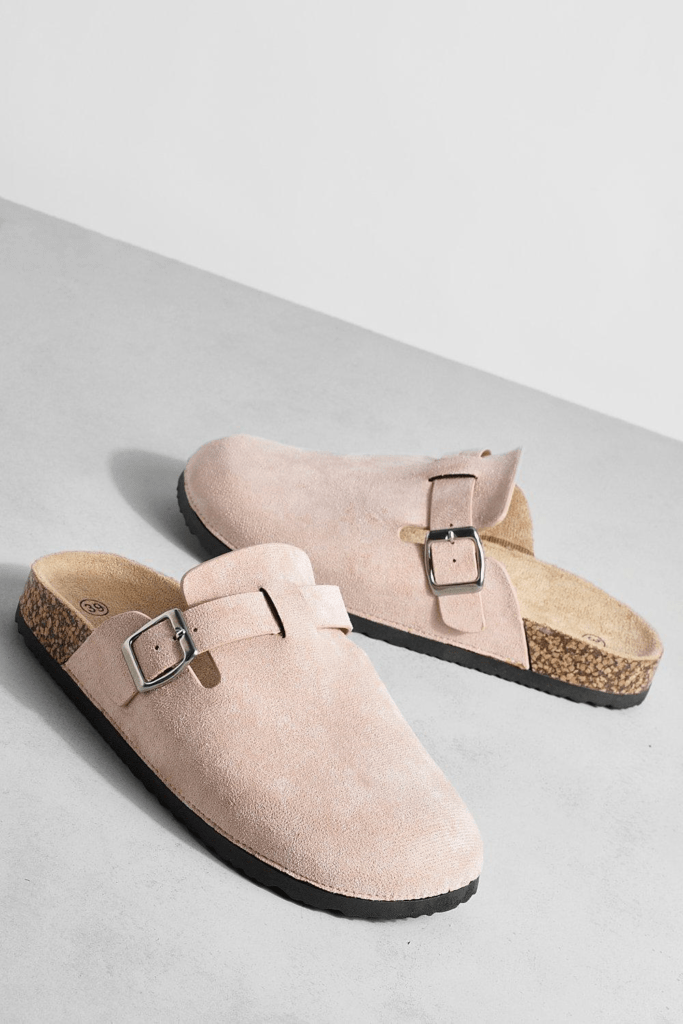 Particulars
Strong and soft cork base
Backless and open-toe design
Molded footbed with rubber finish
Synthetic suede fabric at the upper
Broad strap with statement buckle
Sole made of synthetic materials
Pros
Comfortable and chic
Rich and sturdy
Accessible in all regions
Available in all sixes and two universal colors
Cons
Very few user experiences.
This is another middle-range footbed clog worth looking at. One of my aunts paired it with a classic white shirt and baggy trousers. "This is the most comfortable footwear I own; it also relieved my heel pain," she boasted. I immediately ordered one for my mom, which was worth the purchase.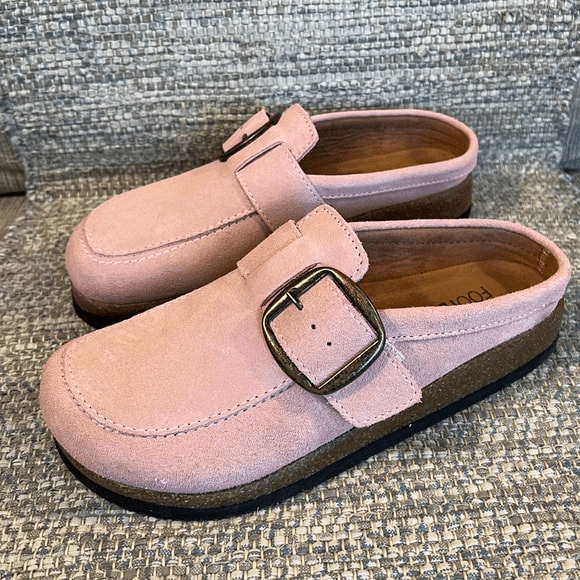 Particulars
Moccasin-style crafted clogs
Soft contoured footbed
Decorated with oversized metal buckle
Hand-made outsole
The insole is made of genuine leather
Heel height is 1.5 inches
Pros
Comfortable and chic clog
Hand-crafted moccasin statement footwear
Provides maximum support
Multi styling footwear
Durable
Available in 7 colors
Cons
The width of the clogs is average.
Monki's shoewear line is gearing up on the internet; however, this particular clogs are very close to the Birkenstock Bostons. Cozy for your feet as well as for your wallet. This uniform caramel shade is the perfect addition to my wardrobe, as it fits into all kinds of ensembles. It is flexible and makes me want to step out more often.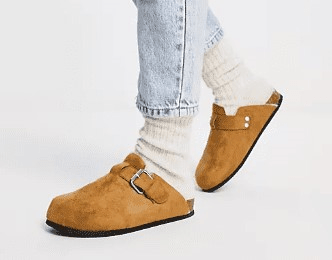 Particulars
Faux leather suede clogs
Fluffy faux lining
Rubber sole 100% EVA
Polyester outer fabric
Wide strap with silver buckle
Pros
Made with Vegan leather
Flexible and versatile
Comfortable and stylish
Long-wearing
Affordable
Cons
Available in a single color.
If you are behind a sustainable substitute for Birkenstock Bostons, look no further than Dr. Scholl's Louis Iconic Clog. An excellent outcome of waste management, the clogs are crafted with recycled materials for guilt-free and planet-friendly fashion goals. The manufacturers focus on the clogs' fitting, cushion and flex, and all-day comfort.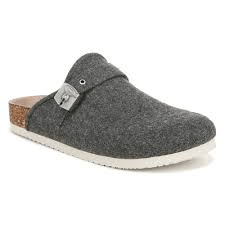 Particulars
Lining and Top cloth made from recycled bottles
Slip-on fit
Anti-bacterial and anti-odor insole technology
Medium-width strap with buckle detailing
Conscious packaging
Pros
Lightweight
Flexible and Versatile
Cushiony soft with firm support
Roomy and breathable
Rich and stylish
Planet-friendly fashion piece
It comes in four colors
Cons
Another product of self-discovery. While purchasing the product, I was pretty nervous as many people wrote how it was not feasible for long walks. To experience this, I invested $40 and bought a pair. They looked pretty decent; I was satisfied when I slid my feet. I was thrilled to find another reasonable Birkenstock Boston Clog Dupe.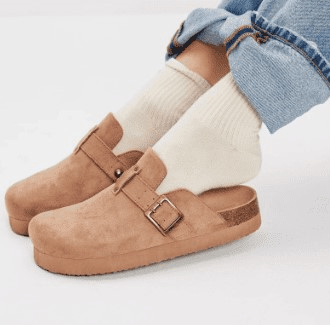 Particulars
Synthetic outer fabric
Single strap design with statement buckle closure
Platform sole
Made of 96% Polyester and 4% Elastane
Pros
Cushiony and comfortable
Great fitting
Rich and stylish
Versatile staple accessory
Cons
The clogs are a bit heavy.
The last Birkenstock Boston Clog Dupe is the Boston Clogs from HP Boutique. At first, I was pretty confused and thought it was a scam. The brand itself marketed them as the Birkenstock Boston Clog Dupe. I had to dig in a lot before finally ordering it. I was shocked to have Birkenstock Boston delivered at $24.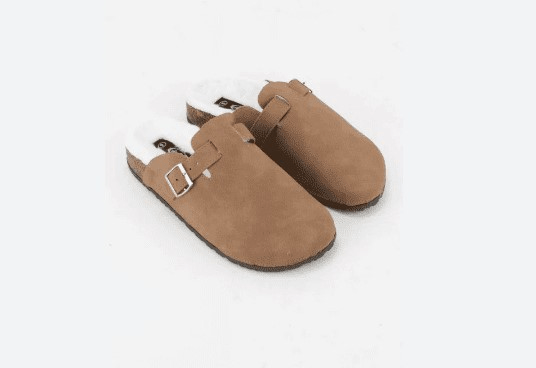 Particulars
Suede leather clogs
Soft underfoot with EVA sole
Soft fur lining
Adjustable broad strap adorned with metal buckle
Pros
Comfortable and chic
Durable and flexible
Affordable dupe
Cons
Available in a single color.
The Best Picks | Birkenstock Boston Clog Dupe
Frequently Asked Questions | Birkenstock Boston Clog Dupe
Why are Birkenstock Clogs so popular?
The Birkenstock Bostons are known to be the most comfortable clogs ever, produced with premium suede leather and crafted with great attention to detail. Even though they are expensive, they are always sold out.
Why are the Birkenstock Clogs always sold out?
The celebrated cushiony clogs have become a hot footwear fashion on the internet. Its ultra-comfort, premium materials, and intricate structure have made it famous. They always need more stock due to the high demand among youngsters.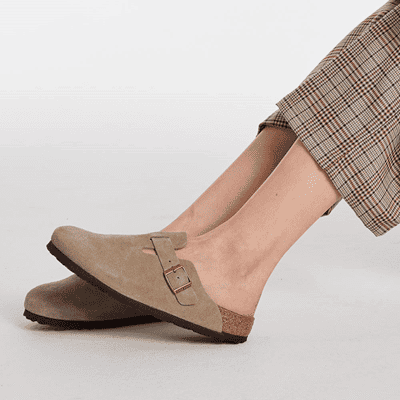 Why are Birkenstock Boston Clogs so expensive?
Besides being super comfortable, high-quality materials, legendary design, durability, and intricate podiatric details make it an expensive footwear.
Which is the Birkenstock Boston Clog Dupe?
Lane Cork Footbed Sandal by Cushionaire, in my opinion, is the ultimate Birkenstock Boston Clog Dupe due to its cushiony comfort and similar features.
The Conclusion | Birkenstock Boston Clog Dupe
Social media has revolutionized the way we consume things and shop. The recurrent trends shifts lead to constant hunting for the latest fashion products and updating our looks. Along with clothes and accessories, the footwear industry is equally enjoying the hype. The demand for casual, comfy, and chic clogs has become over the top, and the superstar product that has ruled the internet is Birkenstock Boston Clogs.
However, it comes with an exorbitant price tag and is often sold out. Eventually, people strain out hundreds of brands to find a reasonable substitute. To save you time and effort, I have curated a list of 11 Slip ons that qualify as the ultimate Birkenstock Boston Dupe. I hope you get your feet on the best Birkenstock Boston Clog Dupe from the article above. 
Some Recent Post: