Planning a weekend staycation may look relaxed and peaceful until the panicky packing comes into play, confusing you about the type of luggage you should carry. However, with Beis Weekender Bag, one can have a perfect, hassle-free travel experience.
The Beis Weekender Bag is one of the hottest travel products on TikTok. Its sleek, stylish design and spaciousness make it an ideal companion for a weekend getaway. Crafted with vegan leather and jute canvas, it is well-designed and super convenient.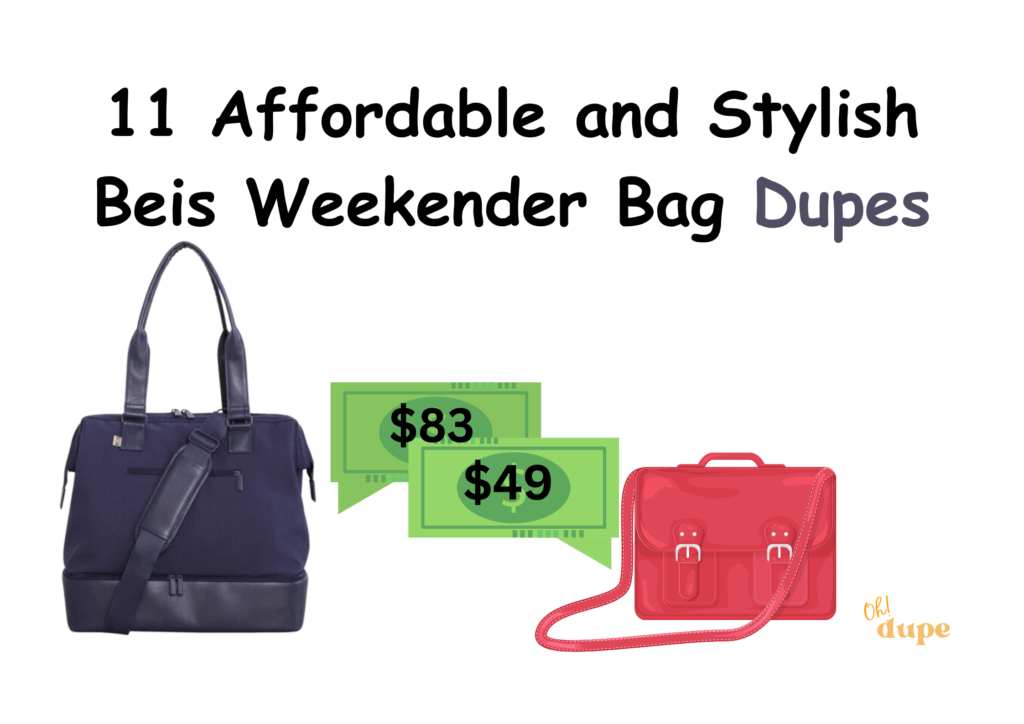 However, its exorbitant price makes it financially inaccessible for most people, so they seek similar weekenders. So, if you are looking for a multifunctional and attractive weekender like Beis, I have compiled a list of 11 reasonable Beis Weekender Bag Dupe products.
Beis Weekender Bag Dupe | The "Beis" Options!
Founded in 2018, Beis is the brainchild of Canadian Actress Shay Mitchell. A travel enthusiast, she noted all the inconveniences she encountered in a weekender and shared her version of an ideal weekender bag. Tuned in with the current needs and the post-pandemic travel essentials, Beis's social media strategy has wooed GenZ travel enthusiasts.
Its aesthetically appealing appearance features a wire frame, double zip, and convertible trolley sleeves. Interior crafted with durable fabric, a padded laptop compartment, and several internal pockets make it the go-to travel accessory. Not to forget, the ultra-roomy bottom room is perfect for packing an extra pair of shoes.
However, not everyone can afford the price, so I have found 11 reasonable weekenders for you to choose from. So, without further ado, let's take you to the best Beis Weekender Bag Dupe.
The first Beis Weekender Bag Dupe is from Etronik. Many travel bloggers and tiktokers have unofficially declared this the best dupe for the real product; however, I was still determining. Numerous positive reviews and a 4+ rating compelled me to try this product. I was surprised to receive a multifunctional three-piece set with a USB charging port. Made with a water-resistant fabric, it is versatile and flexible. The detachable shoulder straps and multi-pocket design with a hidden shoe compartment are fit for every trip.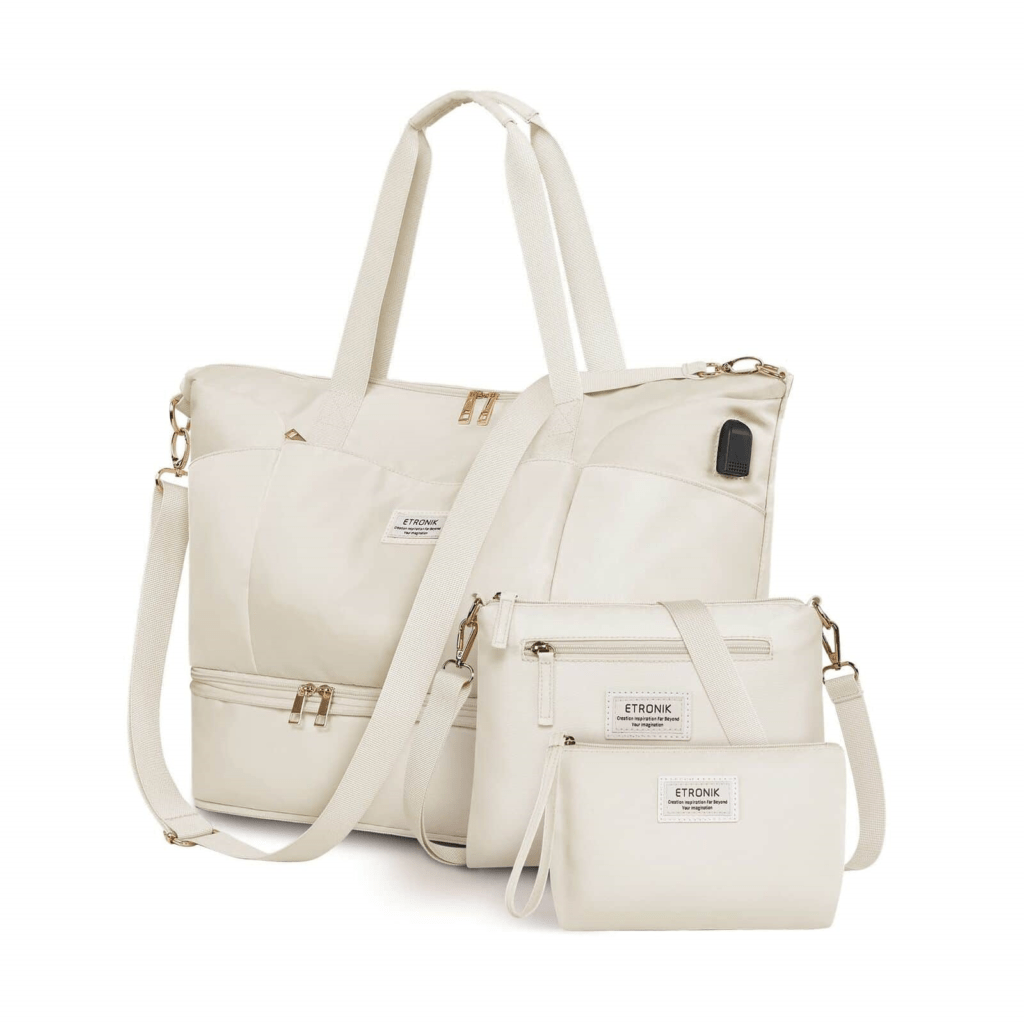 Details
Material: Nylon and Polyester
Dimensions: 18 x 9 x16 inches
Three-piece set (Crossbody and Toiletry Bag)
Expandable Bottom Shoe Section
Additional Wet Storage Pouch
3 Outside Pockets
2 Adjustable and Removable Straps
USB Cable Port
Pros
Dry and Wet Separation
Back trolley sleeve
Spacious and Expandable
Versatile use
Premium metal hardware and smooth zips
Water-resistant fabric
Convenient and affordable
Cons
It does not have a laptop sleeve.
This overnight bag from Minkars closely resembles the Beis Weekender Bag. Exclusively crafted for weekend trips, the bag organizes all your essentials. Constructed with durable material, it has a zippered pocket, a universal charging cable, and a secured laptop compartment. Priced at $50, it is a cost-effective deal at almost half the price.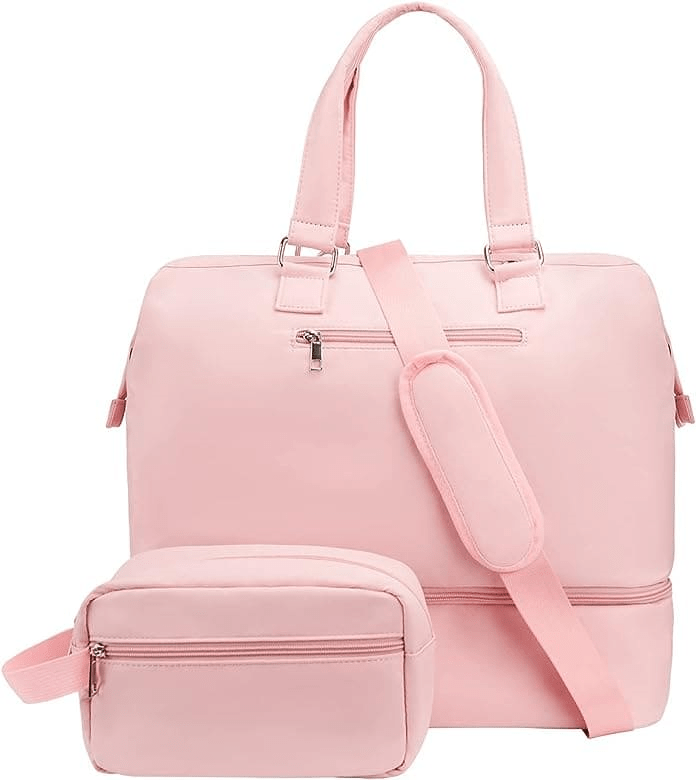 Details
Dimensions: 20x16x10 inches
Made with durable and waterproof material
Padded Laptop Compartment
Footwear storage at the base
Power bank pouch with USB cable
Trolley Sleeve
Easy access zippers
Additional Toiletry Bag
Pros
Wide opening
Comfortable shoulder straps
Stylish and Functional
Specific organised compartments
Cons
Users have mixed experiences online.
Another product of a similar price range is from Sam's Club. Yes, you guessed it right, it is the trending Beis Weekender Bag Dupe everyone on TikTok is obsessed with. It has a wide opening and multi-purpose pockets inside, with a sturdy separate shoe section and a removable shoulder strap. At the back, it has a back sleeve for a smooth travel experience. Built with a blend of linen and cotton, this chic carry-on is worth your money.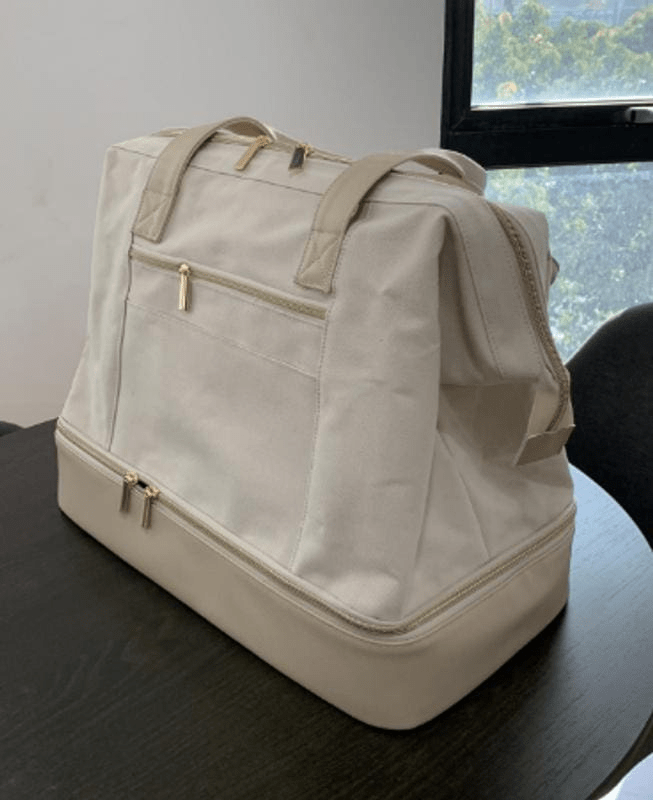 Details
Material: Cotton and Linen Blend
Dimensions: 20x11x17 inches
Extra laptop section
Huge spacious main compartment with specific zippers
Sturdy shoe storage pouch
Removable Shoulder Strap
Backside trolley sleeve
Pros
A multi-purpose weekender
Organized sections for easy packing
Sleek and modern design
Flexible and Versatile
Strong material
Spacious interior
Cons
Most users complain of weak straps.
With its practical and functional luggage line, Kat Myhr aims to make your travel experience seamless and stress-free. This Women's Weekender Bag is fashioned with waterproof and rugged inside-out material, and it features multiple pockets and an additional laptop pouch. The sturdy large section is ideal for bulky footwear, while the ergonomic wide shoulder strap makes moving comfortable.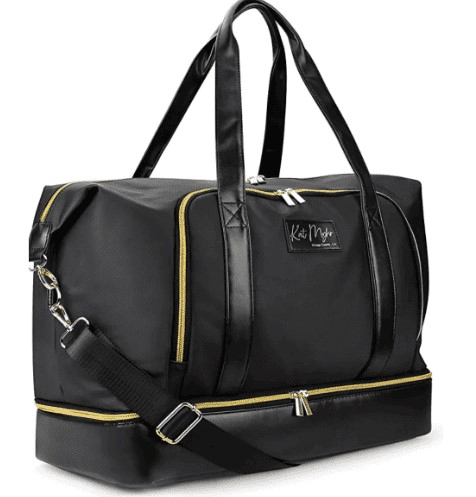 Details
Built with robust and heavy-duty material
Dimensions: 18x9x14
Multifunctional storage
Several organizational pockets
Broad shoulder strap
Large shoe section at the base
Trolley passthrough sleeve
Extra laptop compartment
Pros
Stylish and spacious
Multi-purpose weekender
Multiple zippers and mesh panels
Easy cleaning
Waterproof inside-out fabric
Functional and fashionable
Durable and convenient
Airline travel friendly
Cons
The strap is poorly designed.
I have mentioned this brand before in my Calpak Luka Duffle Dupes edit. Ibfun is an underrated luggage brand with a luxurious collection minus the hefty price. It has similar designs to iconic brands, including the Beis Weekender Bag. The faux leather overnight bag is a brilliant substitute if you seek a Beis Weekender Bag Dupe. A robust version of the same, the three-piece set is a multi-use bag with a large and versatile holding capacity.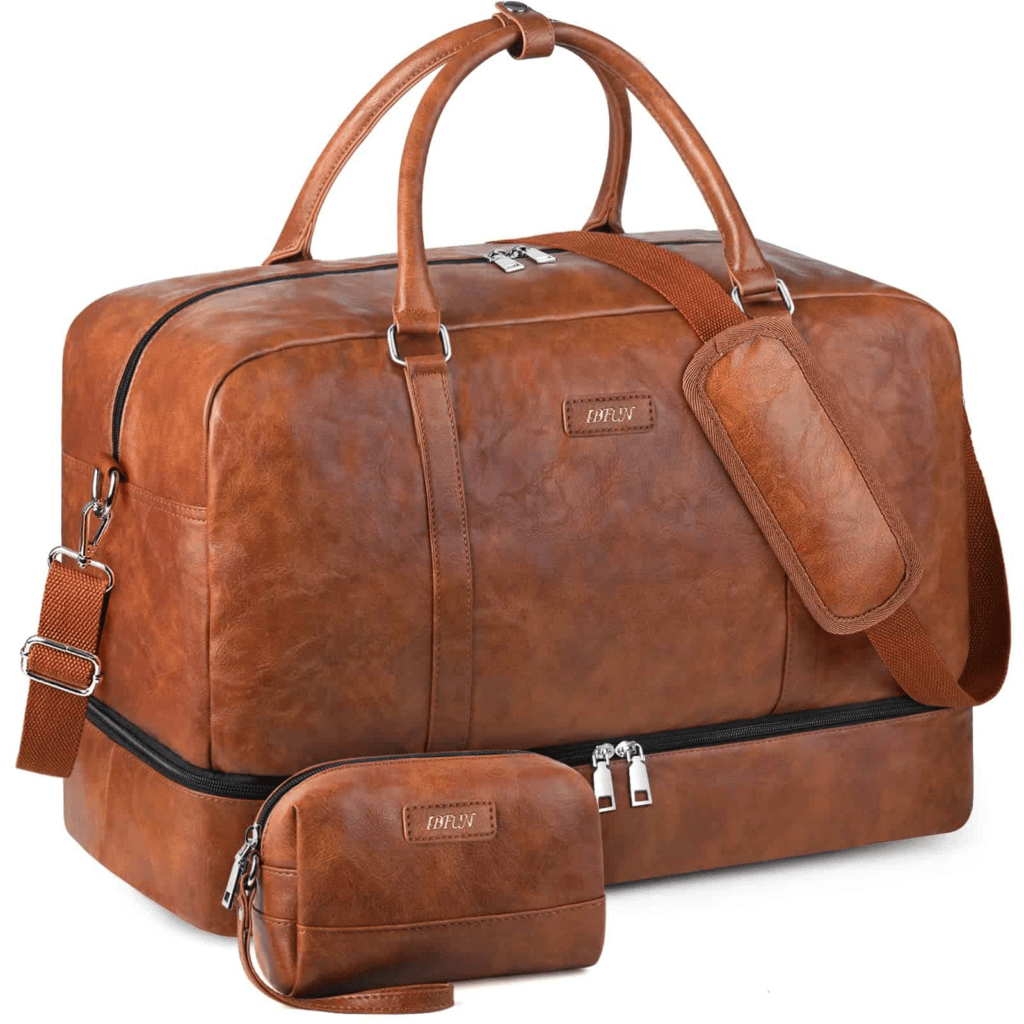 Details
Material: Faux Leather and Polyester
Dimensions: 20.5x13x9.5
A two-piece weekender bag set
Broad adjustable shoulder straps
Waterproof thick bottom shoe compartment
Multiple inner and outer pockets
Large holding main compartment
Back side trolley sleeve
Pros
Made with durable and waterproof fabric
Convenient and classy
Multifunctional set
Flexible use
Non-bulky
Ideal for 2 to 4 days
Cons
A lot of mixed reviews online.
This carry-on from the Chinese origin brand is your ultimate choice if you want a genuine, premium leather weekender. Not only does it look stylish and classy, but it has enough room to accommodate all your essential items. Its multi-use pockets and bottom shoe storage effortlessly help you organize everything.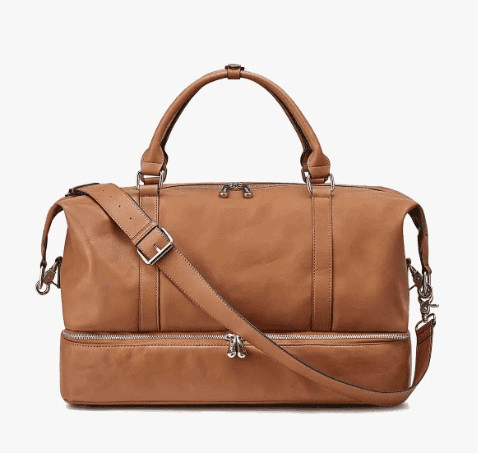 Details
Material: Genuine Leather and Polyester
Dimensions: 18x12x9 inches
30 L Capacity
Adjustable Shoulder Straps
Wide opening main compartment
Inner open and zipper pockets
Front and Back zipper pockets
The footwear section at the base
Backside luggage sleeve
Pros
Made of durable fabric
Premium quality silver hardware
Stylish and spacious
Adjustable solid clasps and hooks
Strong buckled straps
Cons
The bag is bulky and takes up a lot of space.
I found this unisex weekender online, and to be honest, its low price made it look gimmicky. However, its sturdy and resilient design was something I didn't expect. Crafted with Canvas and PU leather, it is ideal for various trips. It features a large capacity main compartment and an additional bottom shoe section.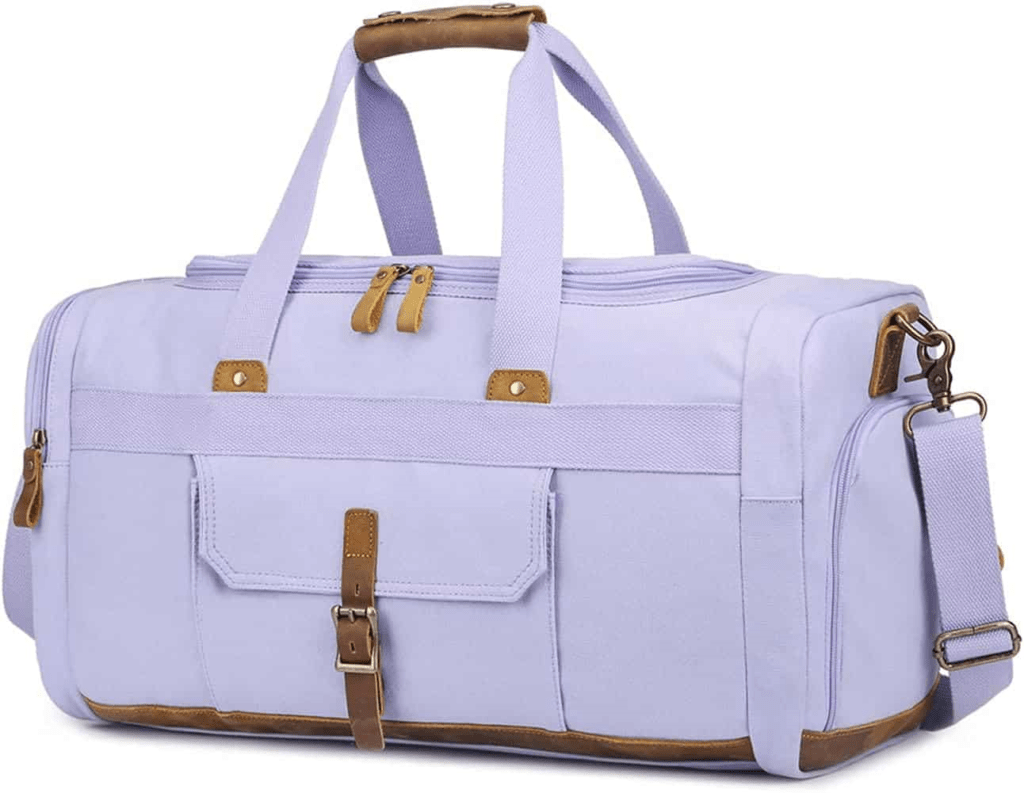 Details
Material: Canvas and PU Leather
Dimensions: 16.2x15x8 inches
Thick buckled shoulder strap
Premium quality hardware
Separate footwear section
Back side trolley sleeve cum pocket
Spacious main compartment
Pros
Durable and water-resistant
Convenient packing and traveling
Fits under aeroplane seats
Rounded leather handles
Large capacity
Cons
The bag is bulky for plane travel.
There is no better deal than getting an affordable three-piece weekender bag of top-notch quality. The water-resistant, leather-made bag with multifunctional mesh slots and zippers for flawless packing is all you need on a weekend holiday. The bottom section is best to carry your footwear without dirtying other items.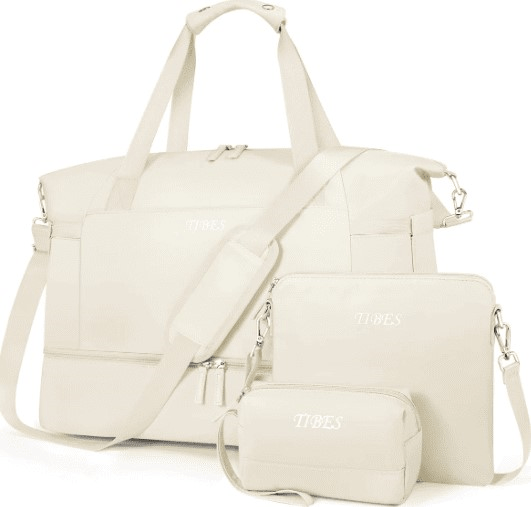 Details
Material: Faux Leather and Nylon
Dimensions: 21×9.5×16.5 inches
Adjustable and detachable wide straps
The main compartment has an inner pouch and two slot zips
One front zipper pocket
Laptop case
Specific bottom shoe section
Back side trolley case with pouch
Pros
Durable and convenient
Multi-purpose use
Enough room to accommodate 3-5 days of luggage
Unisex
Flexible and Versatile
Great value for money
Cons
Many users described it as flimsy and unstructured.
Take it along on a business trip or a chill weekend staycation; its versatility and flexibility will never disappoint you. The Sucipi Weekender Bag stores your clothes effectively and provides ventilation to your shoes to avoid odor. The canvas cum faux leather bag fits almost four days of daily essentials with footwear and a laptop.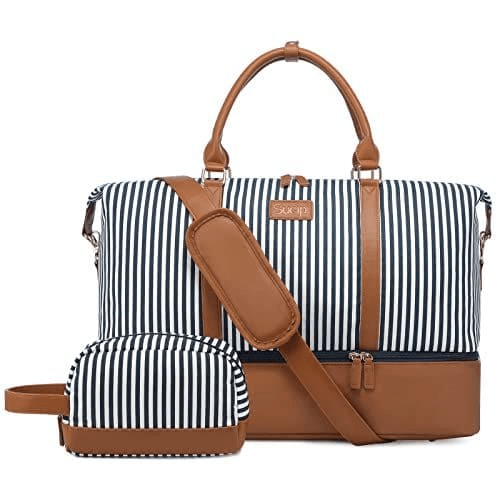 Details
Material: Canvas and Faux Leather
Dimensions: 21×14.6×9.1 inches
An extra toiletry bag
Adjustable and Removable Shoulder Strap
Gold-toned hardware
Wide main compartment with one zipper pocket and two large outer pockets
Trolley sleeve at the back
Shoe pouch at the bottom
Pros
Multi-utility weekender bag
Lightweight and compact
Metal stud design to keep the load off the ground
Flight friendly
Stylish and flexible
Cons
A lot of mixed experiences online.
Up for a chic airplane travel bag? This Lyauk Travel Bag is worth considering if you seek a TSA-friendly weekender that passes all the airline checkpoints. Besides being versatile and multi-purpose, the moisture-repellent interior boasts an in-built USB cable. It also has a foldable extra padded laptop compartment at the back and a separate footwear section.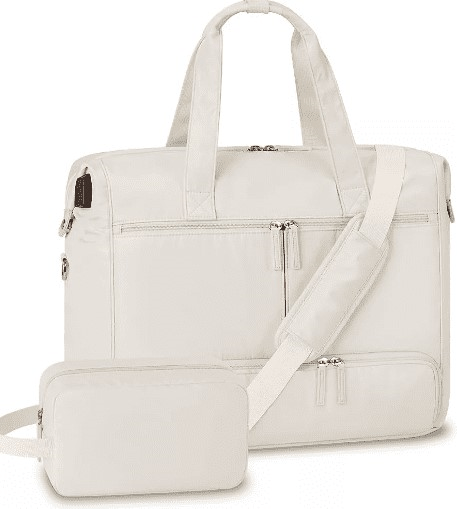 Details
Material: Water repellent Polyester
Dimensions: 18.5×8.5×15.3 inches
Foldable and Detachable Padded Laptop Compartment
Shoe storage pouch at the bottom
Broad shoulder and luggage handle
Two front zippers
Wide main compartment with multiple inner pockets
A built-in USB Cable
Pros
Multifunctional Weekender Bag
An extra toiletry bag
Wet and dry separate sections
Versatile and flexible
Ideal for all kinds of travel
TSA friendly
Cons
The laptop sleeve is minimally padded.
Described as a gym bag, it also possesses all the potential characteristics of an ideal weekender bag. A large main compartment with multiple zippers, adjustable shoulder strap, bottle holder, and shoe pouch must be your go-to option if you are an oh-so-organized traveler. Don't forget to slay the mini crossbody bag and store your fast items on the go.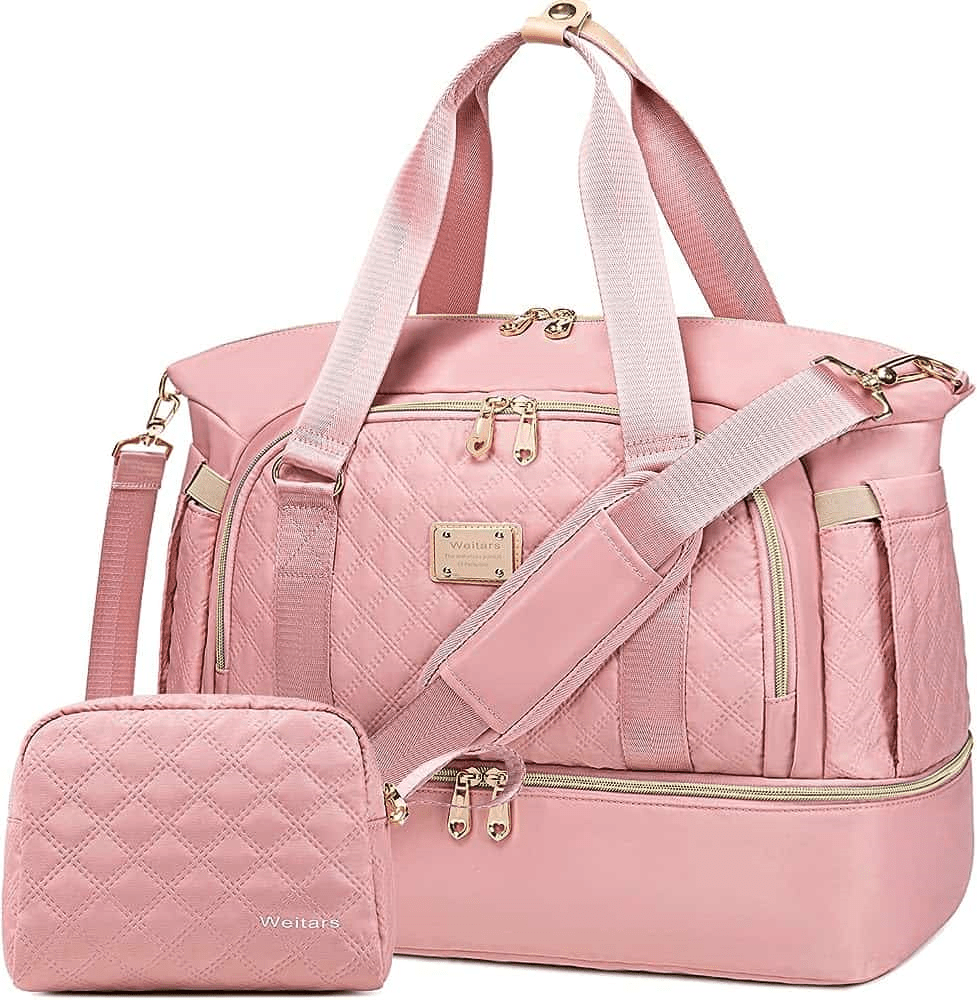 Details
Well-stitched quilted waterproof material
Dimensions: 18.5 x 8.5 x 4.2 inches
Broad padded and detachable shoulder strap
Large main compartment with inner open pockets
Front wet pouch and mesh storage
Back zipper and secured cup holder
Dual air-ventilated shoe storage
An extra toiletry bag
Smooth metal zippers
Back trolley sleeve
Pros
Multifunctional overnight bag
Spacious and large capacity
Flexible and Versatile
Features multiple pockets with dry and wet separation
Well-organized traveling experience
Cons
A lot of people found it flimsy.
Four Factors to Consider Before Buying a Weekender Bag | Beis Weekender Bag Dupe
Now that we have seen a variety of Weekender Bags, choosing the best may take a lot of work. However, after a lot of trial and error, I have finally figured out four factors that are actually helpful while purchasing a weekender bag. Mark these four points and get your ultimate luggage for the weekend trip.
Material
The primary factor that should be considered is the material. A robust and sturdy material like Nylon and Polyester is a great choice. However, if you regularly travel for work, leather works the best. No matter the fabric type, ensure the material is durable, well-ventilated, and water-resistant. You wouldn't want to lose your strap at the airport or open up to find your shampoo dripping off your favorite dress.
Capacity
Choose a weekender bag that holds at least 2-3 days of daily essentials, including clothes, toiletries, and a pair of footwear, without making it look bulky and heavy. Generally, the ideal luggage capacity of a weekend bag is 30-50 liters. It also depends on your personal preference and the type of travel.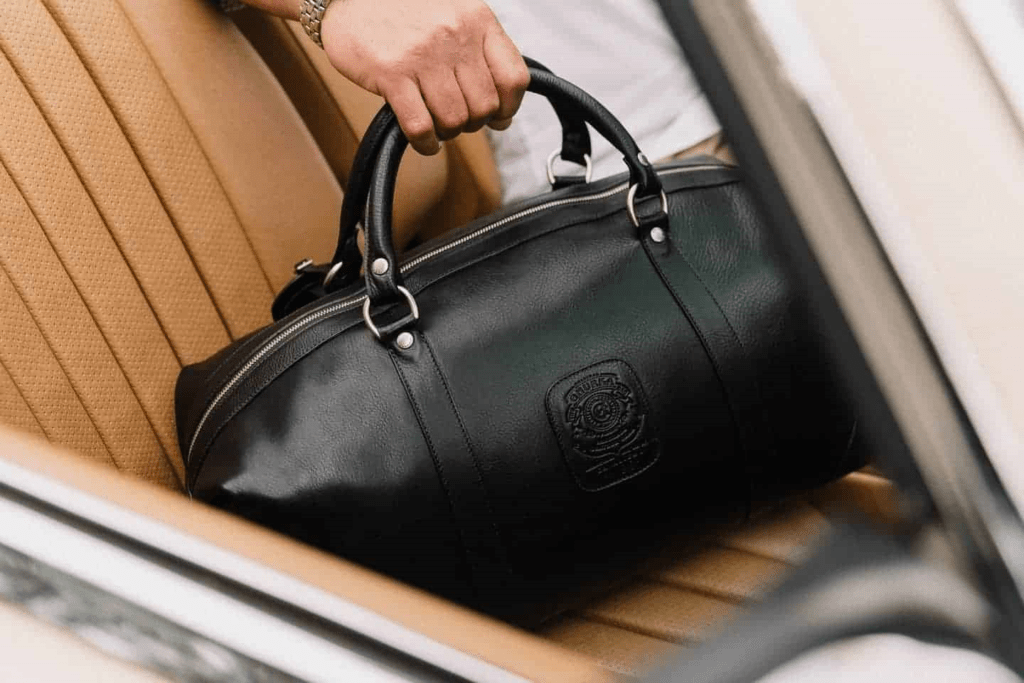 Functionality
A weekender bag is supposed to be multifunctional. It should have well-organized compartments and convenient zipper pockets to store your big and small items. It should have a robust shoulder strap and well-stitched handles. Additional features that make a go-to weekender bag are a padded laptop pouch and a backside luggage sleeve.
Style and Look
Weekend bags make or break the travel look. The look may not be a first preference, but it does matter. The type of luggage you carry tells a lot about your personality. It also depends on the kind of travel. You would prefer a well-built leather weekend bag for a business trip and canvas or nylon bags for casual travel.
The Best Picks | Beis Weekender Bag Dupe
Frequently Asked Questions | Beis Weekender Bag Dupe
Is the Beis Weekender Bag worth it?
Yes. The Beis Weekender Bag is worth investing in. Crafted with vegan leather, it is a premium quality multi-utility bag. Its multifunctionality and classy outer appearance make it the bestselling travel product online.
How to clean a Beis Weekender Bag?
Use a clean, damp cloth and lightly spot-clean the stain. Avoid hand washing and machine washing the bag to maintain its durability.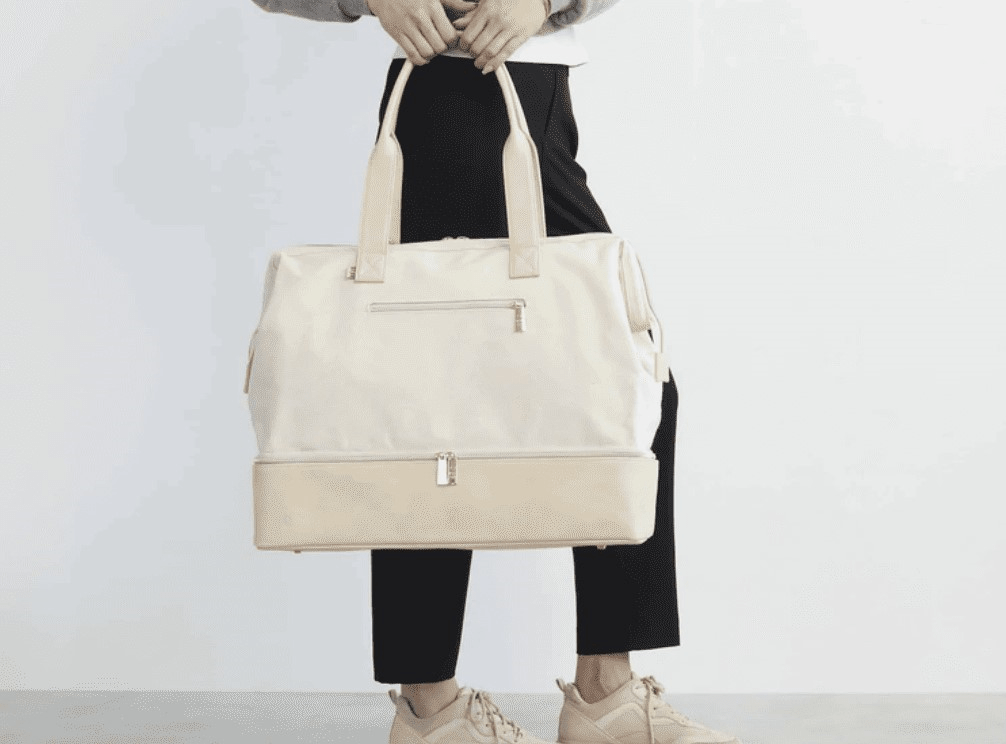 Why do we need a Beis Weekender Bag Dupe?
The well-made Beis Weekender Bag is an ideal travel choice for most people. However, its high price is the main barrier and the only reason people look for an efficient Beis Weekender Bag Dupe.
Which is the Best Beis Weekender Bag Dupe?
Etronik Weekender Bag For Women is the Best Beis Weekender Bag Dupe. It resembles the OG Beis Bag and is available at a fraction of the cost.
Beis Weekender Bag Dupe | The Pack-Up
With the emerging trends in travel and weekend staycations being the most popular, prominent luggage brands have come out with stylish weekend bags. Beis by Shay Mitchell is one of the viral products on the travel-tok. Its sleek and elegant design, well-crafted internal features, and excellent holding capacity have made it the most sought weekender bag.
However, the vegan leather-made dream bag is quite expensive and, hence, unaffordable for many. So, for those who wish to travel with style and convenience, I have curated a list of 11 reasonable Beis Weekender Bag Dupe products that replicate the look and functionality minus the price.
Not only that, I have picked the best according to your preference and also attached a brief guide to help you find better. Read on more to find budget-friendly alternatives to your favorite trendy products.
More Posts: