We may look normal, but deep down, we all want to leave everything and travel the world. However, you must have a carry-along to roam around like gypsies. And talk about packing, gosh, it's one of the most hectic things we must go through. But not anymore! Packaging is no longer a burden with versatile and light bags like Calpak Luka Duffel!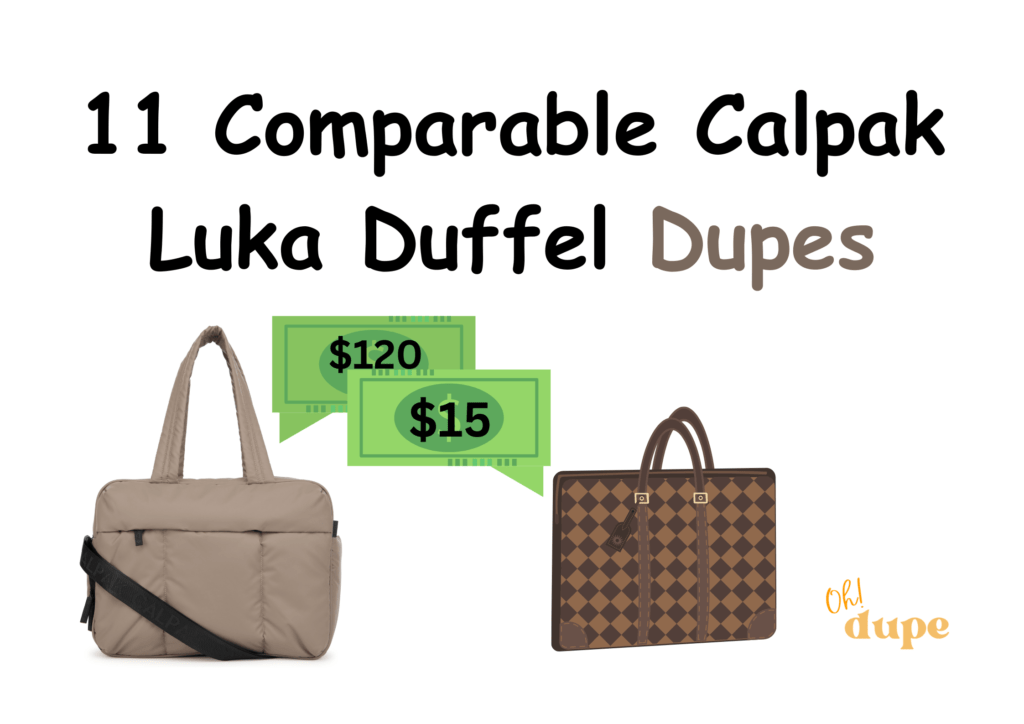 With multiple compartments for the systematic organization of your travel essentials, the bag is described as the "Perfect Weekender" by the brand. What makes it a preferred choice for travel enthusiasts is its separate shoe section where they can adjust their kicks without dirtying the clothes and toiletries.
However, owning a Calpak Luka Duffel can be burdensome on your wallet as it comes with an exorbitant price tag. But why worry when I am here? In this write-up, I will list 11 Calpak Luka Duffel Dupe that are easy on your pockets, durable, and comfortable.
Our Top 3 Picks
Calpak Luka Duffel Dupe | Finding The Best Option!
Here's a curated selection of Calpak Luka Duffel dupes, each rivaling the original in style, versatility, and functionality. The best part? These alternatives come at significantly lower costs, enabling you to indulge in them without a second thought or regrets.
Claiming the top spot on our lineup is a stylish yet functional bag artfully inspired by the renowned Calpak Luka Duffle.
Crafted with deliberate attention to detail, this bag boasts a lightweight composition, capacious pockets, and customizable straps, ensuring that your daily commute is swift and done in style. This bag seamlessly embodies versatility, making it the perfect companion for your upcoming gym sessions or the exciting road trip you've planned with your friends.
You can purchase this ditto alternative at a significant discount through their official site and online retail stores like Amazon. The product includes free shipping and offers a variety of payment options. Delivery to your doorstep typically takes 3-7 days.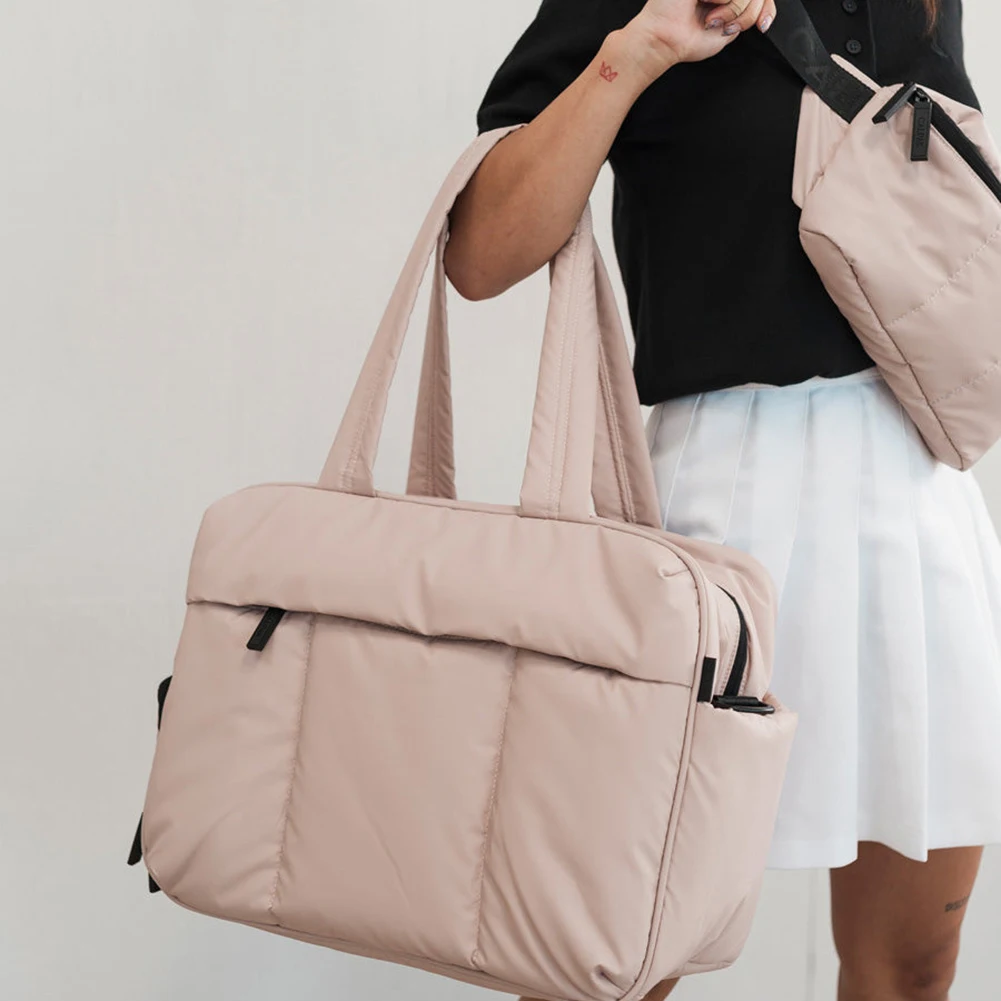 A Close Look
Weight – 2.1 lbs
Material – Polyester
Dimensions – 12″ x 16″ x 7″
Strap length – 34″ to 62″
Features 9 pockets
A designated compartment for footwear
Strap Customisation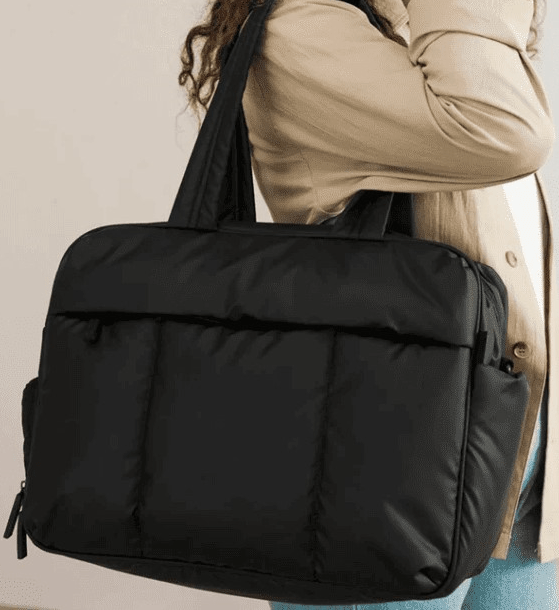 Good Trips
Stylish, functional, and versatile design
Multiple pockets for optimal organization
Crafted from wear and tear-resistant polyester material
Ditto Shoe Pocket
Lightweight and comfortable for easy carrying
Offered in four attractive colors
Additional compartments for footwear and water bottle
What do you need more when you get a combo of stylish luggage sets for such a fair deal? Oh, aren't you aware? Meet your all-in-one, multi-functional travel duffel for your next staycation. Equipped with advanced needs like USB Cable Ports and extra carry-ons, this weekender bag makes packing enjoyable and helps commute conveniently.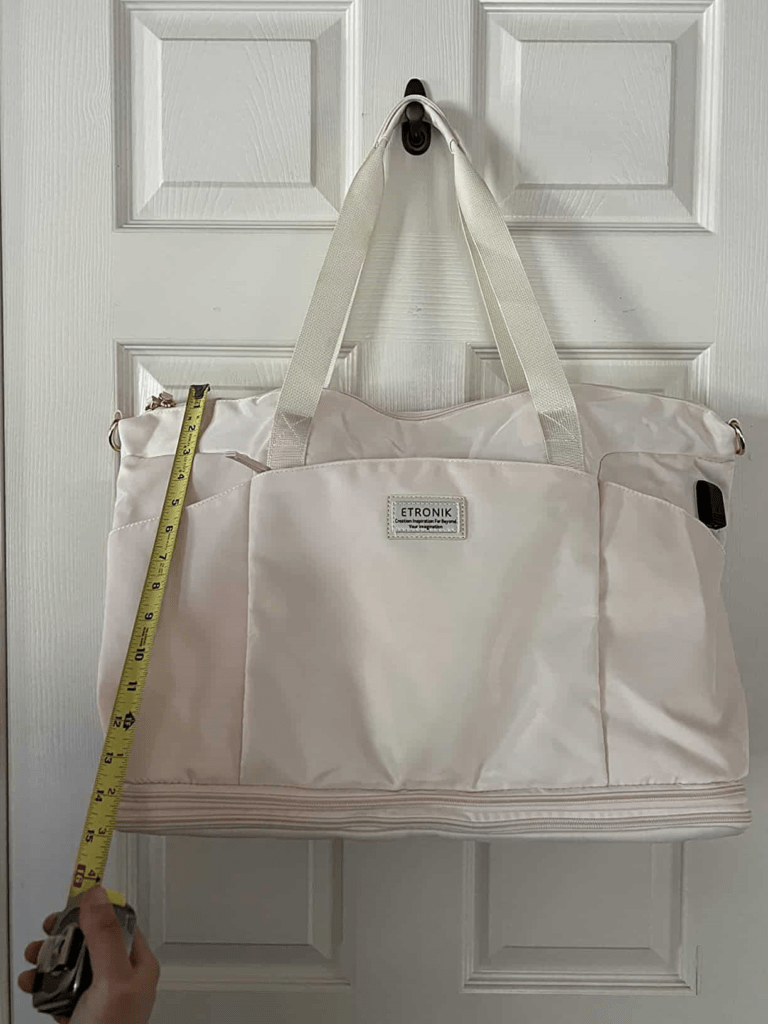 A Close Look
Weight- 2.59 pounds
Material- Waterproof Nylon
One Crossbody bag
Two adjustable and detachable straps
Good Trips
Spacious
Attached is the USB Charging Cable Design
Added Shoe Section
Wet Pockets and a Side Pocket
Trolley Case Sleeve
Flexible and Versatile use
Bad Trips
The USB Cable could be more convenient.
Smaller Compared to Other Alternatives
Comparatively Expensive
Bagsmart was born to save you from ruined holiday experiences, especially from tossed luggage and spilled shampoos. With a sole emphasis on organized storage and hassle-free commute, the brand offers a wide range of bags for an orderly trip and an ultimate travel experience.
One of the bags that is worth investing in is the Zoraesque Duffel. It is a perfect personal carrier with enough items for a mini staycation. I would not blabber all about it here; find key details below!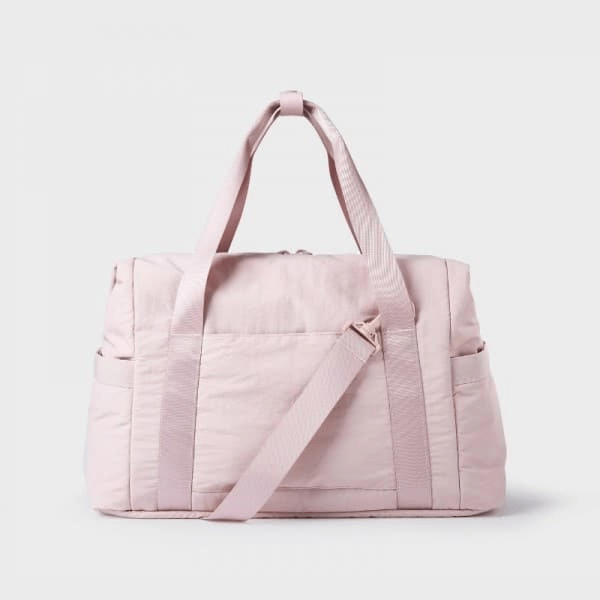 A Close Look
Weight- 1.54 lbs (Medium Size) and 1.76 lbs (Large Size)
Material- Made with water repellent Quilted Soft Nylon with Padding for extra hold.
Compact and Spacious
Anti-theft zipper
Removable Shoulder Strap
Elastic compartment for bottles
Snap for expansion
Mini cases for easy organization
Good Trips
Lightweight and Large Capacity
Comfortable and Durable
Offers a yoga mat buckle for your yoga mat
Side pockets with elastic
Versatile and reliable
Sturdy and roomy
It fits perfectly underneath your airplane seat
Available in two sizes and three universal colors
Bad Trips
The bag is not as stiff.
No Shoe Compartment
If picking the right luggage was easy, you would spend your precious time on something other than this blog post. A carrier bag makes or breaks a peaceful journey. If you want a smooth and undisturbed experience, Lovevook Quilted Weekender Bag should be your absolute companion. Having gained a decent image in most travel must-haves articles, the bag seamlessly enhances your travel experience.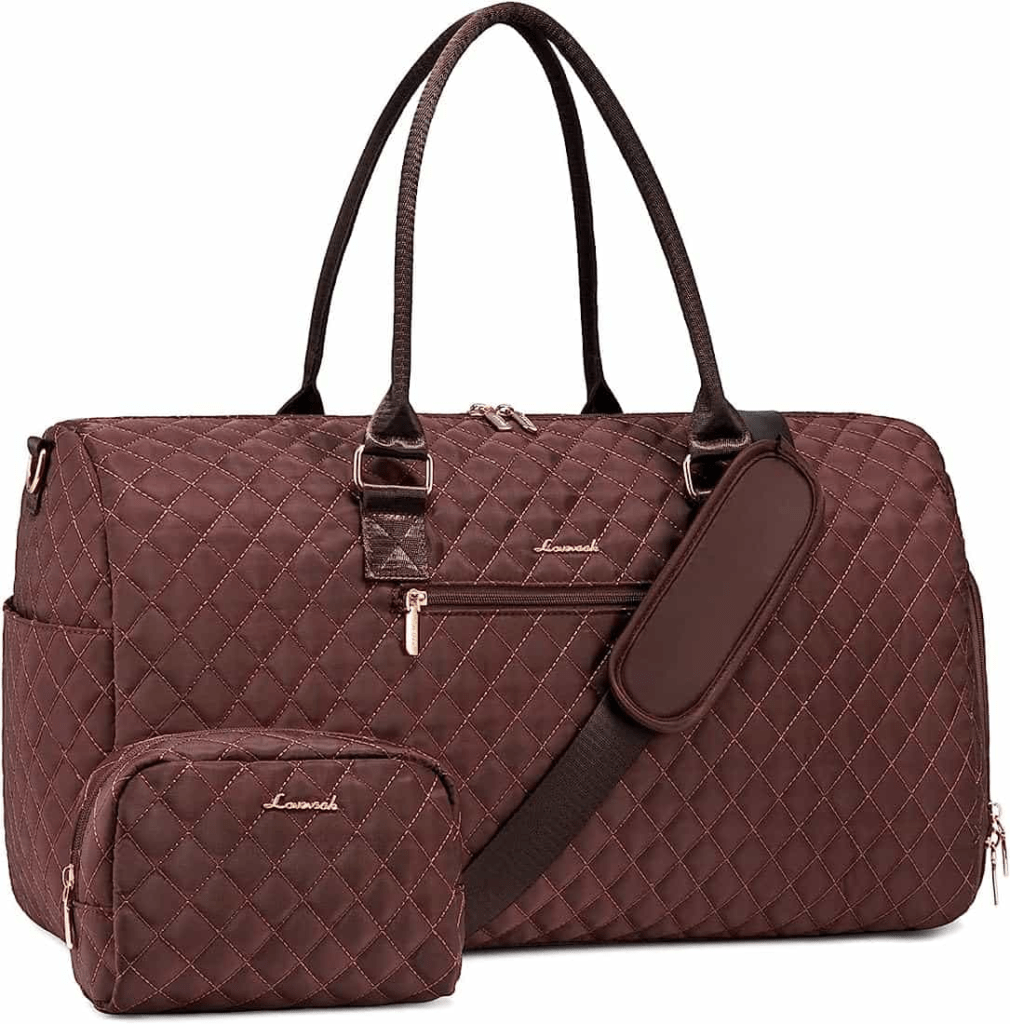 A Close Look
Weight- 2.7 lbs
Material- Water Resistant Quilted Nylon
Extra Wet Pocket
Complimentary Toiletries Case and an extra Shoe Bag
Padded Laptop Compartment
Front Zipper and Back Pocket for easy access
2 Side Pockets
Luggage Sleeve
Detachable Padded Shoulder Strap
Good Trips
Made of Eco-friendly material
Multi-functional
Roomy Capacity
Organized Compartments
TSA Friendly
Bad Trips
The laptop compartment occupies a lot of space.
After years of working in a luggage factory, the brand results from experience and observations. From stitches and fabric to positioning pockets and compartments, each accessory is thoughtfully designed with attention to detail and aims to make your journey memorable. The Aglaus Tourenne Travel Duffel is worth considering if you are a frequent commuter on business trips and weekend getaways.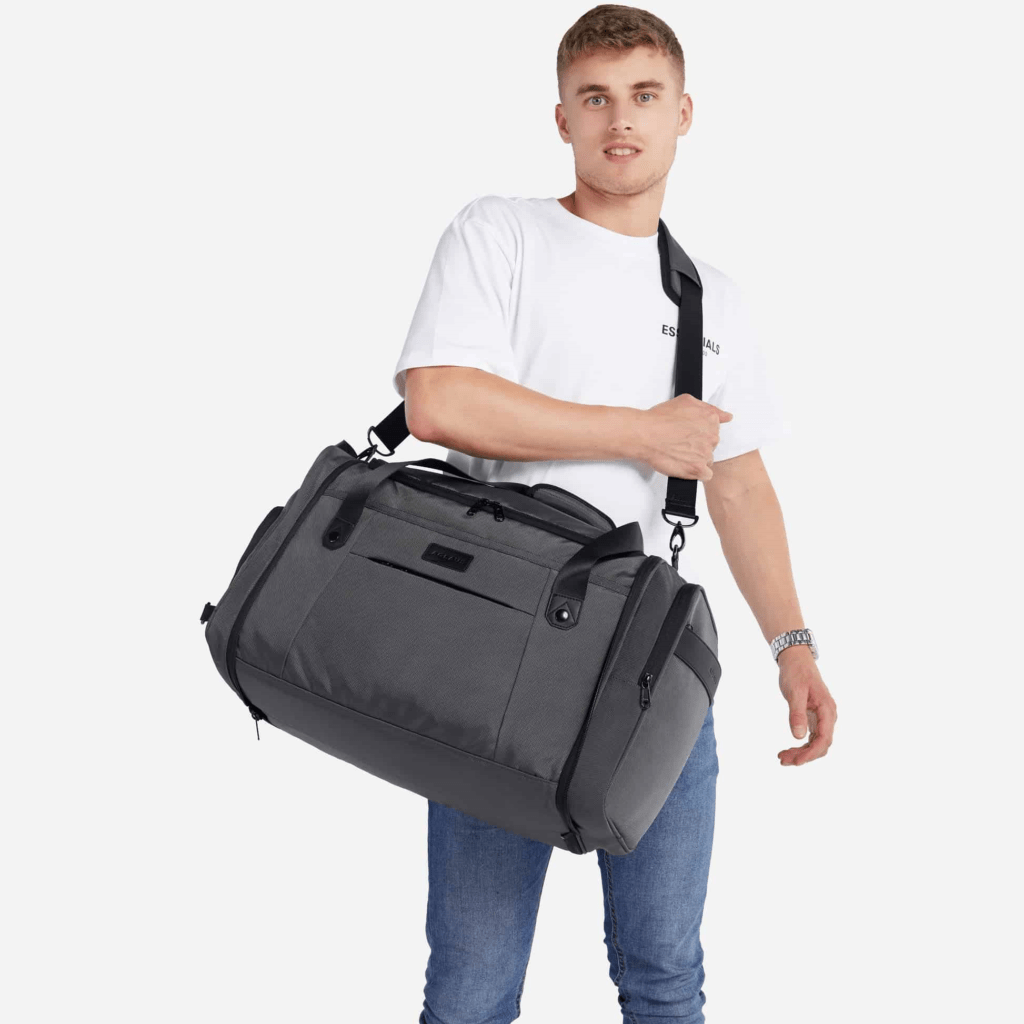 A Close Look
Capacity – 45 Litres
Material – Ancient Denier Ballistic Polyester with Water Resistant Coating
9 Zipper Pockets and 6 Quick Pockets
A water-tight shoe compartment
Removable Extra long padded shoulder strap
Good Trips
Tough and Durable
Secure and Organised storage
Extra Shoe Section
It can be folded into 5x Smaller as a side pocket sling
Reliable protection
Abundant compartments
Flexible and Versatile
Bad Trips
The Duffel bag is a bit heavy.
If you are high on traveling and low on expenses, this duffel bag from Narwey is at your rescue. Be it a short business trip or a visit to the hospital, the bag is a multi-purpose carrier and easy to move on with.
Narwey has made a mark globally with its premium collection of contemporary-style bags and storage accessories. The Narwey 3112 Duffel Bag has gained positive reviews due to its compact size and price.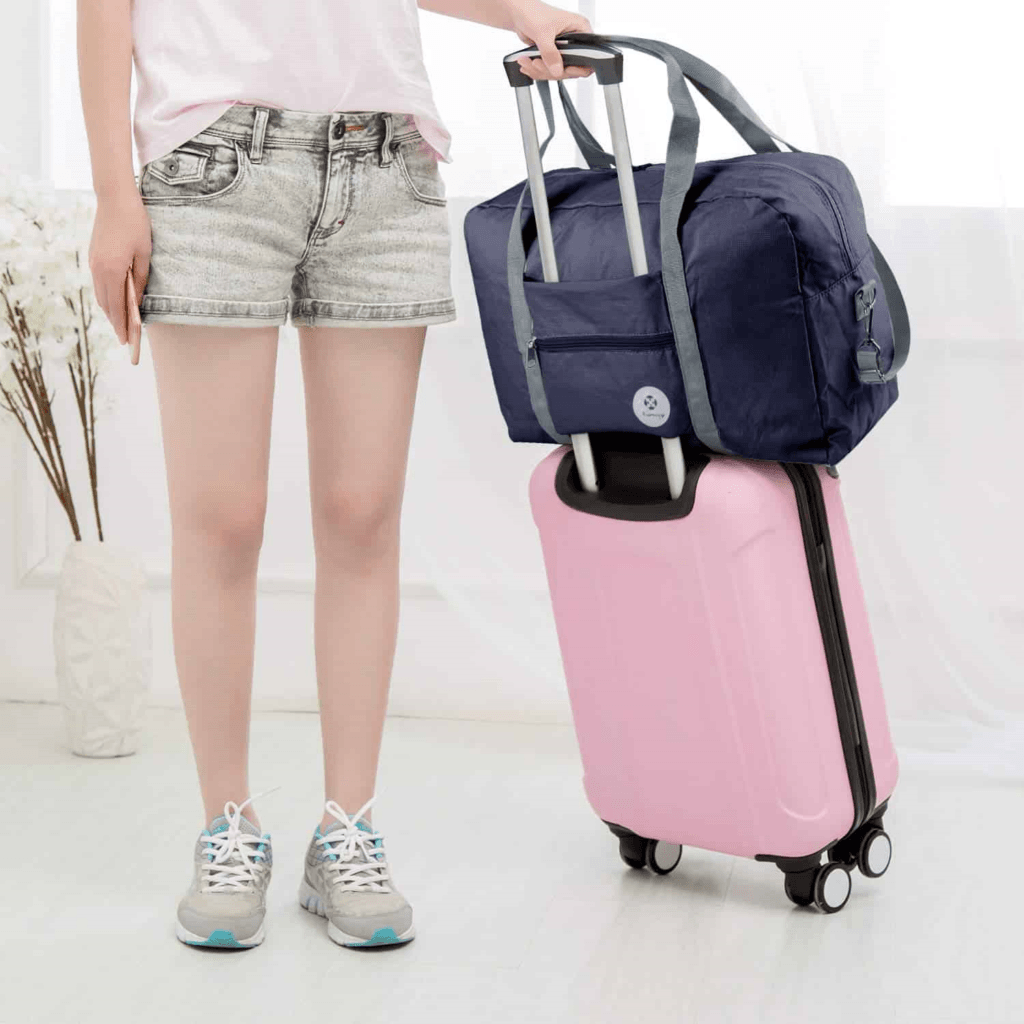 A Close Look
Weight- 45 pounds
Material- Water Resistant Thick Fabric
Smooth metal zippers
External Storage Pockets
Pouch cum Luggage Sleeve
Reinforced Solid Straps
Detachable Extra Strap
Good Trips
Durable and Water Tight
Compact and Lightweight
Flexible and easily detachable
Fit for all trips
Perfect for flight travel
Bad Trips
The strap is relatively thin and not cushioned.
The bag has mixed responses online.
What if I told you I'd found a Calpak Luka Duffel Dupe at a fraction of the cost? It's unbelievable, right? But yes! Many brands manufacture high-quality bags and sell them at affordable prices. Due to the low advertising market, they are underrated and hidden. Hycoo Travel Duffel Bag is one of those bags that is criminally inexpensive for its benefits and features.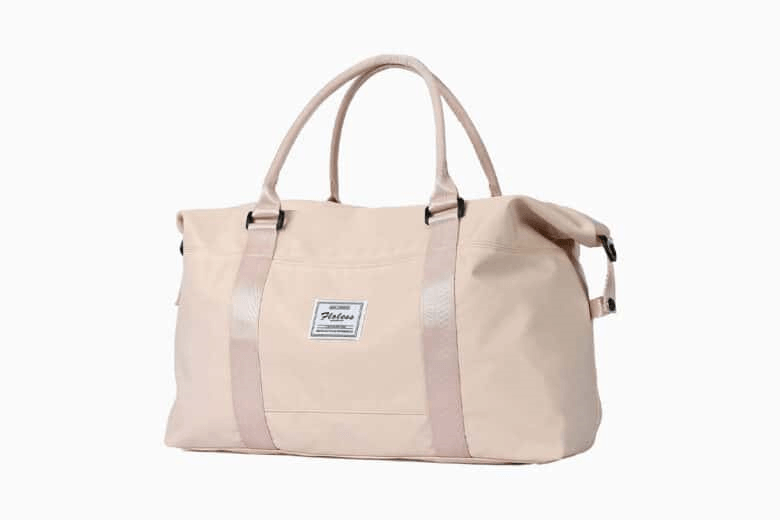 A Close Look
Weight- 0.6 kg
Material- High-density water-resistant fabric
Suitcase Strap Design
Abundant Functional Compartments
Generously Padded Zipper for Laptop
Good Trips
Light and Sturdy
Dry and Wet separate rooms
Airplane friendly
Multi-purpose and Versatile
Available in six standard colors
Convenient and Comfortable
Bad Trips
The bag is broad and doesn't fit underneath your airplane seat.
Common ladies, let's face it! We pack a lot of extra stuff even for a short trip, so we constantly seek a sleek and stylish bag with sufficient luggage. So if you are looking for a sturdy and spacious bag, Kat Myhr is for you!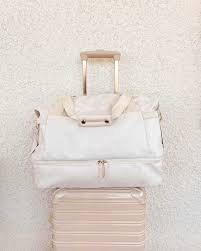 A Close Look
Weight-2.6pounds
Material – Vegan Leather
Nine multi-functional pockets
Wide shoulder strap
Trolley bag sleeve
Separate room for a laptop
Large bottom shoe storage
Good Trips
Stylish and Versatile
Functional and compact
Durable and water resistant
Convenient
Easy to wash
Bad Trips
The bag does not have a bottle side compartment.
The Gym cum Weekender bag by Figestin enables you to move quickly and elegantly. Whether a day out, a brief business tour, or a hospital stay, the bag seamlessly enhances your packing experience with functional pockets and versatile compartments.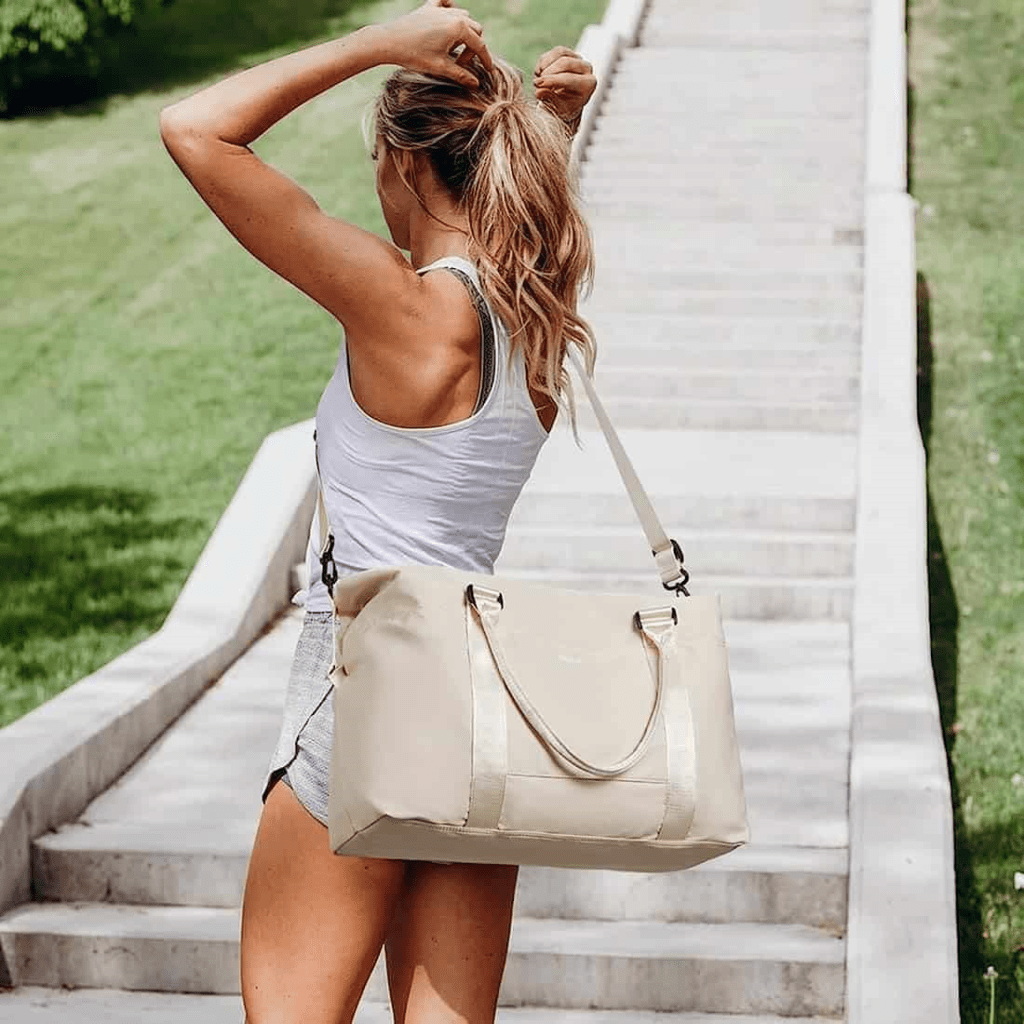 A Close Look
Weight- 1.3 pounds
Material – Water resistant Polyester Fabric
Interior zipper pockets
Dry and Wet separation pocket
Interior mesh open pockets
Back zipper
Trolley sleeve
Adjustable Shoulder Strap
Good Trips
Flexible and multi-purpose
Lightweight and waterproof
Tear resistant
Multiple Compartments
Airplane friendly
Bad Trips
The bag has mixed reviews online.
If you are tired of getting your expensive formal clothes and suits wrinkled and crumpled post-flight, this Garment Duffle Bag from Ibfun should be your next purchase! Not only can it be used as a garment bag, but it is also an excellent option for a weekend holiday. It is versatile and can be used as a carry-on garment bag, luggage, and suit duffel.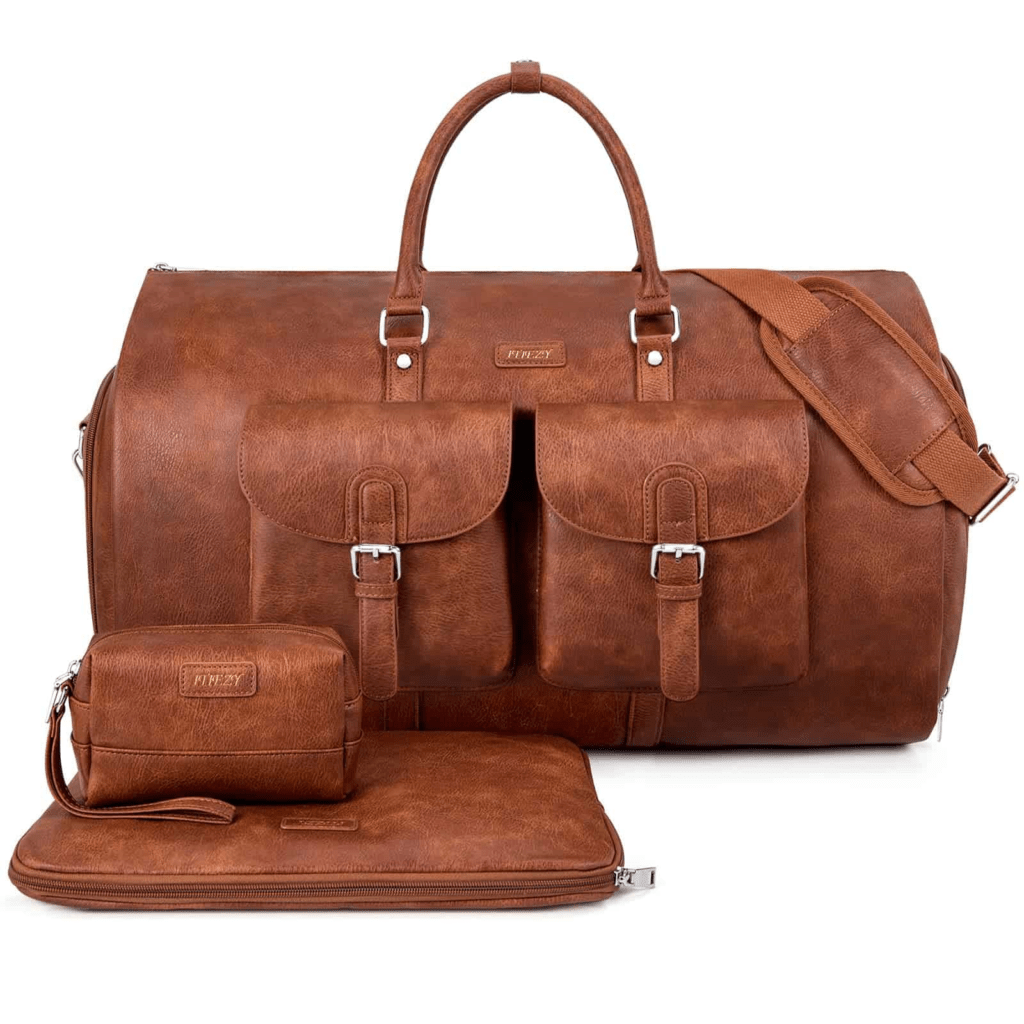 A Close Look
Weight- 56 Litres
Material – Premium water-resistant PU leather and Polyester Fabric
3-in-1 piece set
Carry on garment bag
Attached is an extra waterproof shoe pocket
Detachable shoulder strap
Multi-functional pockets
Suitcase trolley sleeve
Good Trips
Large storage
Neat packing
Convertible and Versatile
Extra waterproof shoe pouch and toiletry bag
Flexible
Best for business trips as well as a weekend holiday
Available in 6 sophisticated colors
Bad Trips
Few users are still determining the reliability of the bag.
Sucipi Canvas Duffle Bag
Do you love collecting retro-style bags that give an old-school travel vibe? If yes, check this Canvas Duffle Bag from Sucipi. The ideal features of a perfect weekend bag make packing less burdening and more enjoyable. Overall, it enhances your travel experience with simple and stylish features.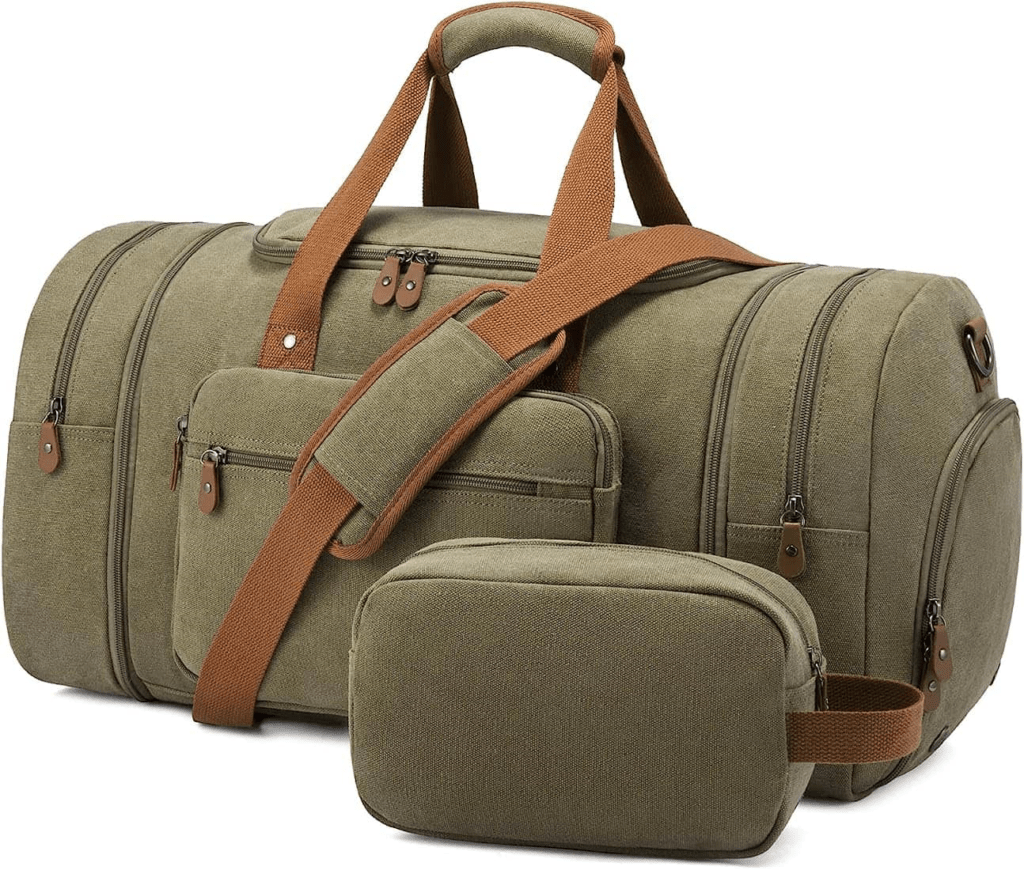 A Close Look
Weight- 2.7 pounds
Material- High-Density Cotton Canvas
Smooth large zippers
It comes with an extra toiletry bag
Expandable design
Padded adjustable and detachable shoulder strap
Good Trips
Spacious and large capacity
Long-lasting and tear-resistant
Ventilated Shoe Compartment for clean shoe storage
Adjustable and flexible
Flight friendly
Bad Trips
The duffel is available in a single color.
It is not rated positive because of the material used.
The eleventh Calpak Luka Duffle Dupe is slightly costlier than the rest of the duffels. MyMealivos is a handcrafted bag that is worth adding to your journey. The lightweight and ergonomic design makes it an ideal choice for all tours and trips.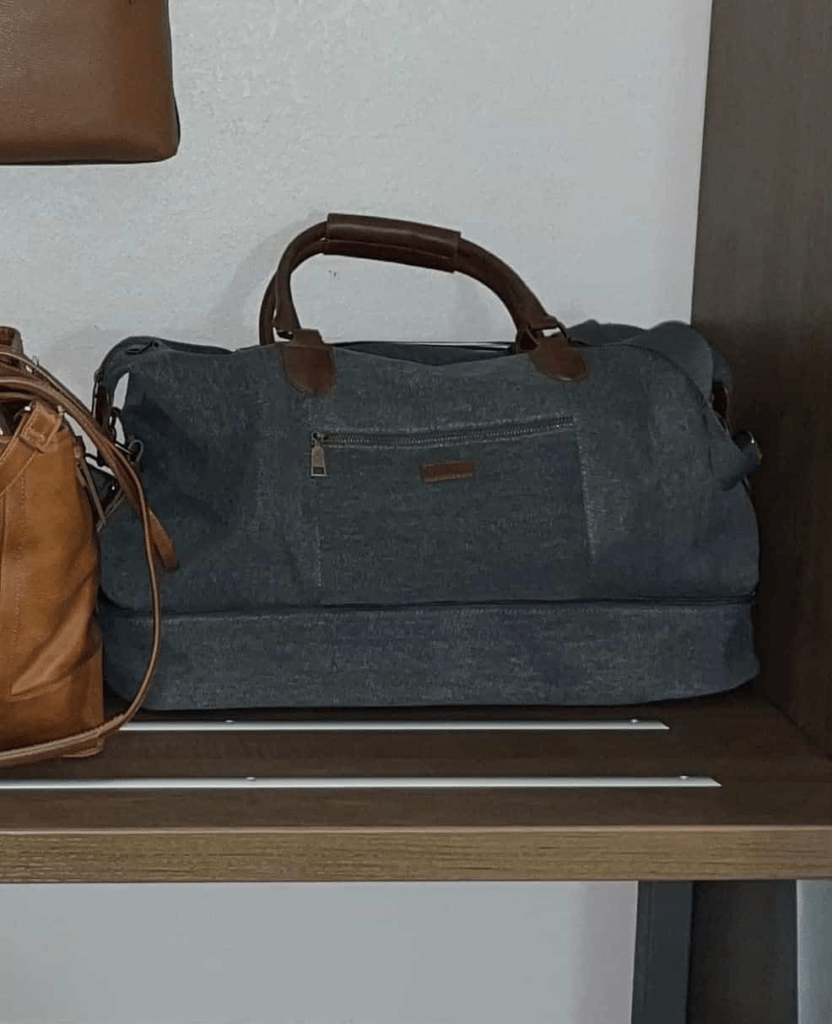 A Close Look
Weight- 2.6 Pounds
Material – High-Quality dark canvas and brown faux leather
Flat shoe pouch
Seven pockets and compartments
Good Trips
Huge and Spacious
Lightweight and luxurious
Convenient and hassle-free
Available in four solid colors and three printed patterns
Bad Trips
Only some people are happy with the duffel.
The Best Picks | Calpak Luka Duffel Dupe
3 Key-Pointers for Purchasing the Best Bag | Calpak Luka Duffel Dupe
Travel Type
Numerous brands of all types of bags and travel accessories market their products with colossal product descriptions and countless additional features. The first step to reaching your ideal duffel is to decide your travel type. If you move out frequently for business and work, you may look for formal and compact baggage. Similarly, if you are inclined towards adventurous trips, you may look for a spacious and casual weekender bag.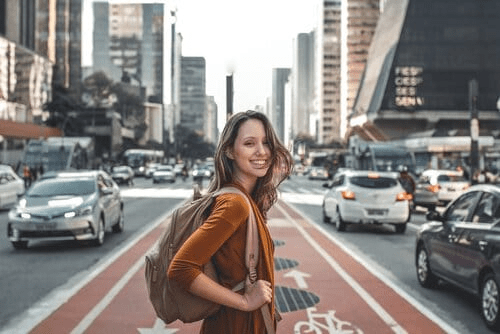 Strong Straps
Wide straps help you distribute the weight and are easy to carry. A robust and well-padded shoulder strap should be double-ticked if you seek a durable and long-lasting duffel.
Material
It is essential to check the material of duffel bags. Always look for water-resistant material that is not thin and supports the weight of your bag. One of the most durable materials is Canvas, which is robust and tear-resistant.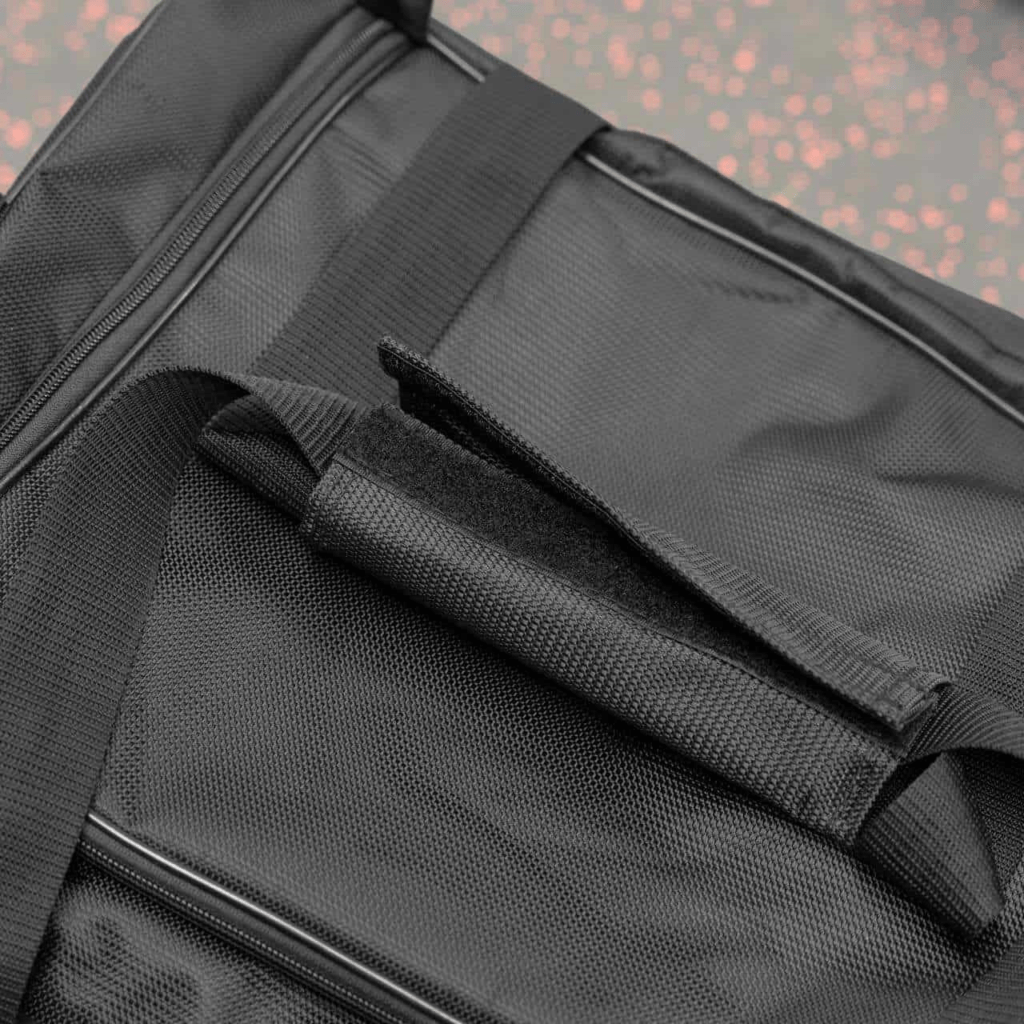 Additional features
After you have ticked all the boxes, it's time to look at the additional benefits. Multi-purpose pockets, Laptop and Shoe Compartments, Extra Mesh Bags, Wet and Dry separation, and compatibility with Airline Security are all you need in a perfect travel duffel.
Frequently Asked Questions | Calpak Luka Duffel Dupe
Is the Calpak Luka Duffel worth it?
The Calpak Luka Duffel is the ultimate travel companion for many people and the most preferred choice of travel enthusiasts.
Owning a Luka Duffel is a one-time investment and infinite comfortable packing and organizing experience. Its thoughtful design, with several functional compartments and an additional shoe section, makes it worth the hype.
How do you clean a Luka Duffel Bag?
Calpak Luka Duffel is water-repellent and easy to clean. Grab a clean wet tissue and wipe it off if you accidentally spill something to avoid stains and infections.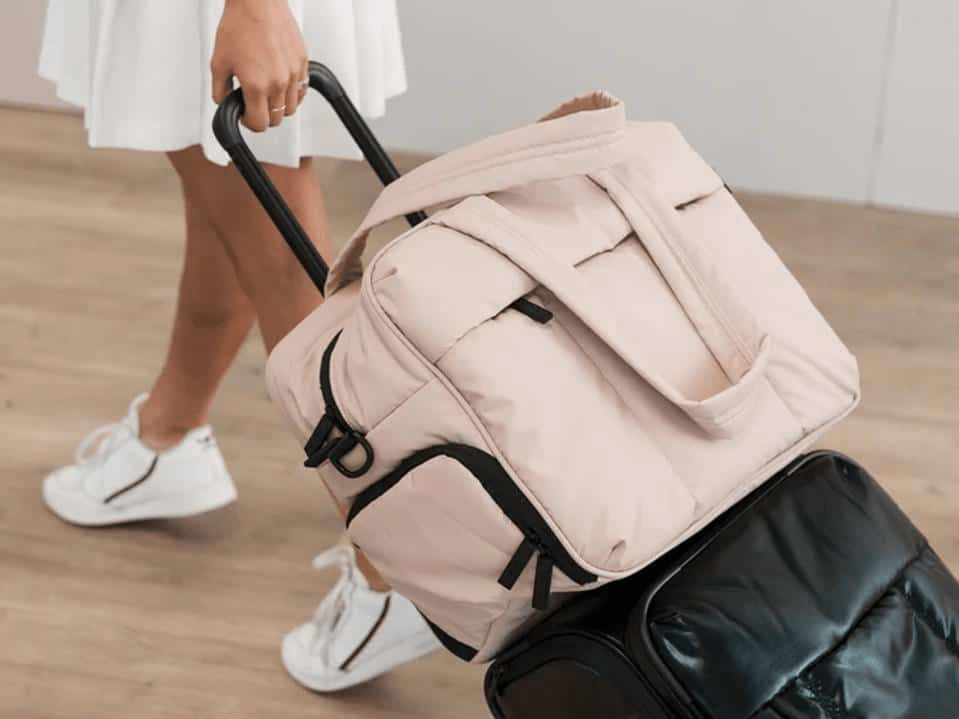 Why do you need a Calpak Luka Duffel Dupe?
Everything about the Luka Duffel is perfect except its hefty price. Its over-the-top rate makes it inaccessible for budget-conscious folks; thus, many people need to catch up on purchasing the duffel.
Which is the best Calpak Luka Duffel Dupe?
The Etronik Weekender Bag is the ultimate Calpak Luka Duffel dupe. It is an all-rounder travel duffel that comes with an advanced USB Port.
All Zipped Up | Calpak Luka Duffel Dupe
Investing in a good duffel bag is an untold rule for a seamless and comfortable travel experience. One of the iconic duffel bags that became the viral sensation on the "travel-tok" is the traveler's favorite Calpak Luka Duffel Bag. The contemporary and sleek exterior design, with spacious and multiple sections, makes packing and carrying more effortless and comfortable.
However, the Perfect Weekender Bag is entirely out of reach for most people due to its exorbitant price. Most travel enthusiasts explore for a reasonable carry-along that fits their specifications. In this blog above, I have listed 11 Duffel Bags that are Calpak Luka Duffel Dupe. I hope this article leads you to your destination. Find perfect dupes of all your favorite trendy products below.
Here are some of our recent posts: