When we talk about good quality hair brushes, the one hair brush that strikes my mind is from the iconic Mason Pearson. Having set a benchmark and modernized hairbrushes for decades together, they have excelled in the craft of manufacturing premium hairbrushes. Their brushes are known to be immortal and provide an extraordinary experience with their comfortable cushiony and sleek design.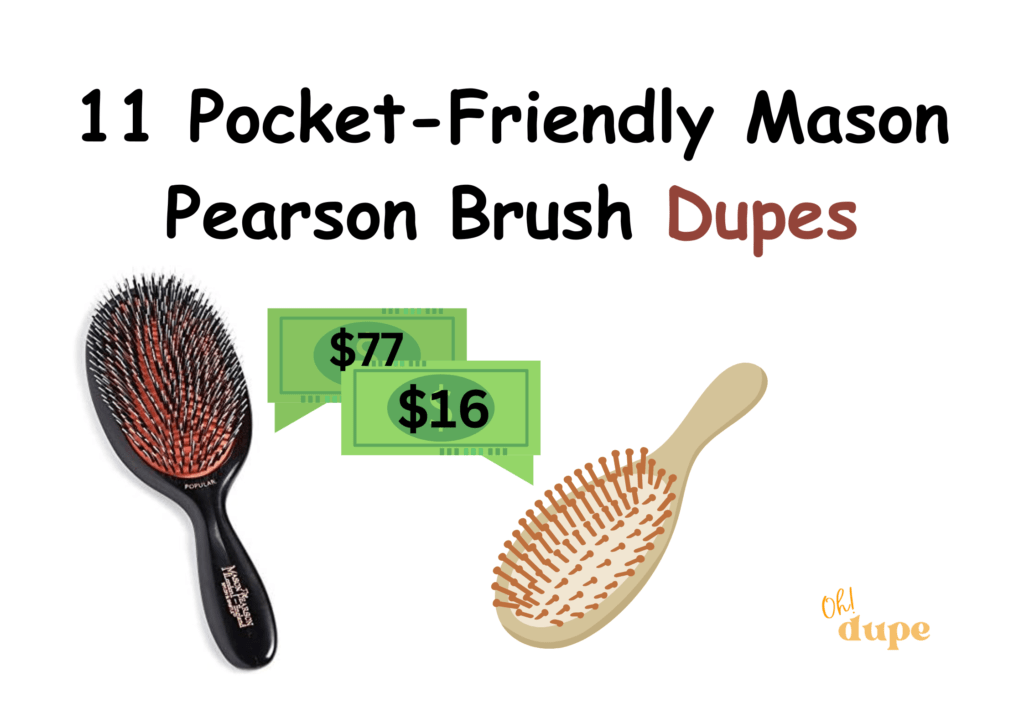 Adored by generations, it demands a significant portion of your generational wealth. Due to its high-end cost, many people have given up on using good quality boar bristle brushes. But not anymore! We are going to talk about 11 boar bristle hair brushes that are comfortable for your scalp as well as for your wallet. Scroll below to find your ultimate Mason Pearson Brush Dupe.
Mason Pearson Brush Dupe | Boar isn't Boring!
Have you ever wondered why boar bristle brushes have suddenly gained momentum? Truth be told, Boar Bristle Brushes are not a recent phenomenon; in fact, it was replaced by synthetic bristles. Hair stylists and salon professionals have sworn by boar brushes for years now. As hair care experts realize the benefits of brushing with boar bristles, they profoundly advise it for healthy hair and scalp. Boar Bristles take responsibility of:
Safe Scalp
Boar Brushes ensure a healthy scalp as it massages your scalp and boosts your hair growth. Detangling your hair with a boar bristle brush is comfortable and non-irritating as it is gentle and soft.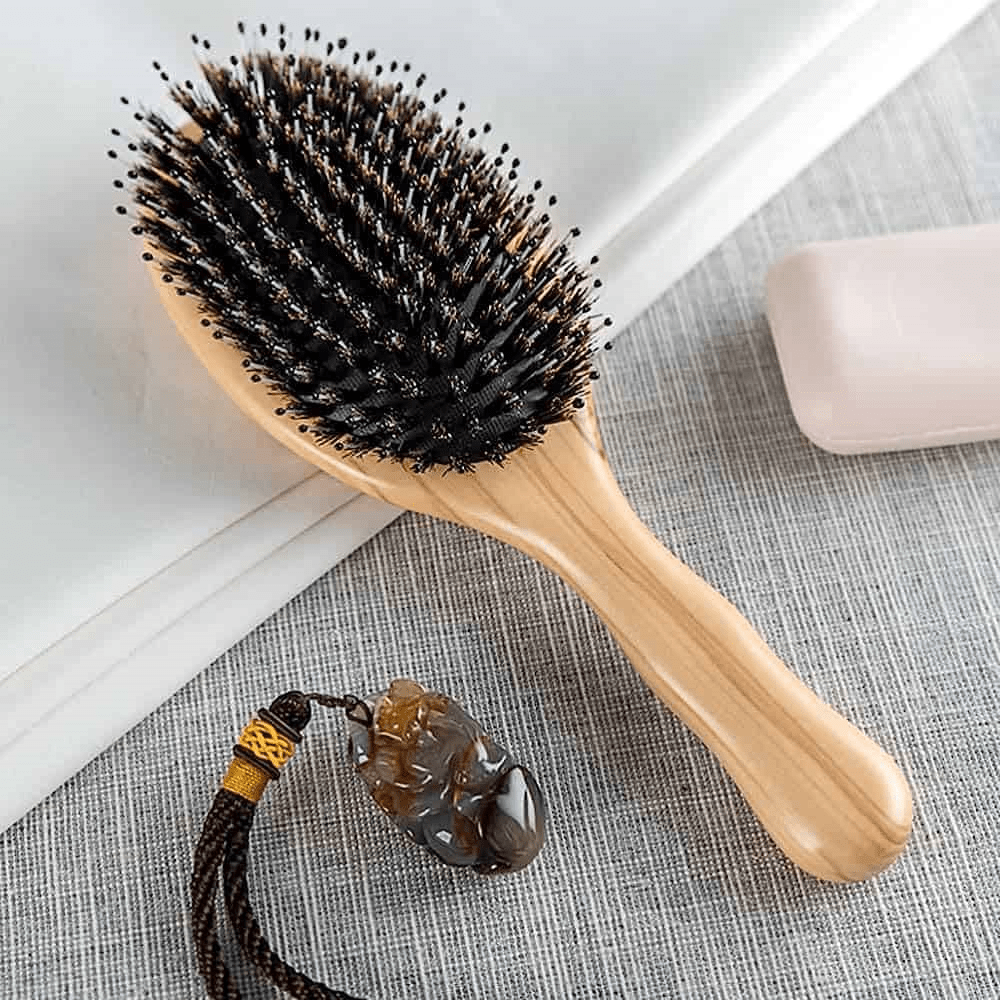 Invisible Hair Oils
Boar Brushes account for evenly distributing your natural hair oils and moisturizing them. They help clear the sebum buildup and clean between hair strands, giving them a non-greasy and healthy scalp.
Frizz Farewell
Using a boar bristle brush keeps away from unwanted frizz and flyaways. It smoothes your strands and keeps them intact. It also contributes to minimizing hair breakage and split ends.
Detangle Deal
A boar bristle brush is a comfortable detangler as it does not pull out or hurt your scalp. It is gentle as compared to plastic or nylon bristles. Using a boar bristle brush gives you an enjoyable and pain-free detangling experience.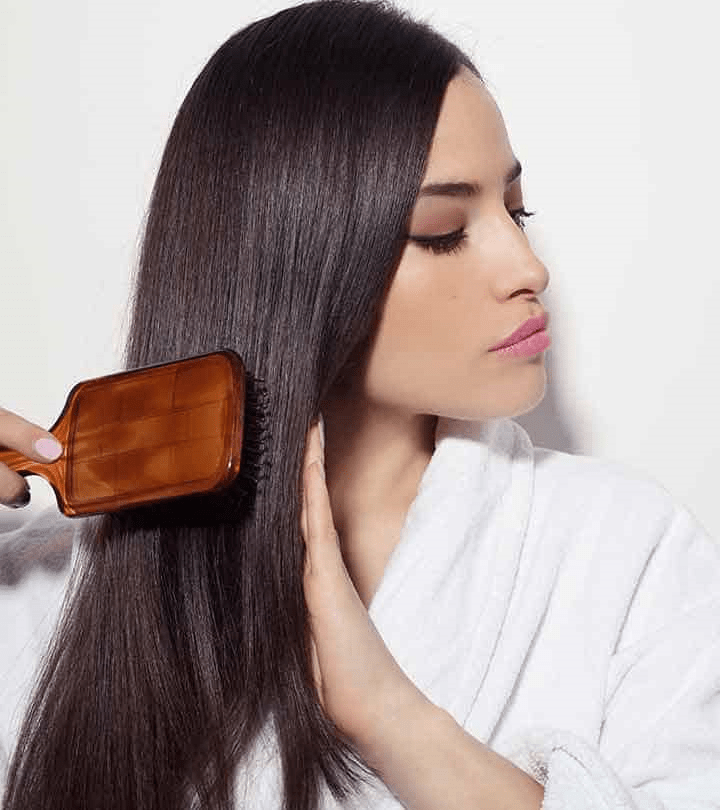 Strand Strength
Combining the above functions leads to strong hair and less hair loss. Boar bristle brushes give a pleasant hair-brushing experience as it massages your scalp and boosts blood flow. It also helps keep frizz and dry hair at bay, increasing strand strength.
Mason Pearson Brush Dupe | 11 Boar Bristle Brushes That Won't Bore a Hole in Your Pockets
Finding a hairbrush of a similar caliber to Mason Pearson sounds complicated but is possible. This hair brush from Olivia Garden bears a resemblance to the OG Mason Pearson Brush.
Launched in 1967 in Belgium, the brand aimed to produce innovative salon tools, and years later, they can be easily recognized and spotted on film sets and in celebrity vanities.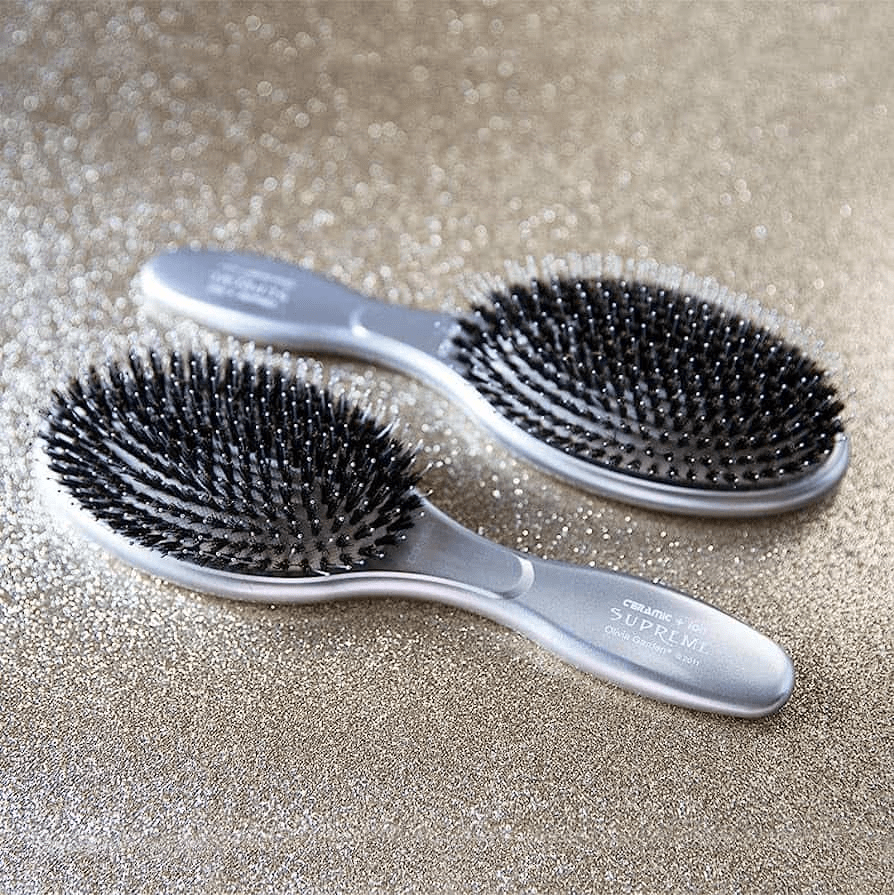 Salient Features
Made with a Unique Combination of Ionic and 100% Boar Bristles.
Anti Static Ion Charged Bristles
Wavy soft tipped heat, resistant bristles on a cushion
Easy to hold and ergonomic ceramic handle
Pros
Controls frizzy hair and flyaways
It gives a smooth finish
Anti-static and gentle on hair and scalp
Lightweight and comfortable bristles
Durable
Makes hair voluminous and shiny
Cons
The tiny bristle caps come off quickly, making it harsher for the scalp.
The next hairbrush that competes with Mason Pearson's hair brush is from the vintage hair brush brand: Kent by William Kent.
Established in 1777, the brand accounts for manufacturing the finest quality hair brushes. With a royal history, they have groomed generations and continue their legacy of providing high-quality personal care products at a moderate price.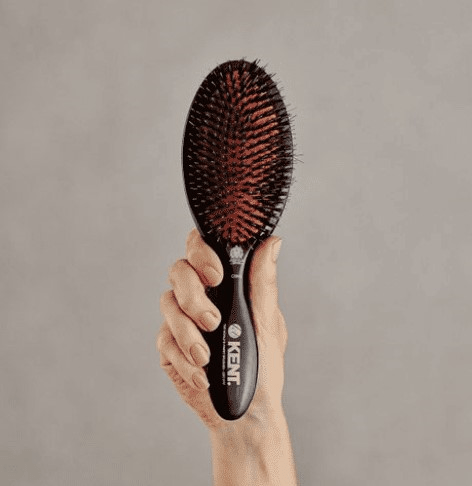 Salient Features
Sturdy medium oval-sized brush with silicon cushion
Bristles are made of natural boar hair and traces of Nylon Quills
Nylon Handle
Best for shoulder to mid-length hair
Pros
It makes hair soft and lustrous
Rubs away dry flakes and maintain hair cleanliness
Distributes natural oils and keeps hair shiny
Nurtures and nourishes your hair
Comfortable and stronghold
Gentle on fragile hair
Best for thick hair
Cons
Individuals with Straight hair may find it scratchy.
Are you also obsessed with the hairstyles in the popular web show- Bridgerton? Here's a fun fact: Each character was groomed with a Denman Cushion Hair Brush!
The Denman Brushes began in 1938 after entrepreneur John Denman Dean experimented with Nylon and found its use in hairbrushes. The '60s saw the golden rule of Denman Brushes, and it soon became a globally acclaimed brand, eventually breaking through social media today.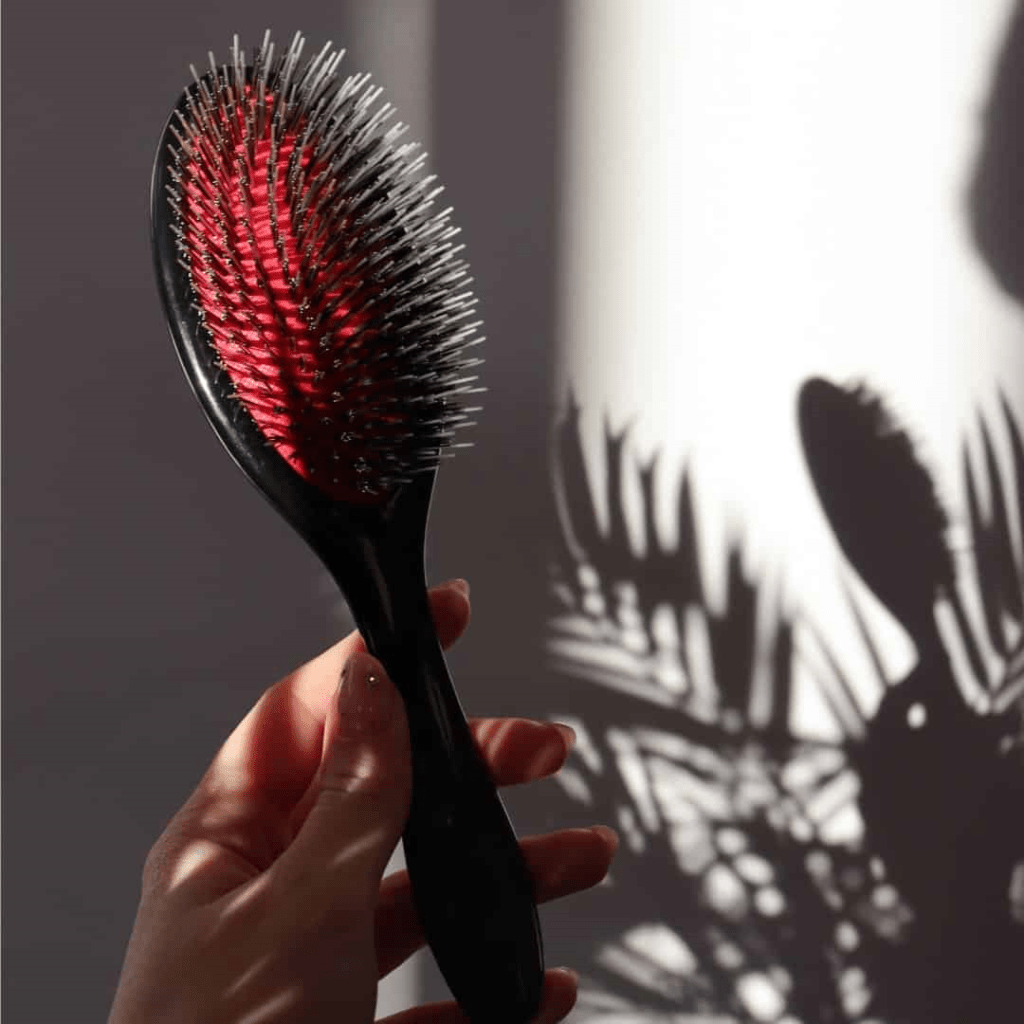 Salient Features
A large porcupine style hair brush
Soft nylon quill boar bristles
Flexible and lightweight
Air cushioned for hassle-free penetration through the hair
Pros
Shapes and makes your hair shine and glossy
It adds definition and makes them look fuller and thick.
Convenient, Lightweight, and Portable
An environmentally friendly brand
Suitable for brushing wigs and hair extensions
Cons
Users have mixed experiences online.
Tired of finding sustainable hair brushes that are eco-friendly and organically made? Look no further than the Bass Brushes haircare range.
The 1979 side hustle turned business with a strong commitment to utilizing natural raw materials. Trusted by estheticians and salon professionals at a global level, the brand continues to excel in producing innovative and classic hairbrushes.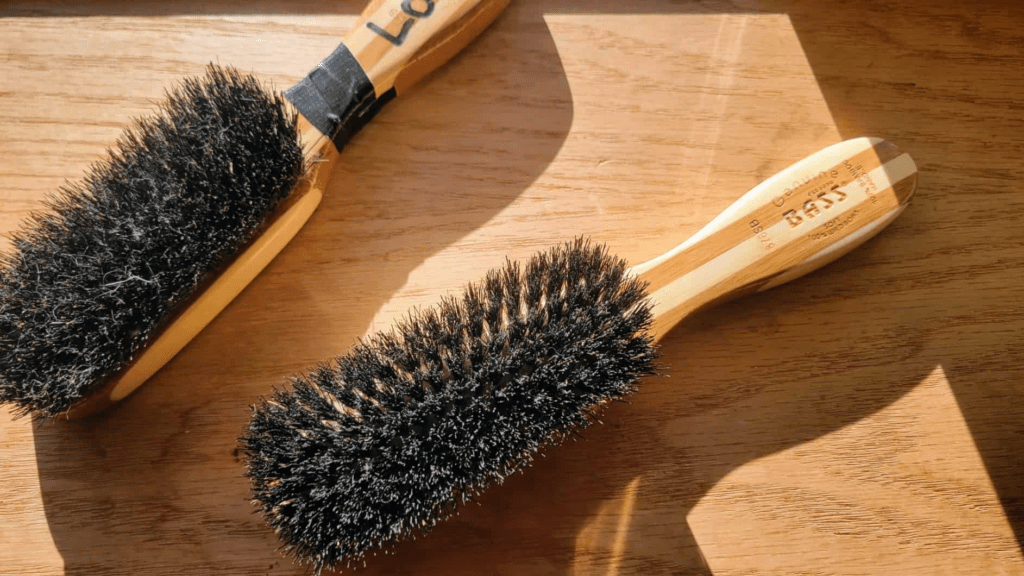 Salient Features
An oval-shaped brush with a wooden handle made of Bamboo.
100% original boar bristles for optimum comfort and shine
No added synthetic bristles
Made with Organic and durable raw materials
Pros
Soft for tender-headed people
Scalp friendly and gentle
Achieves glossy hair and is free from flyaways
Rubs away impurities and conditions
Clean and healthy
Best for fine hair
Cons
Unsuitable for thick hair.
If you are fond of round brushes to enhance your waves and curls, I would like you to look at this hairbrush. Made from the finest quality materials from the Mediterranean and Spain, the professional boar hair brush is an option worth considering.
Originating in the 1950s, the brand's success is woven with strands of research, exploration, and observations. The designs are the product of experience and aim to provide high-performance salon styling tools.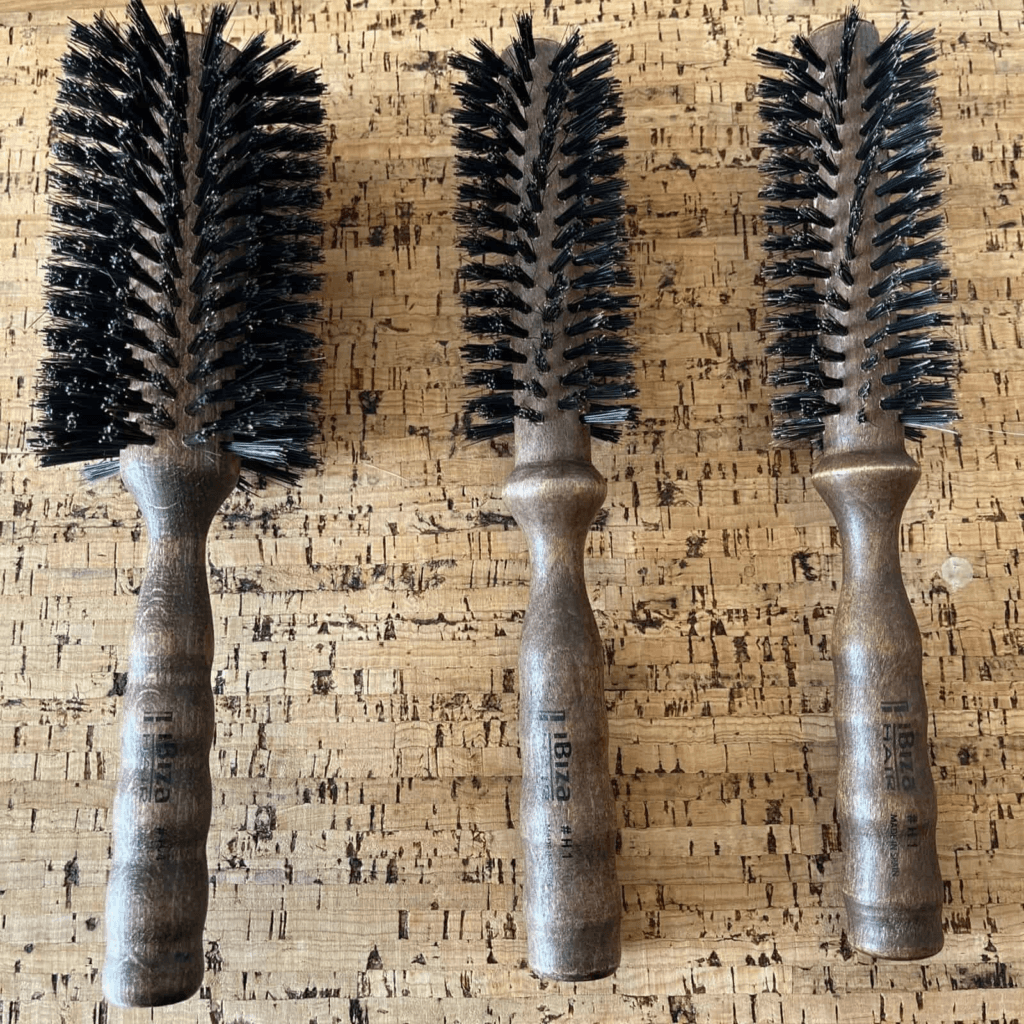 Salient Features
A unique blend of Natural Boar Bristles and Heat Resistant Carbon Fibre Bristles from Spain.
Supple and ergonomic handle made with cork from the Mediterranean.
Round-shaped and flexible for normal coarse hair
Pros
Detangling with care
Prevents hair breakage and damage
Flexible grip handle
Salon like quality
Soft and smooth hair
Perfect for blowouts
Cons
Why go for expensive salon blowouts when you can achieve them in the comfort of your home in a one-time investment? Confused? Don't be! I am talking about the Drybar's Full Keg Boar Bristle Round Hair Brush, which makes your hair look salon-done daily!
Drybar specializes in manufacturing hair stylings that are perfect for blowouts. They have mastered the art of providing diy blowouts along with smooth and healthy tresses.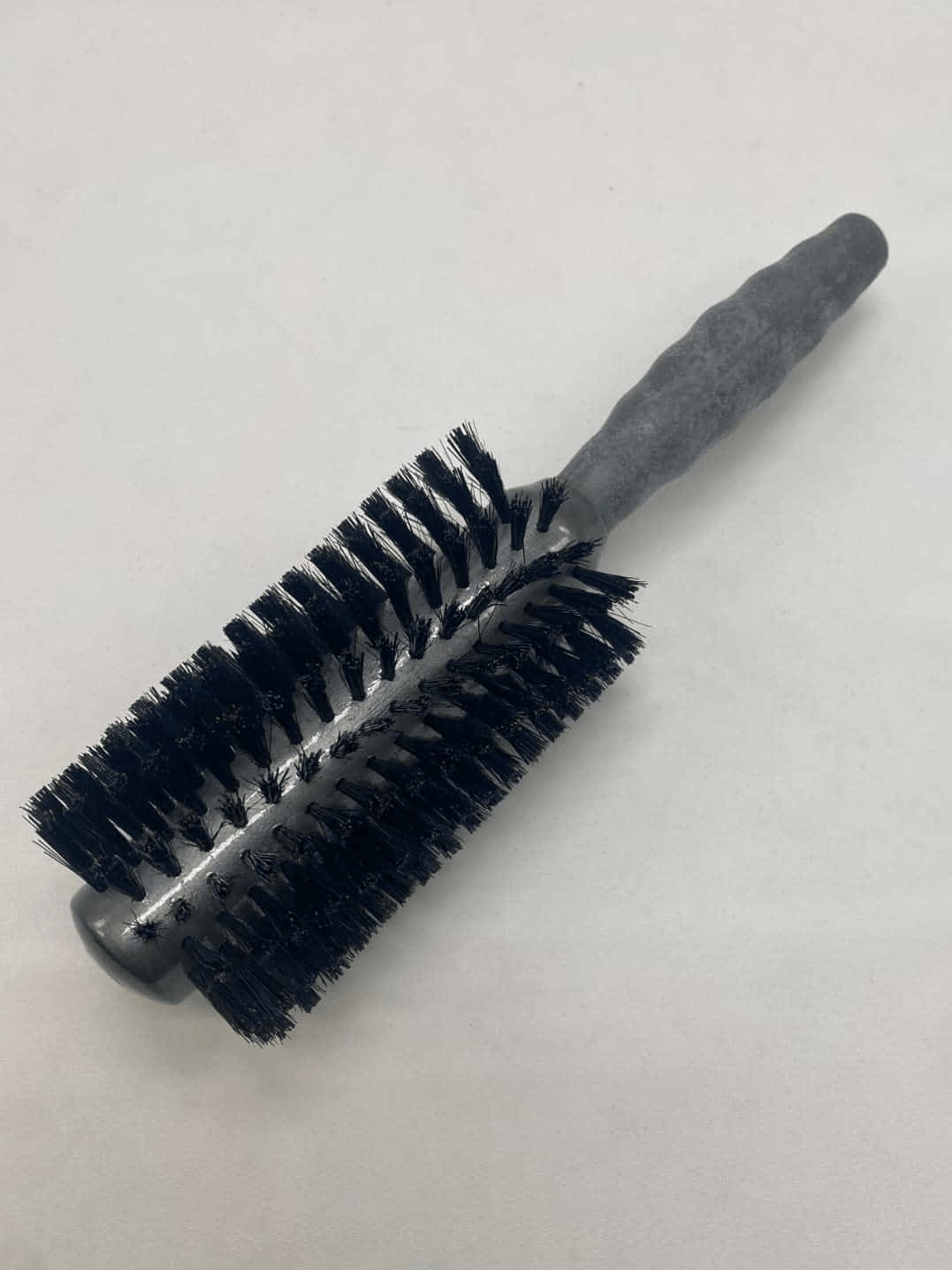 Salient Features
Round Shaped with an ergonomic Nylon Handle
Innovative design exclusively for blowouts
Crafted with imported Beechwood
Pros
Lightweight and easy-grip handle
Conditions and nourishes your hair
Reduces frizz and tames flyaways
For a sleek salon-like blowout
Cons
The hair brush is a bit overpriced.
Imagine having a good hair day every day; it sounds like a dream, doesn't it? But what if I told you it was possible with The Hair Edit's Finishing Boar Brush? Yes, you guessed it right, with these flexible boar bristles, you can easily skip all the bad hair days and have shiny, lustrous hair on the go!
With an aim to elevate your everyday hairstyles, they provide high-quality hair styling tools and accessories with a sophisticated and sleek design at a reasonable price.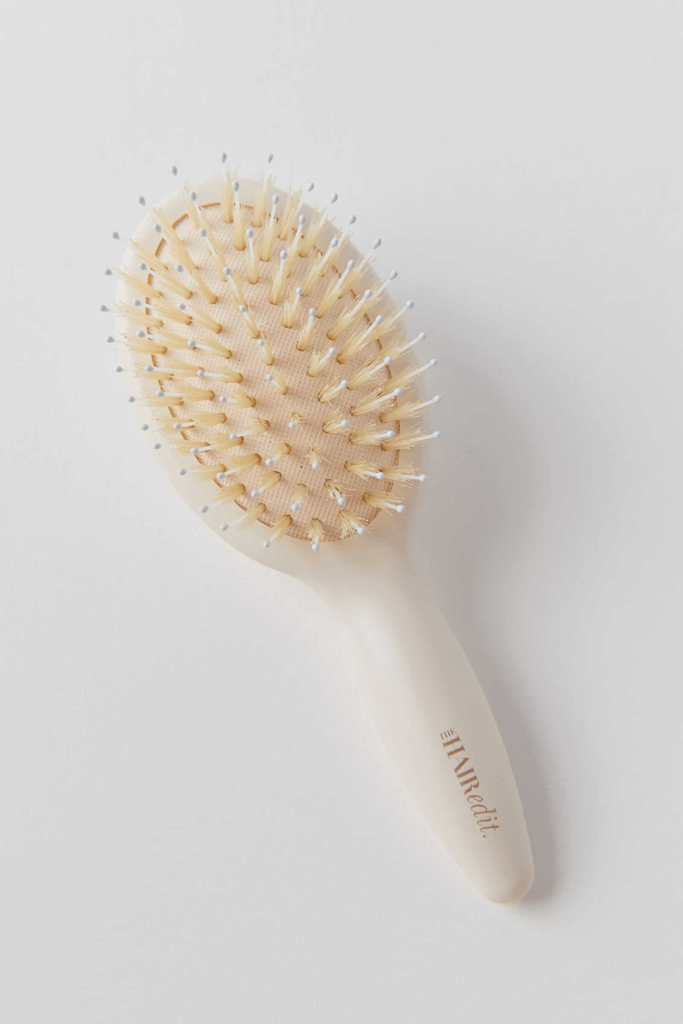 Salient Features
An oval-shaped hair brush with a lightweight and non-slip grip handle.
A blend of boar bristles and ball-tipped nylon pins for shine and gentle detangling
Aesthetic and sophisticated design
Pros
Boost shine
Massages scalp
Distributes natural moisture
For dry and frizzy hair
Gentle detangling
Lightweight and Travel-friendly
Cons
May not detangle wet hair
This is to all the Vegans out there who are set to achieve the best version of their hair. One can enjoy the benefits of boar bristle hair brushing and gentle detangling without worrying about using any animal-derived ingredient.
The Briogeo Vegan Hair beauty line is known for its healthy and innovative alternatives while providing the benefits same as their counterparts. The plant-based haircare brand continues to discover novel ways to manufacture quality hair products with a sustainable and healthy approach.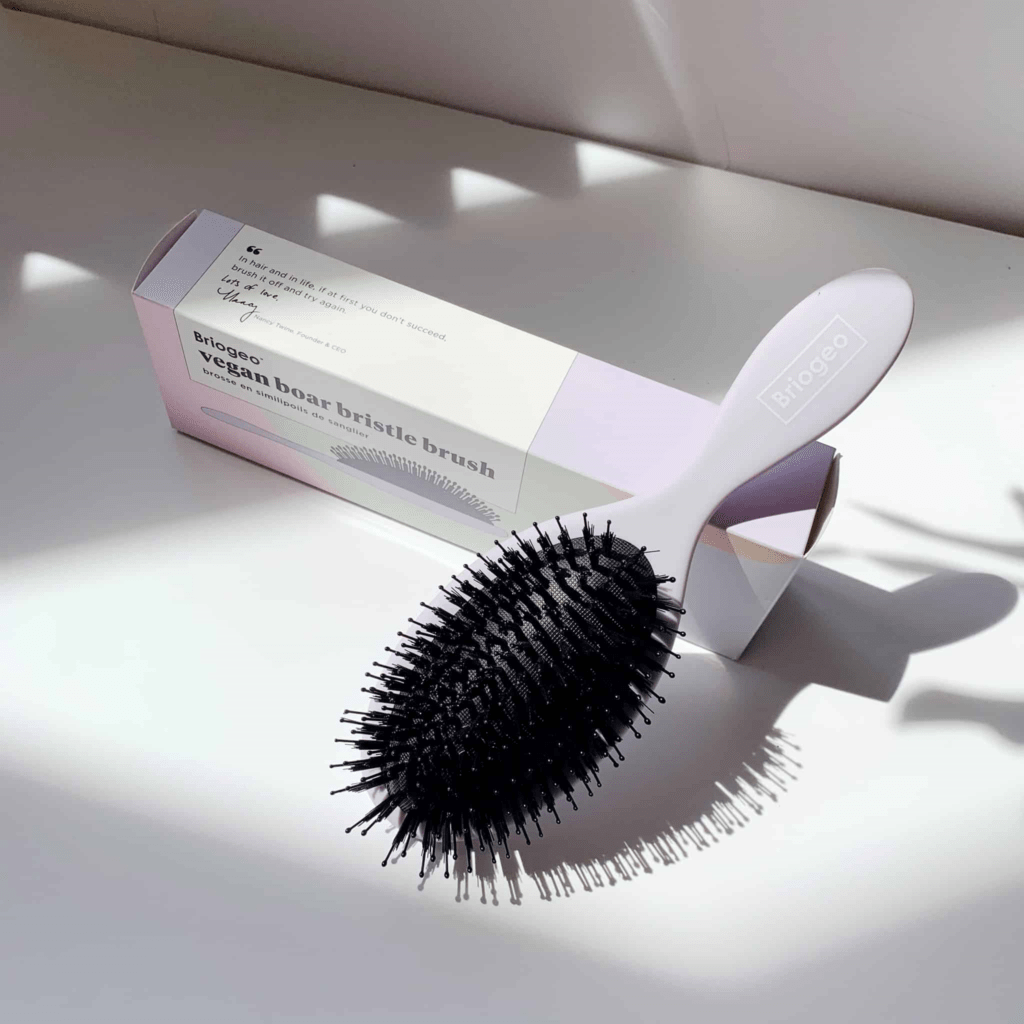 Salient Features
Vegan Boar Bristles with Soft Ballpoint Pins
Flexible Bristles
Ergonomic handle for daily use
Lightweight design
Pros
Frizz-free brushing experience
Gently detangles
Adds shine and enhances hair texture
Prevents hair damage
Redistributes hair oils
For all types of hair and textures
Cons
The hairbrush has mixed reviews.
This is another Vegan option for those skeptical about the product above. Hang tight; you can always look for a second vegan alternative from the Tek hairbrush range. Made with eco-friendly bristles, the hairbrush allows vegans to benefit from hairbrushes of the highest value.
Established in 1977, the Italy-based hairbrush brand has quietly created a strong consumer base by providing an alternative to animal-derived bristles and manufacturing premium hairbrushes.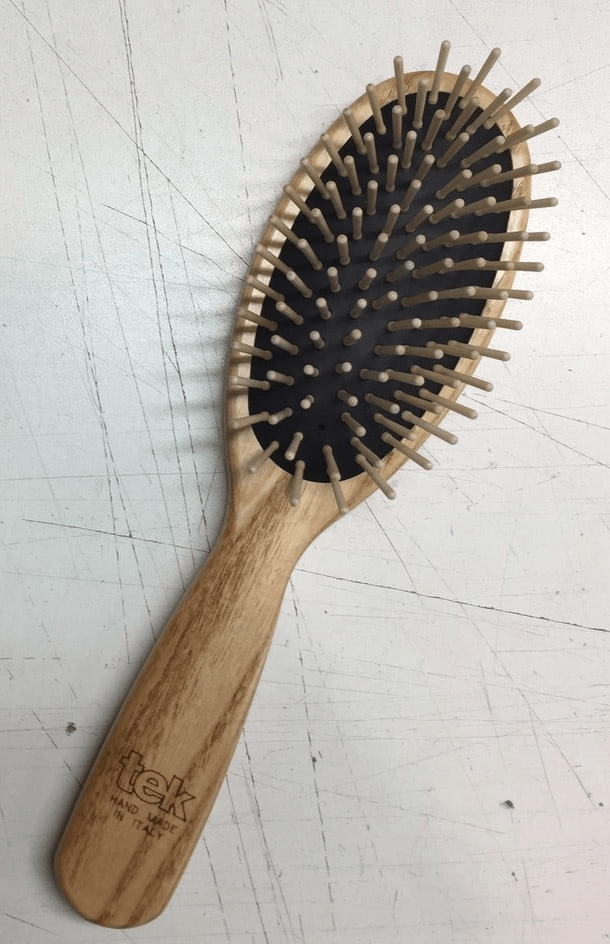 Salient Features
100% handcrafted hair brushes
Made with eco-friendly boar bristles
Oval-shaped and rubber wood handle for a firm grip
Vegan friendly
Pros
Stimulates blood circulation
Massages scalp and distributes natural oils
Removes buildup and absorbs excess sebum
Anti-static and Hypoallergenic
Volumizes hair and damage-free detangling
Best for fine hair
Cons
Unsuitable for thick hair.
No more tears while detangling your hair! The Wet Brush hairbrushes are manufactured to make the detangling process enjoyable and less intimidating. The salon's staple hairbrushes are known for their durability and pain-free hairstyling.
Made with organically derived raw materials, the brand recreates classic hairbrushes sustainably.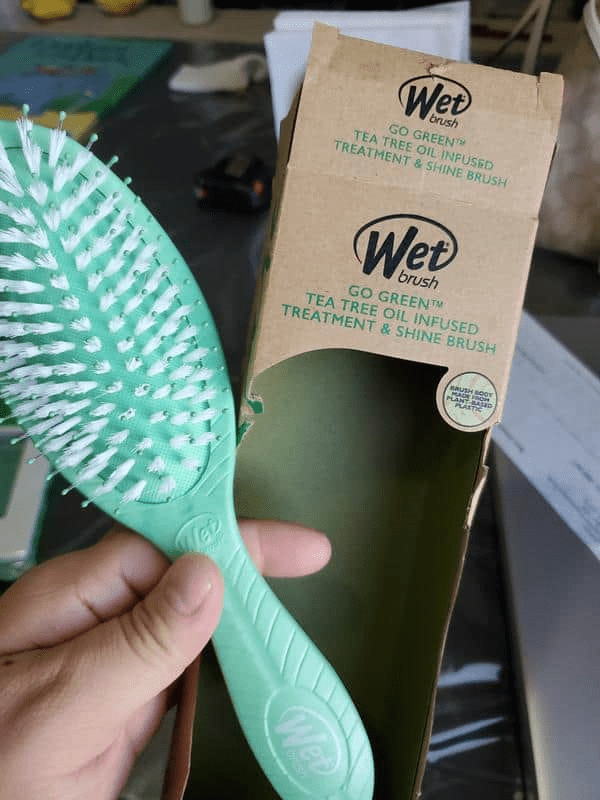 Salient Features
Watermelon Oil Infused Hairbrush
Rectangular shaped and Rubber Handle
Made with Plant-based plastic
Pros
Soft and Gentle Bristles
Synthetic boar bristles
Detangles without any damage and pain
Smoothes and de-frizzes hair
Lightweight and sturdy design
Durable and sustainable
Cons
The hairbrush has mixed reviews online.
The wait for a perfect hairbrush ends here! If you seek personalized hair care, look no further than the Prose Boar Bristle Hair Brush. Crafted with care and intimacy, it provides customized hair brushes for your hair type and needs.
The beauty brand caters to the unique needs of your skin and hair. Skilled artisans with organic raw materials handcraft the hairbrushes.
Salient Features
Oval-shaped hairbrush with 100% gold plated boar bristles
Organic Hevea rubber cushion
Lightweight hand-polished handle made of European Beechwood
Customized monogram engraving for personalized use
Pros
It prevents hair loss and tames frizz
Boosts hair growth
Gentle and soft glide
Eliminates flakes and impurities
Spreads oil evenly
Lightweight
Cons
It may not work for medium and thick hair.
The Best Attributes | Mason Pearson Brush Dupe
Frequently Asked Questions | Mason Pearson Brush Dupe
Is it reasonable to use a boar bristle brush?
Yes. As discussed earlier, boar brushes have proven beneficial for your hair as they efficiently smoothen and improve its texture. It also helps spread the natural oils built up on your scalp for grease-free locks and minimizes the look of frizzy hair.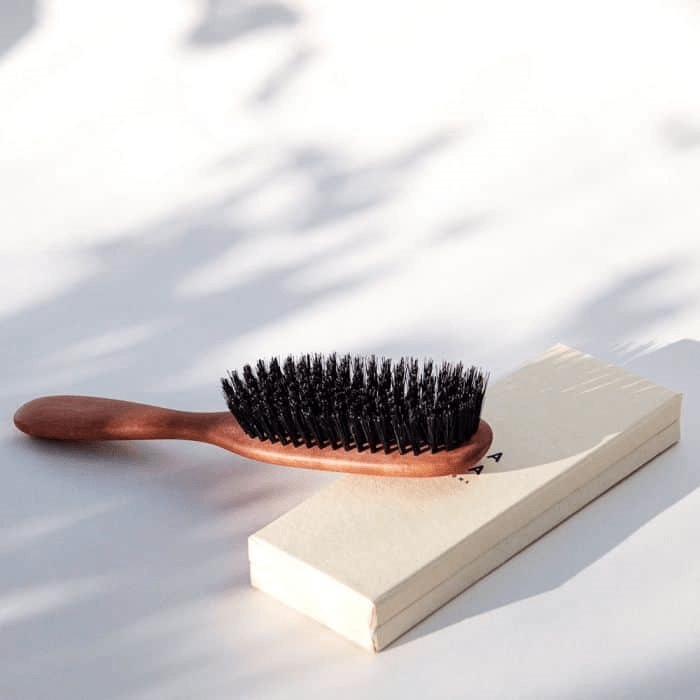 What is the difference between a nylon and boar bristle hair brush?
Hair brushes with nylon bristles are typically rigid and stiff, which helps detangle thick hair. In contrast, boar bristle hair brushes are soft and primarily suitable for people having fine hair.
What is so special about the Mason Pearson Hair Brush?
The iconic Mason Pearson brush is well known for its high-quality hair brushes. The unique quality of a Mason Pearson hair brush is its orange porous pad that is gentle and scalp-friendly. The luxurious soft cushions are durable and last for decades.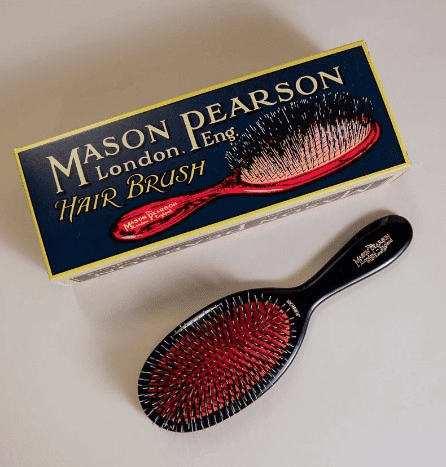 Which is the Mason Pearson Hair Dupe?
The exorbitant price tag makes it unaffordable for a lot of people. However, there are a lot of other hair styling brands that have excelled in the craft of boar bristle hair brushes. In my opinion, Olivia Garden Nano Thermic Ceramic + Ion Hair Brush.
The Final Say | Mason Pearson Brush Dupe
Boar Bristle Hair Brushes have become the talk of the town as hairstylists and hair care enthusiasts have realized the importance and benefits of boar bristles over other materials. One hairbrush brand that has made the mark in the industry is the iconic British Mason Pearson. Their premium hair brushes have graced the vanities of celebrities and are a staple of the elite.
However, its extravagant price has made it financially inaccessible for many folks. For this reason, I've found affordable boar bristle hair brushes that deliver similar results. In the Mason Pearson Brush Dupe article, I've revised the basic power points of boar bristle brushes and elaborated on 11 hair brushes to help you find your ultimate Mason Pearson Brush Dupe.