There is no way you must have escaped the Stanley Cup hype all over the internet. So, if you are tempted to buy one without spending $40, I can help you! How? Read below to find 11 modern drinkware that are the best Stanley cup dupe and within the boundaries of your budget.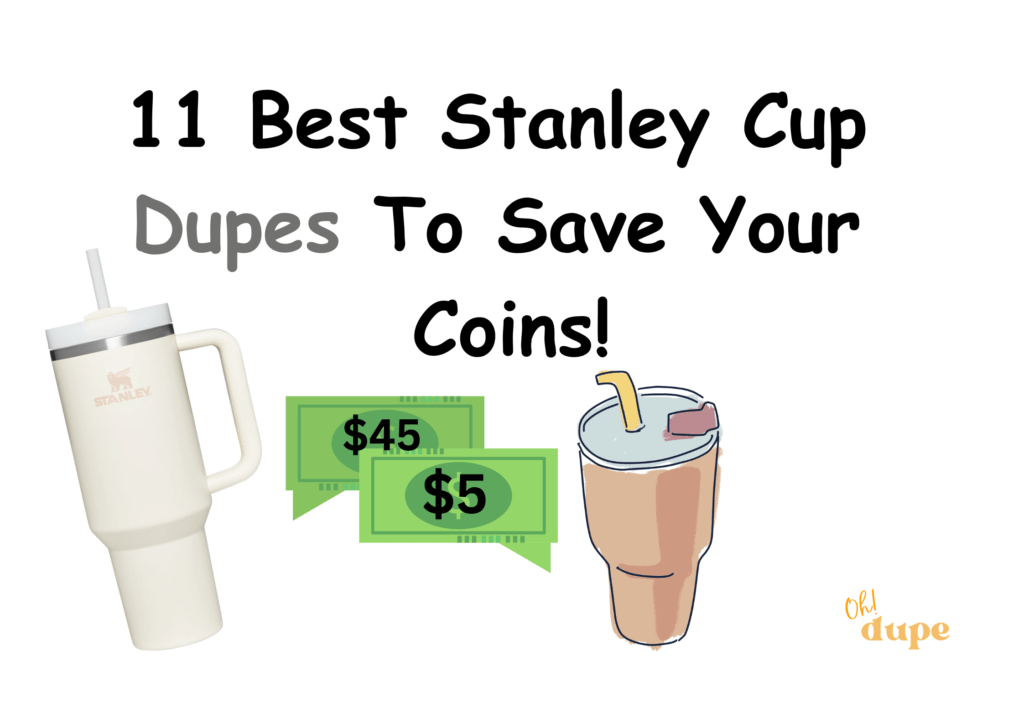 When humans are not ready to fulfill burdening responsibilities, they romanticize them. Hydrating your body now and then is one of those activities that feels like a huge task. However, if you own an attractive drinkware like a Stanley's Cup, there are chances you may be sipping more frequently. The Quencher H2.0 Flowstate Tumbler is considered the best. Its vacuum insulation keeps your water at your desired temperature for long hours. The handsome sleek design is aesthetically pleasing and versatile with almost all car cup holders. However, it is pretty pricey for a Tumbler, so people look for a more reasonable option.
Best Stanley Cup Dupe | Tumblers to Achieve Your Daily Hydration Goals!
Before we find out the best Stanley Cup Dupe, I want to take you back and underline the importance of using steel tumblers and help you choose the perfect water bottle that is flexible and healthy.
Reusable plastic bottles have lost the race as people have become responsible for the planet. Tumblers and Steel Bottles have replaced plastic fiber bottles for the good. Fibre bottles are undoubtedly cheap, lightweight, and convenient, but their contribution to environmental damage and human health is enormous. For this reason, homecare brands have come out with attractive drinkware that helps you achieve your daily hydration goals on the go! Here are the quick benefits of replacing your plastic bottle with a steel tumbler.
It's about YOU
When you use plastic bottles, you don't just consume water; you ingest harmful chemicals that mess up your immune system and cause significant health concerns such as liver cancer and fertility issues.
Eco friendly
Adapting to sustainable homecare essentials can make a significant impact on the planet. This small step contributes significantly, helps curb plastic pollution, and saves the marine ecosystem. Shifting to steel drinkware is not only beneficial for you alone, but it is also environmentally safe.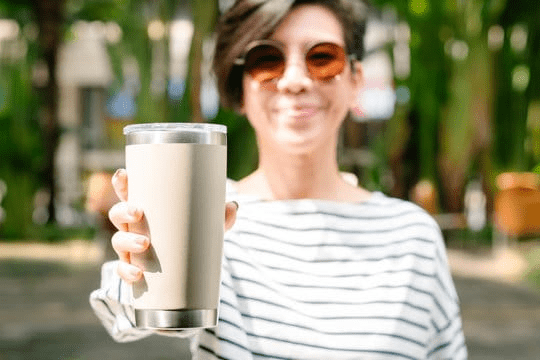 Keeps beverages hot or cold for hours
An insulated stainless tumbler will keep your beverages cold or hot as you like. Be it a hot coffee, tea, or chilled lemonade, you can relish it at a favorable temperature after long hours. Tumblers do not fog up your lids, nor do cold liquids cause condensation and sweat.
A one-time investment
If you observe, plastic or fiber bottles do not last long as they are not fall-proof and durable, whereas stainless steel tumblers will cause you to spend more at first as they are stable and sustainable.
It's time to look at some Tumblers as good as the Stanley Cup. I will also briefly discuss their features, pros and cons. So let's get started!
Finding cups similar to Stanley's The Quencher H2.0 Flowstate™ Tumbler is not so challenging. Many brands claim to provide the same benefits as Stanley's but are often faulty. One needs a spy eye to find a tumbler resembling Stanley's cup at a reasonable price.
One of the tumblers that stands out as the best Stanley Cup dupe is from Hydropeak. The environmentally conscious brand aims to manufacture efficient beverageware of the highest qualities. The Hydropeak Tumbler range is worth checking out as they produce versatile and rugged cups for everyday hustle.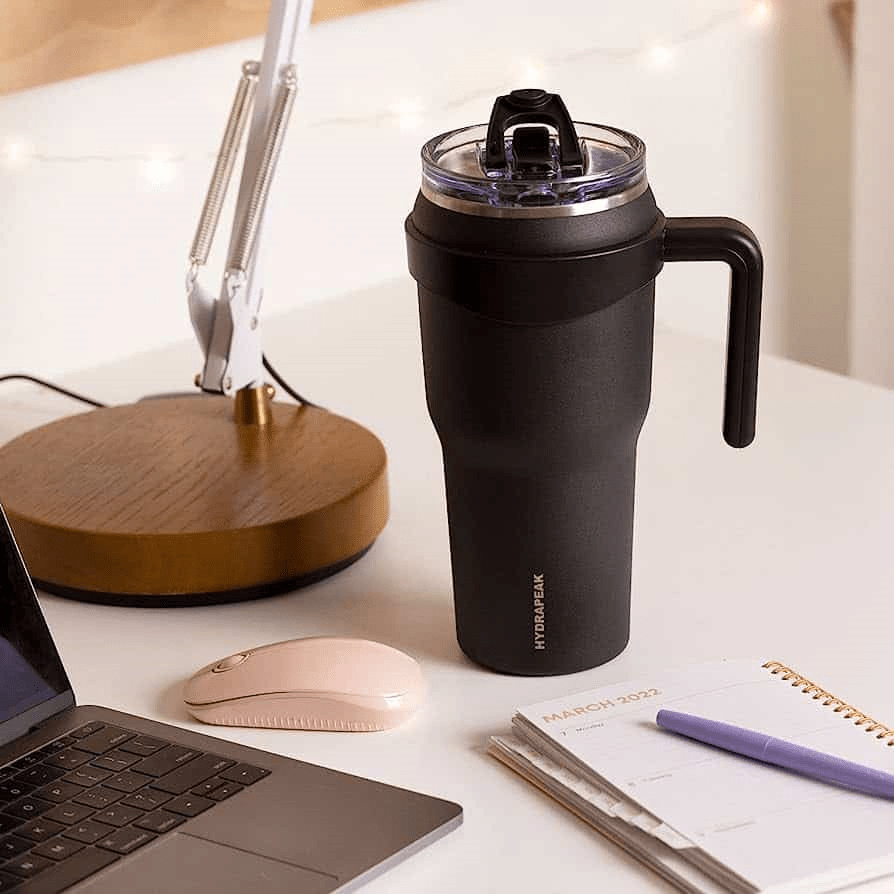 The Ins and Outs
Body made of high-quality stainless steel
Double-walled and vacuum insulated
Copper border to maintain the temperature
Sturdy handle for a firm grip
2-in-1 lid (Straw and Sip)
Keeps drinks cold for 34 hours and hot for 10 hours
Top Drips
Lightweight
Spill-proof and Sweat Proof
No leaks
Switchable lids
Easy to clean
Cupholder friendly
BPA free
Available in 16 exciting colors
Leaks
The straw has poor suction.
As the name suggests, the brand is inclined to manufacture sleek and stylish water tumblers with organic raw materials. The family-owned company started in 2006 with its sustainable and simplified drinkware products, intending to discard the dependence on reusable plastic water bottles.
The versatile cup is convenient and fits perfectly into your busiest routines. If you are the one who wants to keep a record of the water intake, I would like you to have a close look at this. It has ounce measurement markings on the inner wall to keep track of your hydration.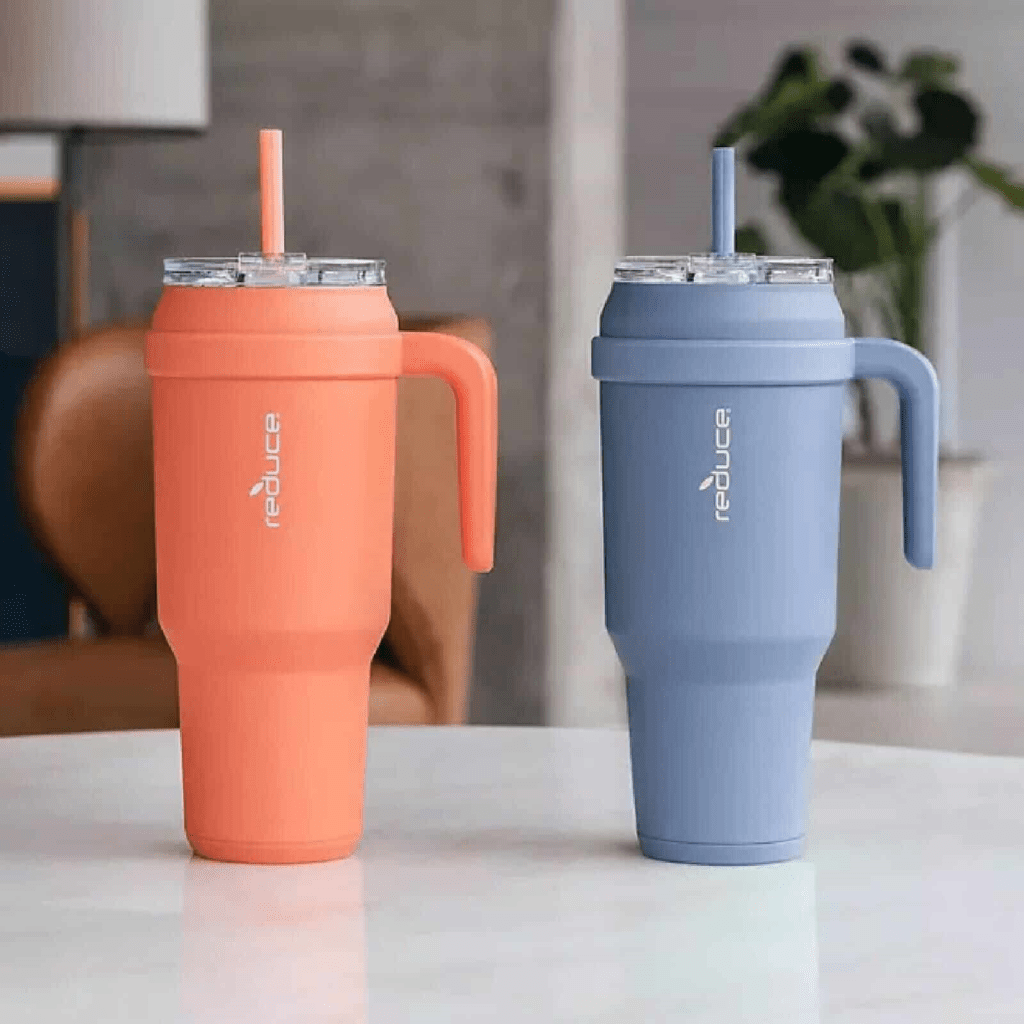 The Ins and Outs
Stainless steel mug
Soft Sit Base
Versatile lid with three different openings (Sip, Drink, and Gulp)
Inner ounce markings for record
Ergonomic Handle
Keeps drinks chilled for 34 hours straight
Top Drips
Sweatproof
Dishwasher safe
It fits almost every cup holder
BPA free
Reusable Straw
Durable and 100% Recyclable
Leaks
The Tumbler only maintains the temperature of chilled beverages.
Launched in 2016, this brand came out as a solid protest to oppose the use of plastic bottles. Based on a simple belief, the brand emphasizes the effortless adaptability of individuals. It helps them normalize tumblers and cups by offering premium quality cups at reasonable deals.
With convenient incorporation into your daily routines, the Simple Modern Trek Tumbler is the perfect choice, minus the drawbacks, if you want something like Stanleys.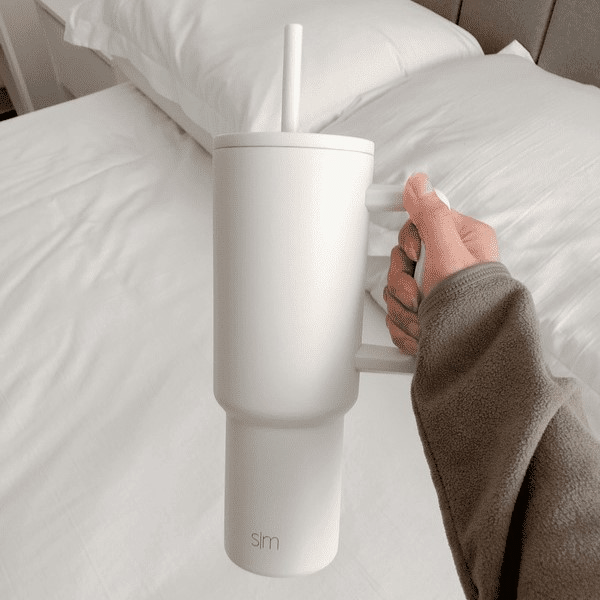 The Ins and Outs
Sleek and slim design
Quarter-turn Lid technology
Double wall insulation
Steady handle for a comfortable hold
Top Drips
Cupholder friendly
Leak-proof
Spill-resistant lid
It comes with a straw lid
Drop test passed
Personalized Tumbler
Available in 28 attractive colors
Leaks
The ice melts away quickly.
If you wish to add a healthy accessory, it better be the Hydra Flow Capri Tumbler. Known for its elegant body design, the brand upgrades your daily dose of hydration.
Hydra Flow provides intensive hydration to everyone, especially those who grind all day and remain hydrated all day. Manufactured with premium raw materials, Hydraflow is a perfect choice for people who complete their look with uniquely designed water tumblers.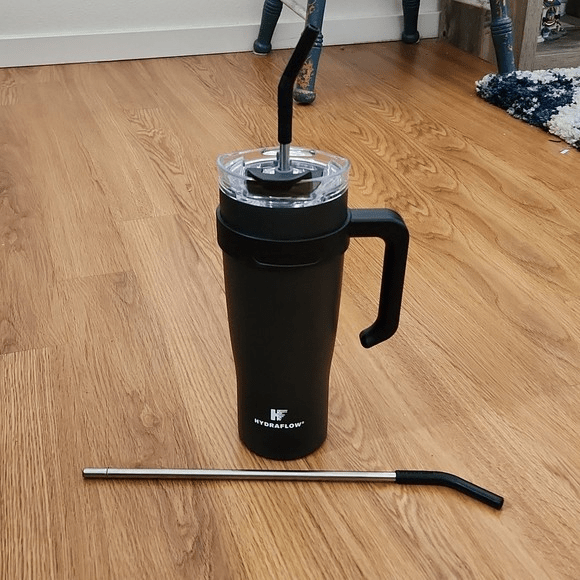 The Ins and Outs
Made with a unique blend of stainless steel and BPA-free plastic
Copper border for insulation
Dual lid design
Soft silicone-tipped straw
Triple wall Vacuum insulation
Top Drips
Prevents condensation
No metallic taste
Dishwasher safe
Versatile and flexible
BPA free
Durable
Leaks
It might not fit in some cup holders.
A lifestyle marketplace that provides high-quality products without costing you an arm and leg. So if you want to restock your Tumbler without stressing on your monthly budget, this is the ultimate choice for you!
The online shopping website has recently entered the e-commerce field with its financially inclusive deals for all income groups.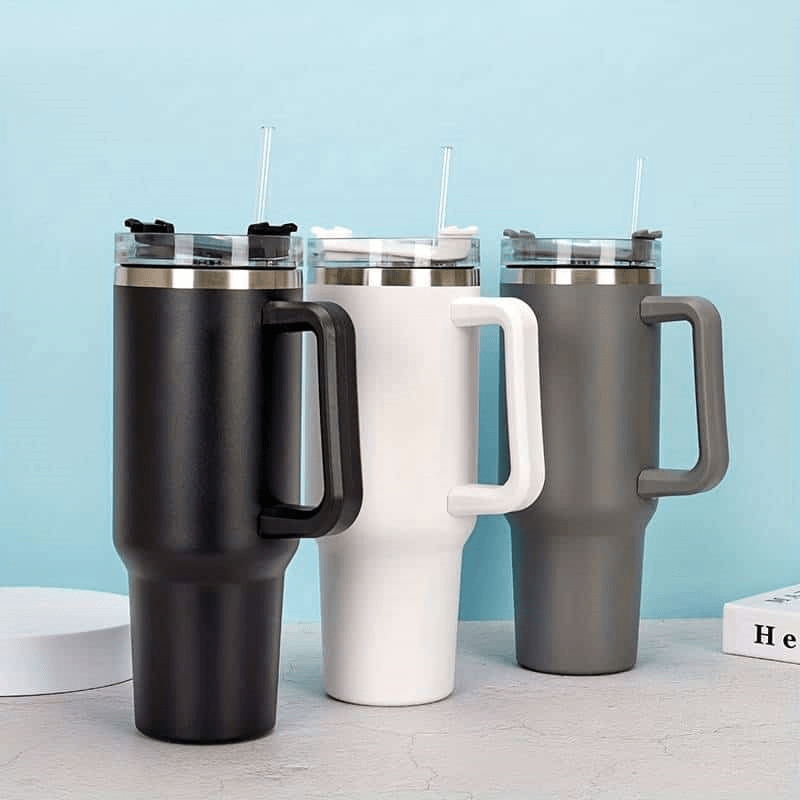 The Ins and Outs
Made with stainless steel
Ergonomic handle for a firm grip
Double vacuum insulation
Top Drips
Shatterproof
Sturdy and great capacity
Car cup holder friendly
Portable and Durable
BPS free
Available in 10 vibrant colors
Leaks
The bottle is quite heavy.
Founded in 2002, Five Below is one of the most affordable home care brands ever. With a wide range of water bottles and tumblers for schools, offices, and gyms, the back-to-school essentials and stationery too are worth considering. Price points start from just $1; you can find great deals without compromising quality.
The Five Below's Hydra Quench Tumbler recently stormed the internet due to its uncanny resemblance to the Stanley Cup. Look at the features to know more.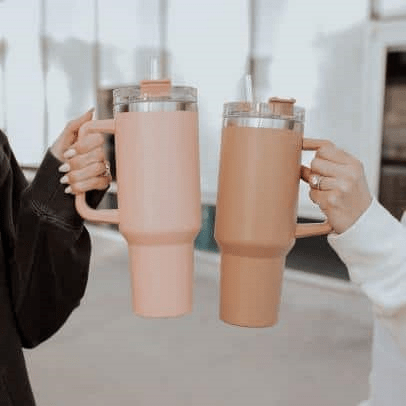 The Ins and Outs
Stainless Steel Insulated Tumbler
Sturdy handle for a solid grip
Keeps your beverages hot and cold for hours
Top Drips
Amazing Travel Cup
Sweatproof
Durable
Affordable price
Versatile use
It fits in a Car cup holder
BPA free
Leaks
The Tumbler has limited color variants to choose from.
The next Stanley Cup Dupe comes from a decent water bottle brand Sursip. Launched in 2017, Sursip has managed to form a solid customer base with its premium quality drinkware at reasonable prices. With an aim to allow people to use simple homecare solutions in a modern and stylish manner, it continues to expand globally.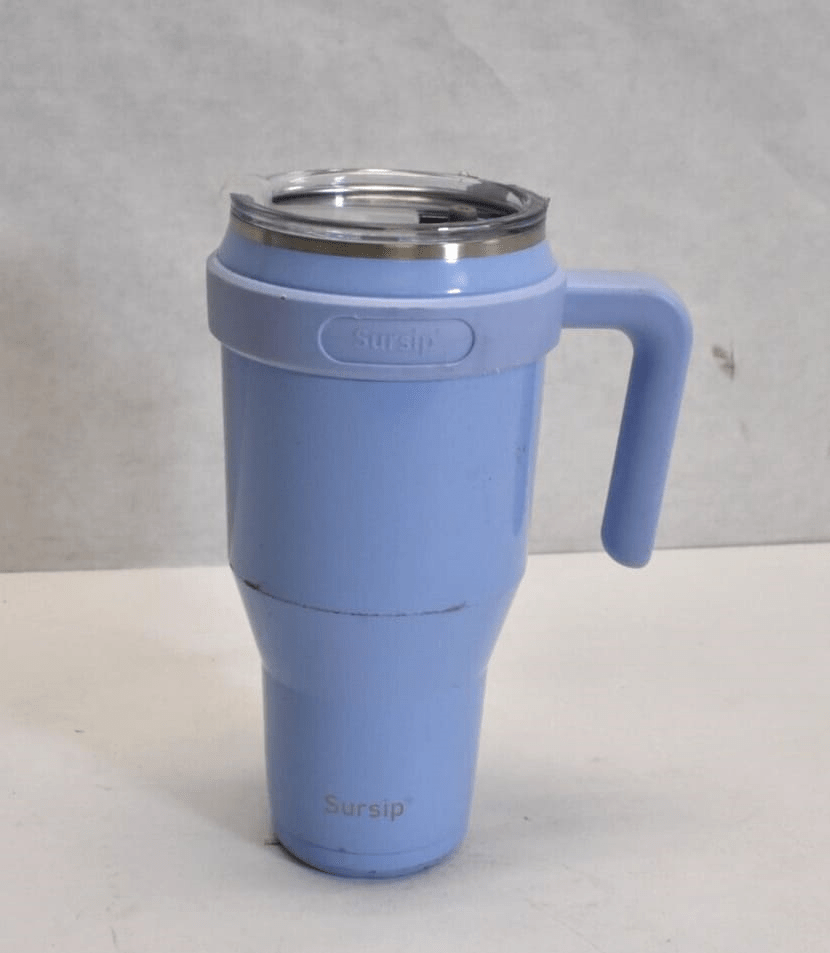 The Ins and Outs
Double Wall Vacuum Insulation
Electropolished Interior
Ergonomic Handle.
Smart lid
Stainless-steel body
Keep drinks hot for 6 hours and cold for 12 hours straight
Top Drips
Heat transfer proof
Easy to clean
Dishwasher Safe
Wide opening for ice
Sweatproof body
Versatile for outdoor activities
Portable and durable
Cup holder friendly
BPA free
Leaks
The water tumbler is heavy.
Established as a small venture in 2016, Iron Flask envisioned producing sustainable and plastic-free beverageware for a better future and healthier ecosystem. With baby steps towards their goal, they have successfully cut off harmful drinkware and manufactured premium water bottles that are cost-effective and efficient.
The Classic Tumbler from the Iron Flask waterware range is an excellent alternative to the cult classic Stanley Cup.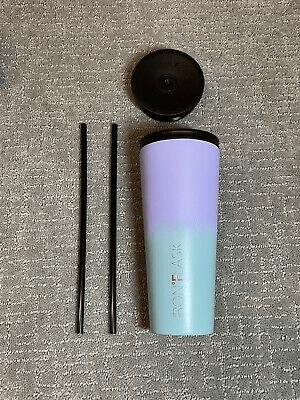 The Ins and Outs
Made from high-quality stainless steel
Powder-coated exterior body
Secure grip
Double-walled stainless steel body
Keeps beverages cold for 12 hours and hot for 3 hours
Two different insulated lids (Splash proof straw lid and leak-proof flip lid)
Rubber bottom to stability
Top Drips
It fits standard cup holders
Chic matte body and powder-coated finish
Leak-proof and ultra-durable
Damage resistant
Sweatproof body
Available in all sizes and a variety of stunning colors
Leaks
The Tumbler comes without a handle.
In 2007, a Japanese drinkware brand came into existence after two friends found it difficult to achieve their hydration goals while playing tennis. They engineered a water tumbler that could quench the thirst of sports persons amidst the game and refresh them without inconvenience.
Takeya, with a focus on innovative technology and relentless dedication, has covered all the necessary aspects of a perfect water tumbler. The Takeya 32 OZ Straw Tumbler is the ultimate choice for all fitness enthusiasts.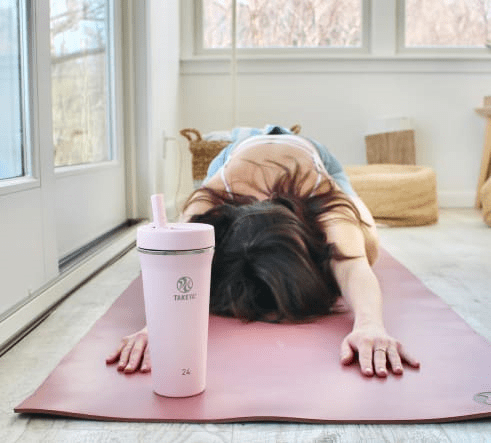 The Ins and Outs
Double walled insulation
Two straws (Standard size and Jumbo size)
Twist on lid
Wide top
Silicon Bottom
Keeps drinks cold for 24 hours straight
Top Drips
Sleek design
Spill-proof and splash-proof
Cup holder friendly
Sweatproof and zero leakage
Easy to clean
BPA free
Leaks
The water tumbler does not have a handle.
At Owala, the team is set to combat dehydration by manufacturing visually pleasing water bottles of excellent quality within your budget.
The Owala Tumbler is a chic Stanley-like Tumbler that comes with exciting features. Take a look below.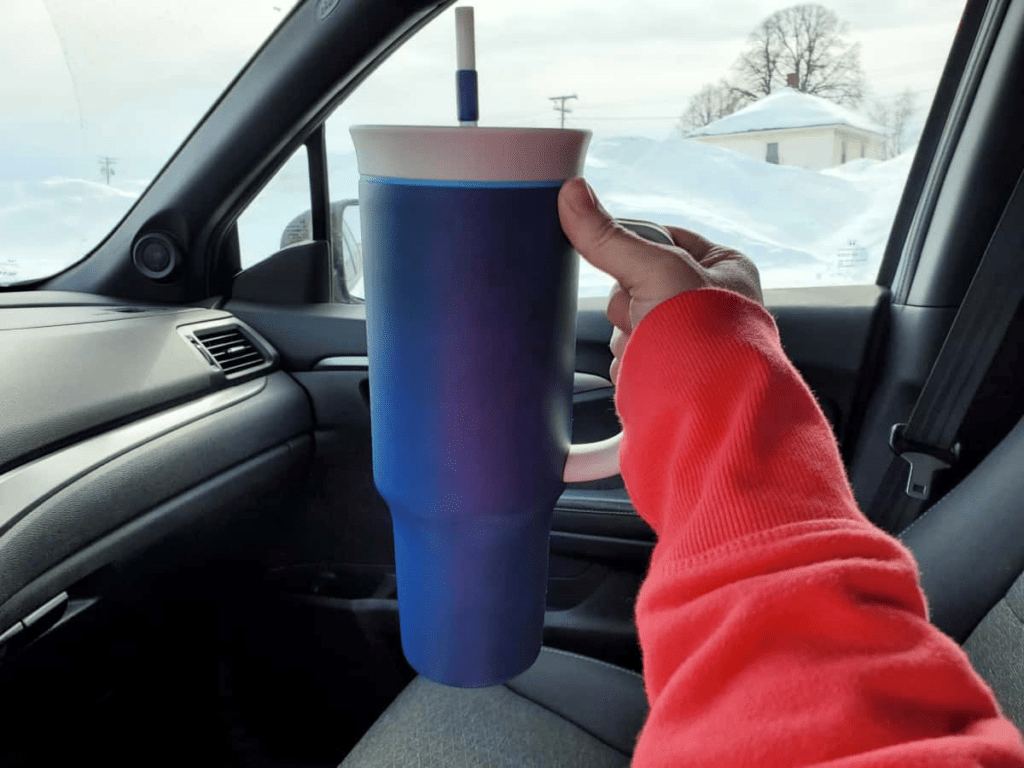 The Ins and Outs
Stainless steel insulated Tumbler
2-in-1 lid
Detachable Straw
Sturdy handle for a firm hold
Double insulation keeps drinks chilled for long hours
Top Drips
Splash resistant
Versatile with all cup holders
Wide mouth for ice
Dishwasher Safe
BPA and Phthalates free
Leaks
The Tumbler has mixed reviews online.
Last, one of the best Stanley Cup Dupe is from the Maars Drinkware. It is aimed at providing contemporary waterware to blend in with every routine. Holding tight to the core principles of functions, design, and style, Maars continues to innovate daily use homeware and make novel additions to stand out from its competitors.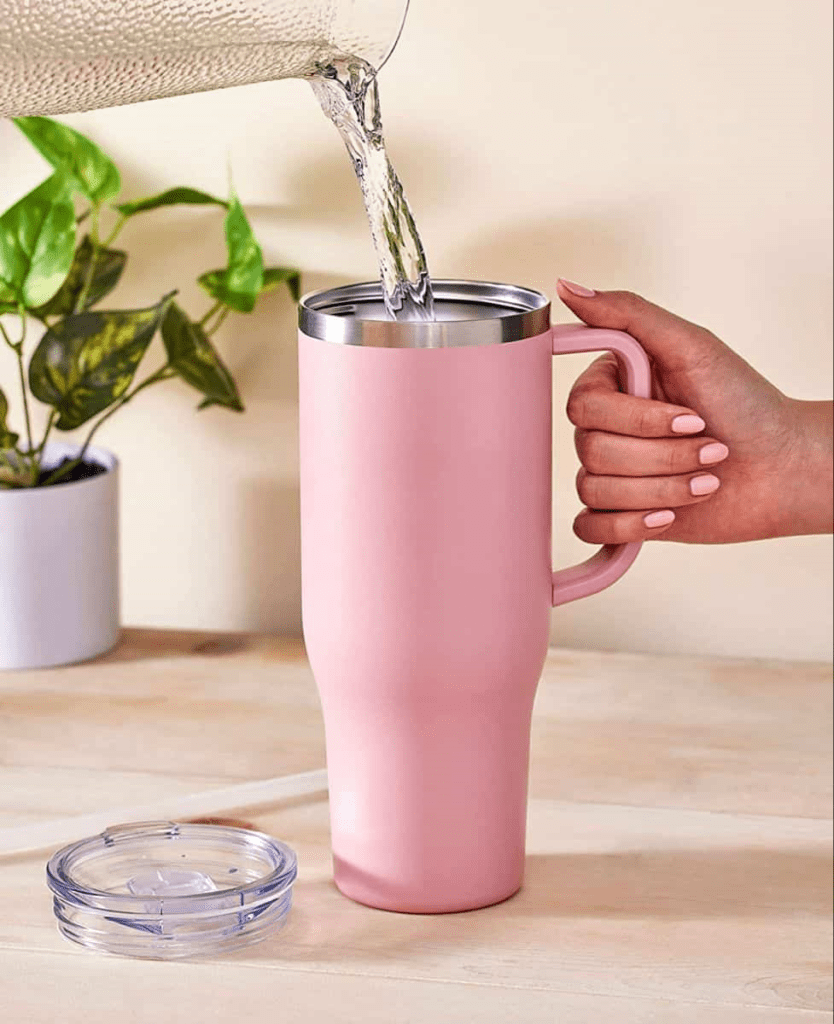 The Ins and Outs
Stainless steel body
Double insulation for the desired temperature
Large ergonomic handle
It comes with two straws
Keeps beverages hot and cold for long hours
Top Drips
Portable and convenient
Spill-proof and splashproof
It fits in almost every cup holders
Dishwasher Safe
BPA free
Available in 12 matte colors
Leaks
The Tumbler is heavyweight.
The Bests at a Look | Best Stanley Cup Dupe
Frequently Asked Questions | Best Stanley Cup Dupe
Why are Stainless Steel Tumblers so popular?
As mentioned above, Stainless Steel drinkware is the healthiest alternative to disposable plastic bottles. The sustainable consumer approach has popularised steel tumblers as they help curb plastic consumption. Many homeware brands have marketed Steel bottles in a positive light with attractive features and easy incorporation into daily routines.
Which is the best water tumbler?
One of the best water tumblers that have stolen the spotlight is the Stanley The Quencher H2.0 Flowstate Tumbler. It has outperformed all the other competitors with its exceptional water-holding capacity and wide range of variety.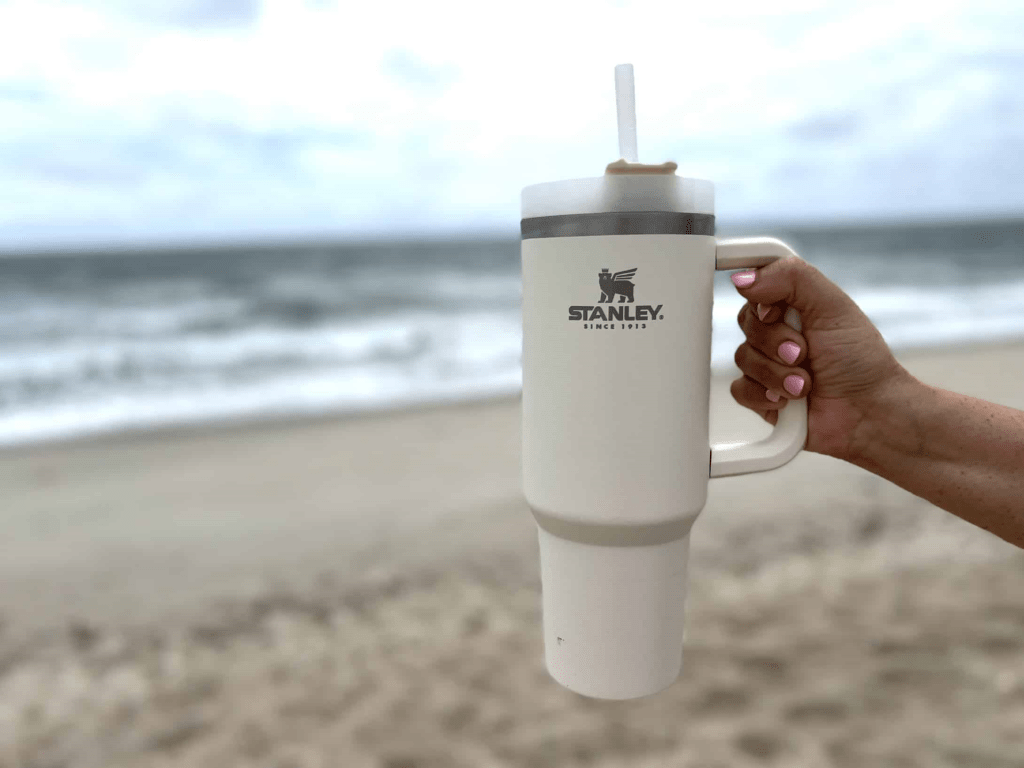 What is so special about the Stanley Cup?
The Stanley Tumbler is sustainably made with double vacuum insulation that keeps beverages cold for 11 hours and hot for 7 hours straight. Its outer features, such as the 3-in-1 lid and sturdy handle, look chic.
Why does the Stanley Cup need a dupe?
The Stanley Quencher H2.0 Flowstate Tumbler is quite expensive for a water bottle; hence, people seek more reasonable substitutes.
Which is the best Stanley Cup Dupe?
Hydrapeak Roadster 40 OZ Tumbler with Handle and 2-in-1 Straw Lid is the Best Stanley Cup Dupe. It mimics the extraordinary functions of the cult favorite Stanley Cup and has a similar look.
The Last Drop | Best Stanley Cup Dupe
With the increasing awareness of normalizing steel water ware, many brands have developed insulated stainless steel tumblers with promising and versatile features. One of the cult favorites is the Stanley The Quencher H2.0 Flowstate™ Tumbler. Many influencers and celebrities swear by this cup due to its stylish outer body and capacity to maintain the beverage's temperature for long hours.
However, it is too pricey for a tumbler, and many other alternatives exist for people who wish to pay a humble amount. So if you're seeking out the Best Stanley Cup Dupe, I have compiled a list of 11 Stainless Steel Tumblers that perform expensive, look trendy, and are flexible. I hope this blog post helps you find your best Stanley Cup Dupe at the best deal.
Some of our recent posts for you: