You must have guessed how much I am obsessed with Lululemon by now. Its quality and intricate designs never fail to impress me. And this time, I have caught its most underrated chestwear. Yes, the same that needs to be talked about a lot: Lululemon Energy Long-line Bra.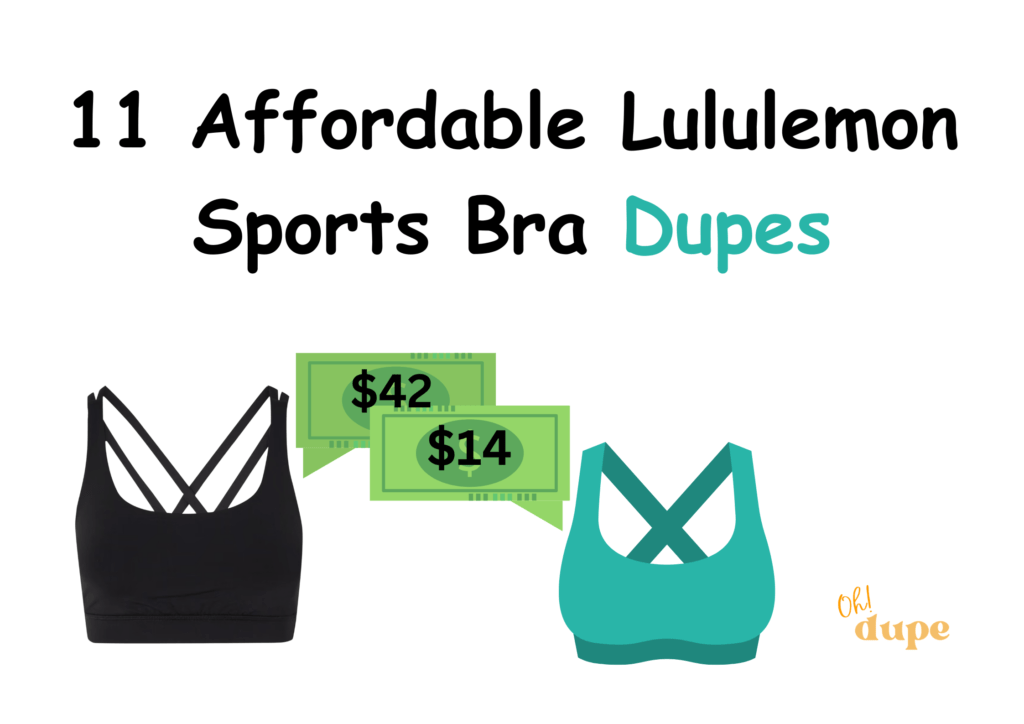 While most people were raving about the Lululemon Cloud Bra, I went on to try this and was amazed. However, $58 for a sports bra is only feasible for some gym enthusiasts; thus, many seek financially flexible options. Look no more, as I have already found 11 sports bras that are equally comfortable and supportive. Read on to find the ultimate Lululemon Sports Bra Dupe.
Lululemon Sports Bra Dupe | Best Picks!
The Lululemon Energy Long-line Bra is a multi-wear with utmost comfort and versatility. Be it your Yoga Session or Regular Training, pair this sports bra with your favorite Lululemon Shorts and have extra support and care for your breasts. Another key reason I fell for this is its exclusive Luxtreme ™ fabric, which provides slick and low friction support throughout the workout. The four-way stretchable with added Lycra helps maintain your breast shape and fits your size. Not to forget the flexibility, the sports bra features pockets for removable cups. The bra perfectly fits your body but is pretty tight on your pockets.
Get ready to find your preferred style and budget, as I will share 11 Lululemon Sports Bra Dupe products. Hang on till the end to find the best deal! So, without delay, let's explore the list of the most reasonable Lululemon-like sports bras.
The first Lululemon Sports Bra Dupe I found originates in China. Running Girl is a famous activewear brand that typically sells on retail platforms. The multi-wear sports bra boasts a cross-strap design, providing the required coverage for all outdoor activities. The V-neck bra is stretchable and moisture-wicking, which makes it a considerable and affordable substitute for the Lululemon Energy Long-line Bra.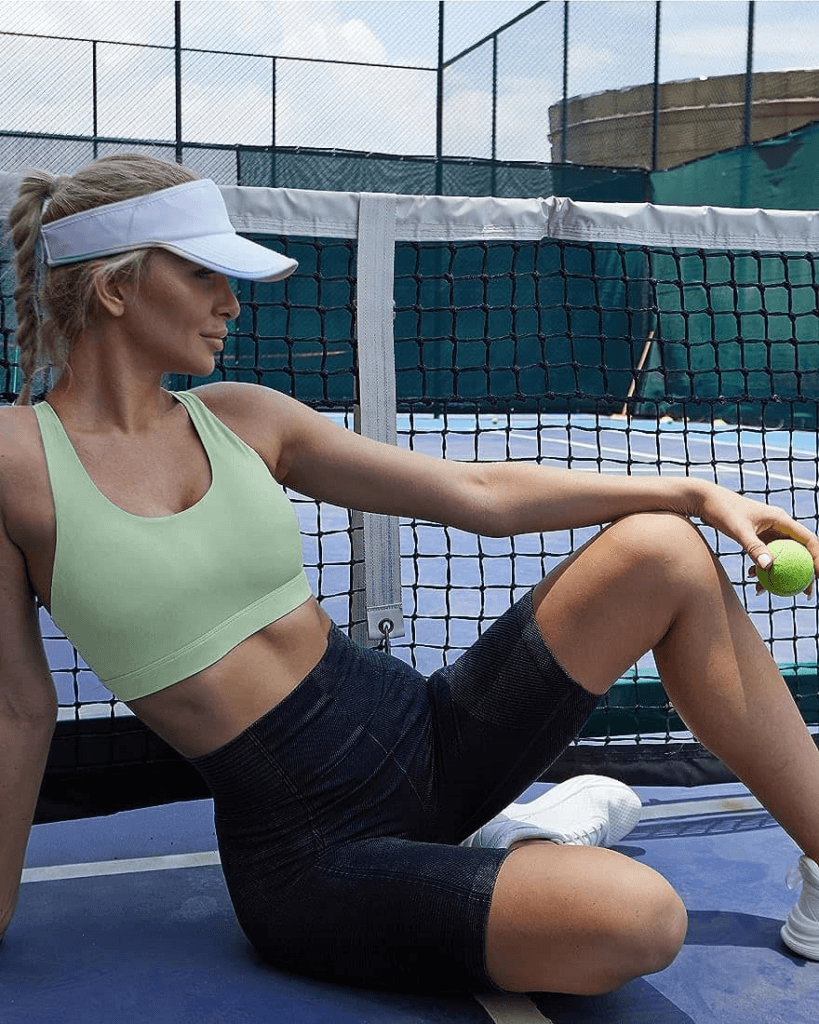 Specs
Material: Nylon, Spandex, and Lycra
Sweat-wicking cross-strap
Stretchable fabric
Removable cups
V neck design
Mid impact support
Sizes available: 6
Colors Available: 11
Pros
Sweat-wicking fabric
It provides the required support and coverage
Stylish and stretchable
Shape-retaining
Long-lasting comfort
Versatile and Durable
Cons
The straps are not adjustable.
CRZ Yoga is truly an underrated sportswear brand. Its comfortable, active fits and budget-friendly deals have always impressed me. Indeed, the brand has managed to gain popularity for its high-quality designs. I also turn to CRZ Yoga to find cost-effective options for iconic brands. While exploring the Lululemon Sports Bra Dupe, I came across this Nakedfeel Strappy Long-line Bra. The key feature is its buttery smooth, skin-like fabric that feels gentle and comfortable.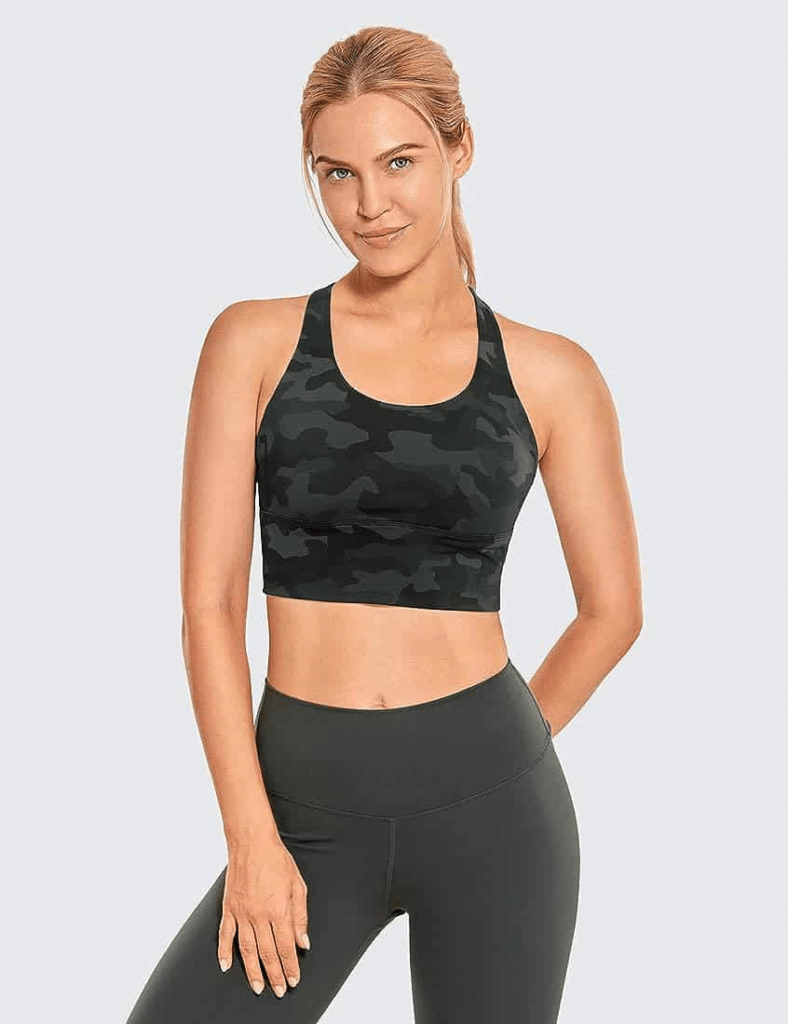 Specs
Material: Polyamide and Spandex
Four-way Stretch
The long-line design offers full coverage
Medium support
Removable pads pocket
Cool to touch
Sweat-wicking
Strappy back design
Sizes available: 5
Colors Available: 12
Pros
Buttery smooth fabric
Chafe-free comfort
Provides good support and coverage
Lightweight and fashionable
Cons
Many people encountered fitting issues.
If you seek a covered back bra, look no further than the Heynuts Long-line Sports Bra. It is for everyone who feels uncomfortable and is conscious about showing too much skin. The long-line fit is constructed with soft, breathable fabric and provides decent coverage and support. Besides this, it has a cross-back design to ensure a perfect back fit and flexibility.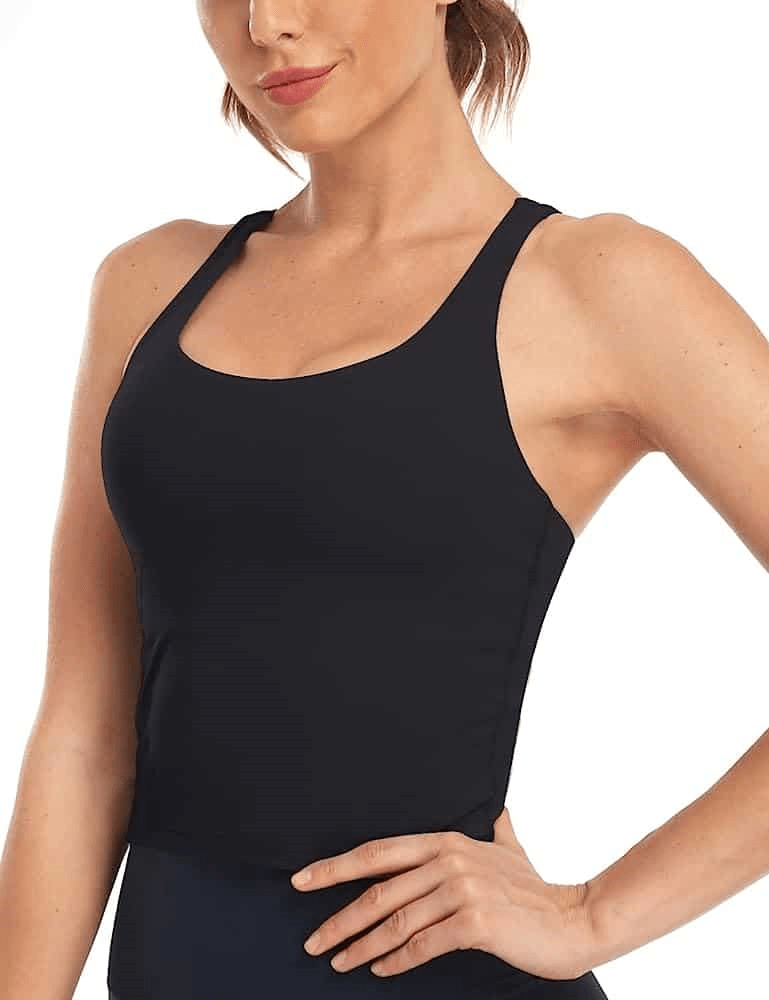 Specs
Material: Nylon and Spandex
Four-way Stretch
Breathable and Sweat Wicking
Long-line design and medium-impact
Removable cups
Sizes Available: 5
Colors Available: 12
Pros
Smooth and comfortable fabric
Breathable and sweatproof
Cross-back design for optimum support
Flexible and versatile
Cons
The built-in bra is slightly visible.
I discovered this brand online. I didn't expect much, but this sports bra was worth trying. For those who prefer a body-hugging fit minus the discomfort, hop on the link and get yours! The elastic band keeps your breasts in place and provides a no-bounce support. The crisscross back straps deliver a stylish look and flexible movement.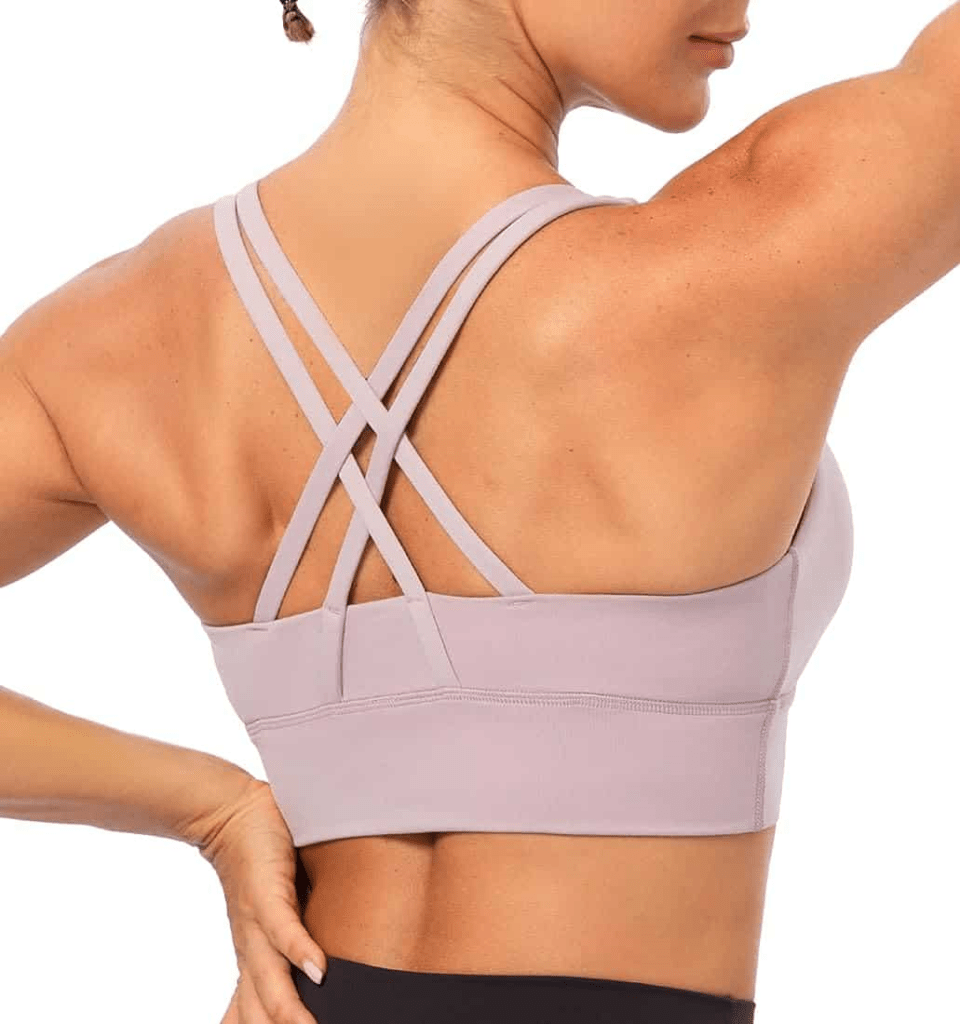 Specs
Material: Nylon and Spandex
Body-hugging fit
Crisscross back design
Built-in cups
Pull-on and wire-free
Medium support
Sizes available: 4
Colors available: 16
Pros
No bounce support
Crisscross back strap
Customizable padding
Soft and stretchable fabric
Compressive and supportive
Cons
A lot of mixed reviews online.
Started in 2013, Queenieke is an affordable activewear brand that focuses on manufacturing high-quality workout staples. The collection has pocket-friendly substitutes for numerous famous brands, including Lululemon. The Medium Support Cross Strappy Sports bra resembles the Lululemon Energy Long-line Bra. The key feature is the anti-bacterial technology that helps maintain your skin's hygiene.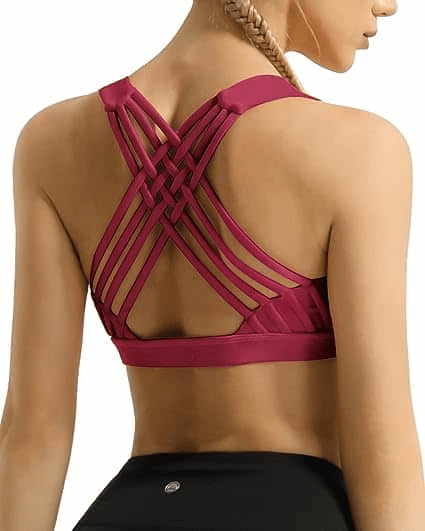 Specs
Material: Nylon and Spandex
Built for high-impact workouts
Medium support
Double fabric front panel
Anti-bacterial technology for skin hygiene
Four-way stretch
Sweat-wicking and good coverage
Crisscross strap for added support
Sizes Available: 6
Colors Available: 3
Pros
Breathable and skin-friendly
Soft and gentle fabric
Sweatproof and flexible
Stylish and lightweight
Retains shape post-washing
Cons
There are very few user experiences.
Your hunt for a tank top style long-line sports bra ends with the Desol Collection. One of the bestselling sportswear brands on Amazon, it boasts a buttery soft, flexible, and comfortable fabric. Adjustable straps at the back are the highlight of this sports bra cum tank, as it allows you to alter the fit freely.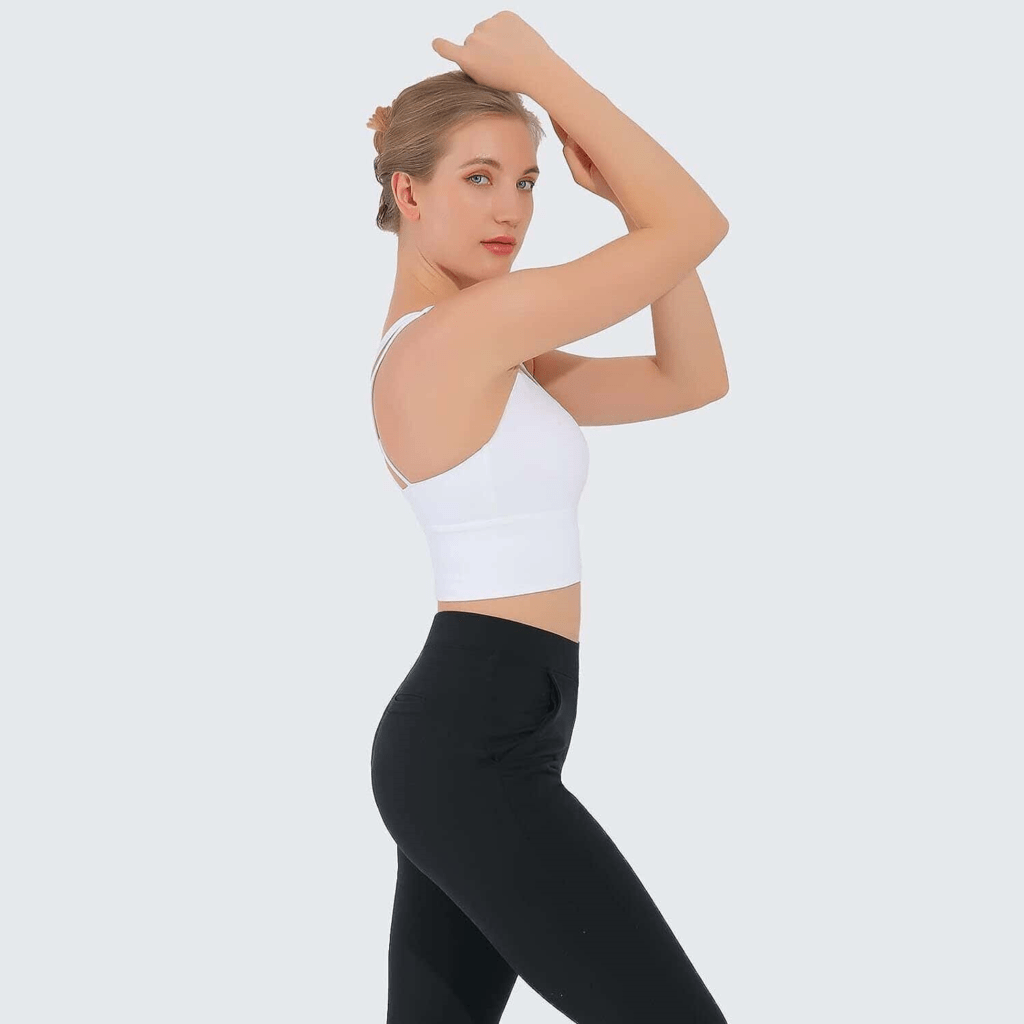 Specs
Material: Nylon and Spandex
Adjustable elastic shoulder strap
Double layer design
Four-way stretch fabric
Built-in removable pad
Well ventilated fabric
Sizes Available: 4
Colors Available: 6
Pros
Soft, lightweight, and breathable
Adjustable elastic strap
Mesh inner panel for ventilation
Thick and layered fabric
Cons
This sports bra from Botel features the most accessible hook and eye closure and ensures widened support. Made with ultra-soft and stretchable fabric, it allows comfortable workout sessions. The moisture-wicking versatile bra effectively supports your chest and is flexible according to your preferences.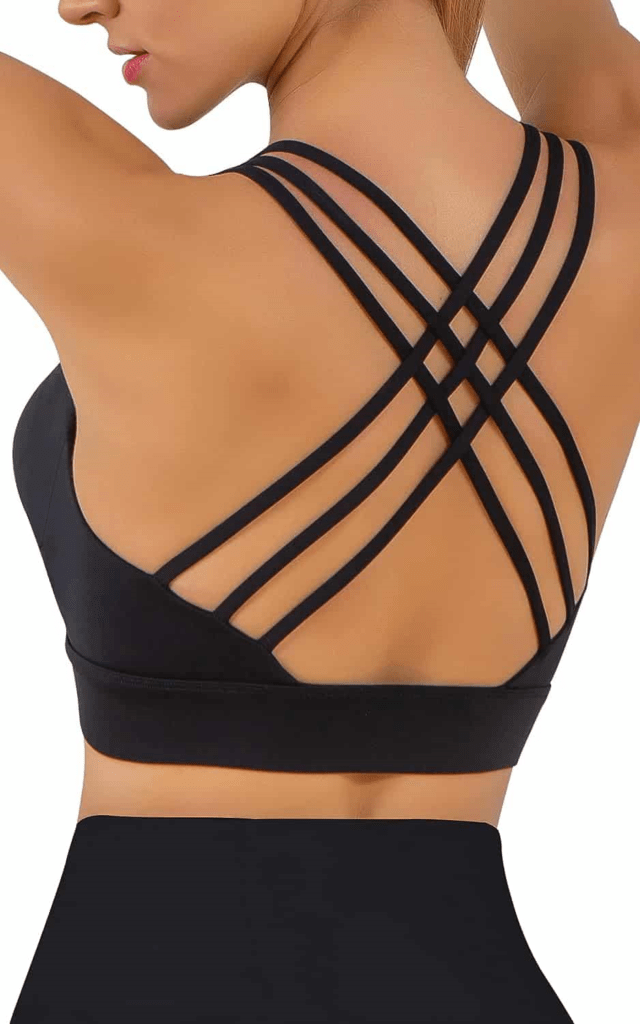 Specs
Material: Nylon and Spandex
Removable pads
Hook and eye closure
Crisscross back design
Sizes Available: 6
Colors Available: 13
Pros
Quick drying fabric
Widened design for the plus-size
Breathable and sweatproof
Supportive bra with thicker straps and wider hems
High elasticity and gentle compression
Convenient adjustment and extra coverage
Cons
Most users question its high-impact support.
No doubt, Walmart has good quality, reasonable options for high-end products. This Lululemon Sports Bra Dupe is from a local brand. At first, I was skeptical about the product; however, the quality was impressive. The elasticity and breathability of the fabric allow a dry and sweatproof yoga session. Besides, its crisscross straps look stylish and offer a good back fit.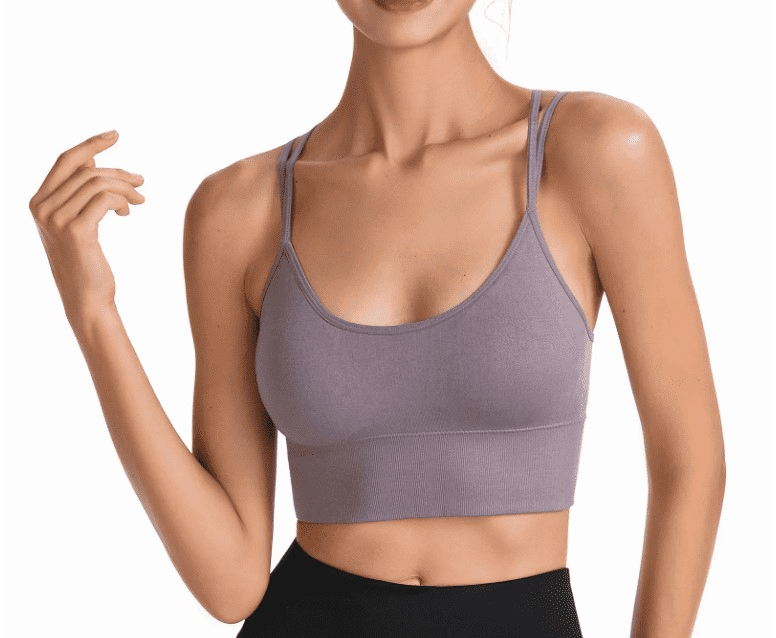 Specs
Material: Nylon and Spandex
Medium Impact
Highly elastic and moisture-wicking fabric
Detachable pad
Cross back fit
Fixed double shoulder strap
Sizes Available: 4
Colors Available: 5
Pros
Well-shaped and stretchable
Smooth and cool fabric
Sufficient support
Wide waistband
Multifunctional and fashionable
Cons
Very few user reviews are available online.
I have mentioned the American Eagle-owned Aerie in almost all the Lululemon Dupe Series. It is one of my go-to sportswear brands because it has a budget-friendly price point and durable products. This sports bra from the Real Me Hold Up collection is the enhanced version of the Lulu sports bra, as the broad elastic provides extra support and good coverage. Not only this, it also features a sweat-wicking and lightweight feel to avoid uncomfortable workouts.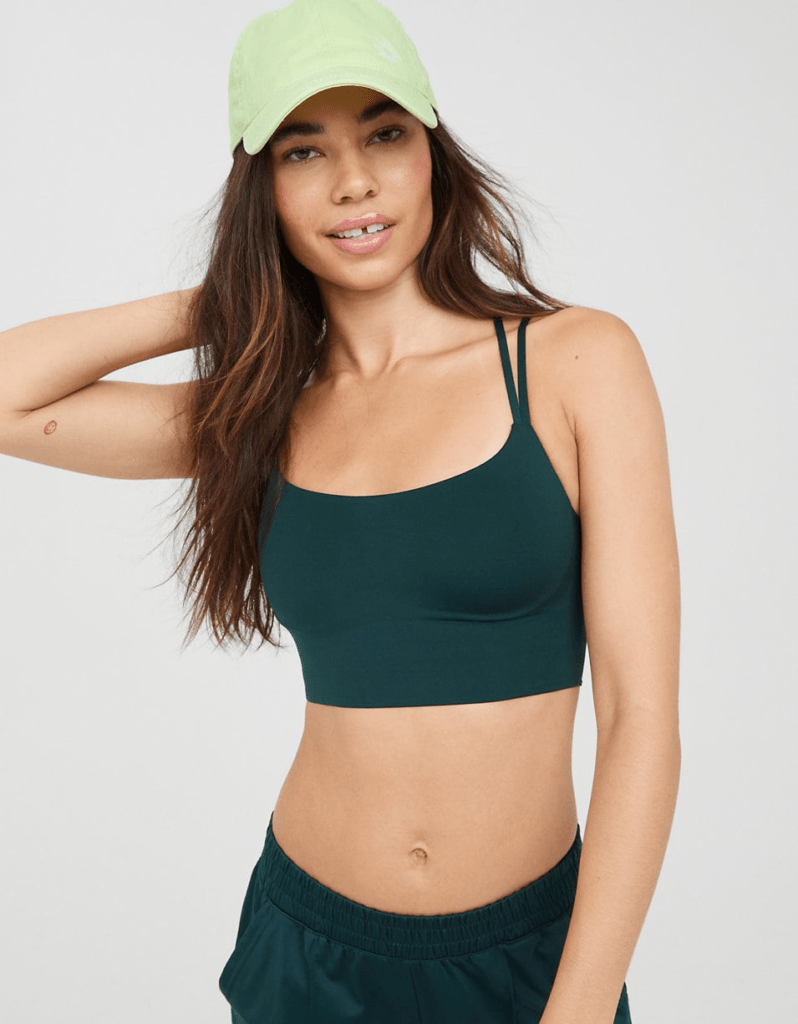 Specs
Material: Nylon and Elastane
Long-line fit
High support
Extra waistband for full coverage
Sizes Available: 14
Colors Available: 6
Pros
Firm hold and lift
Lightweight and smooth fabric
Fast drying
Wideband for sufficient support
SweatproofSweatproof
It fits true to size
Cons
A lot of customers complained of deteriorated quality after one wash.
This sports bra from Yianna is a great Lululemon Sports Bra Dupe with a fancy back strap design. Featuring moisture-wicking technology, the sports bra also features stretchable and shape-retaining material. It also has a detachable pad for convenient adjustment and long-lasting comfort. This unique and versatile sports bra looks stylish as well as accelerates performance.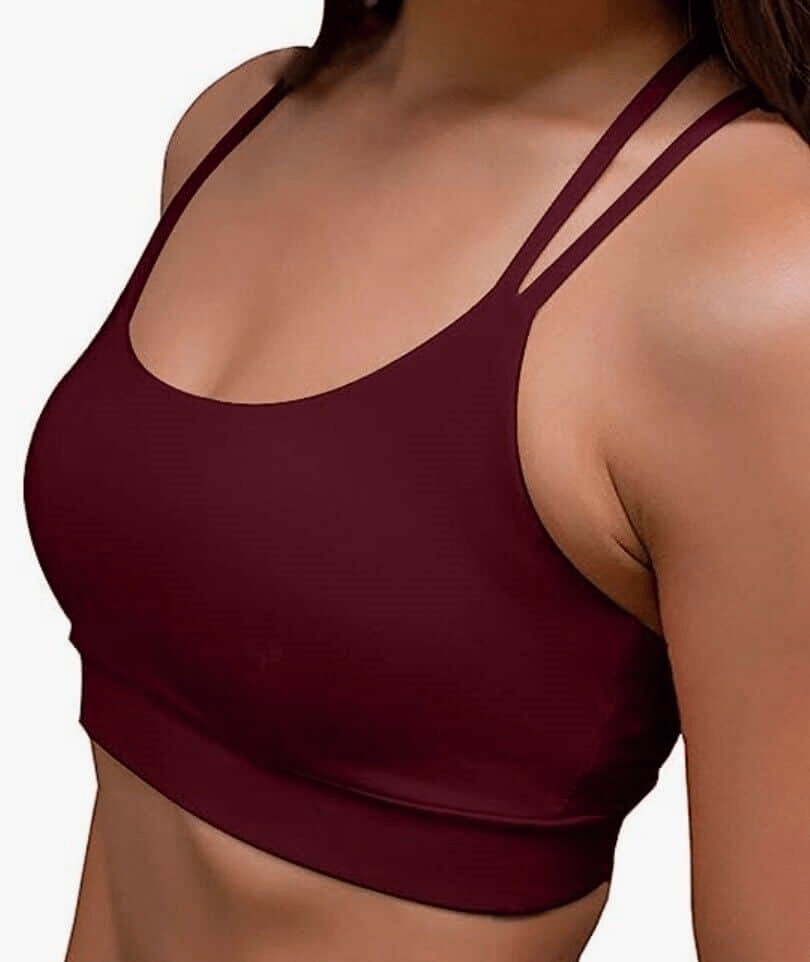 Specs
Material: Polyester, Spandex and Lycra
Wire-free pull-on sports bra
Sweat-wicking cross strap
Medium support
Sizes Available: 5
Colors Available: 6
Pros
Sweatproof
Full coverage and firm hold
Shape-retaining and maximum comfort
Moisture wicking fabric
Multifunctional, stretchable, and versatile
Convenient
Cons
The straps are non-adjustable.
Under Armour is the preferred sportswear brand for most fitness enthusiasts. It is best for low-impact exercises and is engineered to provide the utmost ventilation and required support. The soft moisture-wicking material is made from a four-way stretchable material that ensures flexible movement.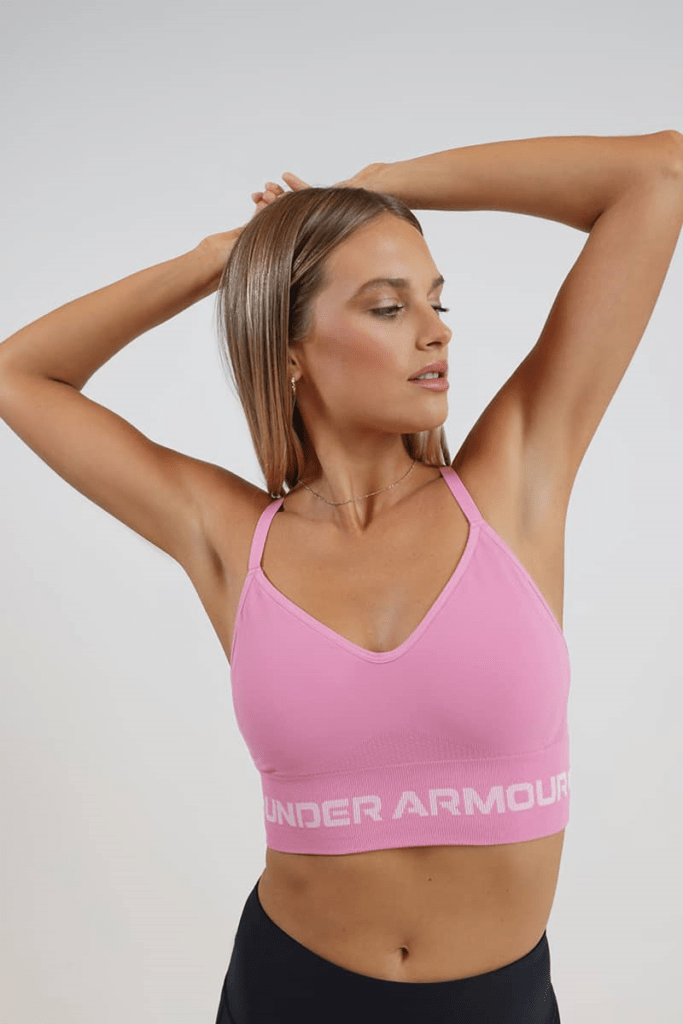 Specs
Material: Nylon and Elastane
Soft and removable cups
Low-impact sports bra
Skinny strap
Four-way stretch material
Sizes Available: 5
Colors Available: 10
Pros
Strong strategic support
Enhanced breathability
Wide waistband
Sweat-wicking and quick-drying fabric
Comfortable and smooth
Cons
The strap needs to be better designed.
How to Choose the Perfect Long-line Sports Bra | Lululemon Sports Bra Dupe
A long-line bra is synonymous with utmost comfort and support. Since the fabric crosses the bust line and covers the waist, it gives a slimmer curve to your body. Choosing a long-line sports bra may seem challenging, but finding a perfect fit with optimum support and coverage is essential.
Now that we've seen a list of long-line sports bras, this section will help you find the one. In the dizzying plethora of brands and bras, it is pretty tedious. So, to cut you off from too much work, I have made a criterion based on which you can work and perform your best. Consider these four things before buying a long-line sports bra.
Fabric
First and foremost, the material of your long-line sports bra is essential. Consider synthetic fabrics like Nylon, Spandex, and Lycra, as they are weightless and breathable. Look for moisture-wicking and stretchable fabric to provide the required support to breasts and easy body movement.
Detachable Padding
Typically, long-line sports bras are padded to support your busts fully. However, not everyone may be able to fit in and may be uncomfortable. Check for removable cups or padding to customize your fit and workout accordingly. Always prefer sports bras with adjustable padding and removable cups.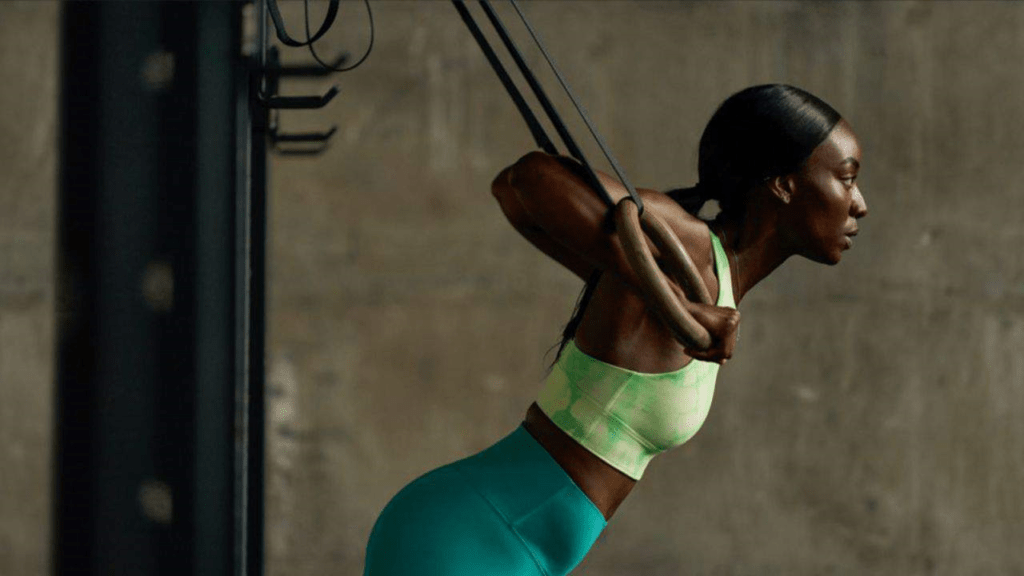 Preferred Activity
Determine the nature of the activity as it plays a key role. If you perform high-impact workouts, you must wear a high-impact sports bra that helps your breasts stay in place and avoid pain. Medium-impact activities such as hiking and aerobics require medium-impact sports bras and low-impact activities like yoga and walking need less support sports bras.
Straps
Broad straps in a long-line sports bra evenly distribute the weight and provide good support. On the other hand, Crisscross straps are more inclined to aesthetic appeal; however, they offer firm support and enhance your back fit.
The Best Picks | Lululemon Sports Bra Dupe
Frequently Asked Questions | Lululemon Sports Bra Dupe
Does Lululemon Energy Bra Stretch Out?
No. The Lululemon Long-line Energy Bra does not stretch out. Crafted with premium fabric, they are flexible and durable.
What is the material of the Lululemon Energy Long-line Bra?
The layers of the Lululemon Long-line Energy Bra are carefully blended with durable synthetic fabrics, including Nylon, Elastane, Polyester, and Lycra. It also boasts a moisture-wicking, four-way stretchable feel that feels lightweight.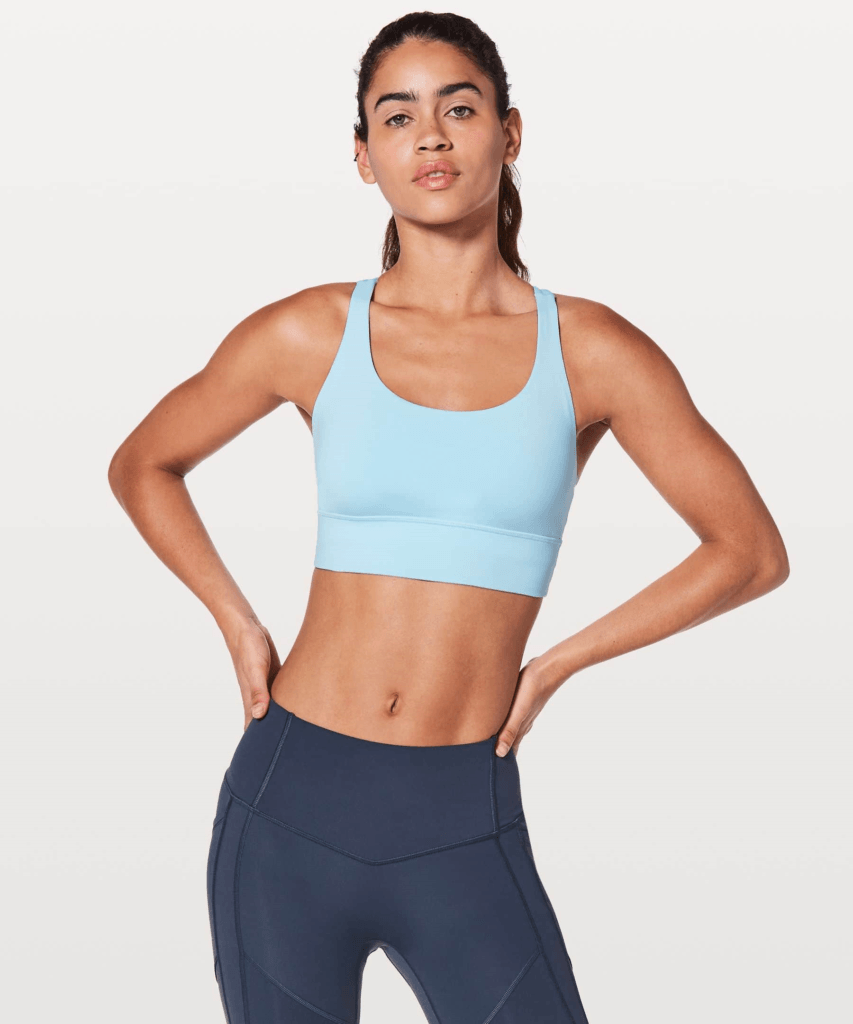 Why do we need a Lululemon Sports Bra Dupe?
The Lululemon Energy Long-line Bra is known for its multifunctionality and versatility. However, its extravagant price and mixed user experiences make people want to seek affordable options.
Which is the best Lululemon Sports Bra Dupe?
The Running Girl Medium Support Strappy Sports Bra is the best Lululemon Sports Bra Dupe. It has similar fabric and features, which makes it an absolute dupe of the OG Lulu Sports Bra.
The Last Line | Lululemon Sports Bra Dupe
Long-line sports bras are known for their flexibility and comfort and are the go-to choice of fitness freaks. We come across thousands of sportswear brands that serve a platter of designs and skin-friendly features.
In this article, I have reviewed the energy long-line sports bra from the highest-selling brand, Lululemon. However, its over-the-top price makes it financially inaccessible for many. Thus, this article explores 11 affordable alternatives to the Lulu Sports Bra.
Also, don't forget to check out a brief buying guide and the best picks from the Lululemon Sports Bra Dupe list. I hope this article helps you find sustainable substitutes for your favorite trending products.
Latest Posts: