When restocking a pair of good-quality scuff slippers, the only brand I want to turn to is Ugg. Having worn a Ugg for a long time, I finally bought the luxurious Ugg Scuffette II. The amount of comfort and coziness that it provides is worth every penny. However, $95 is expensive for an in-house slipper and out of budget for many. So, for those looking for cute and comfy Ugg-like home scuffs, scroll below for 11 Ugg Slipper Dupes.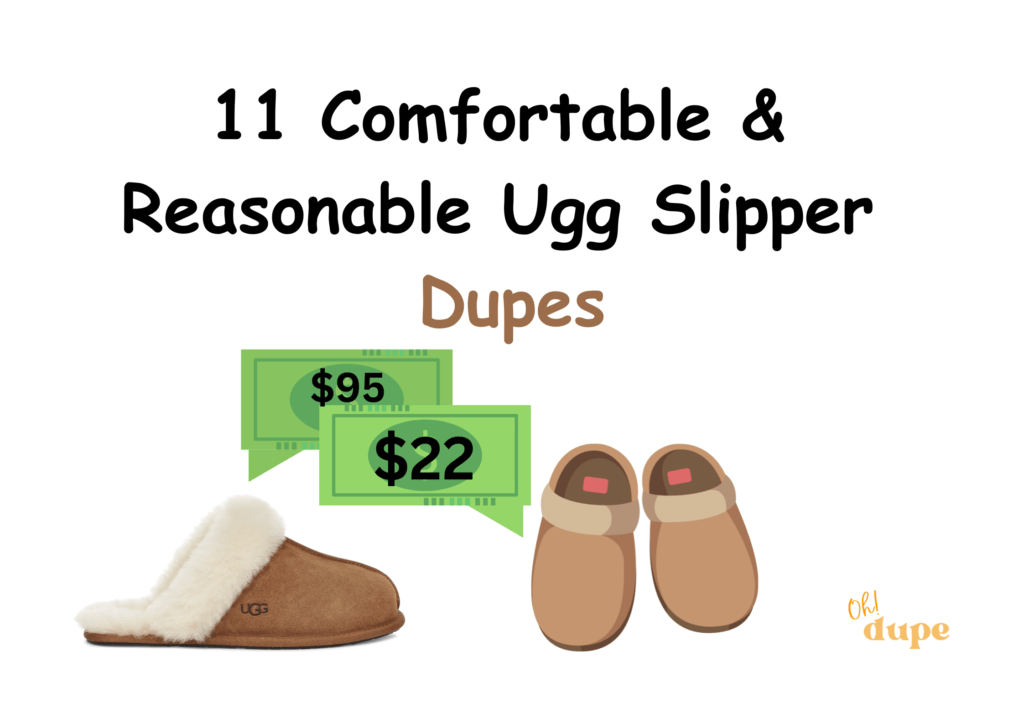 Ugg boasts a vast collection of luxurious footwear in various designs and patterns. The best-selling Scuffette II has gained raving reviews due to its unmatched comfort and soft suede material. But is it worth the splurge?
Ugg Slipper Dupes | Cost-Effective Options!
Ugg is one of the celebrated manufacturers of premium footwear. With its high-quality raw materials, comfort, and durability, it has reserved itself a spot in many shoe racks. One of their products that went viral is the Scuffette II house slippers. Its popularity escalated during the pandemic, resulting in its soaring sales. It is crafted with a Suede Upper and Genuine Sheepskin Collar from Australia, Ireland, and the UK. The outsole, made with molded rubber material, provides a plush and cushiony walking experience.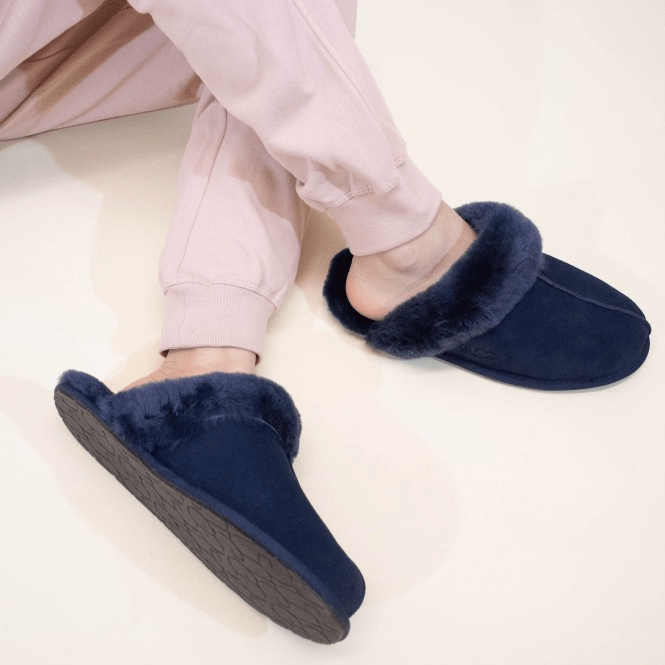 However, a lot of buyers seemed dissatisfied and described its drawbacks. Along with its hefty price tag, durability, thin sole, and size always remain considerable cons. Thus, in this blog, I have elaborated on 11 Ugg Slipper Dupes that remain high in quality and comparatively low in cost.
Founded by Florence Zack Melton, Dearfoams introduced the world's first foam-cushioned washable slipper in 1948. Since then, it has manufactured comfortable and convenient footwear at reasonable rates.
This Dearfoam Fireside women's collection scuff is the absolute Ugg Slipper dupe. They are the perfect pick to roam around comfortably, built with natural moisture-absorbing fabric, signature memory foam insole, and heavy-duty outsole.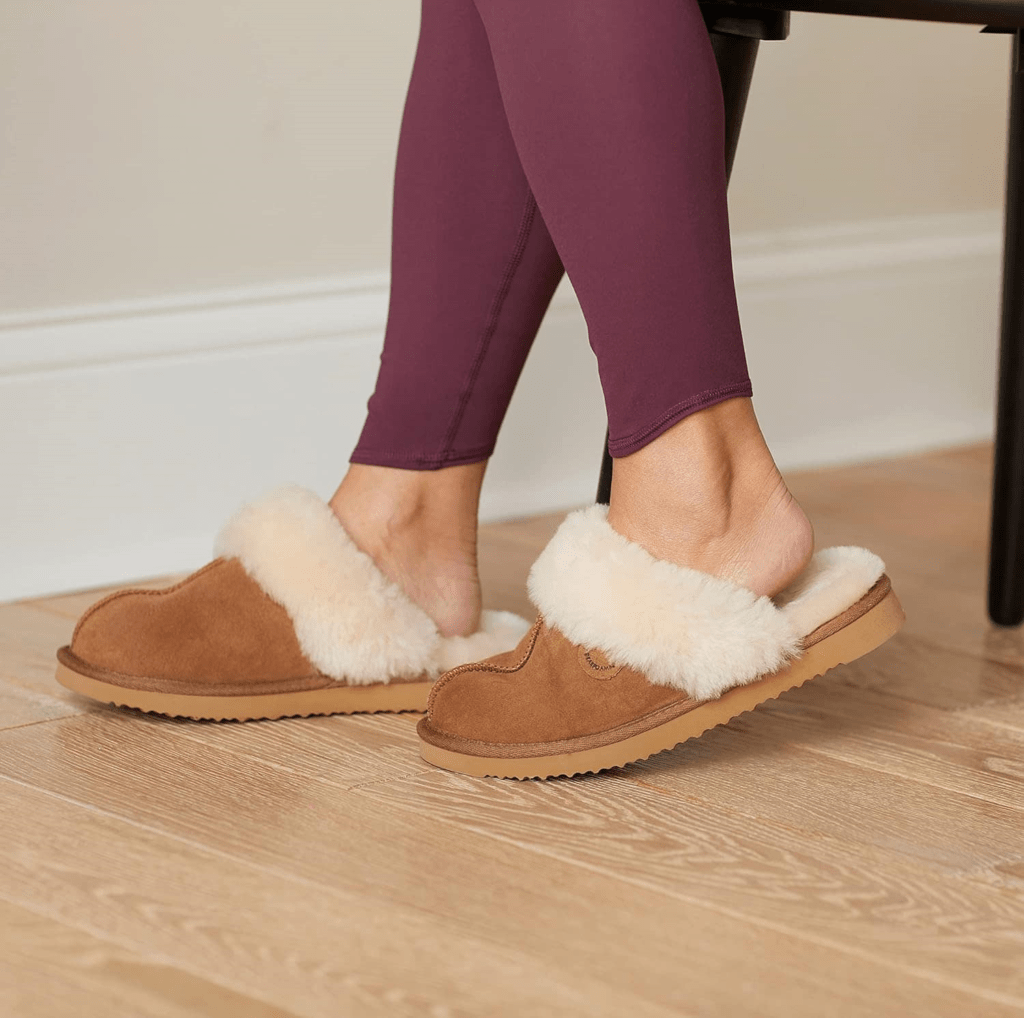 Key Details
100% Australian Shearling Lining and Footbed
Double-faced 100% Australian Sheepskin Upper
Memory Foam insoles
Easy slip-on
Indoor and outdoor-friendly outsole
Pros
Natural and super soft material
Water-resistant and moisture-absorbing
Durable and convenient
Classic memory foam insoles
Strong support
Sizes Available: 6
Width Available: 2
Colors Available: 11
Cons
The sole cushioning is absent.
Whether lounging indoors or running errands on a chilly winter morning, these slippers from Waysoft offer unparalleled comfort and extra support with their double-layered sole. They are built with 100% naturally derived and ethically sourced Australian Sheepskin and Leather Upper. The Waysoft slippers are a great alternative to the Ugg Scuffette II, not to forget the thick and durable EVA outsoles.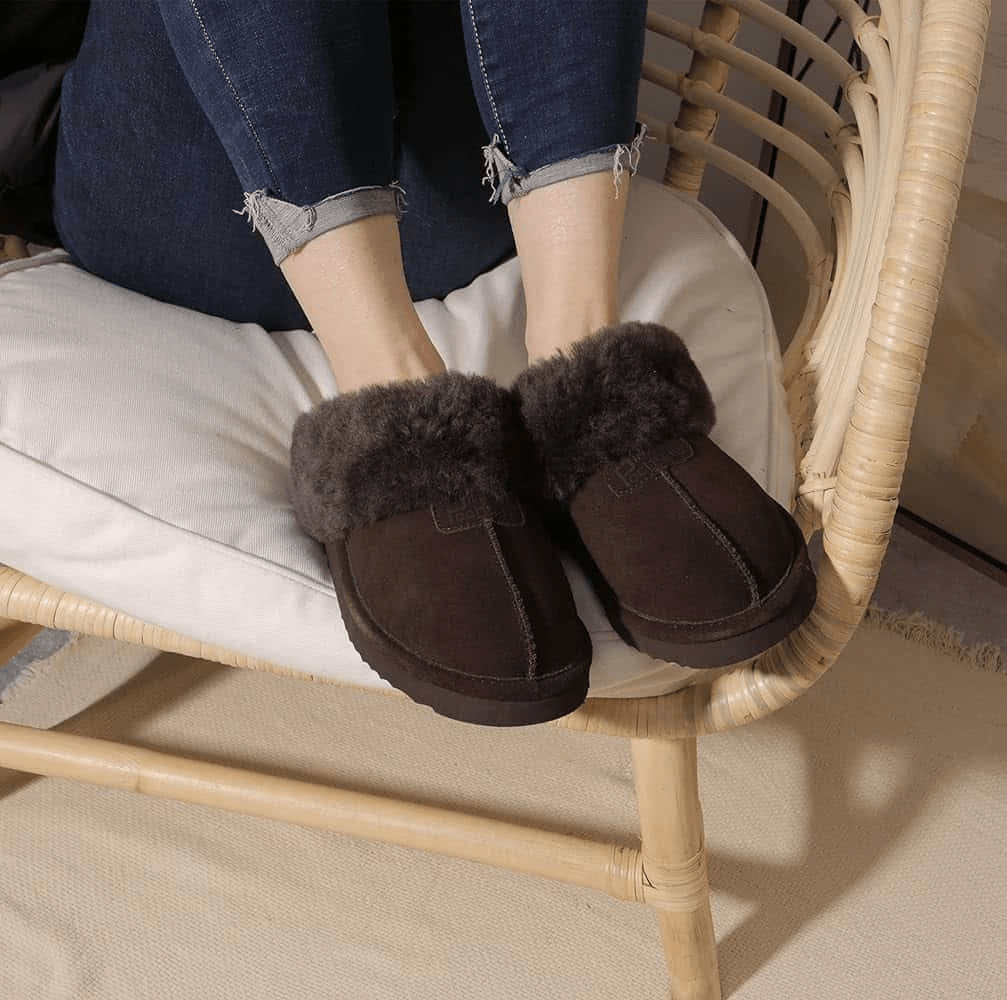 Key Details
100% Australian Twin Face Sheepskin Material
Hard EVA bottom sole
Protects and heals feet
Sizes Available: 5
Colors Available: 7
Pros
100% lambskin fabric
Warm and Soft
Breathable and lightweight
Sustainably sourced
It fits true to size
Anti-slip traction
Cons
A lot of people are dissatisfied with the product.
If you seek a vegan substitute for the iconic Ugg Scuffette, these faux fur-lined memory foam clog slippers should be your ultimate choice. Built with a microsuede upper and sherpa, it aids in reducing foot stress. The rubber outsole does an excellent job of providing a firm anti-slip hold.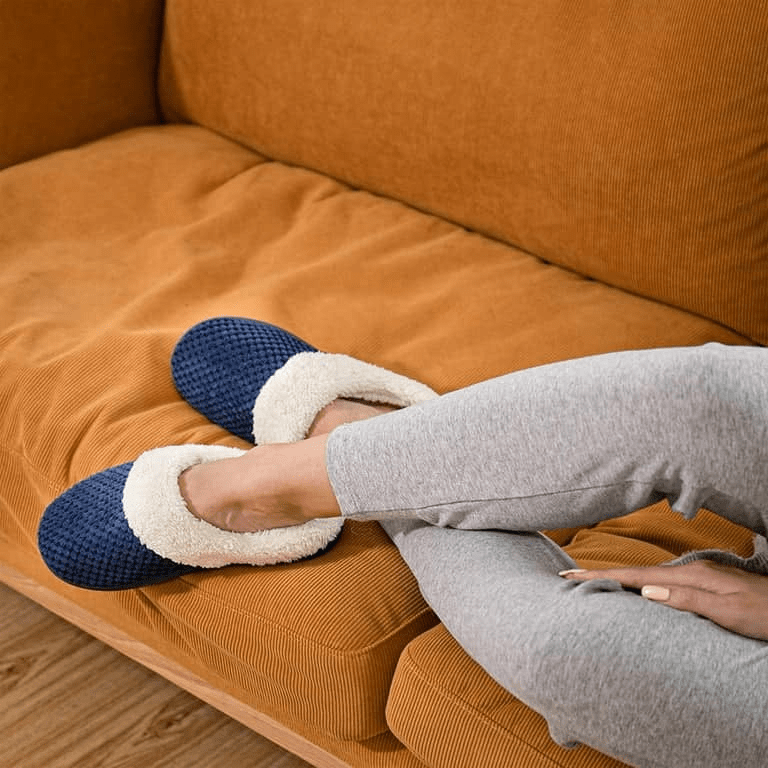 Key Details
100% Vegan Material
Microsuede Upper Fabric
Sherpa Collar and Lining
Rubber Soles
Low back collar
Sizes Available: 4
Colors Available: 1
Pros
Vegan Fabric
Easy slip-on
Reduces foot stress
Conforms the foot shape
Anti-slip soles
Machine Washable
Cons
The slippers are narrow and run small.
Featuring anti-bacterial Fresh Feet™ technology, these mule slippers match the Ugg comfort. The soft suede-made slip-on has a cozy faux fur lining, while the leather upper gives a rich and elegant look. The stain-protective fabric finish is the key highlight, as it retains a long-lasting clean look.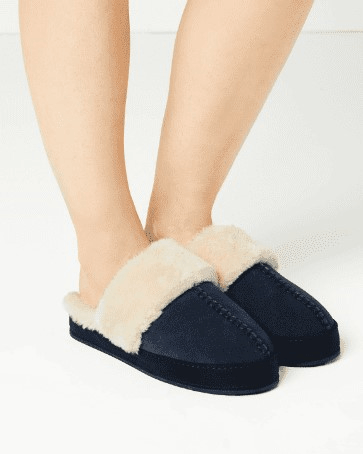 Key Details
Suede Leather and Textile Exterior
Faux Fur lining
Made with Anti-bacterial Fresh Feet™ technology
Round Toe
Regular Fit
Sizes Available: 6
Colors Available: 3
Pros
Soft and comfortable
Bacteria resistant technology
Protection finish to prevent stains
Classic look
Easy to wear
Cons
The slipper lacks strong support.
Litfun has a cost-effective footwear line that produces comfortable and cozy shoes with high-quality materials and intricate craftsmanship. One of the products that are an equivalent alternative to the Ugg Scuffette is these luxurious, warm, and fluffy slippers. The high-density memory foam slippers provide the required cushioning and support.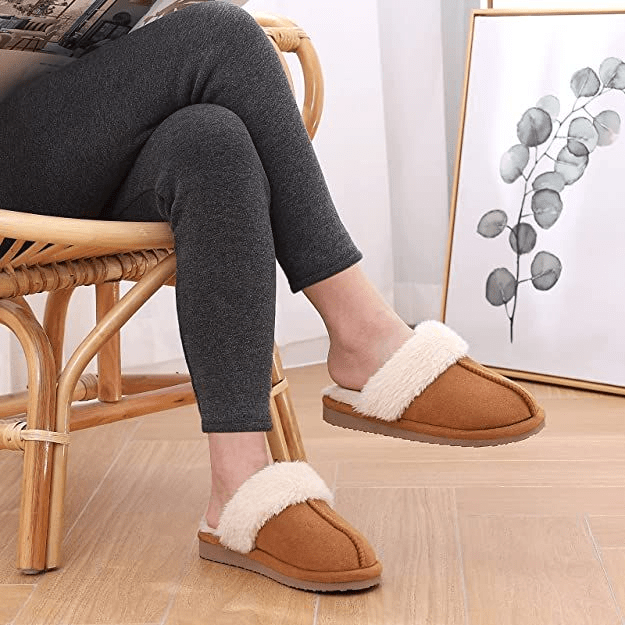 Key Details
Crafted with Coral Fleece and Suede
Faux Fur Lining
Memory Foam Footbed
EVA Outsole
Sizes Available: 5
Colors Available: 5
Pros
Warm and comfortable
Breathable material
Cozy and great cushioning
Hard and lightweight sole
Durable
Easy to clean
Non Slip
Cons
The slipper runs too wide.
Launched in 2013, Dream Pairs believes in accessible styles at affordable prices. The e-commerce brand manufactures durable and flexible slippers and scuffs. A pair of fluffy faux fur-lined slippers from Dream Pairs is all you need to keep your feet comfortable and warm. The sturdy EVA-constructed sole, faux lining, and long-lasting underfoot allow easy moving.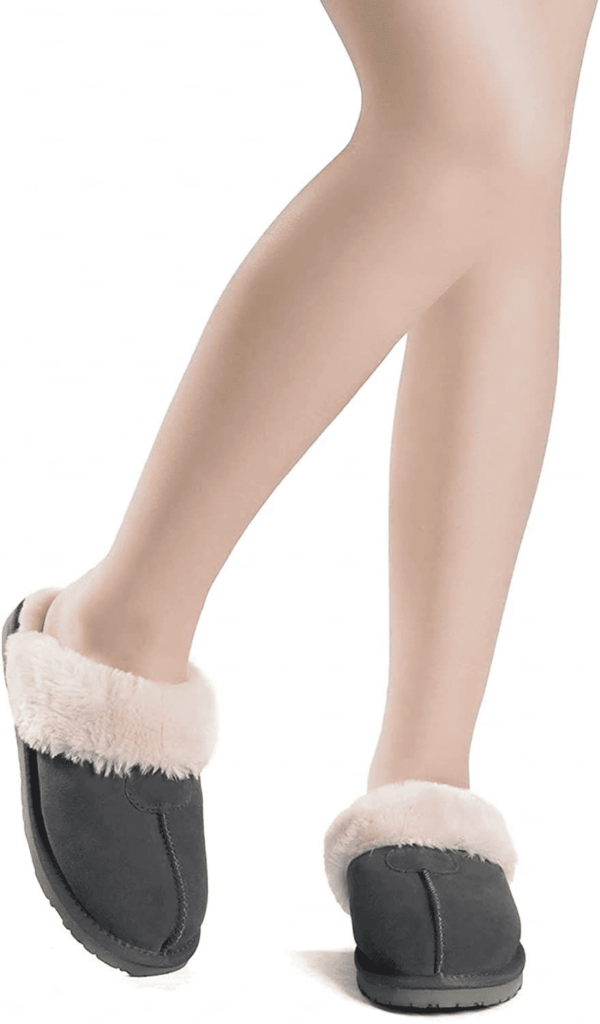 Key Details
Soft Suede Upper
Faux Fur Lining
EVA Outsole
Centre Seam at Vamp
Sizes Available: 7
Colors Available: 6
Pros
Warm, soft, and fluffy
Lightweight and elegant
Durable outsole
Firm support
Anti-slip traction
Cons
The soles could be better designed.
Donpapa is a youth-managed brand that manufactures shoes that match trendy aesthetics and modern visual appeal. With attention to detail and high-end quality, it boasts a wide variety of warm and soft indoor slip-ons. These Donpapa memory foam slippers are crafted with Rubber soles and PVC upper.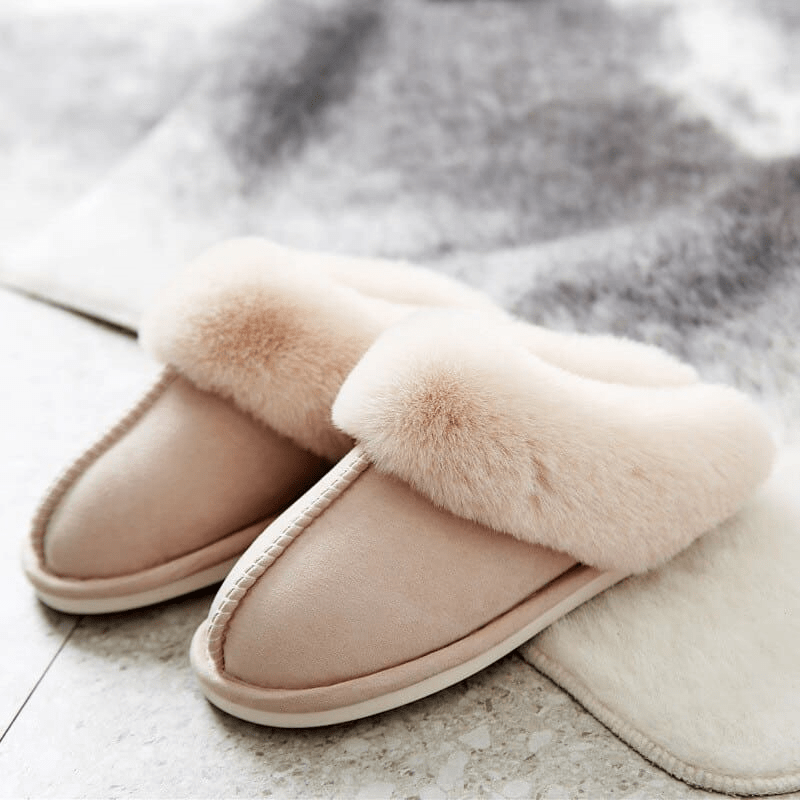 Key Details
Eco-friendly fleece and breathable cotton
Faux Fur Lining
Rubber Outsole
Memory Foam Insoles
Hand and machine-washable
Sizes Available: 4
Colors Available: 7
Pros
Fluffy and Warm
Breathable, comfortable fabric
Eco friendly
Strong support and cushiony
Anti-skid
Handmade durable sole
Cons
The slippers have mixed reviews online.
These women's suede fluffy slippers from Clpp'Li are one of the comparable Ugg Slipper Dupes. Constructed to align the comfort and contemporary style, the scuffs feature a Suede Upper and durable synthetic Rubber Sole with Faux Fur lining and interior.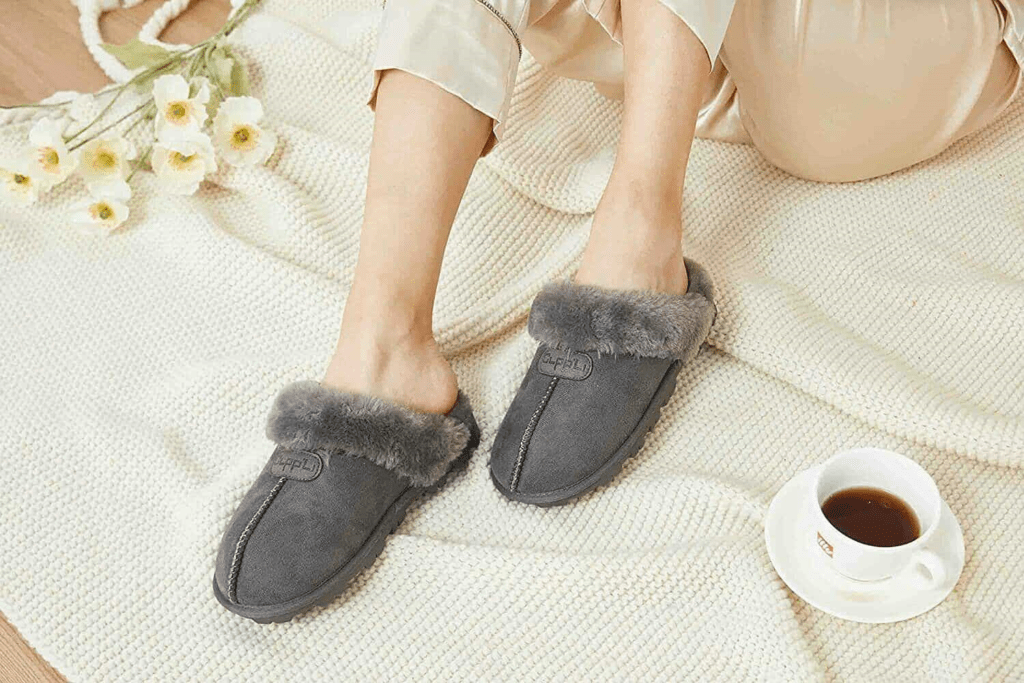 Key Details
Synthetic Suede Upper
Warm Faux Fur Lining
Rubber Outsole
Slip On Design
Sizes Available: 5
Colors Available: 5
Pros
Warm and Soft Suede
Faux Fur Fluffy Slippers
Comfortable
Well-made and Durable
Cons
Established in 2001, Bearpaw is determined to create modern, convenient, and comfortable footwear for all walks of life. The Loki Hickory is identical to the Ugg Scuffette II construction. Upper built with a Suede and Sheepskin collar and lining make it a cozy and cost-effective alternative. The slippers are super light and are cushioned with a durable molded EVA outsole.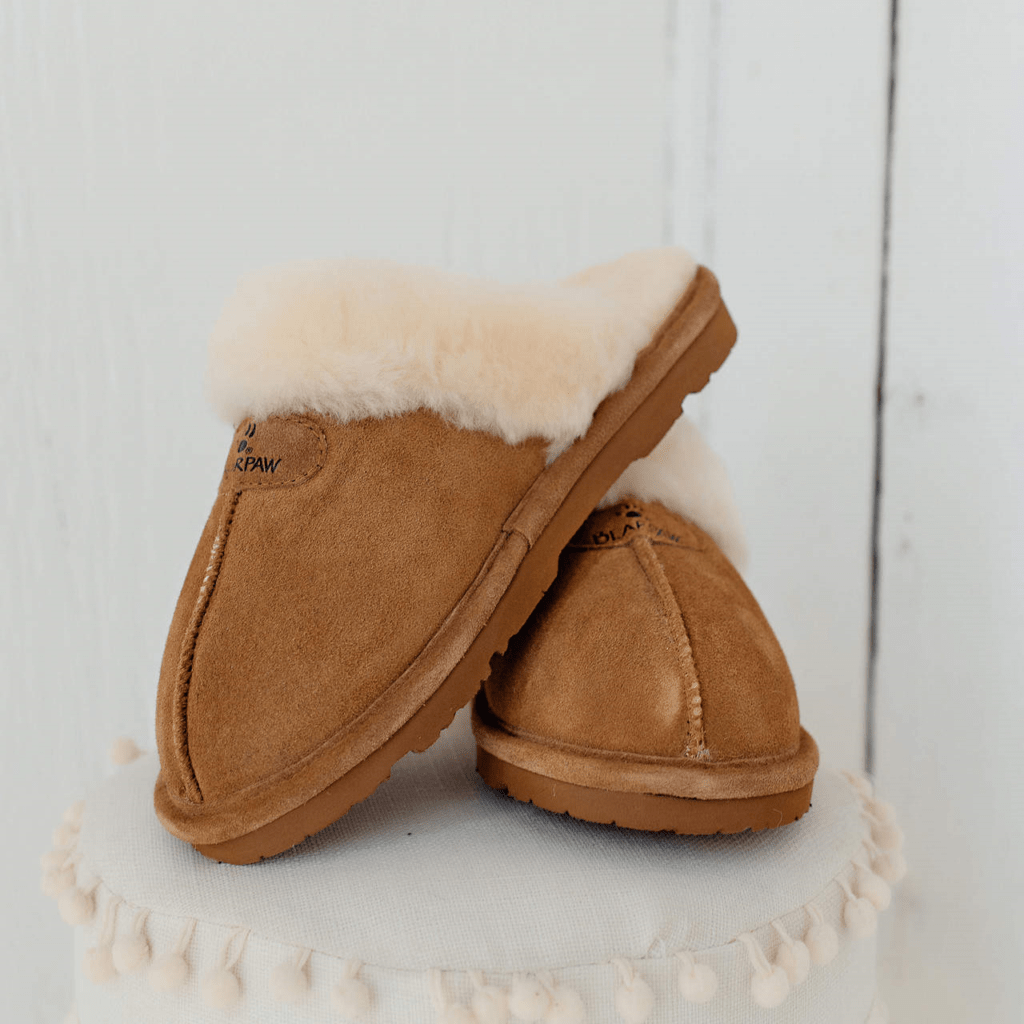 Key Details
Suede Upper
Sheepskin Lining and Collar with Suede Exterior
Sheepskin Footbed
Cushion soft EVA Outsole
Sizes Available: 9
Colors Available: 11
Pros
Plush and Cosy
Easy to maintain
Lightweight
Regulated body temperature and keeps you warm
Reduces foot fatigue
Durable outsole
Cons
The fur at the top sheds a lot.
These Eurow Sheepskin hard-soled stuff slippers are crafted with genuine Sheepskin, tough cowhide exterior, and sturdy rubber soles. The inside is entirely made of Sheepskin, giving a comfortable and breathable setting for feet and toes. The all-season slip-on is fit for both outdoor and indoor use. It is lightweight yet is robust enough to withstand the wear and tear.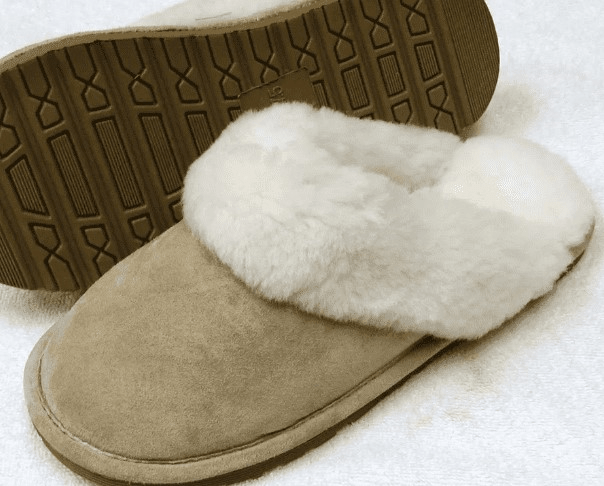 Key Details
100% Leather Fabric
Hard Rubber Sole
Sheepskin lining and footbed
Cowhide exterior protection
Suede Hardsole
Size Available: 1
Colors Available: 1
Pros
Soft, warm, and comfortable
Lightweight
Sturdy
Multiseasonal and Durable
Cons
The slipper is slightly stiff.
These EZ Feet Scuffs boast unique characteristics. The temperature-regulating wool, moisture-wicking breathable fibers, and skin-conditioning lanolin shearling stand out amongst many brands. The suede upper with heavy-duty rubber sole gives an elegant finish and all-day comfort.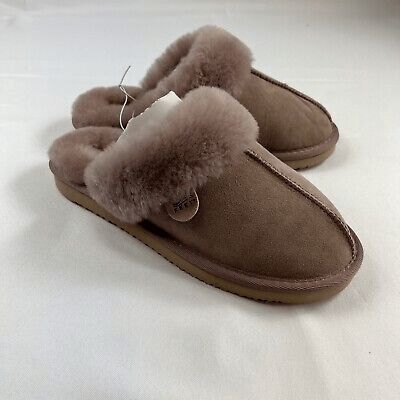 Key Details
Genuine Sheepskin Upper
EVA Outsole
Moisture wicking
Temperature regulation
Healing properties
Sizes Available: 7
Colors Available: 6
Pros
Soft and cozy
Moisture-repellent
Water-resistant
Sweatproof
Breathable
Flexible and Durable
Wide sizes are available
Cons
The soles eventually come off.
What to Look for in an In-House Slipper? | Ugg Slipper Dupes
Wearing a great pair of soft, warm slippers is a great way to relax. In-house slippers can pamper your feet and provide the most comfortable footbed alongside the required support and warmth.
As slippers protect our feet, prevent colds, and give an excellent lounging experience, people have normalized wearing them and made them a staple in their closets. Numerous footwear brands advertise their slippers as the softest and the most comfortable. But How would you choose one? Here are three things to consider before buying an ideal in-house slipper.
Material
Scuff slippers are typically made with wool and faux fur. A good quality material is directly proportional to its durability. If you seek a scuff only for indoor use, consider choosing leather and cotton fabric. On the other hand, wool slippers with a rigid rubber sole are fit for outdoors. Moreover, wool is one of the strongest and most durable materials.
Sole
Sole is the soul of any slipper. Well-made soles offer good support and are slip-resistant. Suede or cotton soles may turn out slippery with use, while rubber and EVA soles are the most flexible and long-wearing. They are hard and ensure a firm footbed.
Fit and Support
Make sure to check the fit and choose the size accordingly. Scuffs should be roomy enough to properly fit and secure your toe and heel. Also, they should be soft and well-supportive to give your feet comfort.
The Best Picks | Ugg Slipper Dupes
Frequently Asked Questions | Ugg Slipper Dupes
Are Ugg Slippers really worth it?
Yes. Ugg Slippers are one of the most luxurious in-house slip-ons. Crafted with Soft Suede, their signature Sheepskin, and outsole with Moulded Rubber. The material never pills off or wears out and looks stylish after years of use. Its flexibility and durability are worth every penny.
What is the difference between Scuffette and Scuffette II?
The Ugg Scuffette II is similar to the Coquette collection. The second edition of the Scuffette is inclined towards females and is described as the "women's" version of the scuff. Its ultra-soft interior makes it one of the hottest Ugg Slippers.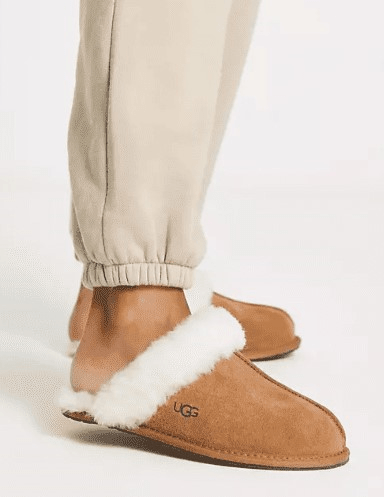 Can you wear Scuffette II outside?
Yes. You can wear Scuffette II outdoors. The closed front and the open back design keep your feet warm yet breathable. The rubber outsole lets you wear them outside.
Why do we need Ugg Slipper Dupes?
With unmatched comfort and toughness comes some considerable cons. Besides its high-end price, the thin sole and untrue size are other possible drawbacks. These things make people look for affordable Ugg Slipper Dupes.
Which is the best Ugg Slipper Dupe?
Women's Fireside By Dearfoams is one of the best Ugg Slipper Dupes. Its moisture-wicking fabric, memory foam, soft insole, and durable outsole make it an equivalent dupe for Ugg Slippers.
The Closure | Ugg Slipper Dupes
Slippers are a great way to slide into comfort and ease. With various fabrics and designs, footwear brands have developed their version of pedal pleasure. However, Ugg has emerged as one of the most popular footwear brands with its luxurious scuffs and shoes. It has redefined comfort with its bestselling Ugg Scuffette II.
The well-designed scuffette has received raving reviews and is also approved by celebrities. However, its hefty price and other minor cons make people want to look for its comparable counterparts. Therefore, I have curated a list of 11 Ugg Slipper Dupes that are comfortable for your feet and wallets. I have also attached a quick buying guide and picked the best for you!
Latest Posts: