If you love collecting designer tote bags, you must have heard of the iconic Goyard Bag and, at some point, wished to own yours. You visit the website, see the hefty $2000 price tag, and settle for something else. But not anymore! In this report, I will share some bags comparable to Goyard at various price points. So, let's go and check out some Goyard Dupe bags to add to your collection.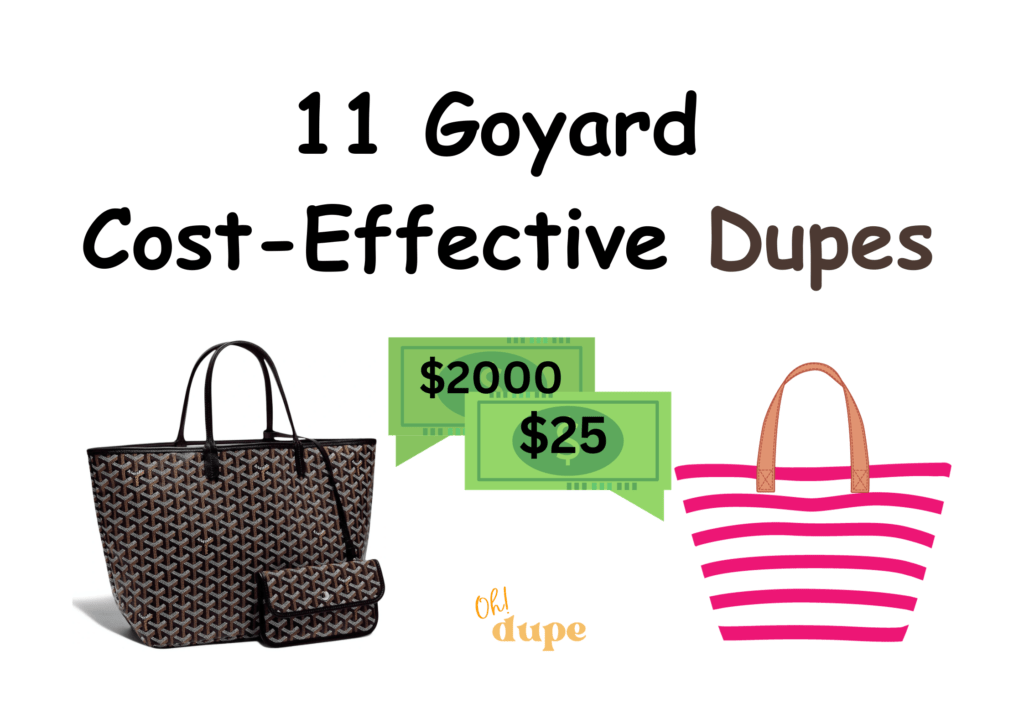 From a legendary Parisian trunk-making business since 1853 to creating Goyardine Canvas bags, Goyard has come a long way. The definition of royalty and eliteness, Goyard, is a tall name amongst the high society. From celebrities to designers and people of the Royal Family, all the status-conscious personalities swear by Goyard.
However, wanting to own a Goyard Tote can be financially traumatic; it costs as much as the fortune of an ordinary man. But the question here lies: What makes Goyard a sought-after bag brand?
Goyard Dupe | Comparable Options!
Maison Goyard sticks to traditional manufacturing methods and hires skilled artisans to handcraft their signature bags. Every small element is done intricately, from stitching to fixing straps to adding details like logos. The educated craftsmanship is a key reason that adds to the popularity and uniqueness of the bag. Goyadine Canvas is the exclusive fabric, a blend of Linen and Cotton coated with natural resin, making the Tote light, soft and water-resistant. Such attention to detail and dedication to craft each piece makes the Tote authentic and unique.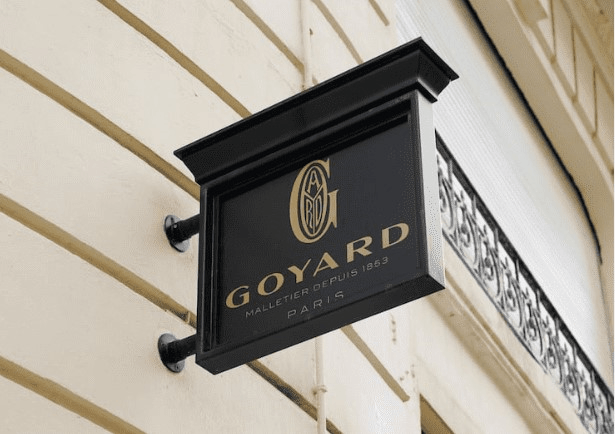 Furthermore, the limited production and distribution instill a desire to own the bag. Goyard controls the availability of their bags as soon as they meet the sales target. The deadly combination of unmatched quality and popularity makes Goyard the most coveted and costly. In this article, I will discuss the alternatives to the iconic Artois PM Bag at several price ranges. First, let's have a brief look at the Goyard Artois PM Bag.
The Goyard Artois PM Bag At a Glance
A version of their historic Saint Louis Bag
Skillfully Edged with Four Leather Corners and Zipped Closure
Iconic Chevron Pattern
Features a floating organizational pocket
Long handles for a fuller finish
Customisation and Smart Initial designs
Available in 11 assorted colours
(Note: The following Goyard Dupe Totes are elaborated in three price points. Except for the first product, they are aligned from low to high price ranges for easy exploration.)
Finding something similar to Goyard is like shooting with your eyes closed. After straining numerous brands to match the sophistication and product quality, I came across this unique bag brand. The Daily Battle 35 Zip by Faurè Le Page Daily Battle 35 Zip is a close Goyard Dupe. The high-standard materials used to build include Scale Canvas with Lyon Frame Painting. It is a great substitute, available in 3 different colors and with cartridge holder personalization.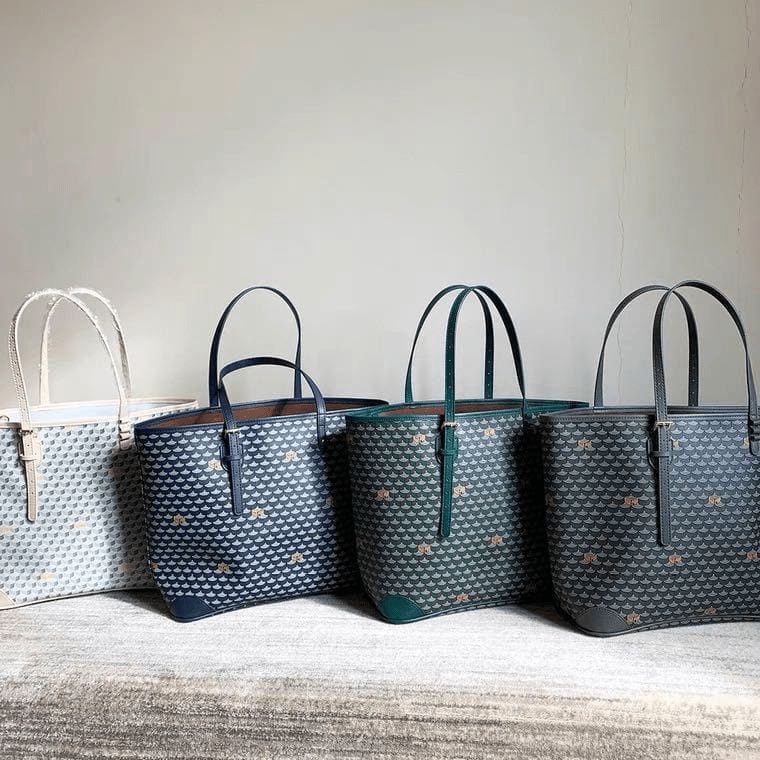 Specs
Price: $1,650
Dimensions: 30″H x 34″W x 15.5″D
Strap Dimensions: 9"
Material: Scale Canvas, Forest Leather, and Lyon Frame Painting Pattern
Personalized Cartridge Holder
Available in 3 sizes
Four colour variants
Pros
Flexible
Sophisticated look
Hidden zip
Adjustable straps
Customization
Cons
Another affordable alternative to the Goyard that costs you a hundred times less than the original is from a trusted local brand. The checkered pattern features good-quality vegan leather and silver hardware, making it look like a Goyard. The convenient carry-on is spacious enough and gives a stylish finish to your overall look.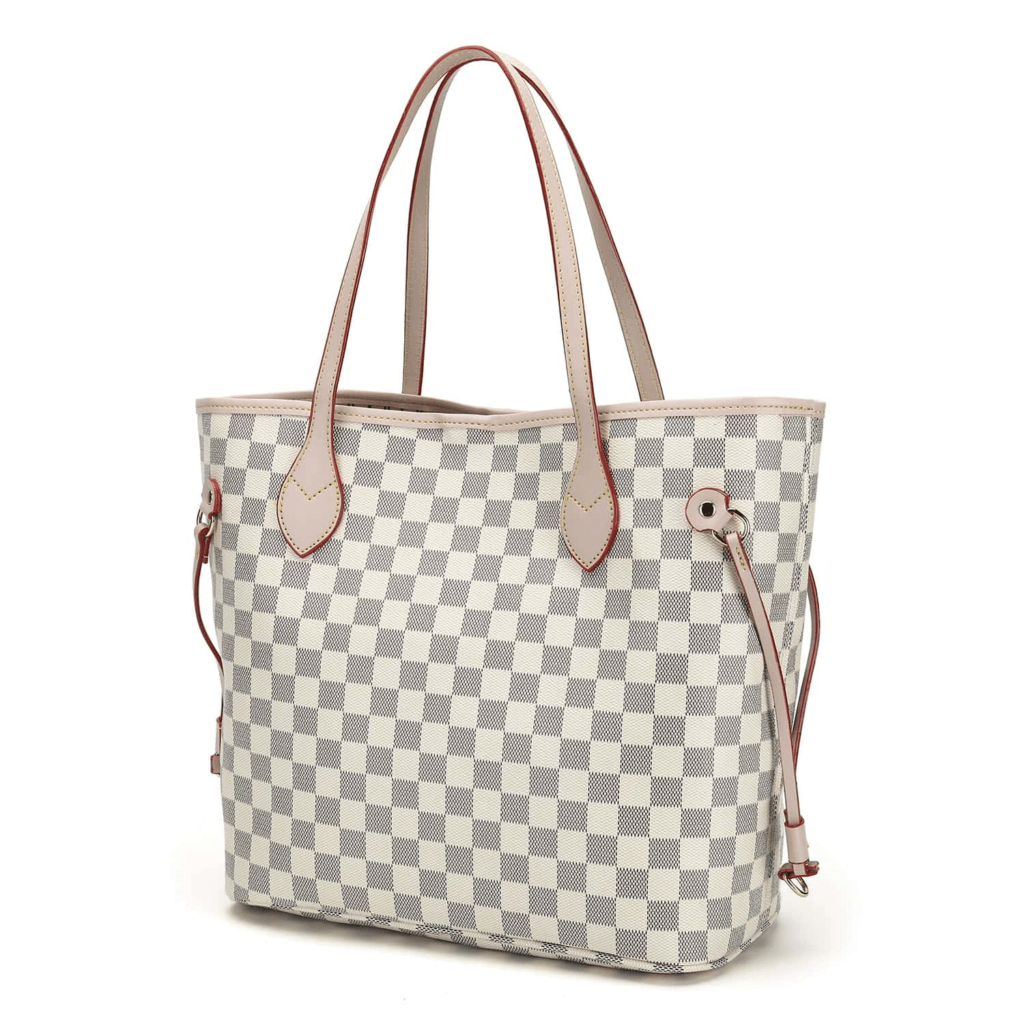 Specs
Price: $25
Dimensions: 12″L x 11.5″H x 6″D
Inner Pouch Size: 9 "L x 5.5 "H
Material: PU Vegan Leather
Magnetic Closure
Removable Zippered Clutch
2 slip pockets on the front wall
Pros
High-quality material
Vegan made
Convenient
Spacious and minimal
Flexible and Versatile
Cons
Some users need clarification on the quality of the bag.
The last financially sustainable substitute is again a faux leather checkered pattern bag replicating the Goyard. The stylish and functional tote bag boasts multi-purpose pockets and good-quality metal closures. The detachable mini clutch makes the Tote a versatile accessory and easy to move on.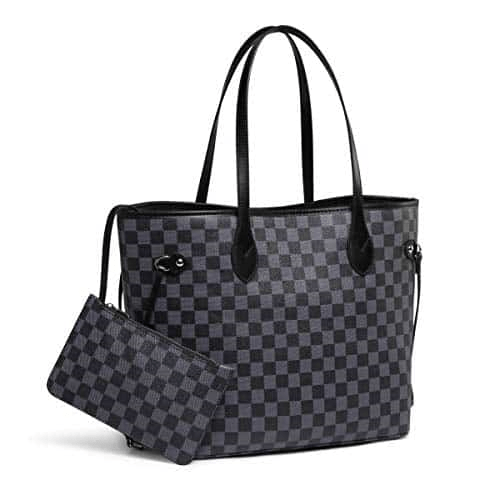 Specs
Price: $34
Dimensions: 12.8″L x 11.5″Hx 6.8″D
Inner Pouch Size: 8 "Lx 5 "H
Handle: 8.6"
Material: Vegan Leather
100% Metal Closures
Zipper pocket at the back
Two slit pockets at the front
Available in 18 colours
Pros
High standard interior
Good quality hardware and zips
Mini pouch
Stylish and functional
Vegan
Versatile and flexible
Cons
The handle wears out within a few months of use.
One of the most affordable Goyard Dupe Bags hails from a local brand: DFU. This triangular patterned bag is crafted with lightweight and durable PU Leather. The three-in-one tote set looks minimally aesthetic and easily holds all your essentials without making the bag look bulky. The bag is ideal for daily errands and is available in four classic colors.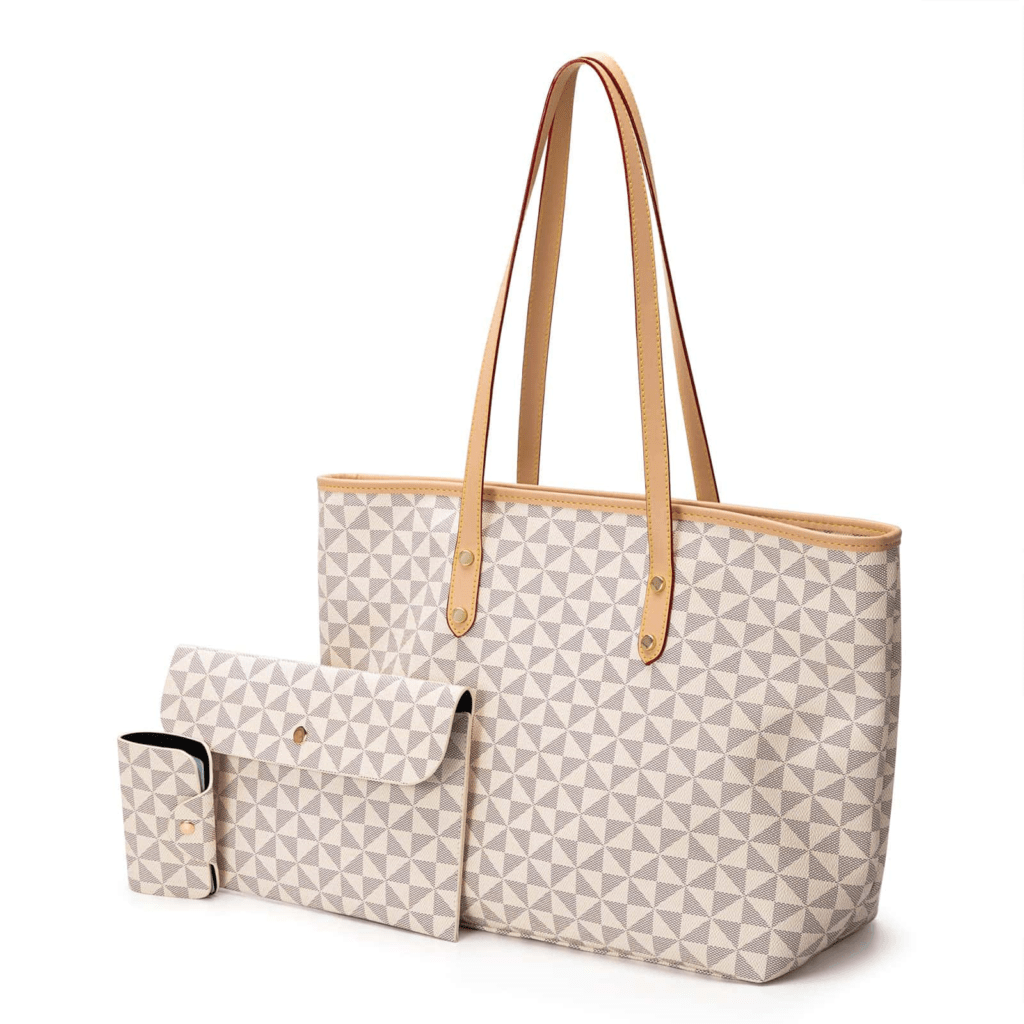 Specs
Price: $65
Dimensions: 11″H x 6″D x 14″W
Strap Dimensions: 11"
Three piece set
Material: PU Leather
Leather Lining
Zipper Closure
Available in 4 vivid colours
Pros
Spacious and multifunctional
Durable construction
Versatile design
Minimally aesthetic
Water and fade resistance
Affordable
Cons
There needs to be more reviews online.
Michael Kors is one of the most popular designers in America and the first women's readymade designer for Celine ( A French House). Established in 1981, the luxurious MK is one of many global pioneers of luxury apparel and bags.
This Slater Large Logo Tote Bag features the signature logo print with 100% Polyester Lining for water repellency. The gold chain adornment adds to the aesthetic appeal of the bag, and its classic color palette adds elegance to every outfit and occasion.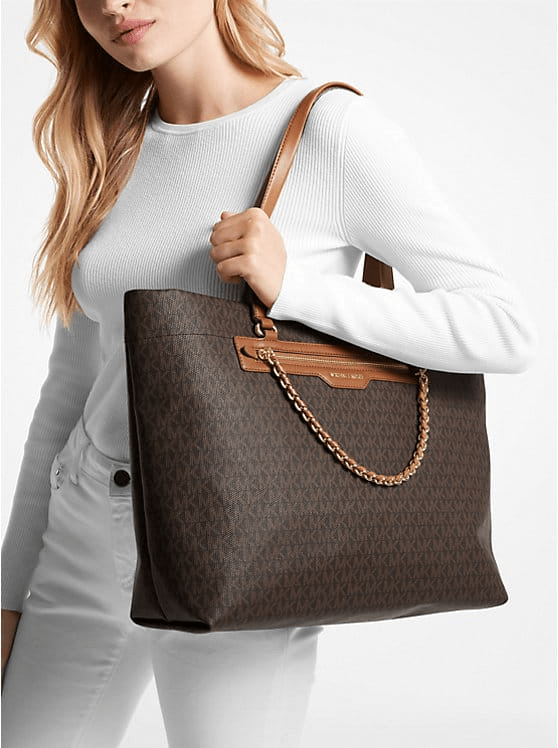 Specs
Price: $165
Dimensions:18.5" W X 11.75" H X 6" D
Handle Drop: 9.5"
Material: Logo print Canvas
Polyester Lining
Gold-toned hardware
Front and back zip pockets
Front slip pocket
Pros
Signature logo print
Braided chain link adornment
Neutral colour
Multipockets
Durable and convenient
Cons
The price is still steep.
Established in 2004 in New York City, Tory Burch empowered women with its fashionable and durable storage carry-ons. The Ever Ready Zip Tote from the Tory Burch collection is functional and lightweight, making it a daily statement. It is crafted with printed coat canvas and edged with faux leather. The basketweave print highlights the founder's fondness for Basketry. Not to forget, it comes with a separate mini pouch to hold your essentials on the go.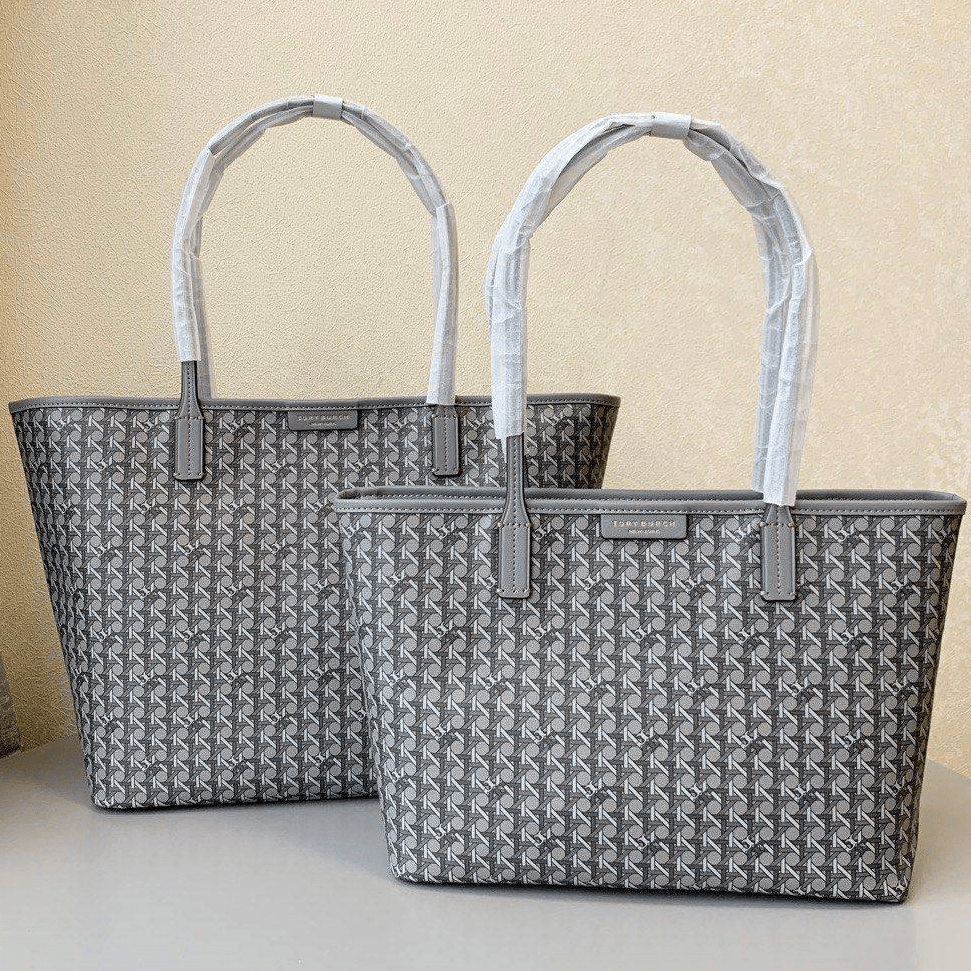 Specs
Price: $350
Dimensions: 11.4″Hx 12.6″Lx 6.3″D
Handle Drop: 9.3"
Material: Printed Coated Canvas and Faux Leather Trim
Brass Hardware
Zipper Closure
Detachable Zipper Pouch
One interior zipper pocket
Fits a 13" Laptop
Pros
Lightweight and compact
Water-resistant coated canvas material
Secured zip top
Matching mini pouch
Stylish and flexible
Cons
It doesn't come with a dust bag.
Founded in 1941, Coach was a family-run workshop on a street in Manhattan. The Connoisseurs of leather bags, Coach Bags combines flexibility with a touch of elegance. The Willow Tote bag by Coach is a mixed leather design bag combined with refined calf leather and Coach's exclusive canvas fabric.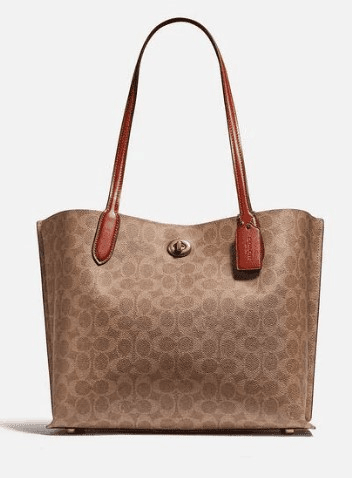 Specs
Price: $350
Dimensions: 13.5" Lx 10'Hx 5'W
Material: Signature-coated canvas and Refined Calf Leather
Turnlock and magnetic closure
Four protective feet at the end
Handle drop: 11.5"
Fits a 13" Laptop
Two open pockets
Pros
Perfect size
Spacious and convenient
Sophisticated and stylish look
Cons
A lot of mixed reviews online.
Ralph Lauren is one of the global leaders in designing, marketing, and innovating luxury lifestyle brands. The Canvas "LRL" Monogram print bag with a dog zip closure and multiple functional zippers offers adequate storage for your day-to-day essentials. Available in 4 vivid colors, the spacious silhouette is a classic contemporary piece that is flexible and functional.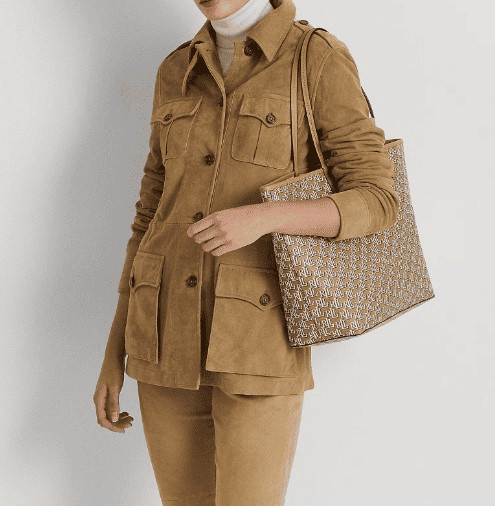 Specs
Price: $234
Dimensions: 29.8cm Hx 46.4 cm Lx 15.9cm D
Handle Drop: 25.4 cm
Two top handles
Material: LRL Monogram Canvas Print
Leather Trim
Slip and Zip Pockets Inside
Dog clip closure
Pros
Classic and contemporary
Sleek tote bag
Spacious and multifunctional
Fit for regular use
Cons
There needs to be more reviews online.
Cristóbal Balenciaga founded Balenciaga in 1919 in Spain and revolutionized the fashion industry with his unique designs and patterns. Since then, there has been no going back to the iconic luxury house. Majoring in clothes, accessories, and bags, Balenciaga has a decent cult reputation. The signature logo printed Large Shopper Bag from the collection is a comparable Goyard Dupe due to its sophisticated look and durability.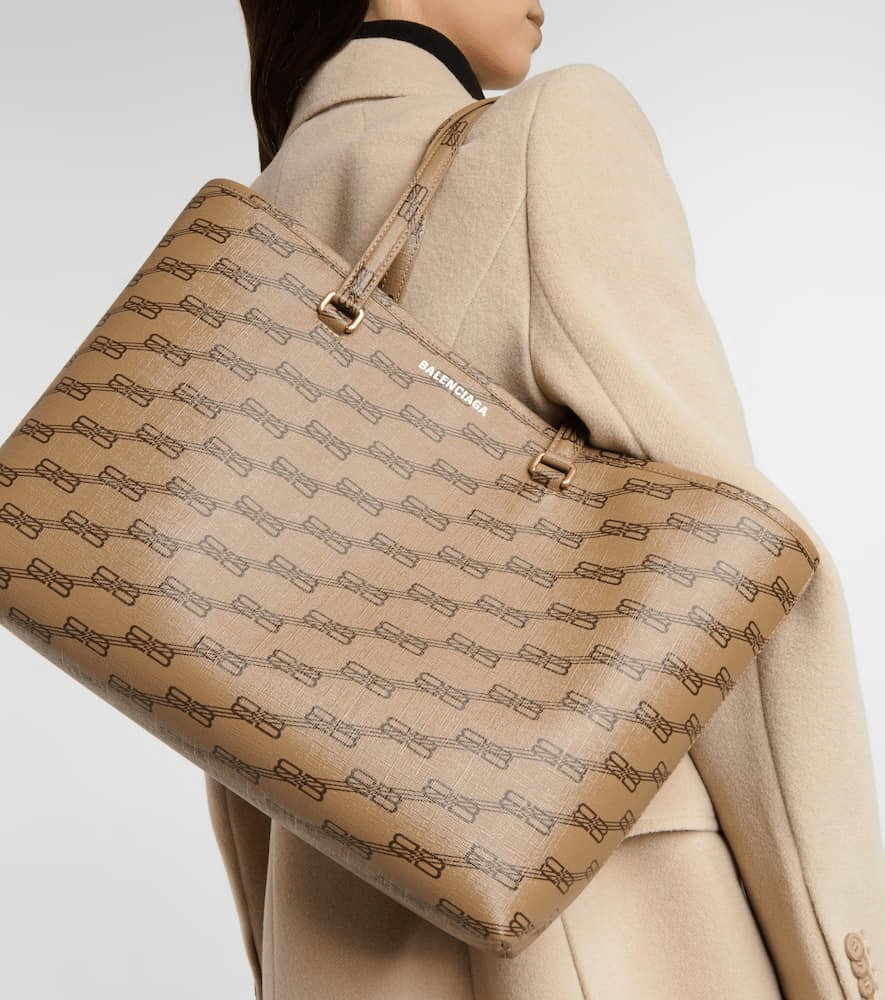 Specs
Price: $1,200
Dimensions: 14.5 "Lx 13Hx 7.8" W
Material: BB Monogram Coated Canvas
Balenciaga logo printed at the front
Vintage gold hardware
Cotton canvas lining
Two top handles
Pros
Heavy-duty coated canvas
Vintage look
Sustainable
Sophisticated and elegant
Cons
Available in a single color.
This tote bag is the brainchild of a well-known British designer. She launched her lifestyle line in 1987, making it one of the most premium organizational accessories with quirky designs and playful patterns. The "I am a Plastic" collection has a variety of elegant totes, out of which the in-flight resembles the Goyard. Built with cotton canvas and sustainable plastic, it is a great travel companion with multi-organizational pockets and heavy-duty water-resistant material.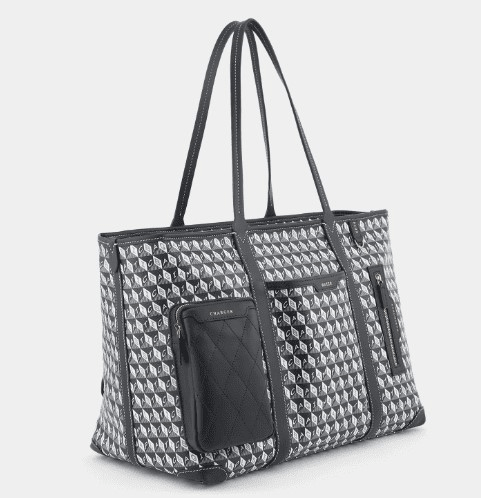 Specs
Price:$1,130
Dimensions: 27cm H x 49cm W x 19cm D
Material: Recycled Coated Canvas and Satin Leather
Multiple zippers
Removable zipped pouch
Pros
Multifunctional
Cotton canvas fabric
Sustainable material
Weather resistant
Embossed labelled pockets
Cons
Lastly, the Gucci Ophidia GG Medium Tote Bag is crafted with the exclusive supreme canvas and trimmed with brown leather. Details like the microfibre lining with a suede-like finish, gold-toned hardware, and magnetic snap closure with leather handles make it a versatile and convenient tote.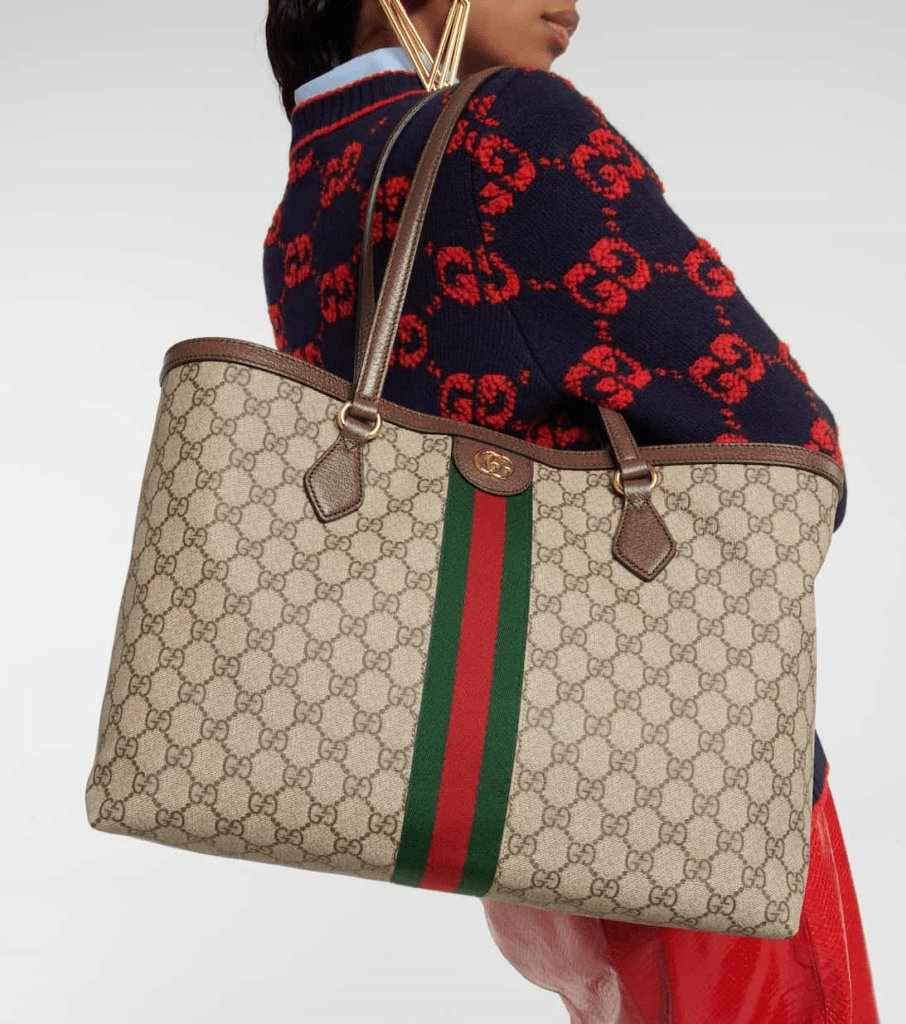 Specs
Price:$1,650
Dimensions:15″W x 5.5″D x11″H
Material: GG Supreme Canvas
Brown Leather Trim
Gold-toned hardware
Microfiber lining
Interior zipper pocket
Magnetic Closure
Double leather handles
Pros
Trimmed and textured leather
Versatile design
Flexible and sustainable
Suede line finish
Cons
4 Things to Consider Before Buying a Tote Bag | Goyard Dupe
Material
Choosing the suitable fabric is the key to having a tote bag that'll age with you. There are numerous fabrics available with different characteristics and qualities. The strong points of each material are briefly mentioned below
Canvas Tote Bags: Good for holding heavy items and are robust and sturdy
Cotton Tote Bags: Weighless and convenient to clean and move around with.
Jute Tote Bags: Gives a natural look, is a sustainable and pocket-friendly
Nylon and Polyester: These materials are heavy-duty, water-resistant and shape-acquiring.
Leather: Gives a one-of-a-kind, sophisticated, and elegant look. Leather-made tote bags are typically expensive.
Strap
The quality of handles makes or breaks the look (literally). The type of handles is dependent on the final look of the bag. However, tote bag straps should be practical enough apart from being visually appealing. Look for your preferred strap length. Short straps are carried with the arm or elbow but can't be put onto the shoulder. Whereas long straps easily rest on your shoulder and allow moving hassle-free.
Shape
Shape is an essential factor to consider. Determine the occasion for the tote bag and accordingly select the shape. No matter the shape's uniqueness, ensure it fits all your important items without making the Tote look bulky and heavy. Opting for a quirky-shaped tote bag is a statement piece for your outfit.
Functionality
Outer appearance does matter, but if the Tote fails to store your essential items or you lose your stuff in your Tote (most of the time), it's time to look for an organized tote bag. Check if the Tote has the required zippers and interior pockets to put your stuff in place. If you desperately yearn for a tote without multiple zips and slots, consider buying a tote organizer pouch to prevent losing your stuff inside.
The Best Picks | Goyard Dupes
Frequently Asked Questions | Goyard Dupes
Is Goyard owned by Louis Vuitton?
No, Goyard is not owned by Louis Vuitton. Goyard and Louis Vuitton are high-end bag brands owned by Jean-Michel Signoles and Pietro Beccari, respectively.
What is so special about Goyard?
Goyard stands out due to its exceptionally intricate handmade skillmanship and exclusive pattern, making it iconic and recognizable. The durability of the material of Goyard Bags is next level. Its high standard water resistance and anti-stain fabric make it an ideal luxury choice, and everyone's favorite.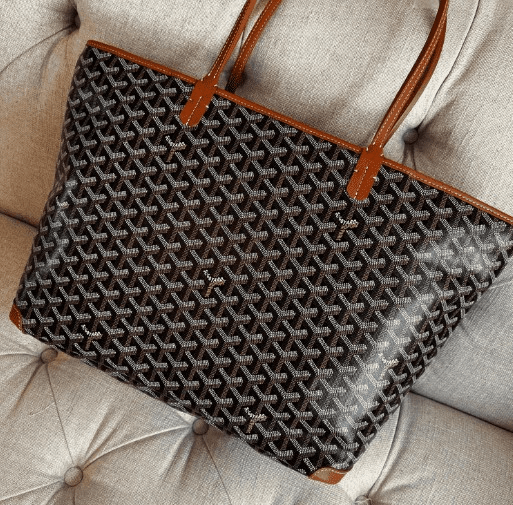 How much is an Artois PM Bag?
The Goyard Artois PM Bag is a structured version of their signature Saint Louise Bag. The Artois PM Bag is priced at $2,190, making it one of the most expensive bags.
Does the Goyard Artois PM fit a laptop?
Yes. The Goyard Artois PM fits a 13-15-inch laptop. Besides, it holds a small makeup bag and daily essentials like a wallet, keys, and sunglasses without making it look heavy.
Which is the best Goyard Dupe?
Faurè Le Page Daily Battle 35 Zip is identical to the Goyard Artois PM bag. The signature printed shell makes them look similar. Priced at $1,650, it is almost half the cost.
In a Nutshell
Goyard is a global luxury bag brand that has wooed fashion enthusiasts with exceptionally well-made pieces. Owning a Goyard is synonymous with collecting expensive antiques that you'll admire for life. The incredible handmade craftsmanship, detailed designs, and signature patterns make it an exclusive, high-end bag brand.
However, this one-of-a-kind bag costs a considerable part of your ancestral wealth and may be financially hectic for commoners. Thus, I have put together a list of Goyard Dupe Bags. The options are flexible, as I have found from all price points for everyone to choose according to their budget. Also, find a brief buyer's guide to last your Tote for a lifetime!
More Dupes: