Dresses instantly beautify your look and evoke an empowering feminine vibe. House of CB is the brand that comes to mind when I think of an elegant statement dress for a romantic date or simply a meet-up with my girls. Having created quite a buzz on enhancing the softer feminine side of women, it has emerged as the most preferred brand for commoners and celebrities.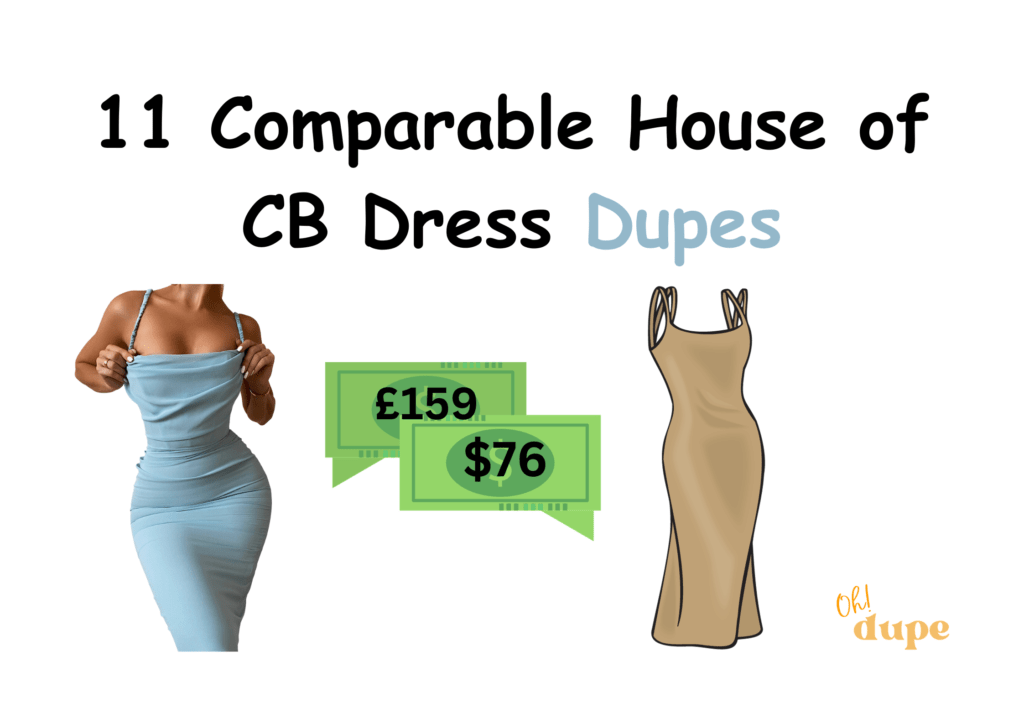 Even though the brand claims to have a decent price range, most people find it expensive. So, for those who seek cost-effective alternatives, scroll below to see 11 comparable House of CB Dress Dupes.
The shape-enhancing fitting, high-quality, durable material, and wide range of patterns make it one of the hottest women's clothing brands. The London-based brand combines comfort with style and aims to boost confidence and help women embrace their beauty as they are. Furthermore, let's look at how the House of CB became the personal favorite of celebrities and designers.
House of CB Dress Dupes | The Best Alternatives!
Established in 2010 in the UK, House of CB is a cult classic womenswear brand that sells high-quality clothing and creates hourglass silhouettes and figure-hugging clothes. At 17, Conna Walker designed and customized clothes for herself and gradually began selling on local online websites (including eBay). Without any formal training in fashion and design, young Walker has wooed high-end personalities.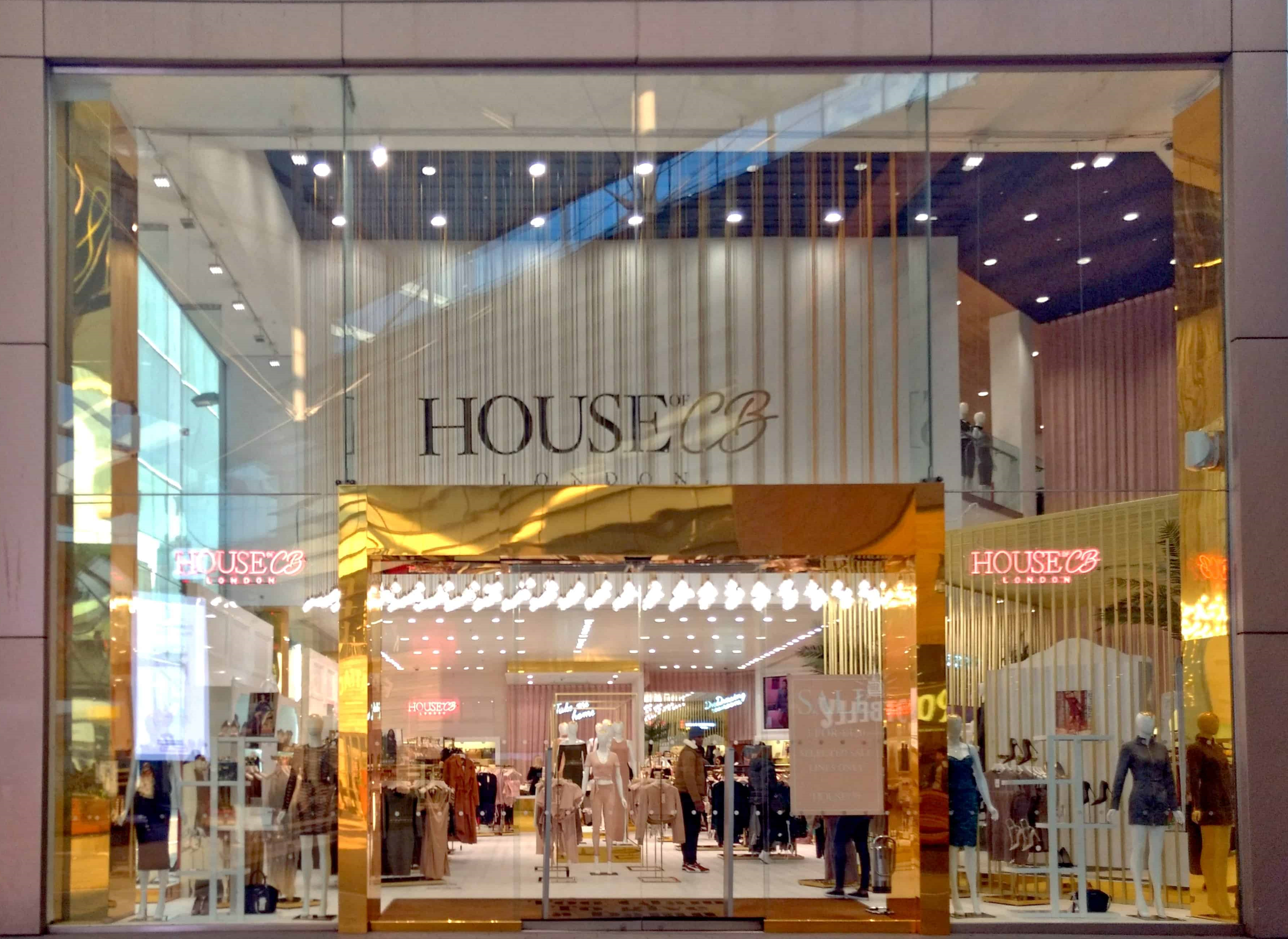 Her passion for perfect-fitting clothes and infusing a feeling of confidence through clothes took her venture to the greatest fashion platforms and has graced the looks of iconic stars, including Beyonce, Gigi Hadid, and the Kardashians.
Another aspect is the brand's versatility and flexibility in manufacturing fits that everyone can put on. The balanced patterns, wide variety, and classic neutral color palette make House of CB the ultimate dress destination. However, the brand is a bit pricey; most women seek decent equivalents. Finding something similar on a budget is tedious, but not anymore! I will discuss 11 pocket-friendly House of CB Dress Dupes in this blog.
Oh Dupe! takes inspiration from nature, creating boho designs and unique handmade items, including this Pink Print Corset. It's a perfect match to the Seraphina collection's Pink Print Corset Maxi Dress, featuring laced-up details and structured boning for that flattering House of CB look.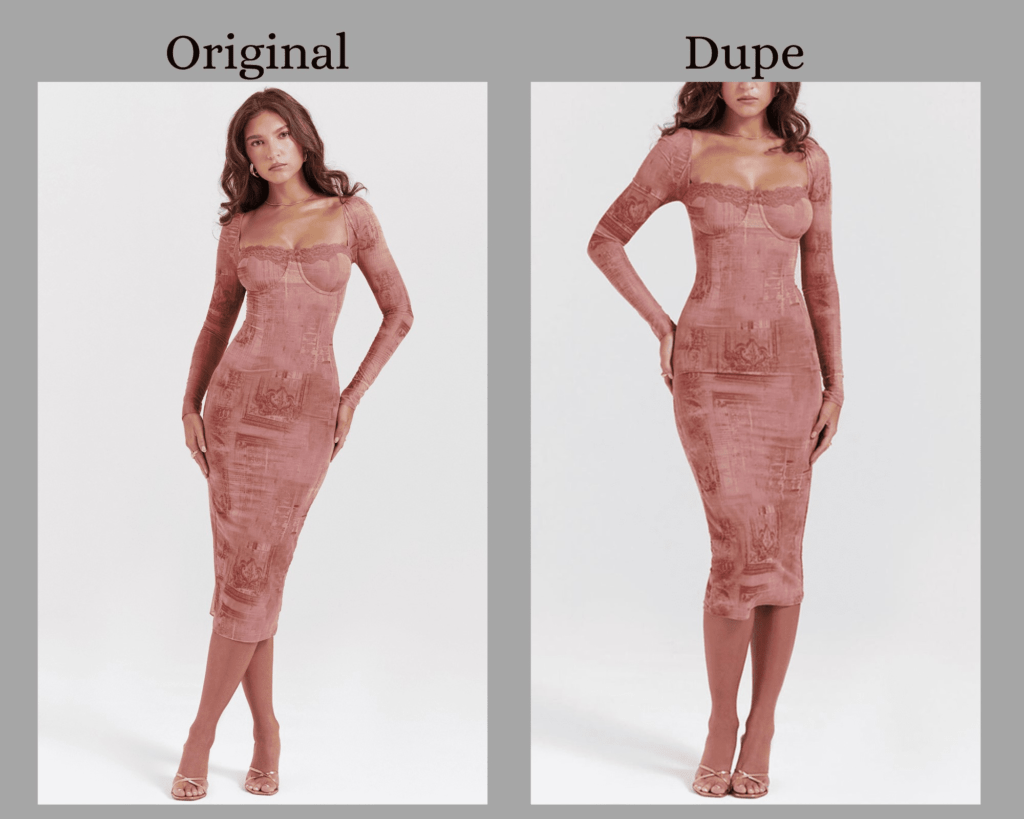 In staying true to being a ditto alternative, Oh Dupe!'s Pink Print Corset is not just a visual match but a material one too. Crafted with the same high-quality materials as the Seraphina collection, this piece ensures an identical feel and durability.
Every detail, from the fabric to the construction, mirrors the original, providing a genuine alternative that doesn't compromise on the luxurious elements found in the one offered by House Of CB.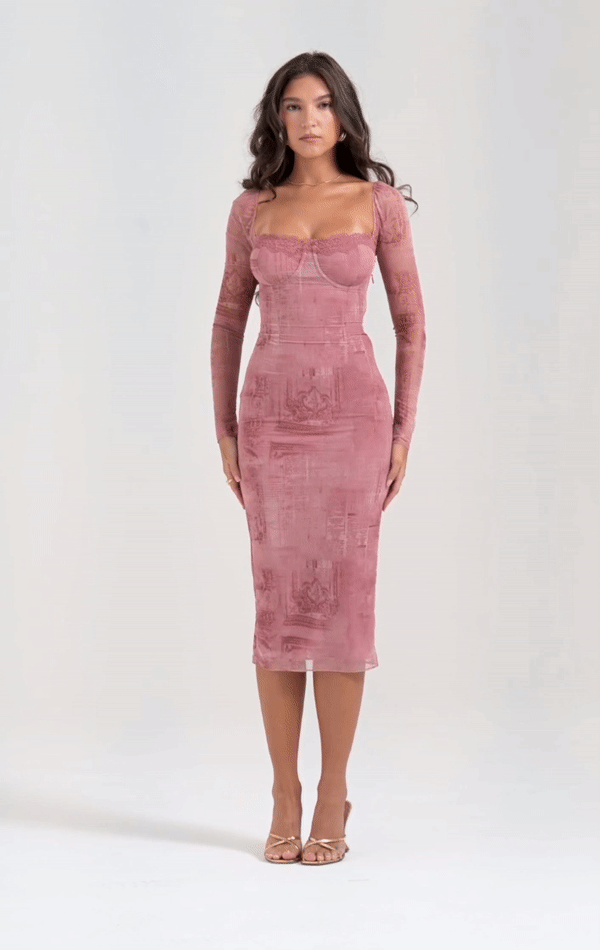 Specs
Price: $45.49
Material: Soft Mesh & Polyester
Fit: Slim Fit
Length: Maxi Dress
Design: Flattering Corset Detail
Printed Pattern
Pros
Stylish and elegant
Flattering fit
Vibrant pink print
Handmade
Sustainably made
I found an exact dupe for the fluttery, ruffled Ariela dress in the rich expresso hue at Inimgo. This UK-based major e-commerce retail cloth store has affordable dupes of iconic high-priced pieces. The fluttery, ruffled dress brews elegance and sophistication as the light georgette gracefully fit your curves, and the high slit gives your legs a flattery look.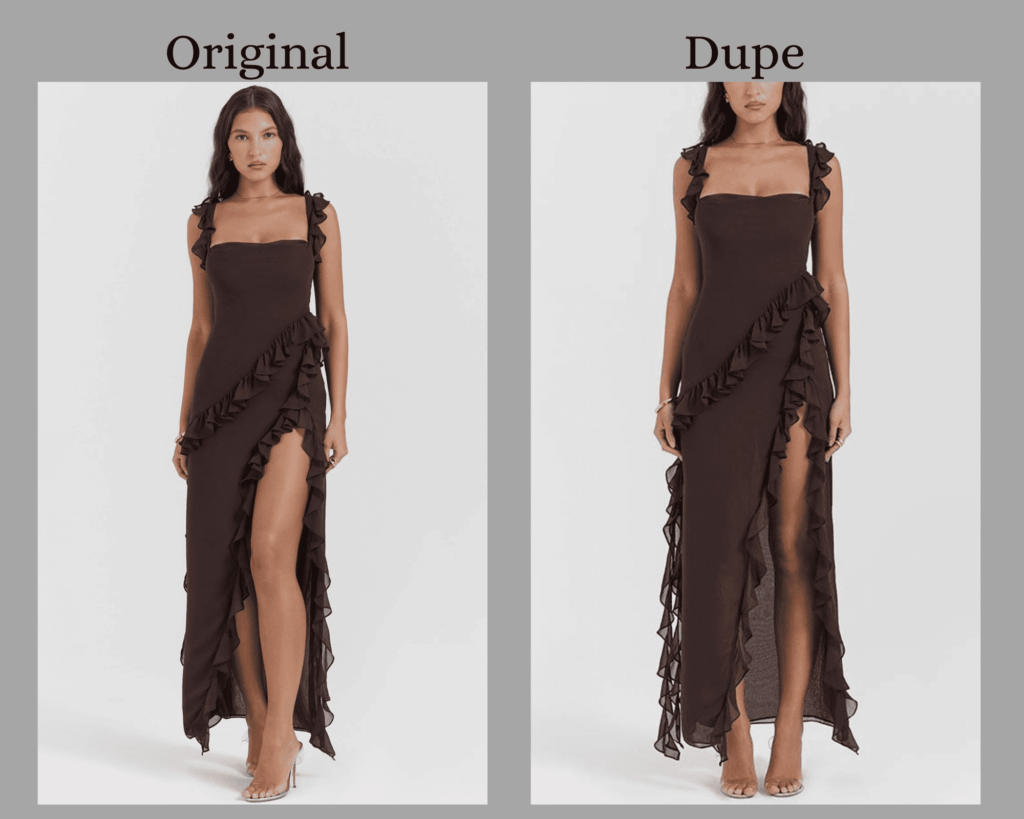 Specs
Price: $50
Material: Polyester
Maxi length
Ruffled straps
High slit
Sizes Available: 7
Colors Available: 4
Pros
Best for summer
Daily wear for casual outings
It fits true to size
Available in plus size
Cons
It needs to be hand-washed.
There's nothing better than the Pietra Corset Mini Dress if you have a soft girl vibe. One of the most elegant dresses from the House of CB is the ultimate date night fit. However, its hefty price tag made me find an affordable dupe almost identical to the original laced corset dress. This Dress of Beauty Pietra Corset Mini Dress priced at just $45 is a decent deal.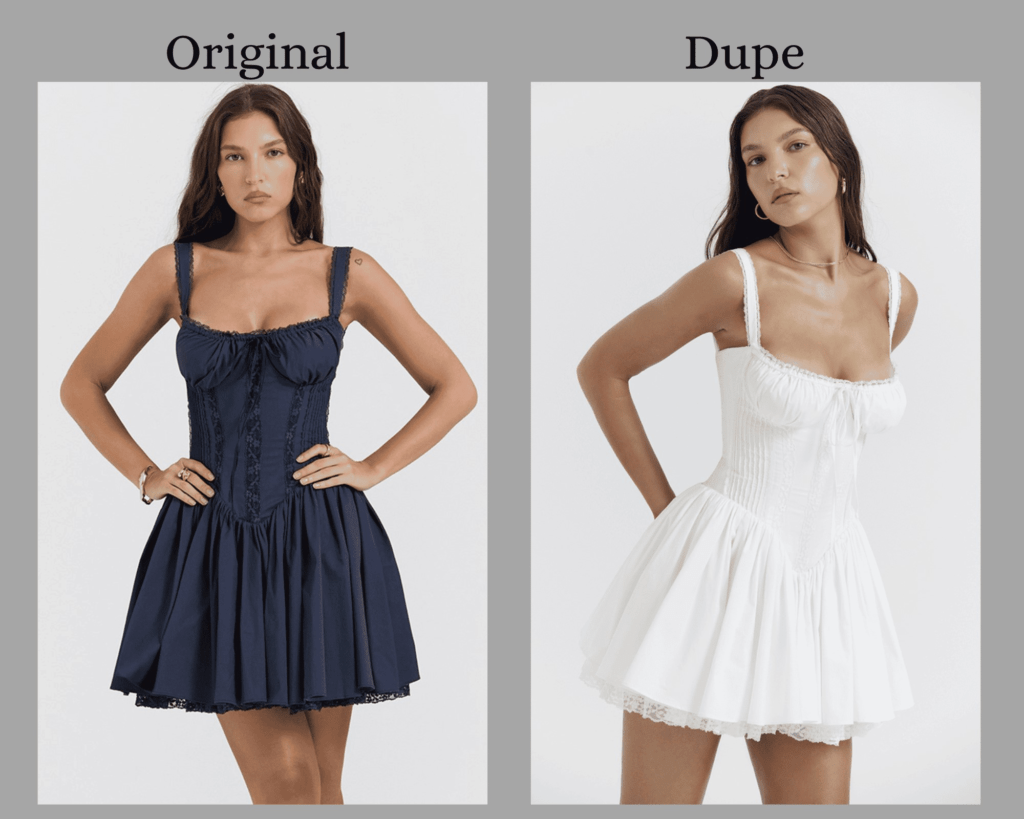 Specs
Price: $45
Material: Polyester
Deep neckline
Underwired cups
Snatched waist fitting
Lace-up back design
Lace-edged lining with light pleats
Sizes available: 4
Colors available: 3
Pros
Feminine and elegant
Affordable
Body fitting design
Intricate details for a pretty look
Best for romantic dates
Cons
There are no reviews available.
Goth is a popular fashion style and is a personal style of many. Due to this, many brands began manufacturing gothic outfits and accessories. Magic Wardrobes is a famous brand specializing in high-quality gothic clothing. The Black Gothic Flare Sleeve Lace Dress resembles the House of CB's vintage Larisa Black and Cream Pleated Mini Dress.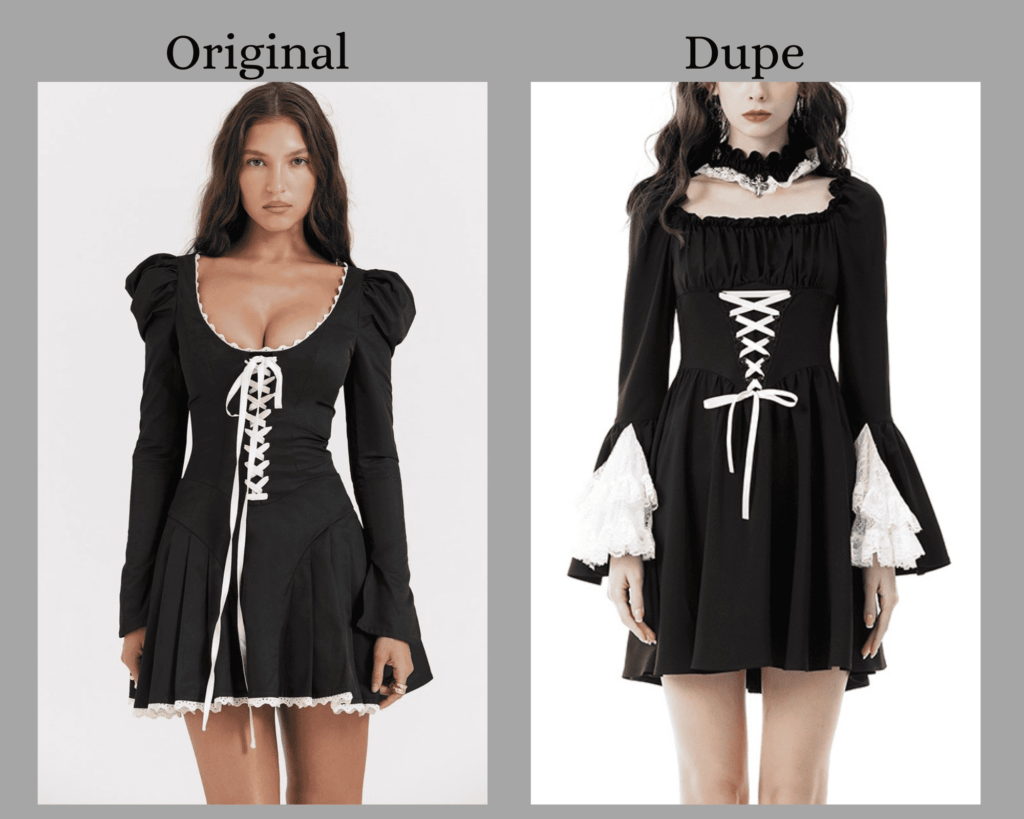 Specs
Price: $61
Material: Polyester and Spandex
Slim fit
Slight stretch
Crisscross drawstring detail at the front
Flare laced sleeves
Sizes available: 3
Colors available: 1
Pros
Gothic-style black dress
Minimal details
Fashionable and stylish
Best for proms and theme parties
Cons
There is only a single color available.
House of CB's Marisa Espresso Lace Dress is a shape-enhancing, beautifully lined lace dress, making it a dream dress for many. It has a drawstring at the front and flared long sleeves, so it is perfect for a weekend feel-good party. Don't let the hefty price tag make you cancel the plan, as I have a similar brown dress that is equally gorgeous at a reasonable rate. The Chocolate Lace-up dress by Vitora The Label with a crisscrossed drawstring neck and fitted sleeves embolden the look while graciously hugging your body.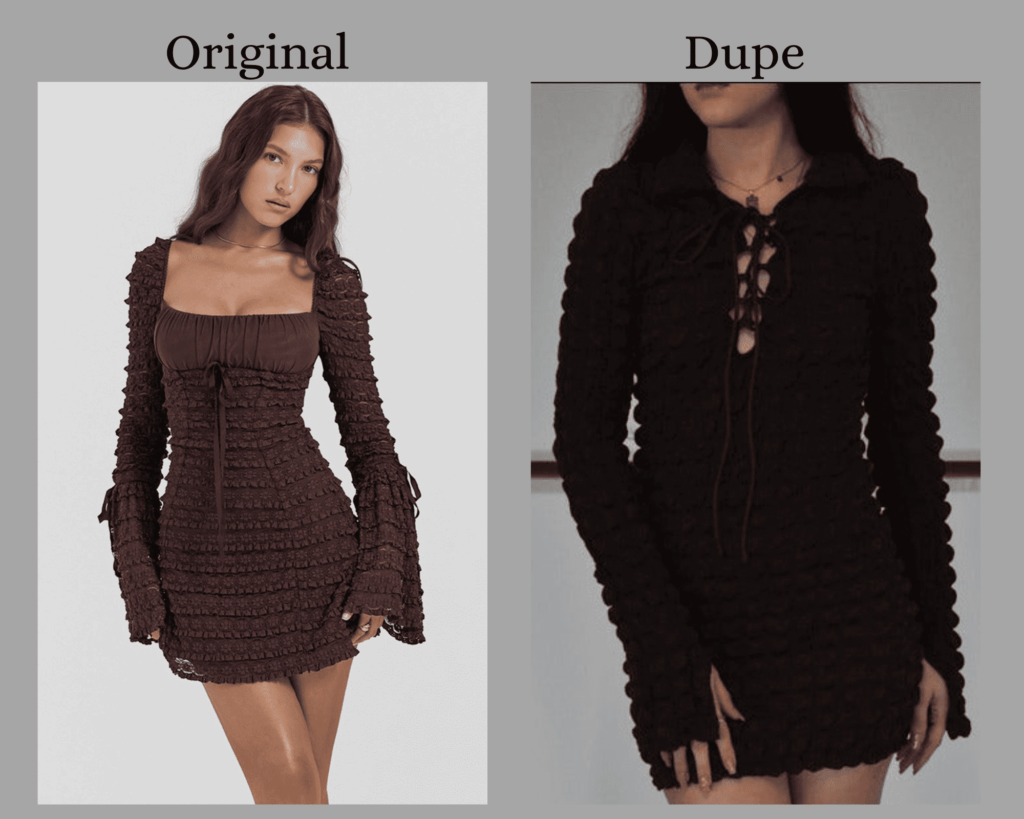 Specs
Price: $46
Knitted lace-up mini dress
Stretchable and breathable
Collared neck design
Knot detail at the neck
Slitted sleeves
Sizes available: 4
Colors available: 1
Pros
Casual mini dress
Comfortable and classy
Pocket-friendly price
Minimal and elegant details
Body-hugging
Exclusively available
Cons
The products are rarely restocked.
Haute and Rebellious is a global online fashion getaway for the latest trends inclined towards sophistication and elegance. The brand has a decent following: it manufactures classy silhouettes with good quality fabric and marks at pocket-friendly deals. The Off Shoulder Satin Romper is the absolute dupe for the popular Chaya Hazelnut Off Shoulder Dress. The neck pattern and fabric similarity make it a perfect substitute at $45.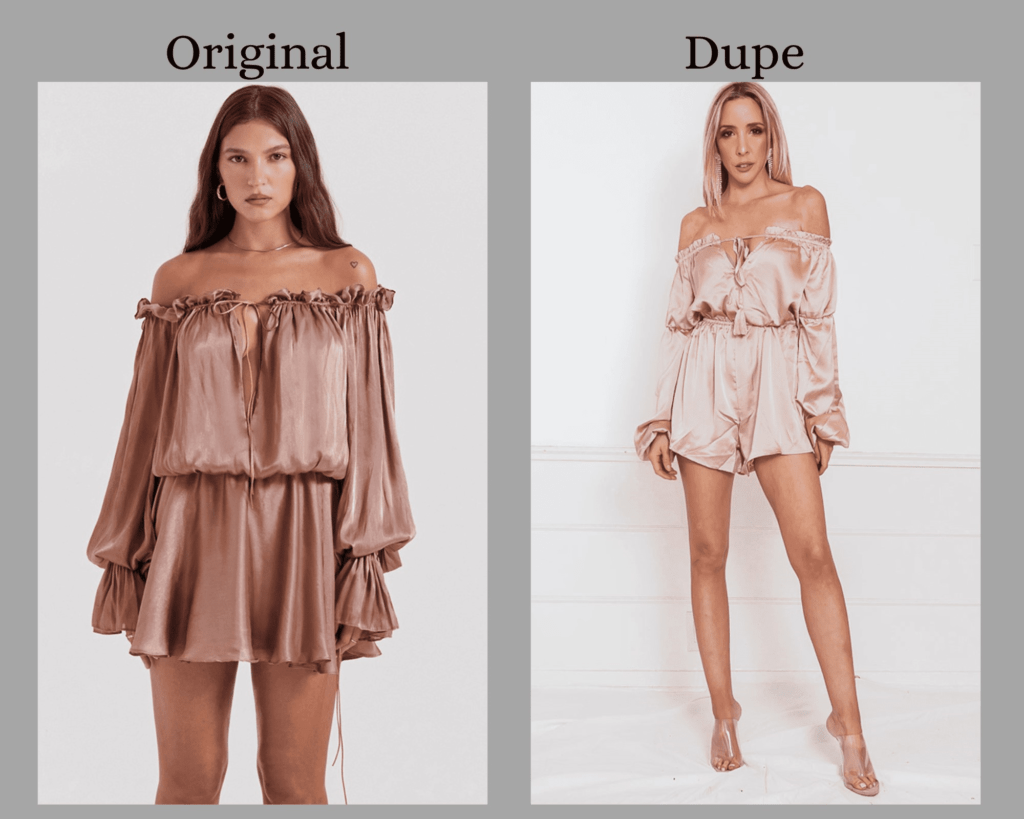 Specs
Price: $45
Material: Polyester and Satin
Elastic at the neck and waist
V-shaped tie detail
Elastic edged sleeves
Off shoulder
Sizes available: 3
Colors available: 1
Pros
Sumptuous and sultry
Best for romantic outings
Imported material
Flattering fit
Cons
There is only a single color available.
The House of CB Toira Vintage Silk Draped Corset Dress boasts minute, beautiful details and a snatched body-hugging fit. The price is the spoilsport here; however, you can slay the flirtatious mini dress from Dress In Beauty at just $48. Available in all size ranges, the Vintage Floral Draped Corset Dress is the fit that makes you want to fall in love!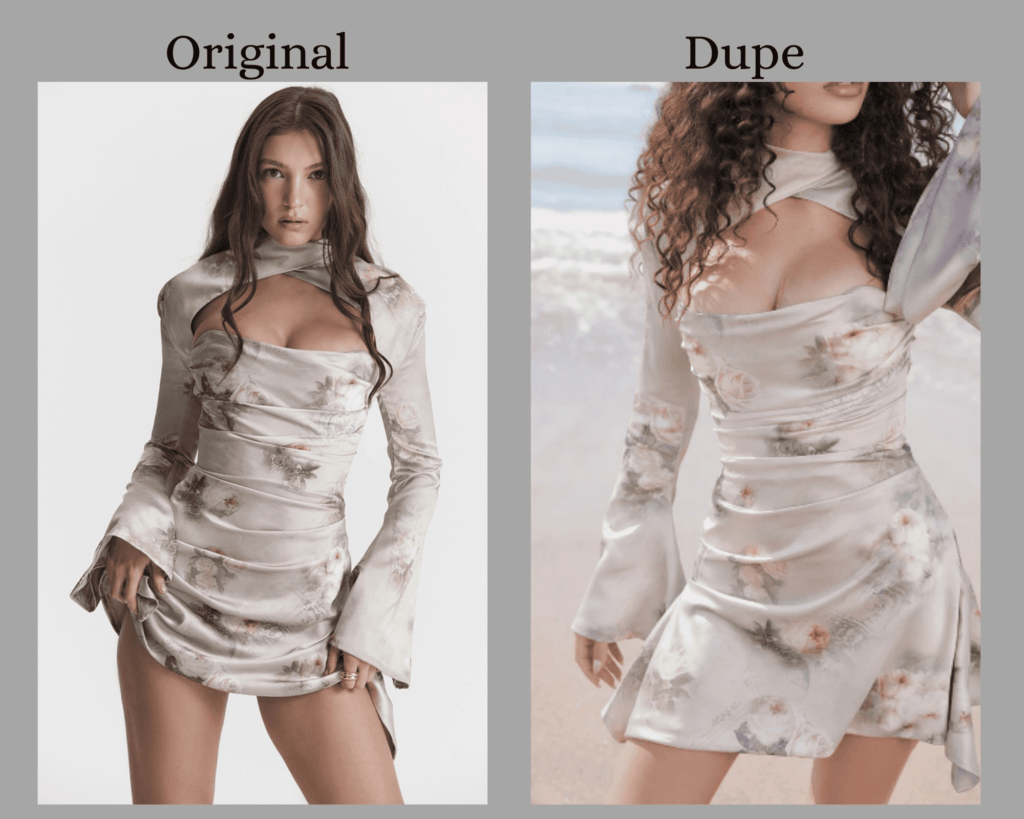 Specs
Price: $48
Material: Silk satin
Floral print
Cross-front halter shape
Open front
Cowl neckline
Flared cuffed sleeves
Sizes available: 4
Colors available: 1
Pros
Floral and flirty
Skin baring open front
Dramatic sleeves
Comfortable and classy
Convenient
Cons
There are no reviews available.
My hunt for the House of CB's Shoreline Tan Jersey Gathered Mini Dress from the Mistress Collection ended when I found a lookalike from an underrated brand. I would define it as the modest version of the original HOCB dress. So, if you wish to skip the deep elongated cleavage showing neckline and opt for something subtle, this Mocha-colored Yisel Dress by PuteriaXO must be your preferred choice.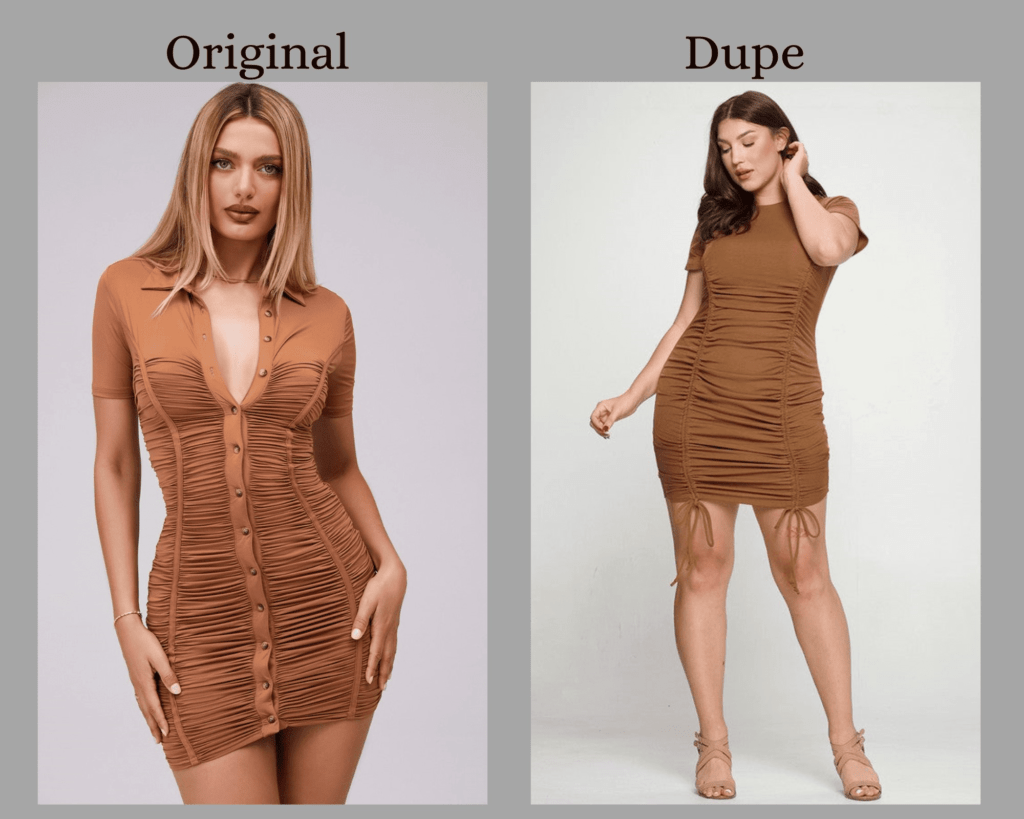 Specs
Price: $50
Ruched mini dress
Lace-up detail
Short sleeves
High neck
Tie detail at the end
Body fit
Sizes available: 3
Colors available: 1
Pros
Modest and minimal
Minute details
Shape enhancing
Affordable
Cons
The back of the dress is too plain.
Established in 2021, Stchute quickly grabbed the global women's fashion market. The direct connection with the manufacturer results in high-quality dresses at moderate prices. At Stcute, one can find replicas of iconic high-end dresses.
The Stcute Sleeveless Ruffle Hem Mini Dress is the sustainable substitute for the House of CB's Lilou Black Ruffle Hem Dress. The $55 ultra-flattering fit adorned with a ruffle hem and straight neckline is the ultimate dupe.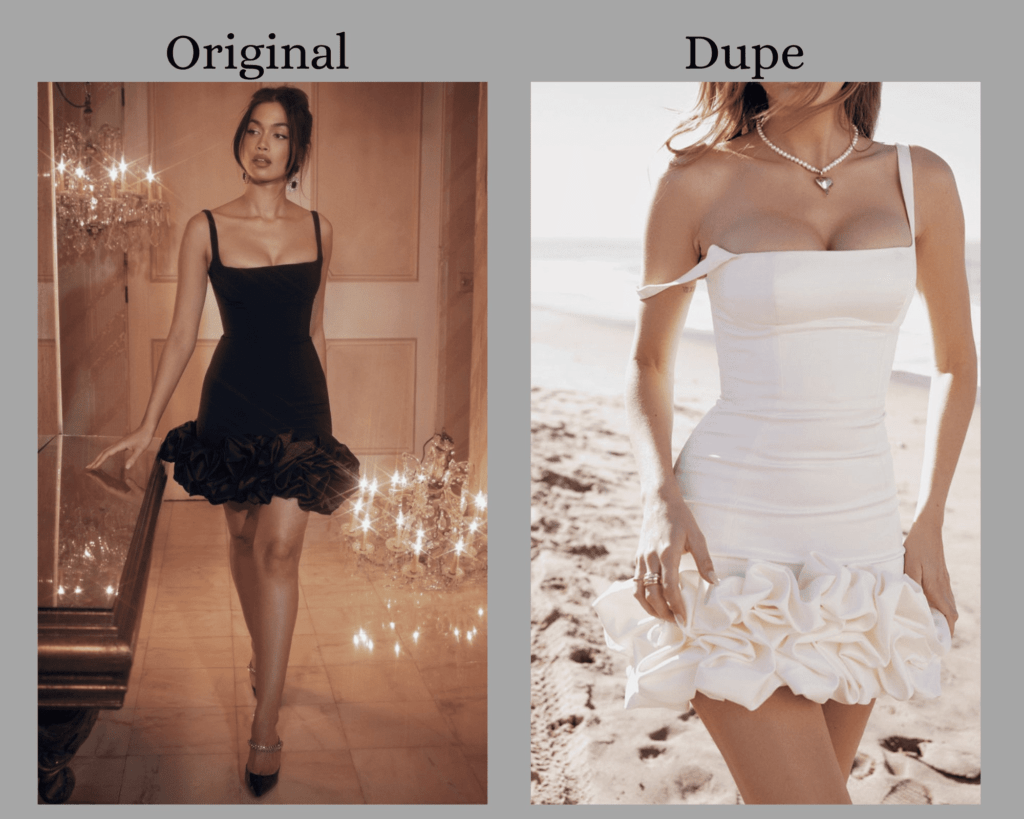 Specs
Price: $55
Material: Polyester and Spandex
Mini length
Ruffled edges
Straight neckline
Sleeveless
Slim fit
Sizes available: 5
Colors available: 2
Pros
Elegant ruffle hem dress
Stretchable and comfortable
Ultra flattering fit
Versatile
Cons
The dress could be tighter.
What if I told you I found a perfect dupe for the Josefina Ivory Floral Maxi Dress by the House of CB? You read it right: the YesStyle Femme Cradle Spaghetti Strap Floral Midi Bodycon Dress with a bust-uplifting neckline and adjustable shoulder straps makes it the absolute summer date outfit.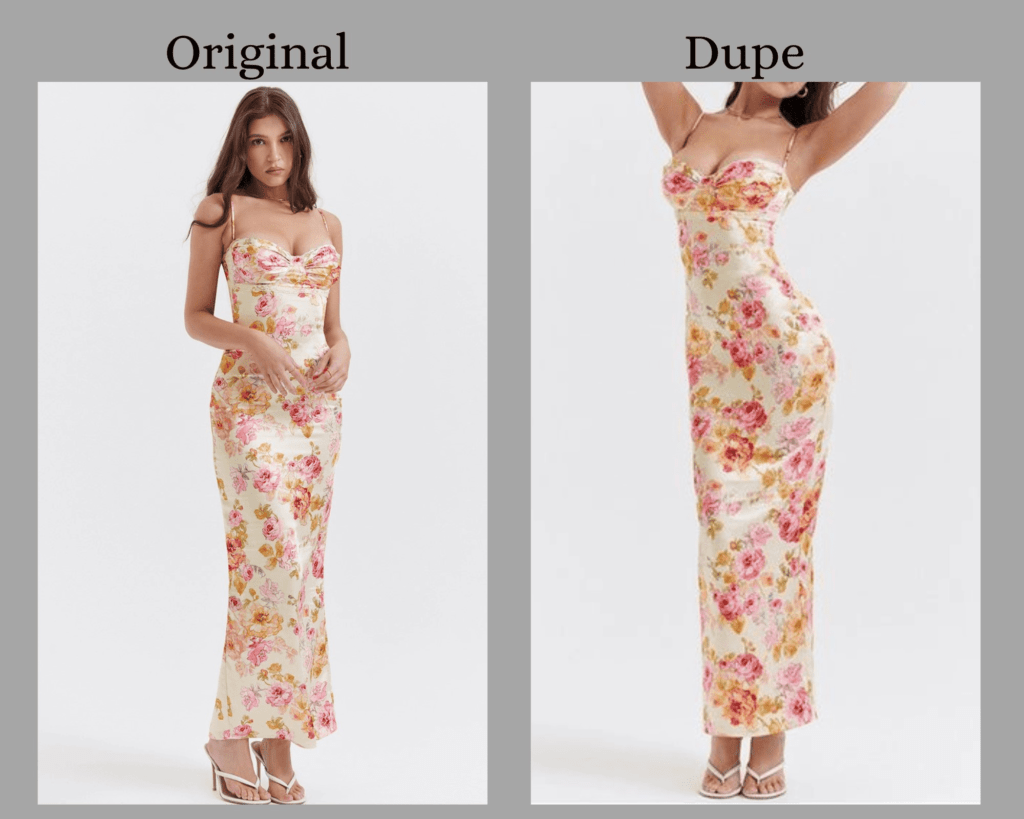 Specs
Price: $18
Material: Blended
Floral print
Spaghetti strap dress
Midi length
Bust flattering fit
Adjustable straps
Sizes available: 3
Colors available:1
Pros
Shape-enhancing bodycon dress
Affordable price
Fashionable high-street style
Casual and classy
Cons
There are scanty reviews available online.
Last but not least, I couldn't miss out on the Petra Striped Bandage Midi Dress. One of the signature designs of the House of CB, the ultra stretchable bodycon with an elegant off-shoulder neckline has wooed women. However, if you are looking for a bandage dress without putting a bandage on your wallet, check out the Shein Striped Off-Shoulder Bodycon Dress. Moderately priced at $60, the pencil hemmed midi dress is the perfect match.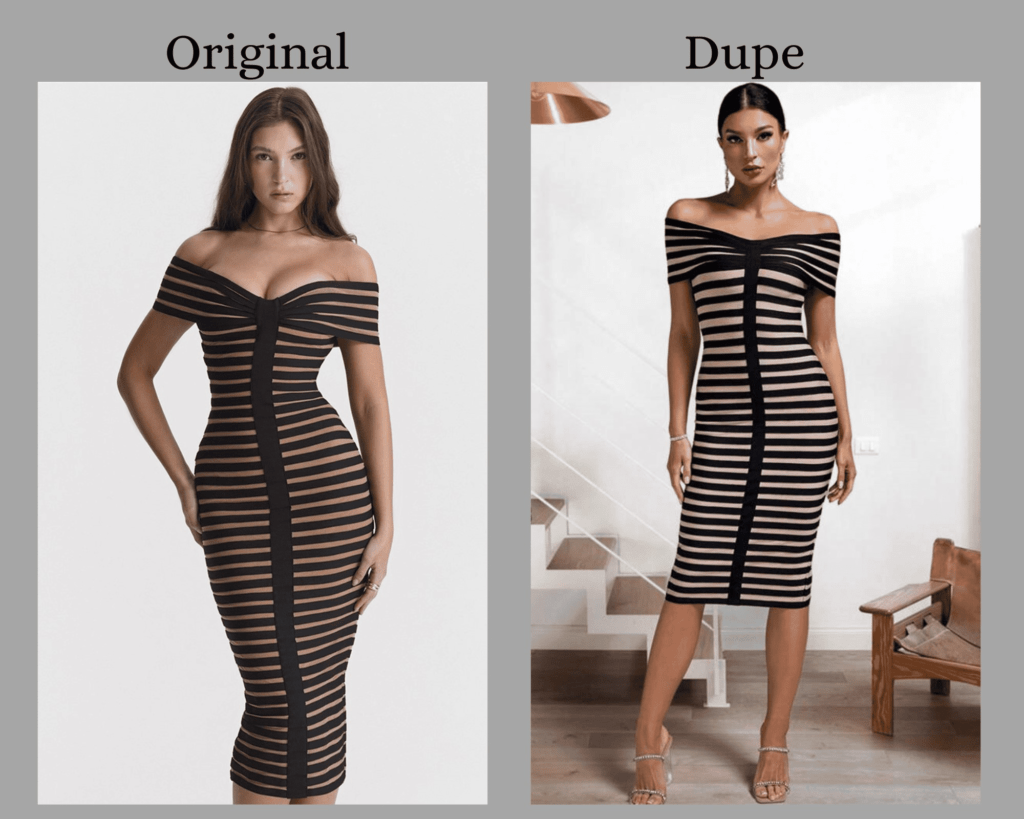 Specs
Price: $60
Material: Polyester and Spandex
Knitted fabric
Off shoulder neck
Short sleeves
Pencil hem
Slim fit
Sizes available: 4
Colors available: 1
Pros
High-stretch knitted fabric
Elegant and comfortable
Budget-friendly
Cons
The dress is high maintenance.
4 Things to Keep in Mind Before Buying Yourself a Dress | House of CB Dress Dupes
Choosing the ideal dress is undoubtedly one of the most challenging life decisions. And if it is online, one has to rely on the given features and take the chance. So, to save you from post-shopping regrets and invest in something better and functional, there are four things I do to shop for my favorite dresses online comfortably.
Color and Shade
Colors play a dominant role, and you wouldn't want to receive something shabby. So make sure you turn up your screen brightness while viewing your dress. Moreover, the lighting of your surroundings also affects the shade. Don't forget to check the return policy for convenient product replacement in case of faulty color or shade.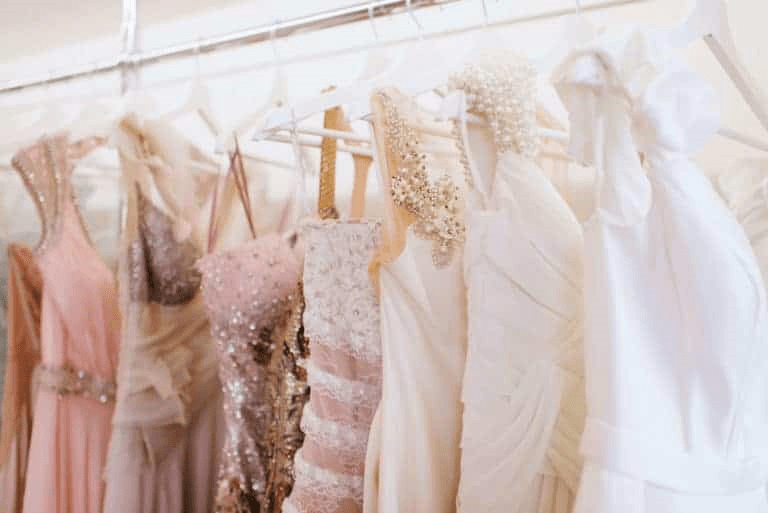 Size and fitting
Sizes vary with different brands and regions. If you shop from an international website, filter out your region and zoom in on the size guide. Take measurements of your body to get the figures accurate instead of guessing.
Also, check the fitting and do more than just going by the images. Some online outlets of luxury clothing brands mention the height of models for better understanding and enhanced shopping experience.
Material
Fabric is another essential factor that should be considered. Make sure the fabric is comfortable and stretchable. Furthermore, choose dresses with in-built underwired cups for a shape-enhancing fit.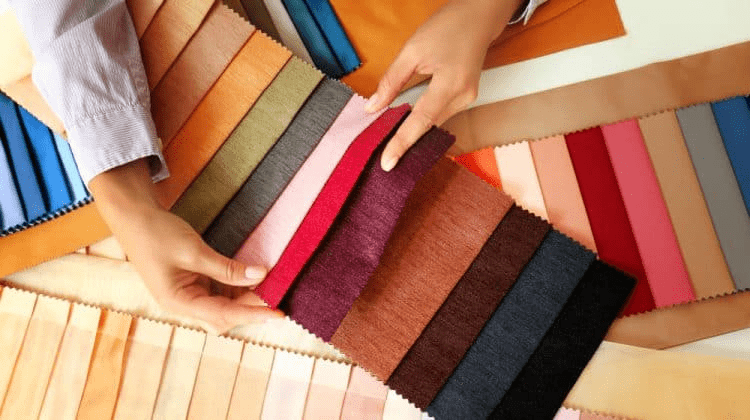 Reviews
Customer reviews act as an important validation and state the actual reality of the product. If you love a dress, consider checking its user experiences to understand better what to expect and decide accordingly.
Frequently Asked Questions | House of CB Dress Dupes
Is House of CB a Luxury Brand?
Yes. House of CB ( House of Celeb Boutique) is a luxury brand founded by Conna Walker in 2010. The London-based brand claims to fit everyone's budget, from celebrities to the commoners.
How long does the House of CB take to restock?
House of CB is a leading British women's clothing brand. Iconic pieces from the brand quickly run out. However, it takes fourteen days for the House of CB to restock its products.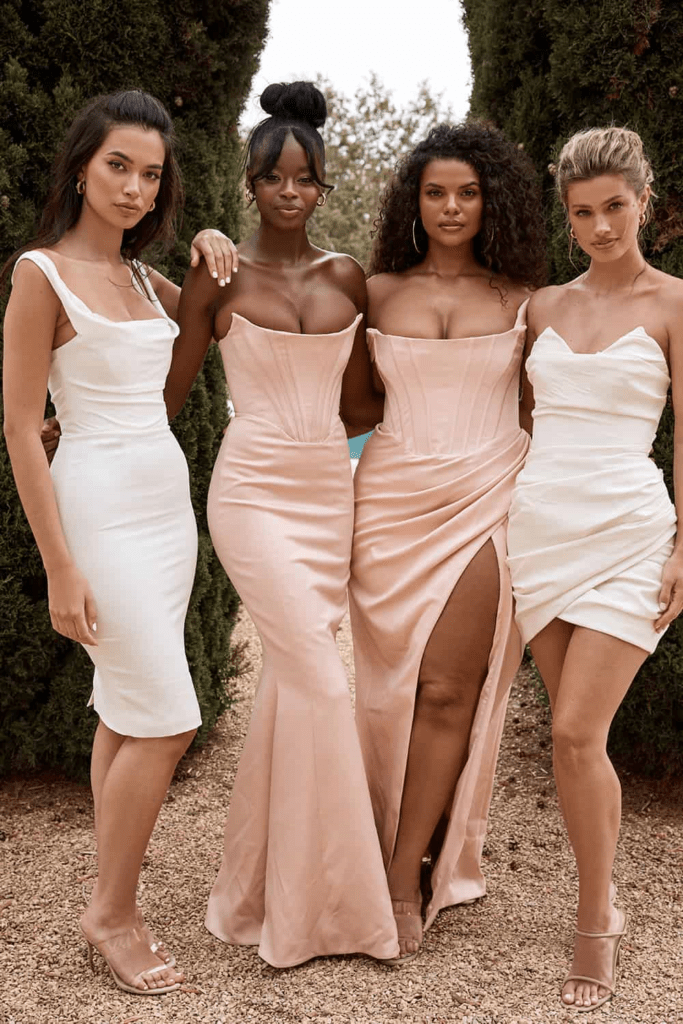 Which are the House of CB dupes from Shein?
This Striped Off Shoulder Bodycon Dress from Shein is a famous House of CB dress dupe. Priced at $60, it is an absolute dupe for the House of CB Petra Striped Bandage Midi Dress.
Which is the dupe for the House of CB floral dress?
The elegant Josefina Ivory Floral Maxi Dress has a sustainable substitute at just $18. The Spaghetti Strap Floral Midi Bodycon Dress by YesStyle is the ultimate dupe for the House of CB floral dress.
Which are the best House of CB Dupes?
Striped Off Shoulder Bodycon Dress from Shein, Off Shoulder Satin Romper by Haute & Rebellious, Pietra Corset Mini Dress, and Vintage Floral Draped Corset Dress from Dress in Beauty are the best House of CB Dupes.
The Conclusion | House of CB Dress Dupes
House of CB is the ultimate dress destination when buying high-quality body-hugging silhouettes in wide colors and patterns. Having impressed women from all walks of life globally, the House of CB has come a long way.
Although the brand claims to fit the budgets of many, many women find them expensive, leading them to seek reasonable alternatives. Thus, I have chosen 11 bestselling dresses from the House of CB and found a dupe for each.
I have also mentioned a small buying guide and answered the most asked questions on the web. Nothing can stop you from enjoying the main character's energy with these stunning House of CB dress dupes.
More Dupes: