Do you also want to rise high with Mach and Mach-like heels without spending too much? Hop onto this article right away! Get your hands on 11 amazing Mach and Mach dupes to add to your collection without breaking the bank.
Fancy footwear instantly uplifts the look and boosts confidence. Mules, stilettos, and high-length boots are synonymous with picturing a greater authority, embracing femininity, and validating your presence. Mach and Mach is one of the few brands that radiate that powerful energy through clothes and footwear. Their unique footwear is the hottest category that has made Mach and Mach a viral brand.
However, the price range is over the top, making their products inaccessible. Thus, for those who look for affordable alternatives to Mach and Mach footwear, I have curated a list of 11 shoes and heels that look almost the same. I have selected the 11 hottest products and let out a dupe for each.
Mach and Mach Dupes | Ditto Without Spending Too Much!
Based in Georgia, Mach and Mach was founded in 2012 by two sisters passionate about fashion and clothes. Mach and Mach is famous for its exquisite embellished encrusted bow design. The sparkling shiny shoes soon made it to the closets of famous personalities, including Kylie Jenner and Solange Knowles. Mach and Mach, with a glittery, flashy vibe, is the most preferred choice for important events like weddings and birthdays to lift you and elevate your emotions.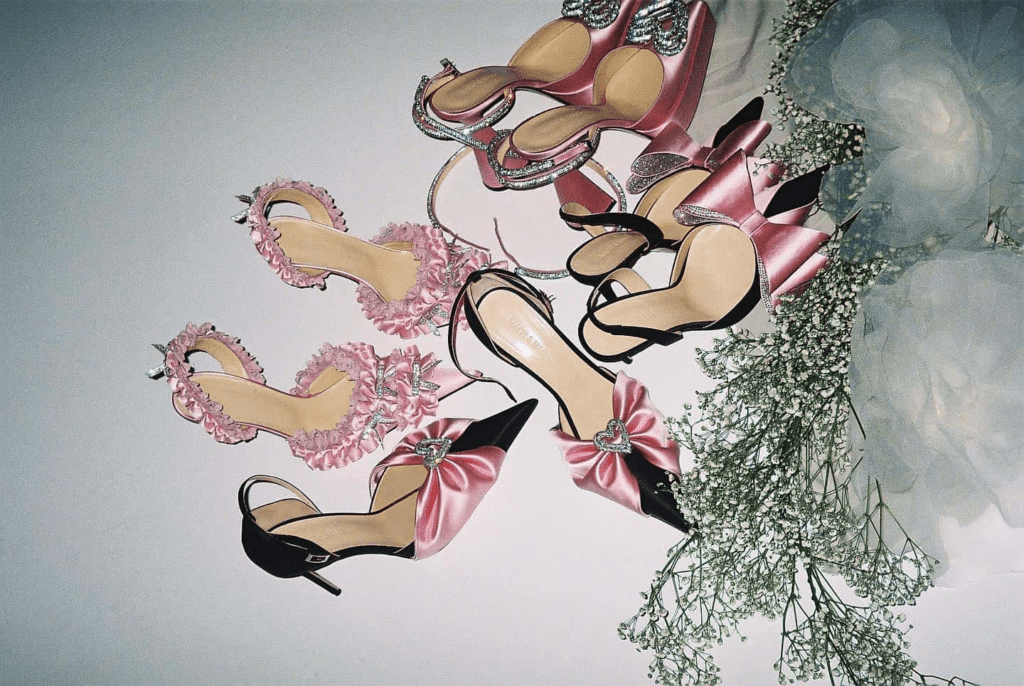 However, its extravagant price tag only allows a few people to buy them, so they seek other similar-looking options. In this blog post, I have chosen 11 bestselling Mach and Mach shoes and elaborated a dupe of each. Read on to find the best Mach and Mach Dupes.
The first Mach and Mach pair is the Double Bow Silk Satin High Heel Pumps. Crafted and soled with genuine leather and adorned with glass and metal embellishments, it is priced at $ 985. However, the Steve Madden version is much more affordable and looks almost the same. The Viable Off White is a slender stiletto detailed with rhinestones, slim straps, and a bow design. Priced at $110, it is a deal worth considering.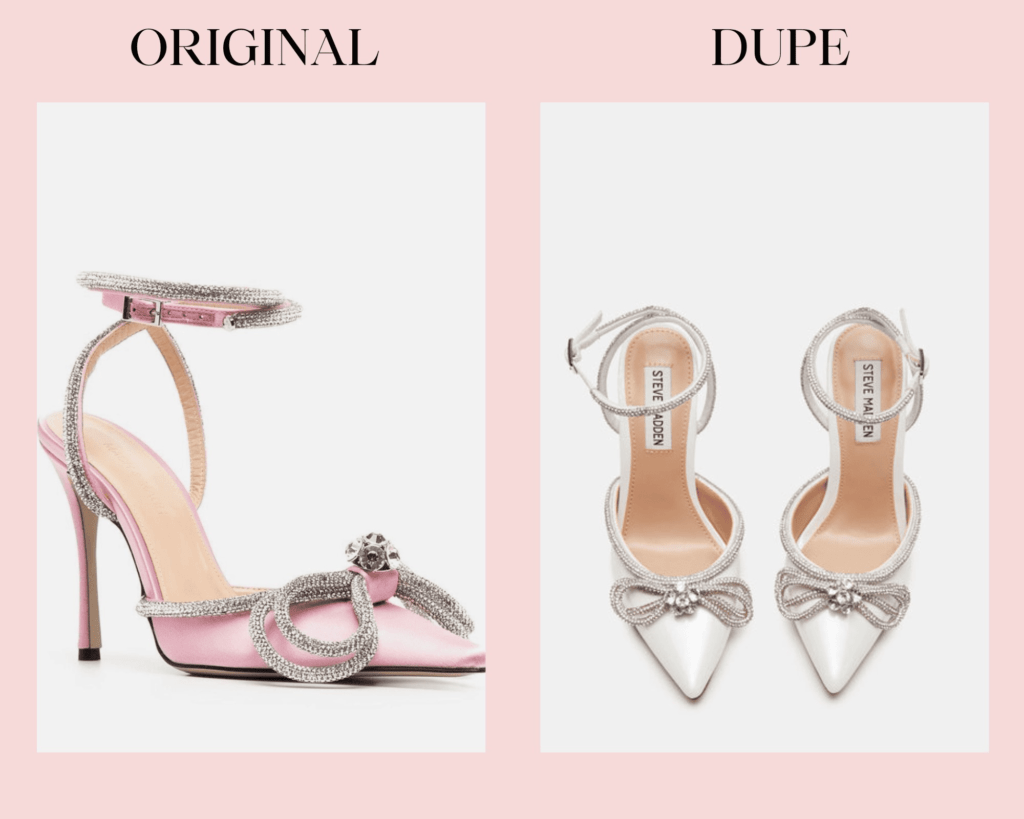 Specs
Price: $110
Heel height: 4.3"
Textile upper with embedded stones
Vegan leather lining
Synthetic sole and sock
Pointed toe design
Pros
Rhinestone embellished
Slender and slim look
Vegan
Classy and stylish
True to size
Comfortable and glittery
Cons
It's not good for a lot of walking.
Pearls instantly add an element of elegance and sophistication. Your hunt for Mach and Mach-like Pearl embedded heels ends here. The Hebe Shoes from Empire89 are the absolute dupe to the Mach and Mach's Metallic Pearls Pump. Built with silver leather, transparent vinyl, and pearl details, the pin heels make a perfect partywear pair.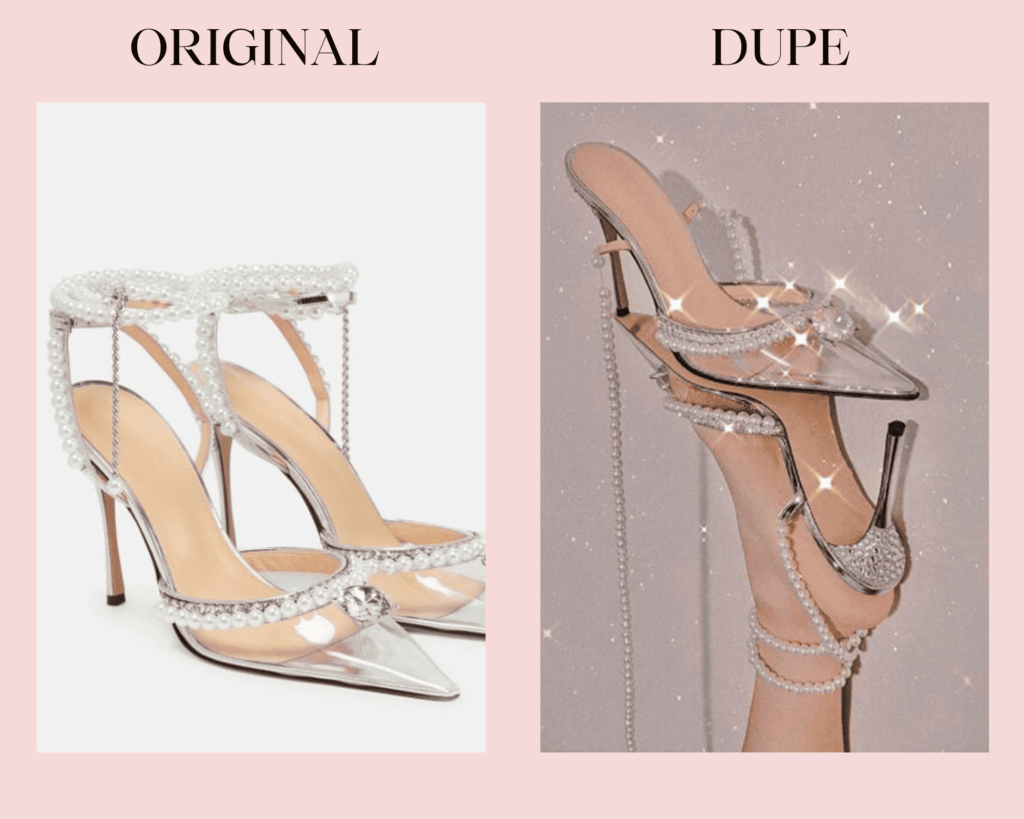 Specs
Price: $97
Vinyl shoes
Pearl studded
Heel Height: 9 cm
Pointed toe design
Pearl ankle strap
Pros
Elegant and sophisticated
Comfortable
Ankle pearl strap
Cons
There are no customer reviews available online.
The Pauline Heels from Sur Demande is an ultimate dupe to the Mach and Mach Double Bow-Embellished Satin Platform heels. The Puauline heels replicate the rhinestone-detailed double bow design and ankle strap. Available in Pink and Black colors, they are definitely worth adding to your collection.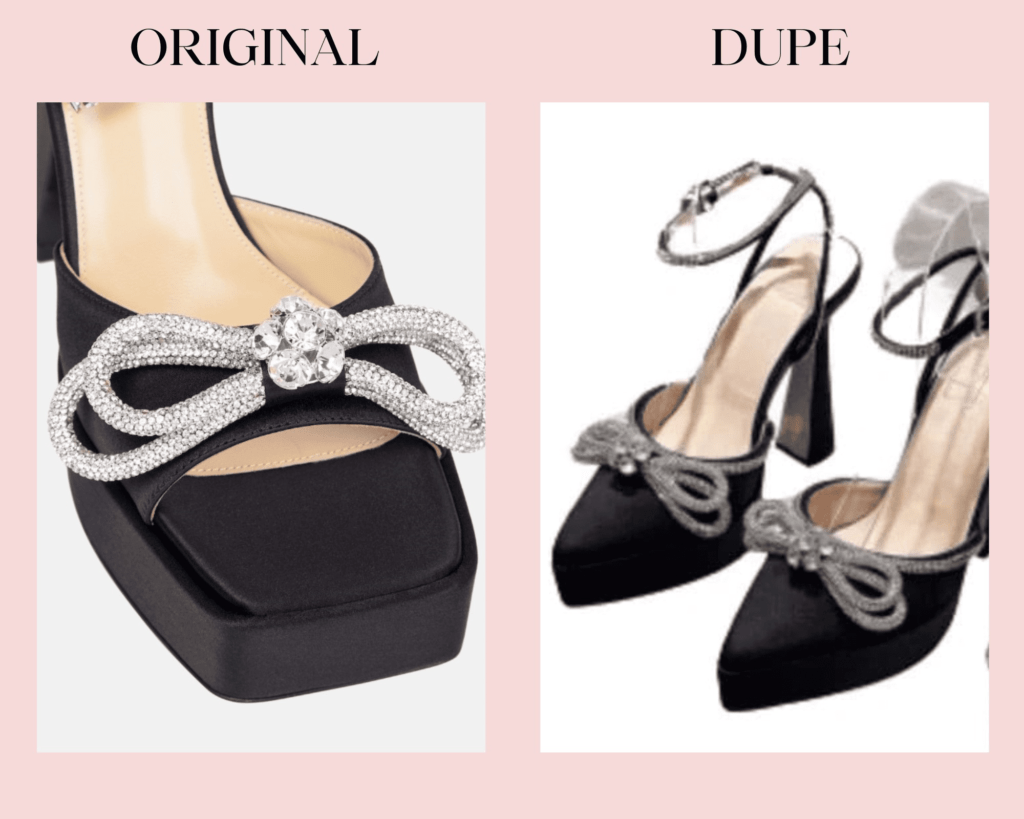 Specs
Price: $76
Wide pointed toe
Rhinestone trim ankle strap
Platform heels
Double bow embellished
Pros
Affordable and elegant
Available in 2 colors
Comfortable and sleek
Cons
There are customer reviews available.
Shein is known for selling high-quality fashion accessories inspired by iconic designs at reasonable rates. Home to innumerable dupes, one can find Mach and Mach dupes that are just as promising as the real ones. Lined with Pu Leather and upper built of satin, the adornments make them a considerable alternative.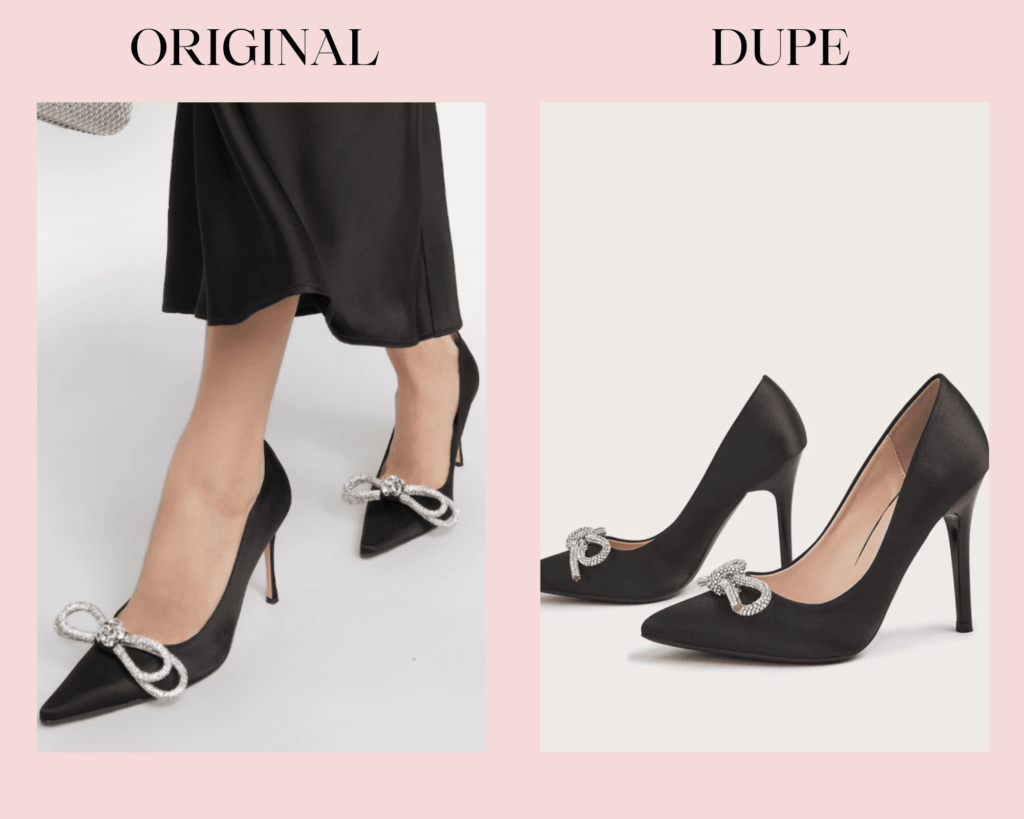 Specs
Price: $24
Heel height: 4.3"
Court pumps
Plain point toe
Stiletto heels
Satin upper
PU leather lining
Pros
Glamorous and glittery
Chic and comfy
It fits true to size
Cons
The item is hardly available.
Founded in 2021, Mirrazzurra is a handmade women's shoe-wear brand selling quality shoes at modest prices. The $50 Rhinestone Bow Ankle Strap Sandals from their collection resemble the OG Mach and Mach Double Bow crystal-embellished silk satin pointed-toe pumps. Made with PU leather, the Mirazzurra version is a comparable dupe at an affordable price.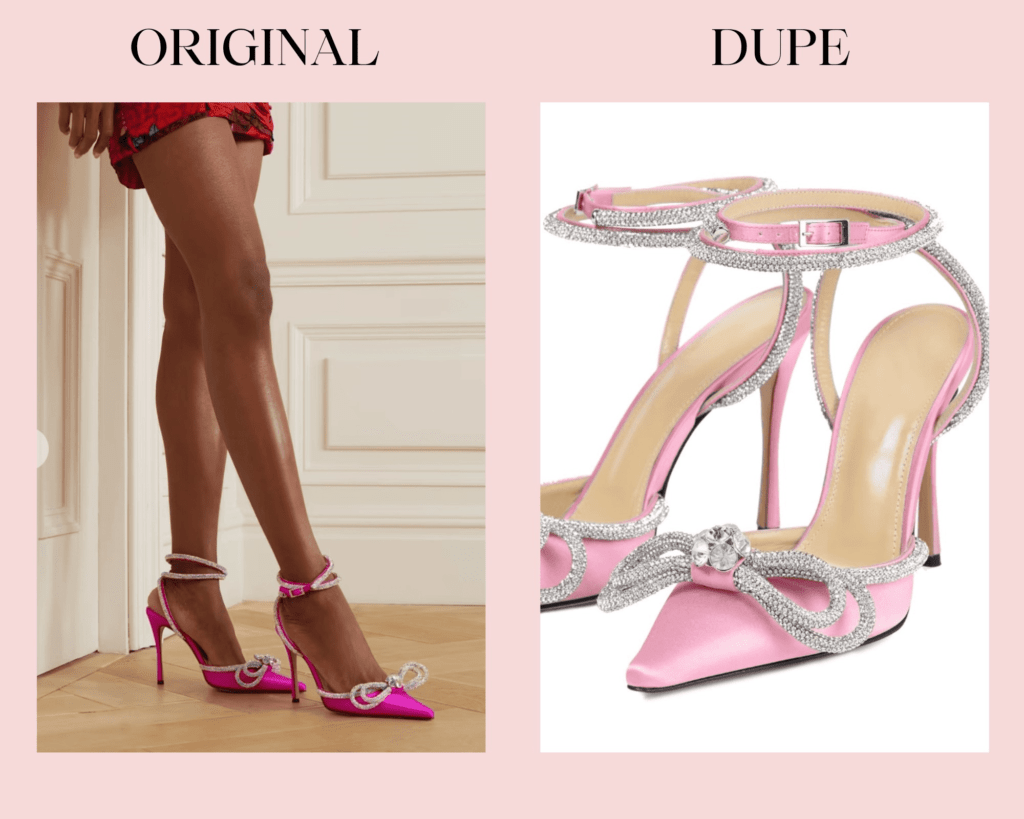 Specs
Price: $50
Heel height: 4"
PU material
Stiletto heels
Pointed toe
Ankle strap closure
Rhinestone double bow details
Pros
Superior material
Well designed
Handmade and durable
Available in various colors and sizes
Cons
One may face fitting issues.
Solid-colored ankle boots from Mach and Mach have a unique vibe. Put together with a leather sole and backing, the bow-detailed covered heel channels your inner boss girl. Do not bother with the price as we have the exact dupe product from Dollskill's. The Rhia Ankle boots are made with vegan leather, so you walk guilt-free.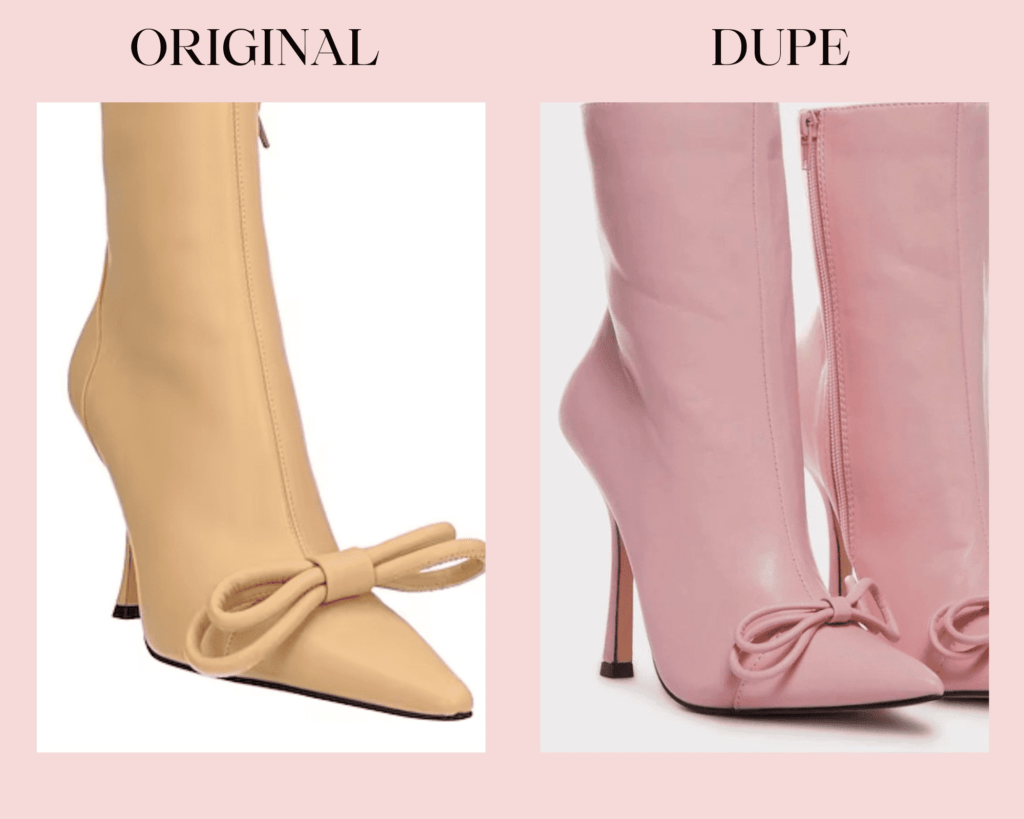 Specs
Price: $42
Vegan leather construction
Pointed toe
Side zip closures
Stiletto heels
Double bow adornment
Pros
Minimal and stylish
Reasonable dupe
Handmade
Vegan
Cons
Available in a single color.
How black leather boots enhance the overall look and instantly boost your confidence makes you add one to your collection, right? The Mach and Mach is that missing piece in your closet; however, the price might hurt you and deter you from slaying that boss babe outfit you've been waiting to wear. But not anymore! I have found a great deal at just $71. So hop on to buy the perfect pair to explore the wholesome winter.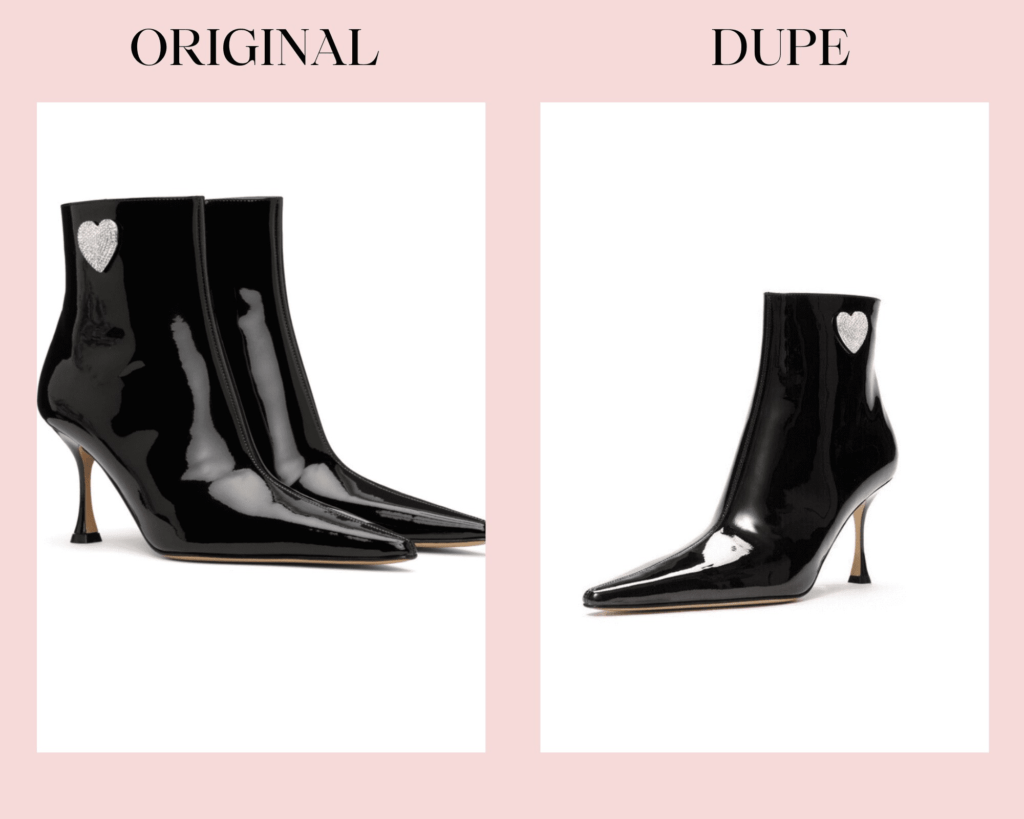 Specs
Price: $71
Long pointed-toe design
Rhinestone heart decoration
Stiletto heels
Ankle boots
Pros
Affordable
Comfortable and chic
Available in two blacks (Shiny and Matte)
Cons
There are no user experiences available online.
The Soicu Bow Ankle Strap Platform Sandals from The Label is an absolute dupe to the Mach and Mach Le Cadaeau Satin Platform Sandals. Upper built with sleek satin and bow-embellished details replicate the original platform heels. Priced at almost one-tenth of the OG Mach and Mach, this is worth looking at.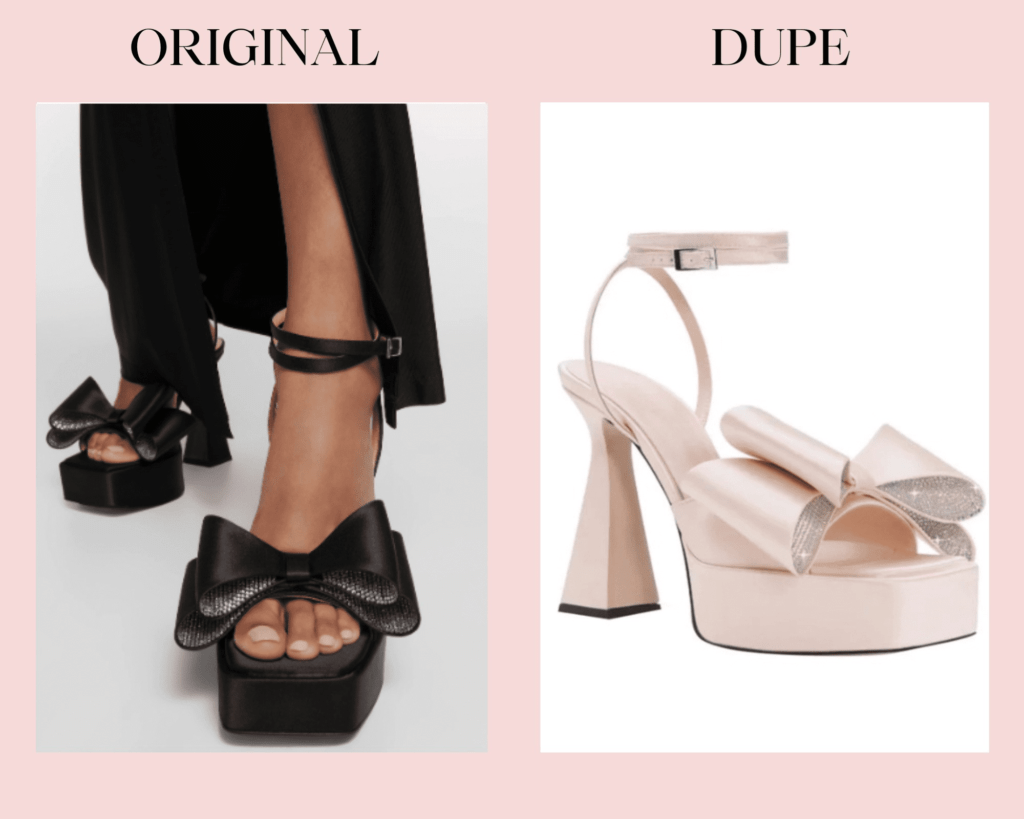 Specs
Price: $169
Heel height 4.7"
Platform sandals
Adjustable ankle strap
Bow embellished
Satin upper
Pros
Sleek and slender look
Comfortable and convenient
Versatile wear
Cons
Sizing and measurements may vary between cuts and designs.
Dhgate is a popular online retail outlet that has a plethora of products in all categories. I always turn to Dhgate to find affordable options for high-end products. This time, I have a haul of shoes and heels, one of which is a popular Mach and Mach Dupe. Yes, you read it right. The Double Heart embellished satin pumps that were so excruciating to find were finally found on Dhgate. The $93 tag made me grab the deal without thinking twice.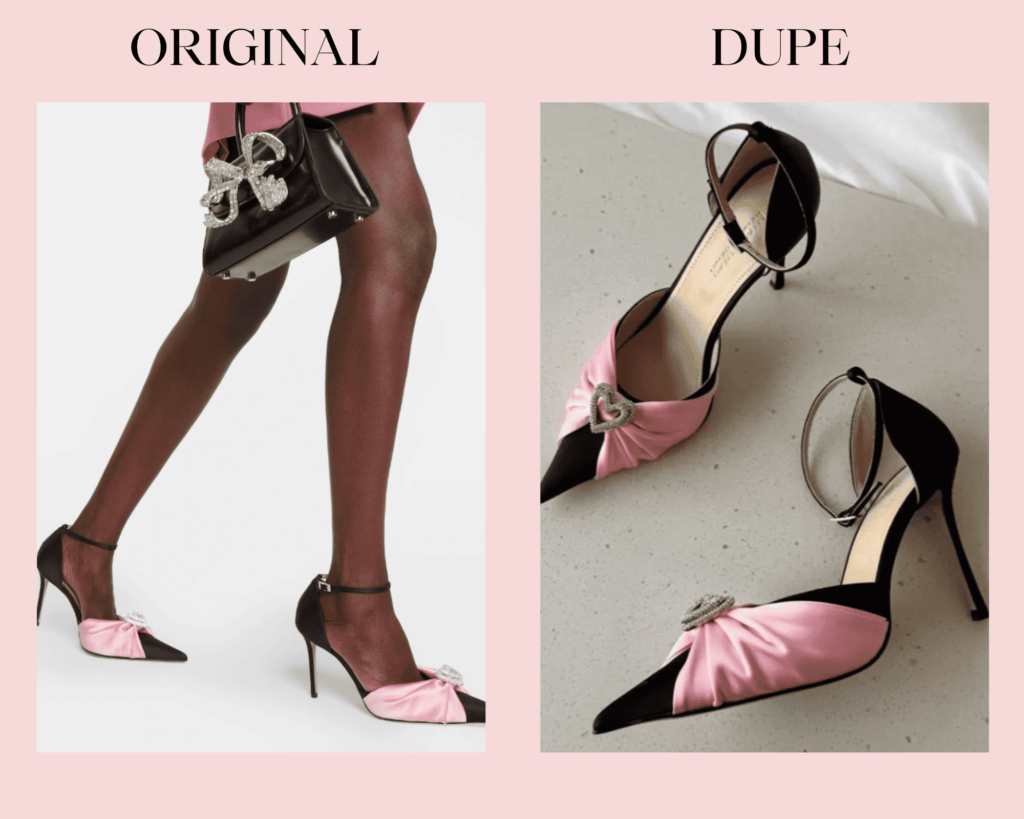 Specs
Price: $93
Pointed toe design
Calf leather lining
Leather insole
Zipped side closure
Pros
Double heart embellished
Available in multiple colors and sizes
Reasonable deal
Cons
There are very few customer reviews available.
I found Mach and Mach's Devon Satin Platform Sandal dupe online. The self-tie ankle wrap closure with PU outsole and Polyester upper is a durable substitute. Available in vibrant color options and various sizes, the Lace Up Open Toe Strap Platform Heels are a great deal.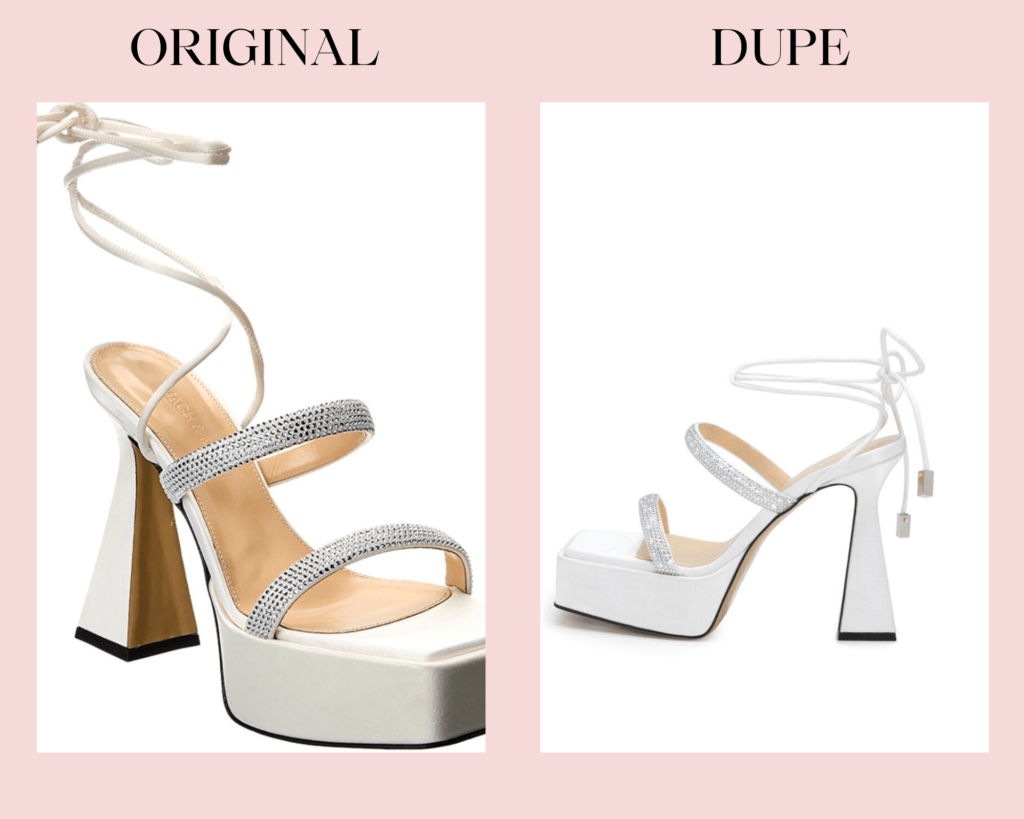 Specs
Price: $ 44.99
Angular platform heels
Espadrille style
Polyester upper material
Lace-up closure
PU outsole
Pros
Durable and comfortable
Available in 3 colors
Cons
The item is running low on stock.
Another alternative product from Shein. The Mach and Mach's Double Bow Satin Ballet Flats have a twin on Shein. Jokes apart, the Rhinestone Bow Poiny toe flats lined with PU leather with a rubber outsole are a reasonable and comparable substitute.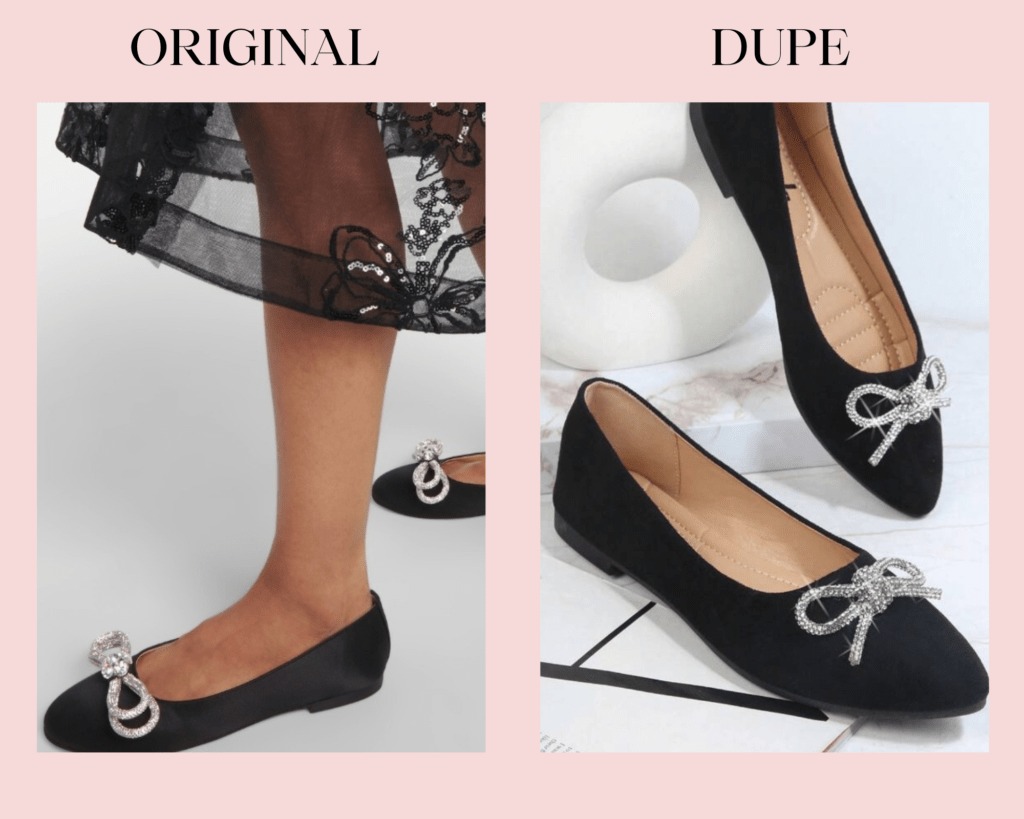 Specs
Price: $13
Plain ballet shoes
Pointed toe design
Rhinestone bow details
Suedette upper
PU leather insole and lining
Rubber outsole
Pros
Great fitting
Cost-effective
Soft and sleek
Lightweight
Cons
If you liked this list, I'm sure you'll love these too:
Details to Check While Buying The 3 Elegant Footwear Staples | Mach and Mach Dupes
Heels
Heels are an essential closet staple. From parties to weddings to corporate aesthetics, heels are here to uplift you and enhance your outfit and overall personality. However, finding the right heels online can be tedious but possible. Choose stilettos and pointed pumps if you wish to create an illusion of slim, sleek legs.
Another option that is the perfect combination of fashion and functionality is Platform heels. My preference is more inclined towards platform heels as they are more stable and give extra support to heels.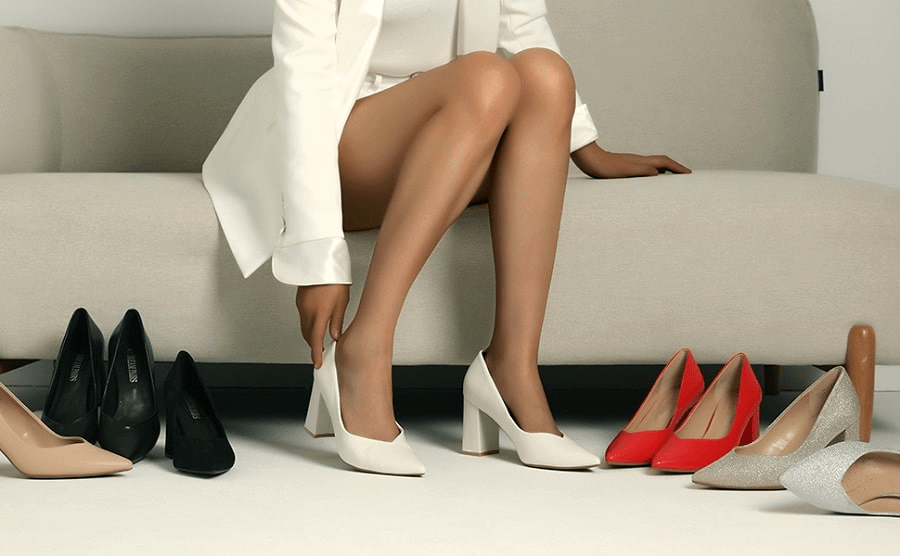 Mules
Muled heels are a great choice when you seek comfort and height on the go. They are best suited to smart casual outfits as well as formal attire. Size half an inch up while buying muled heels to provide sufficient room to your toes. Moreover, consider mules with platform heels over mules with stiletto heels if you are always on your toes.
Boots
Boots instantly amplify your overall look and add spice to your outfit. Make sure to consider heel height and types, length of the boots, calf dimensions, and toe shape before proceeding to checkout. Avoid leaving any aspect unchecked to ensure your desired statement looks.
Frequently Asked Questions | Mach and Mach Dupes
Is Mach and Mach a luxury brand?
Yes. Established in 2012 in Georgia, Mach and Mach is a huge fashion accessory brand that caters globally. The quality of its products and iconic bow adornments add up to the price point, thus making it one of the famous luxury fashion brands.
Are Mach and Mach still cool?
Yes. Founded by two passionate sisters, Nina and Gvantsa Macharashvili, the Mach and Mach regained popularity during the post-pandemic celebrations. The beautifully crafted shoes are still relevant and cool with their aesthetic and glamorous features.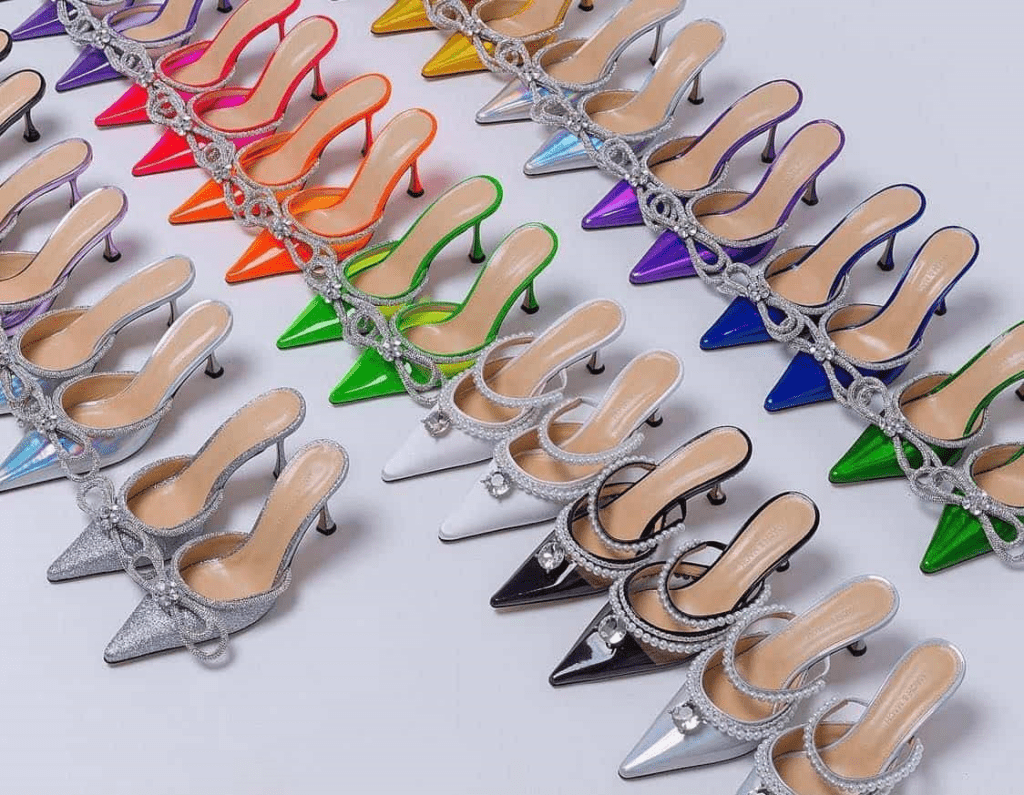 Is there a Mach and Mach official website?
No. Mach and Mach do not have an official website. However, they have an Instagram handle with a large following. You can access Mach and Mach products from online retail partners: Farfetch, Lyst, Nordstrom, Moda Operandi, Netaporter, and more.
Which are the best Mach and Mach Dupes?
Mach and Mach's shoes have a hefty price tag, so people seek reasonable dupes. Popular brands that have affordable alternatives include Shein, The Label, and Steve Madden. Viable Off-White by Steve Madden, Rhinestone Bow Pointy Toe Flats, and Rhinestone and Bow Decor Point Toe Stilleto by Shein are dupes to Double Bow Silk Satin High Heel Pumps, Double Bow Satin Ballet Flats and Double Bow-Embellished Satin Pumps by Mach and Mach respectively.
The Closure | Mach and Mach Dupes
Mach and Mach is a popular fashion giant. Besides unique dresses, handbags, and accessories, the brand has revolutionized the footwear industry with its intricate detailing and durable craftsmanship. Their iconic bow embellishment and unique styles have once again won the feet of many (pun intended).
Mach and Mach bounced back again and hit the grounds during the pot pandemic celebrations. In a nutshell, Mach and Mach has a glamorous, glittery aesthetic that is a statement in itself. However, the price point is pretty high, which makes it financially inaccessible. So, I have picked 11 Mach and Mach shoes for those seeking comparable Mach and Mach Dupes and shared an alternative. I have also added a buyer's guide to shop smart and slay. Click below to find affordable deals for your favorite trendy products.