Celine sunglasses have indeed grabbed all the eyeballs, and why not? Their trendy and timeless pieces scream sophistication and elegance each time you wear them. Unfortunately, it carries an expensive tag, so people look for potent dupes for the same.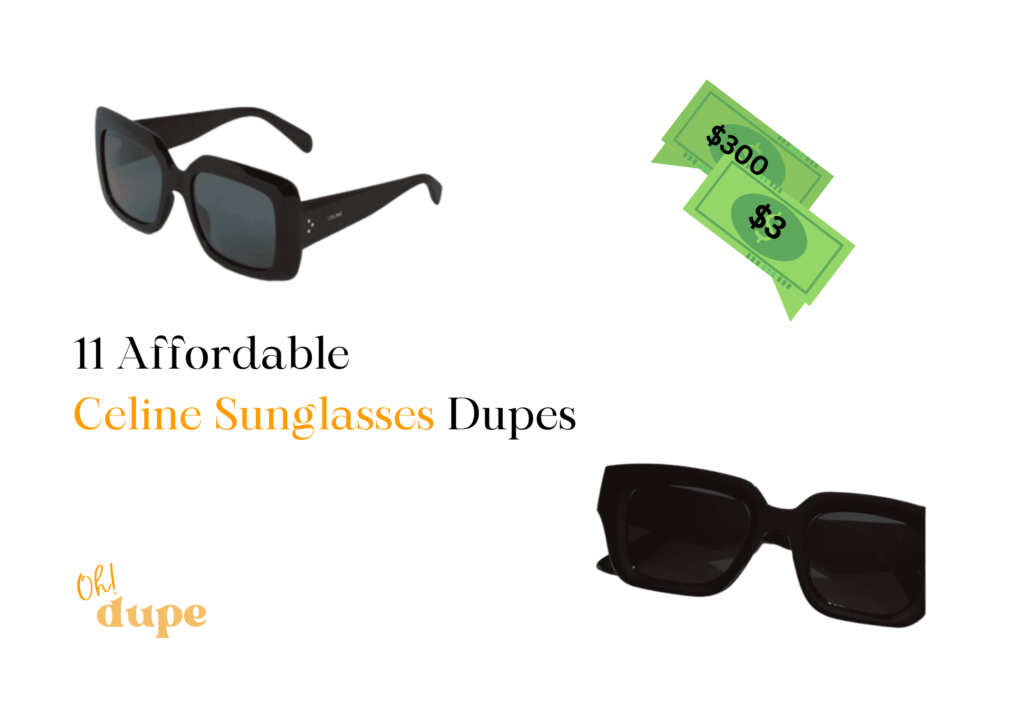 Before you judge this as another review article, let me tell you: You can have the best Celine Sunglasses Dupe right now without spending a lot. I have picked 11 Celine Sunglasses and found a reasonable dupe for each. Don't bother young boys; I also have some fantastic pieces from the Men's collection. So, without any further ado, let's look for the best.
Celine Sunglasses Dupe | Comparable Options!
Before we find the best Celine Sunglasses Dupe, let's quickly glimpse Celine as a cult classic luxury brand. Celine Vipiana and her husband, Richard, began with a kid's shoewear line in 1945. From its global expansion to becoming a versatile fashion brand and finally joining hands with LVMH, Celine has emerged as an important fashion luxury brand.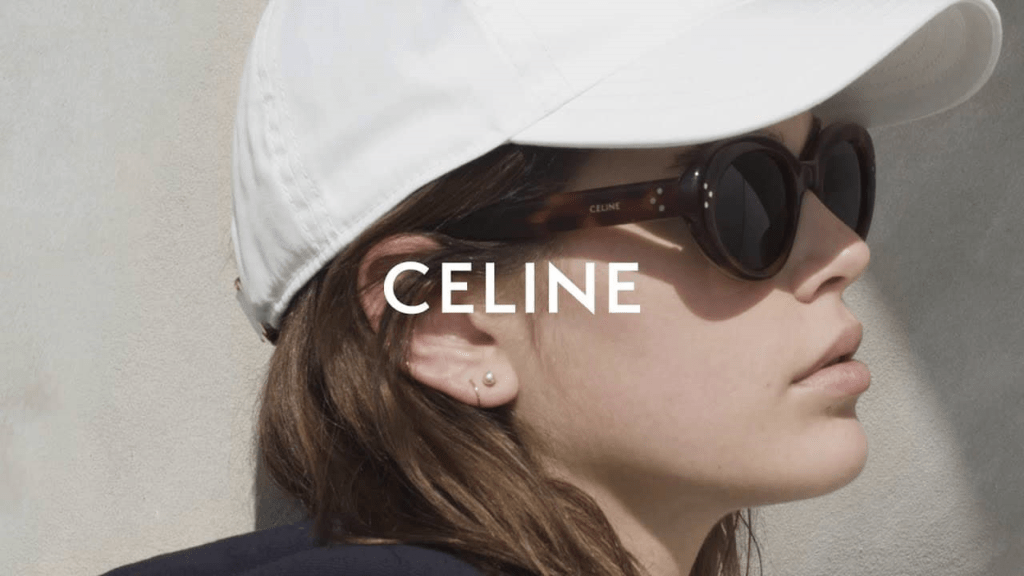 Most people find Celine sunglasses worth the splurge; however, some find it expensive and over the top. So, for those wanting Celine-like sunnies, hop on to the 11 best Celine Sunglasses Dupe Products.
Founded in 2013 by famous Italian blogger and businesswoman Chiara Ferragni, the brand focuses on manufacturing iconic eyewear. After exploring various categories, Chiara Ferrangni, as a brand, has become one of the greatest Italian icons. While scrolling down the collection, I found this pair that resembles the Celine Triomphe Wide Oval Sunglasses. Right from the lenses, wide frame, and broad temples, it resembles the viral Celine Triomphe 01 and is at a great deal.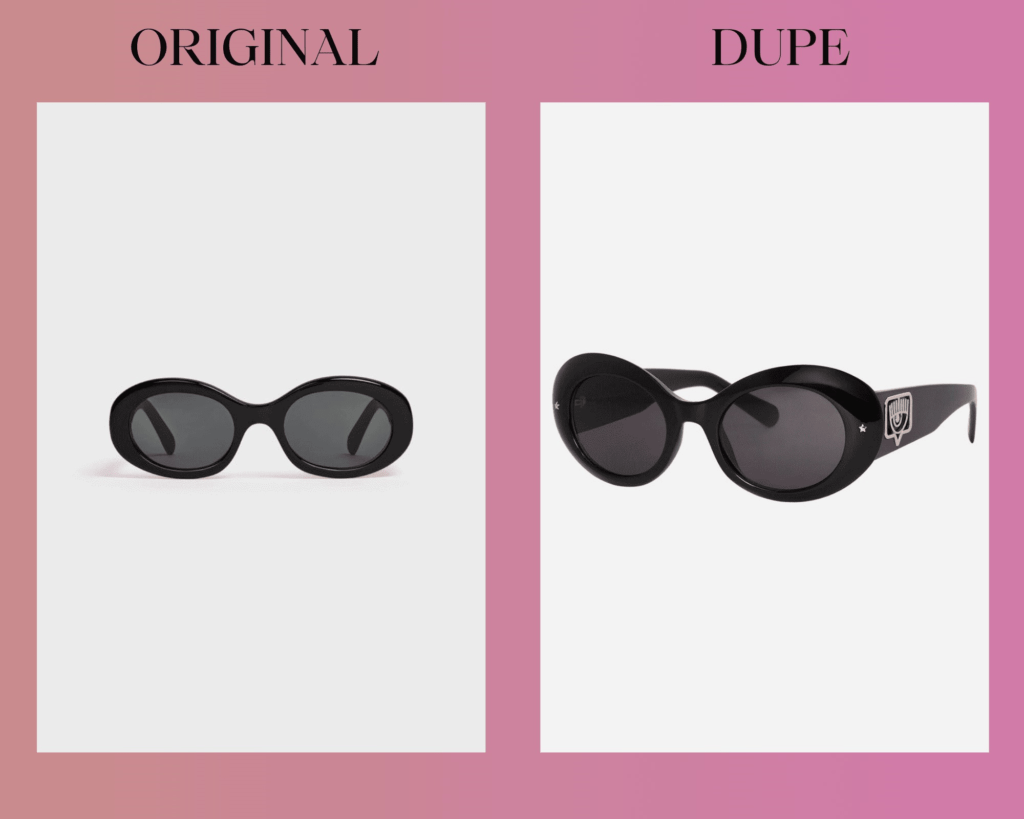 Specs
Price: $158
Wide oval sunglasses
Broad logo engraved temple
Wide frame
Polycarbonate lens
Colors available: 3
Pros
Affordable
Similar to the Triomphe
Chic and classy
Durable
Cons
There are no reviews available.
I found the viral Celine Oversized Square Sunglasses on Shein at just $3. At first, I thought it was a bluff, but I was amazed at its fit and frame look. Made of durable plastic material, these glasses are worth considering. Not to forget, it has a variant with a fire flames print for a quirky look.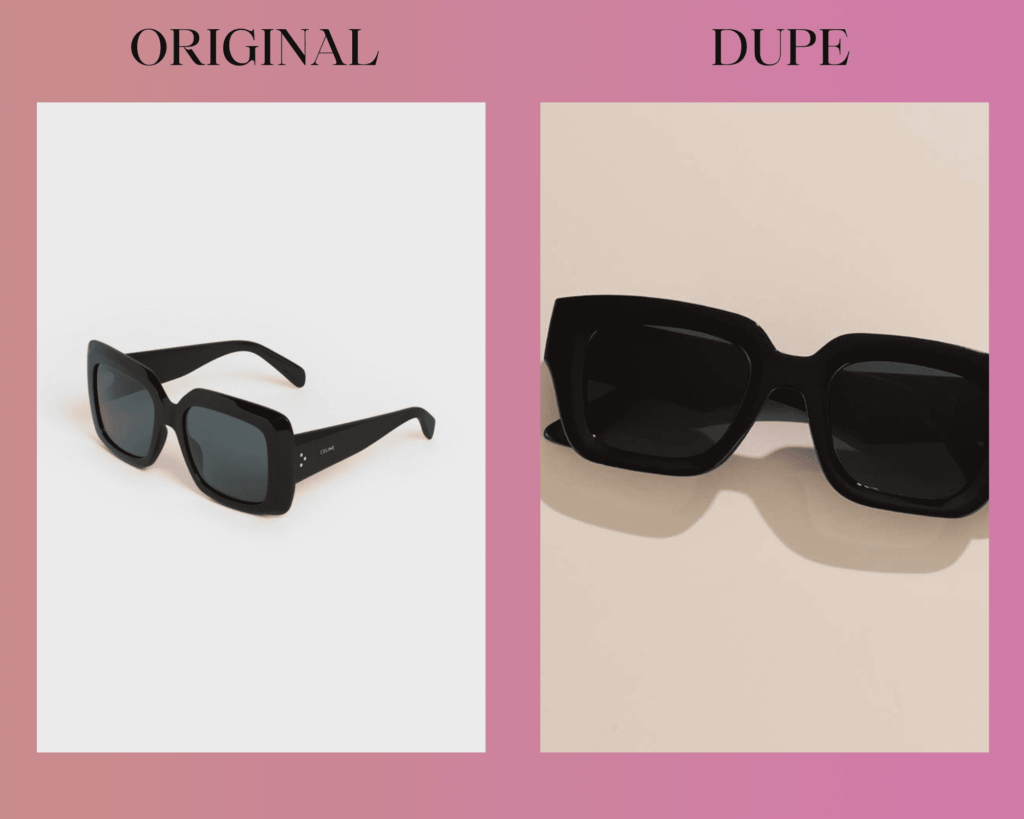 Specs
Price: $3
Square shaped glasses
Plastic frame
Polycarbonate lens
Full rim glasses
Colors available: 2
Pros
Reasonable rate
Casual and comfortable
Lightweight and durable
Cons
The glasses do not protect against the harsh sun.
Cat eye sunglasses are a must-have in your wardrobe as they are the most versatile eyewear. They flatter your face shape and instantly enhance your overall look. Celine's Cat Eye Sunglasses are a vibe; unfortunately, the price is not. Don't bother; I have found a budget-friendly option from CWC Collection. Its sleek and stylish design gives you the same Celine-like chic look.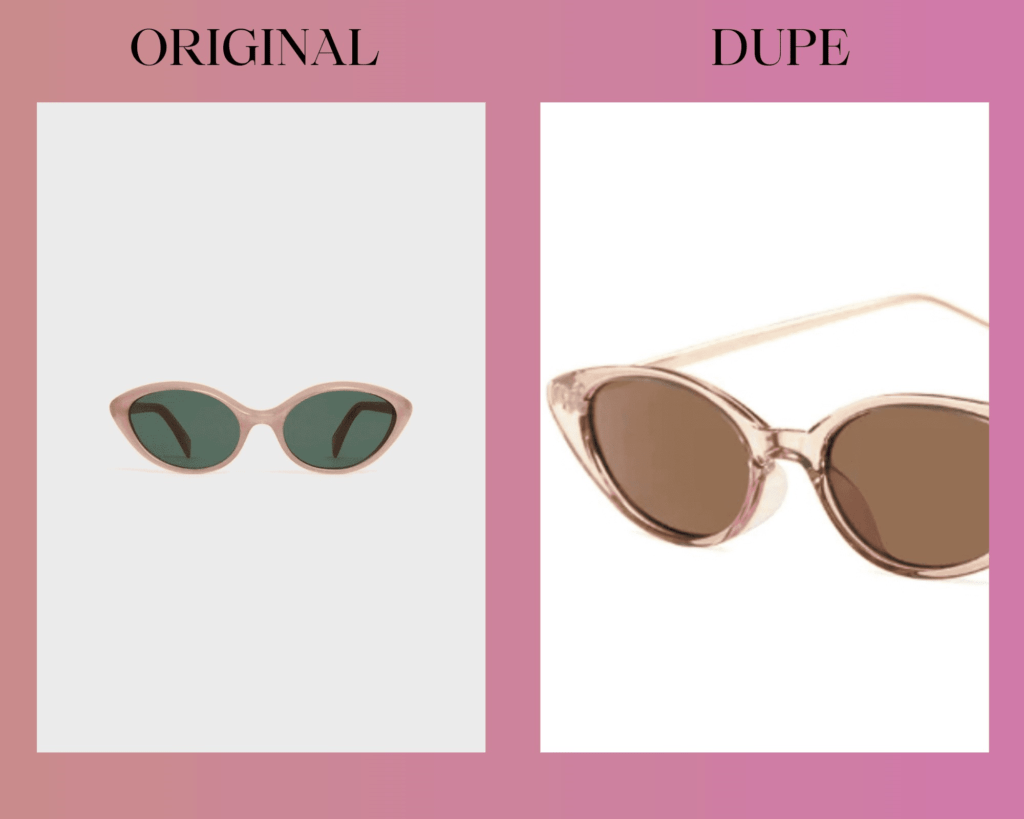 Specs
Price: $25
Transparent cat eye sunglasses
Gold temples
UV400 lens
Plastic and metal frame
Polycarbonate lens
Pros
Sleek and stylish
It complements almost all face shapes
100% UV protection
Cons
No customer experiences are available.
By now, you must have guessed my obsession with buying from Shein. I always find incredible deals for all the high-end designs under $2. I couldn't gatekeep anymore: I had to share this affordable alternative to the Celine Graphic Rectangular Sunglasses. Yes, the ones at Shein replicate the exact look and are not shabby.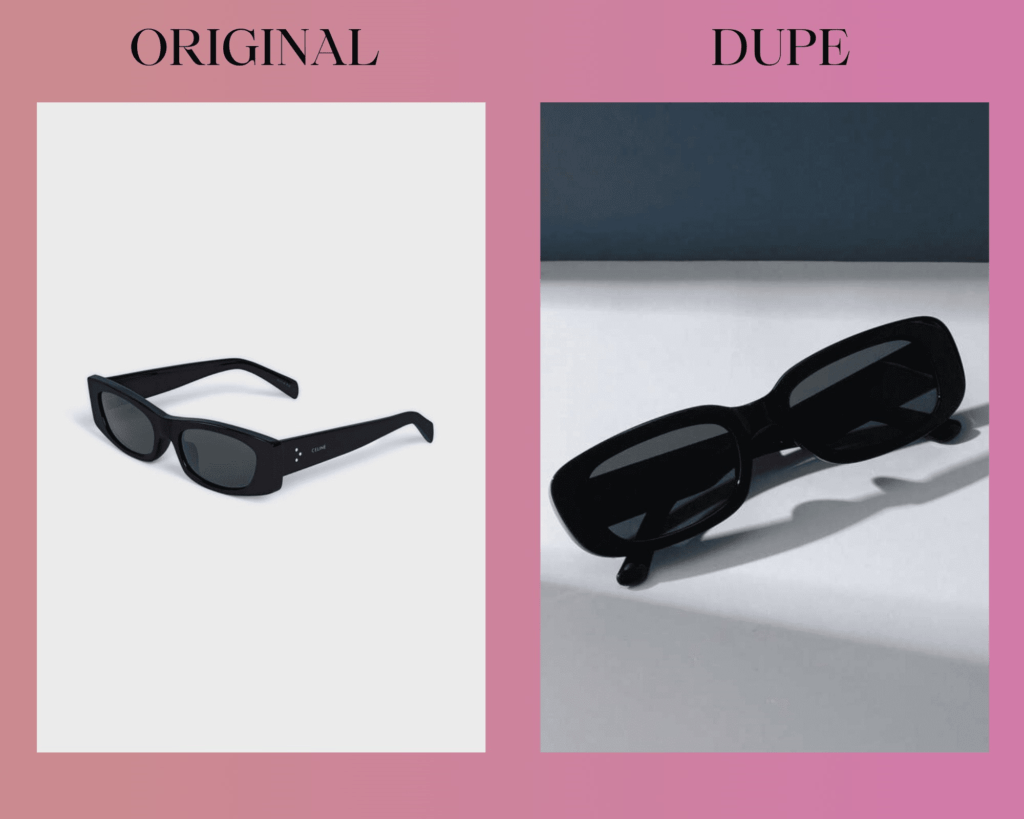 Specs
Price: $2
Square shaped sunglasses
Plastic frame material
Polycarbonate lens
Colors available: 3
Pros
Stylish and beautiful
Good quality
Incredibly cheap
Versatile wear
Cons
The product has flimsy packaging.
The Celine Triomphe 10 Sunglasses in Red Havana set an ideal vintage vibe and add spice to your overall fit. Even though it looks hot, it burns a deep hole in the pocket. To save you some bucks, I have these pair of Polarized Sunglasses from Cyxus that look the same, set the same vibe, and enhance your look. Priced at just $20, they are affordable and classy.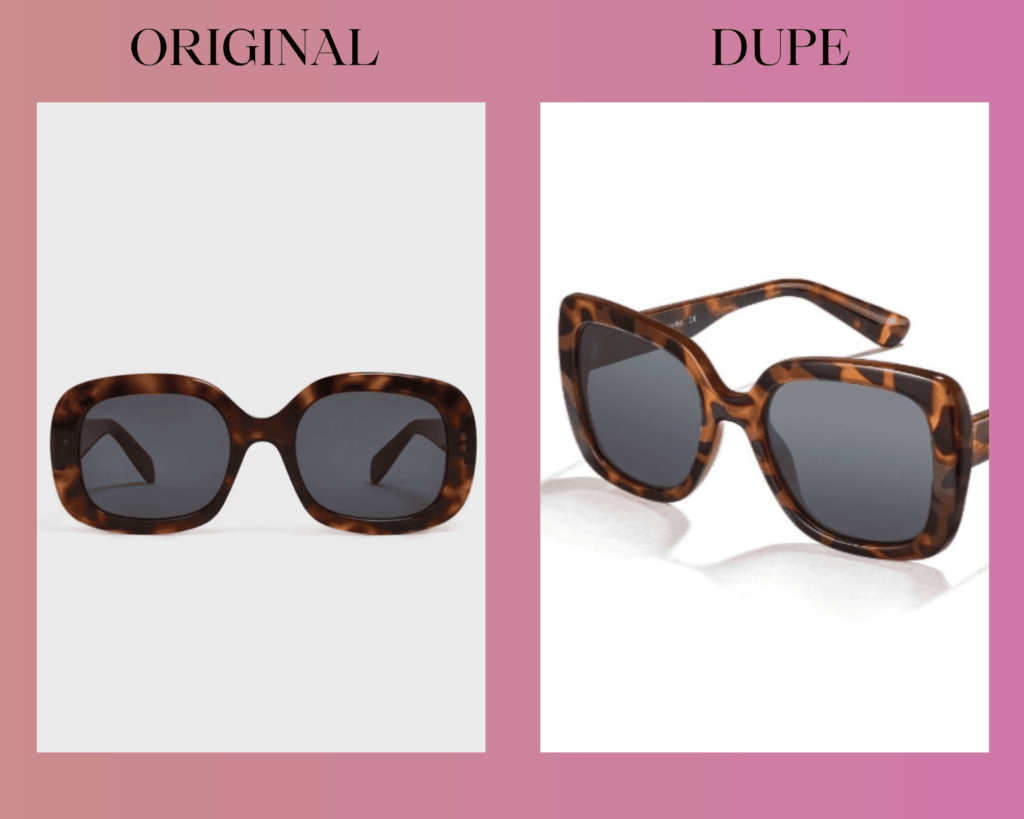 Specs
Price: $20
Square shaped
Full rim
Polycarbonate frame
TAC lens
UV400 protection
Colors available: 2
Pros
Oversized and vintage
UV protection
Unisex
Stable and durable
Shatterproof
Cons
No user experiences are available.
Hawkers is an underrated fashion eyewear brand with an incredibly reasonably priced collection. I found the Celine Metal Frame 02 Sunglasses at just $35. The Hawkers Gold Brown is comfortable, convenient, and available in 7 vibrant colors.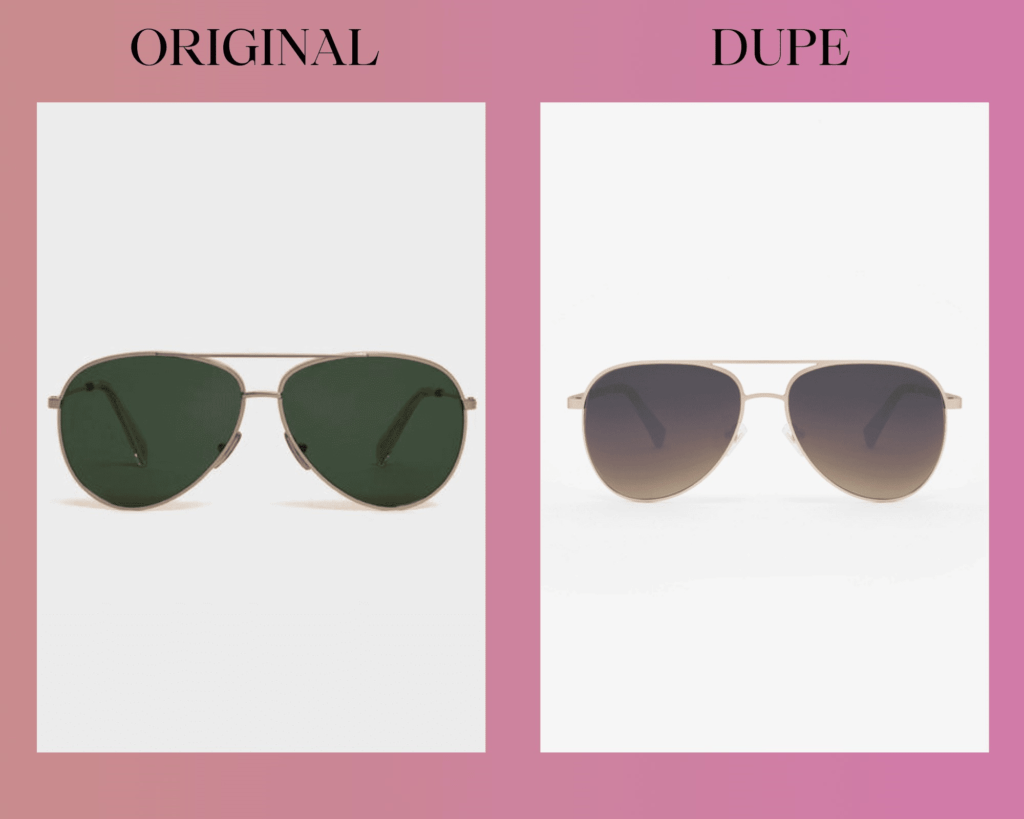 Specs
Price: $35
Metallic matte gold upper frame
Polished gold lower frame
Brown gradient lenses
UV400 protection
Nylon lens
Nickel-free stainless steel frame
Silicone nose pads
Colors available: 7
Pros
Improved sharpness
Great optical performance
Anti-glare protection
Anti-slip and anti-allergy
Comfortable and classy
Cons
There are zero customer reviews.
Celine Butterfly Sunglasses are the perfect choice if you are looking for a pair that is elegantly casual and gives a Pinterest-y, soft girl vibe. However, if you are low on budget, the Tribal Eyes Black Rose Oversized Sunglasses are worth checking out.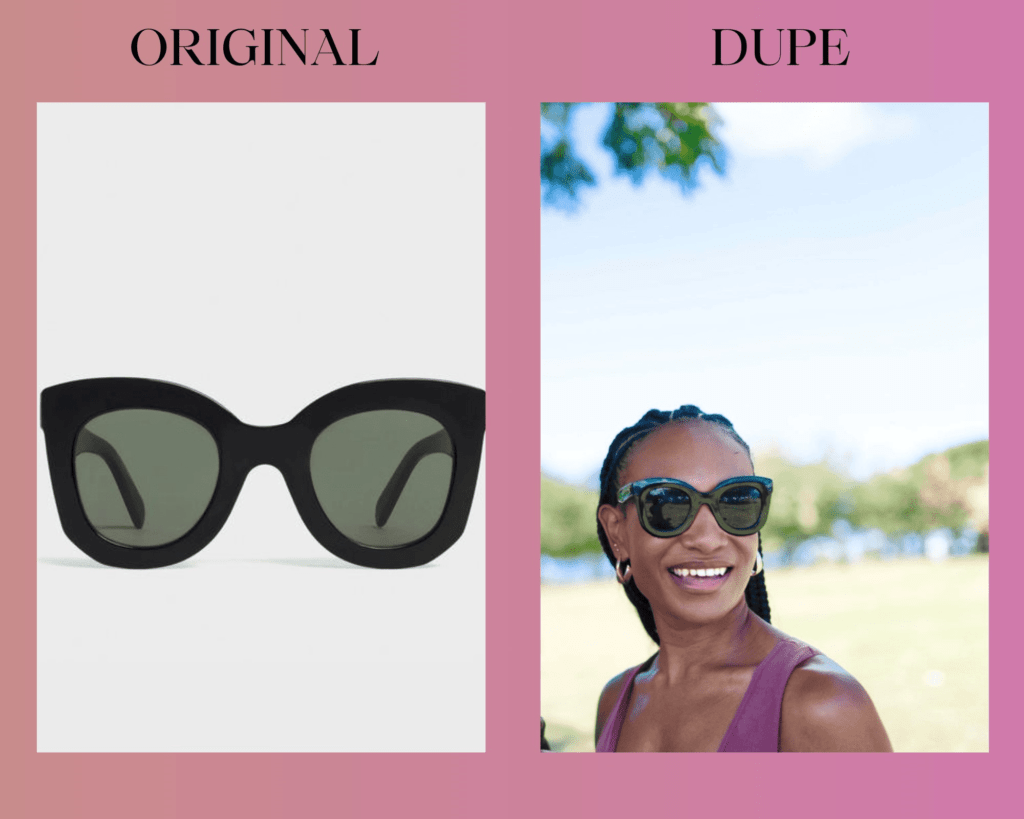 Specs
Price: $230
Oversized Wayfarer women's sunglasses
Acetate material
Butterfly shaped frame
Wide frame and temple
Pros
Aesthetic soft girl vibe
Complements all face shapes and nose sizes
Statement piece eyewear
Cons
Moving on with the dupes of the best of Celine's Men Collection, the first product that caught my eye (pun intended) was the Alan 1 Sunglasses. The stylish mask frame looks sturdy and modern, while the smoke lenses enhance the view. However, if you find the Celine one a bit out of your league, the Fursac Black Aviator Sunglasses are the best substitute.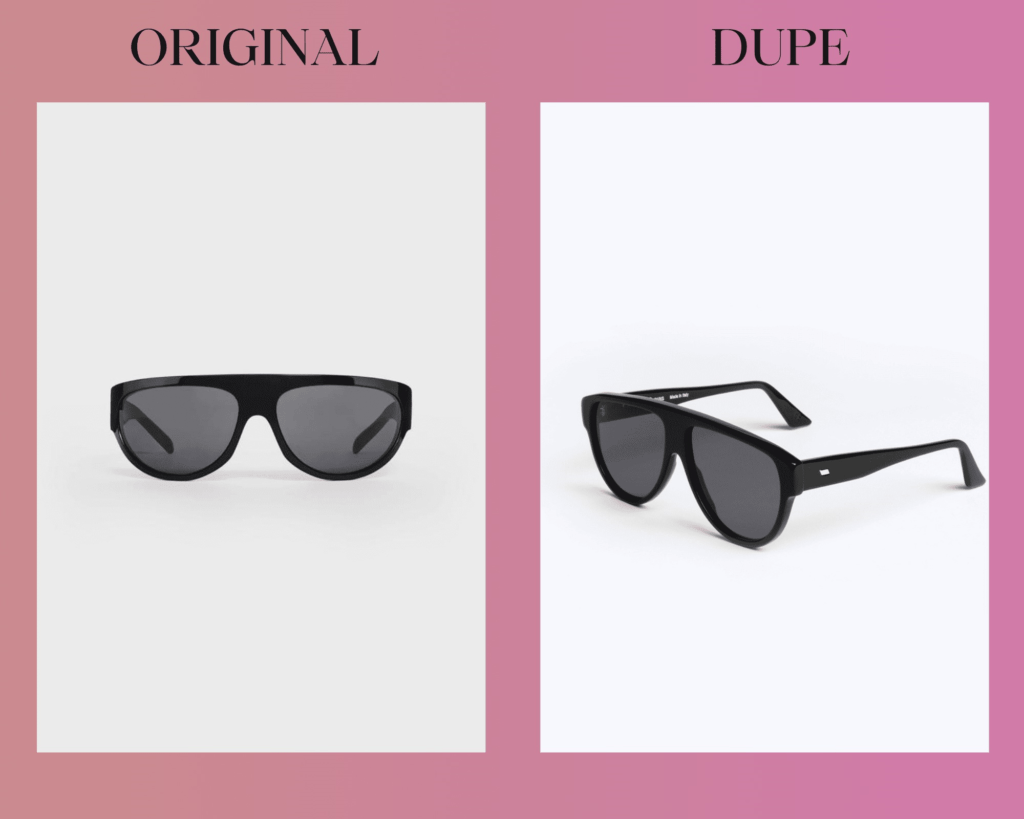 Specs
Price: $350
Black aviator sunglasses
Black acetate frame
Grey lenses
Stylish mask frame
Pros
Sturdy and stylish
Smoke lenses give a better visual experience
Plush and fashionable
Cons
Available in a single color.
This pair of Polarized Round Sunglasses is an absolute dupe of the Celine Black Frame 24 Sunglasses. Not only do they look the same, but they also have similar minor details, including the Polarized round frame, smoke lenses, and UV Protection.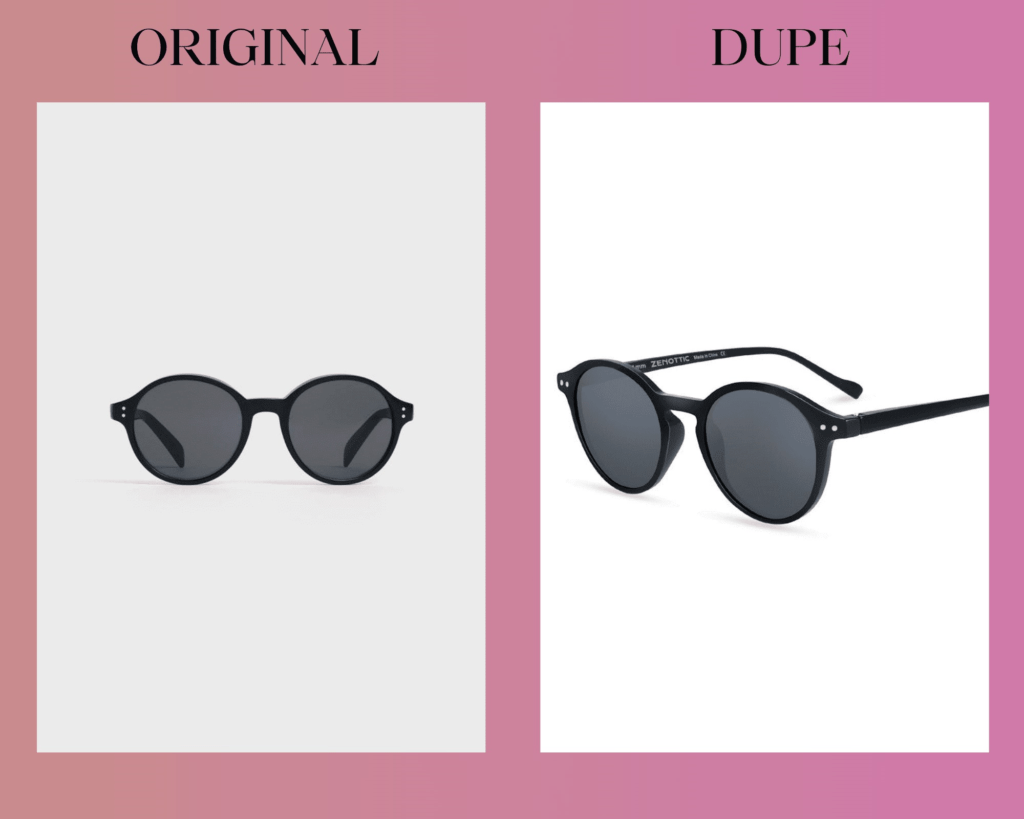 Specs
Price: $14
Polarized round sunglasses
Plastic frame
Plastic lens
UV protective coating
Pros
Superior eye protection
Retro style
Firm frame
Strong compression resistance
Flexible and versatile
Cons
There are no reviews available.
The Celine Monochrome 02 is quite popular among cool guys as it has a sophisticated urban vibe. Its ultra-wide frame and temple instantly give a robust and classy look. However, if you are hesitant about investing a lot, this pair by Yes Glasses is for you. Priced at just $69, they are low in cost and high in quality.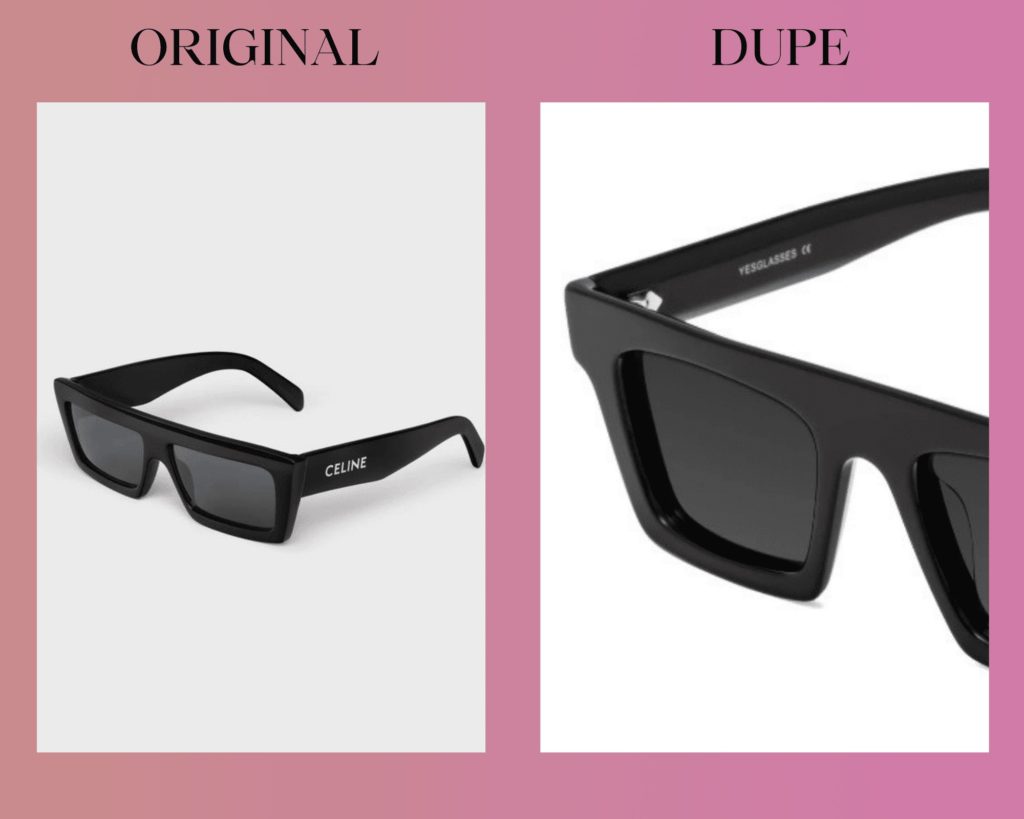 Specs
Price: $69
Tinted thick rectangular glasses
Thick rimmed acetate
Chunky temples
Gray sunwear lenses
Pros
Chunky and durable
Stylish and masculine
Affordable rate
Bifocal and progressive-friendly
Anti-reflective and anti-scratch
Cons
The nose bridge may cause inconvenience.
Lastly, I have a cost-effective dupe for Celine's Metal Frame Sunglasses in the Men's collection. It has a retro and contemporary vibe that's hard to miss. It is crafted with stainless steel and high-quality lenses. It is priced at $73 and a great deal at a comparable price.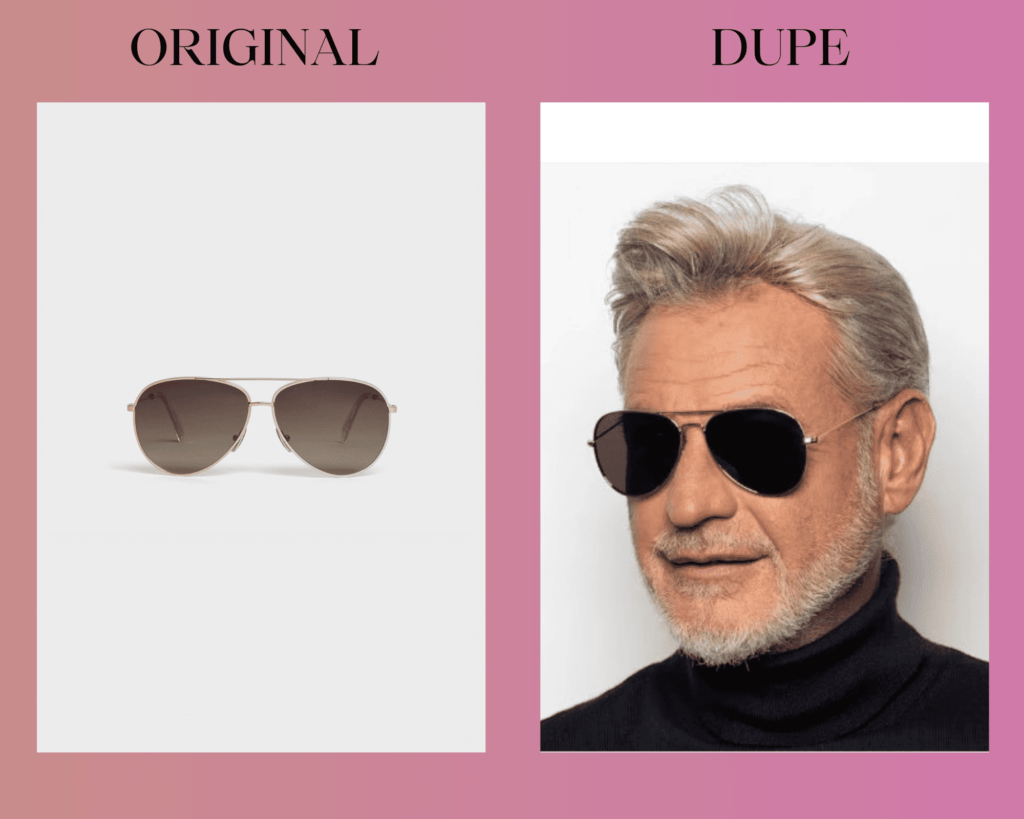 Specs
Price: $73
Stainless steel material
Printed temples
Silicone nose pads
Aviator glasses
Colors available: 2
Pros
Well designed
Relaxed, fun, and elegant
Retro and contemporary vibes
Durable and classy
Cons
The measurement marks do not come off.
Here are few more dupes:
Celine Sunglasses Dupe | Consider These Factors While Buying Sunglasses
Protection from UV rays
One of the most essential factors to consider while choosing to buy sunglasses is the ability to block UVA and UVB rays. It shouldn't be an optional feature in the descriptions. Also, ensure they help block enough light if you are looking for dark shades.
Size
Oversized sunglasses are a great statement accessory. Another benefit of choosing a bigger size of sunglasses is they offer good coverage and protect you from the harsh sunlight. The more massive your frames, the safer your eyes are. Do not forget to choose a comfortable fit to avoid minor inconveniences and nose scars after long wearing.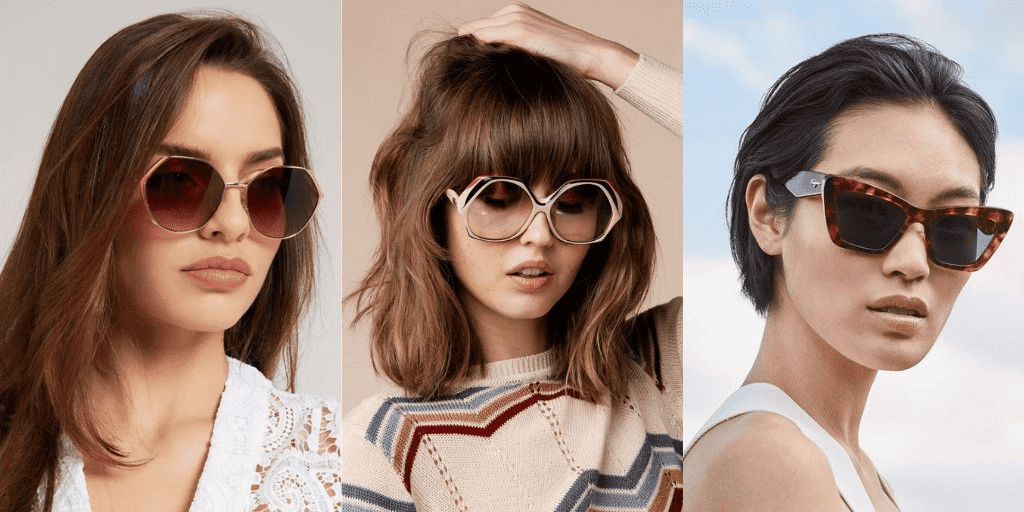 Lens
Choosing the right lens quality and color impacts the visual experience. Prioritize buying lenses having a uniform tint than the darker ones. Moreover, buy the lens color according to your preference, as they do not impact light blocking.
Face Structure
Look for sunglasses that suit your face shape. The right frames highlight your facial features and enhance your look. If you have a squarish face, consider buying curved frames or a round frame if you have a heart-shaped face. Determining this factor can level up your eyewear game.
Frequently Asked Questions | Celine Sunglasses Dupe
Are Celine Sunglasses worth it?
Yes. Even though Celine is a luxury brand, most fashion influencers describe them as classic, elegant, and timeless pieces. Crafted with premium frames and lenses, they are a one-time investment and definitely worth the splurge.
Which Celine Sunglasses to buy?
Celine has a vast collection that is stylish and elegant. Their distinctive designs in multiple colors make them difficult to choose from. However, Celine's Triomphe, Cat Eye, Edge, and Butterfly sunglasses are worth checking out.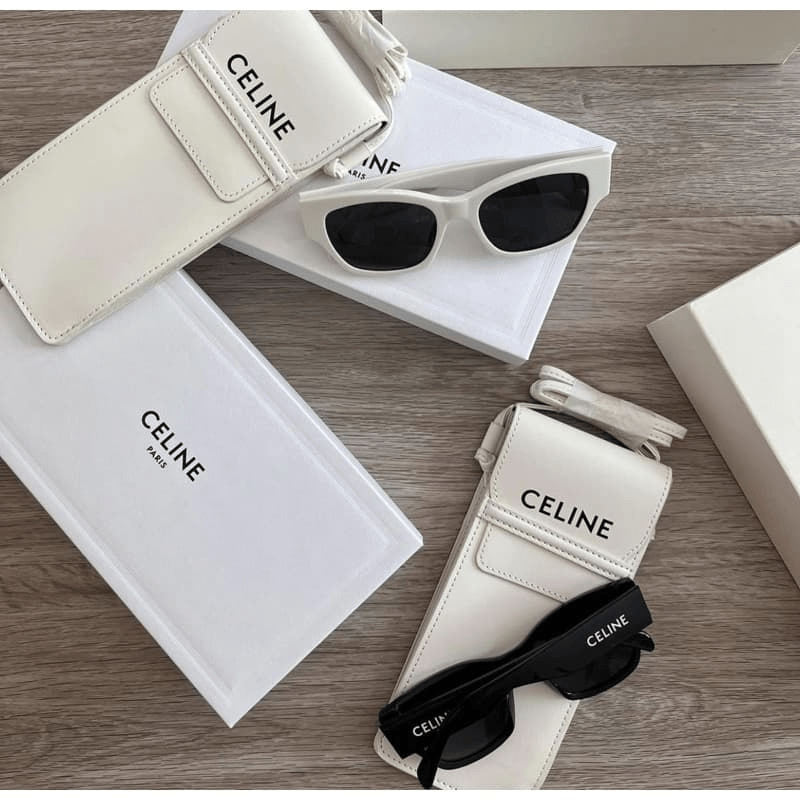 Why are Celine Sunglasses so expensive?
Celine is a global luxury fashion house, and it's known for its high-quality fashion accessories. The minimal and elegant designs crafted with premium quality materials boast a chic and timeless look for both men and women. This adds to the price tag, making it costly.
Which are the best Celine Sunglasses Dupe products?
The best Celine Sunglasses Dupe Products include LA Eye by Chiara Ferragni, Black Aviator Sunglasses by Fursac, and Gold Brown Gradient Lacma by Hawkers.
The Final Note | Celine Sunglasses Dupe
Celine is one of the famous fashion luxury brands. They are known for trendy and high-quality accessories such as sunglasses, handbags, and dresses for both men and women. The eyewear collection has a separate consumer base and is quite viral among fashion influencers.
Crafted with high-quality lenses and frames, Celine's sunglasses have various designs and shapes. However, they are pretty expensive, so people seek affordable alternatives. Thus, this article brings you the 11 Best Celine Sunglasses Dupe products for you to choose from. The list also includes dupes of pairs from the Celine's Men collection. Don't forget to skim the quick buyer's guide to help you find the best pair.