What if you can have the stunning Bottega Drop Earrings without dropping your bank balance? The mere thought excites all the jewel junkies, so why not make it a real deal? Ahh! Spare no time and hop on to the equally elegant and less expensive Bottega Earring Dupes.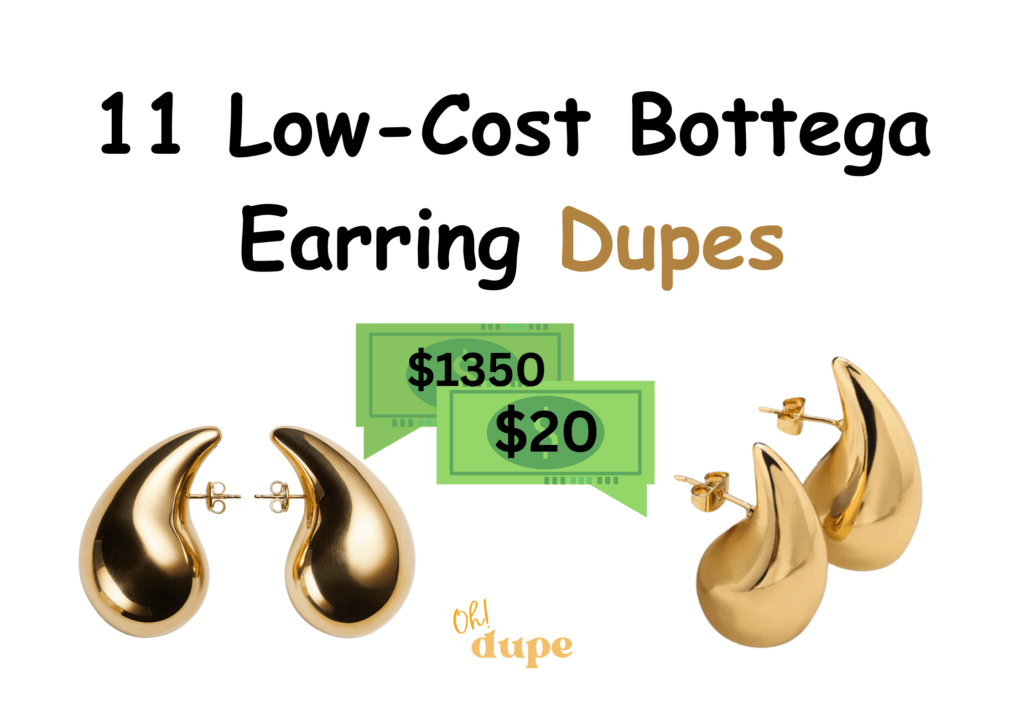 The iconic drop earrings by Bottega Veneta are one of the cult-classic accessories that have stirred the internet. The statement piece crafted with 18K gold-plated sterling silver is super light and pulls off a sophisticated and rich look. Not only has it impressed the local fashion crowd, but it also has its place in the jewelry boxes of well-known personalities, including Kendall Jenner, Bella Hadid, and Dua Lipa.
However, with a great look comes a great price, and this signature pair is no exception. Heavily priced at $820 and $1,350 for its sizes, it is unaffordable for many, so I present a compilation of 11 Best Bottega Earring Dupes.
Bottega Earring Dupes | Bargainable Bottega Back-Ups
Established in Vincenza in 1966 by Michele Taddei and Renzo Zengiaro, Bottega started off by manufacturing high-quality leather goods. Having financially collapsed in 2001, it bounced back under the ownership of multiple creative directors. Currently, it rules the fashion market with its luxury statement women's clothing, accessories, handbags, and jewelry.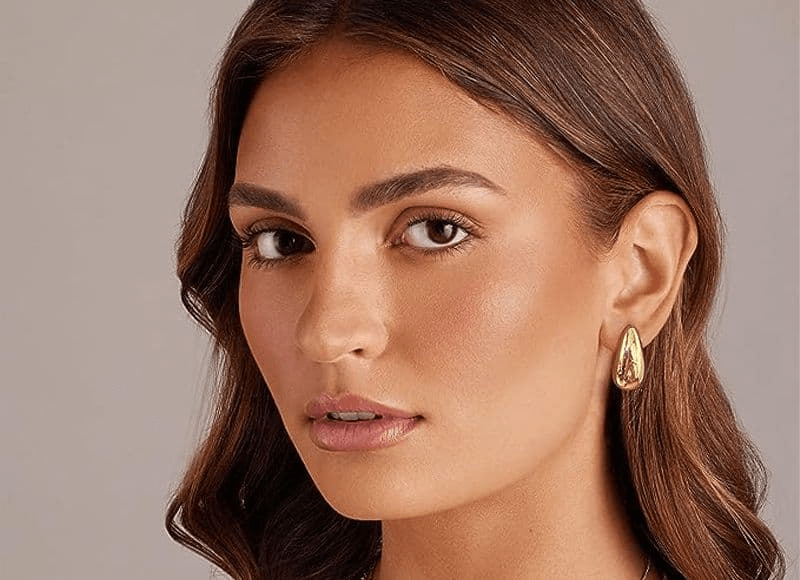 Drop Earrings from their collection are the most sought-after product. However, they have an exorbitant price tag, so people seek affordable alternatives for the same. So, for those looking for comparable and cost-effective Bottega Earring Dupes, read on to find the best pair.
Since the day Kylie Jenner stepped out with Bottega's iconic drop earrings, small businesses have started associating her with their product. The Reine Paris is one of such brands. Their Medium Chunky Tear Drop Full Dome Earrings are available at $20. They perfectly uplift your look and add a tinge of glamour and elegance.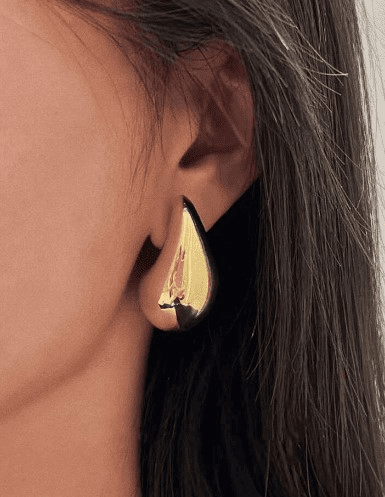 Specs
Full closed dome-shaped earrings
High polish
Push back closure
Metal backs
Stainless steel
Medium-sized
18K Gold finished
Pros
Lightweight
Affordable
Chunky teardrop design
Good quality
Cons
Very few reviews are available online.
One of the famous innovators of imitation jewelry, Kenneth Jay Lane, has been on the frontline. With notable fashion icons slaying their dazzling collection, it has become a globally- acclaimed jewelry brand. The polished gold long tapered hook clip earring is a twin to the symbolic Bottega drop earrings. The gold-plated clip-on pair is the bestselling product exclusively worn by the Jenners.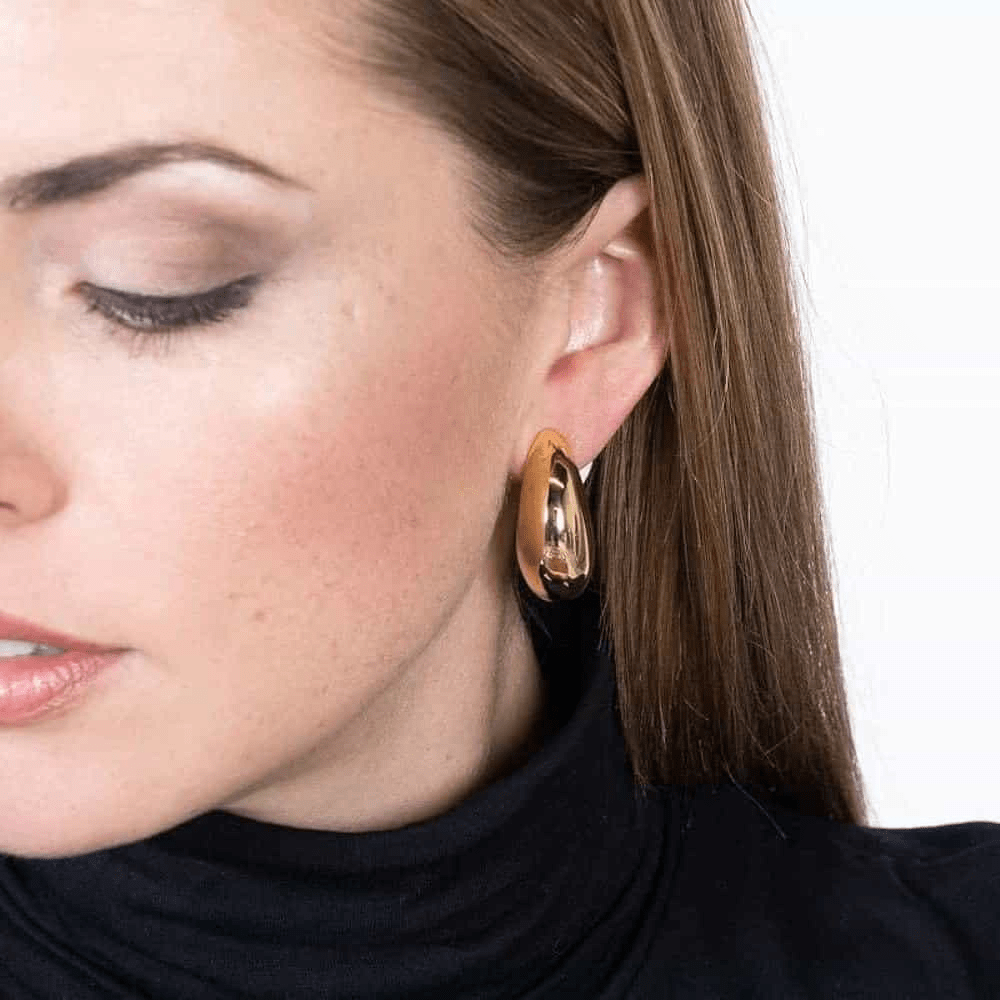 Specs
Price: $90
Dimensions: 2" x 1"
Gold plated
Clip-on hoop earrings
Pros
Timeless style
A chic and contemporary look
Worn by popular celebs
Cons
Very few reviews are available online.
Shein is my go-to one-way stop, where I literally purchase all the viral products on the fashion tok. From shoes and boots to sunglasses, dresses, and jewelry, Shein ranks first on my shopping list. This time, I found these chunky and classic pair at just $4. Made of copper and finished off by gold polish, They are super light and convenient and serve as an absolute dupe.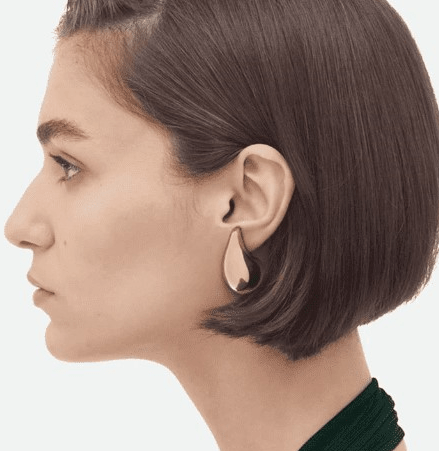 Specs
Price: $4
Weight: 2g
Made of Copper
18K Gold plated
Push back closure
Pros
Lightweight
Chunky and classy
Affordable
Shiny and lustrous
Available in 2 colors
Cons
A lot of mixed user experiences.
This pair from Muyan is an elongated version of the original Bottega drop earrings. The 14K gold polished brass earrings are featherlight and are ideal for all occasions. Not only are they sleek and stylish, but they are also safe for your skin. The piece is made without lead and nickel and is hypoallergenic. Available at $28, they are reasonably priced.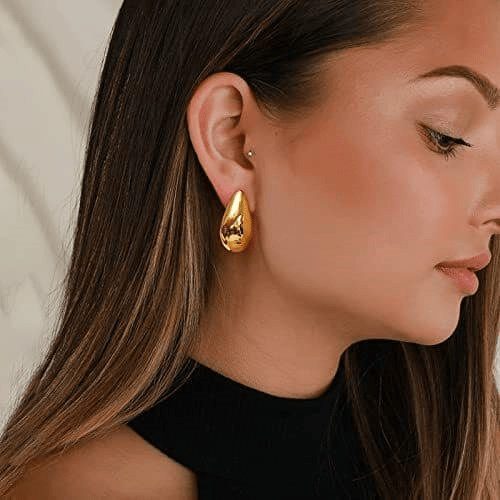 Specs
Price: $28
14K Gold plated
Waterdrop earrings
Made of Brass
Pros
Sleek and modern design
Elongated and elegant look
Lead-free
Nickel-free
Hypoallergenic and lightweight
Cons
The gold polish could be better.
Founded in 2008, Monica Vinader designs jewelry to empower women and make them feel their best versions. With endless inspiration from artists worldwide, Monica ornamented designs to suit the needs of contemporary women.
The Nura Wrap earrings are the chic curled-up version of the Bottega drop earrings, and this piece is unique and stylish. The wrap-up sculptural design hugs your ear lobe and gives a sophisticated and elegant look. Made with 18K Gold vermeil, they are lightweight and versatile.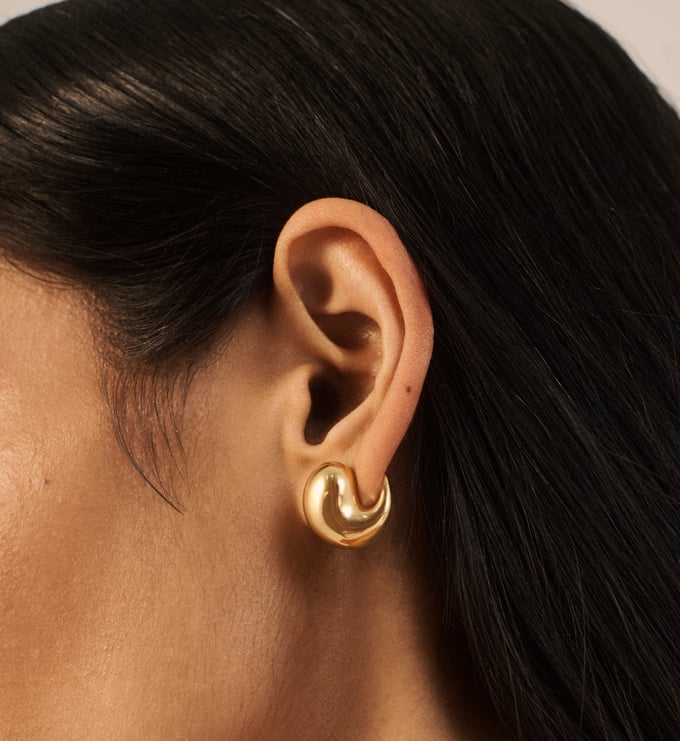 Specs
Price: $195
Sculptural wrap-up earrings
18K gold vermeil
Push back closure
Pros
Thick gold polish
Durable and long-wearing
Glamorous, elegant look
Ethically sourced gold
Cons
The pair is available in only gold.
The New York-based brand focuses on curating durable and appealing jewelry pieces. Handmade with precious materials, unique designs, and artisan craftsmanship, every pair they offer is one of a kind. The Small and Mini Dahlia Hoop set is a great value pack if you are looking for mini Bottega-like earrings. They look minimally aesthetic and suit all your ensembles.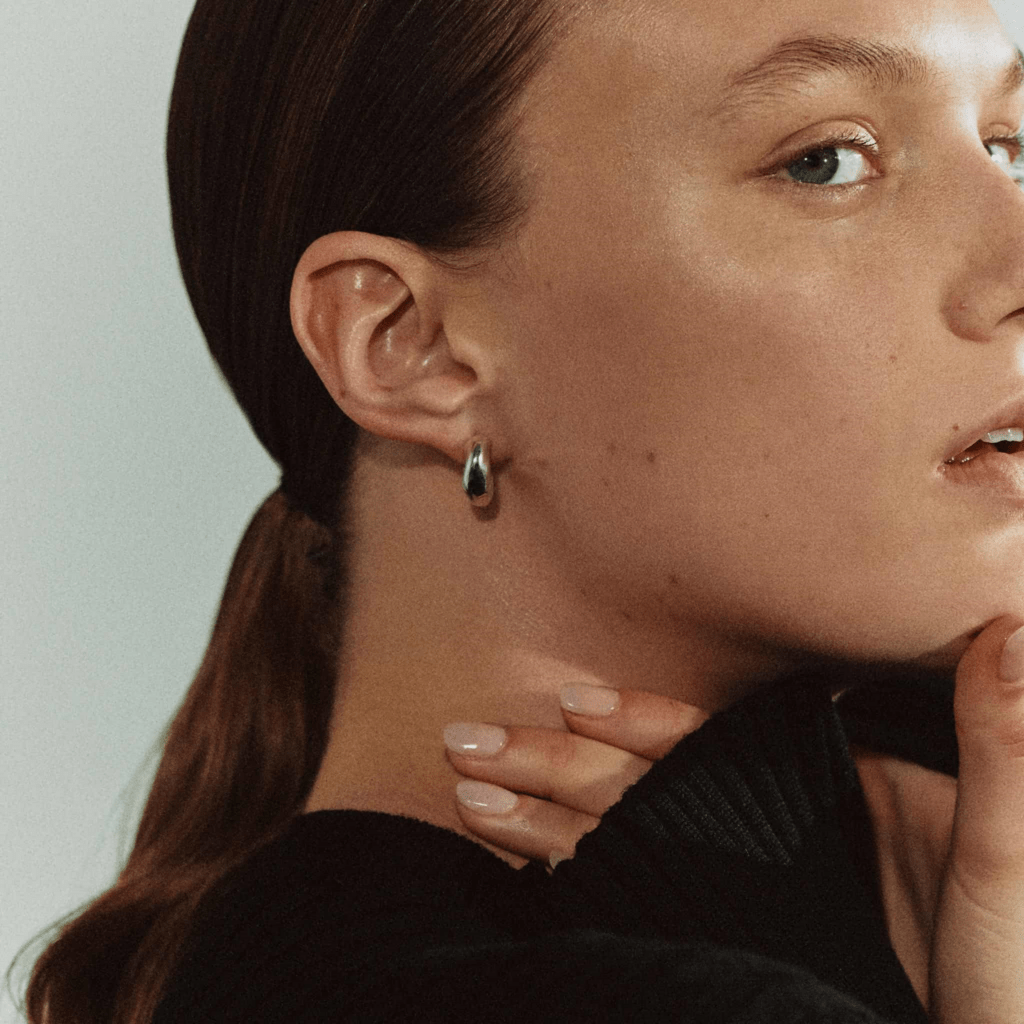 Specs
Price: $205
Single small Dahlia Hoop
Mini Dahlia Huggie
Four sets are available
Push back closure
Pros
Minimally aesthetic
Available in sterling silver, gold vermeil, and mixed pair
Sleek, modern design
High-quality metals
Cons
This pair from Mejuri is an upside-down version of the Bottega drop earrings. Mejuri redefines luxury and believes in self-expression and boosting confidence through jewelry. Crafted with handmade and responsibly sourced metals, they are durable and timeless. These mega dome earrings are an excellent dupe to the Bottega earrings but with a sculptural round vaulted design. Moreover, the thick 18K solid gold plating gives you the experience of wearing real gold.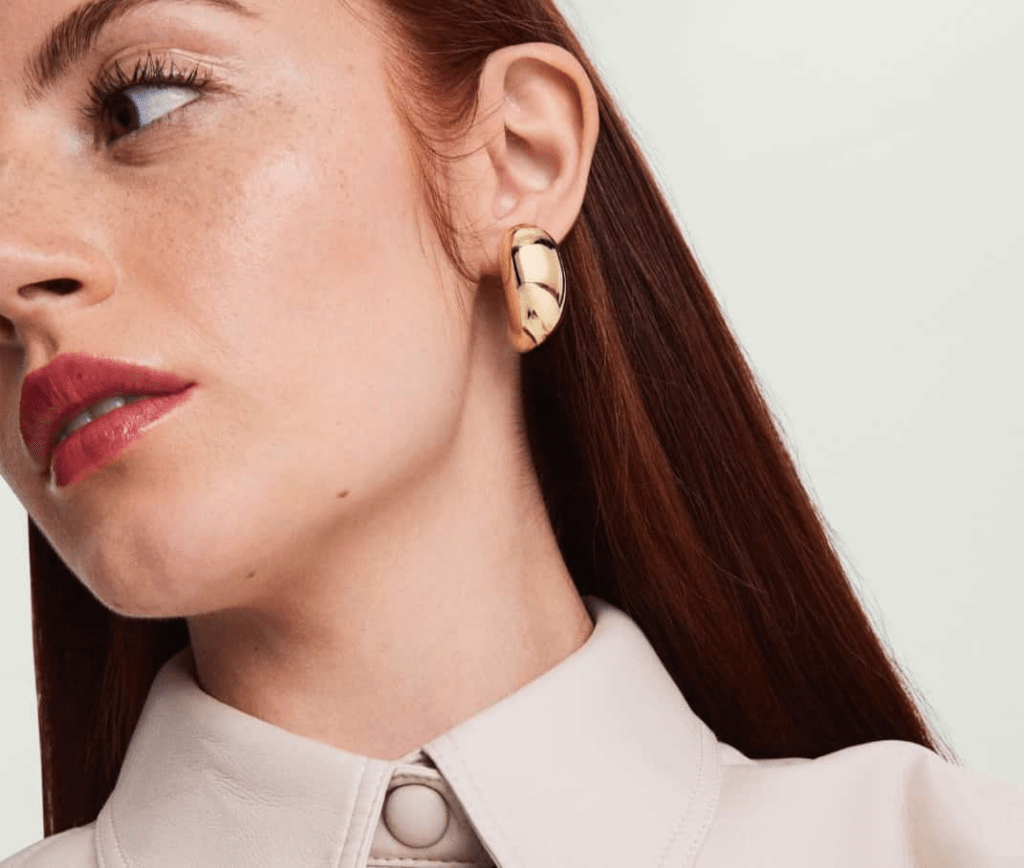 Specs
Price: $198
Dimensions: 30mm x 16.4 mm
Mega dome-shaped earrings
Round vaulted design
Thick 18K solid gold plating
Push back closure
Pros
Handcrafted
Sustainably sourced metals
Long-wearing
Timeless style
Real gold feel
Cons
The earrings are expensive.
The Nouveaux Puff Earrings from Jenny Bird are a variant of the iconic Bottega Drop earrings. The bulbous orb shape creates an undeniably chic silhouette and a piece of bold statement jewelry. It flawlessly complements your outfits with its sculptural design. Crafted with premium gold tone dipped brass and high polished for a sleek look, they are super light and worth adding to your collection.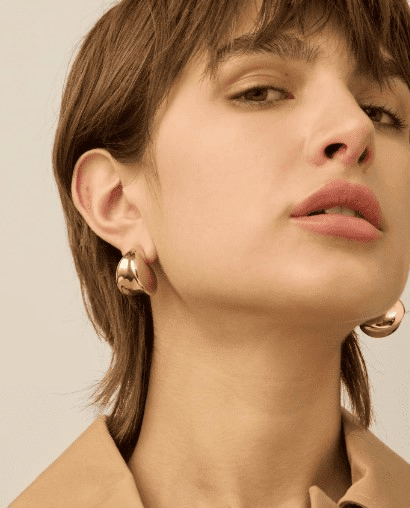 Specs
Price: $130
Sculptural Earrings
Hollowed out design
Bulbous orb shaped
Wider backing
High polished gold
Pros
Bold statement piece
Supportive and comfortable
Complements your outfits
Versatile style
Cons
The 80-inspired dainty gold earrings with teardrop design by Natalie B jewelry make it an ultimate dupe of the Bottega Drop earrings. The 18K gold plated earrings with cylindrical postbacks are light and chunky, uplifting your fit with an aesthetic vintage look.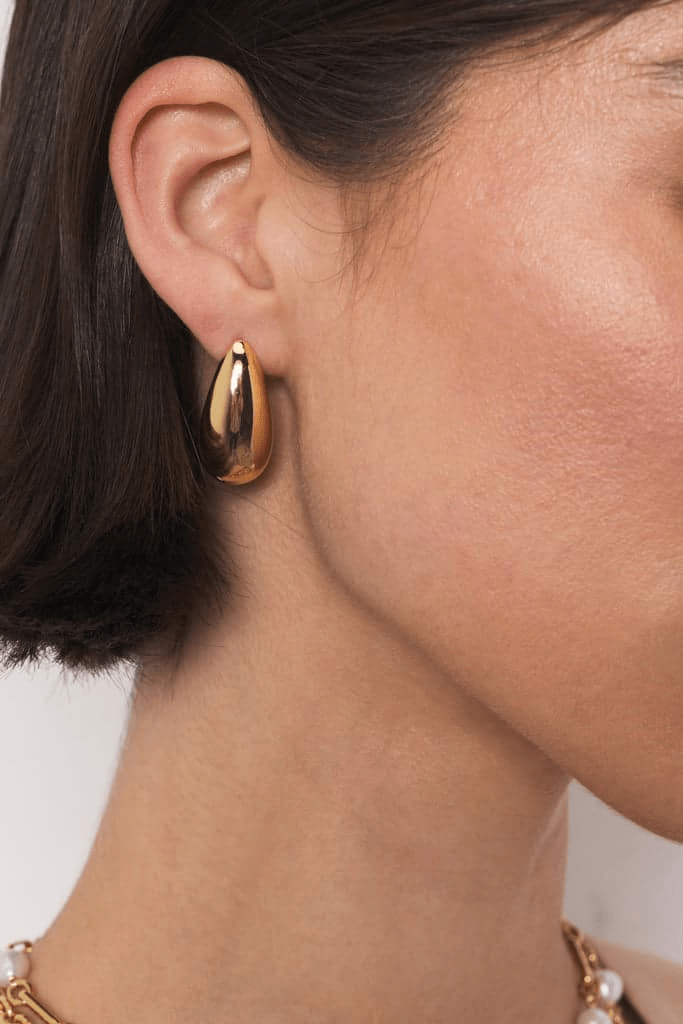 Specs
Price: $64
Dimensions: 27mm x 14mm
Teardrop dainty earrings
Cylinder post backs
18K gold plated
Pros
The 80s-inspired retro look
Vintage aesthetic
Lightweight
Elegant and chic
Cons
There are no customer reviews available.
These drop studs are a dupe to the Bottega drop mini earrings. The earrings are meticulously handcrafted and feature high-quality 18K gold plating. They are lightweight, versatile, easy to carry, and available in Gold and Silver accents. This pair from Etsy is all you need to elevate your casual and chunky earring collection.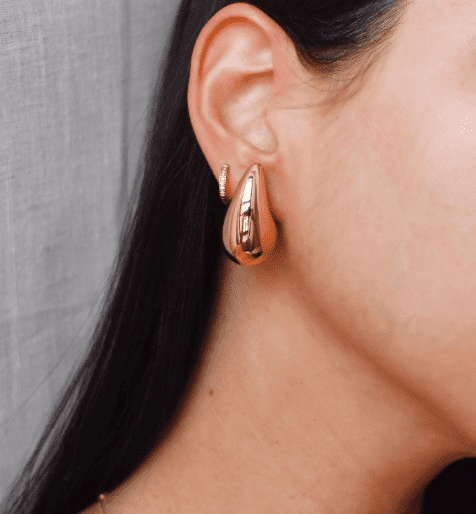 Specs
Price: $20
Thick teardrop hoops
Push back closure
Handmade
18K gold polish
Available in 2 colors
Pros
Elegant and bold
Gives a vintage look
Lightweight
Long lasting shine
Good quality metal
Cons
There are very few reviews available.
Many local fashion brands recreate designs inspired by luxury brands to make them more accessible. The stainless steel-made teardrop-shaped earrings look precisely the same. It is polished with 18K gold and is hypoallergenic. Priced at $7, they are reasonable.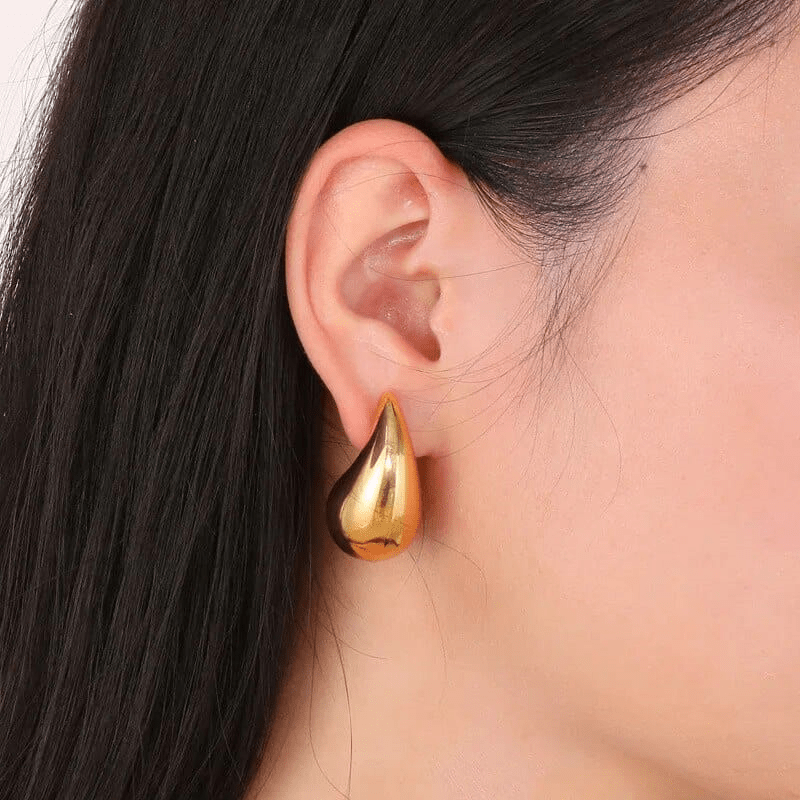 Specs
Price: $7
Teardrop shape earrings
18K gold plated stainless steel
PVD coated
Butterfly closure
Available in Gold and Silver polish
Pros
Nickel free
Hypoallergenic
Lightweight
Elegant and sophisticated look
Affordable dupe
Cons
Very few reviews are available.
Here's How You Maintain Your Precious Earrings | Bottega Earring Dupes
Now that you've bought your favorite pieces, it's time to organize them to extend their life and slay them time and again. Losing one of your pairs or getting a tarnish may be heartbreaking more than a breakup. Jokes apart, I am about to share these easy-to-do maintenance tips that have saved my earrings and prevented them from tarnishing.
Storage
Make sure you keep your earrings organized. I advise you to use compartmentalized boxes or drawers. Not only does it make them look neat, but it is easily navigable. Improper storage of earrings may lead to minor damage and eventually break off.
Cleaning
Regular cleaning of your ornaments maintains their luster and makes them look as good as new. Clean with warm water mixed with mild dishwashing soap, and carefully clean the surface with a soft jeweler's cloth. Furthermore, don't forget to clean the closures at the back.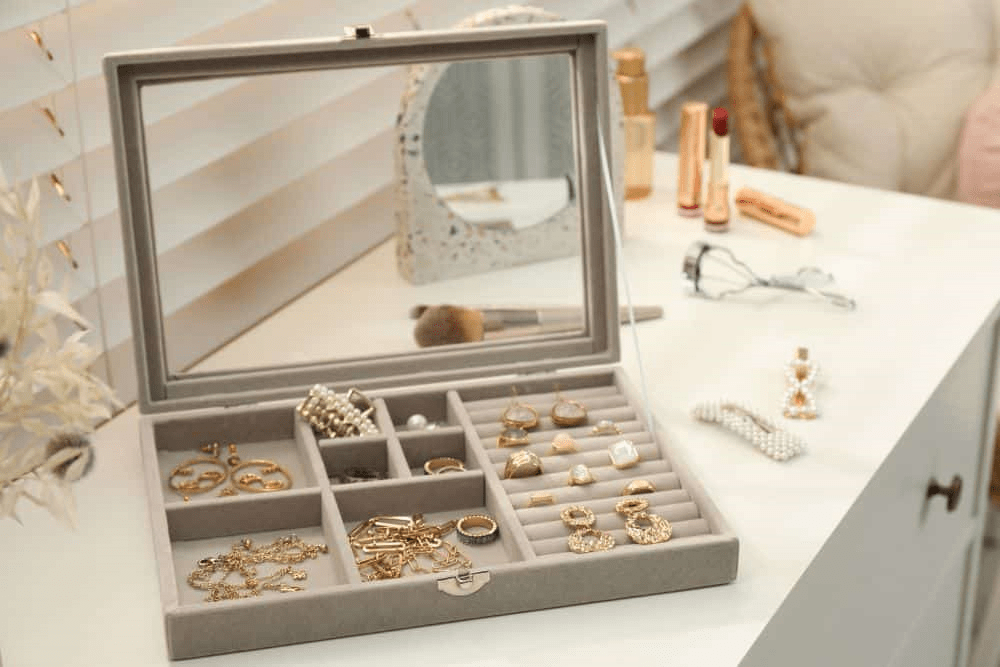 Packing
Packaging your jewelry in proper travel pouches or boxes is essential to prevent damage during travel. I prefer keeping my jewelry in handbags rather than packing them in suitcases. However, using a bubble wrap or a jewelry roll keeps your jewelry organized and safe.
Hygiene
Dermatologists recommend cleaning at least once a week to avoid skin problems on the ear lobes and at the back. Make sure to clean your ear piercings to prevent infections. Moreover, look for earrings that suit your skin.
Best Picks | Bottega Earring Dupes
Frequently Asked Questions | Bottega Earring Dupes
How much are Bottega Earrings?
Bottega Veneta is one of the most sought-after luxury fashion brands. Their iconic Drop Earrings have gone viral. Fashion enthusiasts and popular celebrities are obsessed with the bold and elegant look. They are available in two sizes; the smaller ones are $820, while the larger ones are priced at $1,350.
Is Bottega Veneta Drop Earrings worth it?
Yes. The Bottega Veneta Drop Earrings are absolutely worth the splurge. Even though they are expensive, they always need more stock due to their overwhelming obsession. Crafted with lightweight 18K gold plated durable sterling silver, the piece is enough to give you "main character" energy and confidence.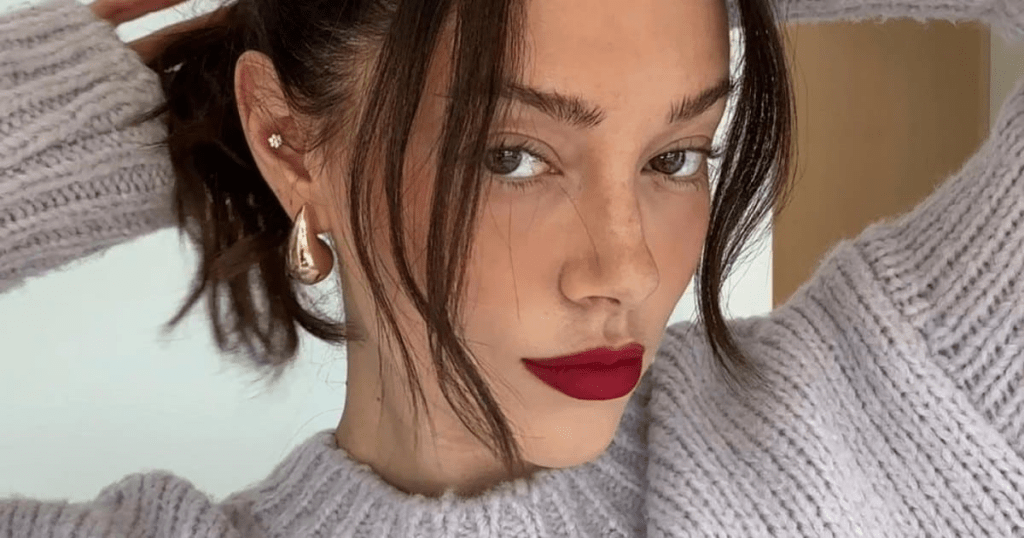 Why do we need Bottega Earring Dupes?
The Bottega Veneta Drop Earrings cost $820 and $1,350, according to their sizes. However, they are pretty expensive, and thus, people seek equivalent Bottega Earring Dupes.
Which are the best Bottega Earring Dupes?
Reine Paris Medium Chunky Tear Drop Full Dome Earrings, Kenneth Jay Lane Polished Gold Long Tapered Hoop Clip Earring, Shein Teardrop Open Earrings, and Muyan Gold long Waterdrop Earrings are some of the budget-friendly alternatives.
The Conclusion | Bottega Earring Dupes
Bottega Veneta has stirred the internet with its signature drop earrings. The superlight gold-finished sterling silver gives an authentic gold look. Having graced famous faces, the earrings are statement pieces that are timeless and evergreen. Available in two sizes, the smaller ones are minimally aesthetic, while the larger ones are bold and chic.
However, they come with a hefty price tag and thus make it out of reach for many. So, for those looking for cost-effective, comparable Bottega Earring Dupes to elevate your look, I have compiled a list of 11 Bargainable deals. Moreover, I have picked the best to suit your preferences and attached a quick guide to help you maintain your favorite pieces.
More Dupes: