What if I say you could smell insane without exceeding your credit card limit? Yes, the Zara Perfume Collection is the one-stop shop for all your favorite designer fragrances at a fraction of the cost.
Luxurious perfumes make you want to yearn for a high-end scent profile. Apart from their alluring packaging and long-lasting fragrance, there's an element of status and flex of being associated with an expensive perfume brand. But at what cost?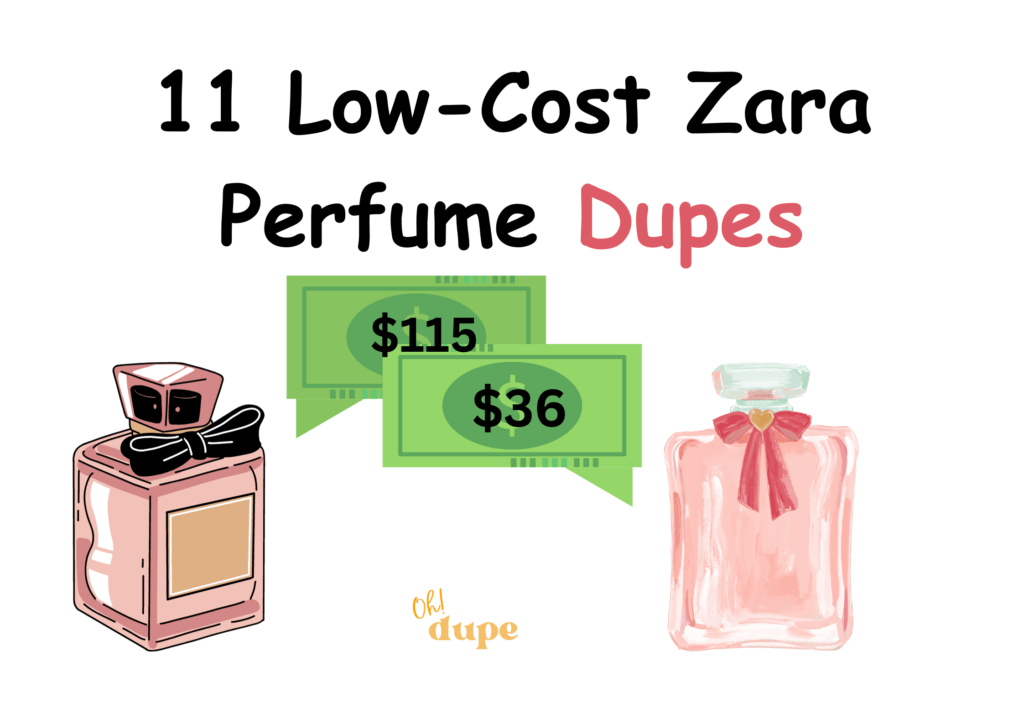 Don't overthink; you can still enjoy these without disturbing the bank balance. These Zara Perfume Dupes not only replicate iconic scents of luxury perfumes but also stay longer and cost less. Hop on to find the Zara counterparts to your dream designer fragrances.
Zara Perfume Dupes | Cost-Effective Alternatives!
Zara is one of the biggest global fast fashion companies. Established in 1975 in Spain by Amancio Ortega, Zara is famous worldwide due to its remarkable retail networks and strong distributorship. Unapologetic about creating copycat versions of high-end unreachable brands, Zara is loved by everyone. It is affordable, trendy, and functional.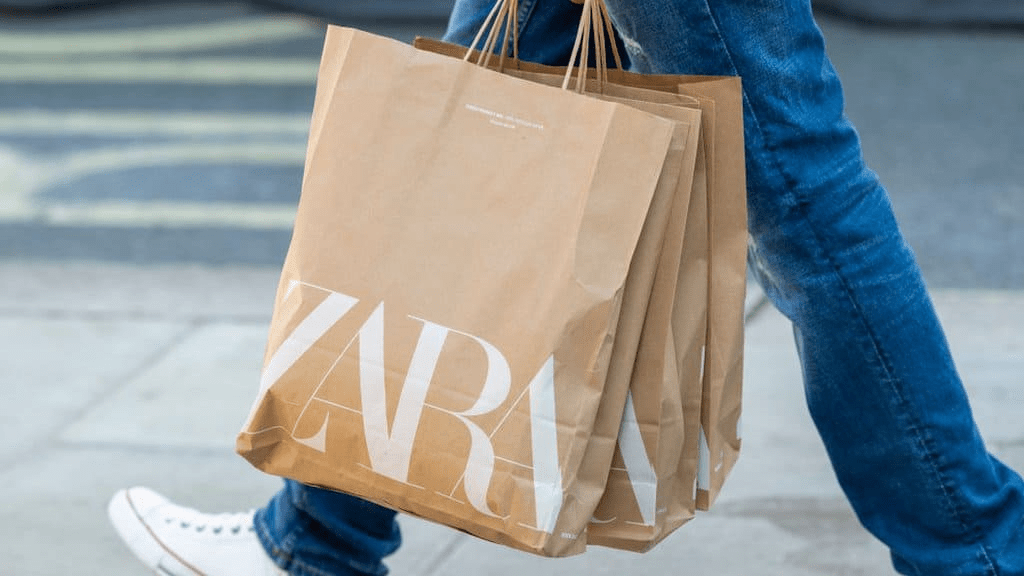 In this article, we will explore 11 designer Zara Perfume Dupes. They are reasonable, long-wearing, and well-made. So, what are you waiting for? The list awaits you!
The luxurious Yves Saint Laurent Libre Eau de Parfum has an affordable alternative from Zara. Yes, you read it right, Zara's Golden Decade. Curated to symbolize a statement, bold feminine energy, both perfumes express and evoke a sense of elegance and freedom for women. The combination of floral, juicy, and lavender accords match the expensive YSL Libre Eau de Parfum.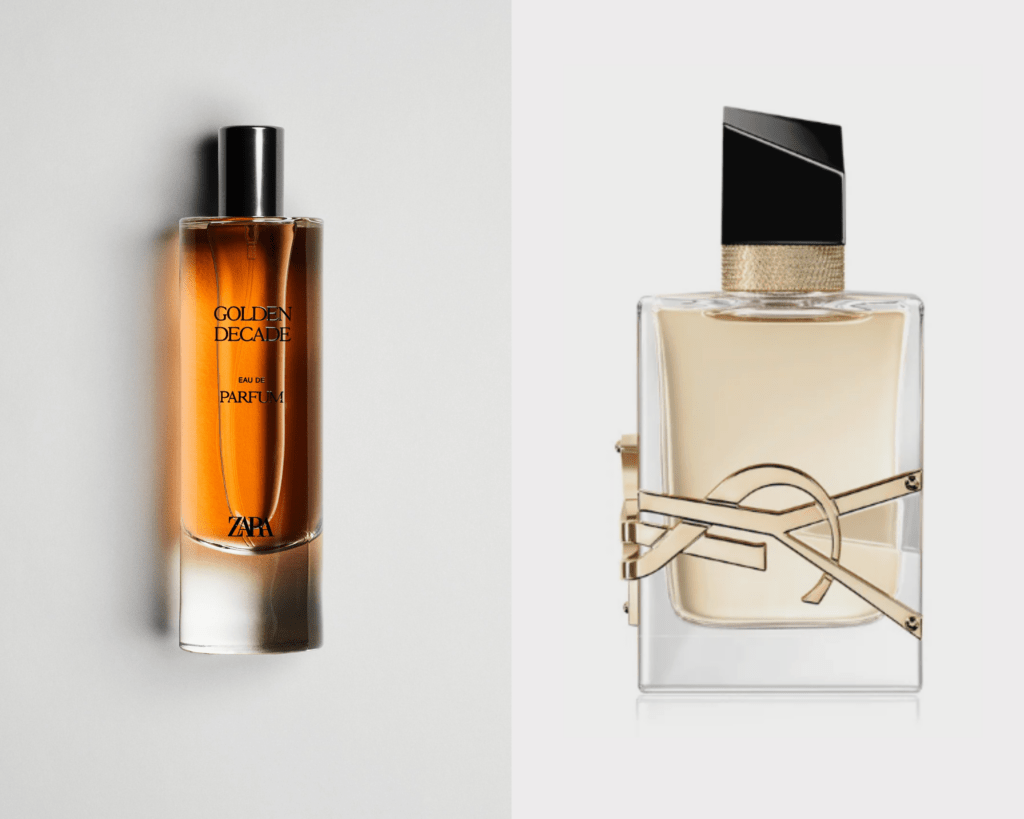 Scent Notes
Top Note: Mandarin Orange
Middle Notes: Orange Blossom, Jasmine, and Lavender
Base Notes: Vanilla
Pros
Warm and elegant
Modern and feminine
Juicy, floral scent
Clean and affordable
Cons
The Rose Gourmand perfume is one of my favorite Zara fragrances. Its sweet notes of delicious creamy caramel blended with vanilla rose and musky amber are an expression of the sensual pleasure of modern women. This bold feminine energy matches the luxurious Mancera Paris Roses Greedy topped with Fruits, French Rose, Vanilla, and Amber musk.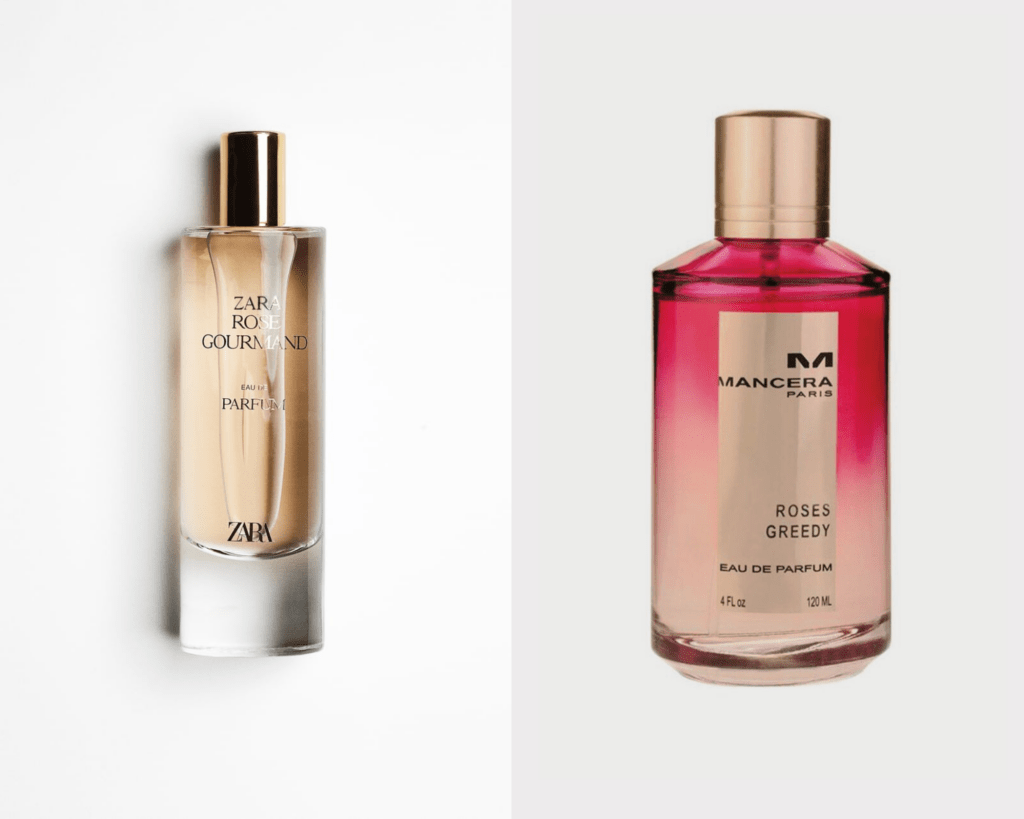 Scent Notes
Top Notes: Rose
Middle Notes: Amber and Musk
Base Notes: Vanilla and Caramel
Pros
Sophisticated scent
Warm vanilla vibe
Seductive and sweet
Great sillage
Creamy and caramel-ish
Cons
The scent may be strong for some.
One will hardly notice any difference between the signature Maison Francis Kurkdjian Paoris's Baccarat Rouge 540 and Red Temptation by Zara. Baccarat Rouge's fresh and bright amber woody floral fragrance is similar to the sensual flowery notes of jasmine and flowers wrapped in woody and musky tones.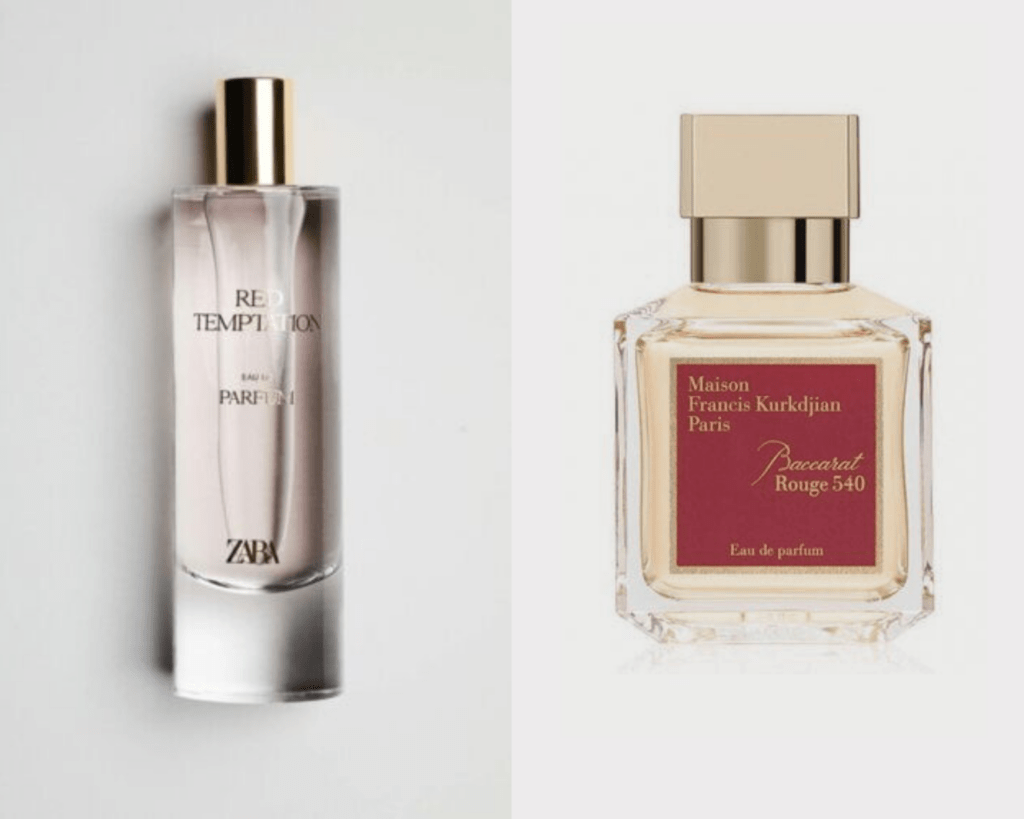 Scent Notes
Top Notes: Saffron, Bitter Orange and Coriander
Middle Notes: Praline and Jasmine
Base Notes: Amber, Moss, and Musk
Pros
Fruity and vibrant
A sensual, feminine scent
Great Baccarat Rouge Dupe
Long-lasting
Classy and contemporary
Cons
The fragrance may be sharp for some people.
Miss Dior Eau de Toilette by Christian Dior is one of the most talked about scents. With its exhilarating, fresh, sensual composition with warm and spicy accords, it is a signature scent of many.
Even though it is worth the splurge, only a few people can afford it. If you wish to wear Miss Dior without spending a lot, this Nude Bouquet Perfume by Zara should be your absolute choice.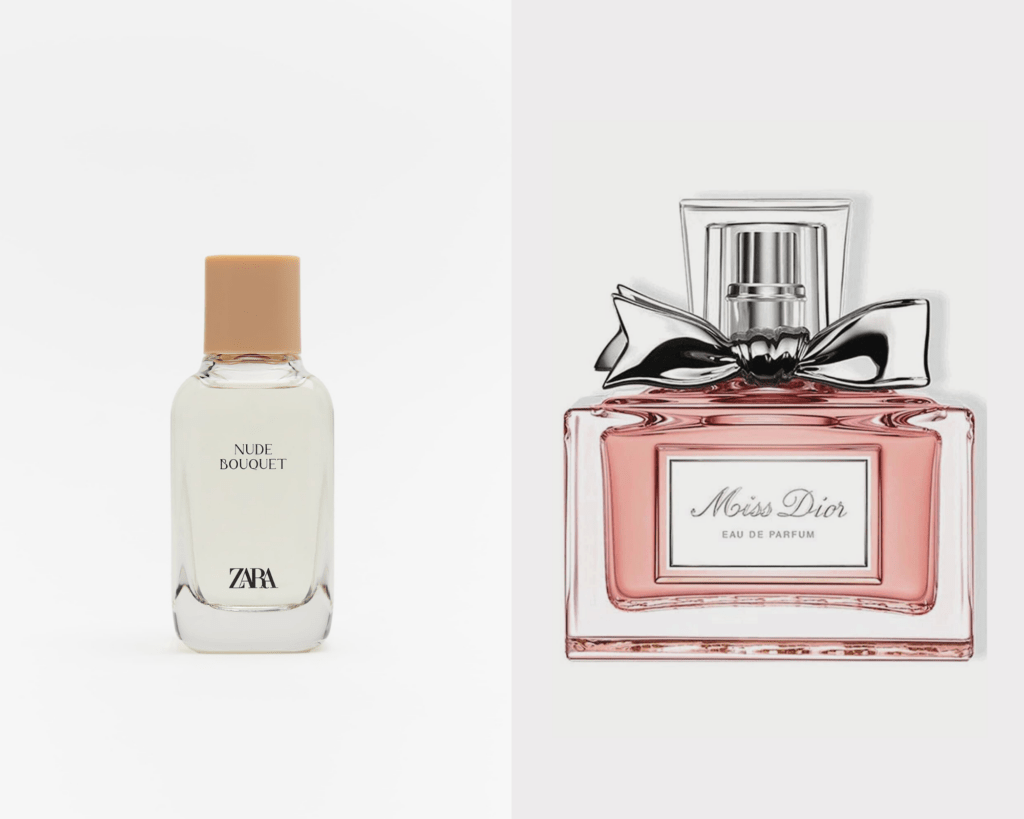 Scent Notes
Top Notes: Lotus and Bergamot
Middle Notes: Honeysuckle and Heliotrope
Base Notes: Sandalwood, Vanilla, and Tonka Bean
Pros
Floral and feminine
Minimal, clean fragrance
Intense sillage
Long staying scent
Cons
The scent could be more robust.
Zara Gardenia's fragrance resembles the Yves Saint Laurent Black Opium Eau de Parfum. The ambery floral scent is captivating and sensual. Blended with white flowers, orange and coffee, and the fruity flavor of peach and raspberry, the fragrance will remind you of the seductively intoxicating Black Opium.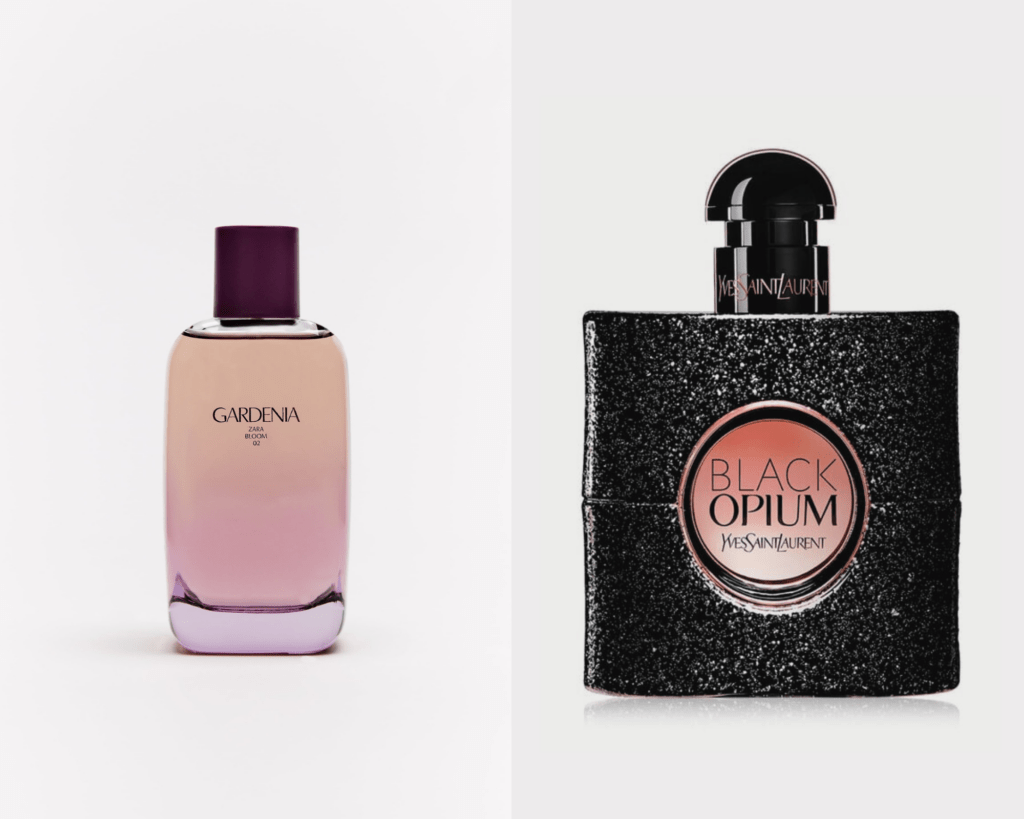 Scent Notes
Top notes: Orange Blossom
Middle Notes: Coffee
Base Notes: Vanilla
Pros
Affordable dupe to the Yves Black Opium
Floral and fruity scent
Long-lasting and good sillage
Fresh and exciting scent
Cons
The scent may induce headaches.
With Bergamot, Rose, and Musk notes, Fashionably London is Zara's perception of the Parfum de Marly's iconic Delina Eau de Parfum. The minimal powdery musky rose fragrance is soft and sensual. It is rich and slightly spicy, which makes it perfect Delina Dupe.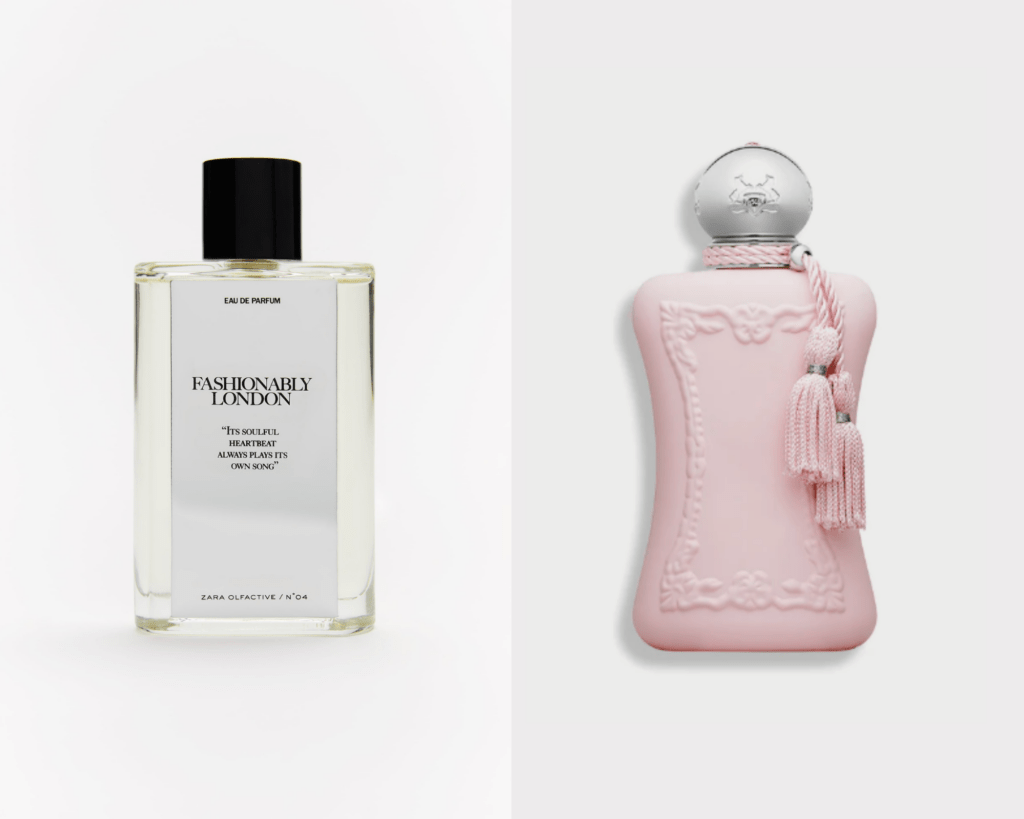 Scent Notes
Top Note: Bergamot
Middle Note: Rose
Base Note: Musk
Pros
Deep rose fragrance
Great Delina Dupe
Reasonable price
Good sillage
Long staying
Cons
The scent may be overpowering.
Chanel's cult following Chance Eau Fraiche is a floral, fresh fragrance filled with citrus, soft jasmine, and teak wood. However, if you find it expensive, Zara's Apple Juice is the one for you. Launched in 2012, Apple Jiuce is a fruity floral scent with a burst of Apple, Rose, and Musk.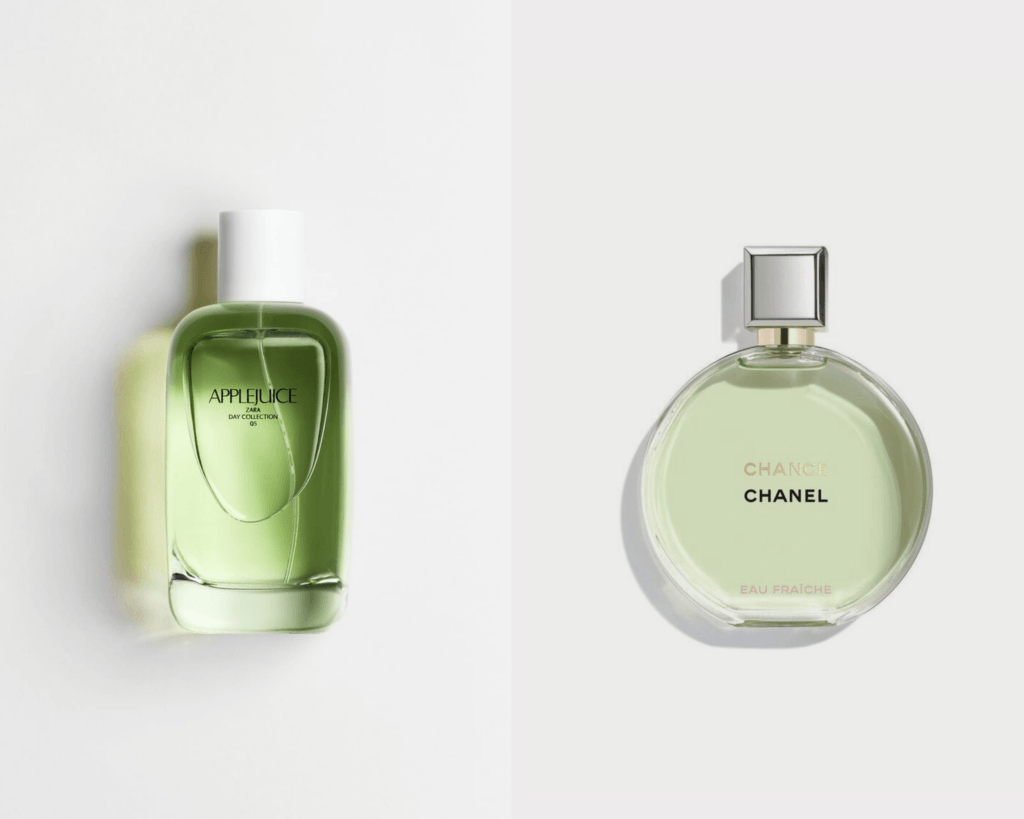 Scent Notes
Top Notes: Apple, Grapefruit and Orange
Middle Notes: Peony, Rose, Jasmine, and Violet
Base Notes: Musk, Sandalwood, and Cedar
Pros
Fresh and zesty vibe
Fruity, floral scent
Best for summers and spring
Unisex
Light and breezy
Cons
The scent has poor longevity.
Zara's Femme Perfume is the absolute dupe of Hypnotic Poison Eau De Toilette by Christain Dior. Its ambery vanilla has a captivating, irresistible scent that is sultry and sophisticated. The subtle bergamot and powdery orchid blend into the creamy vanilla, making it an intense fragrance.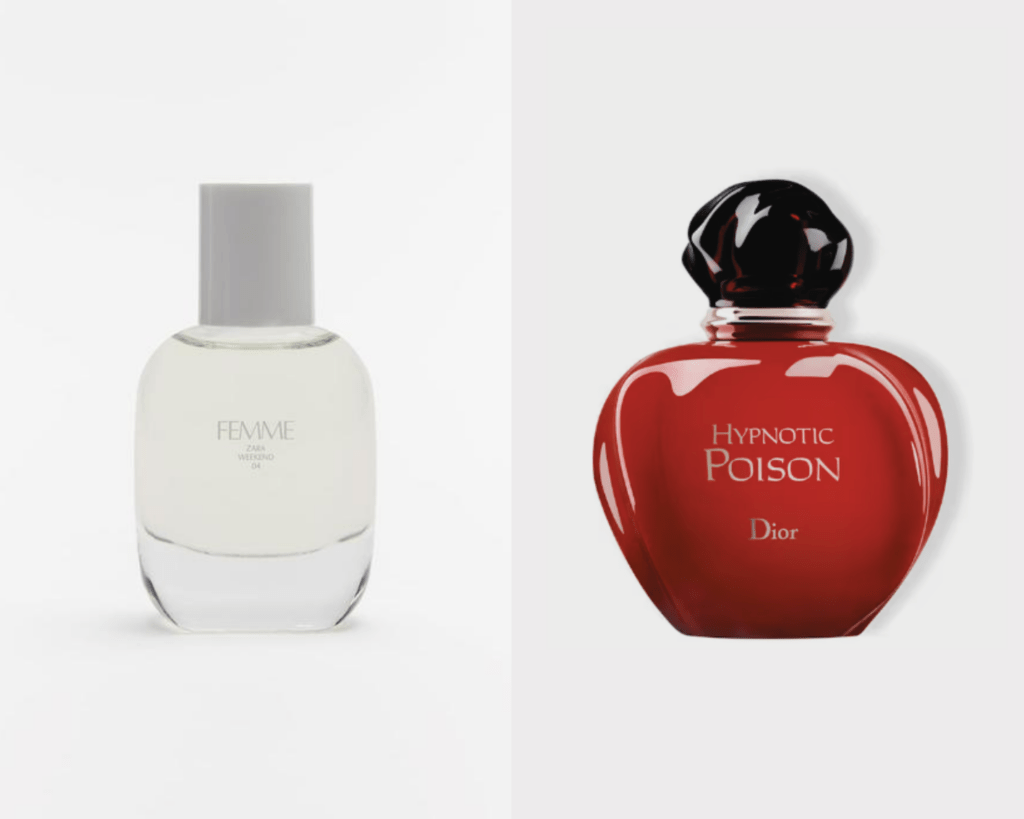 Scent Notes
Top Notes: Peony and Bergamot
Middle Notes: Tonka Bean and Sandalwood
Base Notes: Vanilla, Musk and Patchouli
Pros
Musky and warm spicy scent
Affordable dupe
Classy and sophisticated
Intense and mature
Cons
The longevity is moderate to poor.
Ebony Wood is inspired by the iconic Jo Malone's Wood Sage and Sea Salt Cologne. In fact, Jo Malone is the nose behind this fragrance. Introduced in 2019, they have an identical mineral fresh scent and a woody, earthy vibe. Spiced up with Pink Pepper and clove, Ebony Wood by Zara wraps you in an aura of deep sensual sophistication.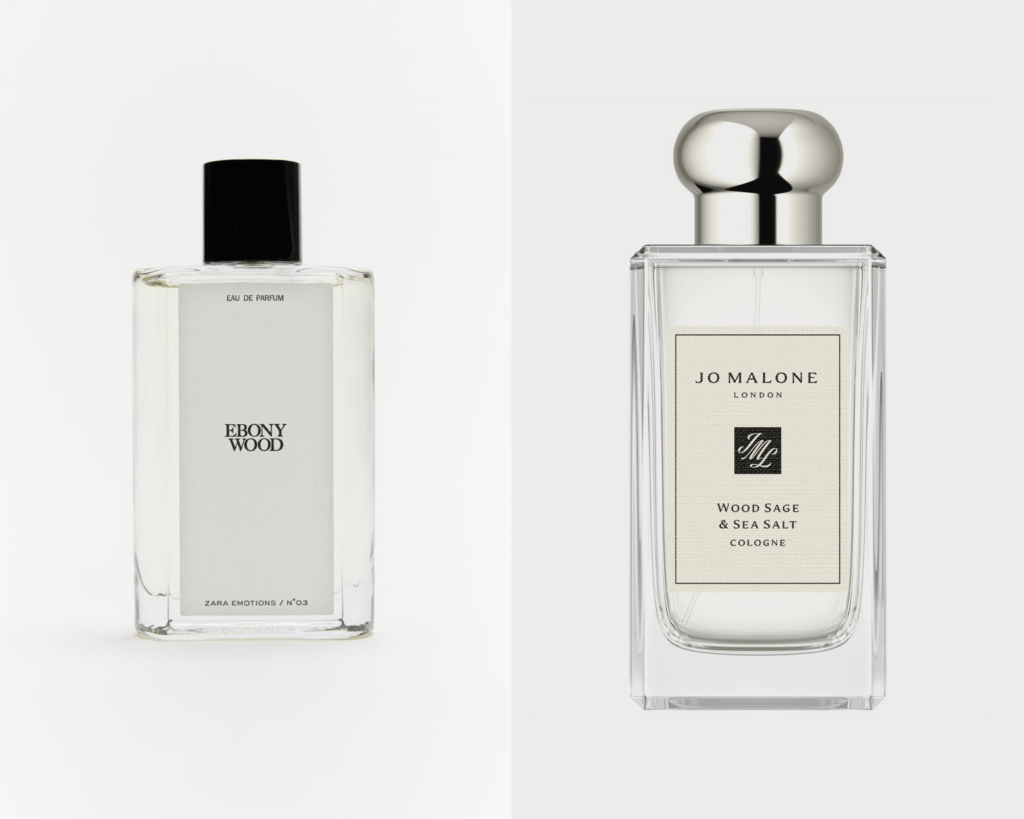 Scent Notes
Top Note: Pink Pepper
Middle Note: Clove
Base Note: Ebony Wood
Pros
Smells luxurious
Great staying power
Unisex perfume
Intense and elegant
Warm, sweet and spicy
Cons
This fragrance has many mixed interpretations.
Zara's Orchid reminds me of the bold Bombshell Eau de Parfum by Victoria's Secret. Its fresh breezy rose and lily mingle with fruity and musky ambery scents, replicating Victoria's Secret Bombshell's pure fruity floral masterpiece fragrance. The clean, light, and fresh scent makes it perfect for daytime in summer.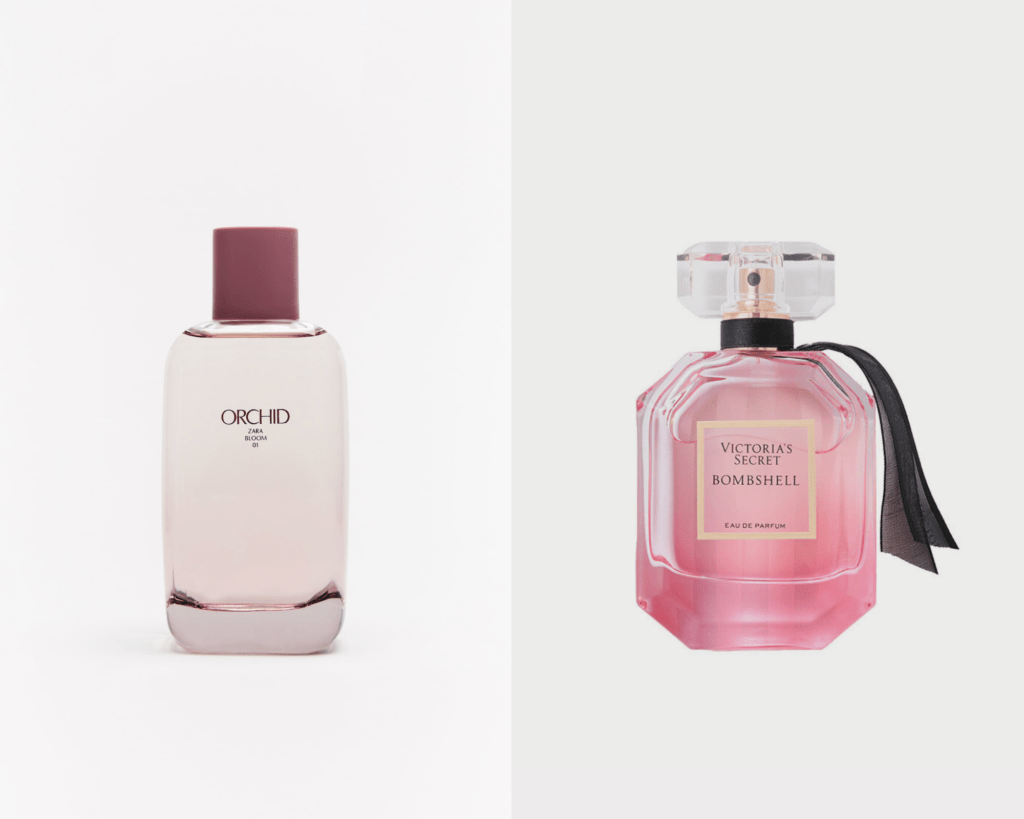 Scent Notes
Top Note: Bergamot
Middle Note: Orchid
Base Note: Vanilla
Pros
Charming and clean fragrance
Floral and fruity
Sensual, warm vibe
Affordable alternative to Victoria's Secret Bombshell
Cons
The scent may be overpowering.
If you love mature scents, the classy, spicy, warm floral, and sweet smell of Zara's Red Vanilla is an accurate alternative to the sensual and floral gourmand: La Vie Est Belle Eau de Parfum by Lancome Paris. Not only do their scent notes align, but also they are timeless and elegant.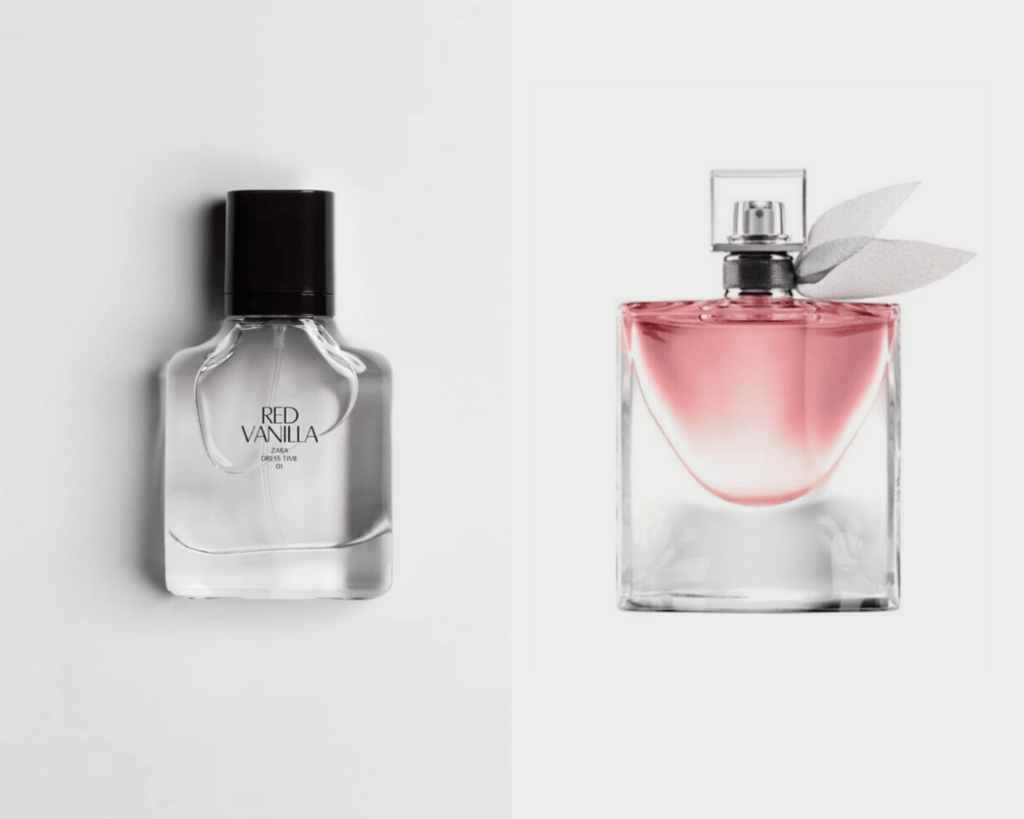 Scent Notes
Top Notes: Iris and Red Peony Flowers
Middle Notes: Mandarin and Raspberry
Base Notes: Vanilla
Pros
Sophisticated and elegant
Warm and spicy
Floral, sweet scent
Reasonable dupe
Mature and edgy
Great longevity
Cons
The perfume has limited sillage.
Decoding Your Signature Scent | Zara Perfume Dupes
In the plethora of perfumes, picking up a fragrance and making it your signature scent is overwhelming. Your signature fragrance is a part of your personality, and thus, it should be appropriately chosen. Here's how you decode your signature scent while considering these few points.
How would you like to define yourself?
Your fragrance speaks a thousand words; thus, choosing a perfume that expresses the actual perception of your personality is essential. Determine how you want to be perceived and known. Do you like to stand out or remain mysterious and intimate? This will get you closer to your signature scent.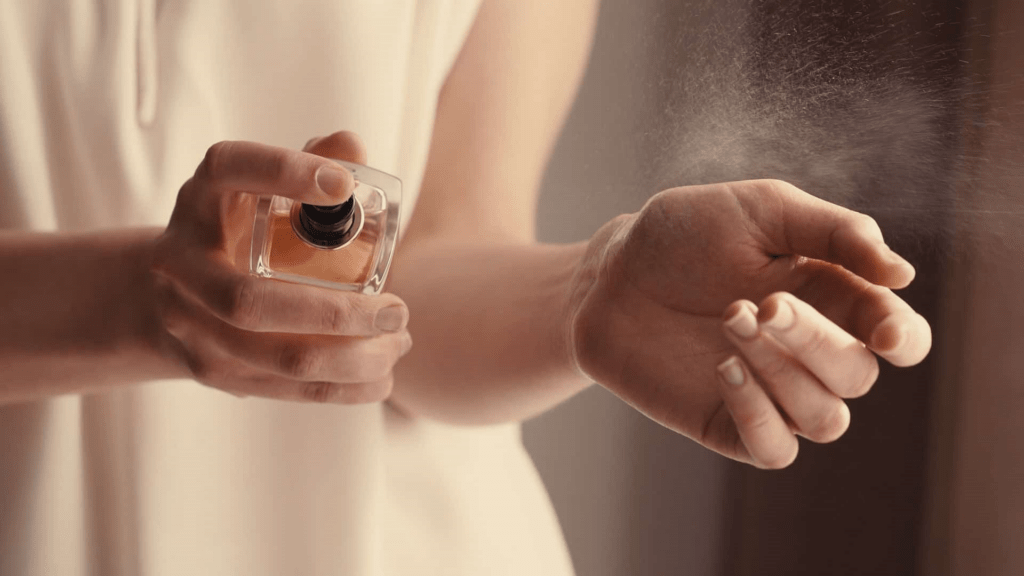 Trial and Errors
To find the "one," explore various fragrance notes and accords. However, it would cost a lot. I suggest scent testing in a store or purchasing a sample set online to try and experience without spending a lot.
Trend Traps
While on the way to getting closer to your signature scent, you may come across various fragrance trends that'll tempt you to try those. Do not wear perfume to show off a particular luxury brand or follow the latest trend; instead, dive deep into what you seek and confidently own it.
Frequently Asked Questions | Zara Perfume Dupes
Are Zara perfumes good?
Yes. Zara's fragrance collection is worth checking out. They have good quality perfumes that are reasonably priced. Furthermore, they last long and do not smell cheap.
Does Zara perfume last?
Yes. Zara's perfumes have great longevity and sillage. Not only does it compete in terms of packaging and aesthetics, but also the staying power of Zara perfumes is comparable to luxury fragrance brands.
What Zara perfume smells like Baccarat Rouge 540?
Red Temptation by Zara smells like the iconic Maison Francis Kurkdjian Paoris's Baccarat Rouge 540. With notes of Orange, Jasmine, Amber, and Musk, it matches the sensual freshness of the Baccarat Rouge.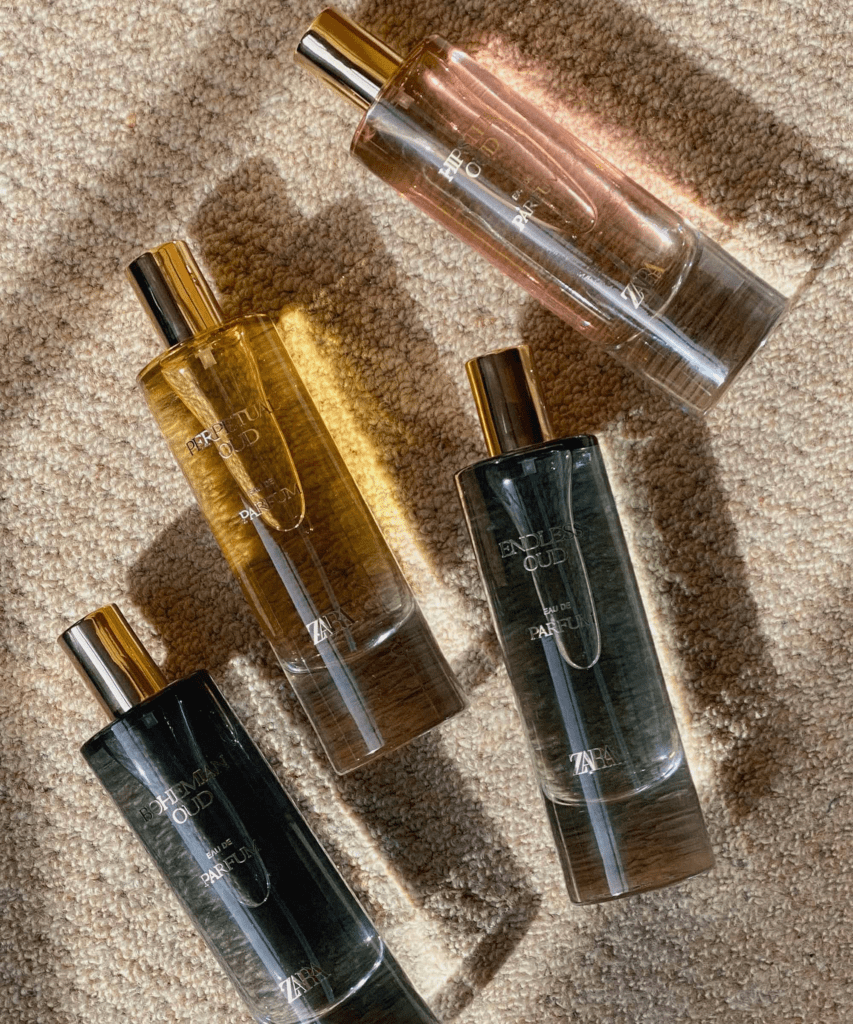 What Zara perfume smell like Chanel?
Chance Eau Fraiche by Chanel has a famous Zara counterpart. Apple Juice by Zara competes with the cult classic Chanel perfume. It is a comparable dupe with fruity and fresh flowery notes with ambery musky notes at the base.
Which are the Zara perfume dupes to steal?
Orchid, Nude Bouquet, Fashionaly London, and Gardenia by Zara are absolute dupes of Bombshell Eau de Parfum by Victoria's Secret, Miss Dior Eau de Toilette by Christian Dior, Parfum de Marly's Delina Eau de Parfum and Yves Saint Laurent Black Opium Eau de Parfum respectively.
The Base Note | Zara Perfume Dupes
Zara is a multinational fast fashion brand known for its reasonably high-quality clothing and accessories. The fragrance collection of Zara is worth looking at as they are sophisticated, sleek, cost-effective, and inspired by high-end designer perfume brands.
One can find affordable Zara alternatives to their expensive favorite perfumes. In this write-up, I have compiled a list of 11 Zara Perfume Dupes of multiple luxury brands, including Christian Dior, Yves Saint Laurent, Chanel, and Parfum De Marly's Delina.
Moreover, I have also compared their costs and mentioned a short buying guide. I hope this write-up helps you find your favorite Zara Perfume Dupes.
More Dupes: