Are you looking for Rick Owen-like sneakers? The SEO has done its job, and you've been redirected to the best result! Cutting off, I'll be sharing 11 Rick Owen dupes that are reasonable and robust. Scroll on to find the best.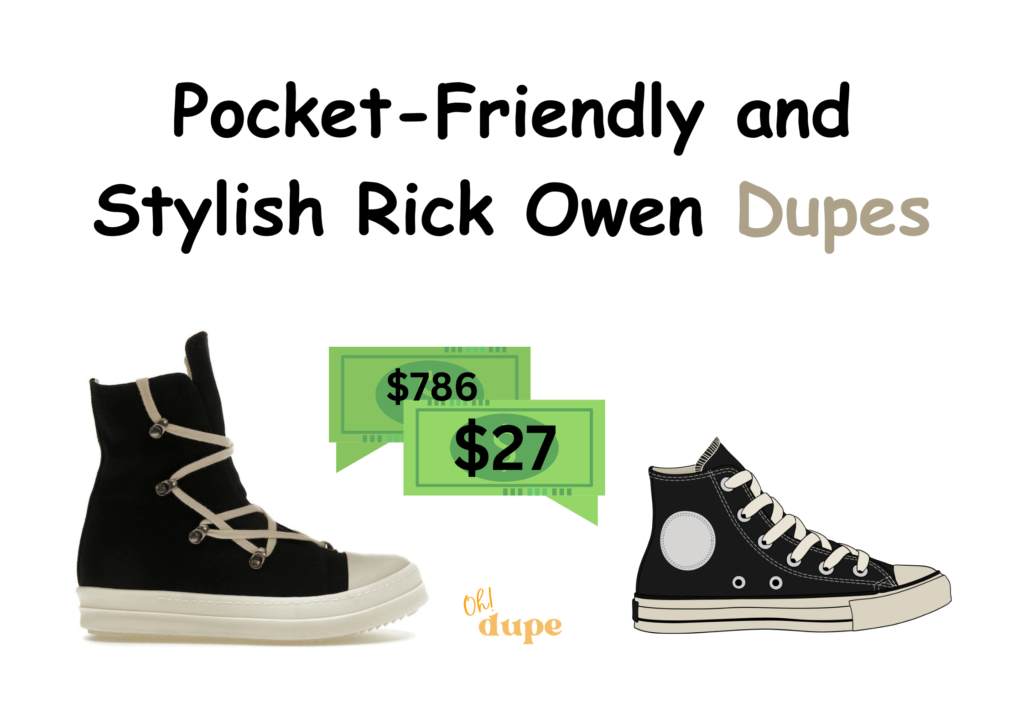 Rick Owens is a luxury fashion brand known for its uniqueness and aesthetics. Its high-quality materials and unconventional stylebook has wooed fashion enthusiasts and sneakerheads, making it one of the most sought-after fashion brand. However, Rick Owens is outrageously priced, and thus, people look for comparable dupes.
Rick Owen Dupes | 11 Reasonable Options
Rick Owens is an American fashion brand owned by veteran fashion designer Rick Owens. He has created exquisite fashion statement pieces, accessories, and home furnishings. The use of premium raw materials like cashmere, leather, and silk, and exclusive craftsmanship, makes it expensive.
In this blog post, I will specifically discuss the dupes of the famous FW23 Luxor Jumbo Lace Sneakers. The minimally stylish sneakers are well structured with a detachable padded footbed and leather upper.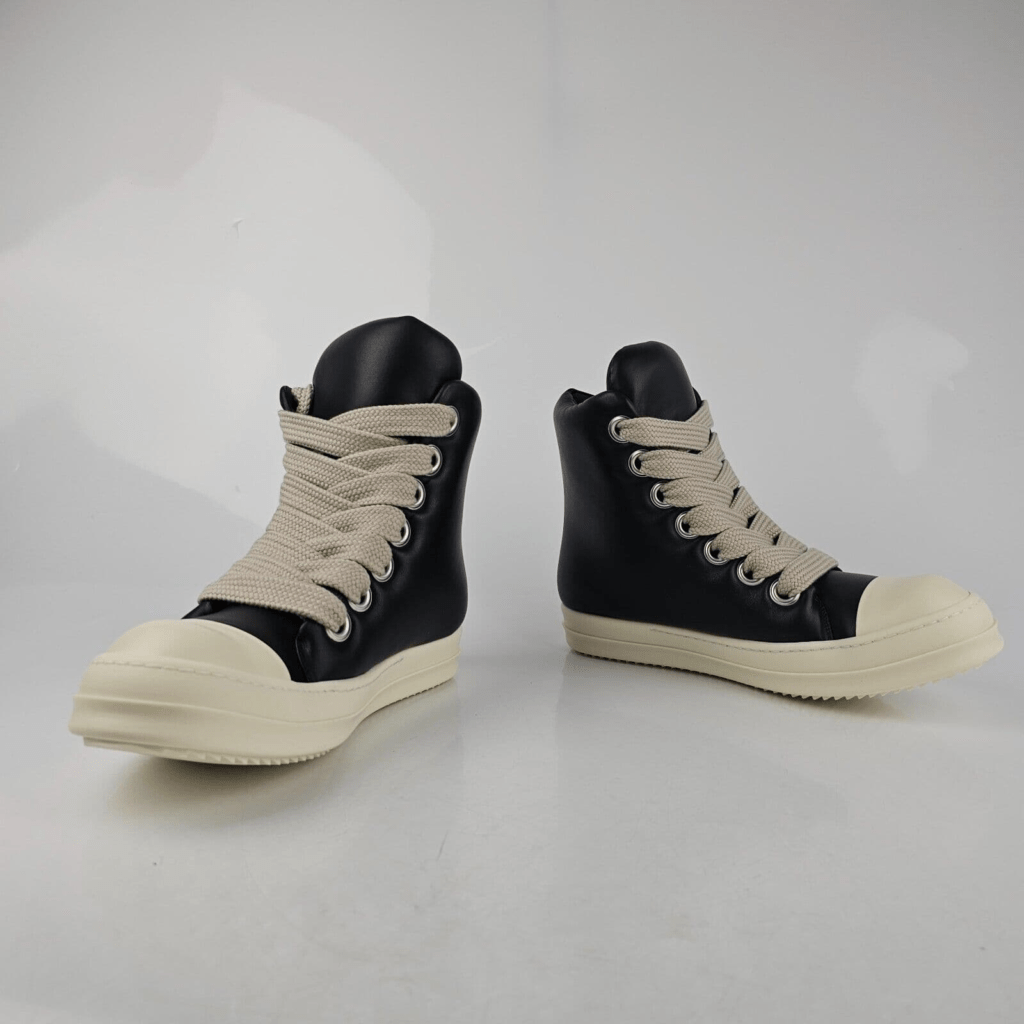 The lightweight sneakers enhance the overall outfit and give a plush walking experience. However, its hefty price tag makes it financially inaccessible. There are few who are able to afford the original Rick Owens, but for those who wish to have Rick Owens FW23 Luxor without breaking the bank, read on to find the best deal in the comfort of your home.
The first dupe for the FW23 Luxor Jumbo Lace Sneakers is from Owen Seak. Widely available on the online China-based retail service AliExpress, Owen Seak produces durable footwear inspired by expensive fashion houses. The Owen Seak Women High Top Shoes are available at $27. Crafted with PU leather, stretchy midsole, and rubber outsole, they are flexible and comfortable.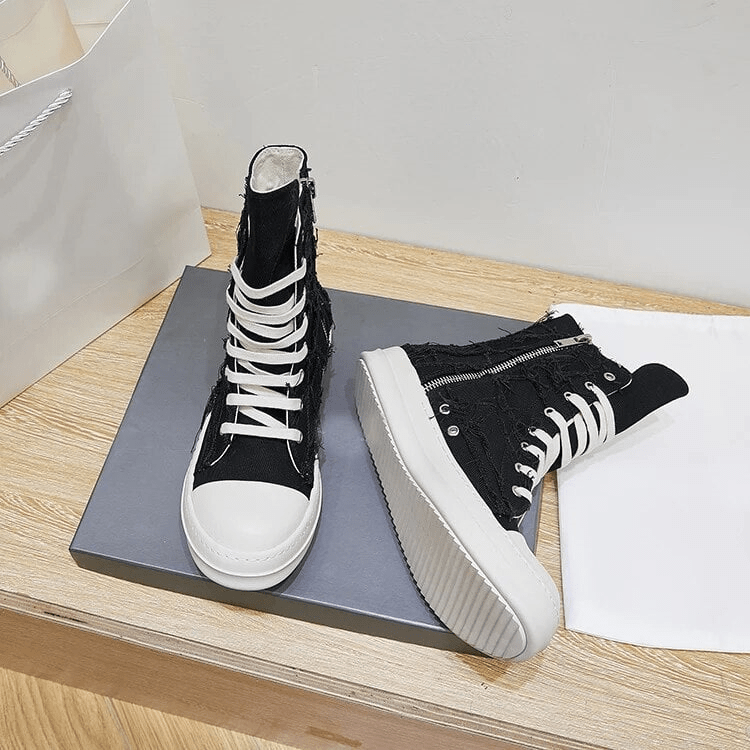 Highlights
Price: $27
Material: PU Leather
Flat heeled
Stretchy Midsole
Rubber Outsole
Lace Up closure
Elastic band and padded collar
Pros
Anki skid
Comfortable and convenient
Flexible and versatile
Affordable price
High-quality material
Long-wearing and soft
Cons
Shein is a popular global lifestyle e-commerce brand known for affordable alternatives for high-end products. I always turn to Shein to find equivalent and comparable dupes for my favorite products. This time, I have found an incredible alternative to the Rick Owens FW23 Luxor Jumbo Lace Sneakers. The Women Lace Up High Top Shoes are available in four vibrant colors at just $35.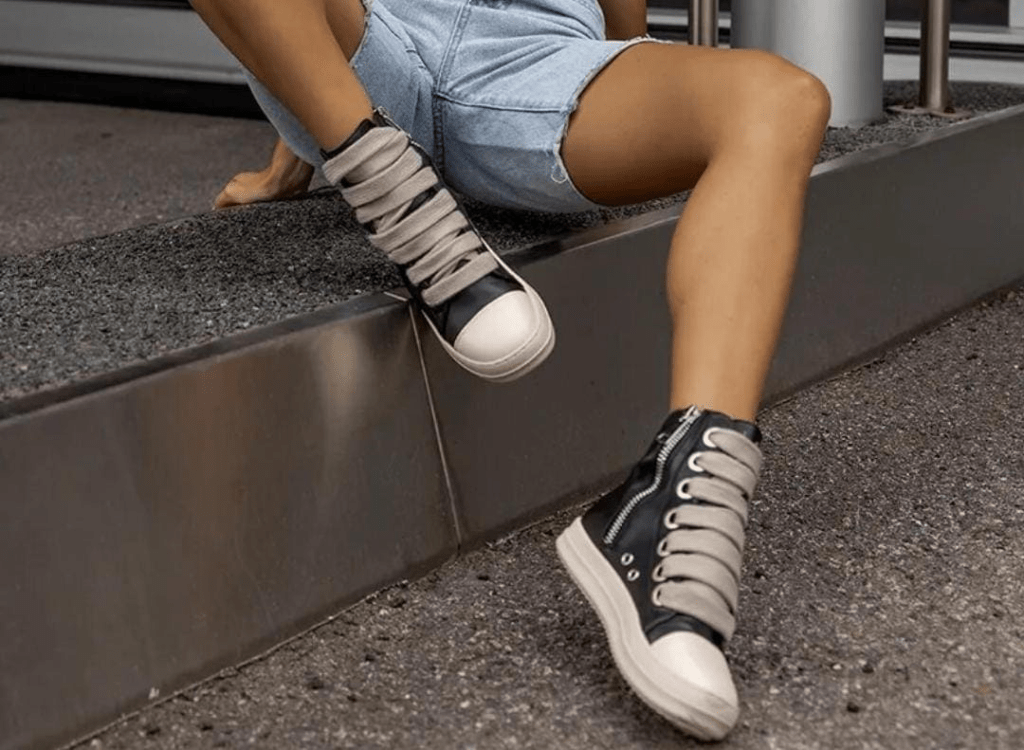 Highlights
Price: $35
Material: PU Leather
PU leather lining and upper
Rubber Outsole
Seven eyelets
Zip closure
Ankle length
Pros
Jumbo laced
Resembles the original Rick Owens
Comes with a shoe bag
Comfortable and stylish
Cons
This Mens High Top Lace Up Sneakers by Kiwofodur is another cost-effective option for the Rick Owens FW23 Luxor Jumbo Lace Sneakers. Built with good quality vegan leather and heavy-duty rubber sole, this pair is your ultimate choice if you prefer vegan footwear. The soft lining gives you a comfortable walking experience.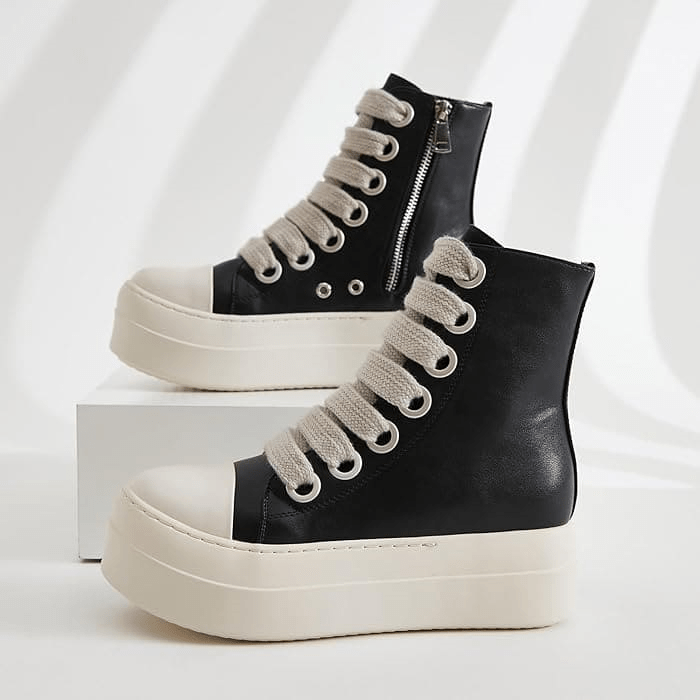 Highlights
Price: Between $50 – $200
Material: Vegan PU leather
Rubber sole
Round toe
Lace-up and zipper closure
Pros
Vegan friendly
Affordable rate
Convenient and comfortable
Versatile wear
Flexible and durable
Cons
The toe area is too wide.
Next, we have a doppelganger product on Dhgate. Not only do we have similar FW23 Luxor Jumbo Lace Sneakers, but one can also find many shoes inspired by the iconic Rick Owens. Priced at just $75, they are durable, comfortable, and worth adding to your shoe collection.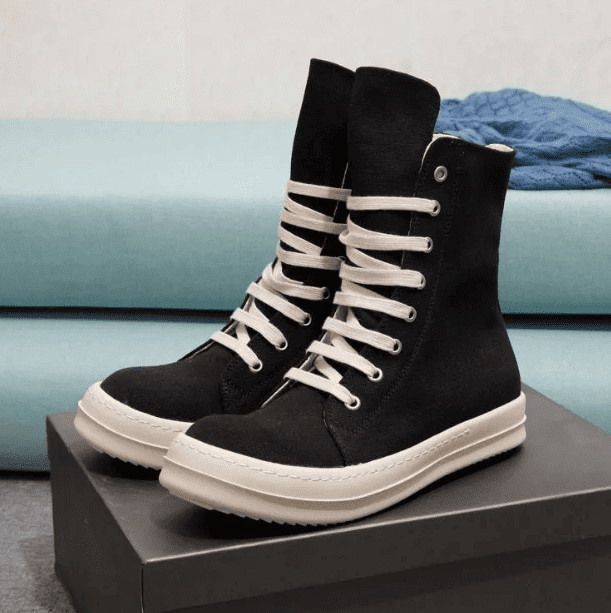 Highlights
Price:$75
Material: PU leather
Rubber bottoms
Jumbo laced high-top sneakers
Wedge heels
Thick sole
Pros
Cost-effective and comfortable
Convenient
Accessible
Durable and flexible
Stylish
Cons
There are no reviews available.
Many local brands come up with affordable yet high-quality fashion accessories and footwear that replicate the signature designs of luxury brands. The sole aim is to make premium look readily available and financially accessible. One of the local brands that is quite popular among the commoners is Kluolandi.
These High Top Sneakers for Women from Kluolandi are an affordable alternative to the Rick Owens FW23 Luxor Jumbo laced Sneakers. Priced at $98, they are available at a fraction of the original cost.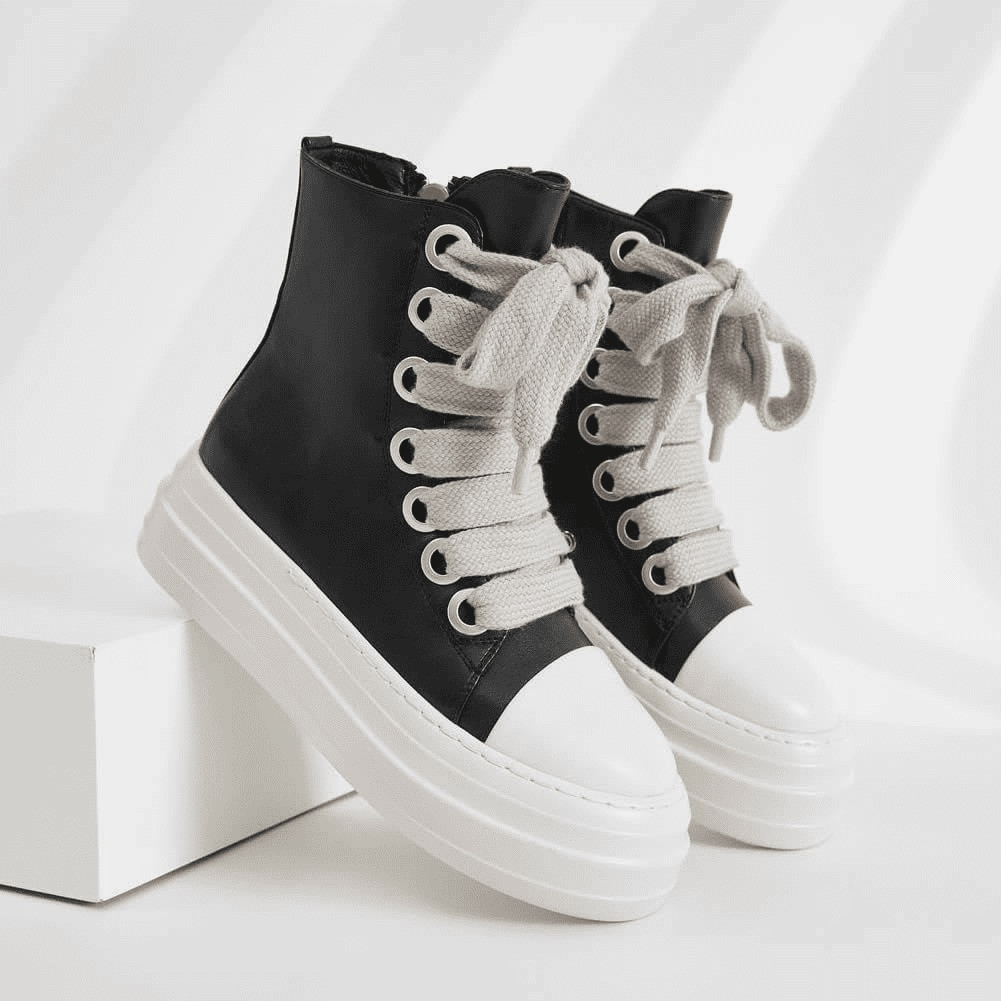 Highlights
Price: $98
Material: PU Leather
Rubber sole
Lace-up and zip closure
Round toe with toe cap
Ankle length
Platform sole
Pros
Well designed
good quality material
Durable
Convenient
Cost-effective
Versatile and flexible
Best for a stylish casual look
Cons
Available in only a single color.
Mofeeduoka is another small-scale brand that manufactures plush Rick Owen-inspired footwear. I could easily find a pair similar to the FW23 Luxor Jumbo laced Sneakers. I was initially skeptical about it, but to my surprise, they were pretty good for the price. Designed with vegan PU leather, the thick-laced shoes are my go-to footwear for all casual outings.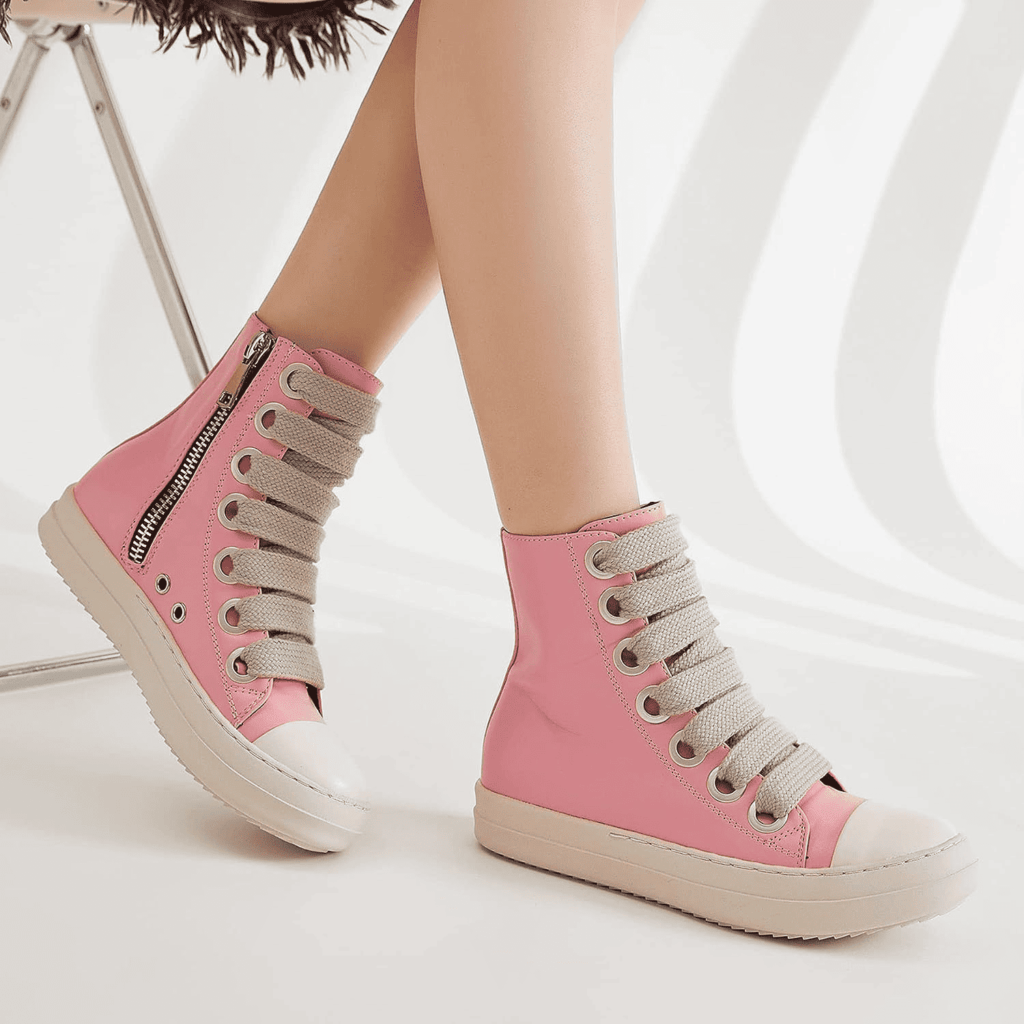 Highlights
Price: $99
Vegan PU leather upper
Rubber sole
Zipper closure
Thick shoe laces
Soft lining
Round toe
Platform sole
Pros
Vegan
Cost-effective option
Soft and comfortable
Durable
Convenient
Stylish and casual
Cons
The shoes are not true to size.
Impremey's High Top Sneakers Lace Up Canvas Shoes are another affordable alternative to the Rick Owen FW23 Luxor Jumbo Laced Sneakers. They are stylish and comfortable, constructed with PU Upper and heavy-duty rubber at the bottom. They are available in five vibrant colors and multiple sizes.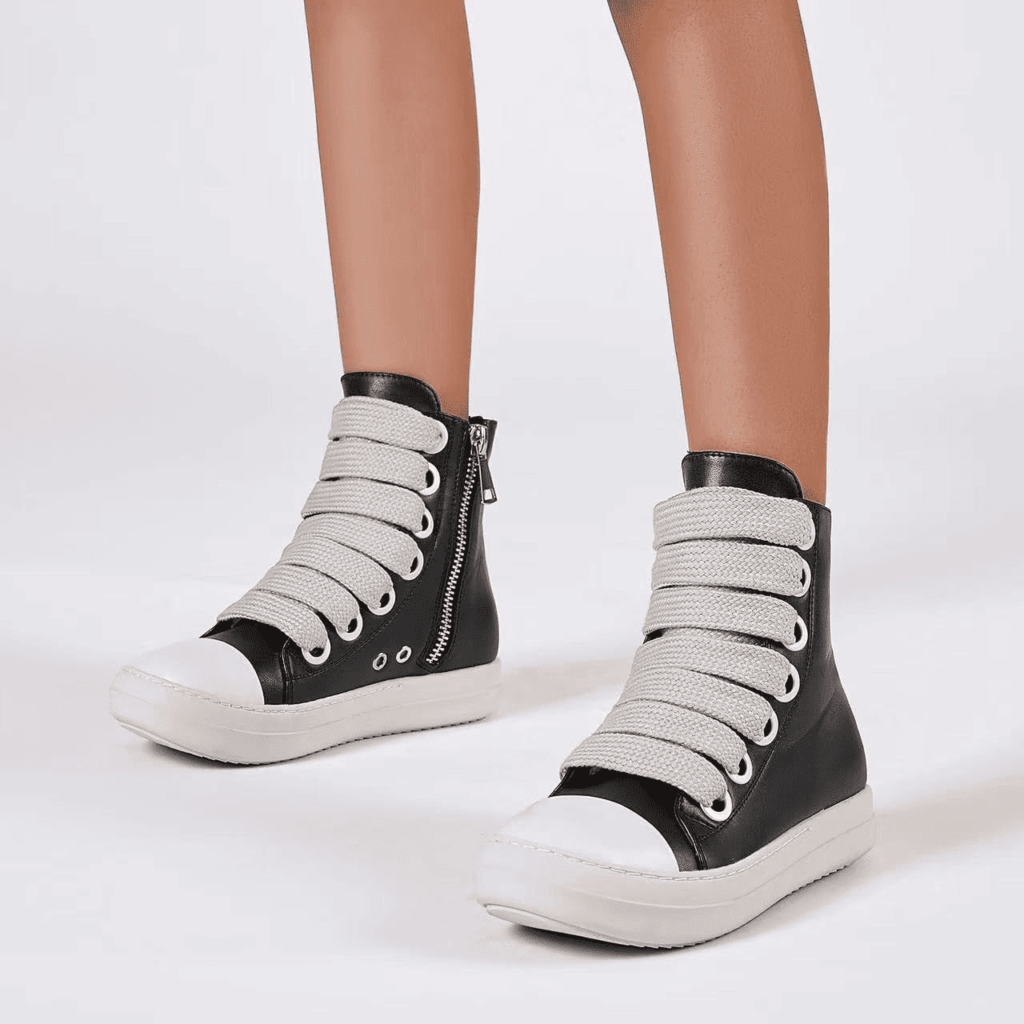 Highlights
Price: $101
PU leather outer
Rubber sole
Lace-up closure
Above ankle height
Jumbo lace
Shark tooth sole
Side zipper for fastening
Pros
Soft and plush lining
Trendy and fashionable
Comfortable fit
Durable construction
Versatile
Cons
There are scanty reviews available online.
The following product that I have is from Amore Paris. The contrasting toe cap and thick jumbo lace-ups make the perfect casual footwear for your weekend chill out. Available in five vivid colors, they are worth considering.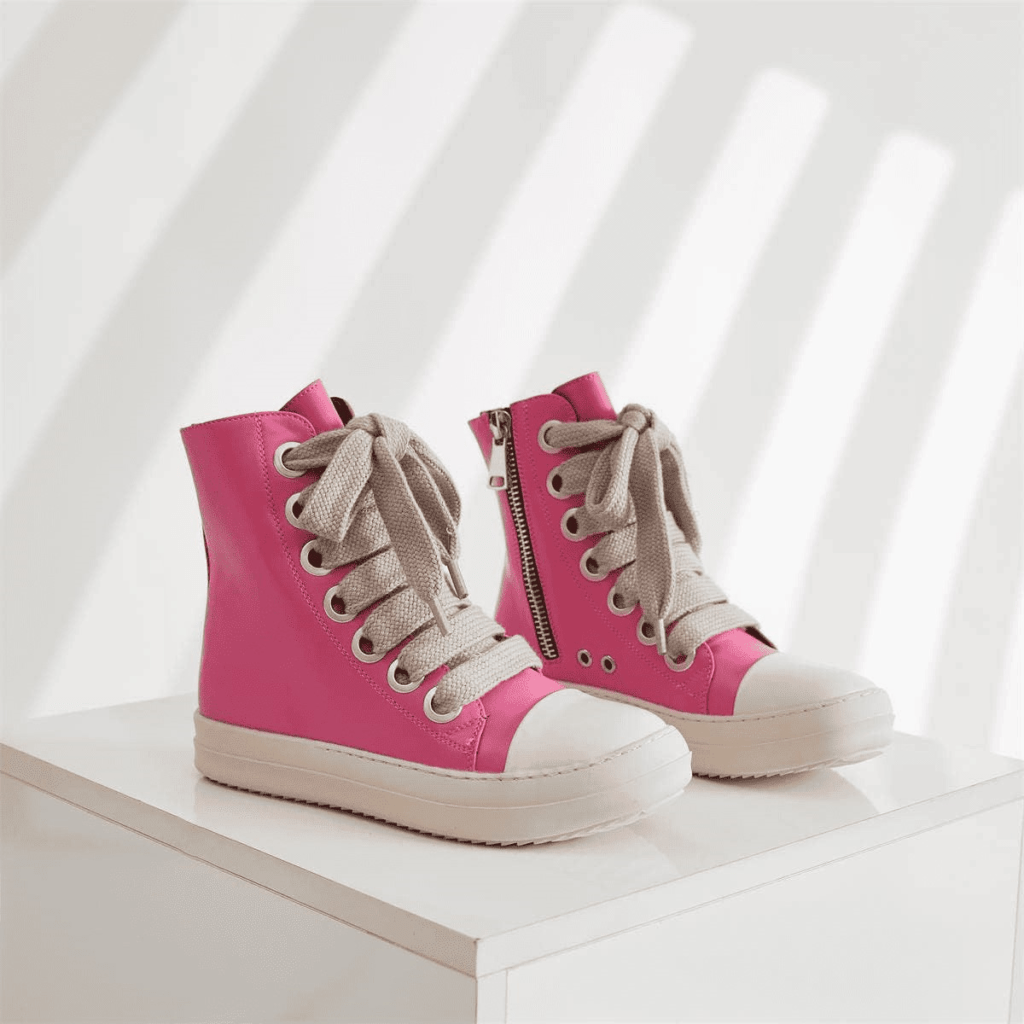 Highlights
Price: $101
Vegan PU Leather upper
Rubber Outsole
Shark tooth rubber soles
8 eyelets
Platform heels
Rounded toe
Thick jumbo lace
Pros
Sleek and stylish
High-quality material
Vegan
Durable
Unique and comfortable
Convenient
Cons
There are a lot of mixed opinions regarding the fit.
This pair is the coziest version of the Rick Owens FW23 Jumbo Laced Sneakers. The comfort of a Ugg combined with Rick Owens style makes it the ultimate footwear for winter weekend outings. Crafted with wool and Suede Upper, the padded collars provide comfortable support.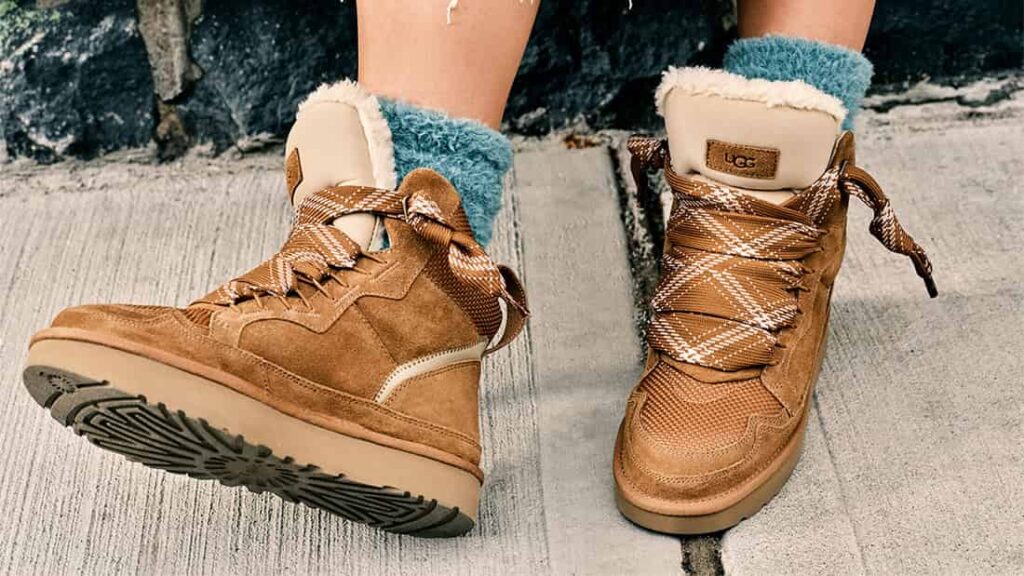 Highlights
Price:$160
Material: Canvas Mesh
Suede Upper
Padded collar
Oversized Padded tongue
Lace-up Closure
Wool lining and insole
EVA footbed
Pros
Cozy and comfortable
Stylish
Versatile and flexible
Reasonable price
Cons
Available in a single color.
The handmade Rick Owen Jumbo Lace Inspired Shoes on Etsy are another cost-effective option for the FW23 Luxor Jumbo Laced Sneakers by Rick Owens. Its well-built design and sleek look resemble the OG product.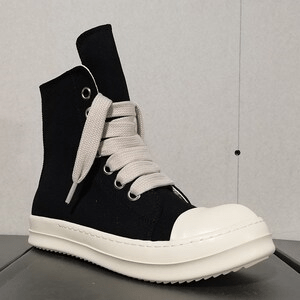 Highlights
Price:$141
PU leather upper
Rubber soles
Thick jumbo lace
8 eyelets
Pros
Replicates the original Rick Owens
Affordable price
Stylish and comfortable
Durable
Cons
There are scanty reviews available online.
Lastly, I have these thick-bottomed, sturdy-looking laced sneakers. Yes, girls, you can slay them too. The unisex pair is comfortable and supportive. Made with lightweight canvas fabric, it is the perfect combination of chic and comfort.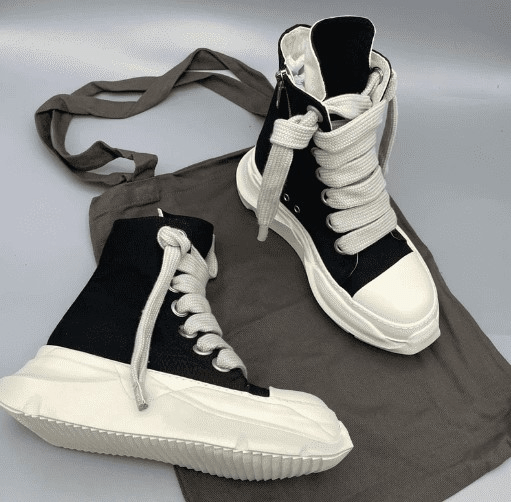 Highlights
Price:$236
Canvas upper
Canvas lining
Rubber sole
Jumbo laced
Pros
Comfortable
Stylish and flexible
Unisex
Lightweight and breathable
Affordable price
Cons
Fall on the pricey side.
The shoes come without a box.
Consider These Factors While Buying Sneakers | Rick Owen Dupes
Finding sneakers online can be tedious but done. One has to be careful about aspects beyond the size and fit of sneakers. Purchasing offline may lead you to get the perfect pair; however, if you consider these factors, buying online will become much easier. Check these three aspects before you proceed with the checkout to avoid inconveniences.
Material
One of the primary aspects, yet essential. Sneakers can walk with you as long as you consider their material. Canvas, Leather, PU Leather, and Suede are the most used fabrics to design sneakers. Canvas is lightweight and breathable, whereas leather will last longer.
PU leather, on the other hand, is a cruelty-free alternative to using leather. Moreover, Suede sneakers give a sleek and stylish appearance and mold the shape of your feet with time. Choose according to your activity, preference, and weather.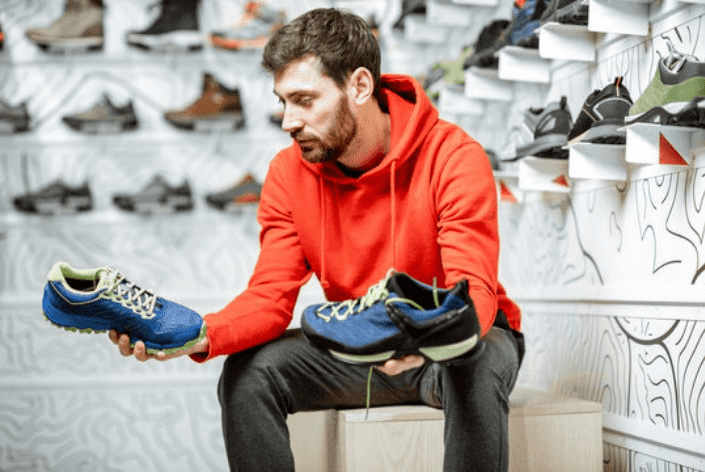 Fit and Size
While fit and size are typically misinterpreted as the same, fit refers to the shoe's comfort, and size is the universal measurement. Check the proper keywords while reading the product description and choose the fit. One can also make out this by the toe shape and toe caps.
While choosing the perfect size, measure your foot, look for the correct size per your region, and check for additional information by the particular brand. Most brands suggest buying specific sizes or advise sizing up and down accordingly.
Brand and Reviews
One of the most overlooked factors. Numerous brands claim to deliver the best; however, the perfect brand from which people are most likely to buy is its reasonable deals, decent online identity, and consumer base. However, if you yearn for any particular alternative to luxury brands, several brands provide you with the best quality without breaking the bank.
All you do is go into depth and find the most suitable option. Furthermore, reviews are unbiased opinions that play an essential role in buying that product. Read as many customer experiences as you can to have the perfect pair.
Frequently Asked Questions | Rick Owen Dupes
Why is Rick Owens so expensive?
Rick Owens is a global luxury brand founded by famous American fashion designer Rick Owens. Its edgy and distinctive designs, minimal yet powerful statement pieces, and high-end raw materials add to the value and make it one of the most expensive brands.
What aesthetic is Rick Owens?
Rick Owens has revolutionized modern fashion with its unique aesthetics. Its luxury products are inspired by gothic culture and dark avant-garde aesthetics. Rick Owens' distinctive and edgy designs have caught the attention of many contemporary fashion enthusiasts.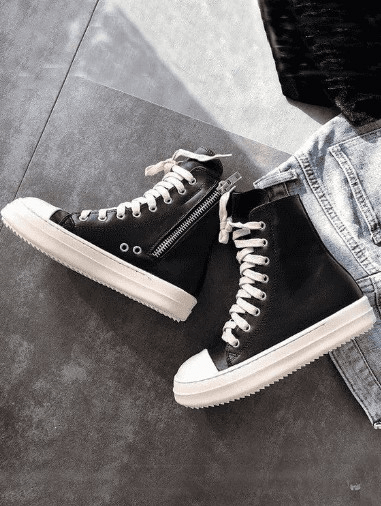 Which are the best Rick Owens Shoes?
Apart from the iconic Geobasket Sneakers, the one pair that has gone viral is the FW23 Luxor Jumbo Laced Padded Sneakers. They are super stylish and comfortable, built with weightless calfskin leather and featuring seven huge eyelets with toe caps and shark tooth soles.
Which are the best Rick Owens Dupes?
Women High Top Shoes from Owen Seak, Women Lace Up High Top Shoes from Shein, Kiwofodur Mens High Top Sneakers, and Dhgate Designer Boots Women's Short Boots are the best Rick Owens Dupes.
The Closure | Rick Owen Dupes
Indeed, Rick Owens is the most sought-after luxury fashion brand that manufactures high-quality, off-the-wall, unique products. Its minimal and out-of-the-box style makes it over the top and expensive.
In this blog post, I have particularly discussed one of the iconic Rick Owens shoes: FW23 Luxor Jumbo Lace Sneakers. I have elaborated on 11 comparable Rick Owens dupes ranging from $30 to $230.
I have also attached a buyer's guide to help find suitable sneakers online. I hope this write-up is insightful and aids you in buying the absolute Rick Owens Dupes.
Here are some latest posts: