Do you also dream of sporting a Celine-like box crossbody bag without splurging a lot? You are not alone! Till the time you are able to afford Celine, you can easily slay one of these 11 Celine Crossbody Bag Dupe products and find the best according to your aesthetic.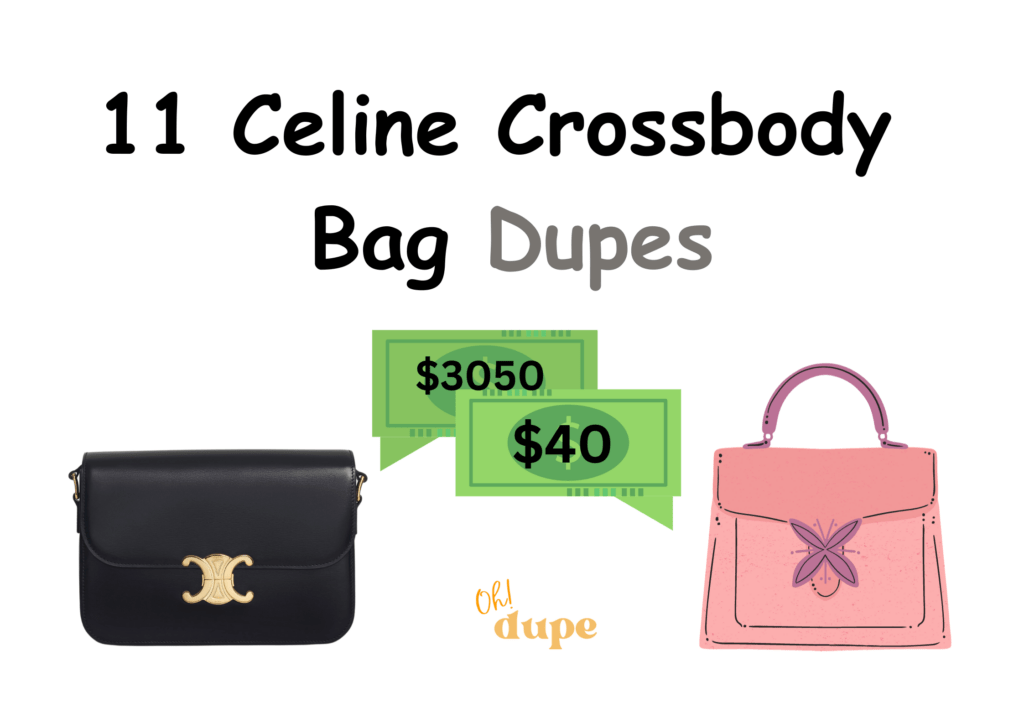 Crossbody bags are one of the most versatile fashion accessories. They are practical, stylish, and, most importantly, help you store all your essentials on the move. Recently, the boxed-shaped crossbody bag from Celine has wooed the fashion crowd. The way it spices up the outfit is over the top. Moreover, it is versatile and multifunctional. The metal clip closure is convenient, while the thick sheepskin leather will keep the bag immortal.
All these features attract you to own the bag, except for its extraordinarily high price. So, for those who wish to have a multi-stylish, versatile bag without bouncing your bank cheques, look for the best Celine Crossbody Bag Dupe to pair with your outfits and slay.
Celine Crossbody Bag Dupe | 11 Modestly Priced Comparatives
Celine Paris is one of the luxurious fashion brands. Established in 1945 by Celine Vipiana, it now functions under the LVMH and the dynamic creative directorship of Hedi Slimane. Celine's products are unique fashion statement pieces and a status symbol among the elite.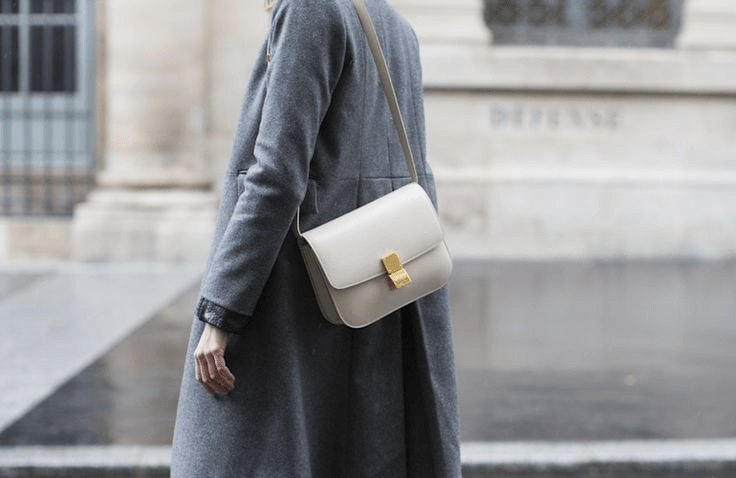 Being outrageously priced, people often seek affordable alternatives. Previously, I penned the Celine Sunglasses Dupes, and today, let's check out cost-effective options for the viral Celine Crossbody Box Bag. So, without any delay, let's find the best Celine Crossbody Bag Dupe.
Scarleton was founded in 2011 in California with a passion for producing and selling high-quality, fashionable handbags at reasonable rates. One of the earliest online retailers, Scarleton has a broad range of collections, including purses, crossbody bags, backpacks, and many more. This chic, versatile crossbody bag is a comparable and cost-effective option to the Celine Crossbody Bag. It is roomy and lightweight with an easy gold clip-on closure.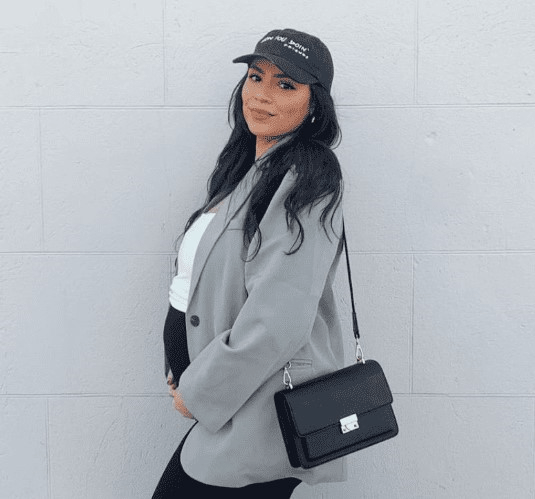 Key Highlights
Price: $40
Material: Vegan Leather
Size: 9 "x6 "x2.5"
Two main compartments
Two front and inner slip pockets
Removable Shoulder Strap
Top handle
Classic Gold Clip on closure
Available in 8 vivid colors
Pros
Vegan
Cruelty-Free
Spacious
Lightweight
Multifunctional and versatile
Affordable dupe
Cons
There are scanty reviews online.
The Faux Leather Cross Body Bag from Marks and Spencer is a popular dupe to the Celine Crossbody Box Bag. Not only do the bags appear similar but also the Marks and Spencer Bag is a tough competitor. Crafted with ultra-durable materials and a structured functional design, the bag is a convenient, classic, and contemporary staple.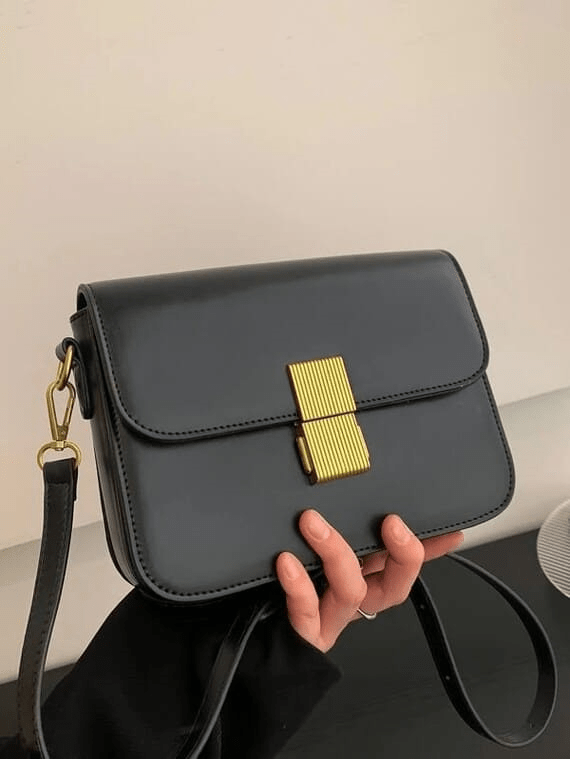 Key Highlights
Price:$62
Material: Faux Leather and Polyurethane
Polyester Lining
Size: 14 cm H x 20 cm W x 7.5 cm D
Two compartments
Zipped inside pocket
Adjustable crossbody strap
Pushlock gold-toned fastening
Available in 4 vibrant colors
Pros
Modern and classic
Spacious
Comfortable and convenient
Recycled materials
Contemporary style
Cons
The strap is inconvenient.
Sinbono is a New York-based brand that manufactures fashionable yet sustainable accessories. With the latest trends and designs, they are keen and detail-oriented. One of their bags, the Medium Fiona Bag, is an absolute match for the Celine Crossbody Box Bag. It is crafted with Faux Calfskin Leather and lined with Faux Suede. The appearance and the construction of both bags are almost the same.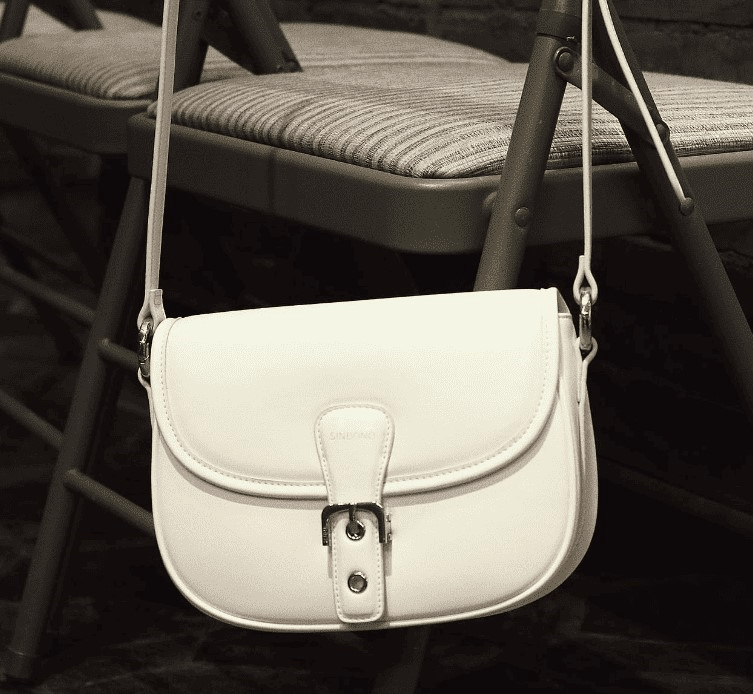 Key Highlights
Price: $89
Material: Vegan Faux Calfskin Leather
Faux Suede Lining
Size: 9.25″ Wx 2.56″ D x 6.69″ H
Detachable Shoulder Strap
Pushing lock closure
Gold-toned hardware
Available in 3 classic colors
Pros
Vegan
Sustainable
Eco friendly
Cruelty-Free
Durable and rich material
Affordable dupe
Stylish and elegant
Multifunctional design
Cons
There are no customer reviews available.
Lola Mae is a fashion brand from Los Angeles that specializes in manufacturing women's crossbody bags, wallets, and handbags. The Lola Mae Satchel Crossbody bag is one of the best products in the collection. It looks elegant, classic, and expensive, like the Celine Crossbody Box Bag. The Satchel structured shoulder purse is adorable and versatile, with much room for all your immediate essentials.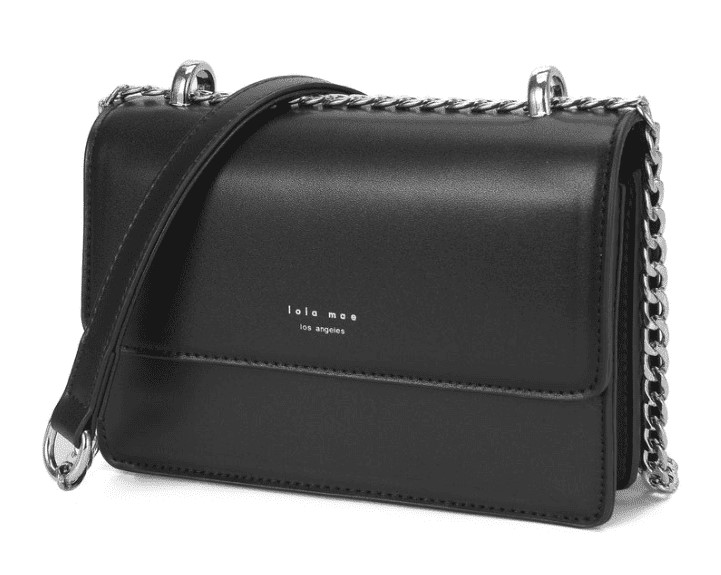 Key Highlights
Price: $25
Material: PU Leather
Silver-toned hardware
Two inner compartments
One zipper side pocket
One backside pocket
Chain shoulder strap
Leather shoulder drop
Available in two minimal colors
Pros
Well-structured, minimal, and classic
High-quality material
Multifunctional compartments
Spacious and stylish
Cons
There are no customer reviews available online.
This mini flap crossbody bag from JW PEI is a minimal version of the Celine Crossbody Box Bag. Crafted with 100% recycled materials and Vegan Leather, the bag is roomy and lightweight. The stylish, multifunctional bag is available in more than ten colors.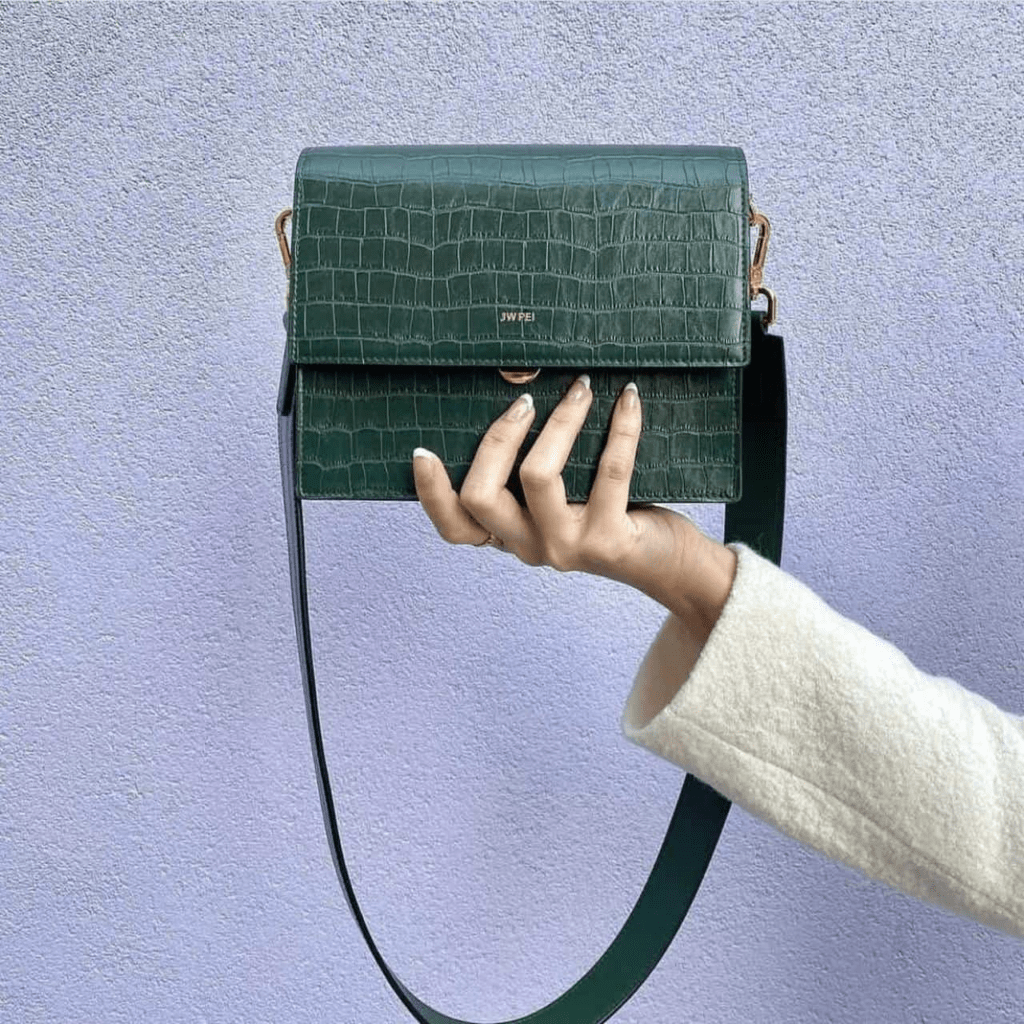 Key Highlights
Price: $67
Material: Vegan Leather and Recycled Plastic Bottles
Size: 7.9″ W x 6.1″H x 3.1″ D
100% Recycled Lining
Two Compartments
Two interior pockets
One zippered pocket
Removable Shoulder Strap
Silver hardware
Push-lock fastening
Available in 15 colors
Pros
Smooth vegan leather
Durable hardware
Simple and minimal
Multi-pocket design
Convenient and Versatile
Flexible styling
Cruelty-Free
Cons
There are very few reviews available.
Shein is the ultimate fashion destination to find all the designer dupes for accessories and shoes. This mini one-shoulder bag is a reasonable option for the OG Celine Crossbody Box Bag. Made with PU Leather; it comes in 4 vibrant colors.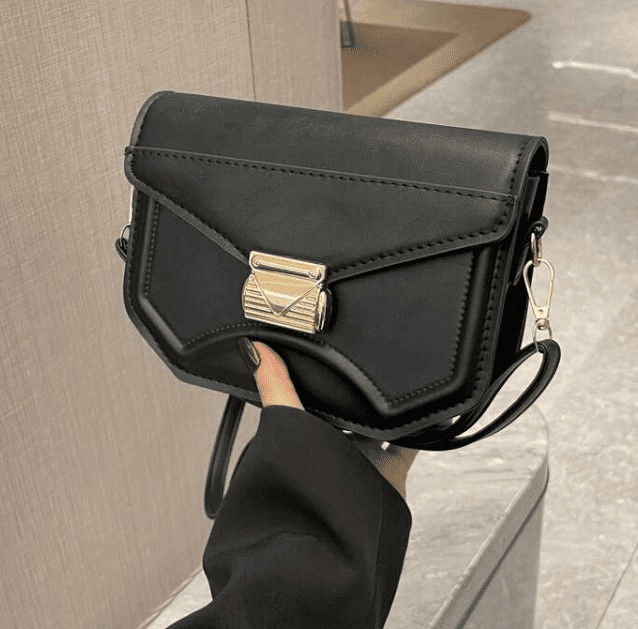 Key Highlights
Price: $9
Material: PU Leather
Size: 6″ x 8″ x 3″
Removable Shoulder Strap
Box-shaped bag
Gold toned closure
Available in 4 colors
Pros
Durable and affordable
Spacious compartment
Versatile styling
Cons
There is only a single compartment.
Zara is a global fast fashion brand that sells premium quality fashion essentials at modest prices. Known for its affordable designer substitutes, this off-white flap crossbody bag is versatile and multifunctional.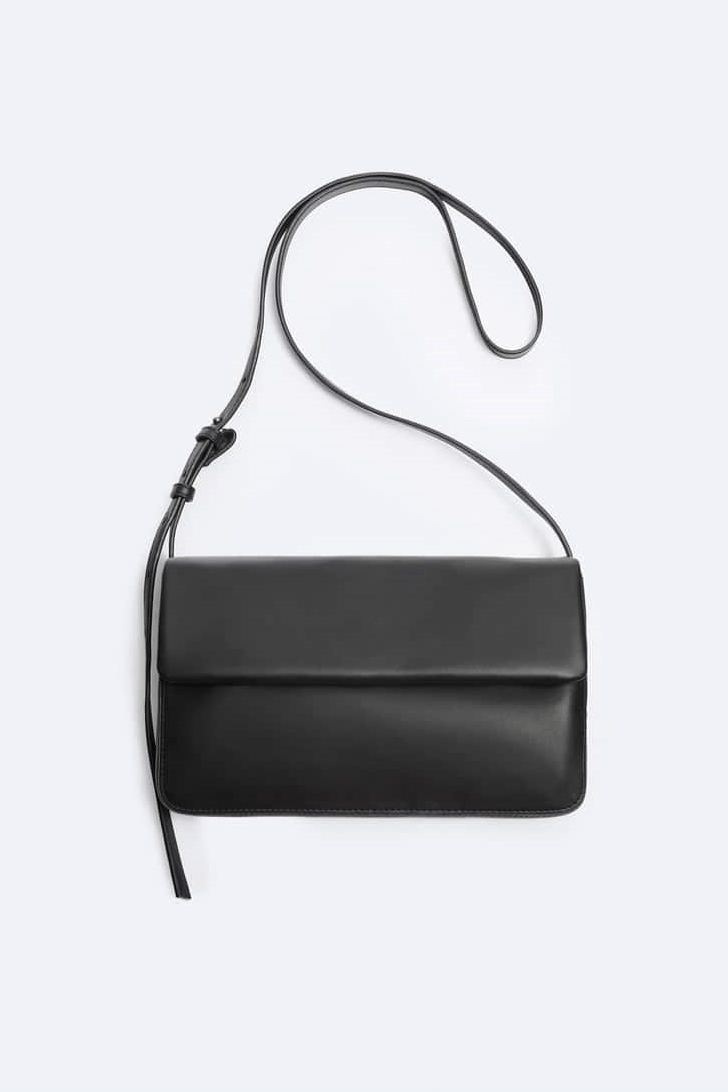 Key Highlights
Price: $50
Material: Polyurethane
Size: 5.9x 9.4x 2.7 inches
One Detachable Canvas Strap
One Detachable Chain Strap
Polyester Lining
Three interior compartments
Magnetic closure
Pros
Affordable price
Durable and convenient
Versatile styling
Suitable for all occasions
Cons
Available in a single color.
This H&M Crossbody Bag is a doppelganger of the Celine Crossbody Box Bag. One can hardly notice any differences; from its shape to the eye-catching gold-toned magnetic fastener, it is a great deal at $40. Moreover, it also features an inner zip pocket and an adjustable shoulder strap.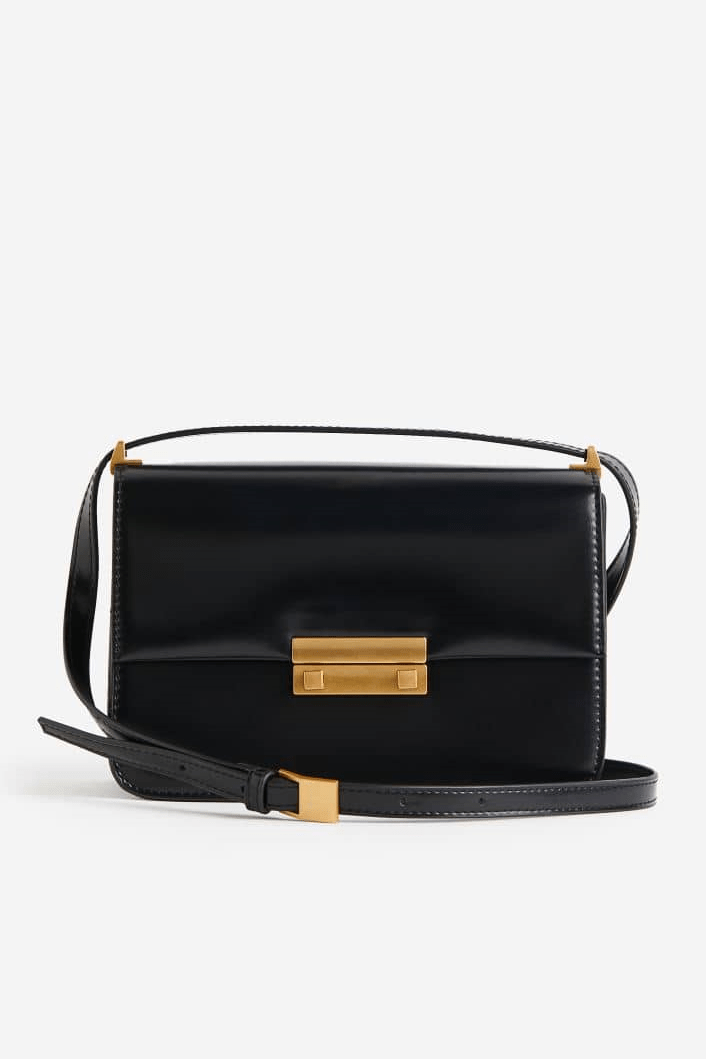 Key Highlights
Price: $40
Material: Polyester
Polyester lining
Polyurethane coating
Flap with magnetic closure
Inner zipped compartment
Adjustable shoulder strap
Top handle
Pros
Perfect dupe
Durable and stylish
Minimal and classic look
Cons
Available in a single color.
Eva Leather is a Chinese fashion retail company founded in 2012 in Guangzhou. The brand has a broad range of the latest and trendy leather bags at bargainable deals. This Eldora Genuine Leather Shoulder Bag from the collection is an excellent Celine Crossbody Bag Dupe. Not only does it give the same overall look, but the composition also matches that of the OG Celine bag.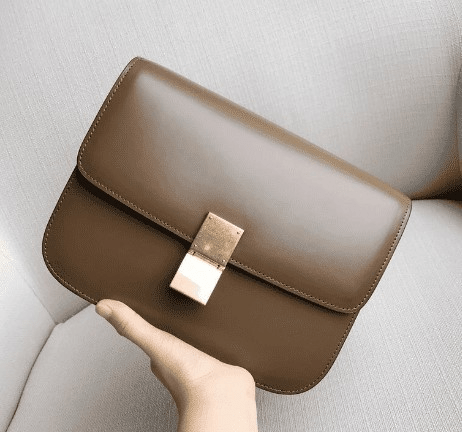 Key Highlights
Price: $77
Material: Genuine Cowhide Leather
Three sizes are available
Leather shoulder strap
Inside zipper compartment
Gold toned closure
Pros
Multiple sizes are available according to preferences
Durable and rich cowhide leather
Adjustable shoulder strap
Stylish and elegant
Cons
There are no reviews available at the moment.
The Michael Kors Heather Leather Crossbody bag is a statement bag crafted with genuine leather. It is spacious yet compact with a logo engraved snap closure. The chain strap makes it look elegant and classy.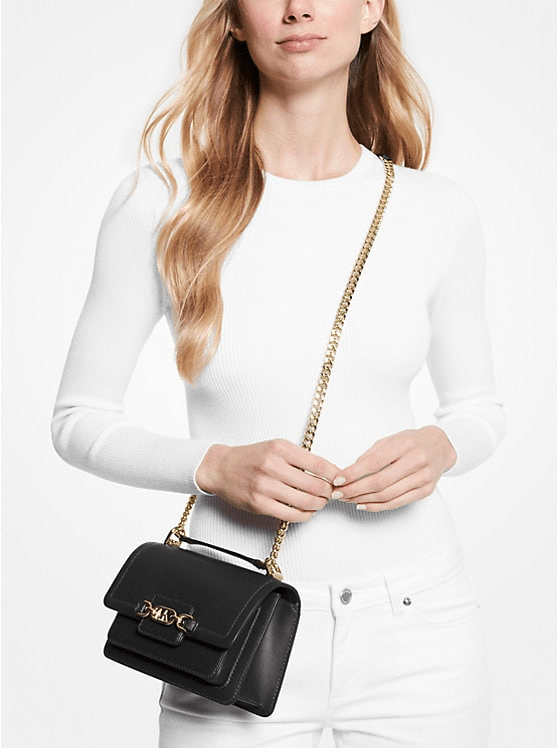 Key Highlights
Price: $258
Material: Genuine Leather
Size: 7.8″W x 4.8″ H x 2.3″ D
Polyester lining
Interior three card slots
Front slip pocket
Exterior back snap pocket
Chain shoulder strap
Top handle
Snap closure with MK logo
Pros
Rich and sophisticated look
Durable
Spacious
Non-bulky
Cons
The magnet closure does not hold tight.
The bag is expensive.
The Fossil Lennox Flap Crossbody Bag is a must-have in your wardrobe if you love detailed functional designs with premium quality materials. The bag is inspired by the classic American style and curated with signature Fossil elements. Available in two subtle colors, the bag is meticulously crafted with great detailing, making the bag the ultimate statement accessory.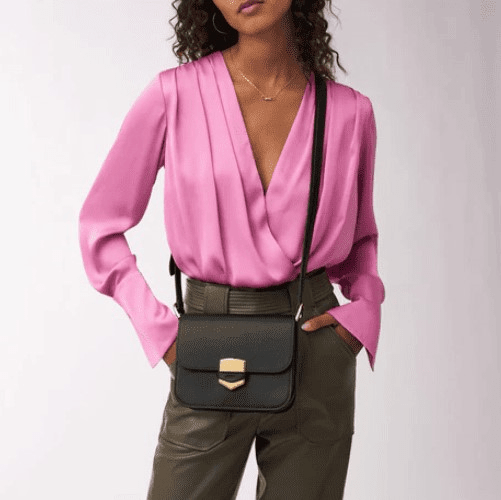 Key Highlights
Price: $280
Material: Smooth Cowhide Leather
Size: 8″ L x 2.25″ W x 6.75 H
Fabric inside
One zipper pocket
Three slide pockets
One backslide pocket
Adjustable shoulder strap
Gold-toned hardware
Flap and magnetic closure
Pros
Sophisticated and rich look
Genuine cowhide leather
Durable and high-quality material
Multifunctional design
Cons
The bag is expensive.
It may only fit a few items.
Best Picks | Celine Crossbody Bag Dupe
Keep These Factors in Mind While Purchasing a Crossbody Bag | Celine Crossbody Bag Dupe
As discussed earlier, crossbody bags are a versatile and must-have piece in your wardrobe. Not only does it help you move hands-free, but it also looks elegant and stylish by spicing up your outfits. But the question arises: what type of crossbody bag should you own, and how do you decide the best for you? So, if crossbody bags interest you, read these easy-peasy tips on how to buy the perfect crossbody bag and level up your fashion game.
Size
The first factor you should consider is the size of the desired bag. What are the items that are going to be carried? It is essential to figure this out as you would prefer to avoid your straps coming off due to the extra weight, or you wouldn't like it if it looks bulky and feels heavy.
Here's the hack. Always choose a medium-sized crossbody bag to hold your essentials spaciously without making the bag fat. Further, the size of the bag also depends on the type of occasion.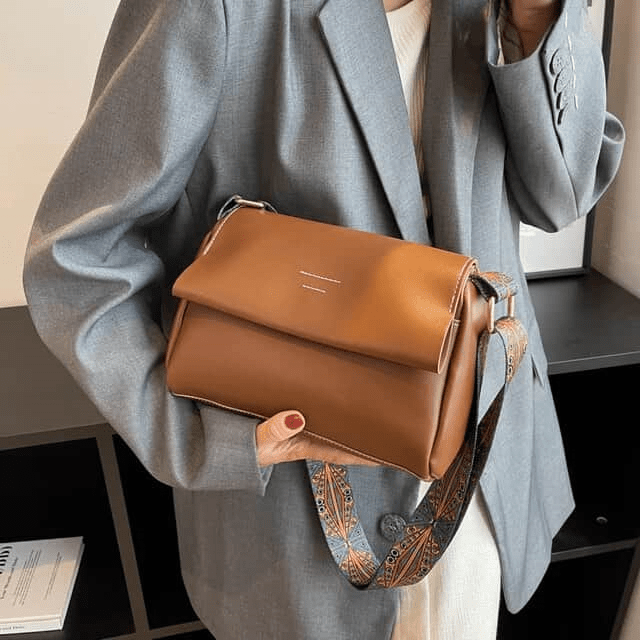 Fabric
Always look for crossbody bags crafted with durable and high-quality materials. Leather-made bags do not only look elegant and rich, but they also last you for ages. However, if you wish to avoid committing, you may look for polyester bags as they are durable, affordable, and do not require high maintenance.
Functionality
Here is another crucial aspect to be considered. Look for bags that have convenient and functional features that allow you to style them in multiple ways. Features such as adjustable and detachable crossbody bags and numerous pockets for easy storage are key highlights of an ideal crossbody bag.
Frequently Asked Questions | Celine Crossbody Bag Dupe
Are Celine Bags good?
Celine is a French fashion brand known for its luxurious fashion accessories. The timeless classic pieces crafted with premium materials and unique designs make them worth investing in. Even though Celine bags have an exorbitant price tag, they are worth the splurge.
How to clean a Celine Bag?
Gently wipe your Celine bag with a clean microfibre cloth. Wipe the exterior and interior and get rid of all the dust. Avoid applying too much pressure as it may damage the outer appearance of the bag.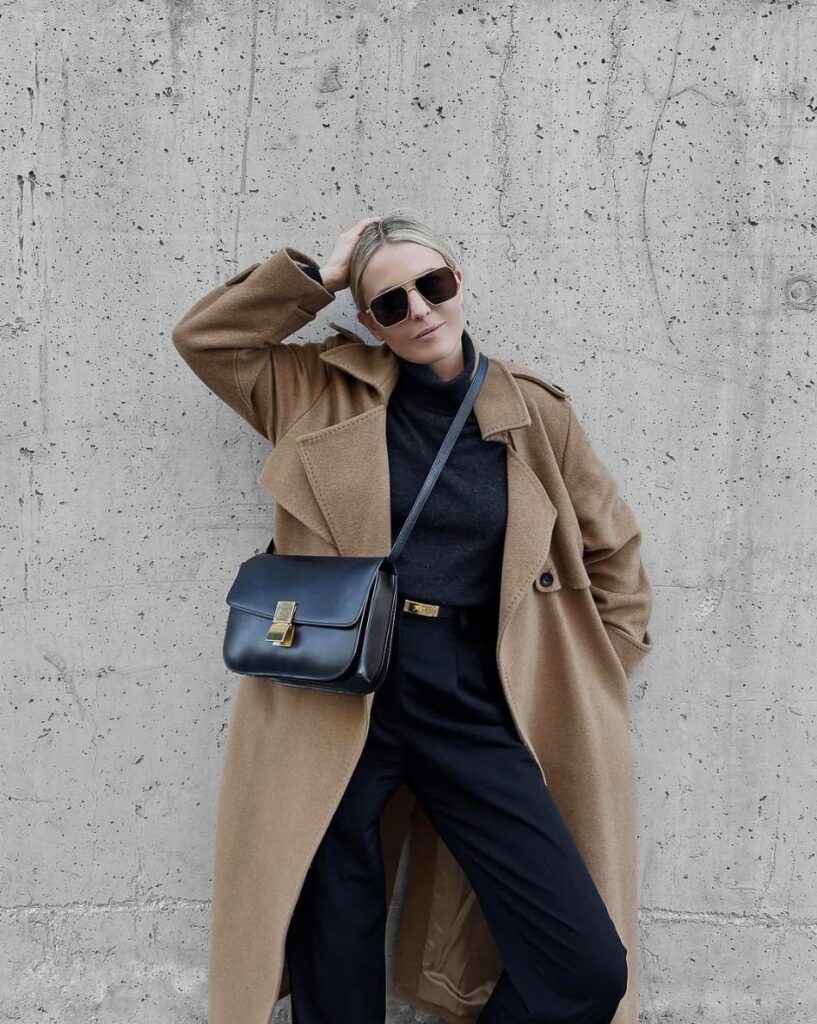 Why Celine Bags are so expensive?
Skilled artisanship, unique and detailed aesthetic designs, and rich materials make Celine Bags expensive. Each piece is like vintage art and remains timeless and classic.
Which is the best Celine Crossbody Bag Dupe?
Scarleton Chic Crossbody Bag, Marks and Spencer Faux Leather Cross Body Bag, Michael Kors Heather Leather Crossbody Bag, and Fossil Lennox Flap Crossbody Bag are the best Celine Crossbody Bag Dupe.
The Closure | Celine Crossbody Bag Dupe
Celine is a luxurious fashion brand famous for its antique and rich statement pieces. The handbag collection of the Celine Paris is worth looking at. Unique and detailed designs with top-notch materials make it one of the most sought-after collections. One of the bags, the Celine Crossbody Box Bag, recently blew up online due to its convenient and classy features.
However, it carries a hefty price tag. So, for those looking for an affordable alternative to the classic Celine bag, I have compiled a list of 11 products that are equivalent to the Celine Crossbody Box Bag and are available at reasonable prices. I have also attached a brief buyer guide and picked the best for you. This article will help you find your best Celine Crossbody Bag Dupe.
Latest Posts: