If you are also tired of spilling water in your bags and ruining your day, it's high time you consider carrying a water bottle holder. Not only will it help you stay hydrated on the go, but also allow your bottle to stay in place. The latest Calpak Water Bottle Holder has captured attention due to its functional and stylish water bag.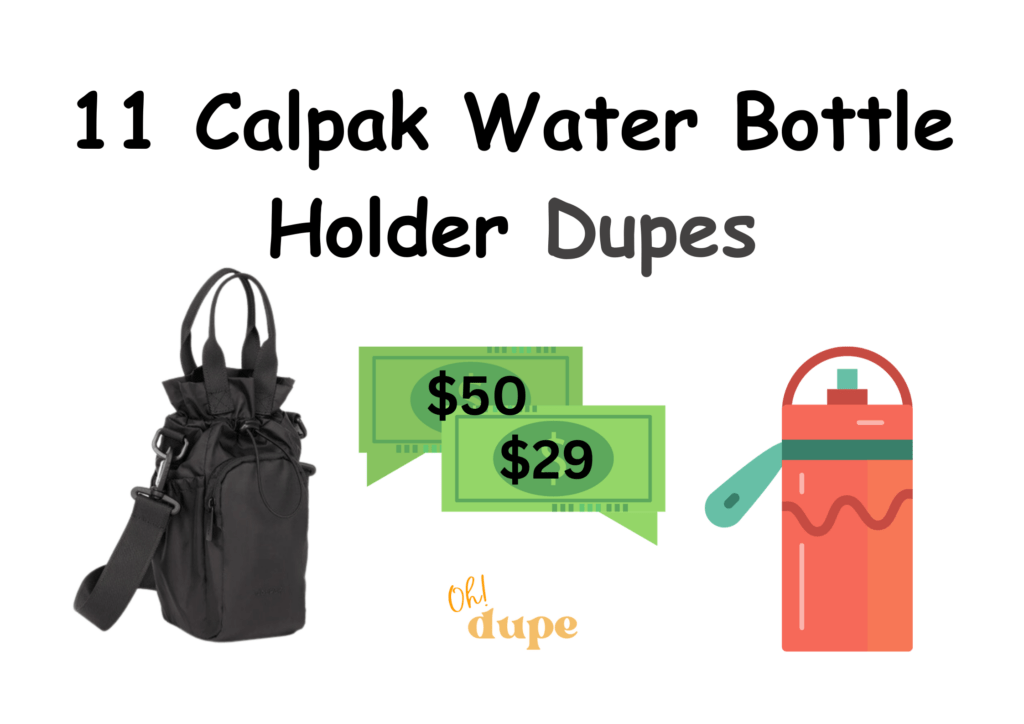 Even though $45 is not a hefty amount, most people seek reasonable options. Many nameless brands have drawn inspiration from the Calpak Water Bottle Holder's drawstring closure and multifunctional design. So, if you are up for a mini carrier bag to sip your drinks without spending more than $30, scroll below to find the most suitable Calpak Water Bottle Holder Dupe.
Calpak Water Bottle Holder Dupe | Cost-Effective Comparables!
Calpak is one of the renowned brands that focuses on providing functional travel bags for all journeys of life. Be it a commute to the office, a workcation, or a weekend trip, Calpak is a trusted companion. Recently, the Water Bottle Holder from the "Compakt Collection" garnered attention due to its convenient and multifaceted compartments and insulated interior.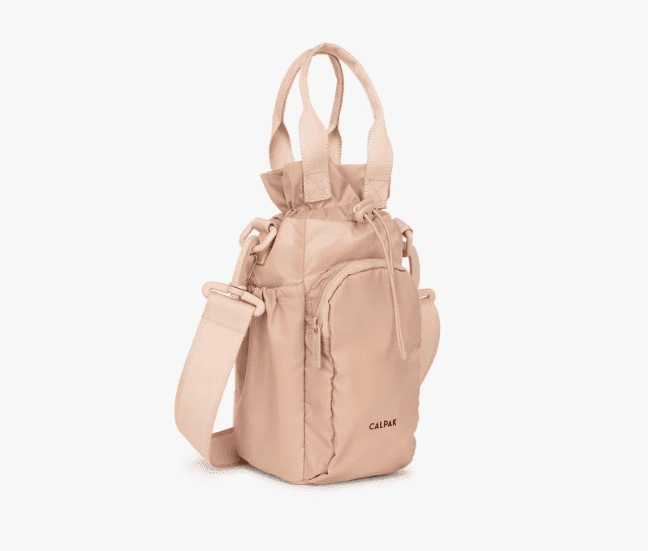 However, other cost-effective options are priced less and readily available. I am presenting you the 11 products that are as functional as the original Calpak. So, without any further ado, choose your best Calpak Water Bottle Holder Dupe. Read till the end to find exciting pocket-friendly deals.
Established in 1920, Eddie Bauer is an adventure-driven brand. With a keen interest in promoting outdoor culture and inspiring people to explore nature, Eddie Bauer has a vast collection of products that make your journey convenient and more enjoyable.
One of the products worth considering and a Calpak Water Bottle Holder Dupe is the Water Bottle Sling. The bag not only enables you to stay hydrated but also stores your immediate essentials.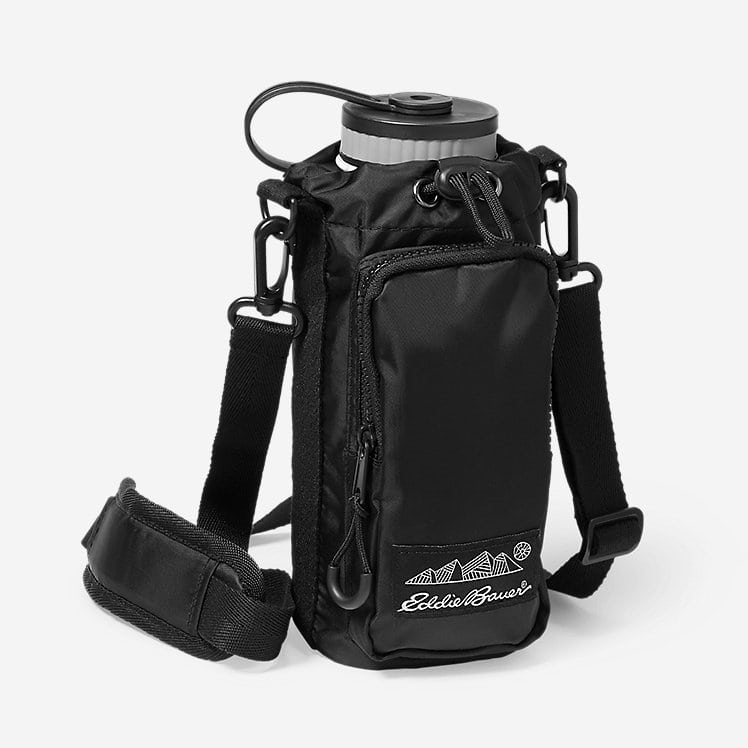 Specs
Price: $29
Material: Polyester
Padded adjustable shoulder strap
Exterior zip pocket
Drawstring closure
Colors available: 2
Pros
Sustainably made
Convenient
Multiple pockets
Flexible and versatile
Cons
A lot of mixed experiences.
I found this insulated water bottle holder from eBay at just $29. I was unsure about it at first, but to my surprise, it is an absolute Calpak Water Bottle Holder Dupe. The insulated interior keeps my beverages hot and cold for long hours. Moreover, the adjustable shoulder strap makes carrying easy. Not to forget, the multiple pockets keep all my personal belongings in place. Be it for a trek outing, walking, or a quick gym session.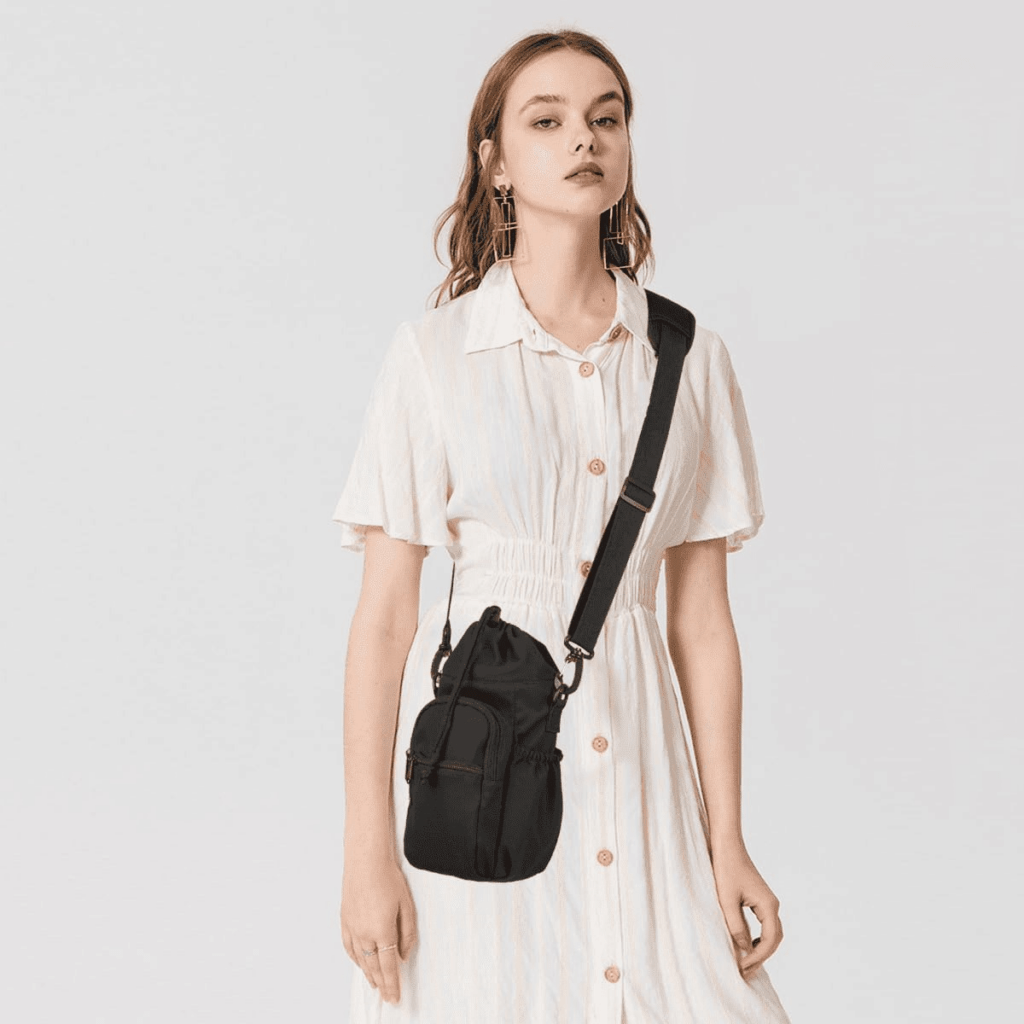 Specs
Price: $29
Material: 1200 D Polyester and Neoprene
Drawstring closure
Multiple pockets
Portable detachable handles
Adjustable shoulder strap
Pros
Multiple compartments
Versatile use
Spacious and convenient
Insulated material
Lightweight
Scratch proof
Cons
The product is available in a single color.
Crafted with durable materials, this water bottle holder from Wandf will protect your water bottle and keep your drinks at the perfect temperature. The straps are adjustable and detachable, making the carrier convenient and versatile. Furthermore, the multiple pockets allow you to keep all your essential items and access them on the go.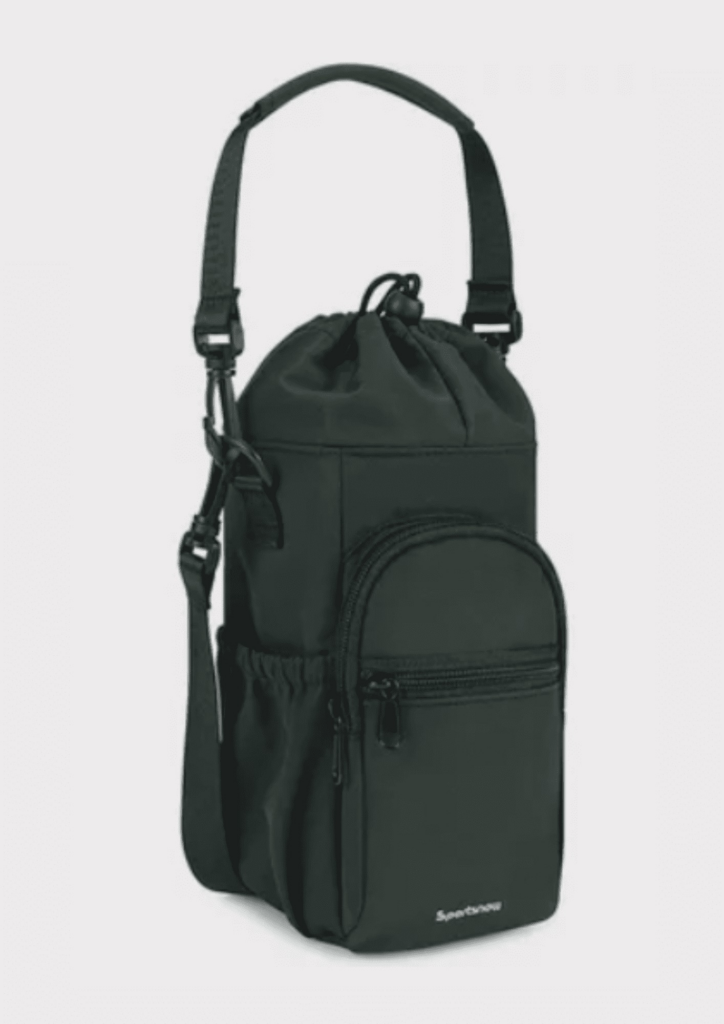 Specs
Price:$20
Small zipper pocket
Two side pockets
Drawstring closure
Insulated inside
Shoulder strap
Pros
Easy to clean
Water-resistant material
Multiple pockets
Compact and sturdy
Cons
The product is available in a single color.
If you are tired of hunting for a perfectly sized water bottle carrier for your favorite water bottle, consider the Go Time Gear Exo-Tek Water Bottle Carrier. The highlight of the holder is the easy-access straw opener that allows you to sip your drink without removing the bottle. Decently priced at $19, the carrier is available in three classic colors.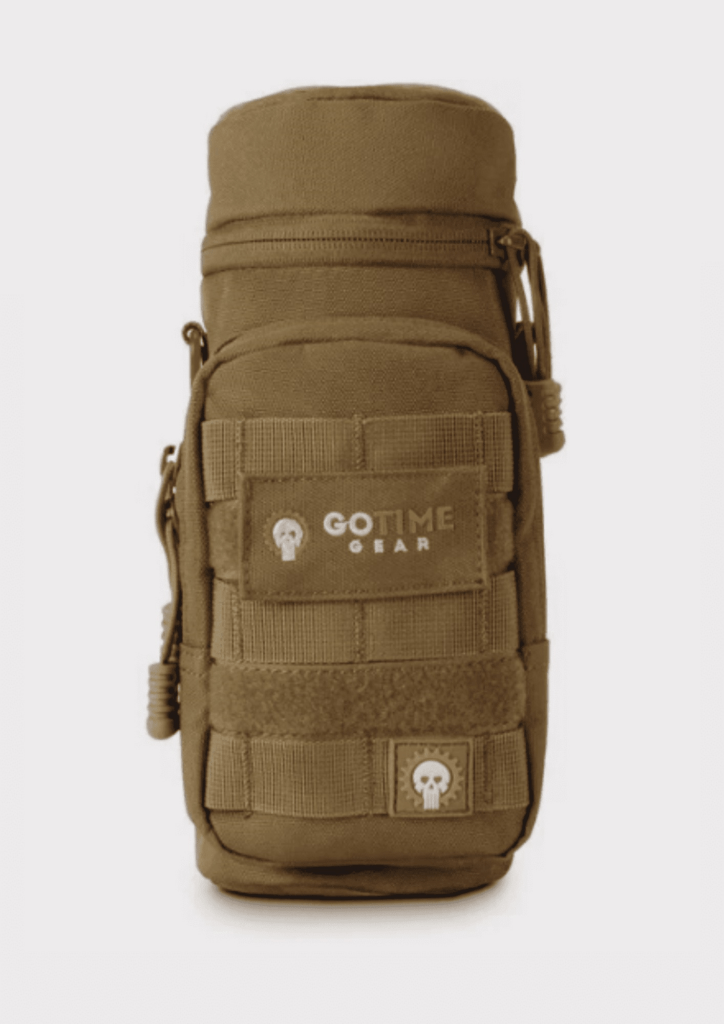 Specs
Price: $19
Material: PVC and Polyester
Easy access double zipper
Hydration straw opening slit
Removable shoulder strap
Colors available: 3
Pros
Durable and sturdy
Front pocket for storage
Convenient and flexible
Flexible and versatile
Cons
This portable water bottle holder from Nogis is a great dupe to the Calpak Water Bottle Holder. Made of high-quality Neoprene fabric, it is an excellent shield for your water bottle. The insulated inside keeps your beverages hot and cold for a long time. Marked at $18, the carrier is available in two aesthetic colors.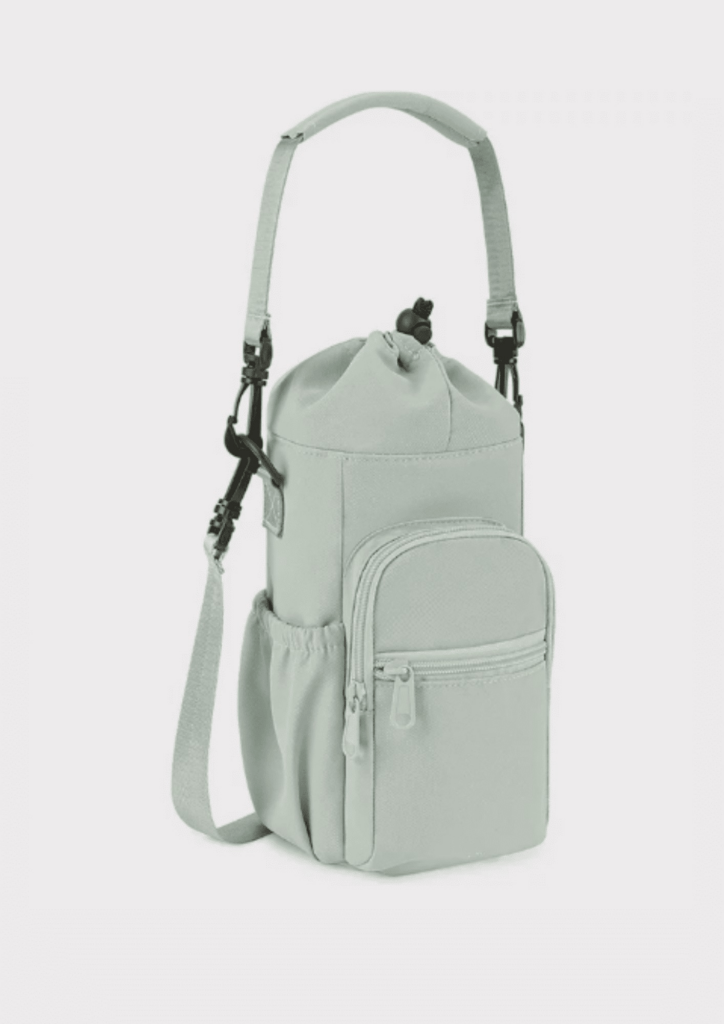 Specs
Price: $18
Material: Neoprene
Insulated interior
Detachable handles
Adjustable shoulder strap
Multiple pockets
Colors Available: 2
Pros
Water-repellent durable fabric
Shockproof
Washable material
Insulated inside
Portable
Easy storage
Cons
The product has zero reviews online.
Nuovoware is a famous kitchenware brand that sells affordable home essentials. The water carrier bag from Nuovoware is equivalent to the Calpak Water Bottle Holder. Features like drawstring closure, organizational bands, and high-quality Neoprene material equal the original product. Available in a broad range of solid colors and printed patterns, $17 is reasonable.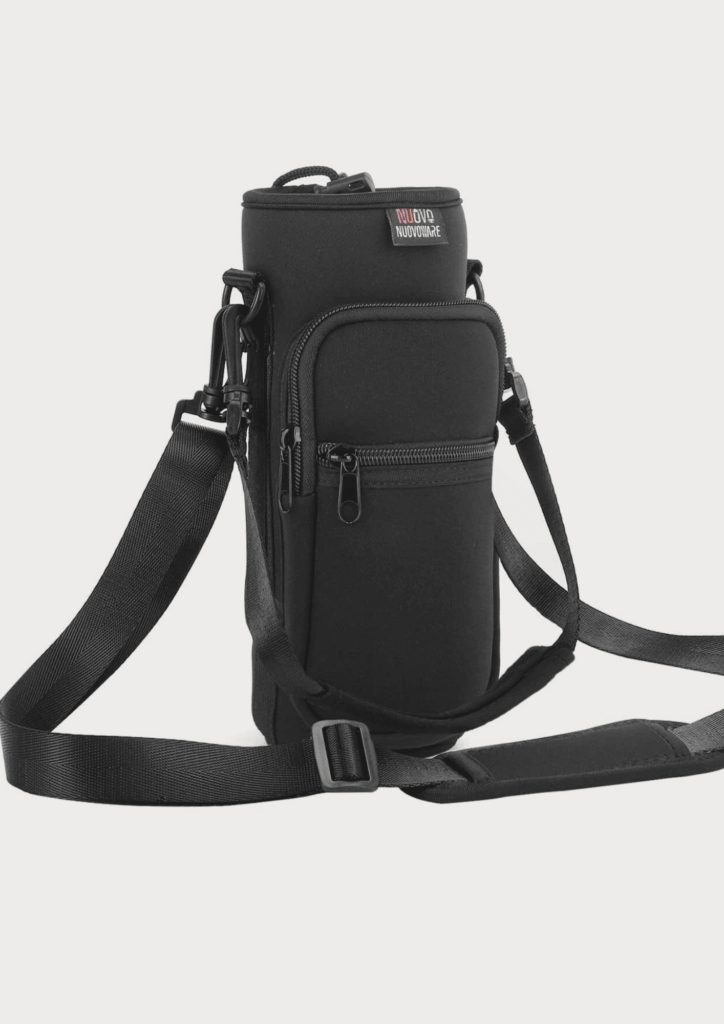 Specs
Price: $17
Material: Neoprene
Drawstring design
Elastic band
Zipper pockets
Adjustable shoulder strap
Colors and Patterns available: 11
Pros
Secure and flexible
Organized and multifunctional
Water-resistant
Shockproof
Versatile use
Cons
Founded in 2016, Wild Wolf Outfitters is a Denmark-based start-up that manufactures products to inspire people to explore and carry out adventures in the wild. To sustain the wear and tear of the outside world, they prioritize creating heavy-duty products that are reliable and robust.
The water bottle holder is one of their products that is similar to the Calpak Water Bottle Holder. Built with military-grade materials, the insulated water carrier cum sling backpack is a must-buy.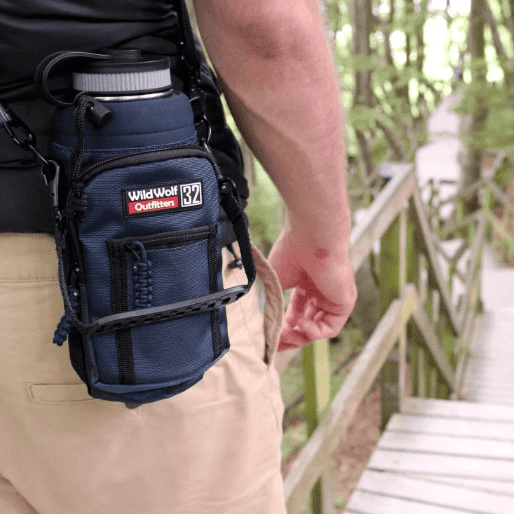 Specs
Price: $17
Material: 600D Polyester and Neoprene
Insulated interior
Special buckle for attachment
Utility zip pockets
Colors available: 2
Pros
Military-grade materials
Robust and heavy-duty
Insulated inside
Flexible use
Cons
It does not hold bottles weighing more than 25 OZ.
Kemimoto was founded in 2007 with the sole mission of enriching outdoor experiences with high-quality storage and safety essentials. The water bottle carrier from Kemimoto is a sturdy and well-equipped water bag. Featuring internal aluminum membrane insulation and 600 D Oxford fabric, the product is convenient and reliable. Priced at $17, it is available in three classic colors.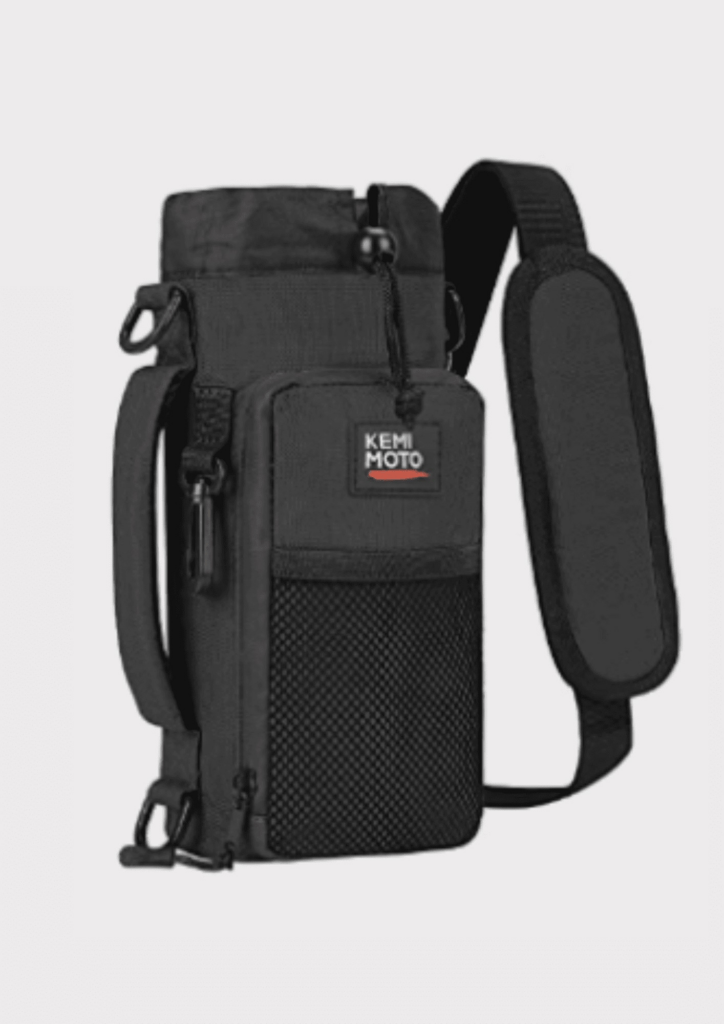 Specs
Price: $17
Material: Oxford fabric
Utility zipper pockets
Wide shoulder strap
Colors available: 3
Sizes available: 3
Pros
Durable
Washable
Insulated interior
Convenient storage
Versatile
Cons
This water bottle bag from Open Story is an ultimate Calpak Water Bottle Holder Dupe. Constructed with 100% sustainable water-repellent fabric, it has the same adjustable shoulder straps and drawstring closure. Moreover, it also features an external accessory pouch to store your essentials.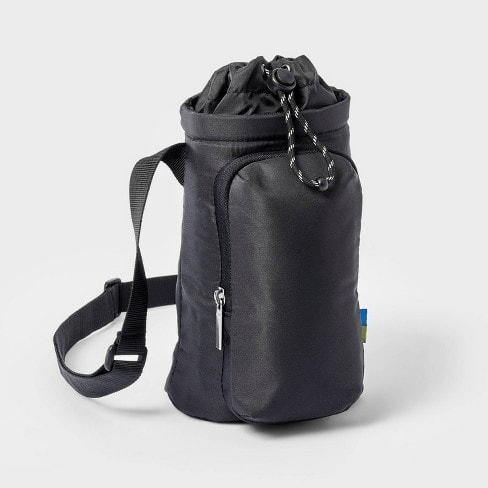 Specs
Price: $15
Material: Polyester
Water repellent construction
Cinch cord opening
Drawstring closure
Adjustable strap
Exterior accessory pocket
Pros
Sustainable
Water repellent fabric
Portable and convenient
Cons
The product is available in a single color.
If you need help finding a carrier to fit multiple types of water bottles, this Hobeauty Water Bottle Holder should be your first preference. It holds bottles of various sizes and brands and keeps them intact and safe. Furthermore, the insulated interior keeps tour beverages cool and warm while its adjustable strap is flexible and versatile.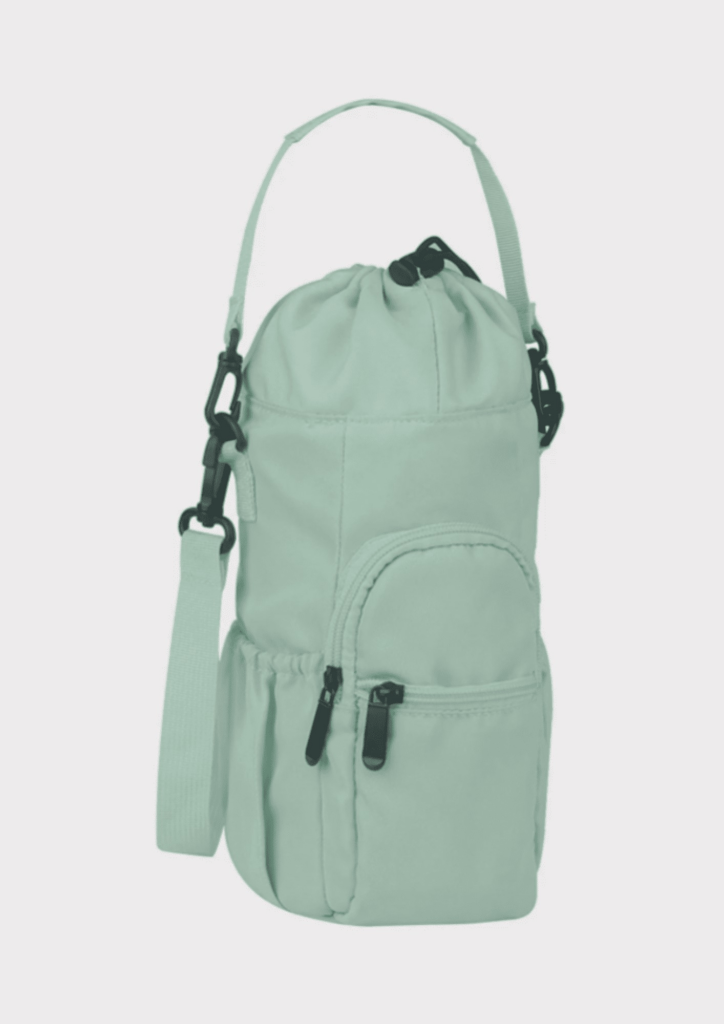 Specs
Price: $14
Insulated interior
Mutipocket design
Detachable handle
Adjustable shoulder strap
Colors available: 3
Pros
Water-resistant fabric
Convenient storage
Portable
Flexible and versatile use
Cons
There are very few reviews available online.
Last, this Homemaxs Bottle Carrier is priced at $5. The outer appearance resembles the Calpak Water Bottle Holder. The bag is built with premium Oxford material and features a simple and practical design, making it compact and lightweight.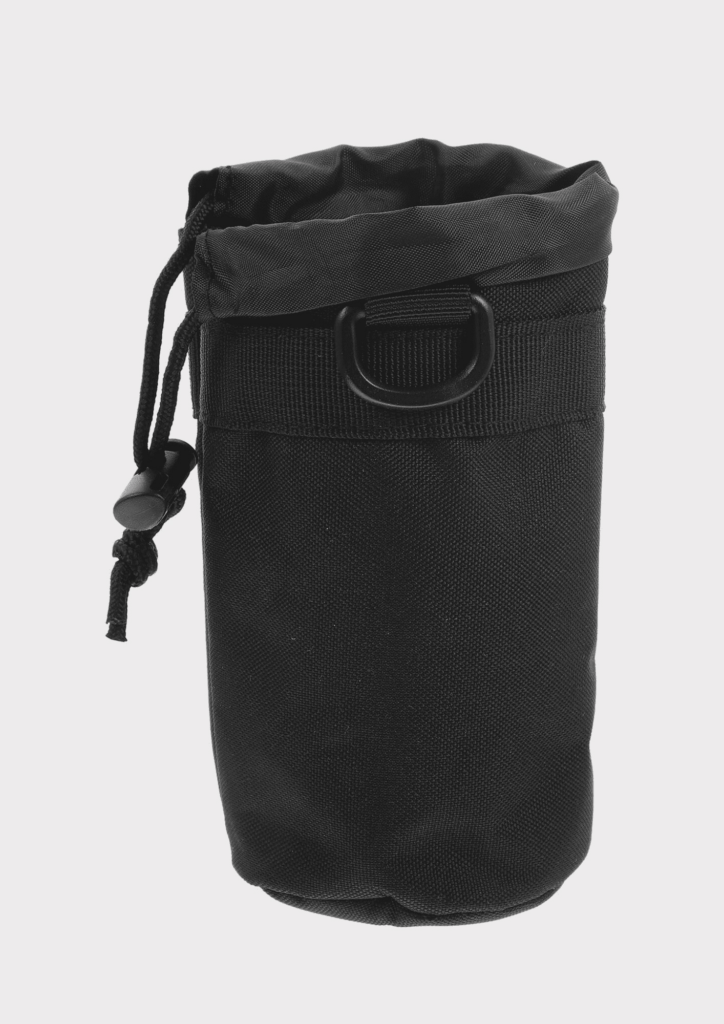 Specs
Price: $5
Material: Oxford cloth
Adjustable clasp
Drawstring closure
Insulated interior
Pros
Safe and durable
Simple and practical design
Light and compact
Convenient
Cons
The bag does not have a shoulder strap.
3 Factors to Consider While Buying a Water Bottle Holder | Calpak Water Bottle Holder Dupe
Choosing the right water bottle holder is easy if you consider these three factors before selecting the best bag.
Material
Always look for a robust, heavy-duty fabric that protects your bottle from scratches and shocks. Water repellency is another aspect that should be considered. Materials such as Polyester, Neoprene, and Oxford are popular.
Straps and Size
Make sure your water carrier bag has a detachable and adjustable shoulder strap. Not only does it allow versatile use, but it will also be flexible according to travel needs. Moreover, do not settle for a water bottle holder that can't hold different sizes of bottles. Choose wisely and see that it fits a wide variety of brands and sizes.
Functionality
This is another essential factor. Your bottle carrier bag should not only hold your bottle but also give you a hand-free outdoor experience by helping you to keep your essential small items in multiple pockets. Make sure it has multiple pockets to help you travel organized without making the carrier heavy and bulky.
Frequently Asked Questions | Calpak Water Bottle Holder Dupe
Who owns Calpak luggage?
Founded in 1989, Calpak is a famous luggage brand. Edward Kwon and Judy Kwon started the family-owned business and are currently run by their children, Roy Kwon and Jennifer Kwon.
Is the Calpak water bottle holder worth it?
Yes. the Calpak Water Bottle Holder is absolutely worth the price. Made with water-resistant and durable Nylon, it features an insulated interior and multiple functional pockets for storage. Moreover, its adjustable strap and top carry handle make it flexible and versatile.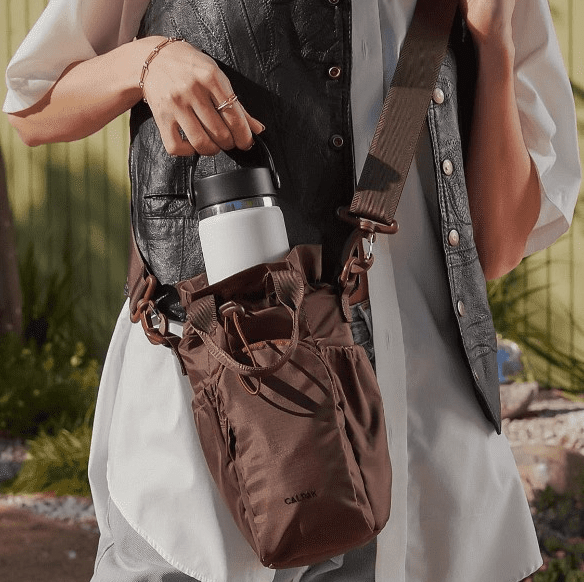 What is the Calpak water bottle holder made of?
The famous Calpak Water Bottle Holder is crafted with high-quality Ripstop Nylon, Polyethalene, and Polyester. The fabric and outer structure are durable and water resistant to shield your water bottle against scratches and shocks.
Which is the best Calpak Water Bottle Holder Dupe?
Eddie Bauer Water Bottle Sling, Nuovoware Water Bottle Carrier Bag, and Wandf Water Bottle Holder are some of the best Calpak Water Bottle Holder Dupe products.
The Conclusion | Calpak Water Bottle Holder Dupe
As we realize the importance of staying hydrated amidst the fast-paced, hectic routine, tagging a water bottle around with you has become necessary. But who would love to carry the boring beverages and walk around uncomfortably? So, to sip your drinks on the go with style, Calpak's viral Water Bottle Holder has our back. Not only will it keep your bottle in place, but it also acts as a sturdy sling bag and allows you to move hassle-free.
But at $45? Even though the price is pretty moderate, many brands have reasonable deals and equivalent features. So, if you are looking for a Calpak Water Bottle Holder-like carrier water bag without spending $45, I have compiled a list of 11 affordable alternatives for you to choose from. Moreover, I have added a small buyer's guide for a quick reference. I hope this article will redirect you to the best Calpak Water Bottle Holder Dupe.
More Dupes: