Want to spray on something like Yves's Black Opium Le Parfum and smell great that, too, without having to spend a lot? Read on to get your hands on 11 Amazing Perfumes that are Black Opiume Parfum Femme Dupe for exquisite deals.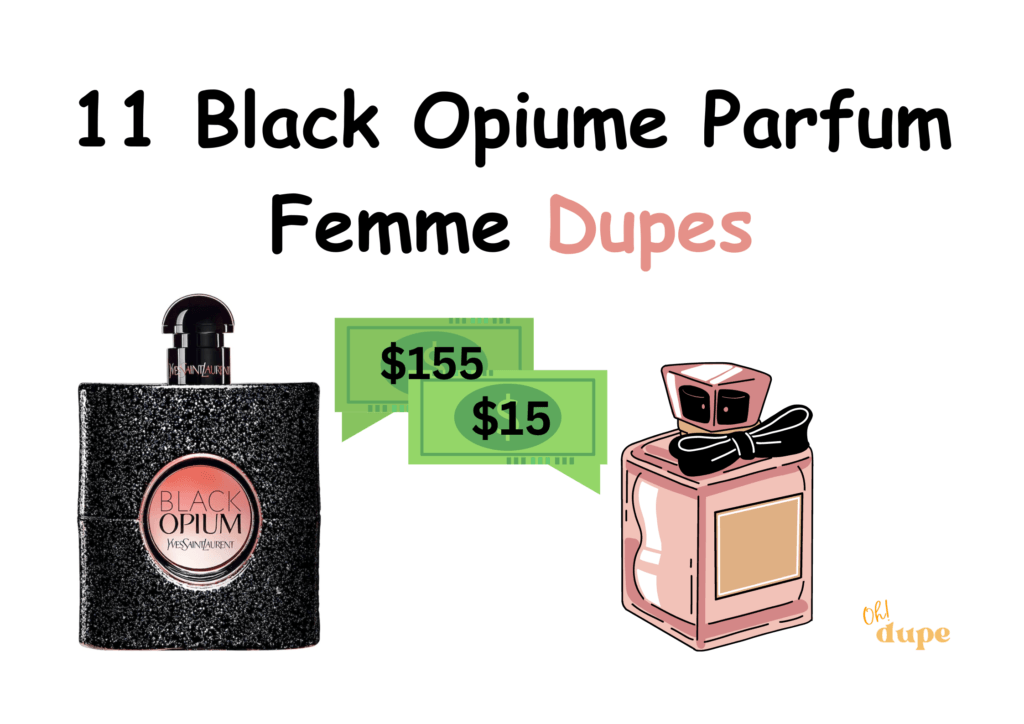 YSL Beauty's Black Opium supposedly describes the aura of an edgy woman of solid character. Perfumed with strong Coffee and Vanilla, sweet almond, and warm white floral scent at heart, the sensual fragrance instantly captures attention in a room full of people and gets you flattering compliments.
Launched in 2014, the iconic perfume received raving reviews online and a considerable cult following. With love came the backlash, too, with increasingly mixed reviews, and of course, its extravagant price tag makes you find an affordable alternative with a similar scent.
Black Opiume Parfum Femme Dupe | The Best Picks!
As described on the website, the fragrance of the Black Opium pictures a modern and daring woman. This makes me wonder about your personality and chosen scents' connection. Do they define your temperament and personality? Or is it just an assumption?
According to Alan R. Hirsch, Founder of the Smell and Taste Treatment and Research Foundation, even if you meet a person for the first time, their perfume says a lot about their personality. There's an abstract image built based on how they smell. So, there can be various reasons why you wear a particular perfume. Is it because it reminds you of your loved one? Does your partner love it on you, or does it match your personality? Underlining the last assumption, how do you relate a scent to your character?
After digging deep and burying my head into numerous research papers and statements of olfactory specialists, I have concluded the following:
Floral Fancy
People who are into floral scents have cheerful personalities and are positive. They are warm and sensitive and tend to approach straightforwardly when in doubt.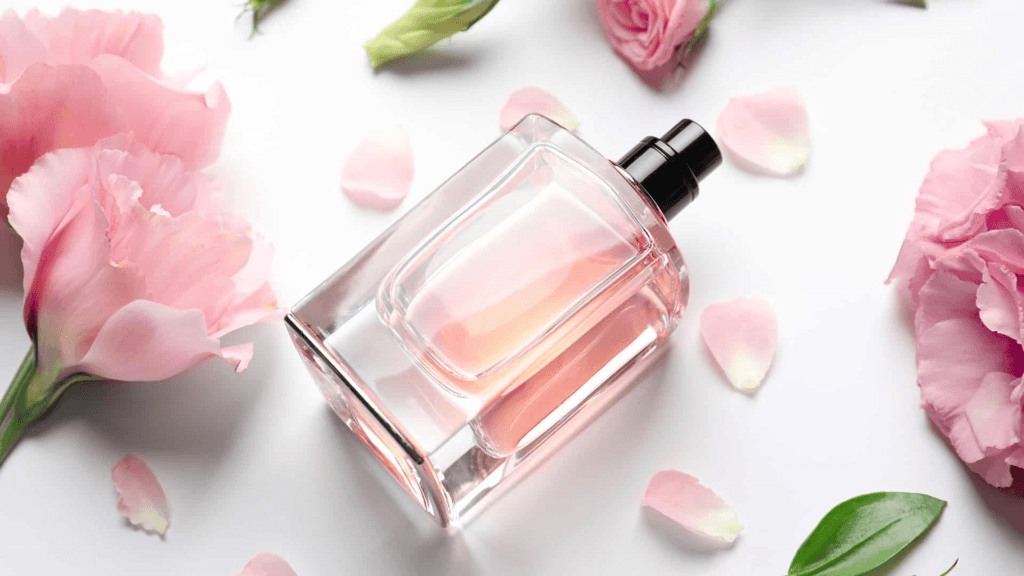 Oriental Originals
Oriental scents like Vanilla, Cinnamon, Jasmine, and Orchids have unusual keynotes. People who pick oriental perfumes are romantic and full of passion. Mostly, they are naturally outgoing and tend to be dramatic and experience every color of life.
Fruity Fantasy
Fruity folks are similar to the oriental-ites. They are enthusiastic, confident, and love adventures. They have a great sense of humor and a playful and optimistic mindset.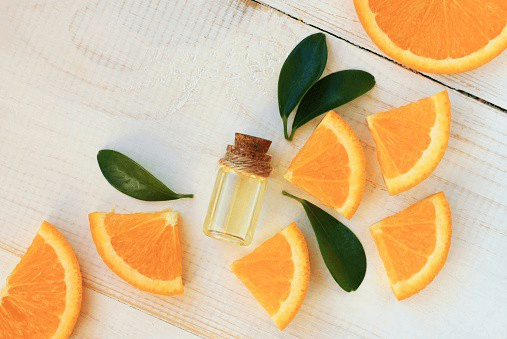 Chypre Classics
A blend of citrus, florals, and woody notes makes the Classic Chypre. People who love chypres are mature, sophisticated, and have a powerful personality. They yearn for success with a serious outlook.
Without having you all wait any further, I'll quickly move on with the 11 best substitutes and help you find the best Black Opiume Parfum Femme Dupe.
The first Black Opiume Parfum Femme Dupe comes from La Rive, one of the leading perfumers. Launched in 2015, it is a symbol of true womanhood. This perfume from La Rive expresses the delicacy and strength of women living in the contemporary era. In its aromatic journey, it yearns to represent the sensuality of women.
The Key Notes are Pink Pepper, Pear, and Orange Blossom. Coffee, Jasmine, Liquorice, and Bitter Almond are in the middle, and the base of Vanilla, Patchouli, Cashmere, and Cedar.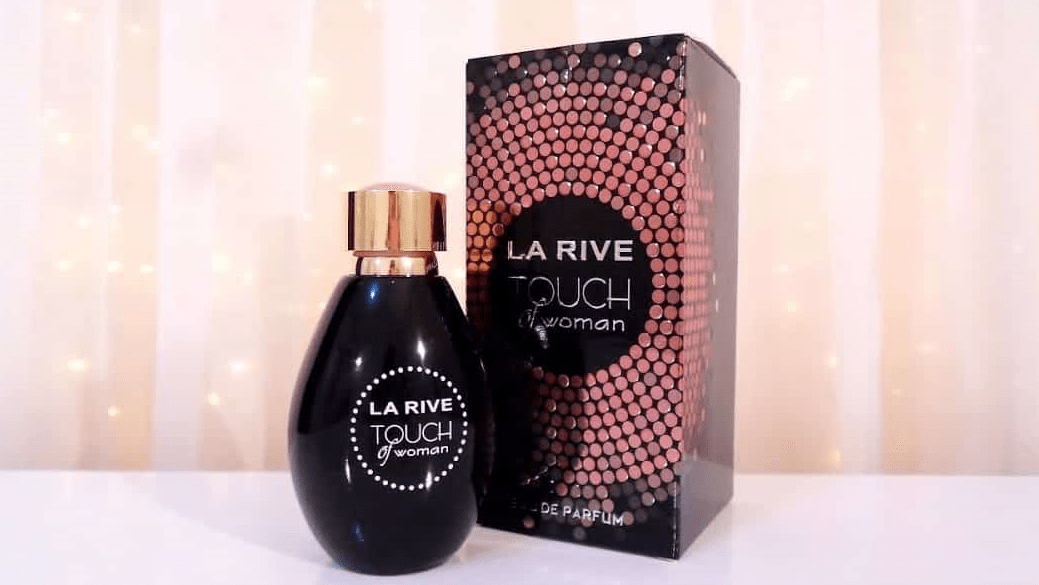 Pros
Deep and dark fragrance
Sweet and Soft aura
Fruity and floral scent
Pleasant and sensual feels
Affordable Dupe
Cons
The perfume is low lasting for some individuals.
The next Black Opiume Parfum Femme Dupe comes from the famous fast fashion brand: Zara. Besides clothes and fashion accessories, Zara has wooed its customers with its fantastic fragrance range. One of the viral perfumes is the Zara Gardenia Eau De Parfum.
A lighter version of the Black Opium scent, it is soft and pleasant. The warm vanilla floral with a coffee tinge is sweet and perfect for winter. Topped with Orange Blossom, the Middle Note is Coffee with Vanilla at the heart of the scent.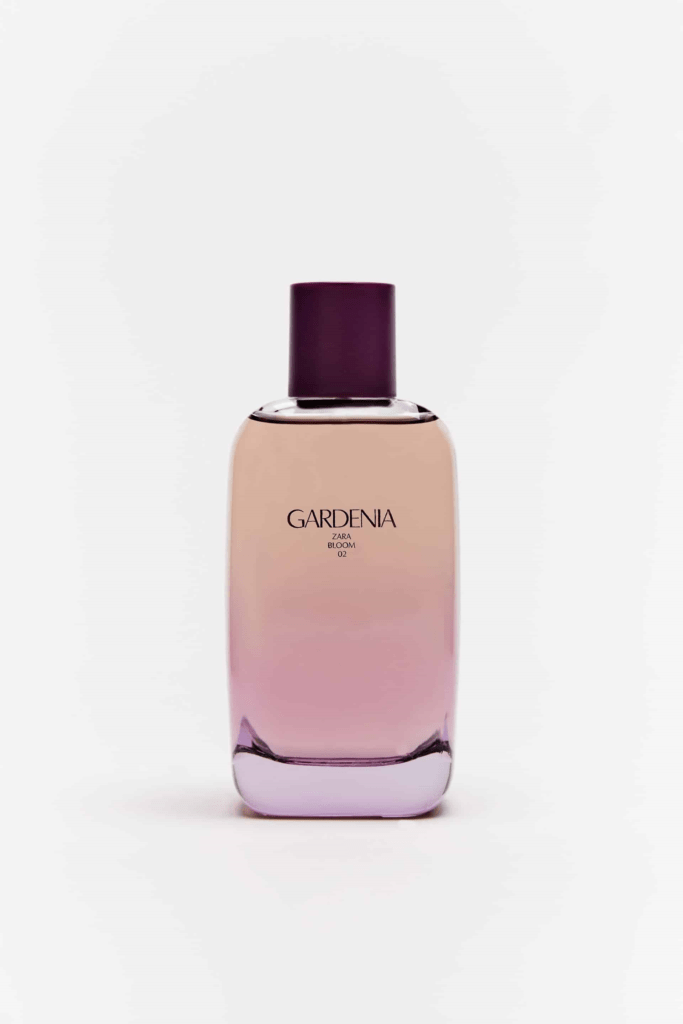 Pros
Warm and Pleasant
Smooth Coffee Vanilla Scent
Affordable Price
Great alternative for YSL Black Opium
Cons
If you have read the Glossier Perfume Dupes, I have mentioned Bath and Body Works earlier. They are known for premium perfumes, gels, and lotions. With a broad range of scents to choose from, the brand has a versatile collection. The Into the Night by the fragrance range is a viable option for anyone who wishes to experience YSL's Black Opium Aura. Coffee Notes of Into the Night feels like YSL's Black Opium.
The classic feminine scent is neither too sweet nor aggressive without fading away quickly. The fragrance notes include Amber Crystals, Rose, Creamy Patchouli, and Musk with a hint of Coffee.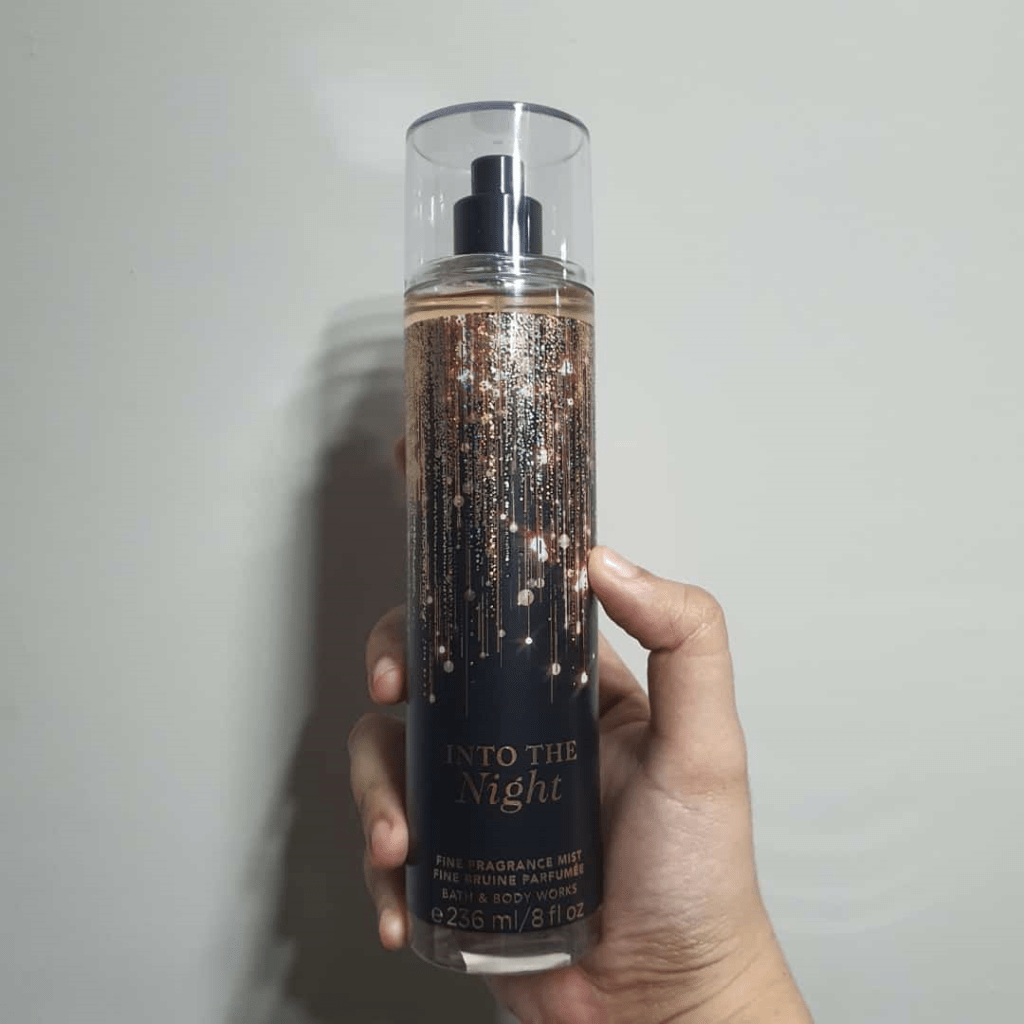 Pros
Alluring scent
Light mist
Super layer-able
A mature feminine scent
Smells sophisticated
No added Parabens
Dermatologist Tested
Cons
It only appeals to people who love Woody scents.
What if I told you you could wear a Vanilla Latte and roam around the city? Yes, with Dossier's Ambery Vanilla, you can smell sweet and savory. Launched in 2022, the fragrance is inspired by YSL's Black Opium. However, the coffee notes here are light, and the scent is primarily sweet. Dossier is a soft and warmer version of the Black Opium.
The Keynotes are Pink Pepper, Mandarin Orange, Licorice, and Pear, with Jasmine and Orange Blossom in the middle and Cedar, Patchouli, Coffee, and Vanilla at the base.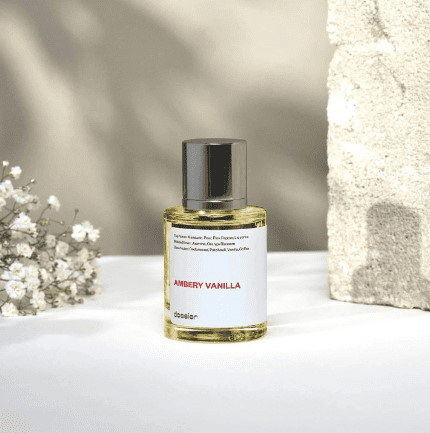 Pros
Creamy Vanilla Gourmand Scent
Classy, feminine perfume
Sensuous and intoxicating
Long Lasting
Clean formulation
Vegan and Cruelty-Free
Cons
Launched in 2011, Diesel Loverdose is an Amber Vanilla Scent. The floral, spicy perfume gives out a sultry and mysterious vibe. Described as a "deadly weapon of seduction," it has a hypothalamus, a chemical that stimulates attraction and desire.
The Top notes are Star Anise and Mandarin, with Liquorice, Jasmine, and Gardenia in the heart and Ambrox and Vanilla as base notes.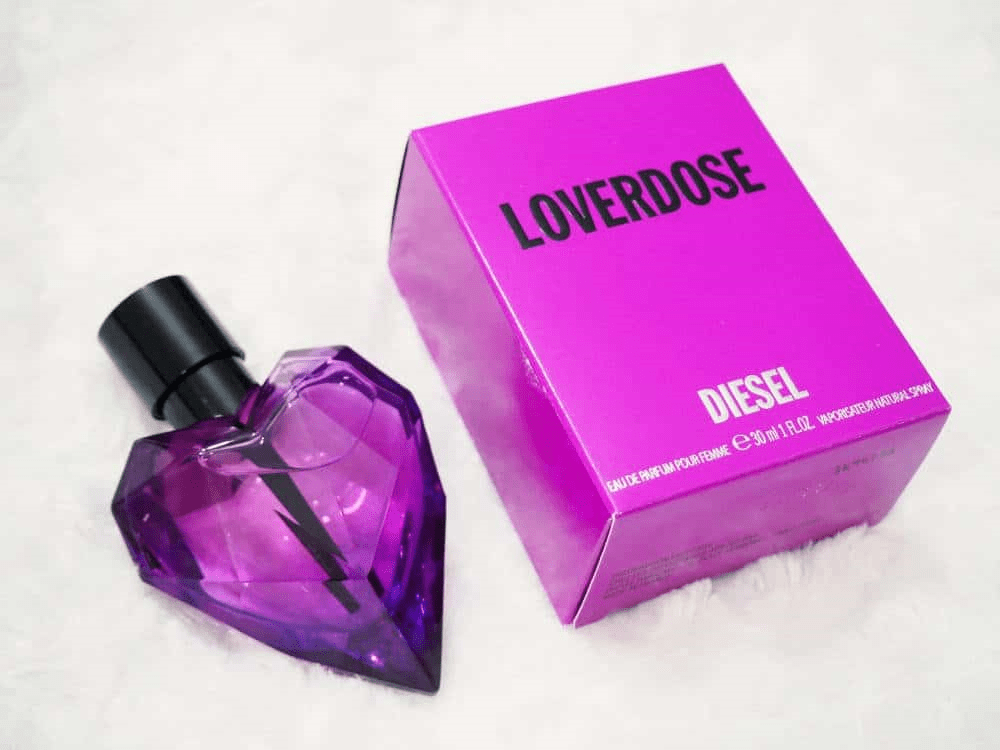 Pros
Spicy and Sultry Scent
Warm and Sensual
Creamy and Powdery
Strong Sillage
Long Lasting
Cons
The perfume may be Overpowering
Makeup Revolution is my go-to brand when it comes to makeup, so while restocking, I decided to try its glam fragrance. I picked up a 10 ml Noir Eau De Toilette bottle and discovered it smelled like the YSL'S Black Opium! The Spicy Sweet perfume is blended with notes of Coffee, White Flowers, and Creamy Vanilla that make a perfect sweet scent for evening gatherings.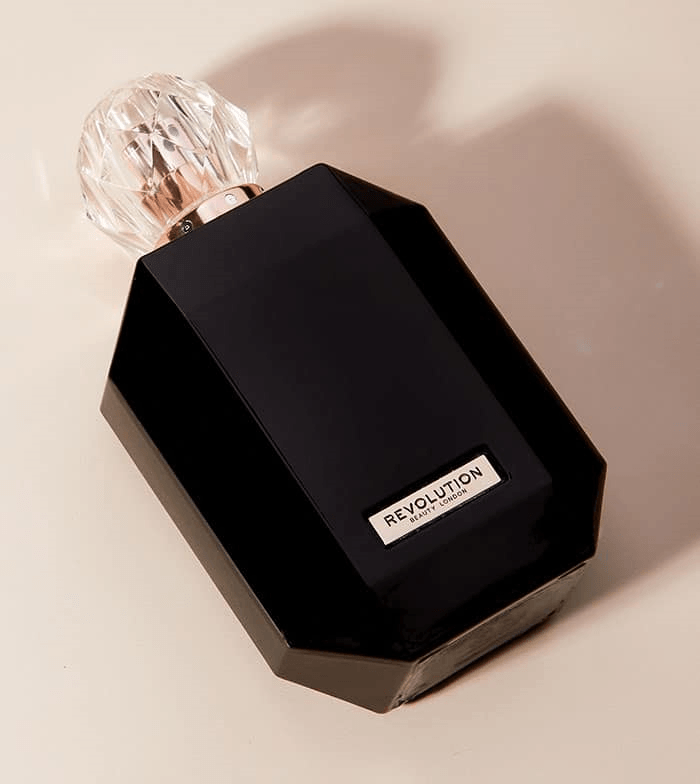 Pros
Available in trial size
Spicy and warm
Mature and sophisticated vibe
Affordable Price
Unique nighttime scent
Cons
The perfume doesn't last long.
The seduction of a Black Little Dress in the form of a Perfume. Fragrance notes inspired by Black Opium it is the choice of every woman who wants to feel confident and elegant. The scent signifies the alluring beauty and sophistication of a modern woman.
The Scent Notes are Vanilla, Coffee, and White Flowers with hints of Cedar and Pink Pepper.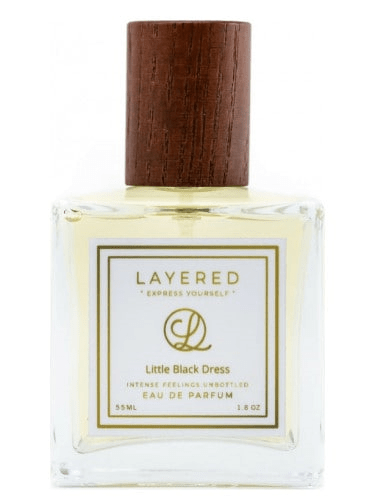 Pros
Elegant and Sensual
Confident and Powerful aura
Mysterious girl vibe
Caremelish and well-balanced
Cons
The perfume has mixed reviews.
What can be better than adding an authentic Arabian Perfume to your collection? If you wish to have intense oriental notes that help you leave a trail of your presence and delight the atmosphere. Made in the UAE, the unique scents blend to boost your confidence and carry you with elegance.
The fragrance is spicy and warm, with Black Coffee, White Flowers, and Vanilla notes.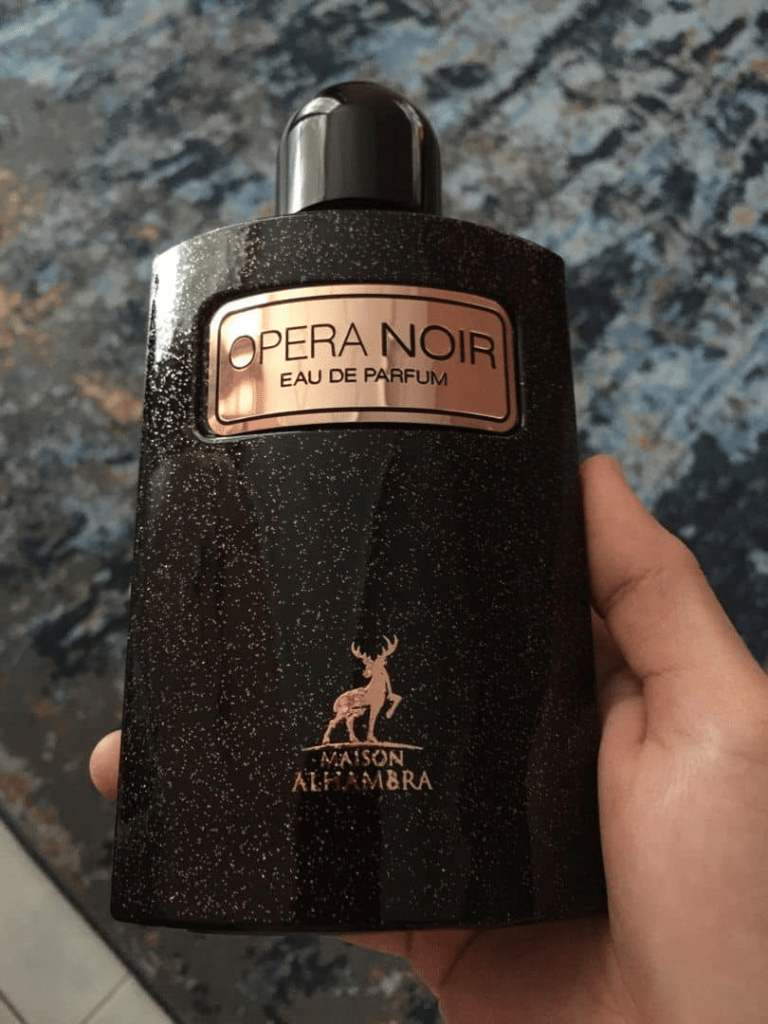 Pros
Royal and Luxury scent
Intense and sensual
Floral oriental fragrance
It Signifies ambitious modern women
Long Lasting
Cons
There are very few reviews online.
Launched in 2020, Fleur Noir closely resembles YSL'S Black Opium. The statement Amber Vanilla Scent with deep notes of Black Coffee and Bitter Almond will surely make people acknowledge your presence in a room full of people. The alluring scent uplifts your mood and reveals your inner romanticism.
The Oriental perfume has Pear, Sparkling Pink Pepper, and Orange Blossom notes with blended Black Coffee, Jasmine, and Almond.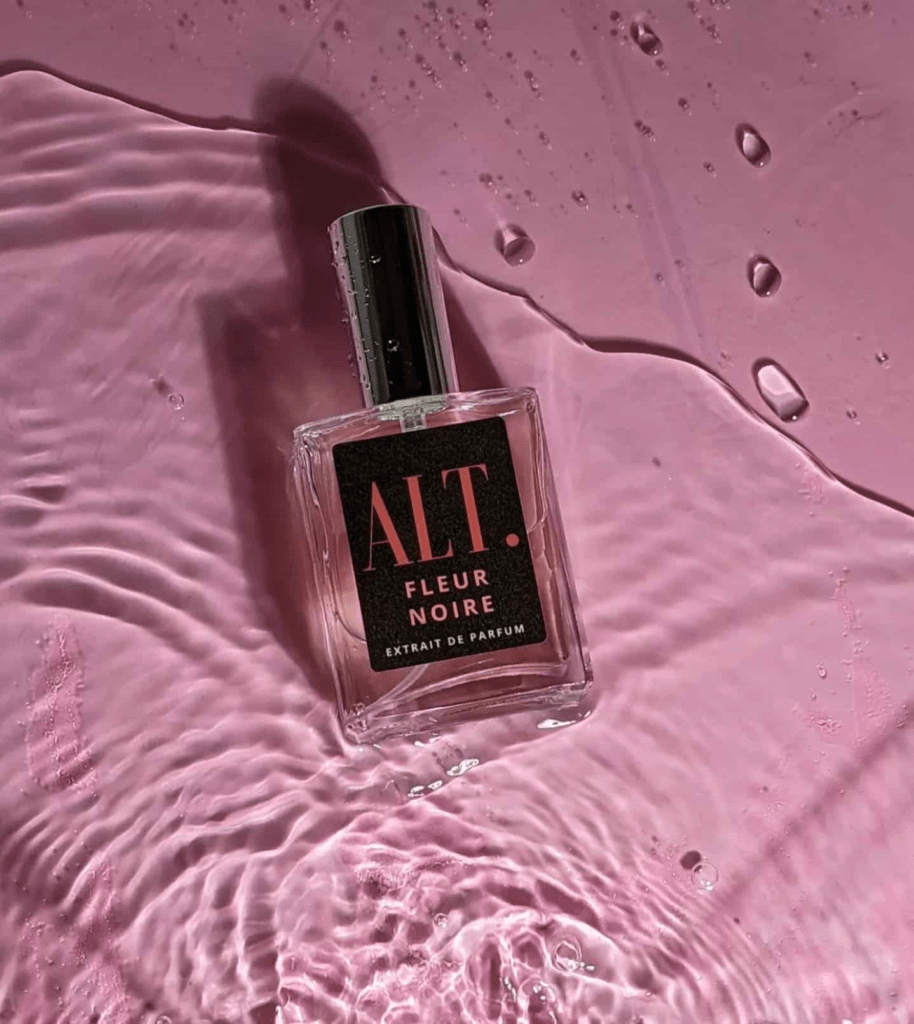 Pros
Symbolizes pure emotion of temptation
Alluring and mysterious vibe
Attractive and Bold
Sweet and Cozy scent
Cruelty-Free and no added toxins
Cons
The perfume has weak longevity.
This is one of the most underrated and infamous scents not discussed often. I stumbled upon the brand randomly and was quite intrigued by the perfume. Apart from luxury perfumes, they master aromatic oils and provide custom perfumes per preference. The Opium Perfume from the Scent Masters is similar to the Black Opium Perfume. The royal fragrance embodies feminine power and individuality.
The Top notes are Pear and Mandarin Essence, with Vanilla, Orange Blossom, White Florals at heart and Coffee, Cedarwood, White Musk, and Patchouli as base notes.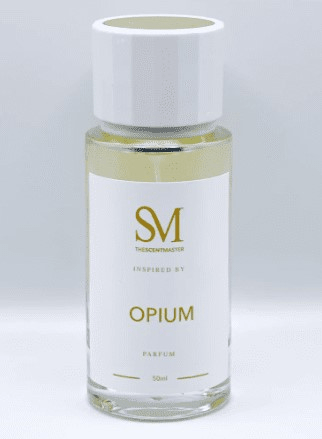 Pros
Deep and Seductive
Represents power and authority
Reasonable Price
Delicate and Musky
Attractive and Sensual
Cons
There are scanty reviews online.
Last, we have the extraordinary floral and oriental fragrance topped with exquisite Crème de Cassis (Blackcurrant crushed and sweetened with Sugar). The perfume portrays a rebellious and bold personality and is excellent for a playful and nice naughty vibe. The tempting Toffee lingers on your skin, making you feel sweet and creamy.
The Top note is Crème de Cassis, with Orange Blossom in the heart and Toffee as the base notes.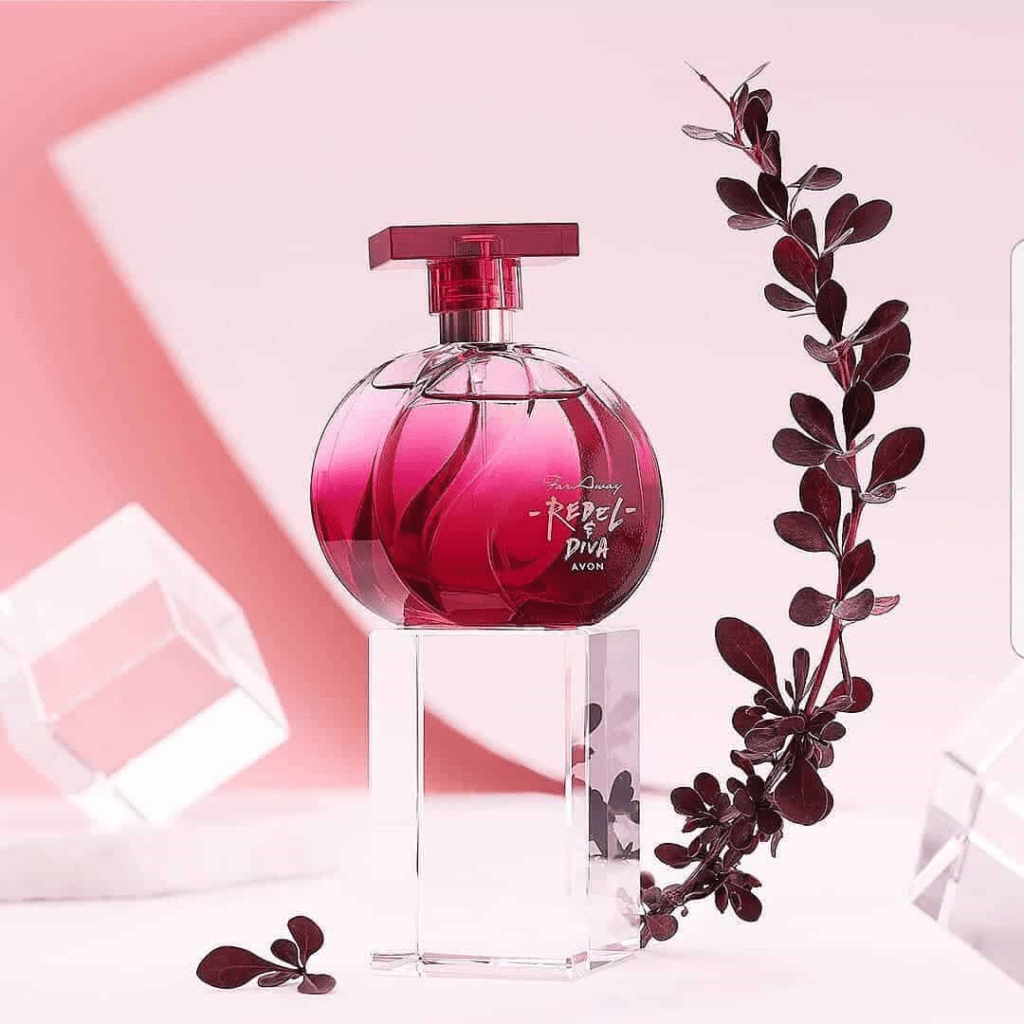 Pros
Attractive and extraordinary
Alluring with an authentic vibe
Long Lasting
Comforting and appealing scent
Affordable deal
Cruelty-Free
Cons
A lot of mixed user experiences.
The Best of All | Black Opiume Parfum Femme Dupe
FAQs | Black Opiume Parfum Femme Dupe
What does the Black Opium smell like?
Black Opium is an Ambery Vanilla warm and spicy fragrance with strong Coffee and sensuous white florals. It is seductive and mysterious, inspired by the qualities of a daring woman.
What are the scent notes of Black Opium Parfum?
The Top notes of YSL'S Black Opium Parfum are Pear, Pink Pepper, and Orange Blossom; in the middle, we have Coffee, Jasmine Liquorice, and Bitter Almond with base notes of Vanilla, Patchouli, Cashmere Wood, and Cedar.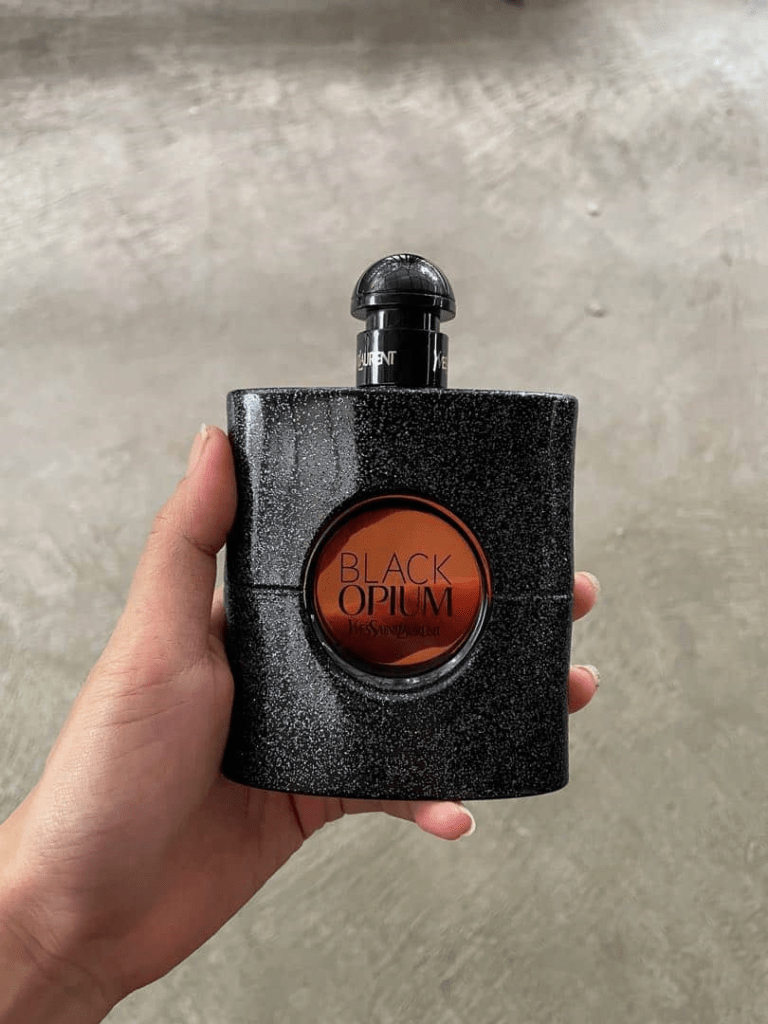 Why does the Black Opium need a dupe?
The YSL's Black Opium Parfum is expensive, and numerous other brands have reasonable options with the same scent notes.
Which is the Black Opiume Parfum Femme Dupe?
Touch of Woman by La Rive is the ultimate Black Opiume Parfum Femme Dupe. Alongside the fragrance notes, the bottle design is also similar.
Conclusion | Black Opiume Parfum Femme Dupe
To an extent, our fragrance signifies our personality. We all seek bold and robust perfumes to boost our confidence and enhance our style. If there's one perfume that has become the epitome of seductively intoxicating scent with stirs of florals, Coffee, and sweet vanilla is YSL's Black Opium Eau de Parfum. The viral perfume received a lot of hype due to its unique and complex scent. The hefty price tag and various options of the same accord are why I have kept you reading till the end.
In the article above, I compiled a list of 11 Perfumes that Black Opiume Parfum Femme Dupe at reasonable deals. I also briefly emphasized the connection between scents and human personality to help you understand yourself and find your signature scent. Read more to find incredible cheaper options for your favorite products below.
Some Latest Posts: