Are you also tired of finding the closest shade to the iconic Chanel vamp red nail color? Not anymore; now you can have those bold red shades without spending a lot. Read more to find the best Chanel vamp nail polish dupe products to spice up your manicure and nail it, literally!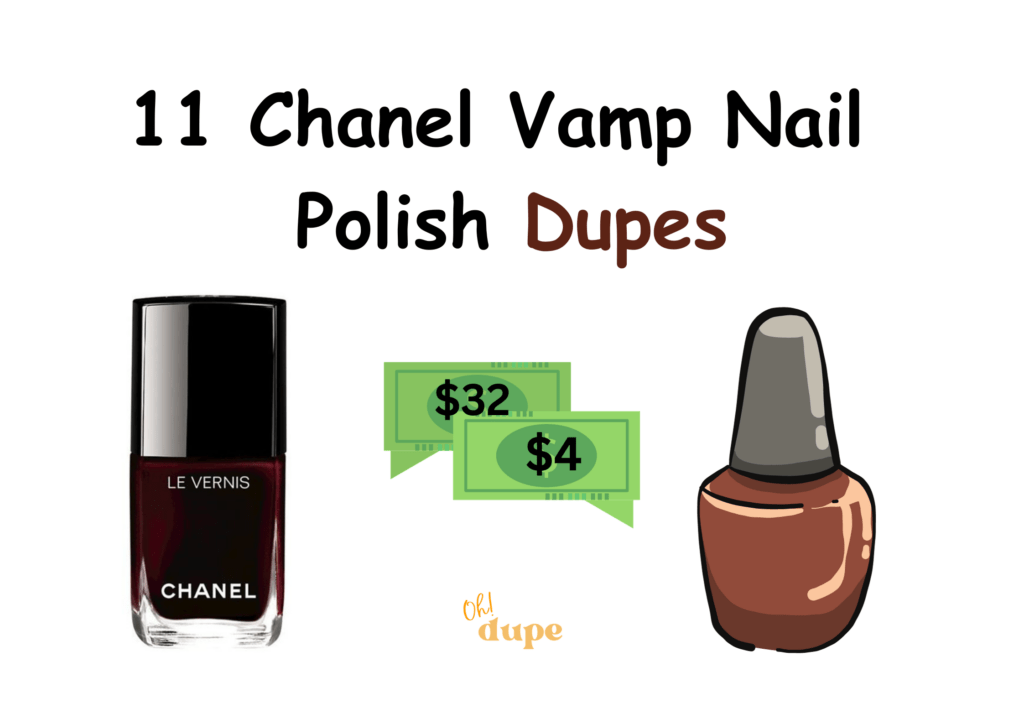 Having great nails levels up your outfit as well as your personality. Not only do great, well-maintained nails give a polished and put-together look to your hands, but they also add an element of elegance and creativity that highlights your attention to detail to your beauty. Moreover, the colors you choose speak about your personality.
Chanel Vamp Nail Polish Dupe | Cost-Effective Comparables!
Chanel's Rouge Noir, popularly known as the Vamp, is one of the most iconic and cult classic dark shades of red nail polish ever to exist. This shade came into being in 1994 by Chanel's Makeup Director for the 1995 Ready to Wear Show. Dominique Moncourtois revolutionized the makeup industry forever. It signified a new, bold, and independent version of women.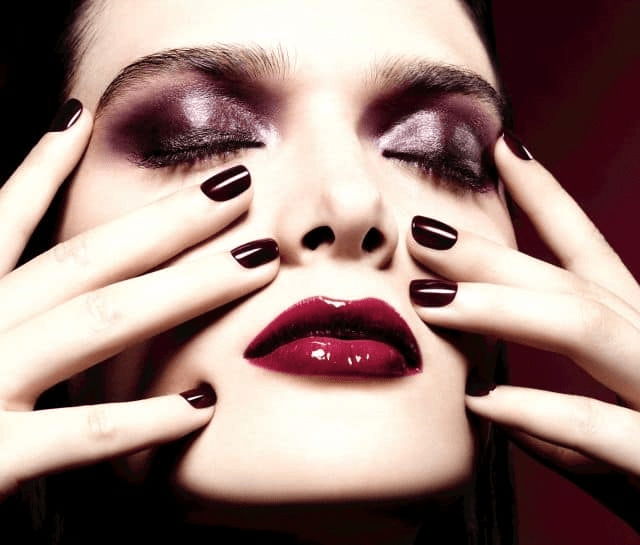 Chanel's Rouge Noir is shiny, glossy, and pigmented gel lacquer. It dries faster and stays on for a long time. Moreover, it is healthy for your nails as it is toxin-free and cruelty-free.
However, this high-quality nail polish is slightly overpriced, so people explore reasonable options. In this write-up, I'll list 11 Dark Red Nail colors and help you find your best Chanel Vamp Nail Polish Dupe.
Revlon Beauty is one of the famous drugstore makeup brands known for its high-quality makeup products at reasonable prices. Revlon Beauty has affordable alternatives to several high-end products. In the nail category, the Super Lustrous Nail Enamel is an excellent dupe to the Chanel Vamp Nail Polish.
The glossy brown Valentine shade resembles the original Le Vernis Rouge Noir. Moreover, the precision angled brush ensures smooth application of the nail color without hassle.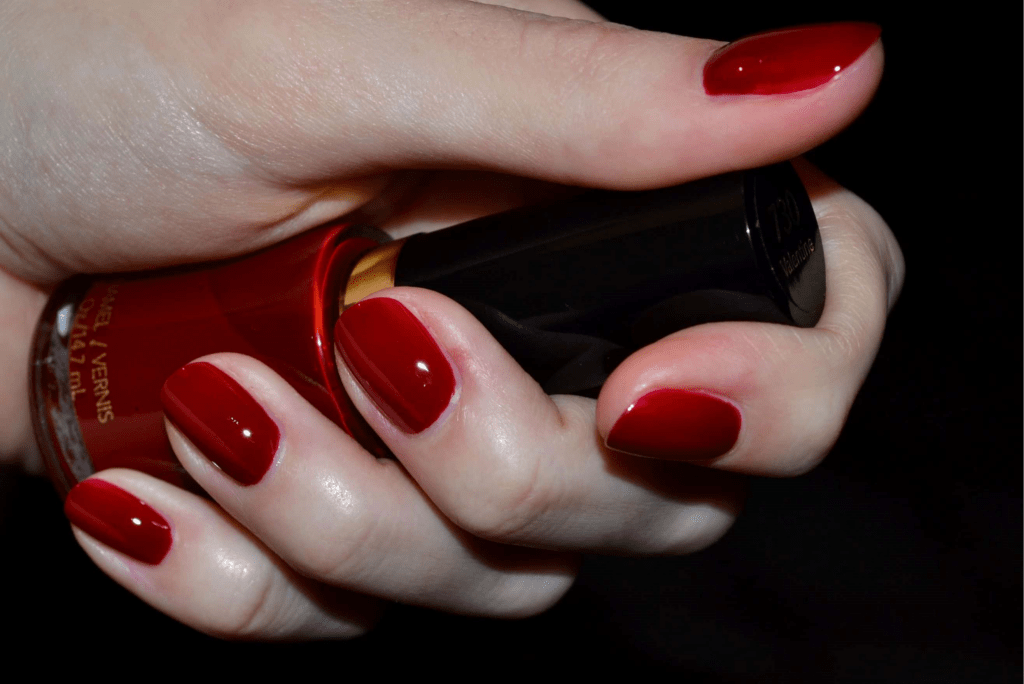 Details
Price: $7
Angled tip
Vitamin E
Shock-absorbing and chip-resistant film
Ridge filling complex
Pros
Precise application
Easy to use
Even coverage
Nourishing formula
Strengthens and protects nails
Easy manicure at home
Dries faster
Cons
The alleged new formula is disliked.
Orly is a Los Angeles-based family-owned makeup brand. They have been manufacturing premium manicure products since 1975. One of their nail lacquers, Orly's deep cherry creme polish, is the ultimate dupe to the Chanel Vamp Nail Polish.
The sophisticated red color looks elegant and compatible with all skin complexions. The safe, non-toxic formula is safe for your nails and strengthens and supports them.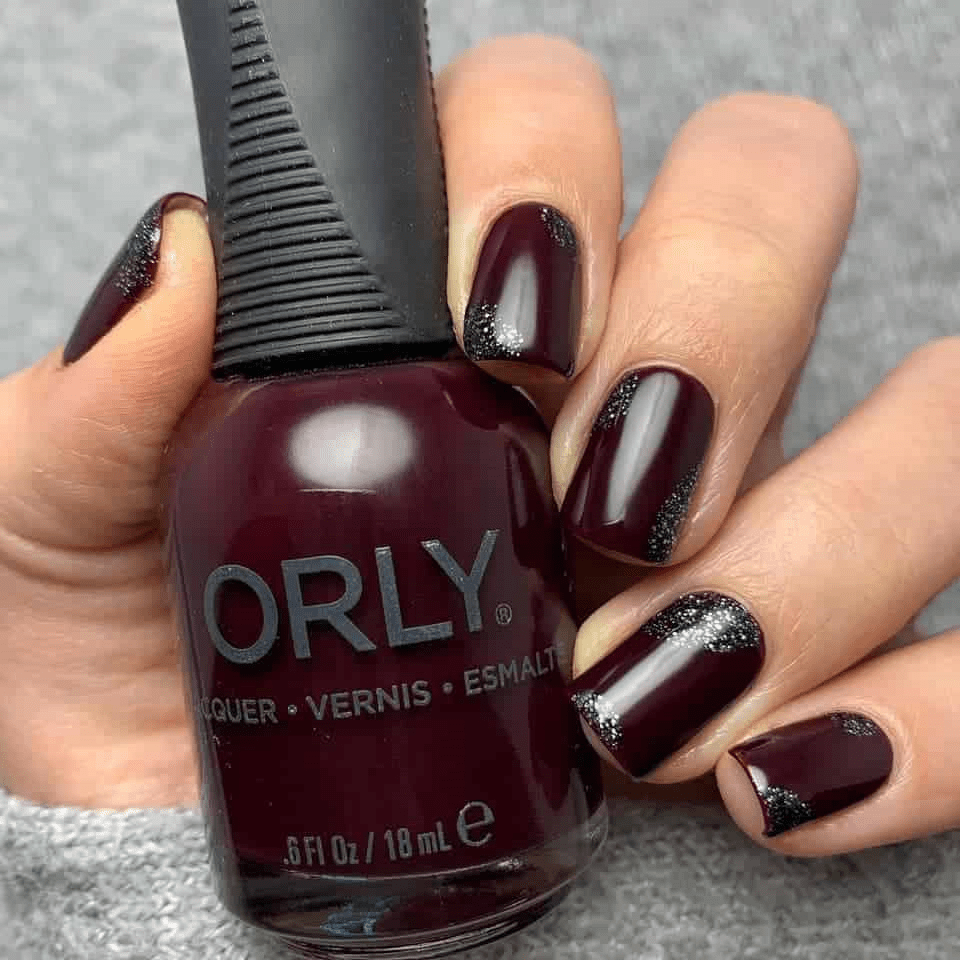 Details
Price: $11
Deep cherry color
Free from harmful chemicals
Pros
Smooth and hassle-free application
Great formula
Deep and dark burgundy
Safe and free of toxins
Cruelty-free
Vegan
Cons
Some people were disappointed with the shade.
The CND's Vinylux in the shade Bloodline is another alternative for the Chanel Vamp Nail Polish. The hypoallergenic, breathable formula provides a long-lasting gloss finish. Moreover, the nail nourishing complex strengthens the nail surface, making it look dark, elegant, and beautiful.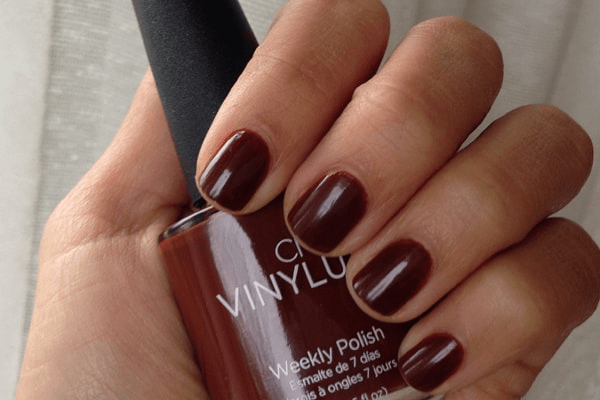 Details
Price: $7
Flawless finish
Lacquer nail polish
Pros
Long-wearing
High shine
Fast drying
Strengthens over time
It does not need a base coat
Chip resistant
Cons
There are no reviews available.
Essie is one of the most famous nail salon brands in America. Essie has manufactured good quality nail and manicure essentials for about four decades. Essie's nail polish collection went viral when their nail polish in the "Wicked" shade started selling as a popular Chanel Vamp Nail Polish Dupe.
One can hardly notice any difference between the two. Decently priced at $13, the nail lacquer is a bold, striking, sensational red shade.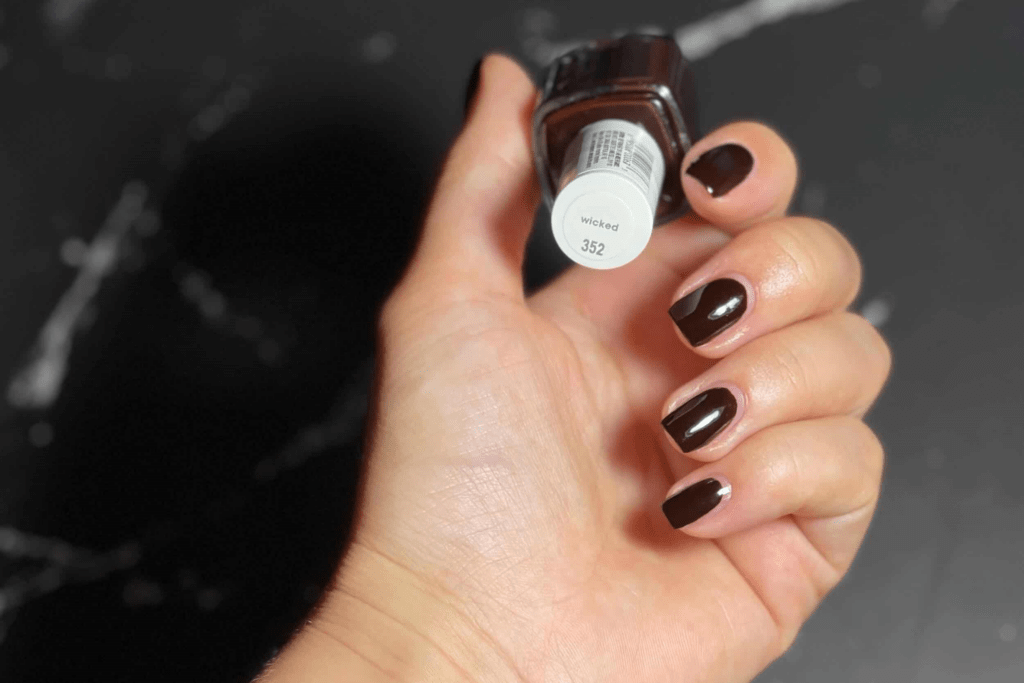 Details
Price: $13
Deep red shade
Easy glide brush
Vegan and cruelty-free formula
Pros
Stylish and bold look
Easy glide brush for seamless application
Salon quality
Vegan formula
Flawless courage
Professional use
Cons
Some users point out the change in the formula.
Founded by an Italian professional makeup connoisseur in 1997, Kiko Milano boasts a wide range of face and body cosmetic solutions. Kiko Miano's nail polish category is worth looking at.
I recently found shade 14, "Rouge Noir"; it resembles the iconic Chanel's Le Vernis Rouge Noir. The nail lacquer is not only smooth and easy to apply, but it also has good coverage and color performance.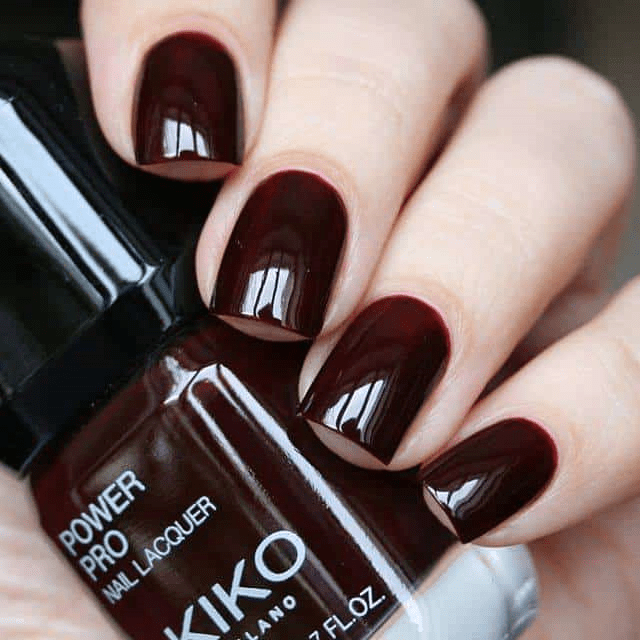 Details
Price: $4
Nourishing formula
KK logo embossed cap
Bristle packed brush
Pros
Quick drying
Special formula
Smooth texture
Extra bright finish
Easy to apply brush
Salon styled nails
Cons
The brush could be better.
Established in 1946, Sally Hansen is a household Merican makeup brand. Well known for its innovatively formulated beauty products at affordable prices, Sally Hansen has come a long way.
Sally Hansen's nail polish in the shade Beet It is an absolute Chanel Vamp Nail Polish Dupe. The color payoff is rich; it smoothly sets on the nails and has an even coverage.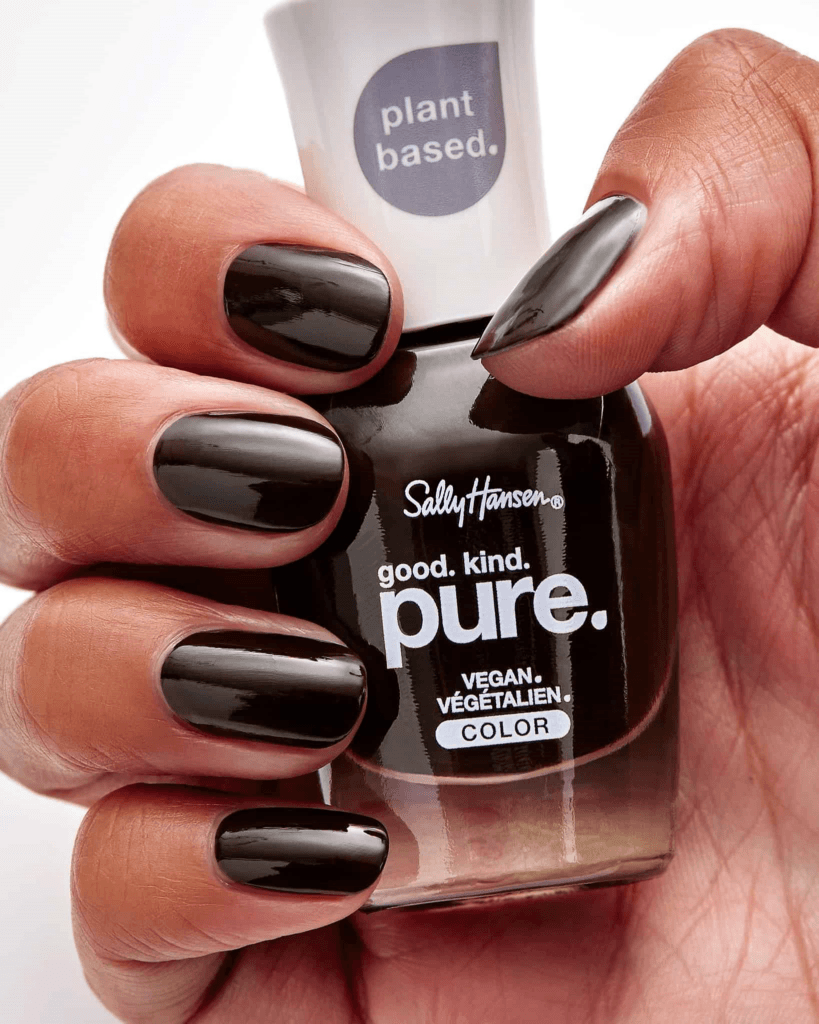 Details
Price: $20
16 free nail polish
Sustainable bamboo and marine algae-infused nail paint
Pros
Long-lasting
Rich color payoff
Smooth and seamless application
Great coverage
Sustainable
Healthy ingredients
Cons
The nail color is difficult to remove.
ILNP started in 2012 after a blissful accident of a combination of colors. Founder Barbra Salet began as a small local business and shaped it into one of the known brands among drugstore manicures. The Color Currant nail polish from the ILNP Studio bears a resemblance to the Chanel Vamp Nail Polish.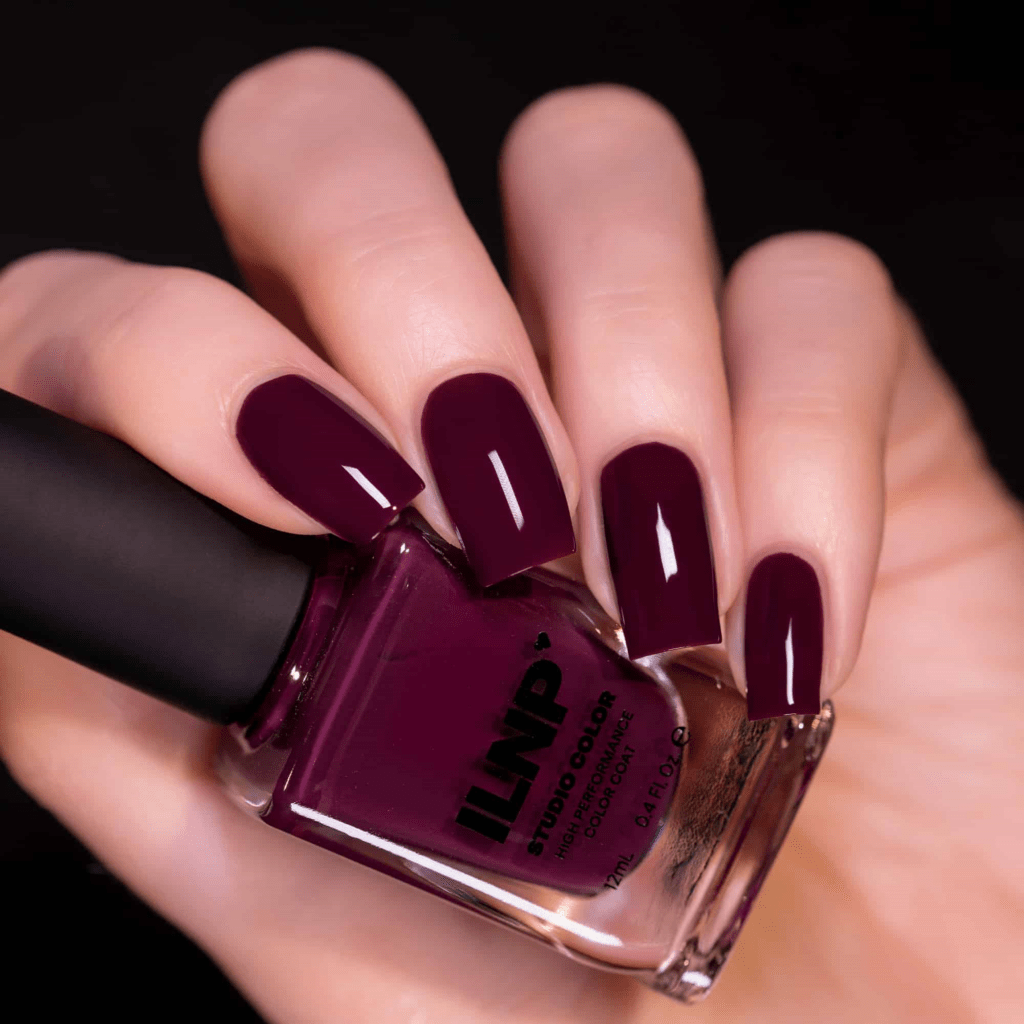 Details
Price: $10
Deep purple and burgundy
Fall serenade bundle collection
Deep, solid, and buildable finish
Pros
Dramatic and deep
Rich dark hue
Buttery smooth application
High shine
Cons
There are scanty reviews available online.
If you are looking for a more jazzy and bling version of the Chanel Vamp Nail Polish, this glittery nail paint is the one for you. The KBShimmer linear holographic burgundy deeper red shade is shiny and glittery, posing as a perfect nail color for a party. It screams boldness, elegance, and drama.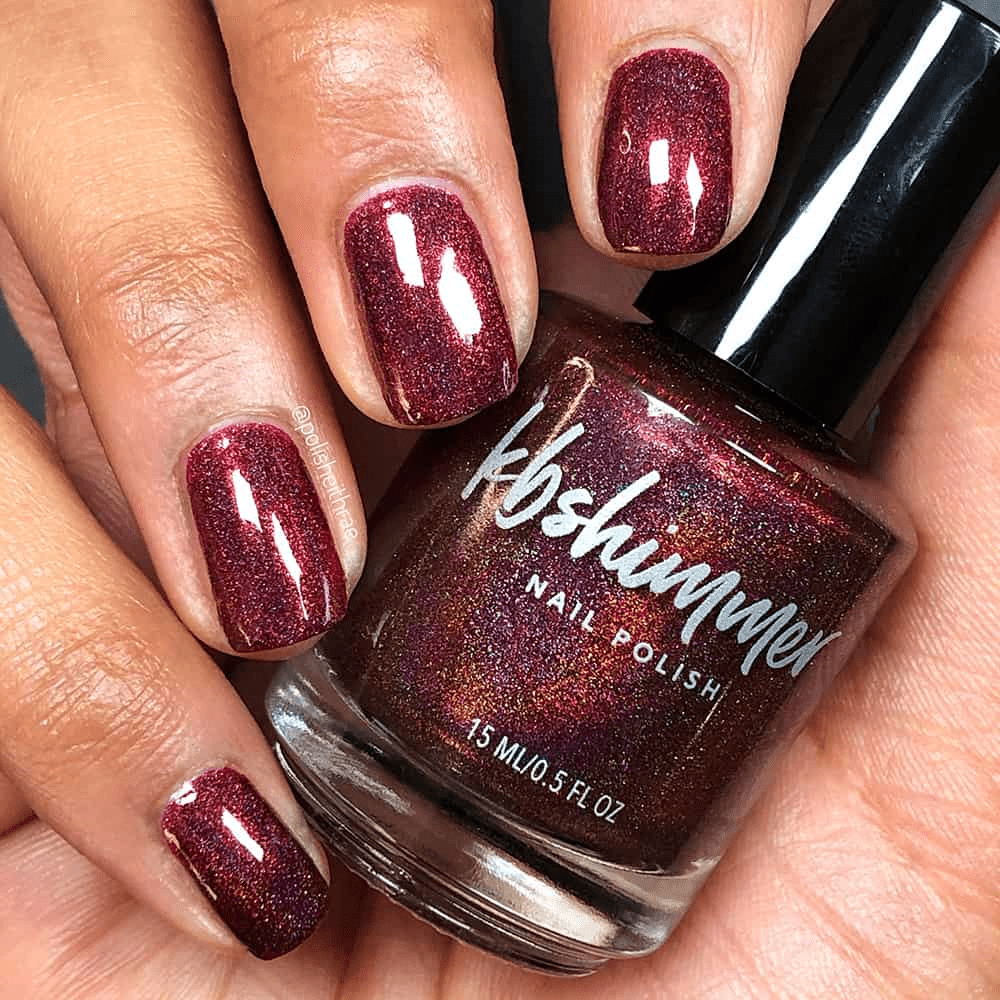 Details
Price: $12
Linear holographic
Deep red wine colored
Best in two coats
Pros
Affordable
Stunning and stylish
Bold deep color
Glitter and shiny
Cons
This is not a quick-drying polish.
Cirque Colors is a safe and non-toxic nail polish brand that focuses on manufacturing healthy nail colors on a budget. The Rouge Rockefeller is an excellent alternative to the Chanel Vamp Nail Polish. It is a burgundy-red creme polish with a high-quality formula and a smooth finish. Moreover, it is convenient and easy to apply and stays longer.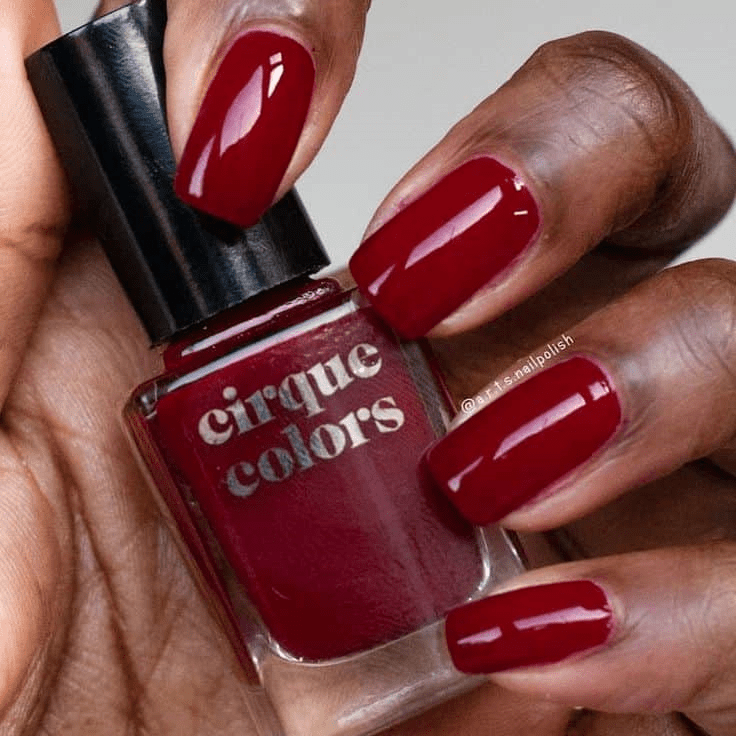 Details
Price: $13
Burgundy red creme polish
Smooth application
High-quality ingredients
Ten free formula
Pros
Deep and vampish
Non-toxic
Ten free formula
Vegan
Cruelty-free
Glass-like shine
Cons
There are only a few reviews available.
Ella+Milla's Nightdreamer is a dark wine red nail polish and an absolute Chanel Vamp Nail Polish Dupe. The nail polish is free from seventeen toxic ingredients, making it safe and healthy for the nails. Moreover, the animal-free polish is vegan and sustainably sourced.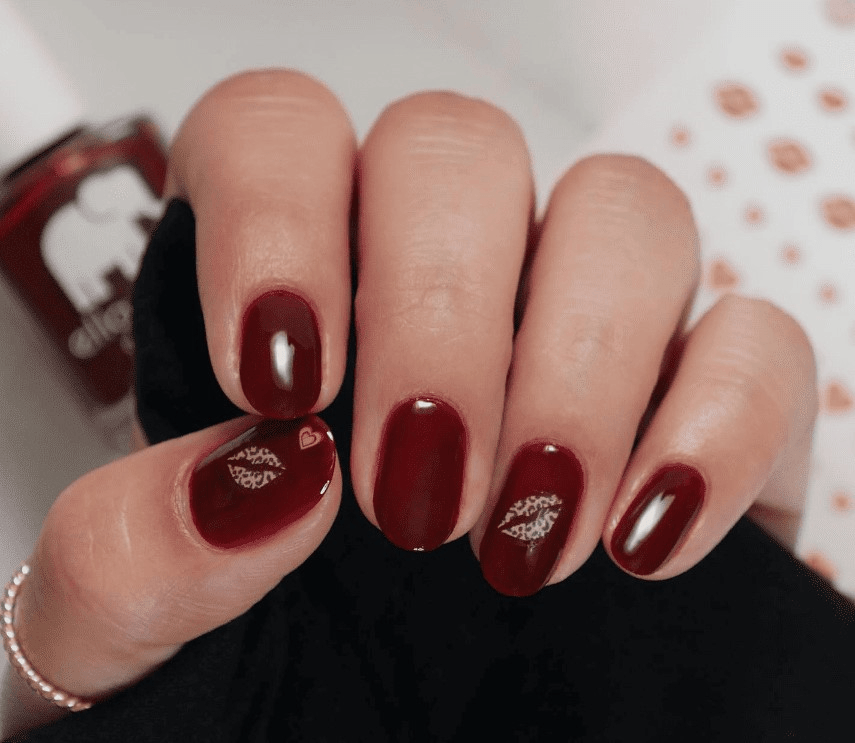 Details
Price: $11
Deep red wine color
Safe from seventeen toxic ingredients
Pros
Safe and healthy
Quick drying
Chip resistance
Gorgeous
Deep red
Vegan
Cruelty-free
Cons
The nail polish does not last long and needs consistent reapplication.
Last, the Le Mini Macaron's Cassis Gel Polish is burgundy and brownish-red nail gel. The finished glossy look is similar to the iconic Chanel Vamp Nail Polish. The three-in-one lacquer comprises a bottle's base, color, and top coat. Further, the polish is free from nine harmful chemicals and is vegan-friendly.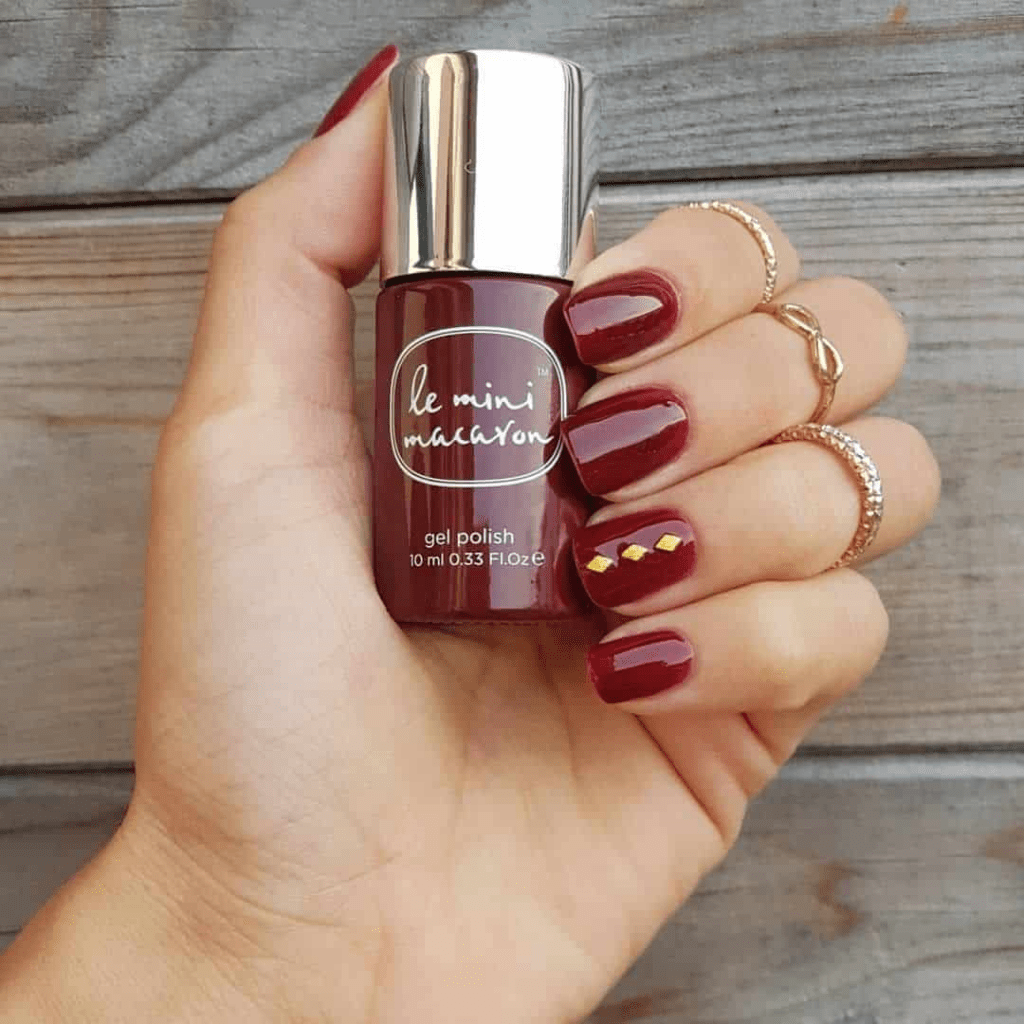 Details
Price:$13
Instant dry
15 min manicure
Pros
Glossy finish
High shine
Chip resistant
Smudge free
It lasts up to 14 days
Cons
The peel comes off easily and can be inconvenient.
Buy the Right Lacquer | Chanel Vamp Nail Polish Dupe
Buying suitable nail polish can be overwhelming, but possible. While numerous brands claim to manufacture the best, finding the perfect according to our preference and complexion is a bit tedious, but not anymore. In this section, I'll share a few pointers to help you find the right lacquer and factors to consider to apply the best coat.
Colors and Shades
First things first, determine the color family you prefer to buy. This depends on your preferences, complexion, and the occasion. Also, consider opting for brighter shades for casual outfits and darker shades for sophisticated events.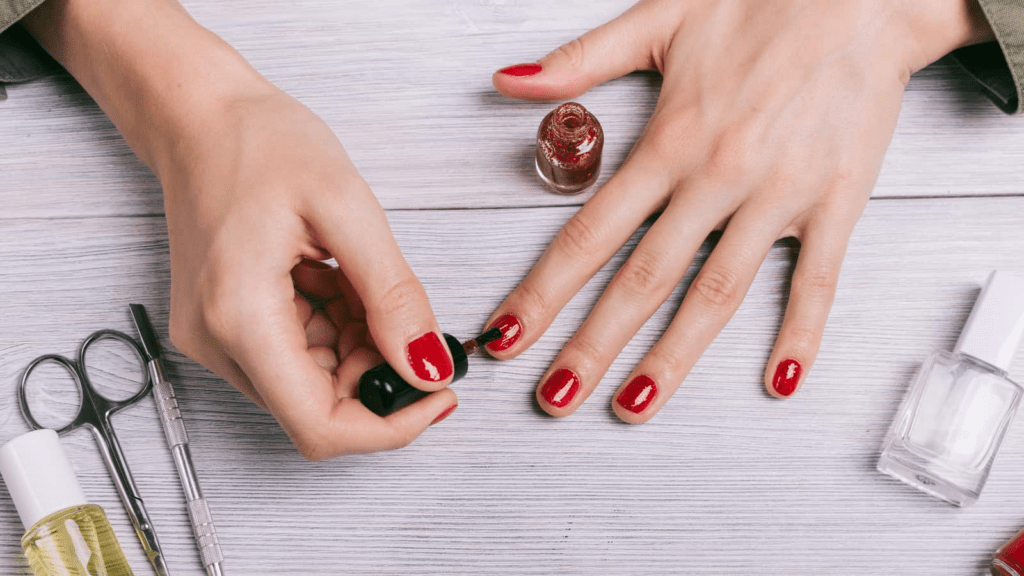 Formula
Consider choosing nail polishes with a safe and clean formula. Cancel out products containing Camphor, Xylene, Resin, and TPHP. If the nail polish has 5-, 9-, and 10-free formulas tagged on the label, I suggest preferring those products over the other ones.
Applicators and Other Factors
The type of brush is another crucial factor. Look for a brush with an angular tip to get that precision and smooth and seamless application. Moreover, other factors include longevity and fast drying features.
Frequently Asked Questions | Chanel Vamp Nail Polish Dupe
Is Chanel Vamp Nail Polish discontinued?
Yes. the original Chanel Vamp Nail Polish has been officially discontinued. However, the brand has introduced an entire makeup line revolving around the deep red color family. One of the nail polishes, The Le Vernis Rouge Noir, is the new version of the original Chanel Vamp Nail Polish.
Is the Chanel Le Vernis Rouge Noir the same as the Chanel Vamp Nail Polish?
Yes, the Chanel Le Vernis Rouge Noir is similar to the vintage Chanel Vamp Nail Polish. However, the formula is cleaner and safer for your nails. The longevity and glossy, high-shine look have also contributed to its high sales, making it one of the best-selling Chanel products.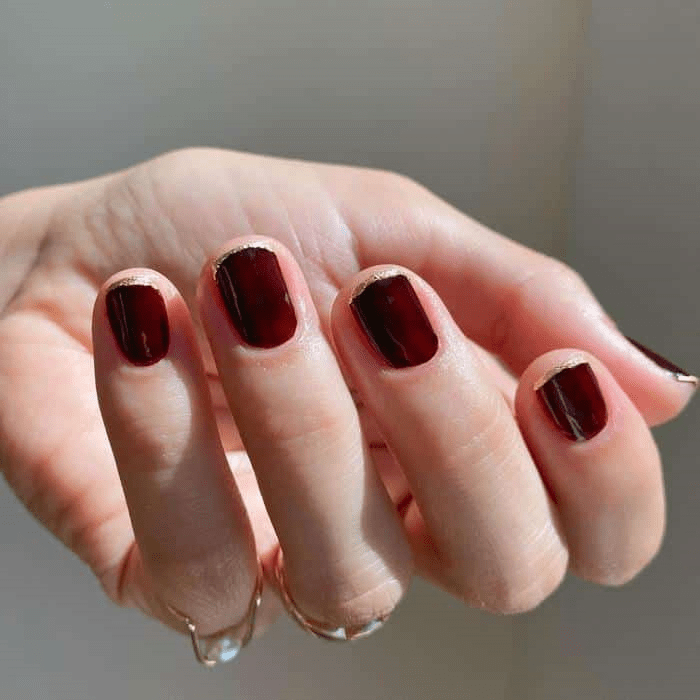 What are the ingredients of the Chanel Rouge Noir Nail Polish?
The Chanel Rouge Noir Nail Polish comprises a high concentration of pigments and organically sourced Camellia eco ceramides, making it healthier, cleaner, and safer for your nails.
What is the best Chanel Vamp Nail Polish Dupe?
Revlon Super Lustrous Nail Enamel, Orly Opulent Obsession, CND Vinylux Bloodline, Essie Wicked, and Kiko Milano Cosmetics 14 Rouge Noir are some of the best Chanel Vamp Nail Polish Dupe products.
The Final Coat | Chanel Vamp Nail Polish Dupe
Chanel's Vamp Nail Polish is one of the iconic shades from the 90s. The Le Vernis Rouge Noir is a new generation of the cult classic shade. Made with a premium formula, it has the same stunning, smooth, glossy finish.
However, the Rouge Noir is priced at $32, which is a bit expensive for some. So, this Chanel Vamp Nail Polish Dupe list will be an excellent read for those looking for similar vamp colors at pocket-friendly deals.
You'll also find a small buying guide section to brush up on your manicure shopping skills. Read on more to find affordable alternatives to your favorite trendy items below.
More Dupes: