We all know how difficult it is to find an appropriate cleanser for our skin. Especially when you have sensitive skin, it becomes almost impossible to find a product that will suit your skin without any reaction. Fresh Soy Face Cleanser has been a hyped-up cleanser for the last few years. Labeled as the best cleanser for sensitive and acne-prone skin, it gives you clean and calm skin.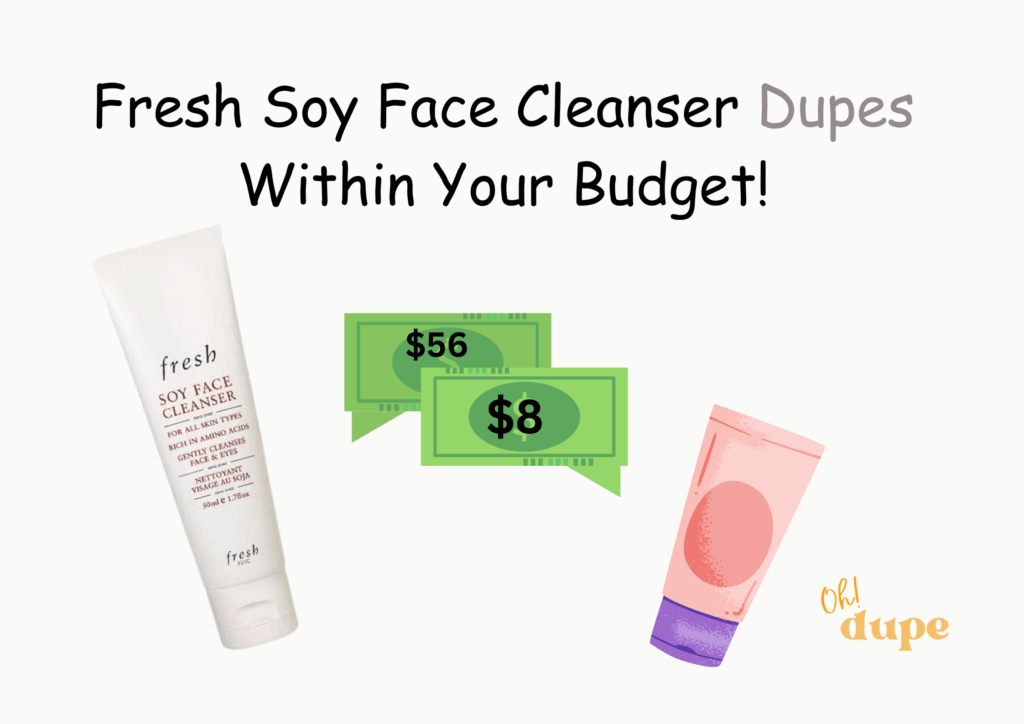 It's necessary to use a safe product for your skin, but for Fresh Soy Face cleanser lovers, this is expensive and not readily available. Thus, people look for a suitable Fresh Soy Face Cleanser dupe. So let's find some of the best alternatives that are friendly to your skin and budget.
How I selected the Fresh Soy Face Cleanser Dupe?
As a blogger, I must provide accurate information to my audience and stay on track as much as possible. I prefer using the products independently and reviewing them so you don't have to go through any trouble.
However, I can not buy all the products and use them. In that case, my team helps me a lot. I have gathered all the information and put it here for your convenience. You can trust this report's data; if you have a query, put it in the comment box below, and I will answer it.
Why is Fresh Soy Face Cleanser so expensive?
It is essential to study the reasons before searching for an alternative. Why exactly are we looking for dupes? Is the original product not worth the price, or the quality of the product is not satisfying? Let's dig into it.
A famous brand in the skincare world and a top recommendation by celebs, Fresh Soy Face Cleanser, is a gentle, non-stripping face wash ideal for removing makeup and impurities while softening, hydrating, and balancing all skin types and tones.
Soy protein and cucumber extracts significantly protect your skin from harsh side effects and leave it with a soft and glowy surface. The product knows how to behave on sensitive skin and helps calm redness or acne-prone areas.
All these top features make this product a bit expensive, and I agree it's not a waste to spend a little extra for a safe skincare routine. But the problem is not everyone can afford such luxurious cleansers.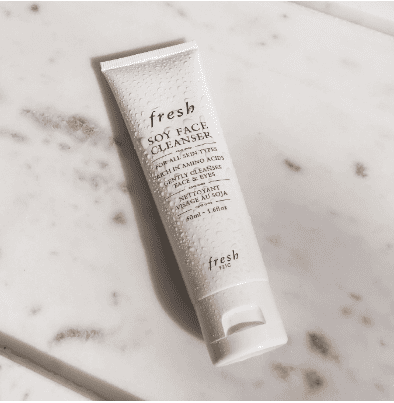 Especially the teenagers who are on a path of changing hormones and going through a lot of acne days but they do not have any extra money. Let's gather all the information that I can and affordably finalize some A-one products.
Here is the result of my hours of research and tested products that will save you from skin issues and financial constraints.
Fresh Soy Face Cleanser Dupes
Let's start by knowing the affordable alternatives for Fresh Soy Face Cleanser, which are high in quality. Sensitive skin people, trust me, you'll love these dupes.
1. Yes To Cucumber Daily Gentle Milk Cleanser
Daily Gentle Milk Cleanser By Yes To Cucumber is one the best Fresh Soy Face Cleanser dupe—a perfect match for sensitive skin, which gently removes makeup and unwanted impurities. The hero of this gentle cleanser is cucumbers which save your skin from dangerous chemical reactions. 
Other ingredients like Water, Glycerin, Xanthan Gum, Citric acid, Hydrolyzed soy protein, and Potassium Sorbate helps to keep your skin refreshed and calm. It is a non-foaming cleanser at an affordable price. Your search for a safe skin care product that fits your budget ends here.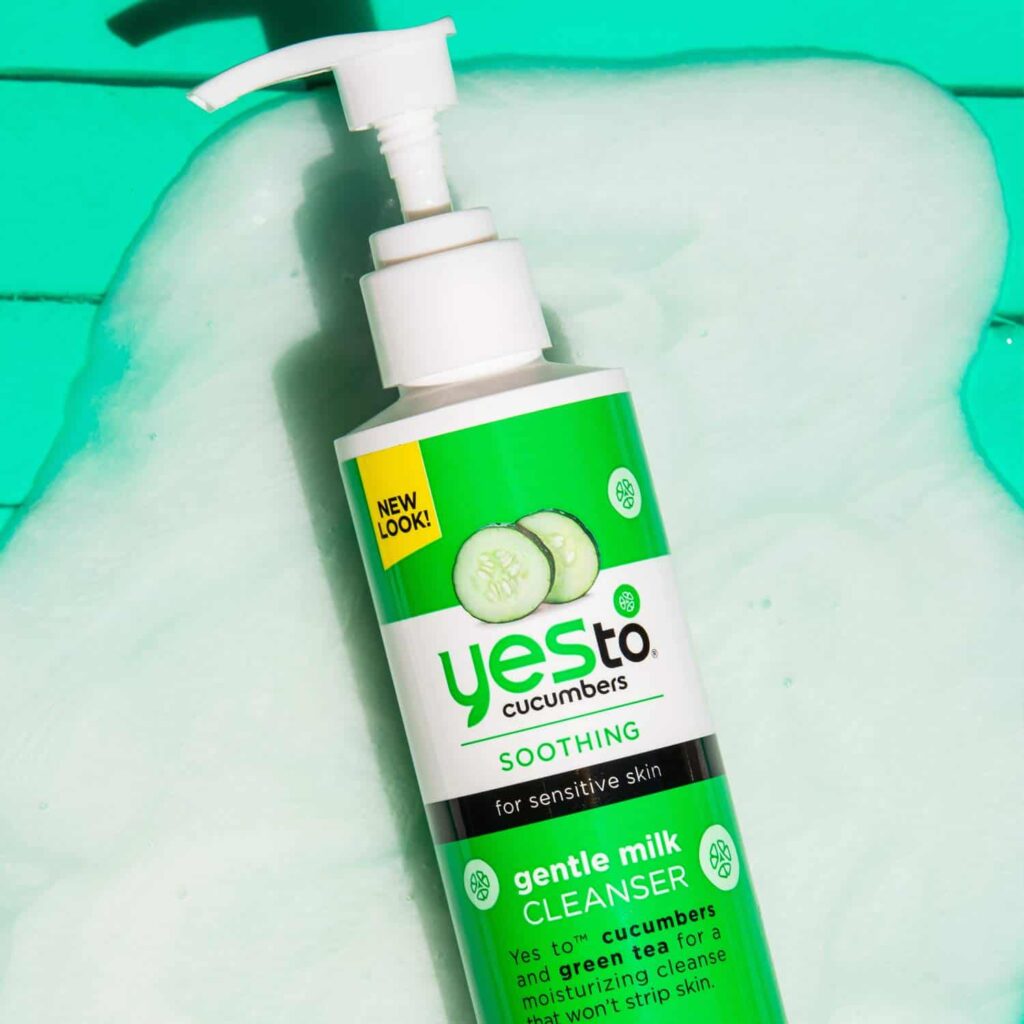 I went through all the comments and found a hack about the product. The users suggest using rose water along with it for a better experience, but it also works well without any additional product.
2. Glossier Milky Jelly Cleanser
Glossier Milky Jelly Cleanser is made with moisture-rich soy extract that enhances natural radiance and gives you fresh skin. It works magically on dirt-affected areas and pulls out unwanted particles from the core of your skin—a ph-balanced gel cream cleanser that comforts all types of skin, susceptible ones. The formula consists of conditioning ingredients like Pro-Vitamin B5 and Allotin, which gives your skin a baby-soft finish and keeps it moisturized the whole day.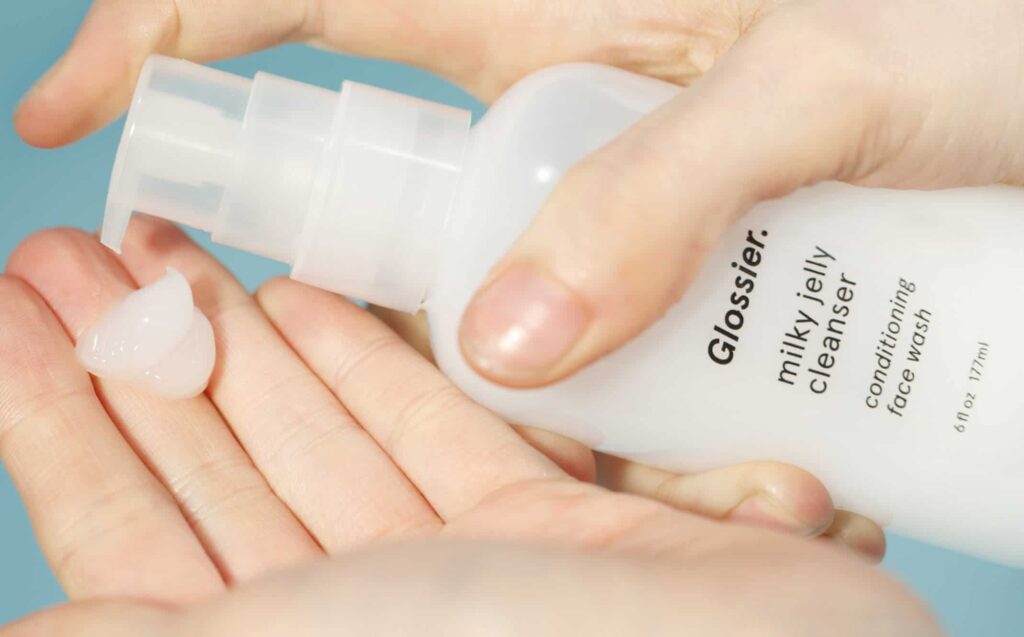 I saw almost good reviews except for a few complaints that drew my attention towards them. Some customers explained that they had changed the formula, which felt different on the skin. Not dangerous but a bit different; it's still safe to use, so don't worry about it. Milky Jelly Cleanser is a pocket-friendly product that sits well as a dupe for Fresh Soy Face Cleanser with a trustable quality and reasonable price. You do not need to break your bank just for a healthy skincare routine; this product is a prime example.
3. COSRX Low pH Good Morning Gel Cleanser
COSRX Low pH Good Morning Gel Cleanser is next on the list and one of the cheapest but good quality cleansers among all the products in this session. A gel-based formula that sits comfortably on your skin and clears out clogged pores or other dirt particles from the root of your skin.
It's soft on your skin and hard on acne, and it gives you hydrating skin all day by balancing the PH level of your skin. The ingredient list contains all botanical and natural elements that give your skin a naturally glowy appearance. COSRX Good Morning Cleanser is a perfect morning partner for all skin types, even oily or acne-affected skin is also on the list.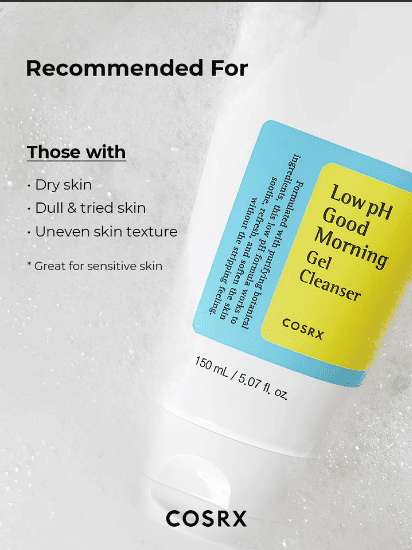 COSRX Low pH Good Morning Gel Cleanser can be counted as a perfect dupe of Fresh Soy Face Cleanser, as it is low in price and high in quality. Customers reviewed the product with a lot of 5 stars and expressed their positive experiences.
4. Derma-E Sensitive Skin Cleanser
Derma-E Sensitive Skin Cleanser is a dermatologist-recommended product for people with sensitive or unique conditional skin. It is specially formulated to relax your skin from any redness and itching your skin gets troubled from. It soothes the acne-prone areas and removes unwanted impurities from your face.
The best cleanser for nourishing your dry or uncomfortable skin works gently without triggering any skin situations you have. Green Tea extract helps defend against environmental distress and keeps your skin hydrated. It gives you a perfect canvas for your other skincare or makeup routine.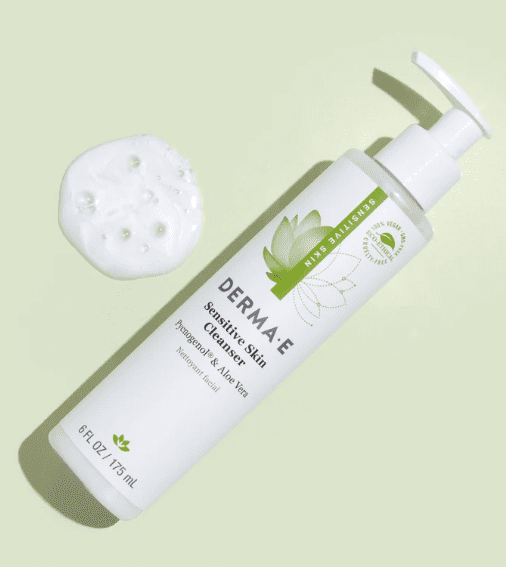 The review section of Derma-E is filled with happy sensitive skin customers praising the comfort they experience using the product. Fresh Soy Face Cleanser holds a high-quality level, and Derma-E nearly matches the competitive bars. So, avoid confusion and purchase the cleanser for your fresh start.
5. Kravebeauty Matcha Hemp Hydrating Cleanser
Matcha Hemp Hydrating Cleanser is one of the best-selling cleansers of Kravebeauty, with natural ingredients and cruelty-free formation. The Matcha Hemp Hydrating cleanser makes the special ingredient clear from the name only, which is Matcha. With potent antioxidant properties and soothing benefits.
Matcha gives your skin additional hydration, which protects your skin from getting dull and down throughout the day. The formula is rich in Omega-6 and omega-3 fatty acids for moisturizing properties and Sodium PCA, which is known for being a natural cleanser. Their accurate ratio and deep cleansing features make it a bestseller itself.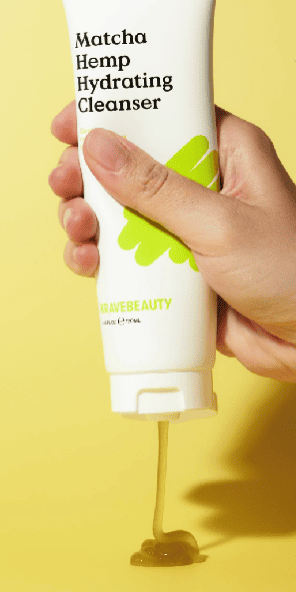 Matcha Hemp Hydrating cleanser contains different properties than Fresh Soy Face Cleanser, but it is equally affecting in improving your skin radiance. The price is also affordable and easily available on online apps, local vendors, etc. It is worth giving a shot, and if you are already a Matcha admirer, you'll love the fragrance. 
6. Vanicream Gentle Face Cleanser
Vanicream Gentle Face Cleanser is another dupe that caught my eye with its unique formulation for sensitive skin and lower price. Vanicream is a famous brand, and we know how popular their products are, like moisturizers, body wash, etc., and today we are talking about the cleanser. The mildest face cleanser suitable for daily use is a need for sure, and Vanicream successfully fulfills that. Ingredients like Purified water, Glycerin, Sodium chloride, and Allantoin helps in conditioning your skin well and maintaining moisture.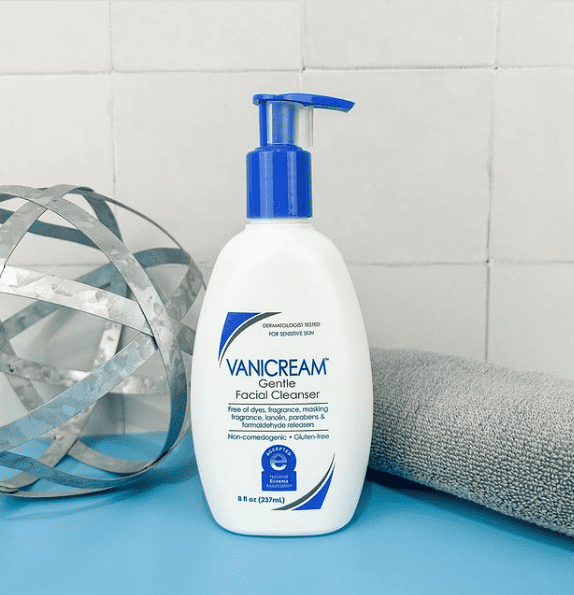 The happy customers have claimed Vanicream Gentle Face cleanser to heal their random skin breakouts and itchiness. These all polite reviews and the simple, effective ingredients with affordable price counts the product as one of the best dupes for Fresh Soy Face Cleanser.
7. Ceramedx Gentle Foaming Face Cleanser
Ceramedx Gentle Foaming Face Cleanser is a light and gentle, sulfate-free cleanser specially formed for dry and sensitive skin. 
Riceramide-3 technology and special hydrators increase the moisture in the skin and maintain natural protective barriers. The gentle formula smoothly lifts dirt particles, oil, and other harmful substances without disturbing the skin's natural moisture balance. All you need to do is pour 1-2 pumps on your hand and massage it gently, covering your face in a circular motion and washing it with normal water; you will witness the magic.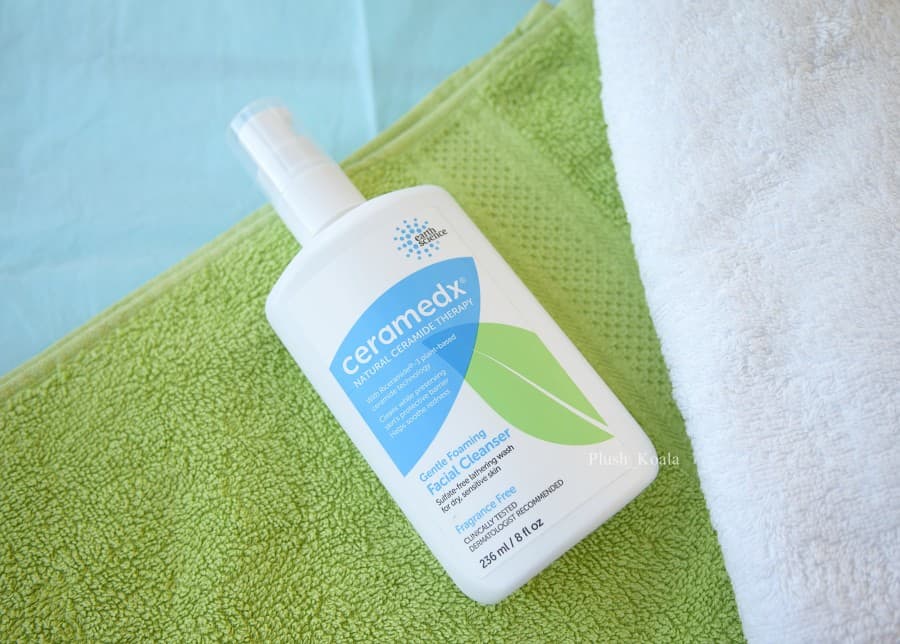 I saw the reviews, and customers enjoy the results a lot; some complaint about the cleanse making their skin too dry. For that, I would recommend applying more moisturizer to avoid dryness. Ceramedx is gentle on your skin and friendly to your pocket, so count it as a dupe for Fresh Soy Face Cleanser.
8. Sweet Chef Oat Milk Latte Cleanser
Sweet Chef Oat Milk Latte Cleanser is a vegan formula that contains oat milk as an alternative to regular milk, and it helps to nourish dehydrated irritating skin. It contains Hyaluronic acid, a holy grail for hydrated and acne-free skin, with the goodness of coffee seeds. So, all this means is a delicious liquid for your skin and makes it happy.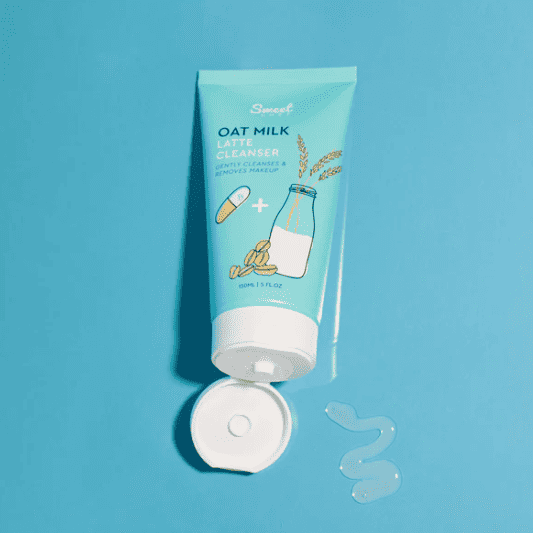 Fresh Soy Face Cleanser and Oat Milk Latte Cleanser are both vegan and cruelty-free, and they work almost identically; a little difference is always there. So if you want to give your skin a healthy vegan treatment at low prices, this product is one for you.
9. Cetaphil Gentle Skin Cleanser
Here comes a famous name that we all have used at some point in our lives, and if you haven't, you need it in your skincare routine. Cetaphil Gentle Face Cleanser, A perfect cleanser for the beginner in their fresh skincare enthusiasm. This is a clinically proven product and creamy in texture that cleans your skin smooth and keeps it hydrated.
Cetaphil contains Micellar Technology that gently yet effectively removes unwanted impurities from the inside layer of your skin. The cleanser is beautifully blended with Ninamicide (Vitamin B3), Panthenol (Vitamin B5), and glycerin that, restores the natural barrier of one's skin.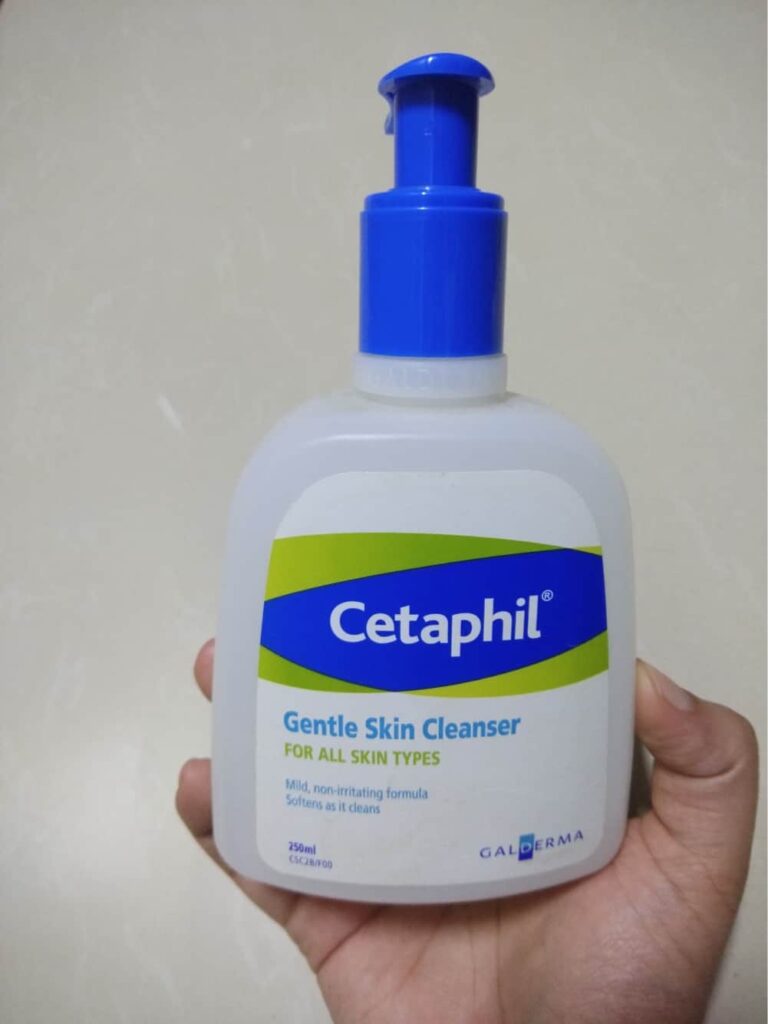 Cetaphil is a dermatologically proven brand and safe for sensitive skin. It is not an exact dupe for Fresh Soy Face Cleanser but functions beneficially on your skin. It is cheap in price and high in quality, definitely a catch for you.
10. The INKEY List Oat Cleansing Balm
The INKEY List Oat Cleansing Balm can be used as an alternative to Fresh Soy Face Cleanser, yes, it is a balm, but it functions similarly. It is thick in consistency and can be used as a makeup remover too. Most people prefer using creamy cleansers in the morning.
But you can consider this product, too, since my job here is to introduce the best dupes to you. Cheap in price and good in quality INKEY List Oat Cleansing Balm helps remove clogged pores and dirt particles from your skin.  It makes your skin silky and smooth, leaving it all glowy and hydrating after the wash.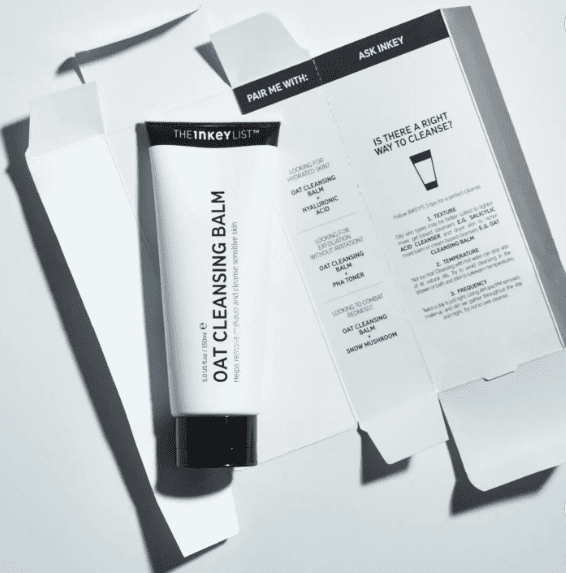 It is good to try some new forms of skincare and be unique to others. The INKEY Cleansing balm is not an exact dupe but can be counted because of its similar working and qualities. You can try it if you want to go with something new. 
11. Neutrogena Ultra Gentle Hydrating Cleanser
Now last but not least, Neutrogena Ultra Gentle Hydrating Cleanser is something I would like to draw your attention to. One of the cheapest yet most effective dupes on this list. An extra mild face cleanser that comfortably removes the dirt particles from acne-prone areas of the skin, leaving it all calm and redness free.
The formula of Neutrogena Cleanser is dermatologist developed and contains some trusty, skin-friendly ingredients. It does not play with the natural moisture level of your skin; in fact, it maintains hydration throughout the day.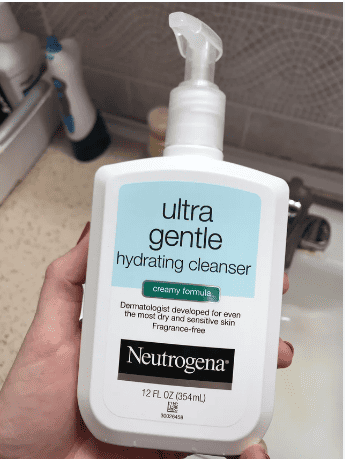 You can consider it an eligible product for Fresh Soy Face Cleanser dupe; it knows how to deal with your skin. The lower prices make it fit your budget without compromising quality.
FAQs| Fresh Soy Face Cleanser
Is Fresh Soy Face Cleanser Good for Acne?
Yes, Fresh Soy Face Cleanser is a dermatologist-tested product. The formula is prepared with unique ingredients making it safe for all skin types, including Oily and acne-affected skin.
What pH is Fresh Soy Face Cleanser?
The pH level in Fresh Soy Face Cleanser is 5.5, which makes your skin soft and bouncy, and the balanced pH level is a plus point of this formula.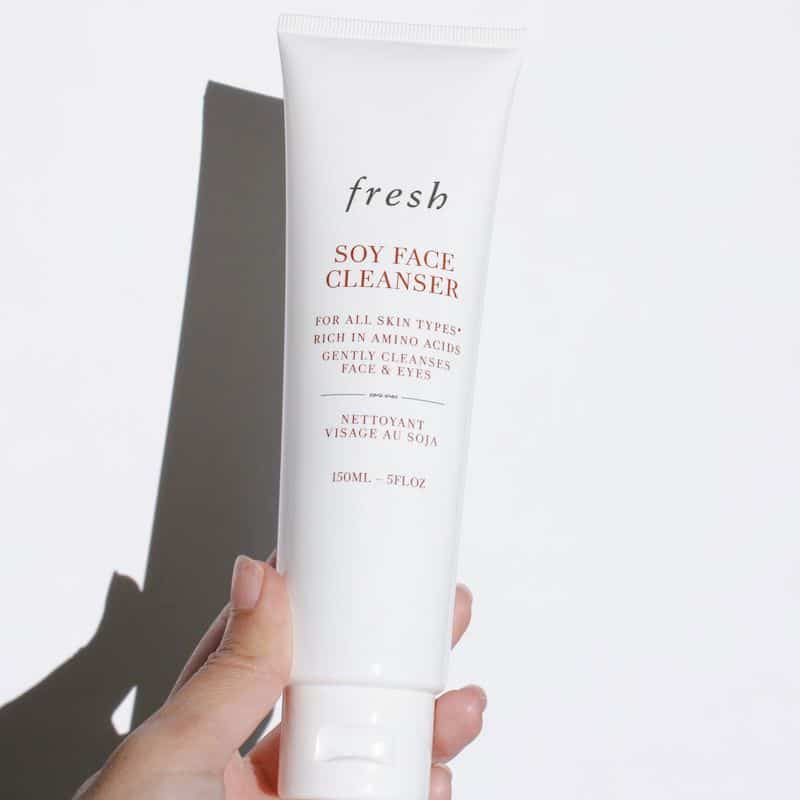 What does Fresh Soy Face Cleanser do?
The Fresh Soy Face Cleanser is rich in Soy and cucumber that helps increase radiance, decreases redness, and improves skin elasticity. It leads your skin to cooling effects that reduce puffiness and irritation. It takes out dirt particles and also cleans clogged pores.
How to use Fresh Soy Face Cleanser?
It is used as any other cleanser; you only need to properly wet your skin and massage the cleanser on your entire face and eyes. Wash your face with lukewarm water and repeat the process daily for fast results.
Conclusion
Fresh Soy Face Cleanser is a top pick for your skin to give you a fresh start to the day, but we all know how expensive its price tag is. You can always rely on my blogs for accurate information concerning the dupes for expensive products. The Fresh Soy Face Cleanser is excellent and inexpensive is a colossal myth; you can always try some cheap products that fulfill your skin requirements.