As a woman, we all know the value of perfect bra size, shapewear, or loungewear. They subtly carry our beautiful curves so our outfits won't look bizarre. I am sure you know the SKIMS brand, highly promoted by the Kardashians.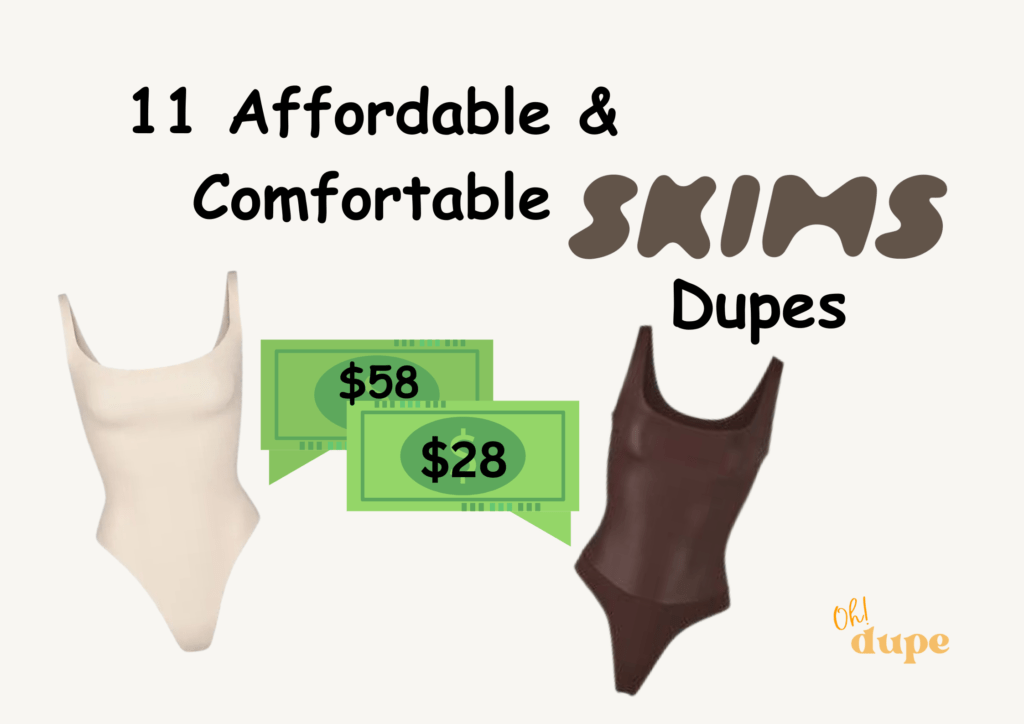 But can every woman afford this clothing based on a typical budget? I doubt that, including myself; I feel the SKIMS products are overpriced and overhyped, so we need brands that comfortably fit our pockets and body. In a nutshell, we need a perfect and affordable Skims dupe.
SKIMS Dupe | What is SKIMS and why is it so expensive?
SKIMS is a popular brand famous for selling high-quality intimate wear like Underpants, Loungewear, Shapewear, Bras, Strip dresses, T-shirts, etc. It is an iconic name in the industry of celebrities and top models; they often promote SKIMS by Kim Kardashian on their Instagram and other social media. The reason that makes this brand so luxurious and costly is its material, wide range of sizes, and attractive varieties that fulfill the needs of a woman in her innerwear. They are setting a different standard by providing a solution to everybody.
SKIMS is a high-quality clothing brand, and It is essential to wear the right size; why are we looking for its dupe? Wearing the right underclothes size doesn't mean it should be expensive. There are other companies in the market promising a similar or better quality and a wide range of sizes, let's give them a chance and save us from spending unnecessary money.
SKIMS dupe
Here is your guide to affordable wear that can give your curves a good lift and makes you feel confident on a low budget.
1. YUMMIE
YUMMIE is a yummy deal for you as it sounds, and it is known for being the best SKIMS dupe. They have a wide range of products full of varieties, including bras, underwear, leggings, bodysuits, etc. The scale of sizes they provide is also full of options available to every woman irrespective of her shape or size. The material they use in their manufacturing is way too similar to SKIMS, full of stretch, gentle on the skin, breathable, and does not cause any rashes on your skin. You can visit their official website and order what you need. They are readily available and simply returnable.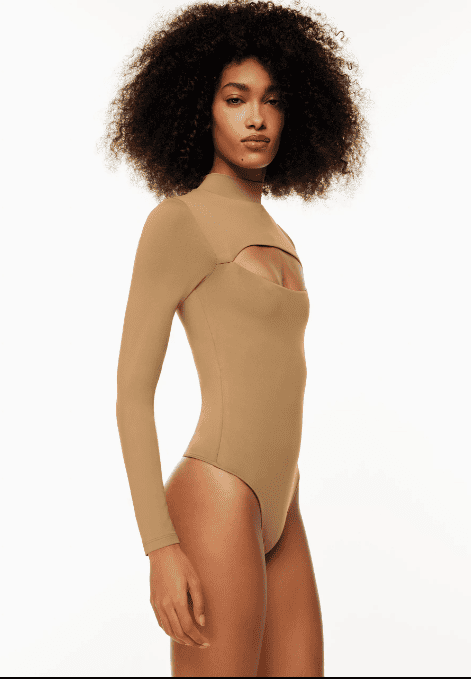 SKIMS is famous internationally, but Yummie is another renowned name in the clothing industry, so it is a good alternative at an affordable price. You can give it a try and enjoy comfortable attire.
2. ARITZIA
ARITZIA was a Tik Tok sensation and my favorite clothing brand; they come in various colors and sizes. They display multiple products on their website, like tops and leggings—bodysuits, activewear, etc. Discounts and regular offers are other factors that attract customers a lot. They are accessible with orders and deliveries; customer service is available 24/7. They claim to use Nylon and sweat-soaking material that carries your body well even in skin-burning hot summers. They also contribute to the environment, as they use sustainable methods of production and disposal of cloth waste, making mother nature happy.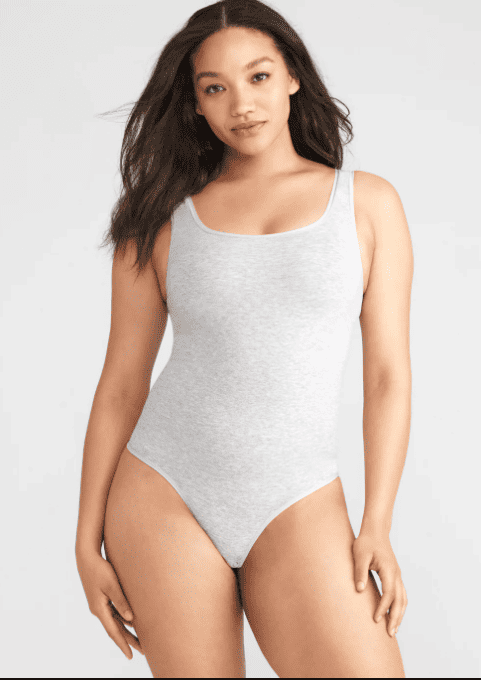 I searched through the reviews and found some disappointing comments. Users often complain about not getting the correct size. If you encounter the same issue, you may have to visit their customer care helpline and file a request for exchange/ return. ARITZIA is an excellent choice as a dupe for SKIMS.
3. PARADE
PARADE promises to fulfill the demands of its customers and are feedback oriented. PARADE is famous for its comfortable and breathable second-skin bodysuits, and they deal in other products, like intimate wear, shape wears, and loungewear. They have many choices in the size chart and color palette. 
Their fabric is 95% recycled nylon and 5% elastane, saving your body from sweat rashes and containing cotton lining to prevent itching. They even provide free shipping after you shop for a particular amount; you can visit the website and grab the details.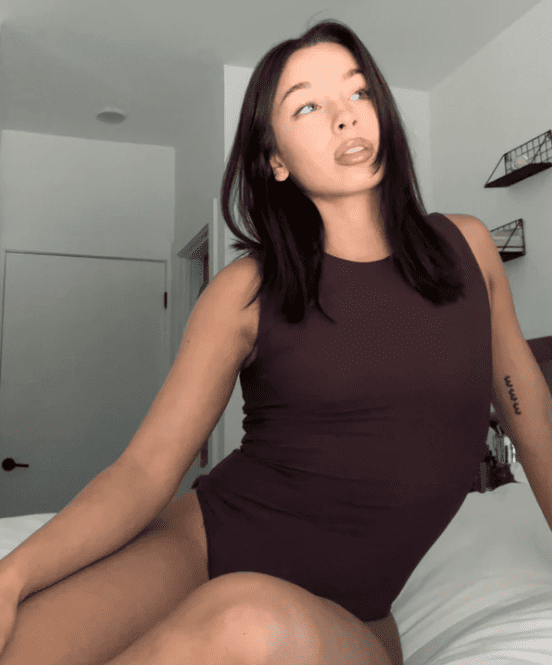 When we talk about the best SKIMS dupe, PARADE is not an exact dupe, as they can have different designs and manufacturing processes. But in terms of quality, both are identical and provide similar comfort, which means you can enjoy the features of celeb clothing at an affordable price.
4. MESHKI
If you want hot body suits and lingerie at sensible prices, here I introduce MESHKI. You should try this brand once in your life. I like the details they put on body suits, intimate wear, and various colors to die for. They have a collection of comfortable yet fancy designs that attract most young women, and the size chart is also flexible. The fabric they use is a decent blend of nylon and elastane, which makes them stretchable enough and gives them room to breathe. From tops to Bras and leggings to shapewear, they display a lot of variety on their website.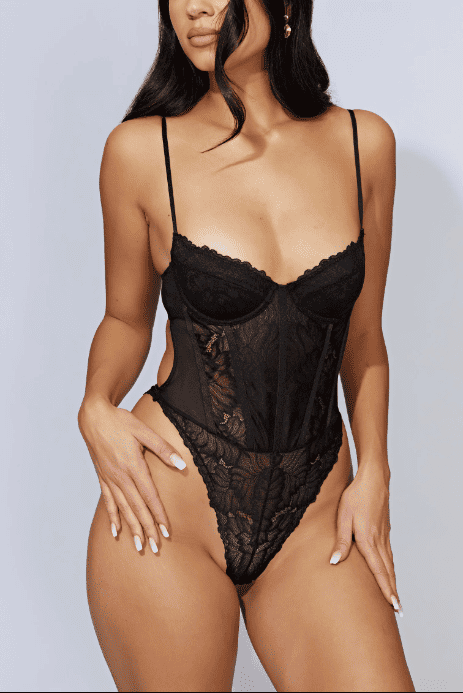 Consumer feedback was satisfying enough, just study your measurements correctly and then place your order; otherwise, you may experience fitting issues. They have overseas availability and easy returns. The prices are comparatively low and budget-friendly, a perfect SKIMS dupe.
5. Abercrombie And Fitch
Abercrombie And Fitch is the next dupe I would like to add to the list; being an average clothing company, it still beats SKIMS being a cheaper alternative. Abercrrombie and Fitch is a regular shopping brand where you can find a variety of clothes for women, men, and even kids. Since we are comparing it with SKIMS, let's focus on the women's section. The manufacturing material is soft, stretchable, full coverage, and contains a cotton lining that prevents itching or rashes. The breathable stuff and easy-to-maintain nature make it worth the investment.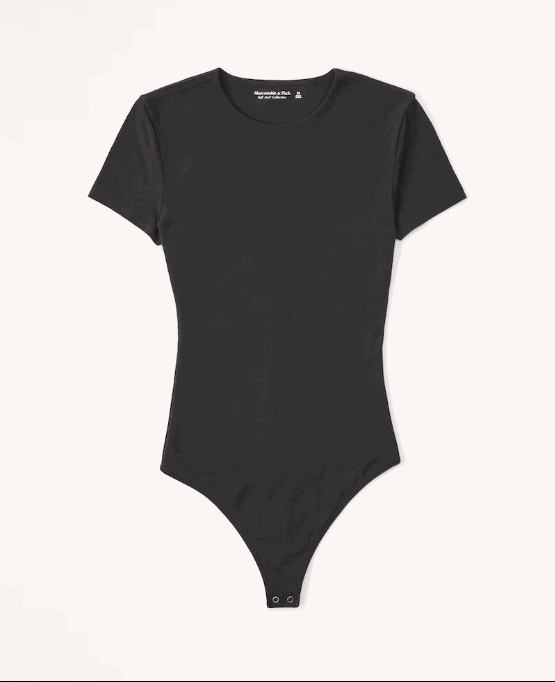 I would like to mention the lack of choices in size, as they have limited sizes, and people with large measurements may not be able to shop here. As a dupe for SKIMS, it is an excellent choice and can be used as an alternative with lower prices.
6. FeelinGirl
SKIMS does have an impressive range of shapewear and bodysuits, but if you are curvy and want to embrace your body lines, you should visit FeelinGirl. They have a variety of designs, sizes, and colors in shapewear, underbody wear, and bodysuits, so being a plus size is not an issue here. They tend to spread body love and positivity among women and encourage them to appreciate the body they live in. The comfortable and stretchy fabric, a mix of nylon, cotton, and elastane, holds a special place in the heart of its users.  Also, the feedback is full of 5-star ratings and customers expressing their wonderful experience with the brand.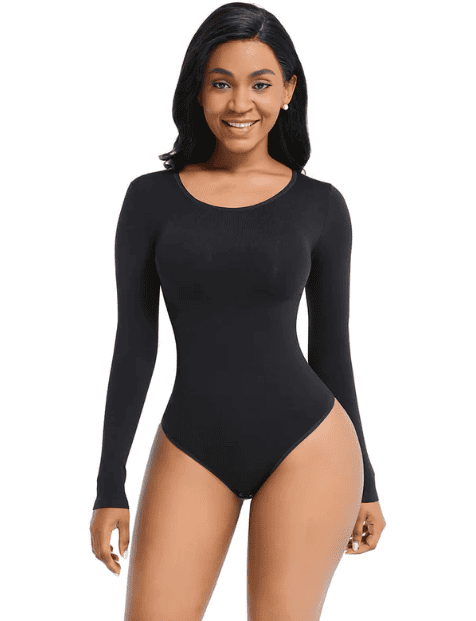 The headquarters are in the US, but they do international deliveries and are readily available on shopping websites. Compared with SKIMS, I am sure there are differences in quality because of the variation in brand size, but FeelinGirl won't disappoint you.
7. LULUS
LULUS is another fashion-oriented clothing brand aiming to make women feel happy about their bodies with comfortable fabric and plenty of sizes. The unique material used by them is a perfect blend of polyester, spandex, and rayon, along with cotton lining. They have a lot of variety in designs that are sexy and bold, giving competition to SKIMS's designs at every step. They are recommended for hand washing only as washing machines may damage the product's material. They are readily available and have international deliveries as well.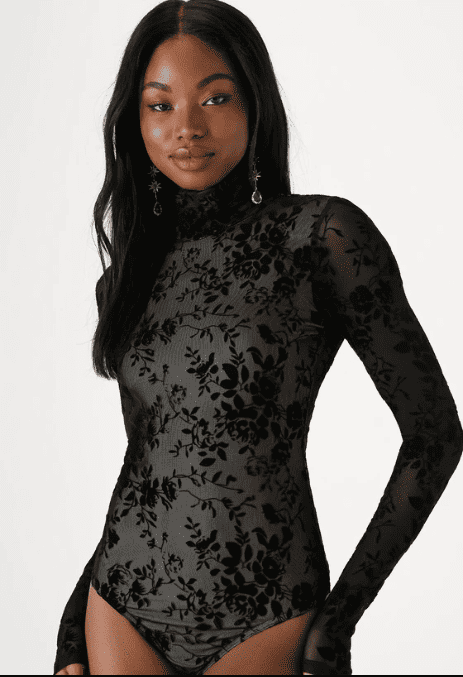 I would say the quality of LULUS is not too similar to that of SKIMS, but they are also not any lower. LULUS comes at an affordable price and with reliable quality.
8. SHAPERX
Regarding shapewear, we all need a fabric that gives our curves a perfect finish without suffocating us, but this preference usually seems expensive. But SHAPERX is here with reasonable prices and breathable cloth quality. If shapewear by SKIMS is disturbing your bank balance, but you want the look it creates, you can go for SHAPERX. They specialize in manufacturing body shapers and shapewear, and the prices are affordable.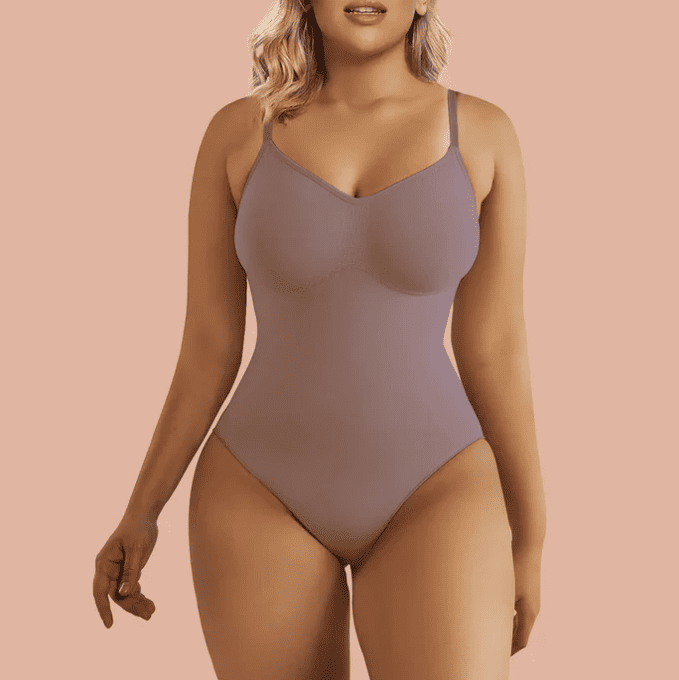 Even the users have described their positive experience and happy results. SHAPERX is a perfect dupe for SKIMS, especially in terms of shapewear. You should give it a try.
9. PUMIEY
PUMIEY is a US-based clothing brand that provides fashionable products with comfortable stuff and great fitting. They deal in different clothing categories like bodysuits, loungewear, shapewear, and dresses. PUMIEY was once also known to be a Tik Tok famous brand, and women went crazy about the fitting of their body enhancers and shapewear. The prices are also reasonable, and size options are perfect for stepping in.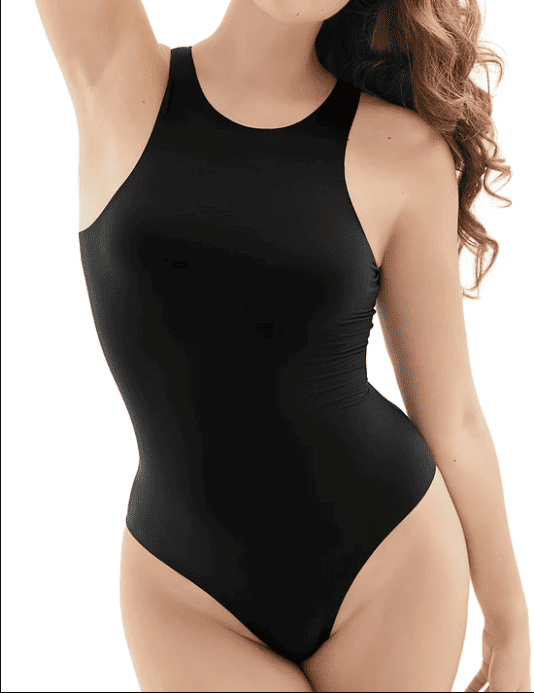 Comments by customers were full of 5-star ratings and how lovely they found the stuff of PUMIEY. These types of dupes are indeed a threat to the sales of SKIMS, as they are similar in features and better in price. Without breaking the bank, you can enjoy the comfort of ultimate fabric.
10. Marks and Spencer (M&S) 
Marks and Spencer(M&S) is best known for their intimate wear and lingerie, and that's why I feel this product to be a tough competition for Kim Kardarshian's best-selling bras and thongs. They have many options in the size chart according to your measurements, but the variety of shades is limited. A perfect mix of polyamide and elastane gives your skin room to breathe and embraces your curves beautifully.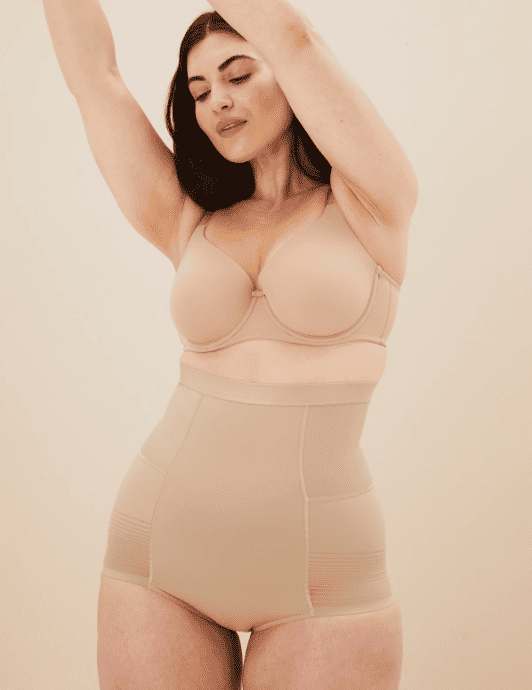 These dupes are not replicas; they are alternatives you could purchase instead of spending a lot on SKIMS. There may be differences, but every product is perfect in its material and features. It hurts no bank balance to leave top brands and explore others.
11. TALA
TALA is on a mission to create sustainably-made attires that deliver on quality, fit, performance, and style. Their collection is marvelous, and the variety in sizes makes this brand a top pick. They mainly deal in activewear like sports bras, leggings, bodysuits, etc.; if you were scrolling SKIMS for such products, here is an alternative. They also have a wide range of colors and designs; promoting basic and solid shades is their classy move. 
So all gym enthusiasts out there, TALA is an affordable stop for you to invest in good and sustainably built products. The quality may differ slightly compared to SKIMS, but TALA is fantastic in its ways.
FAQs | SKIMS Dupe 
What makes SKIMS unique from others?
Thinking about inclusivity, SKIMS did not stop by providing a wide color range and various sizes that make their customers happy. SKIMS offer merchandise in sizes from XXS to 4XL, recognizing that women of all body types want to look and feel good in their clothing.
What is the brand message of SKIMS?
SKIMS focuses on body positivity and broadness worldwide, aiming to provide a wide choice of sizes for promoting body positivity.
Do we need to wear a bra under SKIMS?
No, SKIMS is a modified bodysuit; you do not need to wear a different bra underneath it. SKIMS bodysuits care for your body posture and comfortably keep your curves in shape. 
Who invented SKIMS?
Kim Kardashian and Emma Grede founded the iconic brand SKIMS.
What material is SKIMS made of?
The high-quality clothing brand SKIMS uses expensive and advanced technology prepared material for their clothes. They use Nylon and Spandex fabric, which have a nice stretch and fit your body perfectly.
Conclusion
I hope you know why wearing the right-sized innerwear is essential for your body and health. SKIMS is a top market brand, and they own a unique luxury but expensive. So you should go out and explore the market a little; many products are available that can fulfill your needs on an affordable budget. Every dupe mentioned in the above blog is tried and tested by me and my friends because your safety is our priority. Still, if you have any doubts, please ping us in the comment section below; we would be pleased to help you.