A good skincare routine is vital to your overall appearance and health. Choosing appropriate skincare products is another critical step for setting an ideal skincare routine. Dr Dennis Gross Peel Pad is an excellent choice to safely attain brighter and healthy skin. The two-step face peel pads help exfoliate the skin, improve the complexion, and fight acne. A complete package that makes your skin look better in a natural way.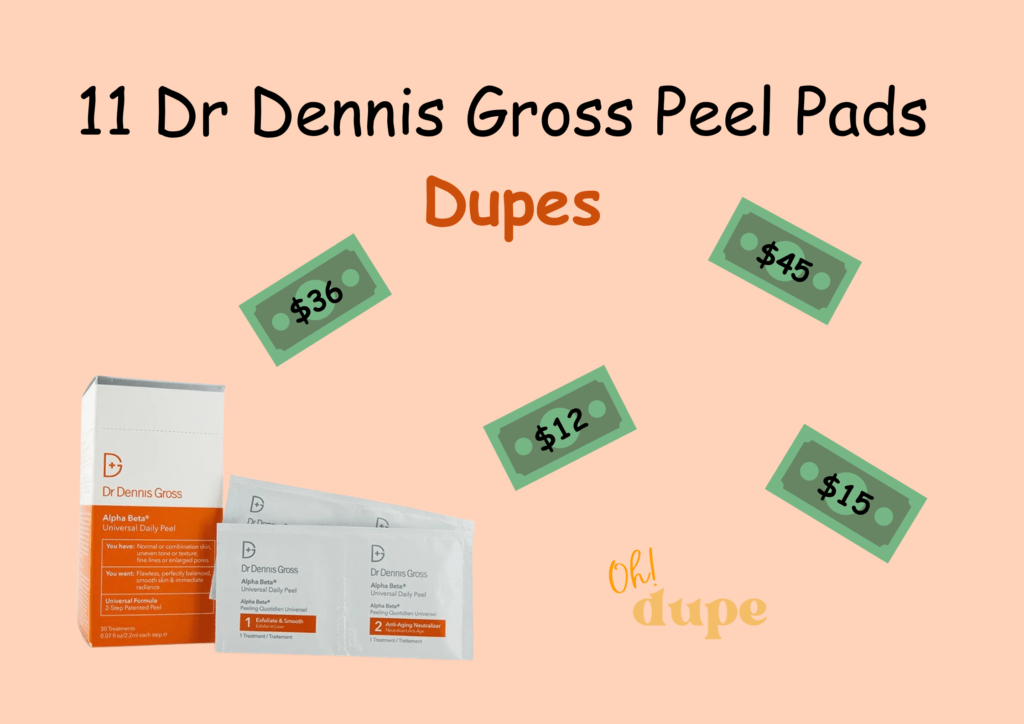 Not everyone can afford such luxurious products, but this does not mean you can not have good products for your skin. Today, I will guide you through the best Dr Dennis gross peel pads dupe you can use instead of increasing your expenditure on high-priced products.
Dr Dennis Gross Peel Pads Dupes | Selection Process
After spending hours researching, we shortlist some highly recommended products and try them ourselves. Your skin safety is important to us, and we intend to provide you with accurate information about the concerned product. I used some of the mentioned products myself, and my teammates have also participated in the survey, so it all comes from personal experience.
You can trust this website and all the suggested dupes. Even after all the data, if you still have any queries, you can put them in the comment box below, and we will get back to you.
Why are Dr. Dennis Gross Peel pads costly?
Dr Dennis Gross Peel Pads is a two-step AHA/BHA peel pad pre-dosed with seven. Different acids and 12 antioxidants generally help your skin reduce fine lines, wrinkles, and other skin impurities. Glycolic Acid (AHA) and Mandelic Acid (AHA) function as skin-brightening agents, which improve complexion and give your skin a naturally hydrated look.
Salicylic Acid (BHA) removes the clogged pores and allows it to breathe. Besides this, it contains Resveratrol and green tea extract that gently protects the lifespan of skin cells from free radicals. The peel pads are available in 3 types; you can choose what suits your skin the best.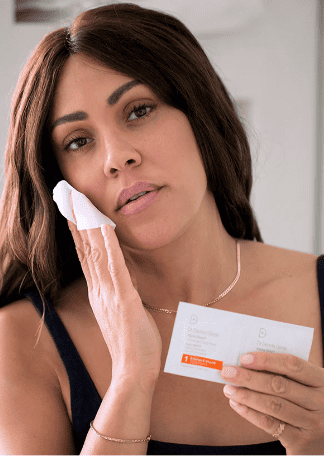 The price of Dr. Dennis Gross peel pads is also high, along with the high qualities. Not everyone can afford such an expensive skin care product which might balance our skin but imbalances our budget. Today, this article is all about high-quality- low-price products which will heal your skin in a budget-friendly way.
Dr Dennis Gross Peel Pads Dupe
Let us look into the best Dr Dennis Peel Pads dupe and initialize your first step towards a healthy skincare routine at an affordable budget.
1. First Aid Beauty Facial Radiance Pads
First Aid Beauty Facial Radiance Pads is my favorite and most trusted Dr Dennis Gross Peel Pads dupe. The product is enriched with vitamins and other essential oils, which help improve your skin's texture and make it look healthier. The Facial Radiance Pads are a daily dose of Glycolic acid to cleanse, tone, and brighten your skin safely.
The product is intended to remove your skin's dullness, uneven texture, dark spots, and clogged pores. These wipes include alpha hydroxy acids and natural lemon extract, replacing dead cells and exfoliating the skin well. Wipe the pad across your face, neck, and lower neckline once or twice daily.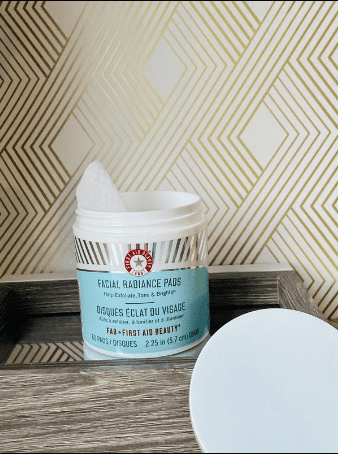 The Facial Radiance Pads work similarly to Dr. Dennis Gross Peel pads and are equally effective. You can't always run after expensive products because everyone has them; this dupe is a prime example of beneficial skincare products in your budget.
2. Tarte Knockout Texture and Pore Refining Pad
The following product on the list is Tarte Knockout Texture and Pore Refining Pads. These magical pads are made of a 2-in-1 formula, transforming your skin into a smoother and brightened version. The two sides of polishing pads are for different purposes- the textured side gently exfoliates your skin, and the quilted side smooths on serum.
The product helps reduce fine lines, wrinkles, and other skin blemishes. The main ingredient is BHA which functions well in clearing clogged pores and enhances the skin tone. Apart from BHA, Tarte Knockout pads contain amino acids and Vitamin B5 that maintain hydration and keep your skin soft and shiny.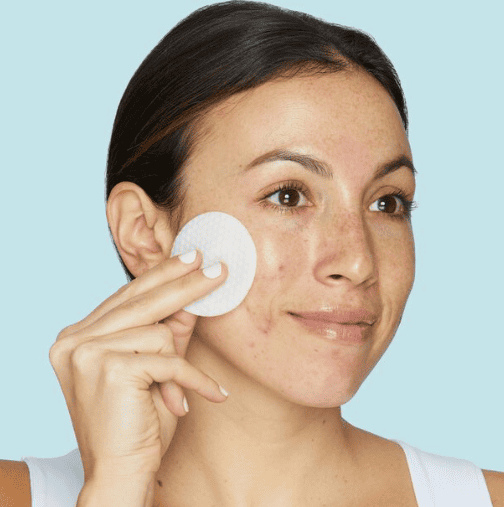 The customer's section is full of positive reviews, many claiming to experience visible results in just 10 days of regular use. Tarte Knockout pads are much less expensive than Dr Dennis Gross Peel pads, and they have skin-improving qualities, too, so it is a fair deal to crack.
3. StriVectin Daily Reveal Exfoliating Face Pads
StriVectin Daily Reveal Exfoliating Face Pads are face wipes designed to gently remove dead skin cells and provide an even skin tone for a glowing complexion. The product suits all skin types- dry, oily, and other skin combinations. The formula of StriVectin Exfoliating Face Pads is to eliminate the clogged pores dancing on your skin's surface and improve the uneven texture.
The Highlighted ingredients like AHA (Alpha hydroxy) and PHA ( Polyhydroxy) resurface your skin to restore glow and create a smoother-looking appearance.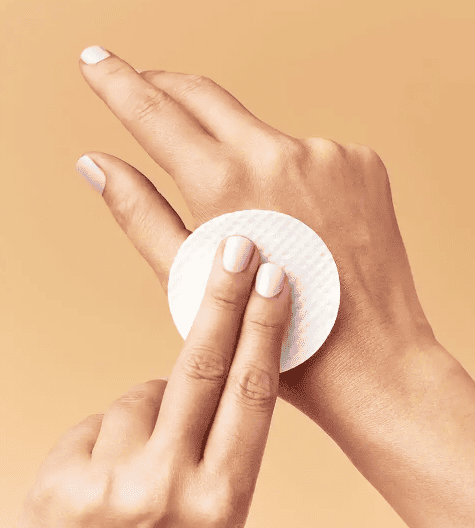 Other than the positive comments in the comment section, some users complain about a burning sensation after applying it to their skin. I analyzed those reviews and discovered that these pads are not for you if you have some skin condition, so I suggest you consult your dermatologist before purchasing this brand. The Price of StriVectin pads is genuine and way cheaper than Dr. Dennis Gross Peel Pads.
4. Neogen Bio-Peel Gauze Peeling Wine
Neogen Bio-Peel Gauze Peeling Wine is another brand I would like to introduce to my readers. These single-use pads perfectly combine exfoliators that provide chemical and manual cleansing. The pad can be used from both sides for different purposes. The textured side helps remove dead skin cells and rough patches, and the lactic acid serum side penetrates deep into pores and cleans out the clogs. The fantastic formula consists of antioxidants resveratrol which is extracted from red wine and helps to prevent free radicals from causing damage to your skin.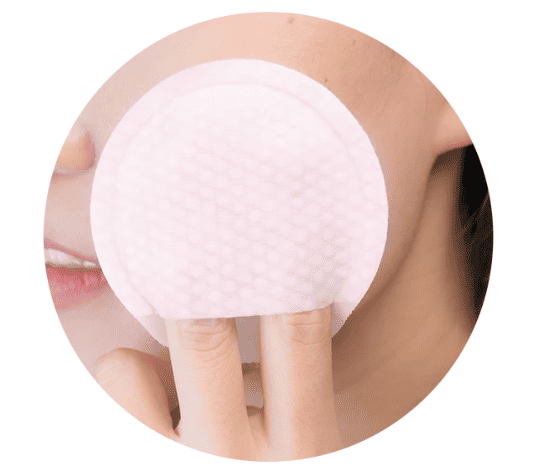 All you have to do is apply both sides of the pad one by one, the Textured side and then the serum side. Rub it gently all over your face and neck, making your skin smoother and brighter. The product may be less effective than Dr. Dennis Gross Peel Pad, but the results won't disappoint you. This is low in price, good in quality, and a useful dupe; you should try this.
5. COSRX One Step Original Clear Pads
COSRX One Step Original Clear Pads is an award-winning toner pad soaked in BHA essence that helps exfoliate your skin and improve your complexion. The COSRX originated in Korea and has a unique skin-whitening formula that removes impurities and allows the skin to breathe. The special ingredient in this product is Willow Bark Water which fights acne and rebuilds your skin texture, making it softer than before.
It has a PH level of 4-5 with many other ingredients like BHA present that increase cell turnover and brighten your skin. The two sides function differently, one side exfoliates, and the other moisturizes the skin to keep the hydration level up throughout the day. It calms the redness on your face and smoothens the inflammation; you can also use it as a makeup remover.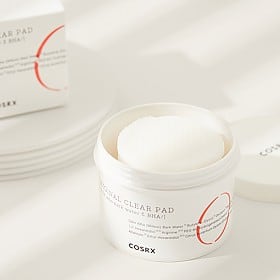 I barely saw any negative comments from the users; just one suggestion is that it is not an ideal product for oily skin. COSRX pads increase the moisture in the skin, and oily skin users might feel irritated by that. Apart from this, the price is cheap, and the quality is not compromised.
6. Paula's Choice 2% BHA Liquid Exfoliant
2% BHA Liquid Exfoliant by Paula's Choice is a different dupe among all other alternatives in the list. It is not available as pads or wipes; this is straight liquid out of the bottle. You must put the formula on a plain wipe and spread it across your face and neck. It is a clinically proven gentle leave-on Salicylic acid exfoliator, which immediately removes clogged pores and minimizes dark spots.
Paula's Choice BHA Liquid Exfoliant is a quick-absorbing solution that works magically on your skin by removing all the dirt and dead cells. Using the liquid twice a day is recommended for fast and effective results.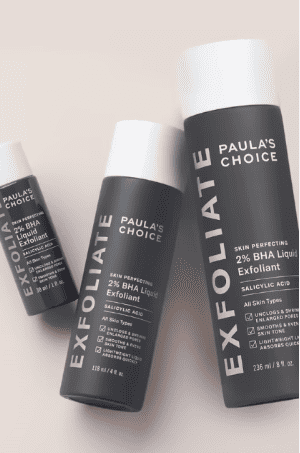 It differs from Dr. Dennis Gross Peel pads but shares the same qualities like skin exfoliating, improving complexion, and glowing radiance. The price is also genuine, and the product works in the way it is supposed to work.
7. Celimax Heartleaf BHA Peeling Pads
Celimax Heartleaf BHA Peeling Pads is a pack of 60 daily exfoliating toning pads that gently smooths skin texture and prevents severe breakouts. These 2-in-1 toning wipes soaked in skin-friendly acids and vitamins improve your complexion and make it look brighter. Hyaluronic acid maintains the required hydration level and protects your skin from being dry and flaky throughout the day. Heartleaf BHA peeling pads are fast-acting yet soft enough for your daily dose of skin care.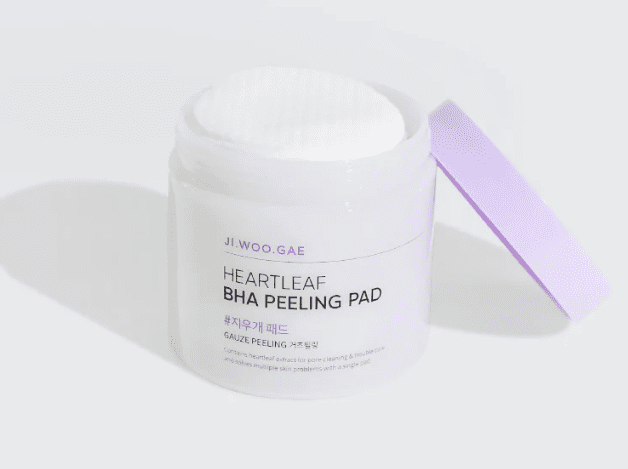 Some of the customers have complained that it made their skin extra dewy and caused problems with their makeup looks. This concludes that people with oily skin should avoid hydrating pads that produce excess moisture. Otherwise, the product is trustworthy, high quality, and available at an affordable price.
8. QRXLabs Glycolic Acid Resurfacing Pads
QRXLabs Glycolic Acid Resurfacing Pads is a soft exfoliator that removes impurities and gives effective results on your skin. Resurfacing pads by QRXLabs are specialized in reducing aging signs like wrinkles, fine lines, etc., and retexturing broken skin.
It is a pack of 50 wipes created for everyday use, and it balances your moisture requirement for long working hours. The unique formula of these magical pads encourages collagen formation in the skin for cell turnover and rebuilding of skin breakouts.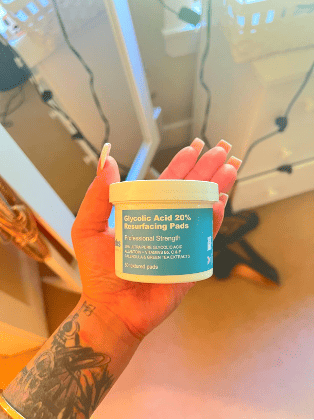 It improves skin tone issues and transforms dull, dead skin into a lively brightening complexion.
It may not be as effective as Dr. Dennis Gross Peel Pads, but QRXLabs is known for its top skin product quality. They never disappoint their customers and always work according to their demands and requirements, as they are feedback oriented. The prices are also genuine, so you do not have to break the bank for a perfect skincare routine.
9. Pacifica Glow Baby Brightening Peel Pads
One of the cheapest yet high-quality products on the list is Pacifica Glow Baby Brightening Peel Pads. Another dual specialized exfoliating pad that deeply cleans your skin and makes it look shiny and glowy. The liquid formula in these pads is a blend of multi-beneficial acids like Glycolic acid, Salicylic acid, lactic acid, vitamins, etc.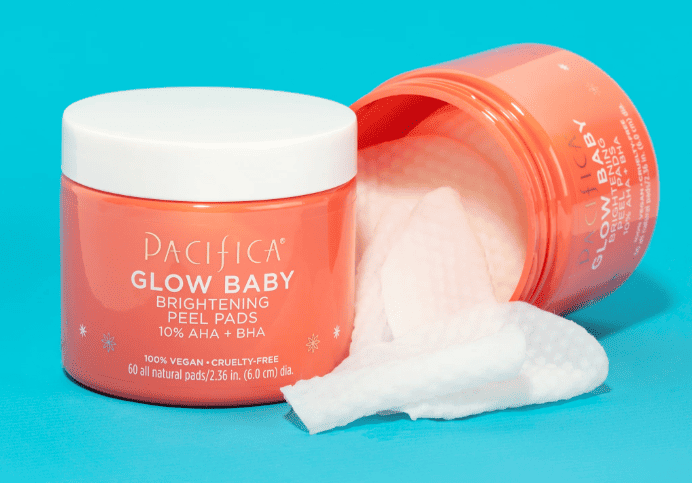 Pacifica Glow guarantees that this product is suitable for all skin types. From dry to oily or normal to complex skin, this product is a fine choice for every skincare enthusiast. But I suggest that if you have sensitive skin or are suffering from an exceptional skin condition, it is better to consult an expert before taking any action. Keep your safety first and this article later.
10. Peter Thomas Roth Un-Wrinkle Peel Pads
Peter Thomas Roth Un-Wrinkle Peel Pads is another cheap yet effective product as a Dr Dennis Gross Peel Pads dupe. The pads are gentle with your skin and are saturated with PTR 20% proprietary complex of alpha-beta acids (including Glycolic, Salicylic, and Lactic acids). The formulation of Peter Thomas Peel pads combines potent botanical extracts and antioxidants, transforming your dull skin into clear, radiant, glowing skin.
It is prepared for exfoliating only, as it prepares a perfect canvas for applying any other makeup products. You need to use these pads regularly for 4 weeks, and you will start feeling the difference yourself.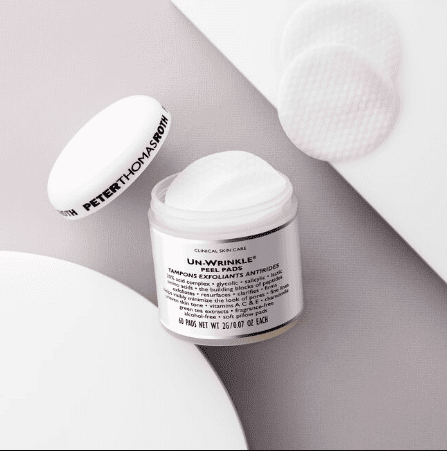 Customers reacted happily in the comment box with the results and quality they enjoyed while using this affordable skin care product. It is a product worth giving a shot and one of the best dupes of high-priced Dr Dennis Gross Peel pads
11. Pixi Skintreats Glow Peel Pads
Pixi Skintreats Glow Peel Pads are highly effective and improve skin condition in 2-3 weeks. The formula is enriched in Vitamin E and Aloe Vera, which soothes and nourishes your skin. Pixi Glow Peel pad formulation consists of 20% of Glycolic Acid to reveal glowing and healthy radiant skin. It also heals skin breakouts, and pimples are minimized. It also increases cell turnover. It is highly recommended to be used at night. Apply it to the face, neck, and top of hands, leave it for 2-3 minutes, then rinse it with cold water.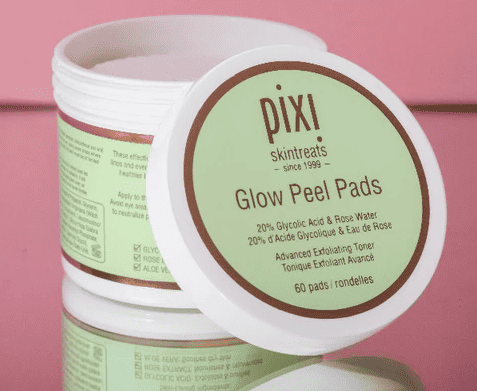 There is a slight chance that you may feel a burning sensation on your skin. In that case, kindly contact your consultant. Because exfoliating is not comfortable for every skin and it's better to go for an expert's advice. The quality of Pixi Skintreats Glow Peel pads is not compromising; you will experience visible results.
FAQs | Dr Dennis Gross Peel Pads Dupe
How does Dr Dennis Gross Peel Pad work?
Dr Dennis Gross Peel pads improve your skin texture and rebuild cracked skin. It visibly enhances ingrown hair and body blemishes, transforming dry and dull skin.
How to use Dr Dennis Gross Peel Pad?
It is an easy-to-use product with numerous benefits. You must rub the wipe all over your face, neck, and lower neck area twice daily. Use it consistently for 2-3 weeks for visible results.
Are Dr Dennis Gross Peel pads safe on sensitive skin?
Dr Dennis Gross Peel pads are available in three variants with different levels of intimacy and chemical concentration. You may visit the website and select what suits your skin.
Conclusion
Dr Dennis Gross Peel Pad is a top pick in the market for flawless and healthy skin. But other products can make your skin glow at a lower price, and you don't even have to compromise with low quality. You should explore more and look for better products at affordable prices because it's worth the search.
My article will help you with all the confusion regarding which product is safe to use. Yes, Dr. Dennis Gross Peel Pads are worth the money as they result in improved skin if you consistently use them. Not everyone can afford it, so they should go with the listed products in the article.