A systematic step-by-step makeup routine is vital for a flourished glam look. Primer is essential to your makeup routine, as it refines your skin texture and prevents oil formation throughout the day. Bobbi Brown Vitamin Enriched Face Base is a life savior, tested and proven by several high-profile models and celebrities.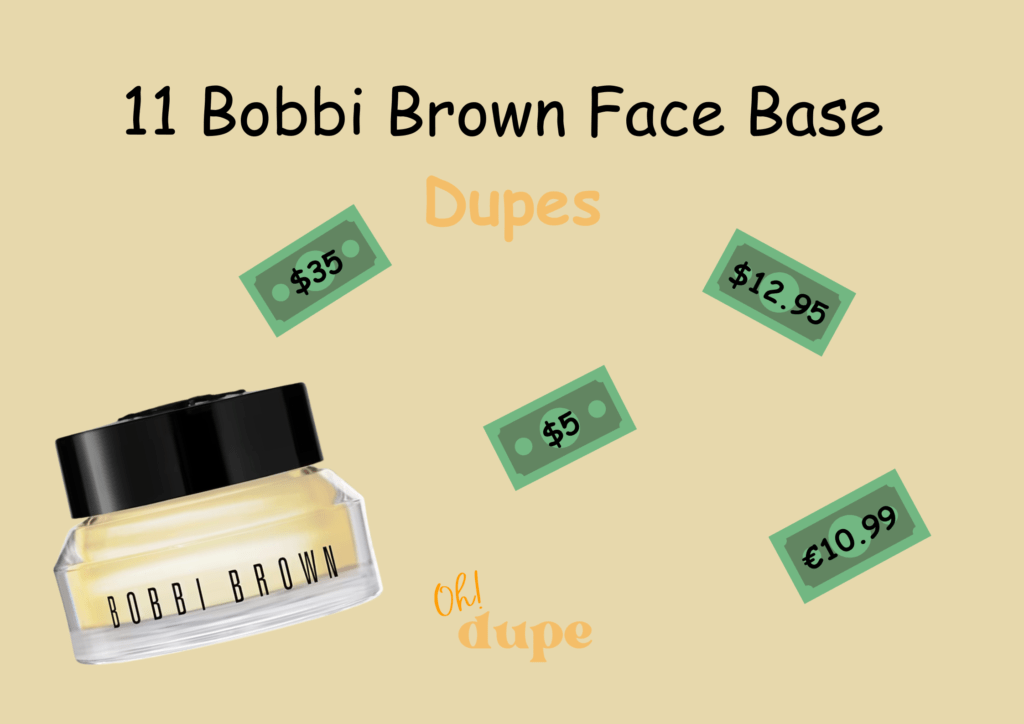 The only factor responsible for the second thoughts of customers before making the purchase is its price. Bobbi Brown Face Base is quite popular and is an excellent primer, but not everyone can afford it. So I'm here to help you find the best Bobbi Brown Face Base dupe.
Bobbi Brown Face Base Dupe | Why Is The Bobbi Brown Face Base So Expensive?
Let's understand the need to find an alternative for Bobbi Brown Face Base. Now the question is, Is it not worth the price, as we are looking for its dupes? Is the quality of listed dupes compromising? Are the dupes mentioned here trustworthy? We have answers to your doubts; just stay with the article.
Bobbi Brown Face Base is a skincare created for makeup, a multi-vitamin-enriched moisturizing primer that prepares the skin for your foundation layer. The advanced oil-free face formula with shea butter instantly hydrates and softens your skin. Some famous makeup artists and even Instagram models have recommended Bobbi Brown Face Base in their posted content. So yes, it is worth the money as its top-notch quality and dual specialization of primer and moisturizer in one product should not be missed.
But not everyone can afford such costly primers, including me, so I decided to pen down all leading alternatives with similar qualities but lower prices. I created and tested the best products to give my audience a reality check. The quality of mentioned Bobbi Brown dupes are not compromising; they are perfect.
How I finalized the Bobbi Brown Face Base dupe?
Skin products are a sensible choice to make, and our team makes sure to provide you with accurate information. We go through every possible fact and review the product so that you don't have to struggle with the confusion. Your safety is our priority; I have used some of the mentioned dupes, and our editorial and research team recommends the rest. So you can trust this report for your next affordable primer purchase.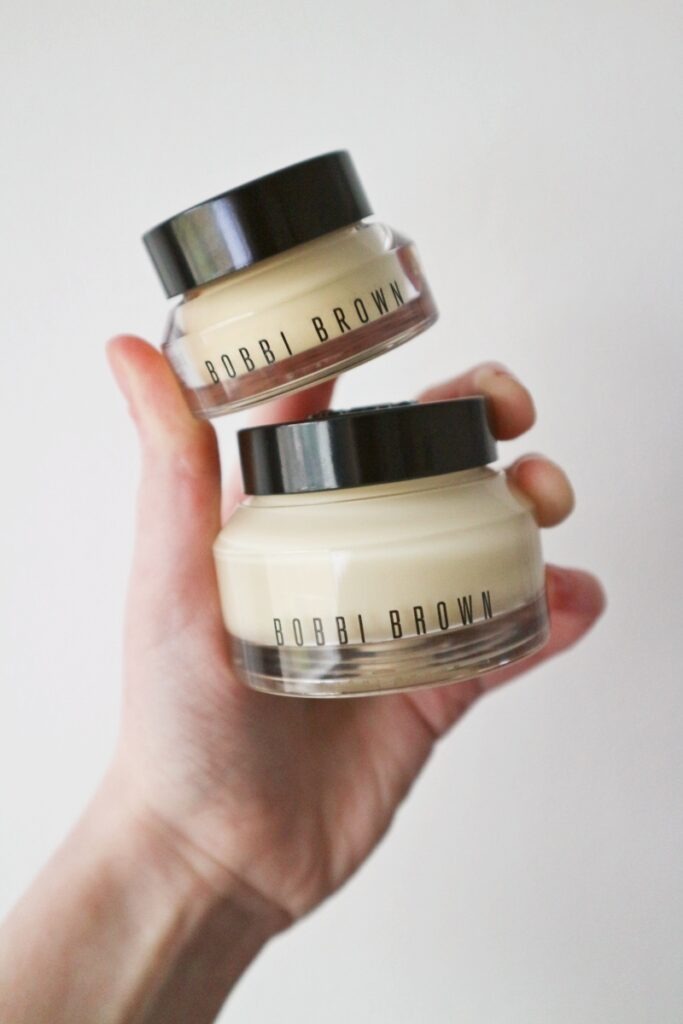 Bobbi Brown Face Base Dupe
Without delay, let me present the list of top Bobbi Brown Vitamin Enriched Face Base dupes, which are also friendly to your skin and budget.
1. Glossier Priming Moisturizer Rich
Priming Moisturizer Rich by Glossier is my favorite out of all the dupes on this list. This luxurious cream perfectly matches your dry skin; its ultra-rich buttery texture hydrates your skin and prepares it well for makeup application. It prevents the dryness and formation of pores on your skin throughout the day. It is fast absorbing in nature and gives you a smooth, dewy finish, leaving behind an excellent canvas for your makeup.
This product is rich in ceramides and fatty acids that reinforce the natural moisture barrier of your skin and lock it in; this will also improve your radiance over time. People with Oily skin can use this primer; they just have to apply a minimal amount on their skin.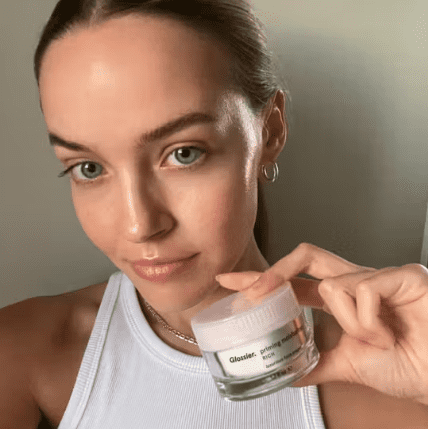 The price of Glossier Priming Moisturizer Rich is lower than Bobbi Brown Face Base, the quality is similar, and it is affordable. The customers are happy with the results, and the reviews are almost positive. It is a perfect alternative
2. L'Oreal Paris Magic Perfecting Base
The following product on the list is L'Oreal Paris Magic Perfecting Base, a silky, lightweight formula that glides on your skin quickly and minimizes the appearance of pores and fine lines. Giving you a flawless matte finish prepares your skin to hold a makeup look throughout the day. It gives you full coverage on both the face and under the eye; blend it properly to eliminate blemishes on your face.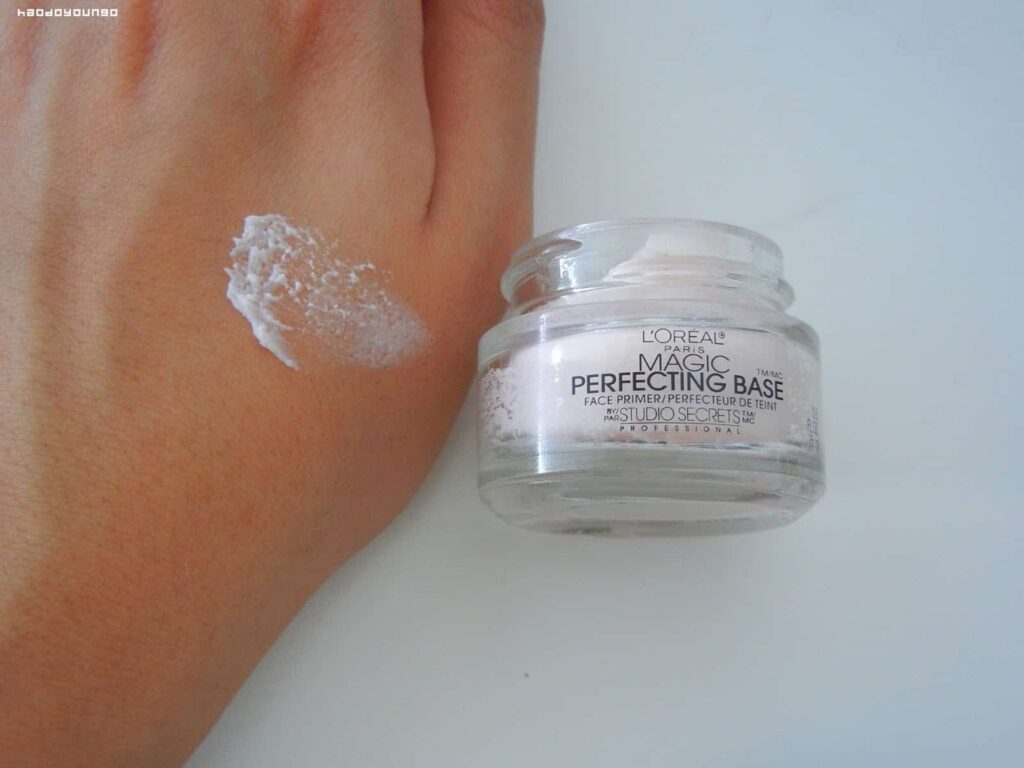 You can use it in three ways- For makeup prep, wear it alone for a fresh, or dab it on oily/pore-prone problematic areas. It is a top pick for daily use as it nourishes your skin well, keeps it hydrated, and improves skin texture. All these qualities at an affordable price are all we need, right? Bobbi Brown Face Base is a great deal, but Magic Perfecting Base can be trusted if you can not afford it.
3. E.l.f Power Grip Primer
E.l.f. Power Grip Primer is the next competitor in the top Bobbi Brown Face Base dupes list. It is a sticky el-based primer enriched with 4% Niacinamide, which works wonders on your skin. Niacinamide helps to even your skin tone and grips your makeup for long-lasting wear. It is suitable for oily, dry, and combinations of other skin types, which means a top prep for your complexion, irrespective of the variances. It has good coverage and gives your skin a hydrated look until the end of the day.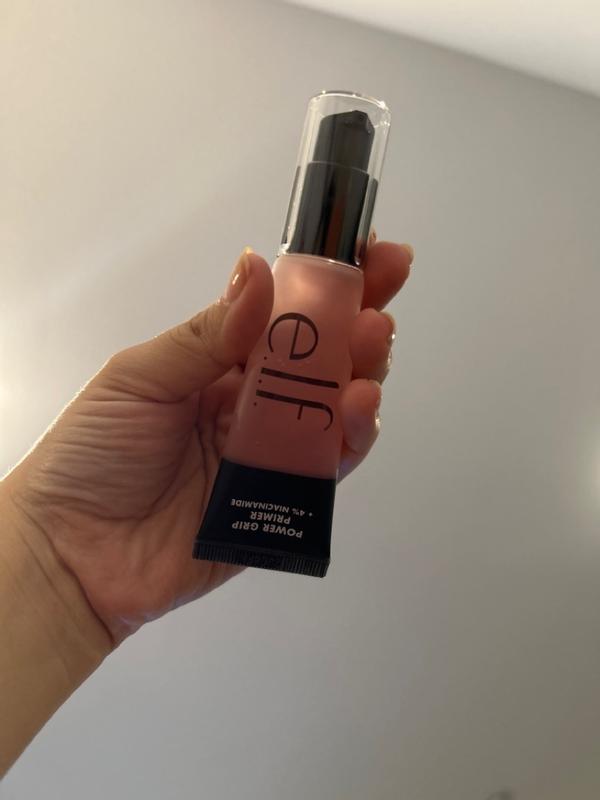 E.l.f Power Grip Primer is not any replica of the Bobbi Brown Face Base; it is a suitable alternative at an affordable price. It is a budget-friendly and readily available primer; you can order it from various e-shopping websites like Amazon. The Power Grip Primer is a perfect partner for your everyday glam look.
4. Revolutionary Super Base Vitamin Primer
Revolutionary Super Base Vitamin Primer is an ideal replacement for Bobbi Brown Face Base at a lower price. It has a super texture that holds the hydration and locks the moisture inside your skin. The vitamin E extract and significant glow-boosting properties of Super Base Vitamin Primer make it superior in its own way. It creates an ultimate canvas for your makeup application and keeps your skin shining and glowing.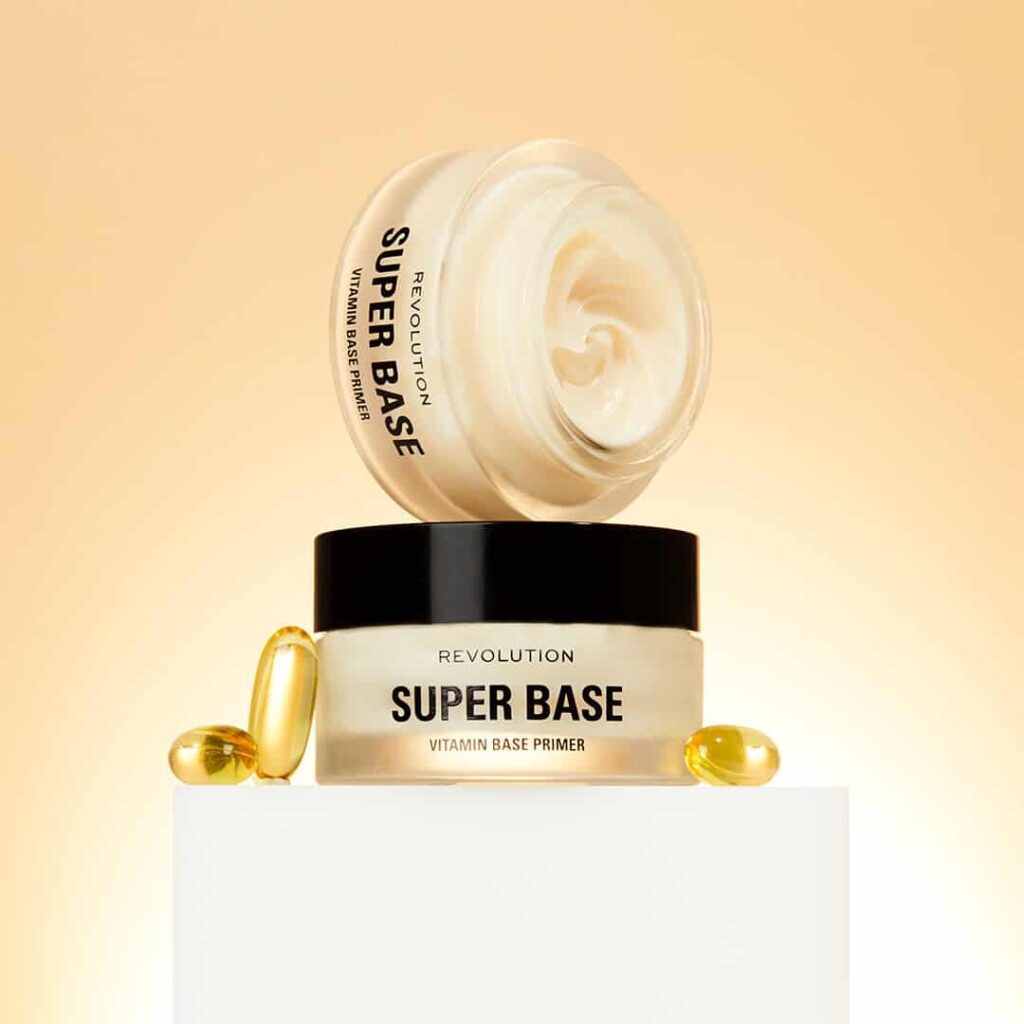 Apart from Vitamin E, shea butter and Hyaluronic acid work for long hours to keep your skin fresh as new. The positive and happy customer feedback shows the success of this dupe in the skin care industry. High-profile brands like Bobbi Brown, as does the Revolutionary Super Base primer, present top quality in their products. There are apparent differences between both brands, but you can pick Super Base Vitamin primer without any hesitation. The top quality and smooth hydrating texture of primer at a reasonable price is a good deal to crack.
5. Rimmel London Stay Matte Primer
Another product that caught my eye the minute I learned about it is Rimmel London Stay Matte Primer. The ultra-lightweight formula of this product minimizes the appearance of pores over the foundation base. Rimmel London guarantees an 8-hour stay after a single application with a soft and glowing touch. It won't feel heavy on your skin and does not allow the formation of an oily layer on your skin. For a low price, it does what it is supposed to do; it works well with foundation and does not clog pores.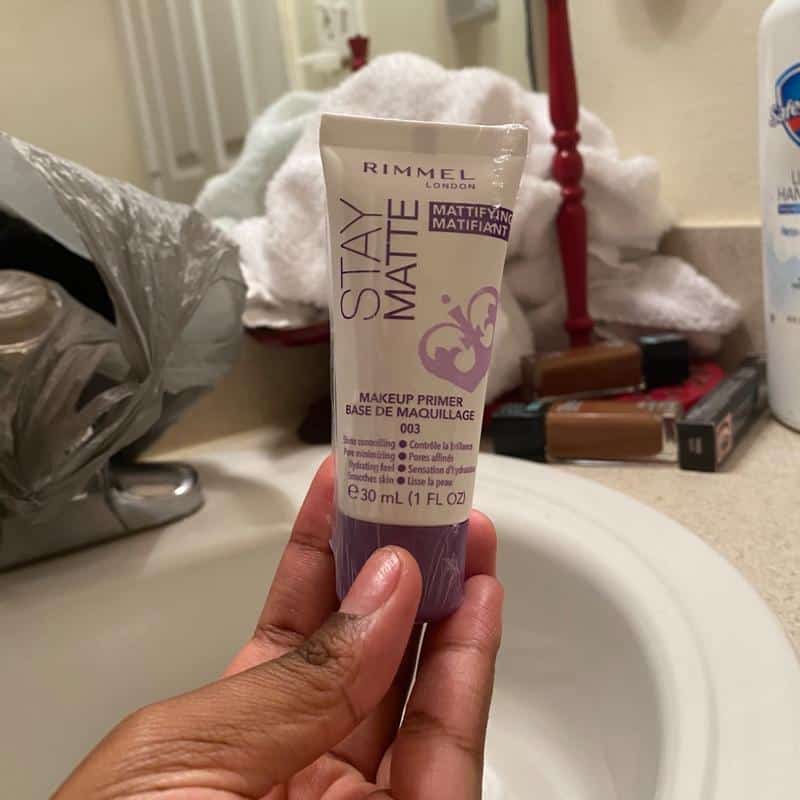 For a top brand like Bobbi Brown, I would recommend Rimmel London Stay matte primer as a dupe for its outstanding performance and matte finishing. Most reviews are praiseful; 5-star ratings hover over the comment section. It is budget-friendly, so there is no need to break your bank for a decent quality skin care product.
6. Primark Vitamin Enriched Moisturizing Primer
It is essential to start your makeup routine with a moisturizing primer; try Primark Vitamin Enriched Moisturizing Primer, and I promise you won't regret it. Primark is one of the famous and popularly known dupes over the internet for Bobbi Brown Face Base. An iconic combination of Niacinamide, Oat oil, shea butter, and Vitamin E protects your skin and maintains a moisture barrier.
This product's gentle yet effective nature is why it is a hot sensation among celebrities and even regular users. It prevents the appearance of pores and fine lines over your final and spray-settled makeup look.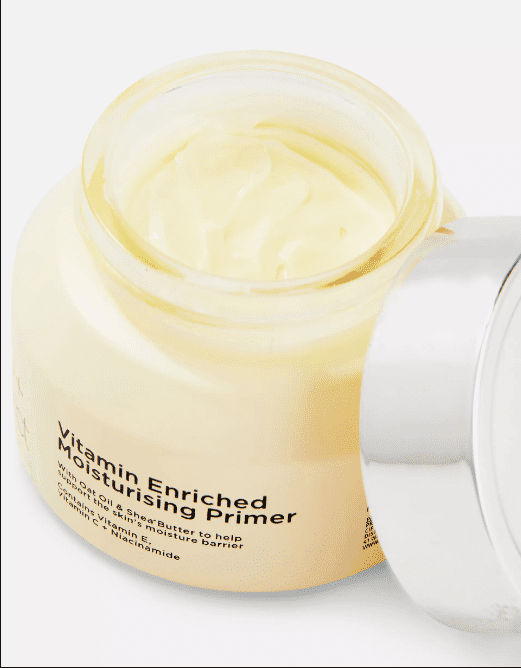 The Primark Moisturizing Primer reflects a drastic price differentiation and shares similar qualities to Bobbi Brown Face Base, making this product a big deal. I agree nothing is as good as the original product over all the dupes, but with your limited budget, you can rely upon these products.
7. NYX Professional Makeup Hydra Touch Primer
NYX is a reputed brand in the industry; I have personally experienced their products and have had no complaints to date. NYX Professional Makeup Hydra Touch Primer is an appropriate product for your low price – a high-quality requirement with several other benefits. A Centella extract-infused primer that not only moisturizes your skin but also improves your radiance over time and repairs small skin breakouts. My dear vegan supporters, this product is ideal for you as it is a certified and guaranteed vegan product, and you can even check for it on the official site.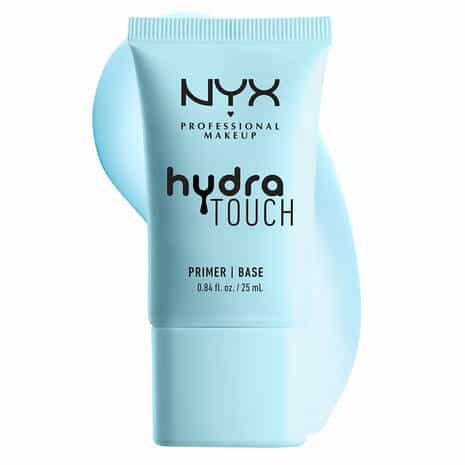 Comparing Bobbi Brown and NYX would be a mistake, as both products are unique and most recommended for their respective features. Bobbi Brown may fit your skin better, but NYX is preferable for your skin and budget both. I can assure you of perfect hydrated skin and a dewy finish throughout the day by using any of the abovementioned products; the choice is yours.
8. Benefit Cosmetic POREfessional Face Primer
Here I am listing the best dupes for Bobbi Brown and how I can miss one of my favorite primers, which is Benefit Cosmetic POREfessional Face Primer. Thousands of makeup enthusiasts love a social media sensation, Porefessional face primer. It is famous for its smoothing superpowers as it works instantly on pores, blurs skin imperfections, and hides fine lines by making the appearance as minimal as possible. It prepares a fantastic and dewy canvas for makeup application, so your foundation and concealer will stay where they should be.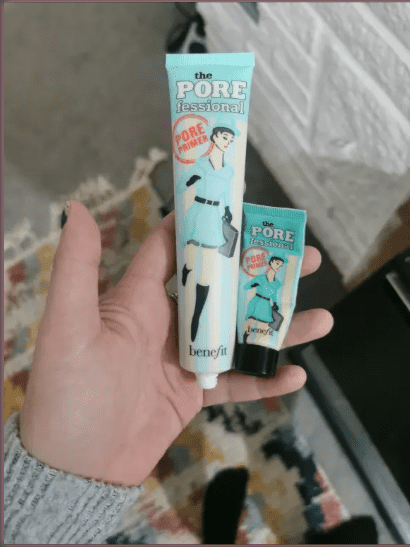 Every makeup artist needs an affordable yet magical product; Benefit Cosmetic is already helping you. For the best Bobbi Brown Face base dupes, you should consider POREfessional, a trustworthy primer, and try it.
9. Too Faced Hangover Replenishing Face Primer
If you are a late-night puller and need a solution to your uneven working-hour makeup look, here is your answer. I prefer Hangover Replenishing Face Primer by Too Faced for your refreshing and hydrated glam looks on boring working weekdays. The formula is advanced enough to provide a smooth and brightening booster dose for dull and dry skin. Magic ingredients like coconut water and pro-biotic elements revive your dead cells, promote elasticity, and keep your skin hydrated. The bonus point is that it can be worn alone or under makeup.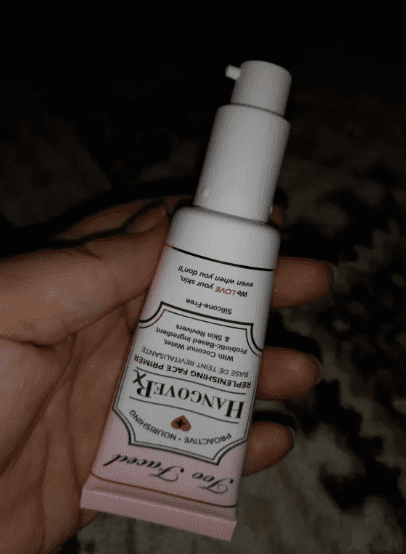 Several customers claimed the performance of replenishing face primer was fabulous, as promised by the company. Bobbi Brown Face Base owns the market indeed, but people like our readers who want to invest in affordable items for good results; can go for dupes like Hangover Replenishing Face Primer.
10. Lano Face Base Vitamin E Day Cream
You must be wondering why there is a day cream in the list of primers. Trust me, Lano Face Base Vitamin E Day Cream is nothing less than a miracle. It is an everyday moisturizer that acts as a primer and provides perfectly prepared skin for further makeup application. This day cream is the best friend of dry skin, so you got a perfect match here for skin hydration at an affordable price. It has a creamy texture with unique skin-fixing technology as it replenishes and stores your skin lipids, leaving a velvety moisture barrier.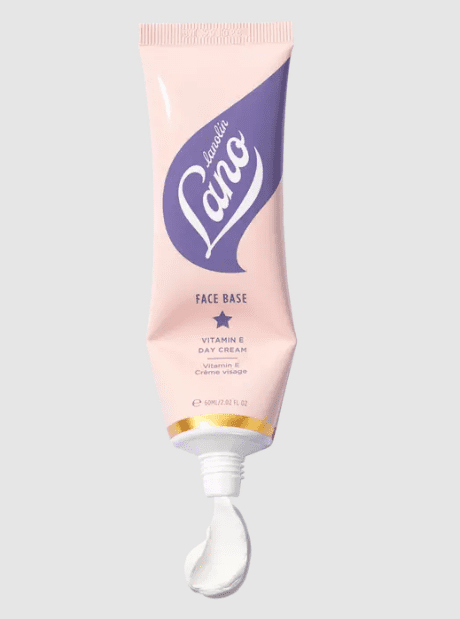 Customers seem well pleased in the feedback section, but I would not recommend this product for people with sensitive skin. Some of the users have complained about the severe effect of the product on users with skin issues. The Vitamin E day cream is cheaper than most of the dupes mentioned in this article and can replace Bobbi Brown Face Base at a much lower price.
11. Juno And Co. Moonshine Priming Moisturizer
Last but not least, another product that is magical enough to get added to this list of top Bobbi Brown Face Base dupes is JUNO and Co. Moonshine Priming Moisturizer—a luxurious two-in-one primer product with moisturizing features formulated for all skin types. Ingredients like 3% Avocado oil and hyaluronic acid combine to help nourish your skin; it also reduces the appearance of fine lines and wrinkles. The product feels light on the skin and comes with a 12-hour long-lasting makeup protection technology which means it has an excellent grip on your flawless makeup looks.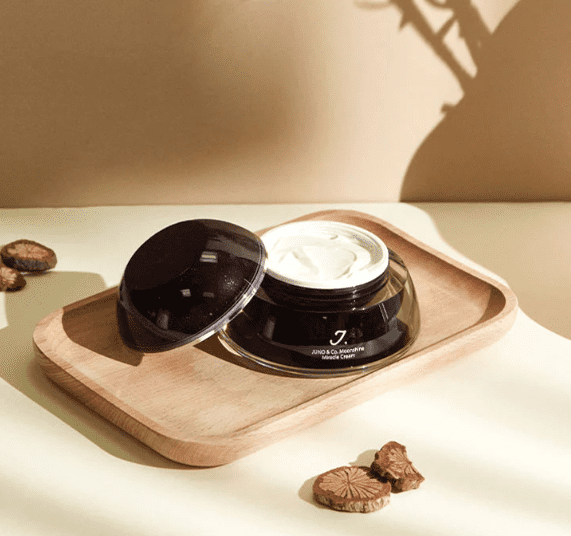 As a recommendation for Bobbi Brown Face Base, Moonshine priming moisturizer is qualified enough and is available at a lower price. If you are a newbie in makeup application, I suggest you go with this dupe.
FAQs | Bobbi Brown Face Base Dupe
Can you apply Bobbi Brown Face Base regularly?
Yes, you can wear it daily, as the product is created with a formula meant to give your skin a moisturized and dewy finish. It does not matter if you wear it with or without makeup; it works both ways.
What is the shelf life of Bobbi Brown Face Base?
The shelf life of all shipped products of The Bobbi Brown is more than 8 months to 3 years.
Can we wear Bobbi Brown Face Base as a night cream?
The two-in-one (Primer and moisturizer), specialized Bobbi Brown Vitamin Enriched Face Base, can be used as a night cream to give your skin an overnight vitamin boost.
Is Bobbi Brown Face Base good for oily skin?
According to Bobbi Brown PRO Artist Lampros Faslis, the Vitamin Enriched Face Base suits normal, oily skin. If your skin is slightly high on the dry side, apply an extra layer of moisturizer before priming.
Conclusion
Bobbi Brown is a leading brand in the makeup industry, and using its products is a privilege. But due to their high price bars, customers fail to experience such quality on their low budget. Choosing skin products is crucial, and our website follows every possible aspect you should be aware of while selecting your brand.
All these products, as mentioned above, are top dupes of Bobbi Brown Face Base, safe to use, and easy to afford. A low budget should not end with low quality; your skin should not be at risk.