Need a hydrating moisturizer similar to the Laneige, and that too within a budget? Look no more as I am here to give you 11 effective Laneige Water Bank Moisture Cream Dupe that works equally satisfactorily and is affordable.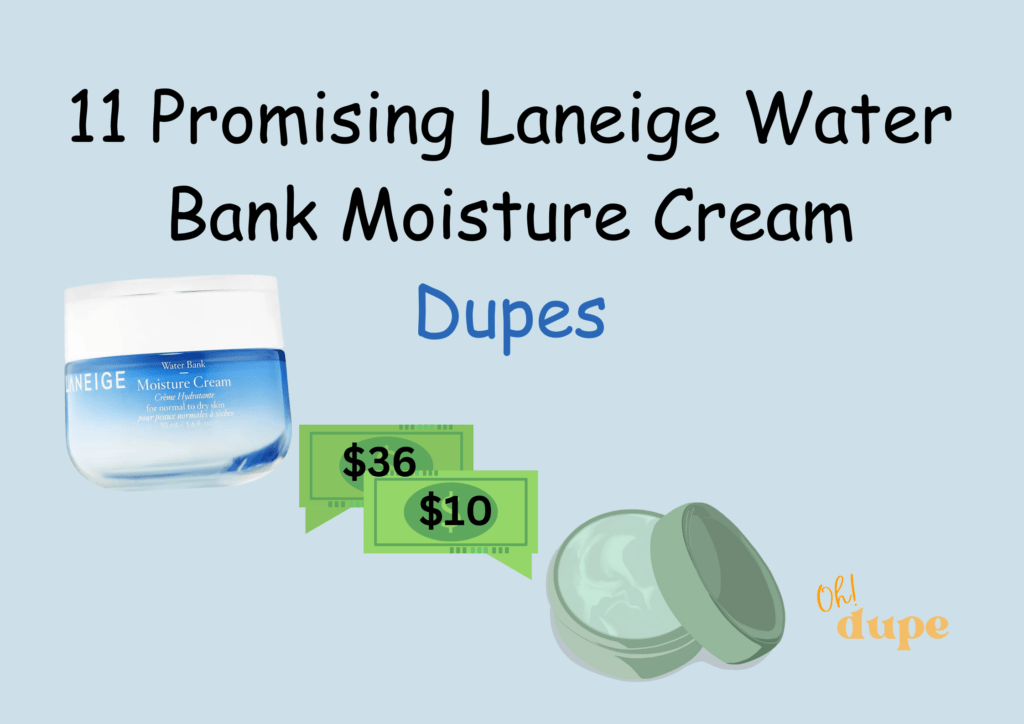 We cannot depend on our skin's water level in the outermost layer of our skin. It cannot alone hydrate the skin and prevent it from drying out. For this reason, moisturizers are crucial to balance out the moisture levels of your face and keep it smooth and healthy.
An ocean of brands claims to have the best moisturizing creams. One brand that screams water is the Laneige Water Bank Moisture Cream. It claims to keep your skin hydrated as well as repair damaged skin.
However, it comes with an exorbitant price tag that makes it out of reach for most people. But why worry when I am here? In this article, I will reveal 11 Laneige Water Bank Moisture Cream Dupe that works closely and provide satisfactory results.
Laneige Water Bank Moisture Cream Dupe | Finding The Best Option For You!
Established in 1994, Laneige is a South Korean skincare brand. They major in Water Science and have instilled Advanced Water Complexes in their skincare products. The Laneige Water Bank Moisture Cream is one holy grail product that has attracted eyeballs.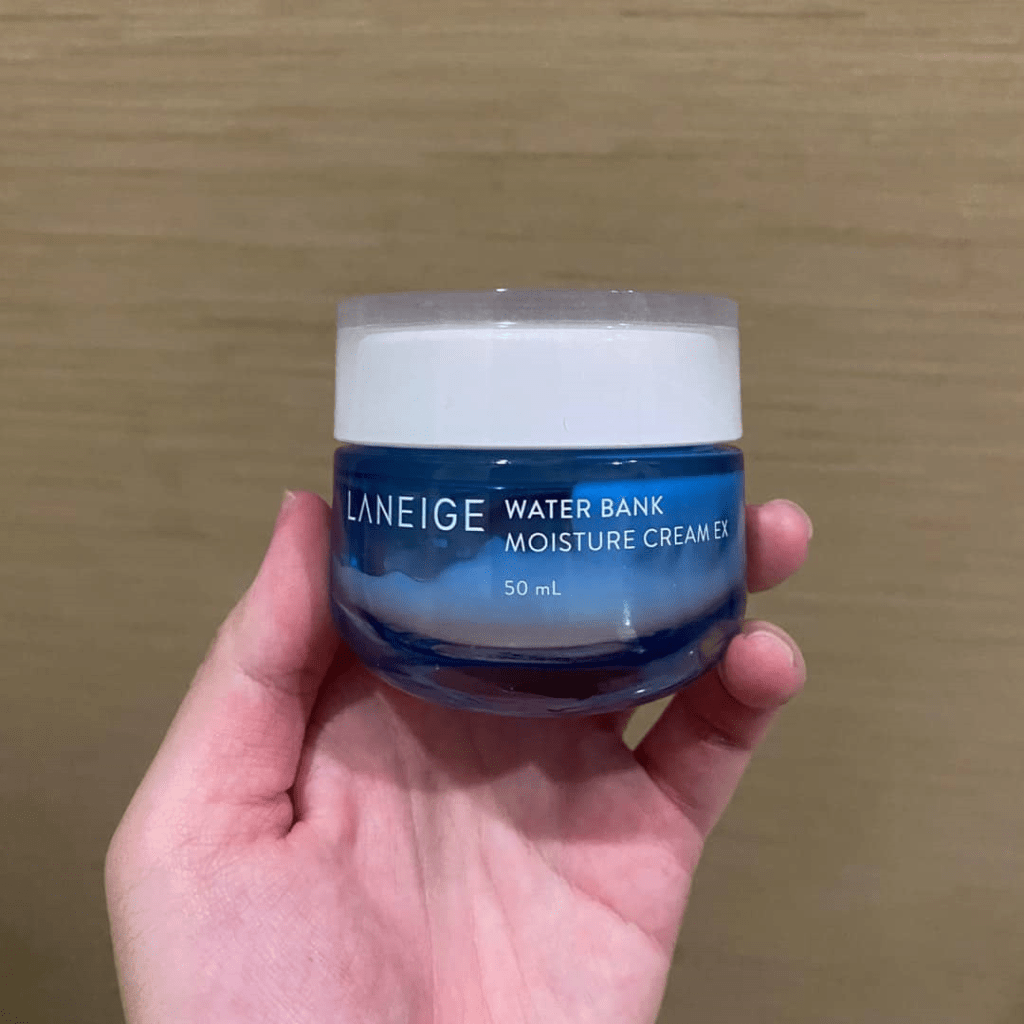 It is an ultra-hydrating moisturizer that boosts moisture levels and leaves your skin smooth and supple. However, it is pretty expensive, and also, a lot of users have expressed their discontent. Furthermore, it has been observed that the brand has changed its formulation and added a strong scent that has lowered its bar.
Since you might be looking for moisturizers that replace the Laneige Water Bank Moisture Cream, I've compiled it for you! So, let's get into the Laneige Water Bank Moisture Cream Dupe without any further ado.
Hydro Boost Gel by Neutrogena is one of my personal favorites. Whenever people say effective and hydrating moisturizer, I hear Neutrogena Hydro Boost Water Gel. Uniquely made with New Probiotics and Glycerine, this water gel is like a mirage to my desert-like skin. It delivers abundant hydration and gives me a youthful glow.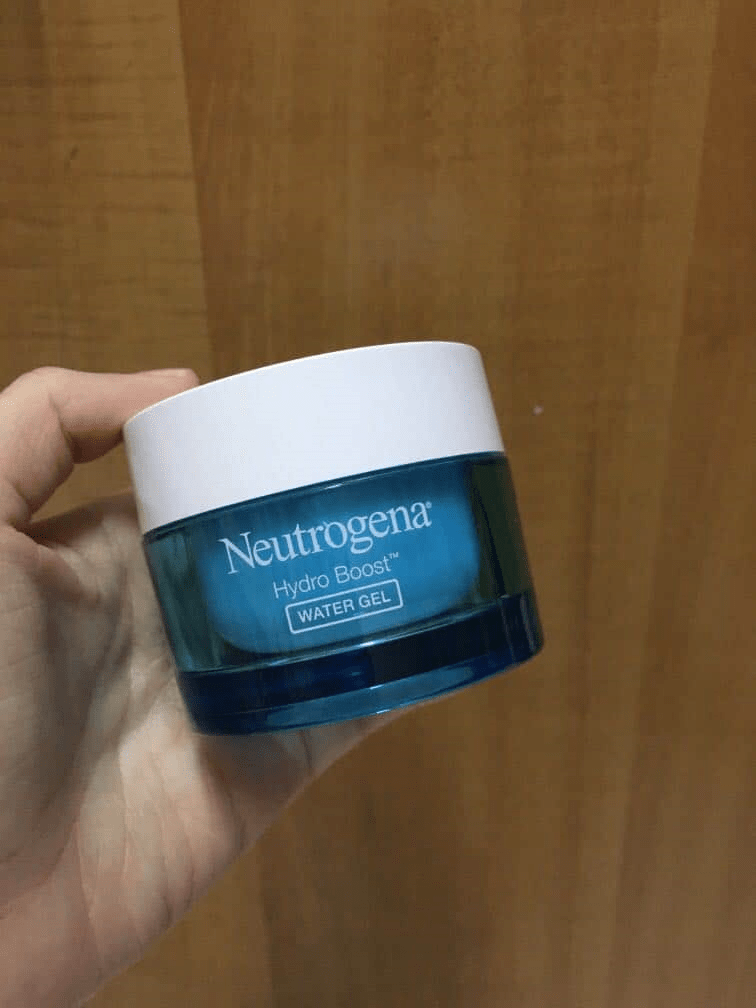 Pros 
Featherlight and fresh texture
Quick absorption and locks in moisture
Uniquely made with 50% more Hyaluronic Acid
Preserves hydration for 72 hours
Ensures smooth, firm, and translucent skin
Ideal for all skin types
Cons
Customer Insights
Belle wrote, "I was excited to use this moisturizer as many of my friends had recommended. I also read tons of positive reviews and finally ordered one for myself. I would say I found my holy grail. It does not build up or feel heavy like the typical ones. Absolutely recommendable."
Another product that performs as the Laneige moisturizer dupe is from Japan. Created by Rohto Pharmaceuticals, the brand emphasizes making skincare available from simple ingredients and null of additives. 
The Hada Labo Tokyo Skin Plumping Gel Cream is a two-in-one serum moisturizer that refreshes my skin and keeps it hydrated. The Japanese blend of Super Hyaluronic Acid, Ceramides, and Green Tea Extract helps regain and strengthen my skin barrier.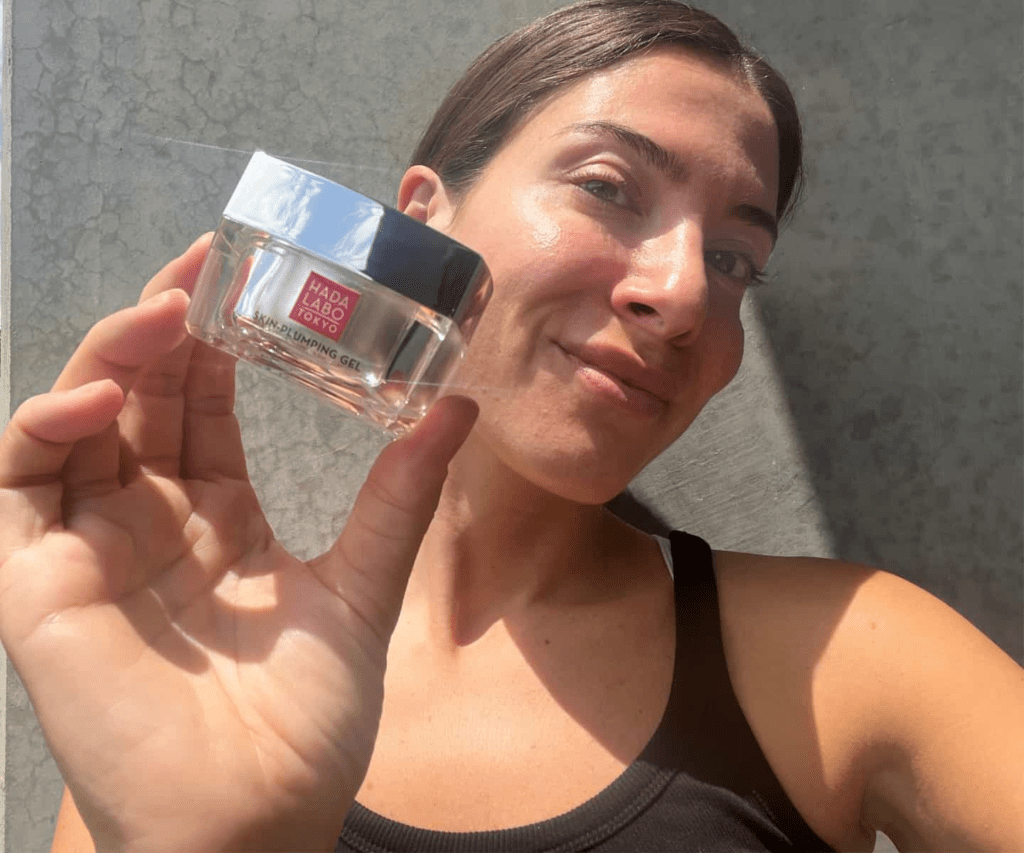 Pros
Ensures moisturized skin for 24 hours
Infused with active Hyaluronic Acid and Collagen
Gel-based consistency and non-greasy
Lightweight and fast absorbing
Suitable for all skin types
Free of parabens, mineral oils, and alcohols
Does not contain artificial colors
Dermatologically tested
Cons
The moisturizer contains traces of Citric Acid that may irritate hypersensitive skin.
Reviews
Alice said, "As someone with dry skin, this is perfect. At first, I was nervous about it, but as soon as I applied it to my face, I could feel the difference. It is so lightweight, hydrating, and lasts me for hours. I am extremely flattered by this moisturizer and how it treats my skin. I would definitely recommend it to all those who have dry skin."
The next moisturizer I will discuss is from South Korea's Etude House. This is one of the most talked about hydration creams among critics. To inspect this, I ordered it, and to my surprise, it was as it was said.
It is a soothing creamy moisturizer that blends in easily and soothes my ever-dry skin. Combined with the retaining power of Panthenol and inflammable Madecassoside, it promotes intense moisturization.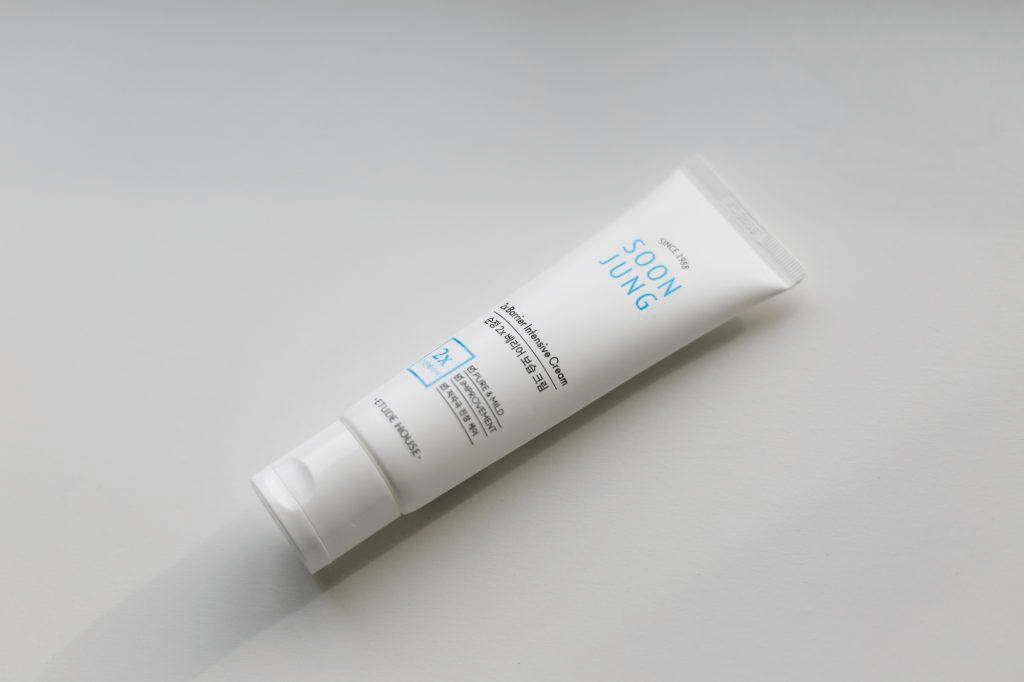 Pros
Skin barrier strengthening cream
Hydration Balance Care
Contains hydrating and soothing ingredients
Best for dry, irritated, sensitive, and weak skin
Free of toxins, scents, and parabens
Clinically testified
Cons
Not recommended for oily skin
Reviews
Naomi commented, "I have seen a lot of people going crazy about this moisturizer. Out of curiosity, I tried this out. I am not the one who leaves reviews, but this moisturizer deserves my validation. I have acne-prone skin, and this moisturizer is so calming and hydrating. The hype is real!"
I never fall for marketing traps, but I am glad I fell for this one. This skin conditioner detects dry areas on my face and provides hydration accordingly.
It has a boosting blend of chosen active ingredients such as Tri Ceramide, Niacinamide, and Green Tea Extracts. The antioxidant-enriched moisturizing gel cream is a must-have for anyone who struggles with dry and flaky skin.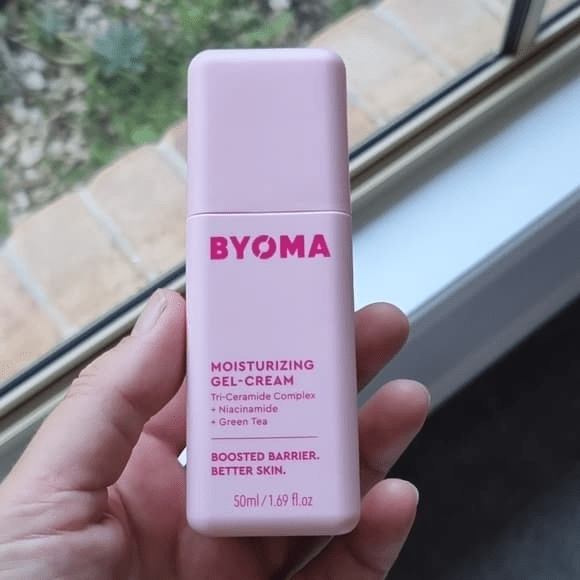 Pros
Lightweight and gel-based texture
Provides targeted hydration
Fast absorbing and cooling effect
Infused with skin-hydrating components
Oil-free and non-comedogenic
Non-alcoholic and fragrant free
Vegan and Cruelty-Free
Compatible with all skin types
Dermatologist tested
Cons
Contains a strange odor despite being void of fragrance.
Reviews
Marilyn commented, "Tiktok made me buy this product. I saw a lot of videos and hauls that counted all the good points of this moisturizer. After many ifs and buts, I finally decided to go for it. To my surprise, I was amazed by its consistency. My first experience with this moisturizer was unforgettable. It hydrates and soothes my dry and irritated skin, thereby leaving me with a plump look."
I randomly discovered this magical moisturizer. It is one of the most underrated moisturizers. It supports a healthy skin barrier, controls excess oil, and enhances and restores the skin's hydration. Power Packed with Omega Fatty Acid Complex, Glycerine, and Niacinamide, this cream protects the skin from drying out while leaving me a youthful glow.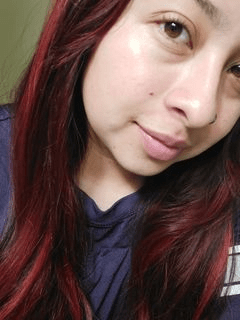 Pros
Hydrating water-based moisturizer
Infused with skin-friendly ingredients
Helps balance oil levels and improves skin tone
Targets dryness and dehydration
Best for sensitive skin and dry skin
Pregnancy and Breastfeeding safe
Free of Silicone and oils
Vegan and Cruelty-Free
Clinically tested
Cons
Reviews
Caroline said, "It is a great moisturizer. I have a dark past of reactions due to my sensitive skin. But I have finally settled on this one. It is very light and hydrating. I am delighted with the product, and it is totally worth the purchase."
This intense hydration cream provides nourishment and relief to damaged skin. It even claims to treat eczema. The Colloidal Oats in the moisturizer credits for relieving itchiness, and Shea Butter religiously restores moisture.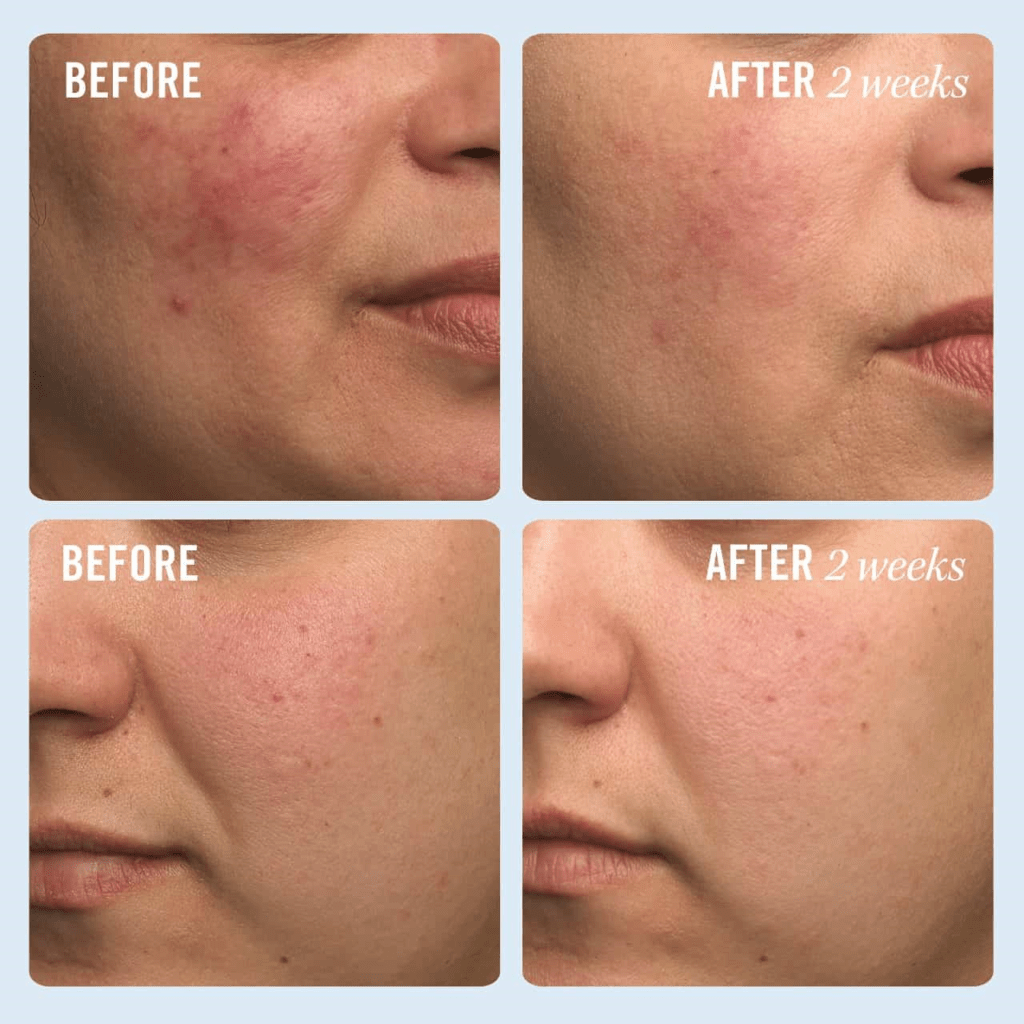 Pros
Combats dry and distressed skin
Infused with clean ingredients
Works best for Dry skin
Improves the appearance of wrinkles and fine lines
Free of Glutens, Parabens and Phthalates
Devoid of any fragrance
Dermatologically approved
Cons
The product is free of fragrance but has a weird chemical smell.
Reviews
Linda said, "I have eczema, and my dermatologist prescribed this. I was not hoping that it would work so efficiently. My skin condition has improved a lot. I am satisfied with the product."
I talk about skincare that no one talks about. And this cream is one of them. This water-boost hydrating gel cream is a gentle moisturizer that has anti-dryness properties. The 11% hydrating Pentavitin, Glycerine, and Vitamin E keep my skin smooth and fresh.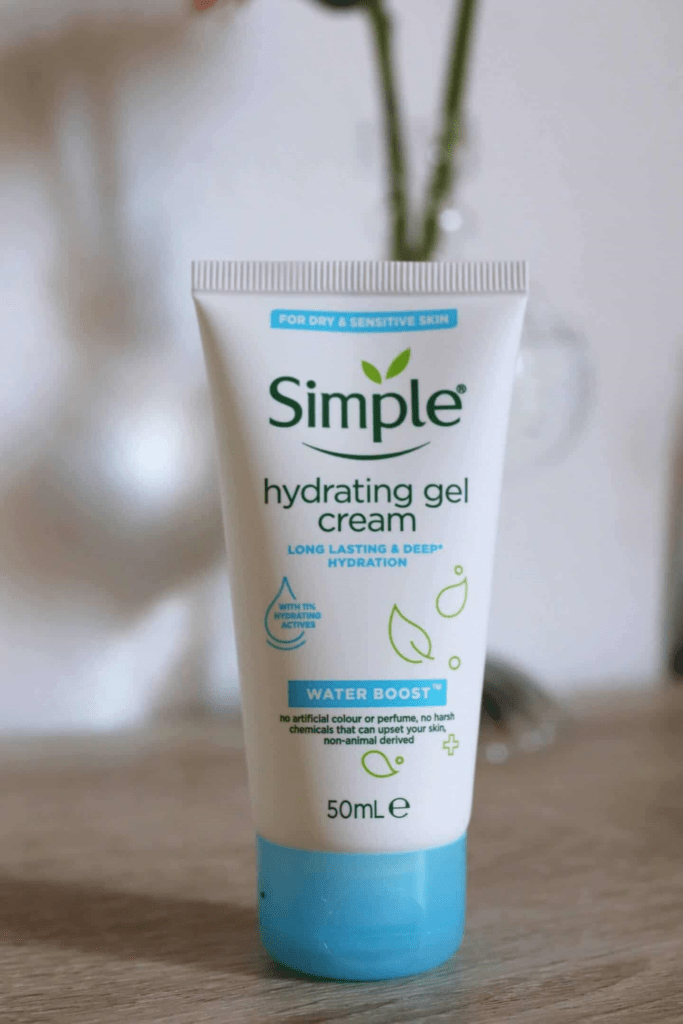 Pros
Claims to provide hydration for 100 hours
Light texture and non-greasy
Instant absorption and no comedogenic
Ideal for all skin types
Ophthalmologist tested
Cons
The Moisturizing Gel contains Citric Acid that may be allergic to sensitive skin.
Reviews
Diana commented, "I have been using this product for a long time. There are new skincare trends each day. However, I don't give into the 'skincare trends.' This moisturizer is a perfect addition to my skincare routine. It does not feel heavy or tacky. I regularly restock this moisturizer."
The results of the product genuinely reflect its name. This Hydrating moisturizer perfectly balances the moisture levels of the skin and prevents dryness. The ultra-lightweight cream is graced with 10,000 marine microdroplets, Milk Thistle, and Passion Fruit Seed oils. Its powerful moisturizer keeps my skin conditioned and nourished all day.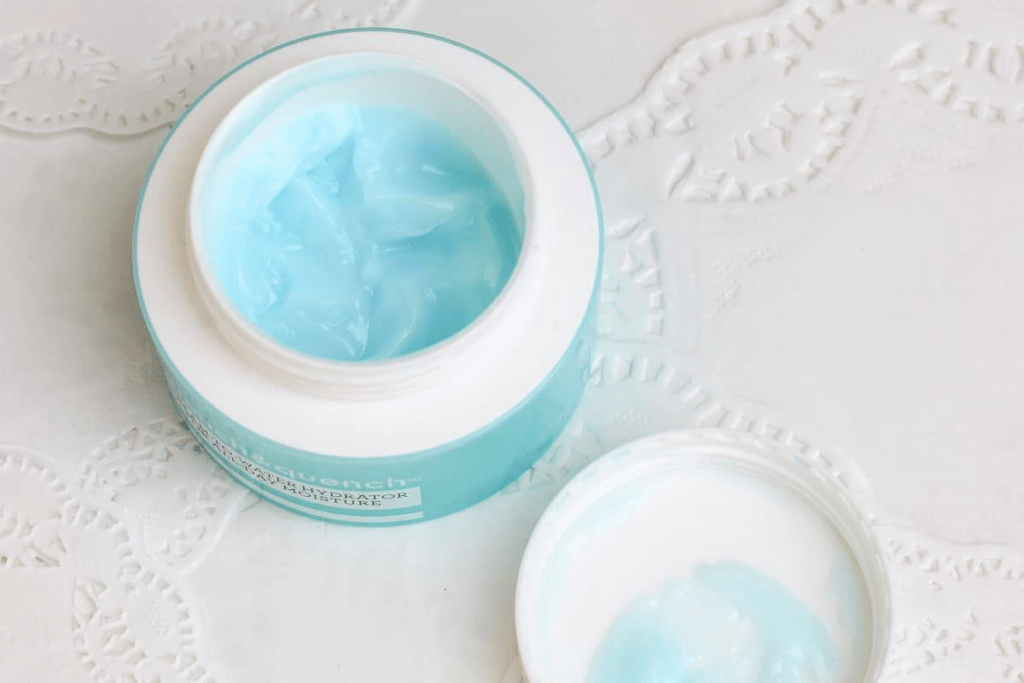 Pros
Intense hydration skin cream
Balance moisture levels and brightens skin
Featherlight texture
Combined with skin-loving ingredients
Cons
Vitamin C is one of the active ingredients that may prove allergic.
Reviews
Kate revealed, "I deal with dry skin. I was excited when I read about this product in one of the blogs. It lived up to all the claims. A single application twice daily has improved my skin to the next level."
I discovered this moisturizer on Reddit. I was curious about it and decided to give it a shot. To my surprise, it performed pretty expensive. It hydrated and nourished my face and uplifted it, and faded away wrinkles to an extent. The superstar ingredients include Deep Kona water from Hawaii, traces of marine plants, and Limonene.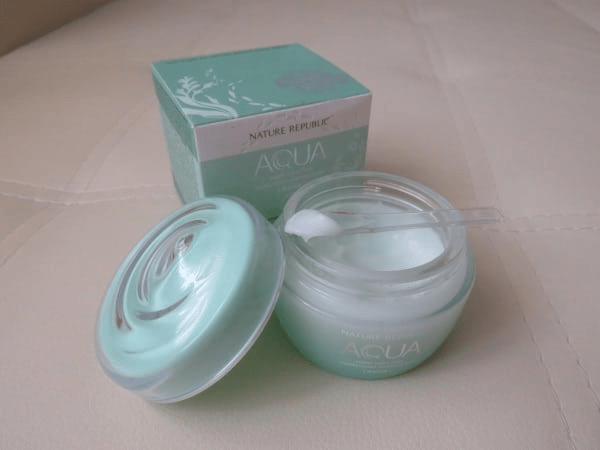 Pros
Powerful moisturization
Watery consistency
Made with nutrition-based ingredients
Best for sensitive skin
Cons
Contains Limonene (derived from Citrus fruits) for a fragrance that may cause irritation to hypersensitive skin.
Reviews
Hazel said, "I love this product; it is one of my favorite moisturizers. Everything in the cream is top-notch except for its citrusy scent. Otherwise, my overall experience is pretty good."
Mylansea Hyaluronic Acid Face Moisturizer
This hyaluronic acid-powered moisturizer is a must-have for people who have flaky skin. Besides Hyaluronic Acid, the key components include Avocado, Green Tea, Rosemary, and Vitamin E. It intensely moisturizes, promotes cell growth, and firms my skin.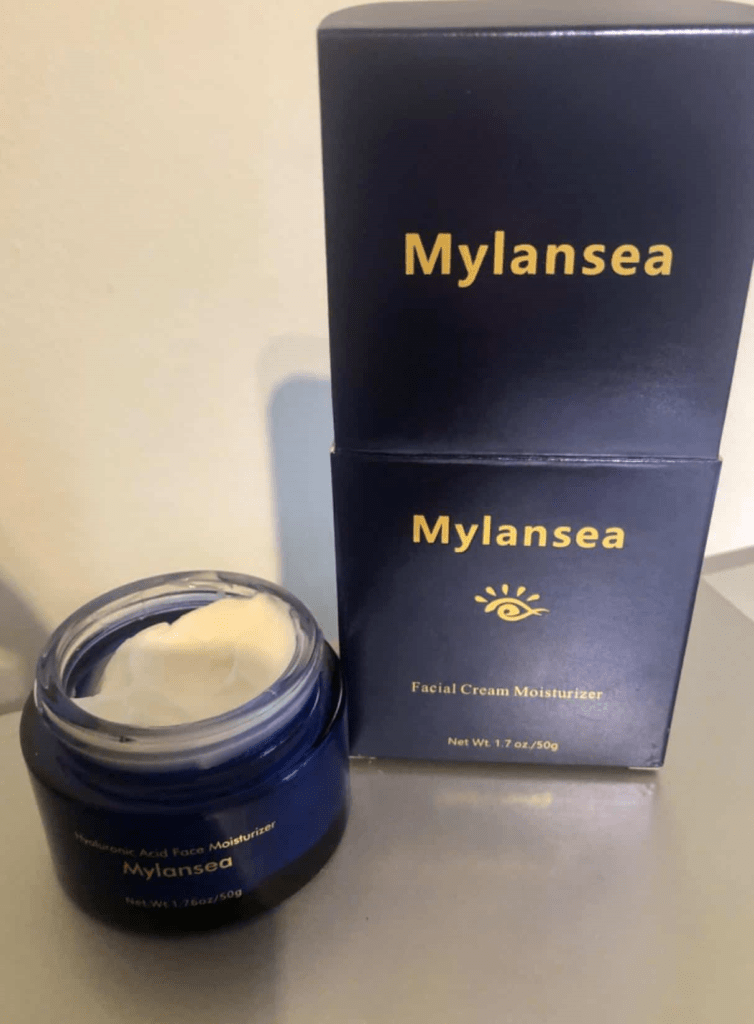 Pros
Nourishes and profoundly repairs damaged skin
High penetration
Power-packed with natural ingredients
Boosts cell growth and rejuvenates
Long-lasting with a triple moisturizing formula
Cons
Reviews
Janet said, "I recently started to use this moisturizer. It is a great product for its price. Everything about the moisturizer is great except for its thick consistency. It feels heavy and causes discomfort under makeup."
This moisturizer claims to be infused with 98% mineral water for extra moisturization. It soothes dry and irritated skin with its refreshing cool feel. Enriched with Kelp Extract and Plant derived ingredients, the moisturizer rejuvenates and revitalizes my skin.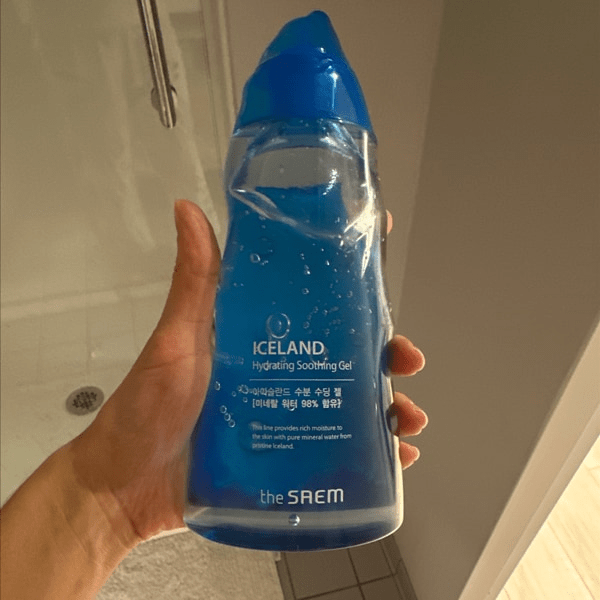 Pros
Multi soothing gel
Delivers extraordinary hydration with a cooling feel
Lightweight and Fast absorbing formula
Composed of plant-derived ingredients
Cons
The product has a Citrus scent
Reviews
Isabelle commented, "I proudly gatekeep this moisturizer because it is so good. It is like a missing jigsaw piece that perfectly fits my skincare jigsaw puzzle. It is breathable and comfortable. It awakens my skin and feels like a splash of water."
Things To Keep In Mind Before Choosing A Moisturizer | Buying Guide
Who says a perfect moisturizer does not exist? It does exist if you carefully analyze your skin type, research your skin's needs and then choose a moisturizer. In the quest to follow skincare trends, most people miserably fail and are left with damaged skin. Ignoring your skin's health and not categorizing products may give in to many uninvited skin problems. Scroll further for a simple yet eye-opening buying guide for moisturizers.
Skin type
Acknowledge your skin type and analyze the skincare products aligned with yours. Research your skin's needs and avoid ingredients that don't suit your skin type. Choosing a moisturizer haphazardly without knowing your skin type may cause innumerable problems.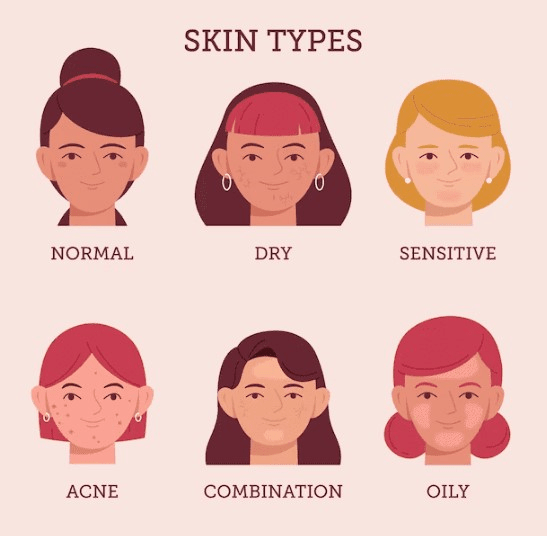 Ingredients
Always look for ingredients that suit and benefit your skin type. Educate yourself about the mixing of ingredients and their reactions when used together. Prioritizing organically infused moisturizers over chemical ones is beneficial and safe.
Formula
Always remember to check the formula and consistency of moisturizers. For instance, if you have oily skin type, thick moisturizers shall build up on your skin and clog pores. In contrast, people with dry skin should ideally opt for water-based moisturizers.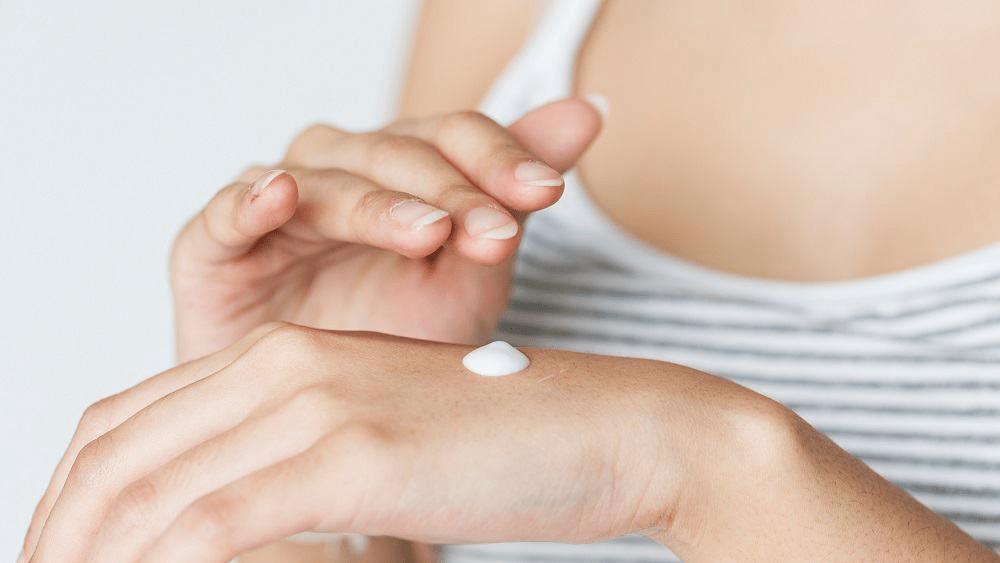 SPF and other benefits
While categorizing and comparing moisturizers, always remember to choose an SPF-infused moisturizer. Moreover, look for additional features such as anti-aging, anti-wrinkle, and collagen-boosting moisturizers.
Frequently Asked Questions | Laneige Water Bank Moisture Cream Dupe
What is Laneige Water Bank Moisture Cream used for?
Laneige Water Bank Moisture Cream is a moisturizer that protects and nourishes your skin. It prevents skin from drying out and moisturizes it effectively.
What age group is Laneige Water Bank Moisture Cream for?
Laneige Water Bank Moisture Cream is suitable for adults. However, it is ideally designed for people aged between 22 to 35 years.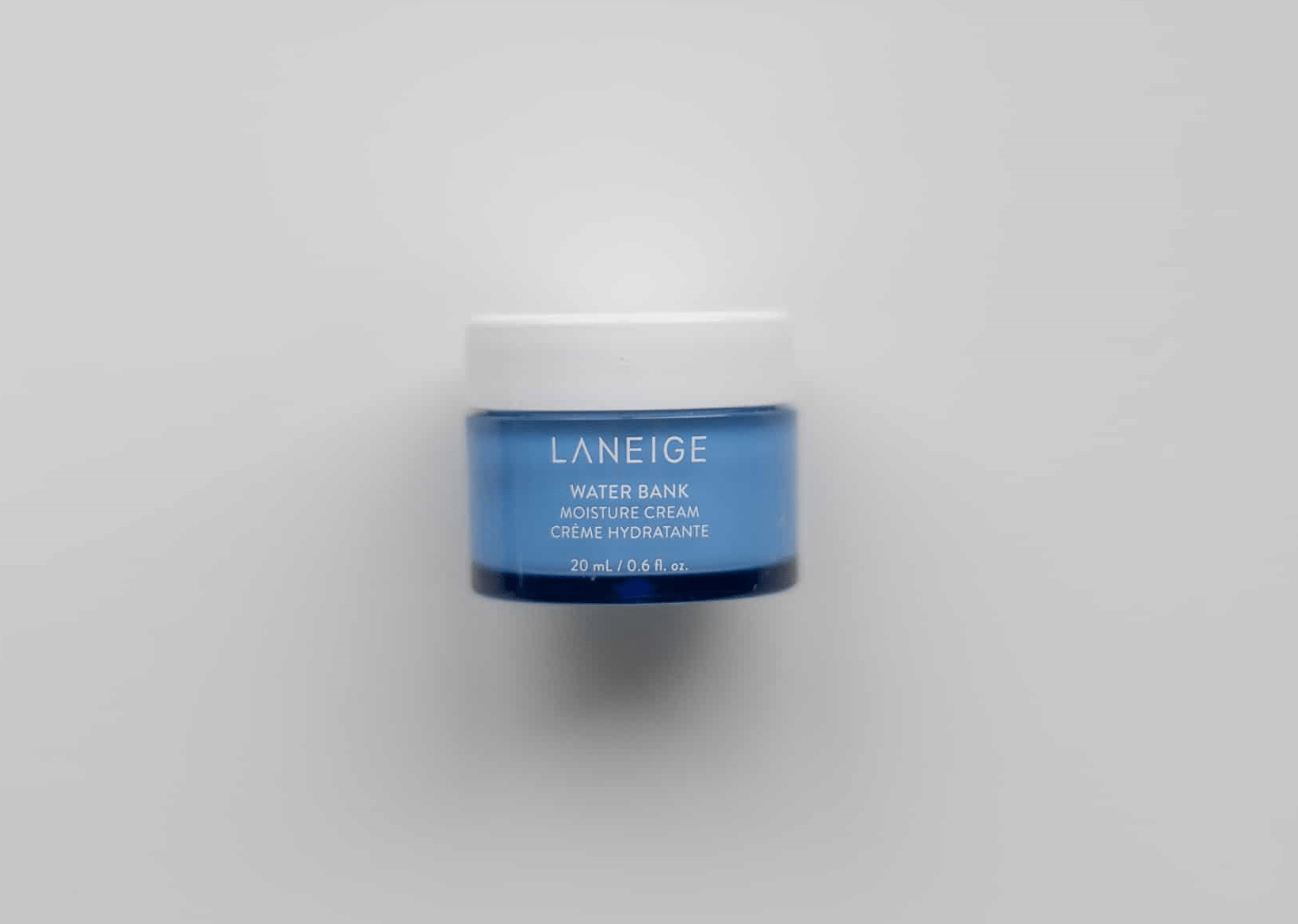 Is Laneige Water Bank Moisture Cream good for oily skin?
Yes. Laneige Water Bank Moisture Cream is a water-based hydrating moisturizer that is good for people having oily skin.
Why do we need a Laneige Water Bank Moisture Cream Dupe?
Laneige Water Bank Moisture Cream is an excellent hydrating moisturizer. However, it is expensive and unaffordable. Plus, the new formulation is driving its fan base away, causing them discomfort.
Which is the Laneige Water Bank Moisture Cream Dupe?
The above article discusses 11 Laneige Water Bank Moisture Cream Dupe, which is equally effective and reasonable. However, Neutrogena Hydro Boost Water Gel is the closest dupe to the Laneige Water Bank Moisture Cream.
The Closure | Laneige Water Bank Moisture Cream Dupe
Moisturizers are an unskippable part of our skincare routine. Finding a perfect hydrating moisturizer is essential to ensure your skin's health. One of the viral moisturizers that came into the limelight was Laneige Water Bank Moisture Cream. It is a definition of an ideal hydrating moisturizer. However, it comes with a hefty price tag, and the newer version of the product has faced backlash.
For this reason, I've come out with a similar and affordable 11 Laneige Water Bank Moisture Cream Dupe. I've also mentioned a buying guide for your reference and answered some questions for clarity. I hope you find this article insightful and cater to your intellectual needs.