Are you someone who loves a dusky and tanned look? Going out and getting tanned in the sun is so old school now. Legends who want a sunkissed look without a sun slap use bronzers. Bronzers are the new favorites. Be it for contouring, tanning, or highlighting facial features; a bronzer does it all.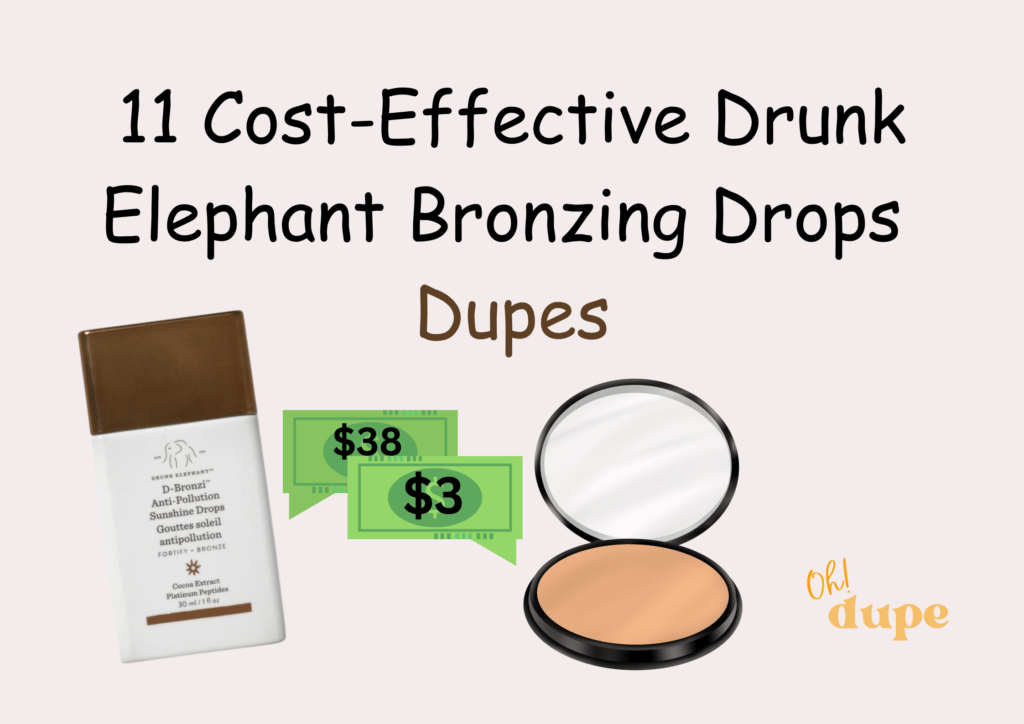 Of the three forms of bronzers, Liquid Bronzers have become a go-to choice for most women. One of the cult classic liquid bronzers is the Drunk Elephant Bronzing Drops which has made its mark in the beauty world. People are zealous about its amazing texture and over-the-top results.
However, its over-popularity makes it hard to avail and demands financial commitment. For this reason, I will present you a list of 11 Drunk Elephant Bronzing Drops Dupe that mimic the same look without breaking the bank!
Drunk Elephant Bronzing Drops Dupe | Discover The Best Options!
Drunk Elephant is a US-based cosmetic company. Launched in 2013, the beauty brand focuses on the natural formulation of its skincare and makeup products. It is a personalized brand that manufactures customized beauty care products.
One of the products from their makeup series is the Drunk Elephant Bronzing Drops. A single drop of the Anti-Pollution Sunshine Drops gives you a chocolatey and under-the-sun look. The organic ingredients in the bronzer revitalize your skin and deliver a gorgeous bronzy glow. Even though, a new player in the beauty market, it has garnered all the attention and fame.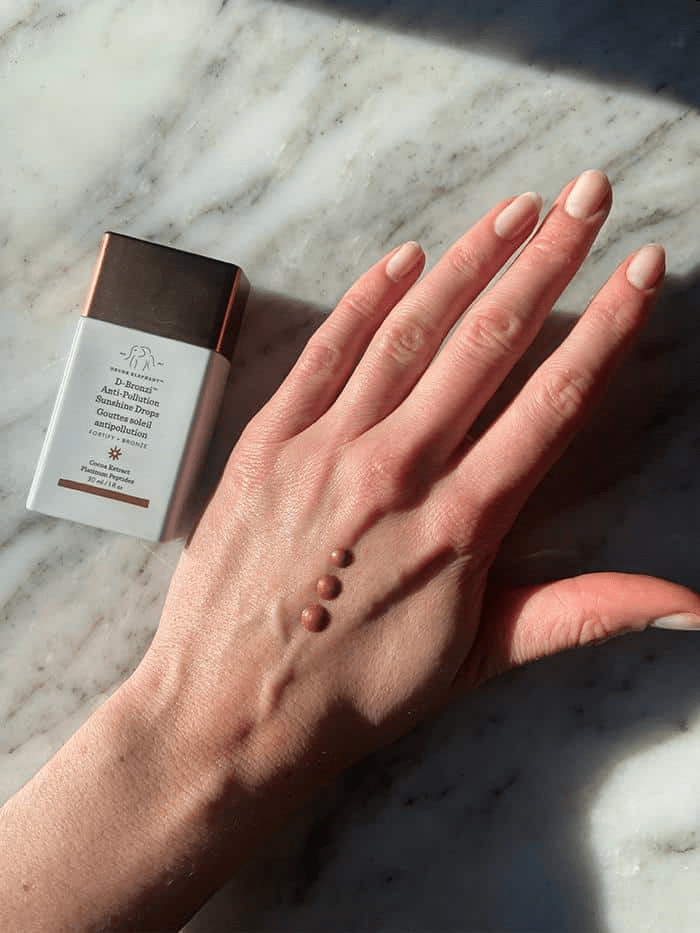 However, it is so popular that it is mostly out of stock. Also, many people wish to have similar results without being brutal to their wallets. So for those, who are now going to check out the Drunk Elephant Bronzing Drops Dupe online, stay here as I will elaborate on 11 substitutes of the Drunk Elephant Bronzing drops that are readily available and affordable.
I am so done with gatekeeping this holy grail product. As a royal revelation, I wish to put this on the Drunk Elephant Bronzing Drops Dupe list first. It's high time this instant liquid bronzer grabs the market and goes viral. Even though some enthusiasts know this bronzing drops serum, it has yet to become mainstream.
A single drop alone can transform dull skin into an alluring golden glow. It uplifts and sharpens the high points of my face and delivers a fantastic sun-soaked look when used alone. The makeup cum skincare benefits are the cherry on top. The goodness of Hyaluronic Acid, Marula Oil, Blackcurrant Oil, and Vitamin E retains moisture and leaves me with a nourished glow.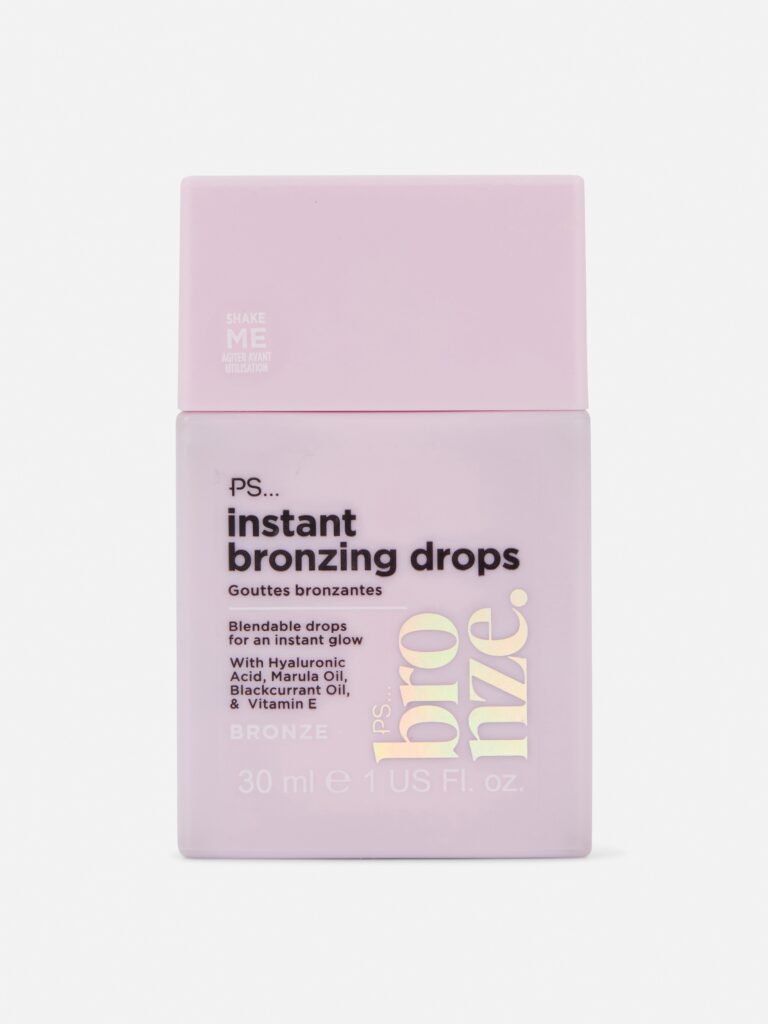 Pros
Watery consistency
Delivers a natural golden glow
Blends with ease
Infused with natural oils and nourishing ingredients
Extremely affordable
Cruelty-free
Cons
Users complain about the absence of shade names on the product.
Reviews
Hailey commented, "This is the one and only secret to my every glowy skin. My best friend gifted me this on my birthday, and since then, I have been slaying the trendiest and glowiest looks. I can even fake a tan and get that warm bronzy effect without extra effort. All I have to do is take a drop and mix it with my moisturizer, and lo! I get the most beautiful brownish glow."
One of the creamiest bronzers I am obsessed with is the Bali Body Bronzing serum. I was thrilled to find out that the results of both bronzers were similar. The only difference in their texture is that the Drunk Elephant Bronzing Drops is a concentrated liquid bronzer. In contrast, Bali Body's is a moisturizer infused.
It adds a warm, bronzed tone to your complexion, locking in moisture and providing hydration. The blend of natural oils such as Sweet Almond, Jojoba, Grape Seed, and Soybean protects my skin and conditions it all day. Not to forget the richness of Thick Shea Butter and Cocoa Butter; they leave me a sun-soaked look with a smooth finish.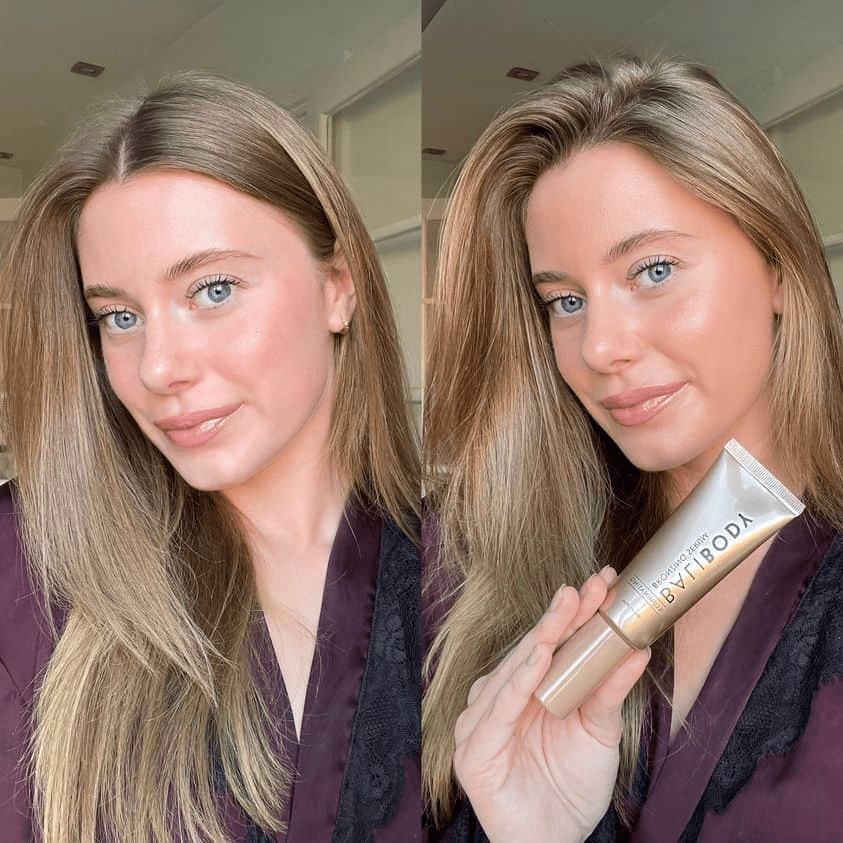 Pros
Skincare based Makeup product
Hydrates and adds a warm tint
A youthful and radiant glow
A blend of anti-aging and organic ingredients
Implements light-reflecting technology for that extra glow
Vegan and Cruelty-free
Cons
Consists of Soybean Oil that can be allergic to some individuals.
Reviews
Sheena said, "I am literally obsessed with this bronzing serum. I mean, how it transitions my skin is magical and unexplainable. I believe in using makeup that nourishes and protects my skin. And this bronzing serum is the best. The way it melts into my skin is so satisfying, plus one tube lasts me for almost 3 months. I am delighted with this purchase."
I came upon this product when I was searching for a luminizer. I didn't realize, but Covergirl's Go Glow Lotion in the bronze shade is the ultimate doppelganger of the Drunk Elephant Bronzing Drops.
Originally a luminizing glotion, it adds radiance and sheerness to your skin. The best thing that I really like about the product is its formulation. It contains Vitamin E, B3, and B5, which prevent my skin from dehydration and dryness and delivers a natural glow.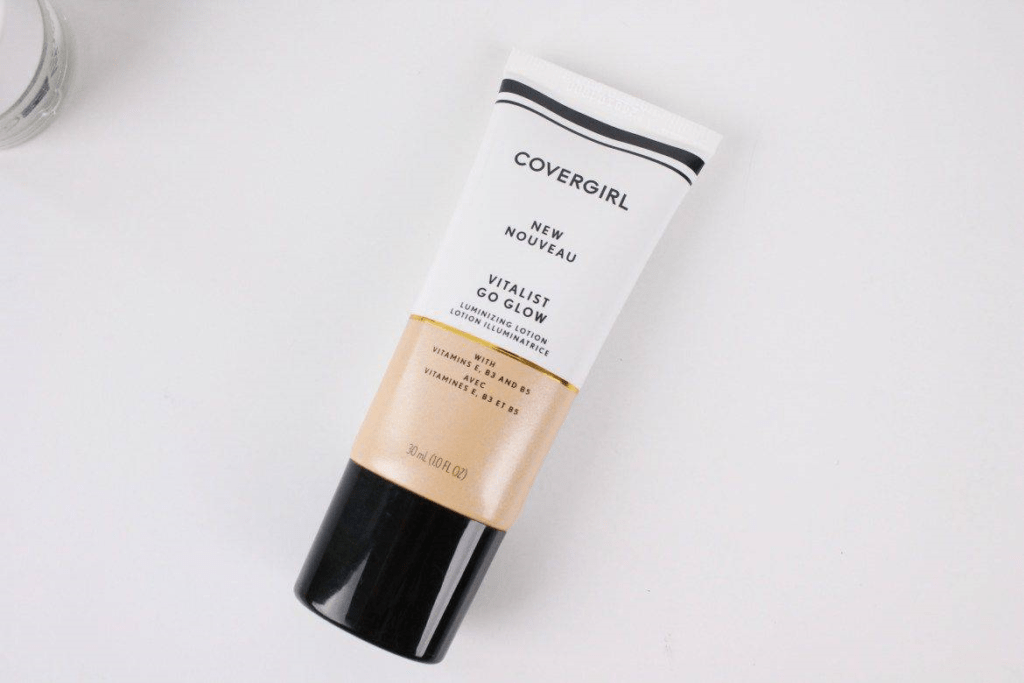 Pros
Lightweight and creamy
Infused with moisturizing ingredients
Easy and convenient application
Suitable for sensitive skin
Dermatologically approved
Cons
Contains a weird smell
The texture is lightly pigmented
Reviews
Adele said, "I have recently added bronzers into my makeup routine and was looking for a bronzer I could use daily. I am quite happy with the product. However, it has a weird smell, but it does not feel after I apply the bronzer. Also, I need to reapply it as it does not have enough color payoff. I would rate this liquid bronzer a 3 out of 5."
Now for the fourth product, I will discuss the most underrated liquid bronzer. Yes! This Brazilian Glow Bronzing Serum from Ciate London is similar to the Drunk Elephant Bronzing Drops.
Enriched with a unique Brazilian Glow Complex, Vitamin C, and Hyaluronic acid, it moisturizes my face while adding a bronzy brown look. I mix it with my daily moisturizer to get the ultimate summer glow. It instantly creates the natural illusion of a sun tan and delivers a sunkissed look.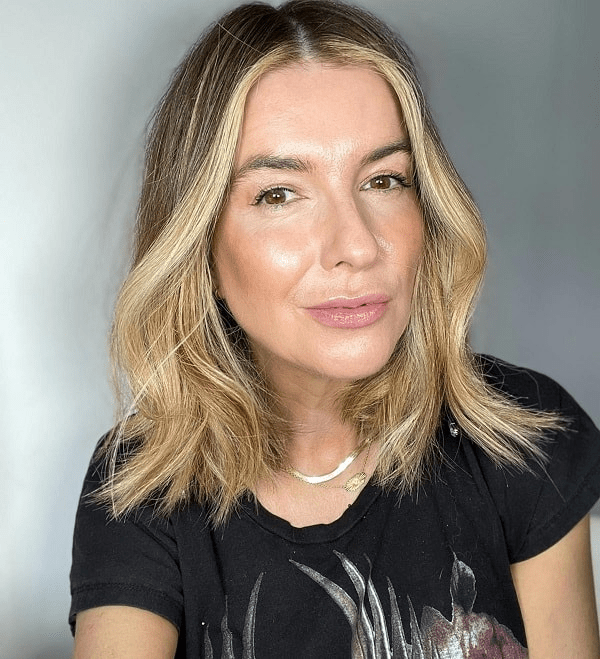 Pros
It is a hydrating bronzing serum
Contains a unique Brazilian glow complex
Water-based serum and easy to blend
Enhances and defines facial features
Gives a sunkissed glow with a natural finish
Vegan
Cons
Contains fragrance and Vitamin C
Reviews
Stephanie wrote, "This is my first bronzer, and I am impressed. It does not cost me much and is convenient for a beginner like me. I usually apply it with my foundation and set it with loose powder. The sunkissed and tanned glow has my heart. At first, I thought of trying out different liquid bronzers. But now, I am not considering buying a bronzer from other brands soon. Cut it short; go for it!"
Another product that is worth mentioning is the Live Tinted Hue Glow. This serum plus moisturizer highlighter is like a glow in a bottle. I saw this product on TikTok and went ahead with its details. After much in-depth research and analysis, I finally decided to try it out.
I was amazed at its fluidity and featherlight consistency. I am obsessed with the overall sunkissed glow and radiant finish. Power-packed with skin-loving ingredients such as Squalane, Sunflower Seed Oil, and Hyaluronic Acid, it keeps my skin hydrated and nourished.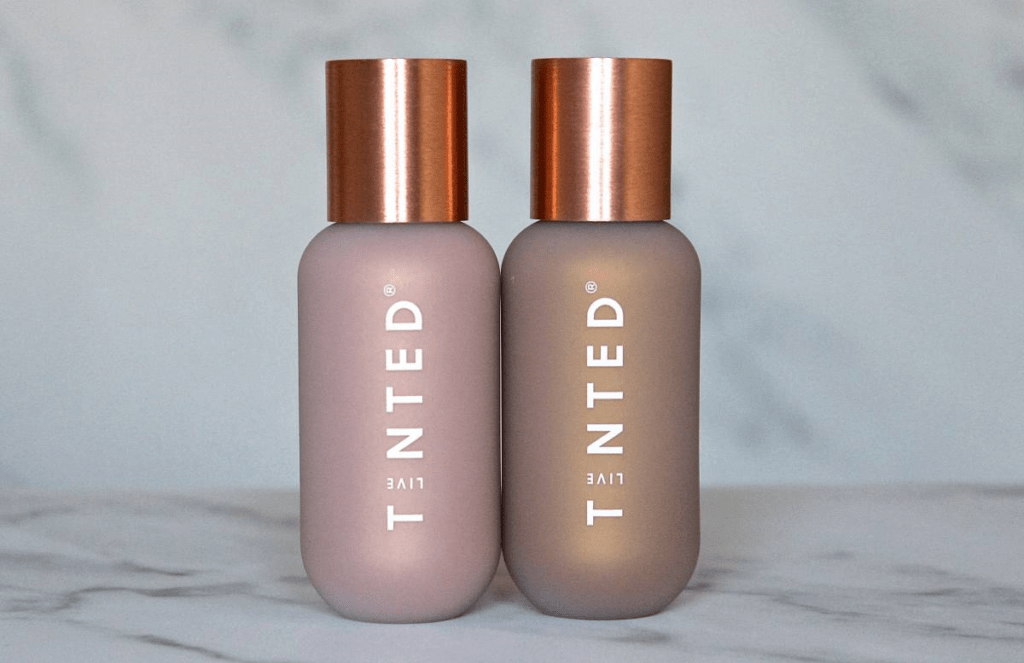 Pros
Reveals your inner glow
Skincare infused makeup
Lightweight and non-greasy
Non-sticky and non-comedogenic
Ultra shine and radiant finish
Suitable for all skin tones
Vegan, cruelty-free, and void of scents
Dermat approved
Cons
It does not show if worn under makeup
Reviews
Carolina commented, "I have used a lot of bronzers, including the viral Drunk Elephant Bronzing Drops. After using this liquid bronzer by Live Tinted, I think I had a pretty good experience. There are some similarities between both liquid bronzers. However, they are unique in their own way."
One of my favorite liquid bronzers from my makeup collection is this Makeup Revolution Super Dewy Liquid Bronzer. It is a creamy, highly pigmented bronzer that easily glides onto my skin and blends like butter. This is the ultimate liquid bronzer for people like me who are fans of a brownish-dewy look. It can be used with your favorite moisturizer and applied on the high points to contour and give a sculpted finish.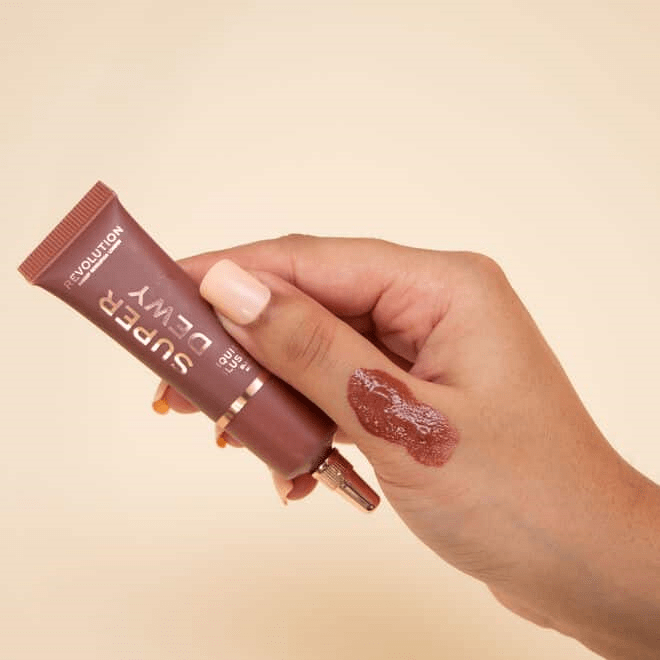 Pros
Glowy liquid bronzer with a super dewy finish
Has a nozzle applicator for effortless application
Creamy and super pigmented
Available in 3 browns
Vegan and cruelty-free
Cons
The bronzer has traces of propyl paraben that may be allergic to individuals having sensitive skin.
Reviews
Corrina revealed, "My friends were going crazy over this liquid bronzer, so out of curiosity, I bought this bronzer. I had a pretty good experience, but it was not worth the hype. I found it okayish that it didn't have any extraordinary features. In fact, it is super pigmented, and I cannot use it alone without diluting my moisturizer."
For that daily dose of glow, I've always been loyal to these glow booster drops from Caliray Beauty. It is a fusion of skincare and makeup that is brown and shimmery.
A single drop of the glow booster drops in my favorite moisturizer is enough for me to fake a holiday staycation. For a dramatic and caramelized glow, I always prefer it on my makeup. Enriched with natural oils and Vitamin E, it keeps my skin hydrated, thus leaving me with a smooth glow.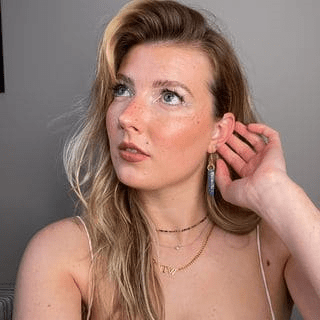 Pros
A clean bronzing oil
Lightweight bronzer
Nourishes skin and adds a radiant glow
Infused with pro-skin ingredients
Non-greasy and non-sticky
Vegan and cruelty-free
Cons
The bronzing oil contains fragrance.
Reviews
Samaira said, "In the case of bronzers, I have always preferred liquid bronzers that contain natural ingredients. I am literally obsessed with the chocolatey brown glow that a single drop of this product gives me. It is very comfortable and breathable. I am definitely going to restock this product."
This is another least talked about product close to Drunk Elephant Bronzing Drops. It would be unfair if I didn't discuss this product when discussing the Drunk Elephant Bronzing Drops dupe.
It highly focuses on instantly delivering a natural tanned glow with immense hydration. Its unique formula with ultra-hydrating Hyaluronic Acid is the game changer. It deeply enhances my skin and gives a soft bronzy glow while maintaining my skin's moisture levels.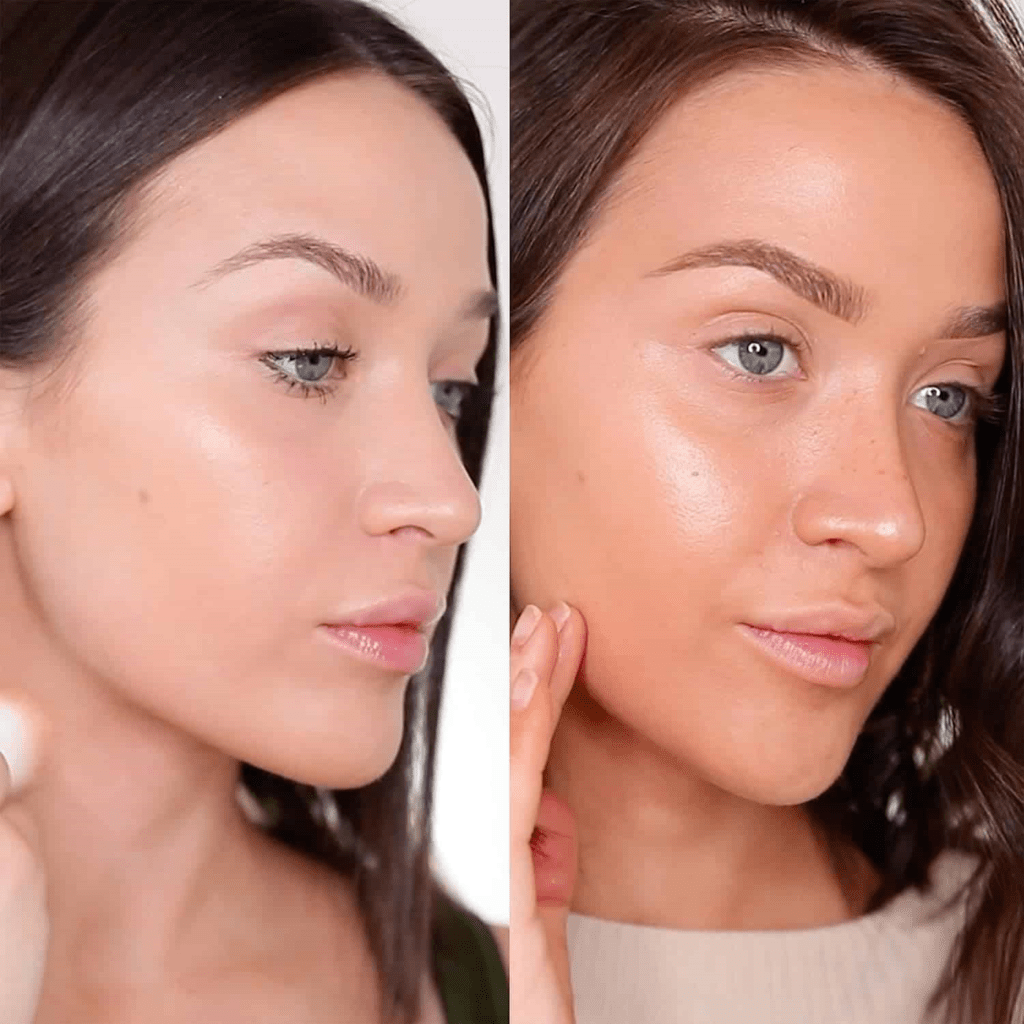 Pros
Glowy tan with ultra hydration
Increases skin elasticity and suppleness
Improves the appearance of fine lines and wrinkles
Non-drying and non-alcoholic
Non-comedogenic and non-sticky
Dermatologically tested
Cons
The product contains parfum (fragrance)
Reviews
Gracy commented, "I saw this product in an Instagram reel and was intrigued to find it out. Weeks later, I saw it again on my FYP and finally decided to purchase it. I am not a review person, but this particular bronzer is next level. I mean, the way it highlights and bronzes my face is surreal. I love this liquid bronzer. Worth the money, totally recommendable."
This bronze shimmering dry oil from The Body Shop is another alternative to the Drunk Elephant Bronzing Drops. One of my colleagues showed me this product, and she claimed it to be a Drunk Elephant Bronzing Drops Dupe. I laughed it off until I concluded the same.
I was shocked to find an unpopular product to be the same as the cult favorite. I had to try this on, and to my surprise, I had an incredible experience. As soon as I applied the bronzer oil, it instantly gave me a natural-looking tanned glow. The shimmering-colored bronzing oil is perfect for those wishing to achieve a warm glow. The goodness of Coconut Oil and Avocado Oil nourishes my skin and gives me a healthy tan.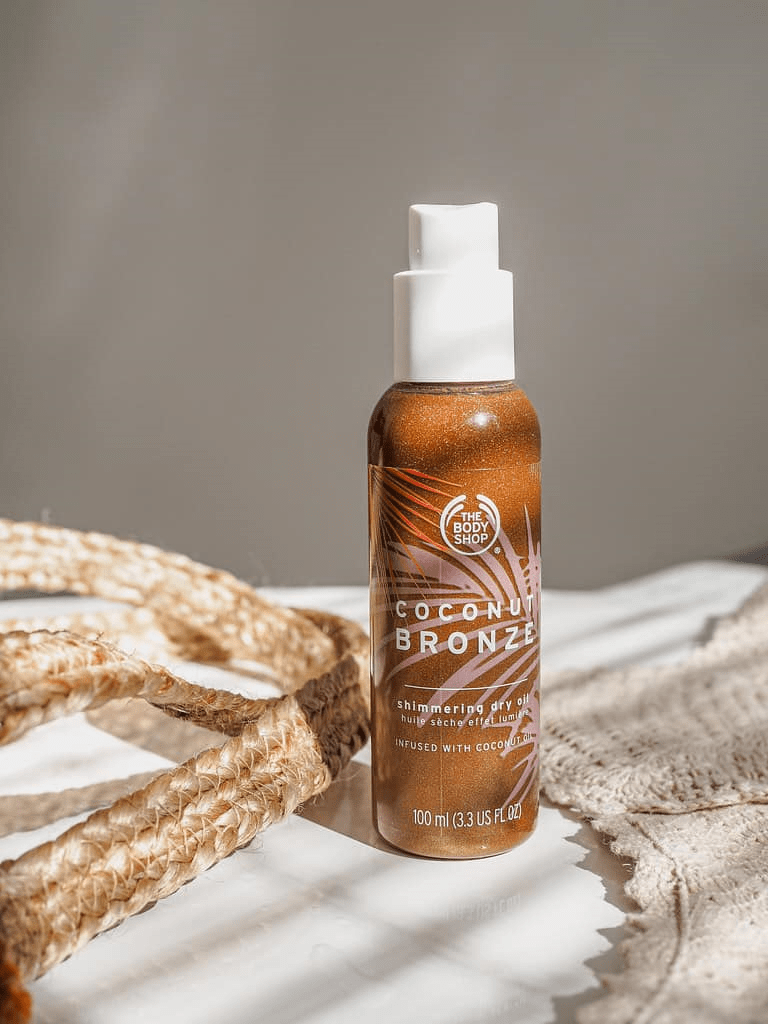 Pros
Natural-looking sunkissed glow
Non-greasy and non-sticky formula
Infused with nourishing oils
Suitable for sensitive skin
Vegan and cruelty-free
Dermatologically approved
Cons
The bronzing oil contains fragrance.
Reviews
Emily wrote, "I got this bronzer as a Christmas gift. I was not so excited about it. It was randomly lying in my closet for weeks until, one day, I decided to try it out of boredom. And oh my god! I was floored by the look it had on me. I mean, the glow-up was incredible. It is so nourishing and dewy. I will definitely purchase it again."
I discovered this product on a beauty influencer's blog. I tried this bronzing essence long ago, even before it turned popular. It is one of the effective liquid bronzers that give out an instant sun-soaked glow.
The afterglow of this bronzing essence resembles the Drunk Elephant Bronzing Drops. It is organically infused with Jojoba Oil, Squalane, and Rosemary Leaf Extract. It keeps my skin moisturized with a glowy finish.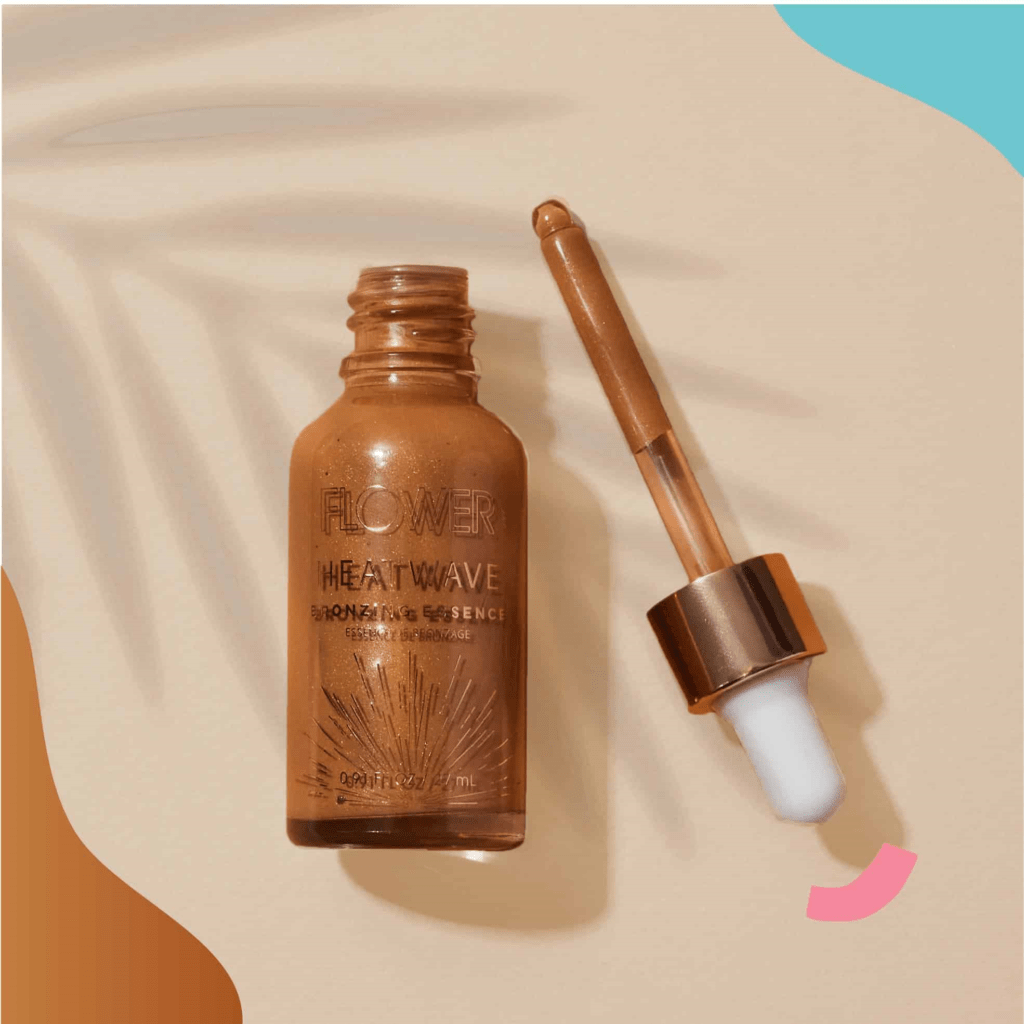 Pros
Buildable natural glow and sunkissed look
Infused with moisturizing ingredients
Flawless bronzy effect
Free of glutens, vegan and cruelty-free
Cons
The consistency is too thick for a drop dispenser pack.
Reviews
Kate commented, "I am satisfied as it lives up to its claims. I was tired of reading flowery product descriptions that were imaginary. But this particular bronzing essence is something worth considering. I didn't expect it to turn out the way it was described. It has become a proud member of my makeup bag, and I will stay loyal to it."
Last but not least, it would be unfair to my beloved readers if I missed out on the Milani Glow Luminizing Liquid Bronzer. It is the ideal bronzing liquid if you find the Drunk Elephant Bronzing Drops Dupe.
The skincare-infused bronzing liquid consists of light-reflecting particles with Jojoba Extract for hydrating radiance. A single drop is enough for me to sharpen all the high points of my face and achieve a brilliant bronze glow.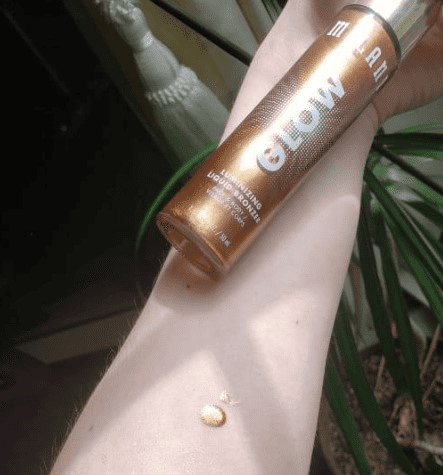 Pros
Made with quick dry formula
Infused with shimmering particles and jojoba extract for nourishment
Ideal for all skin tones
Cruelty-free
Cons
The bronzing drop consists of a lot of glittery particles.
The product is fragrant.
Reviews
Jenny said, "I was skeptical about this product as most of the users in their feedback described it as 'ultra shimmery' and 'blingy.' However, I did not find it gaudy. It contains pearly particles, which enhance and adds a golden glow to my face. It is a perfect bronzer for a dramatic and elegant look."
Frequently Asked Questions | Drunk Elephant Bronzing Drops Dupe
What does a bronzer do?
Bronzers are makeup products that help your skin to look darker and brown-toned. They are generally used to achieve a sunkissed look and to define and sharpen the high points of the face.
How to use a liquid bronzer?
The way you use a bronzer depends on the type of bronzer that you are using. Liquid bronzers can be used in two ways. One, they can be used alone to highlight and contour; second, they can be mixed with your moisturizer or foundation for a sun-soaked glow.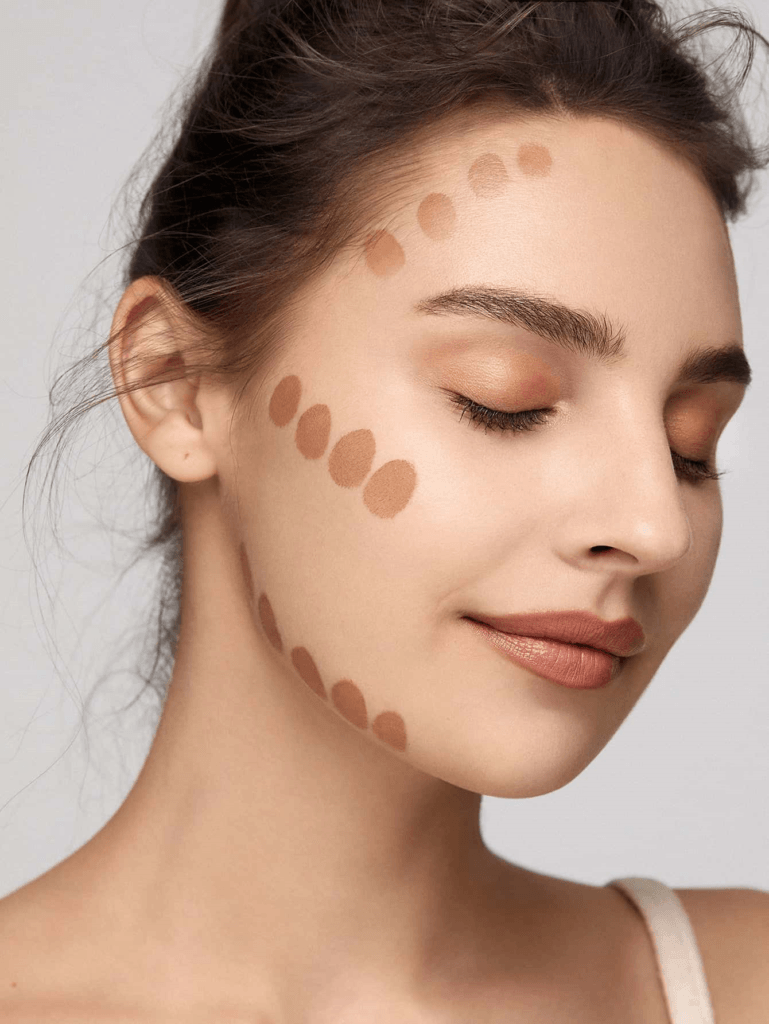 Which is the popular liquid bronzer?
One of the most popular liquid bronzers that have gone viral is the Drunk Elephant Bronzing Drops. Its extraordinary results and instant caramel-ish glow have impressed the beauty world.
What are the ingredients of the Drunk Elephant Bronzing Drops?
The Drunk Elephant Bronzing Drops are infused with skin-friendly ingredients. The potential elements include Cocoa Extracts, Platinum Peptides, Chrono Peptides, White Tea Extracts, Vitamins E and F, Virgin Marula Oil, and Black Currant Seed Oil.
Does Drunk Elephant Bronzing Drops fake a tan?
Yes, Drunk Elephant Bronzing Drops is a self-tanning liquid bronzer. When applied with a moisturizer, it leaves your skin with a tan, bronzed glow.
How do you use Drunk Elephant Bronzing Drops?
Since Drunk Elephant Bronzing Drops is a concentrated liquid bronzer, I suggest you mix it with a serum, moisturizer, or foundation for a gorgeous sunkissed glow.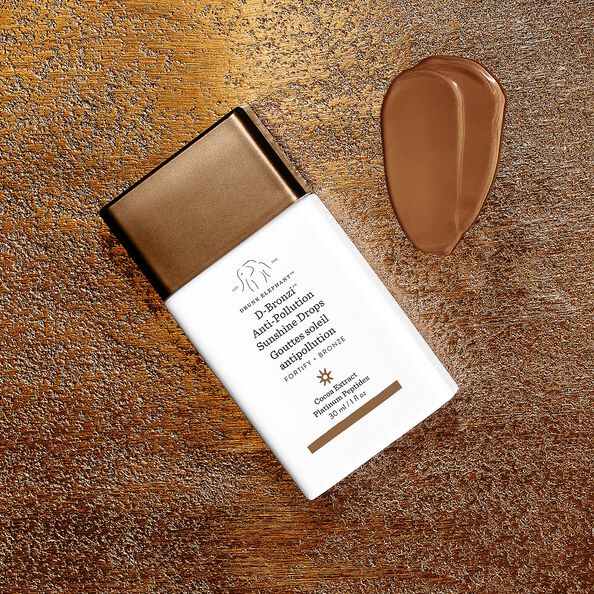 Can I add Drunk Elephant Bronzing Drops to the foundation?
Yes. As mentioned above, you can mix Drunk Elephant Bronzing Drops with your foundation for a chocolatey glow.
Which is the Drunk Elephant Bronzing Drops Dupe?
The above list educates you about the 11 best Drunk Elephant Bronzing Drops Dupe. However, Primark P.S Instant Bronzing Drops has an uncanny resemblance to the Drunk Elephant Bronzing Drops.
The Final Say | Drunk Elephant Bronzing Drops Dupe
Recently Liquid bronzers are ruling the beauty world. Every beauty enthusiast and beauty influencer is counting all the best liquid bronzers. One of the most popular liquid bronzers that have spread like a fire is Drunk Elephant Bronzing Drops. It is the ultimate bronzer that has floored the internet.
Its exceptional features and extraordinary results are the talks of the beauty town. However, its over-popularity makes it hard to find and comes with a hefty tag. I could not see my readers disappointed, so I compiled a list of 11 bronzers that are a Drunk Elephant Bronzing Drops Dupe. I hope you find your sunkissed look guilt-free.